Cooking the perfect beef tenderloin isn't difficult - it's based on two simple principles: time and temperature.
Here are some tried and true tips and even a cooking temperature chart for making the perfect beef tenderloin! The recipe includes a delicious Horseradish Sauce, too!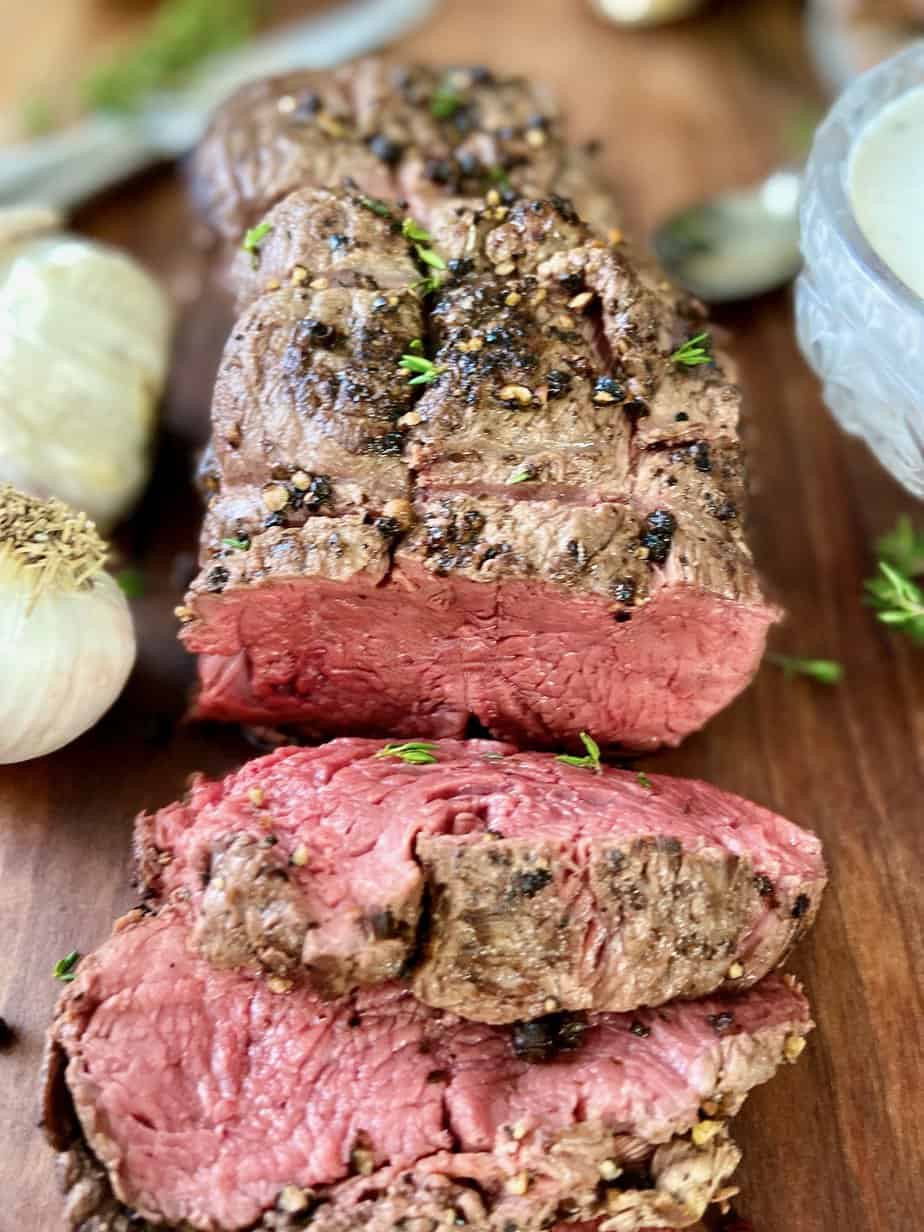 Beef tenderloin is a special treat at our house because it's so pricey! So when we splurge on this, I sure don't want to burn the tenderloin...here's how to make perfect beef tenderloin every time!
Jump to:
Why this recipe works
It's all about time and temperature. You can cook a beef tenderloin on low or high heat, either way, it's "done" when the internal temperature reaches 10 degrees below the slicing temperature.
When baking beef tenderloin, there are a few schools of thought: Both methods recommend searing the beef on the stovetop first to give it a nice crispy outer crust.
One method of cooking a beef tenderloin is to cook it low and slow (around 275°F); the other is to cook it fast and hot (around 475°F). Both methods result in a delicious tenderloin, provided you don't overcook it.
When in doubt, opt for a lower cooking heat and more time.
What you'll need
In my opinion, the perfect beef tenderloin is simple-simple ingredients allow the flavor of the tender beef to shine and serve as the focal point of the dinner.
Other than a few basics - a high-quality beef tenderloin, butter, salt and pepper--you'll need a broiler pan, some foil and a good meat thermometer.
You'll also need a super sharp knife to remove the silverskin (if the butcher can't remove it for you.)
For the Horseradish Sauce, you'll need: sour cream, prepared horseradish, mayonnaise, salt, white pepper
How to make the perfect beef tenderloin
Prep the meat
If you can, ask the butcher to "trim, cut and tie" the beef tenderloin. This means they'll remove the silverskin and truss the tenderloin with string to hold its shape, or "truss" it.
Bring to room temperature and remove the silverskin if your butcher didn't. (More on this later.) The meat needs to be near room temperature for best results.
Slather the entire tenderloin with room temperature butter, salt and pepper. If you want, you can add additional seasonings or dried ground herbs, do so after you've buttered the meat.
Note: if you use dried woody herbs, like rosemary or thyme, be careful...I've found those woody herbs burn when searing...same thing with garlic. If you want a garlic flavor, don't use fresh minced garlic - use garlic powder
Sear the meat
Use heavy-duty tongs and a dry cast iron skilllet. Turn the stoveheat to medium high and sear the tenderloin on each side, including the ends, for about 1-minute each. This quick sear ensures the natural juices are retained.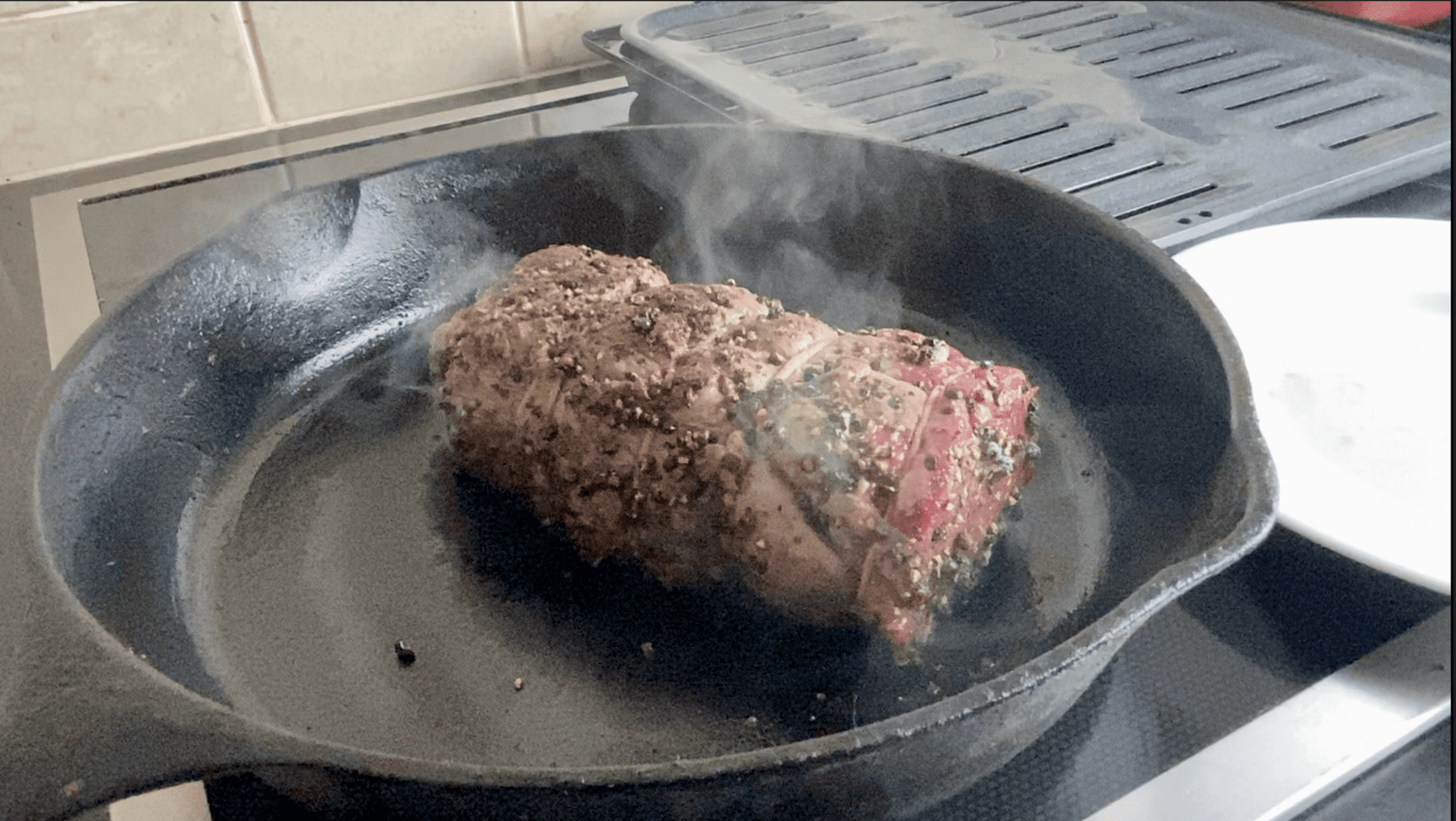 Baking times and temperatures:
Important:
READ THIS!
If you want a crispy outer layer on your perfect beef tenderloin, sear it on a hot dry cast iron skillet first, then transfer to a broiler pan
Place meat on broiler pan (with rack) and bake uncovered at 325° F - 425ºF for 12-20-minutes; put a little water in the bottom of the broiler pan for au jus sauce and/or easy clean up!
Check internal temperature at 10-minute intervals; when the beef reaches ten degrees below desired degree of doneness (rare, medium, etc.), remove from oven and tent with foil.
Beef tenderloin will increase 10-degrees when resting; place a foil tent over the cooked beef and let it rest for at least 10 minutes
Slice in 1"-inch increments and serve
The perfect beef tenderloin recipe is not exact because ovens are different and every tenderloin is different. I strongly recommend you check the internal temperature every 10 minutes.
Cook's notes
The first time we made beef tenderloin, the high heat from the old oven produced a steam that set off the smoke detector, even though I used a broiler pan and the oven was clean. The next time, I cooked it in a new oven on lower heat and no smoke detectors went off.
Start with a clean oven and be prepared to swing a broom over the smoke detector if you use high heat.
The shrinkage of the tenderloin is about 2-3%; not much, because it's a lean piece of beef, so don't worry about that when you're planning your meal.
Roasting times and temperatures for the perfect tenderloin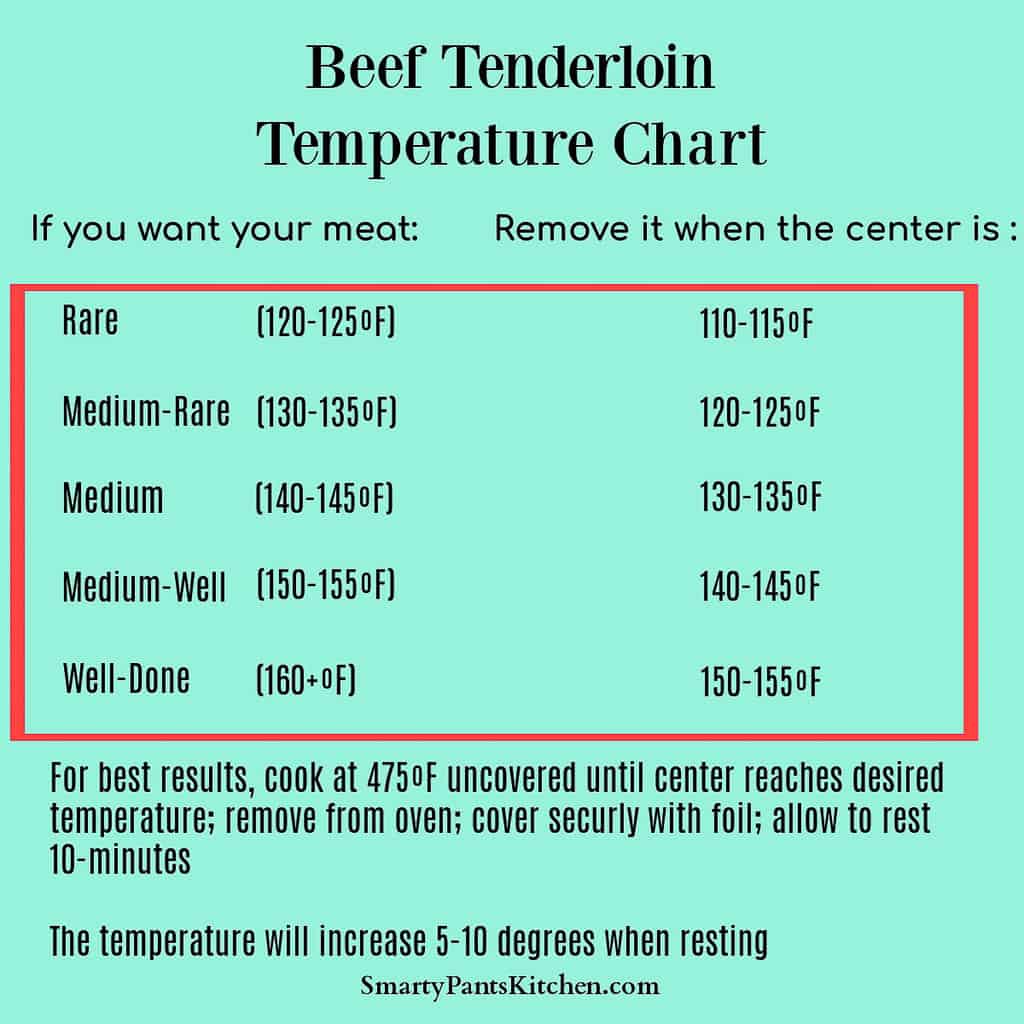 Grade of beef
Tenderloins generally come in different grades: Prime, Choice and Select. These grades are based on the degree of marbling:
Prime - "slightly abundant marbling"
Choice - "modest, moderate and small marbling"
Select - "slight marbling"
Prime is the highest-quality, Choice is second and Select is third. Generally, most beef tenderloins you'll find at the store are Choice grade which is just fine. Costco offers Prime grade beef tenderloin often, if not always.
Price and size
Most beef tenderloins are between 4½ - 5 pounds. Prime cuts are the most expensive ranging anywhere from $29.99 - $32.99 per pound. Choice tenderloins usually cost anywhere from $19.99 per pound and up.
Recipe FAQ
How many does a 5 pound beef tenderloin serve?
If you slice a 5-pound beef tenderloin into 1"-inch slices, you'll have about 14-16 slices; allow 2 slices per person, so a 5-pound tenderloin will feed about 8 people.
How long does a beef tenderloin take to cook in the oven?
Depends upon the size of the tenderloin and the temperature. Generally speaking, the rule of thumb is 12-14 minutes per pound at 350°F, but every oven varies.
The best way to determine doneness is to use a reliable and accurate meat thermometer.
How do I know when it's done?
Remember...it's all about the balance of time and temperature. Whether you cook your tenderloin on a lower heat (325°F or at a high heat (475°F), time is of the essence, so keep an eye on that stopwatch and meat thermometer!
The perfect beef tenderloin doesn't take long to roast at all, but you do need to keep a close eye on it...it's all about time and temperature!
What is silverskin and how do I remove it?
Silverskin is a thin, tough connective tissue found on the tenderloin. To remove it, simply use a very sharp knife, and gently slide the knife under the tissue.

Often, butcher shops will gladly remove the silverskin for you and re-tie the tenderloin. It's not imperative that you remove the silverskin, but the tenderloin will cook more evenly without it.

Silverskin doesn't dissolve like fat, so if you leave it on, the meat will be a bit tough.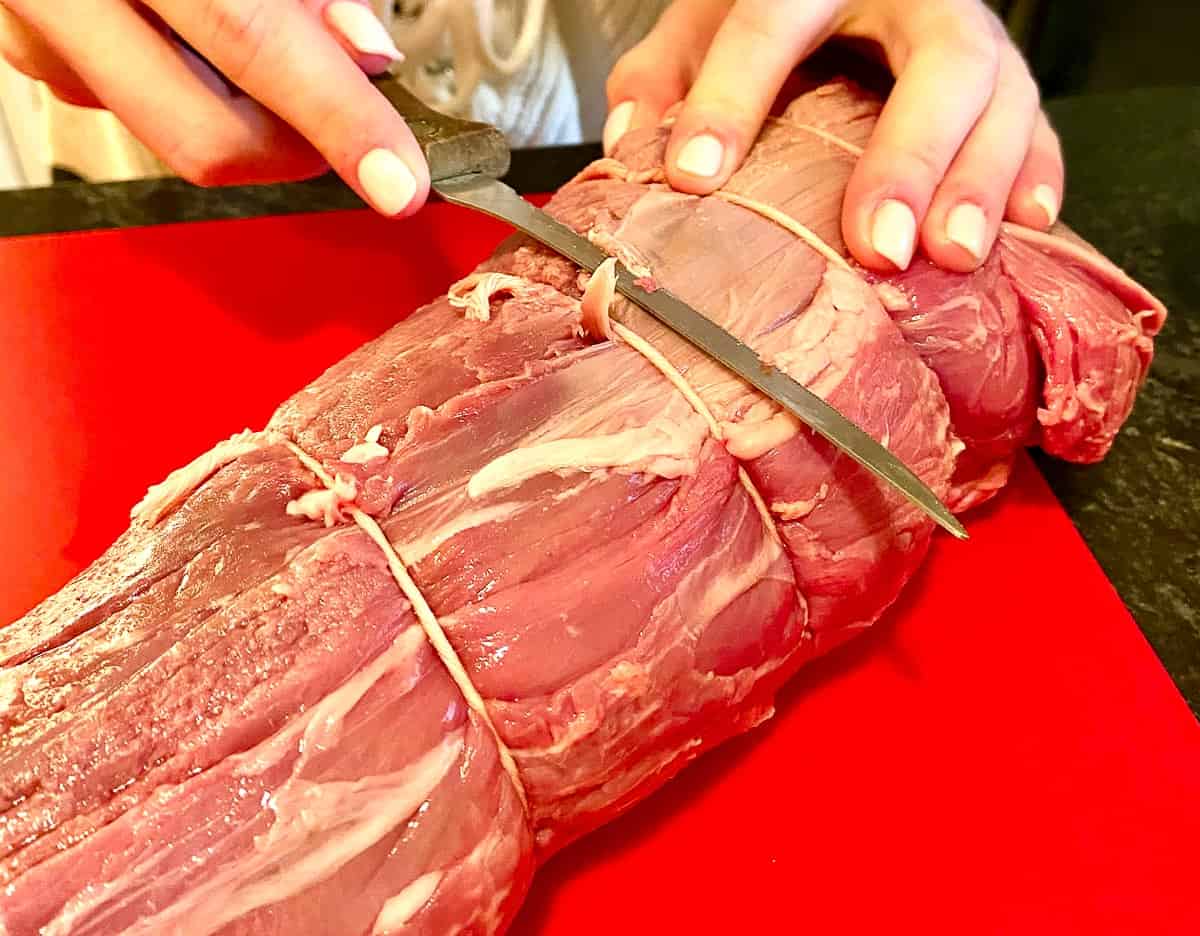 Make ahead and storage
If time is not on your side, you can cook the tenderloin in advance, then heat it up in the oven when ready to serve. If you do this, keep in mind that the internal temperature of the meat will rise so, you might want to first cook the meat first to a low temp around 120°F. Then wrap it securely (add any juices) in foil or place in an airtight container.
Store it in the fridge for up to 3 days. When ready to heat, turn oven to low (250°F, place the foil covered meat on a baking dish and bake to desired doneness - again, you'll want to check the temperature every few minutes to ensure you don't overcook this expensive piece of meat.
Freezing is always a nice option, just make sure the meat is wrapped securely in a freezer bag or container. This freezes well up to 6 months. When ready to repurpose or reheat, allow it to come to room temperature first.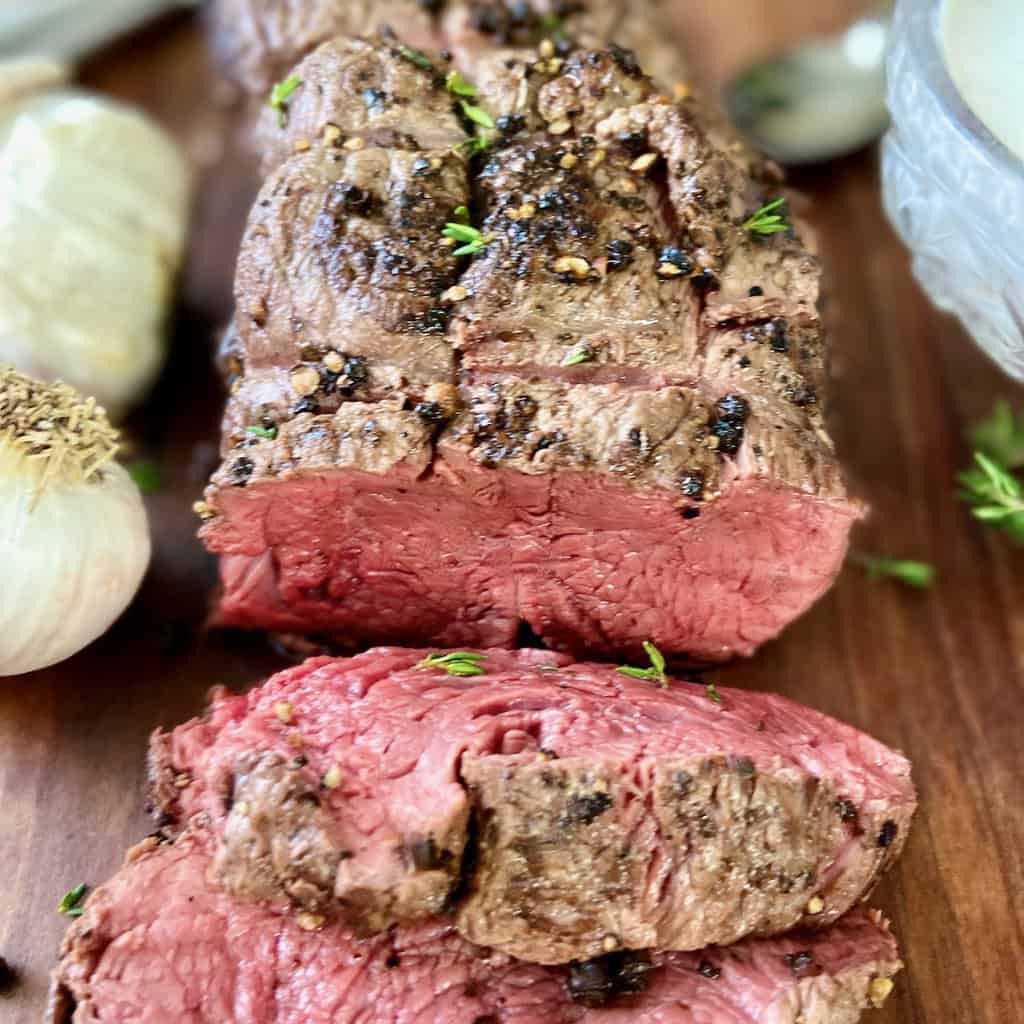 The perfect beef tenderloin is not hard to cook or roast; it's just a matter of balancing time and temperature. If you follow the basic guidelines of time and temperature, you'll have the perfect beef tenderloin every time!
Never have to be intimidated again by this pricey dish-which is TOTALLY worth every penny...once or twice a year:)
Related recipes
If you make this recipe, please scroll down and leave a rating and comment! I love to hear from you! Thank you!
📋 Recipe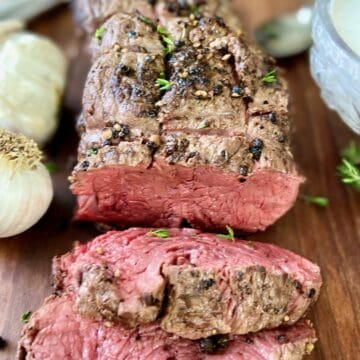 Perfect Beef Tenderloin with Horseradish Sauce
Foolproof technique for the perfect beef tenderloin every time! Horseradish Sauce recipe included!
Print
Rate
Equipment
Meat thermometer

Super sharp knife (for slicing and removing the silverskin)

Broiler pan with rack

Aluminum foil
Ingredients
5

pound

Beef Tenderloin

6

tablespoons

butter

, salted, softened

salt and pepper

, to taste
Horseradish Sauce
1

cup

sour cream

2

tablespoons

mayonnaise

4½

tablespoons

horseradish

2

tablespoons

lemon juice

, fresh

salt and ground black pepper to taste
Instructions
Prep and Cook the Tenderloin
Bring tenderloin and butter to room temperature; pat tenderloin dry with paper towel

Remove silverskin if it's not already removed

Rub entire tenderloin with softened butter

Lightly season with salt and pepper

On medium high heat in a cast oven skillet, sear meat on all sides (about 1 minute each side); don't forget to sear the ends

Place on broiler rack and bake uncovered at 325°F-475ºF for 12-20 minutes, depending upon how rare or done you like your tenderloin

Check internal temperature for desired doneness every 10-minutes; when it's ten degrees below how you want your tenderloin, remove it and cover it in foil; allow to rest 10-minutes before slicing.

If it's not quite the internal temperature you're looking for, return tenderloin to oven and continue to check the internal temperature every 10-minutes until it's ten degrees below the desired doneness
Horseradish Sauce Instructions
In a medium bowl, combine sour cream, mayonnaise, horseradish and lemon; combine well

1 cup sour cream,

2 tablespoons mayonnaise,

4½ tablespoons horseradish,

2 tablespoons lemon juice

Taste for salt and pepper

Place in refrigerator until an hour before the tenderloin is done; serve sauce at room temperature
Notes
For best results, start with a clean oven. If you use high heat, it often creates a steam that might set off the smoke detector. Don't ask me how I know this.
Check the temperature of the meat every 10-minutes
Make the sauce in advance and refrigerate it until about an hour before you serve the meat; let the sauce sit at room temperature while the meat is cooking
If you want to add additional seasonings or herbs, combine them with the softened butter; slather the mixture over the tenderloin then bake
Remove the tenderloin when it is about 10 degrees shy of the desired "done" temperature.
Nutrition Estimate
Serving:
2
slices
Calories:
535
kcal
Carbohydrates:
1
g
Protein:
30
g
Fat:
45
g
Saturated Fat:
20
g
Cholesterol:
136
mg
Sodium:
251
mg
Potassium:
527
mg
Fiber:
1
g
Sugar:
1
g
Vitamin A:
252
IU
Vitamin C:
2
mg
Calcium:
34
mg
Iron:
4
mg