Potato Dauphinoise is a French classic scalloped potato dish with layers of thinly sliced potatoes, cream, butter and Gruyere cheese. This recipe is from Julia Child's collection.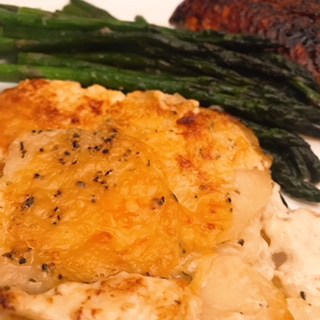 I first make this decadent potato dish as a side dish on the final test in a Food Planning and Preparation course. Our assignment was to put together a three-course meal and I chose Julia's famous potato side dish to accompany filet Steak Au Poive and Cream of Mushroom Soup. The dinner was a success, but the potatoes were the star! Since then, I make these creamy, cheesy potatoes at least four times a year!
Potato Dauphinoise, also known as scalloped potatoes–layers of hinly sliced potatoes with cream and cheese in between each layer. How yummy is this?
What Type of Potatoes Should I Use for Potato Dauphinoise?
You'll want to use a potato that is high in starch, like a Russet, or Idaho potato because they are higher in starch and absorb more of the cream than a waxy potato. For this recipe you want that potato to absorb all that flavor from the cream and cheese!
What's the Difference Between Scalloped and Gratin Potatoes?
The term "scalloped" refers to thinly sliced and layered potatoes. Gratin is a crispy bread crumb topping. You can make scalloped potatoes with or without a gratin.
They're really quite easy to make and have a few simple ingredients.  Gratin refers to the browning of the top, whether it be cheese or breadcrumbs. Interestingly, Julia did not include breadcrumbs in her recipe, as she followed the traditional French preparation.
How to Make Potato Dauphinoise
I highly recommend you invest in a mandolin for super thin potato slices. Set the mandolin on 1/8″ slice setting.
Peel, rinse and thinly slice potatoes 1/8th of an inch.
Cut a clove of garlic in half and rub it around the sides and bottom of your baking dish. Then, do the same with about a teaspoon of butter.
Make the first layer of potatoes by placing the thin slices in the bottom of the baking dish. Lightly salt & pepper; sprinkle with thyme; then pour 1/3 cream over first layer; add cheese. Repeat process two more times ending with a layer of cheese on top.
Cover baking dish with foil and bake for 1 hour on 375°F.
Remove baking dish from oven; turn oven to broil setting; return potatoes to broiler until the top is lightly golden brown.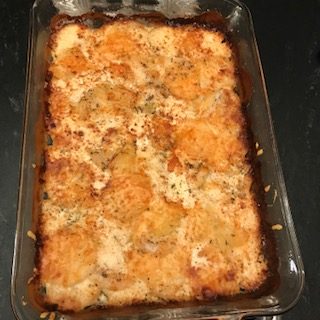 Options and Hacks
If you are feeling the need to really impress, serve individual ramekins of Potato Dauphinoise!
Here's an easy way to accomplish this! First, make the dish ahead in a large casserole dish but don't add the last layer of cheese! Once the potatoes have settled a bit,  line each ramekin with garlic and butter, place a scoop of Potato Dauphinoise in each, top with cheese and place the ramekins on a baking sheet under the broiler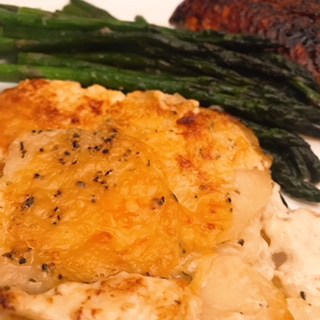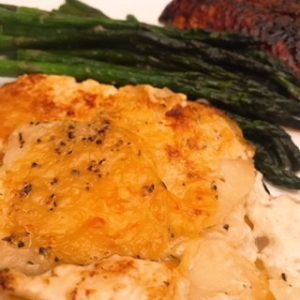 Potato Dauphinoise
Thinly sliced potatoes, nestled in a rich cheesy cream sauce with a hint of thyme and garlic.
Print
Pin
Rate
Total Time:
1
hour
10
minutes
Servings:
4
1/2 cup servings
Ingredients
2

lbs

potatoes

peeled, rinsed, thinly sliced 1/8"

½

clove

garlic

peeled

3

tablespoons

butter

cut into quarters

12

oz.

Gruyere cheese

grated

1½

cups

cream

2

teaspoons

thyme

dried (us 1 tsp. for fresh thyme)

1

tsp.

kosher salt

2

tsp.

black pepper
Instructions
Using a large oven-proof baking dish, rub cut side of garlic around the inside of the baking dish; do the same with butter

Slice potatoes into 1/8" slices; a mandolin works quickest!

Line garlic/butter seasoned baking dish with a layer of sliced potatoes

Pour 1/3 of the cream over the potatoes; lightly salt & pepper; sprinkle thyme over potatoes; add 1/3 of the cheese

Repeat above process two more times, ending with a layer of cheese on top (See Recipe Notes for Preparing for Large Groups)

Cover dish tightly with foil and place on middle rack; bake for 1 hour

After one hour; remove foil and re-set oven to broil

Broil potatoes until golden brown on top
Notes
**This recipe rarely feeds 12, as indicated on the original recipe, simply because people LOVE this dish and keep going back for seconds, thirds, and fourths!
For this reason, I highly recommend you consider a three-layered, 9 x 13 dish would reasonably feed 6-8. 
Preparation for Large Groups:
If you're serving a large group, consider using the hack as noted in the post; bake a huge dish of Potato Dauphinoise, then re-plate smaller portions into ramekins, top with cheese, broil, and serve.