This easy, traditional Salted Caramel Cheesecake is a perfect make-ahead dessert for holidays and special occasions!
With a few simple ingredients, you can have a silky smooth, restaurant-quality cheesecake to serve your guests!
At first glance, it looks like this takes a long time to make, but it rests for 2 hours and then is refrigerated for 4 hours.
The actual process of making the crust, steam bath and filling is about 20-minutes.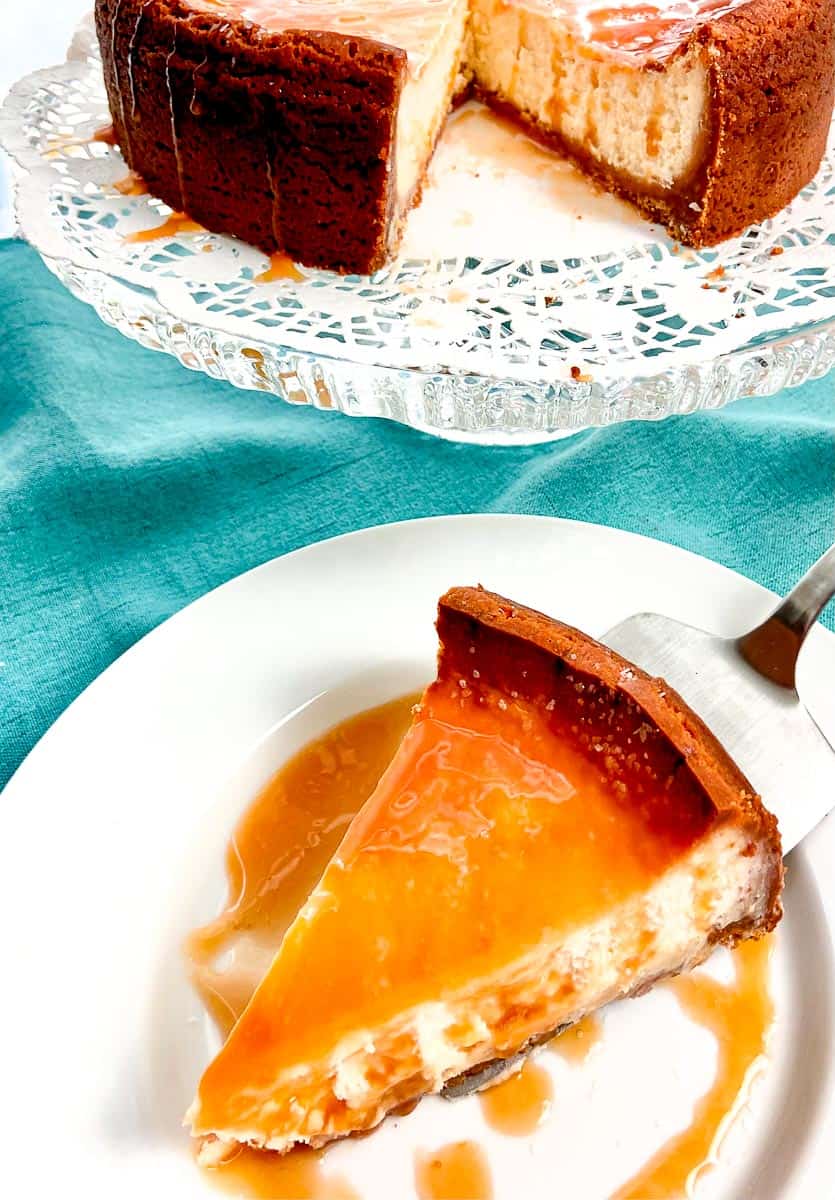 Jump to:
Why you'll love this recipe
Pre-made graham cracker crust requires no pre-baking, so you only bake "once" and you'll love the "no-cook" caramel sauce
Great for a crowd - you'll get 16 slices of delicious salted caramel cheesecake from this recipe
Inexpensive - simple ingredients
Homemade from scratch - all natural ingredients and better than The Cheesecake Factory's™ cheesecake!
Here's what you'll need
Use a high-quality caramel sauce like Torani's™ or Ghiradelli™ brand. Two pre-made graham cracker crusts, butter, sugar, eggs, vanilla extract, cream cheese and kosher salt.

How to make it
Three steps for making this: 1) Prepare the crust 2) Prepare the pan and steambath 3) Make the filling
Make the crust
This caramel cheesecake recipes uses pre-made graham cracker pie shells so you don't have to bake the it first!
Get two large pie crusts and crumble them up in a big bowl. Add 1 stick of melted butter; combine, then mold into prepared pan.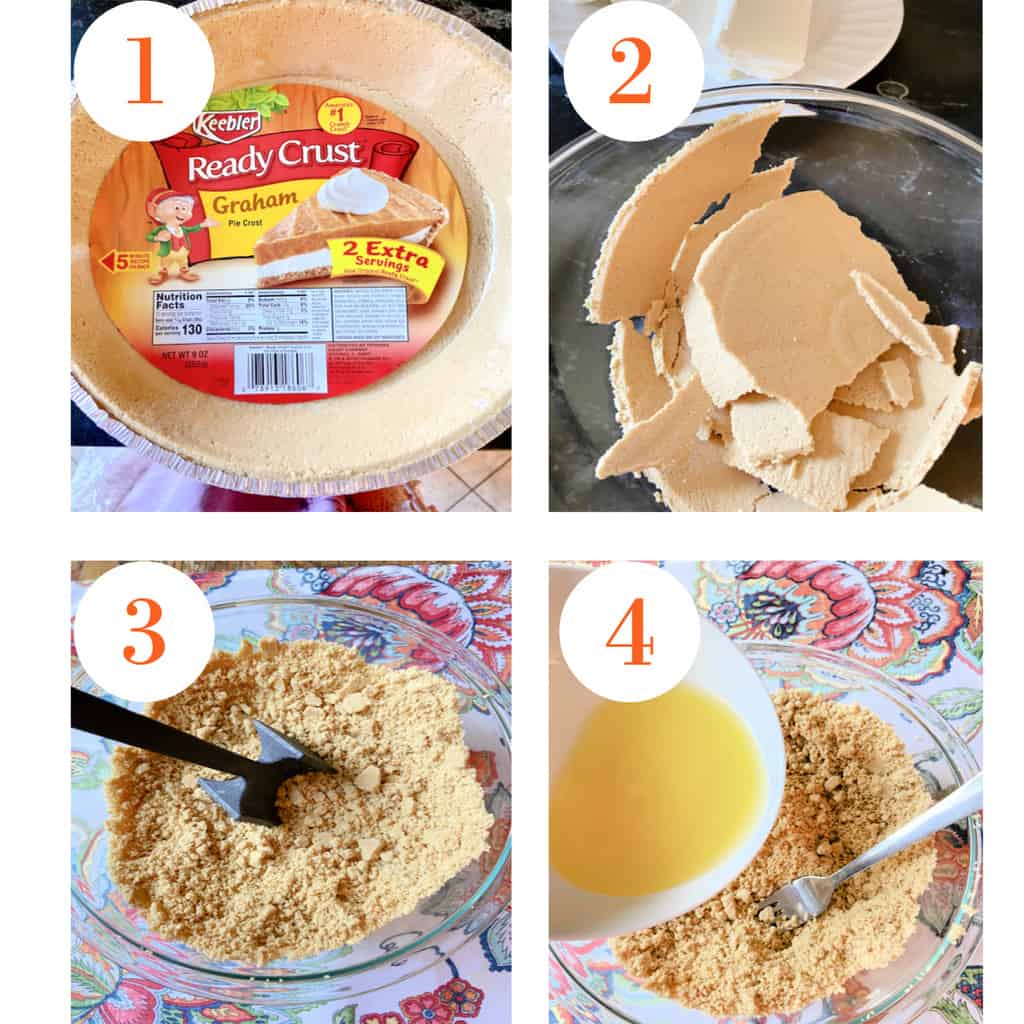 Two large pie shells yields 4 cups of crumbled crackers, so if you use the smaller 8"inch shell, you'll need 4 premade 8"inch crusts.
It will be grainy like this after you add the melted butter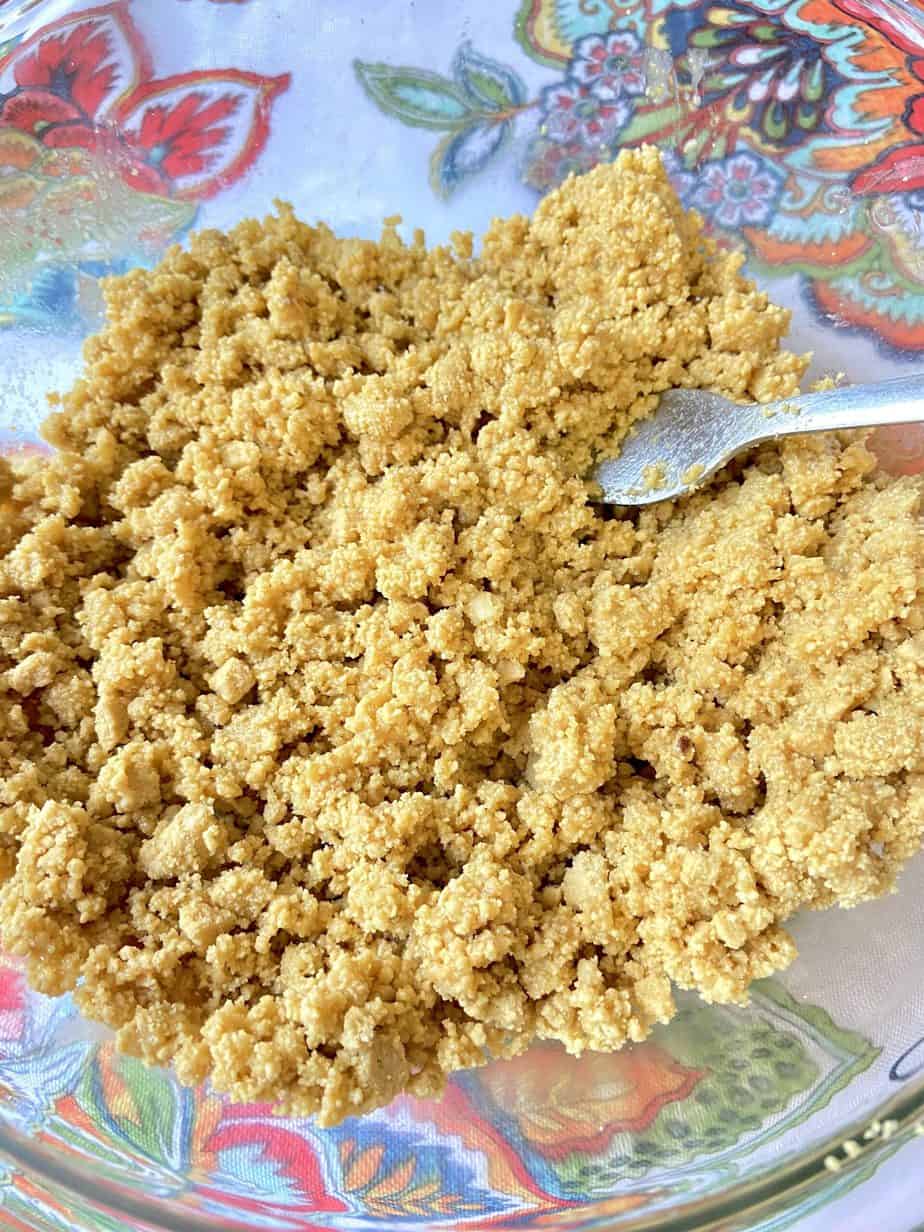 Prepare the pan and steam bath
Lightly oil base and sides; cover base with parchment; replace ring and secure; spray oil on parchment
Bring 6-8 cups of water to a boil. Pour hot water into large roasting pan and place on the lowest oven rack.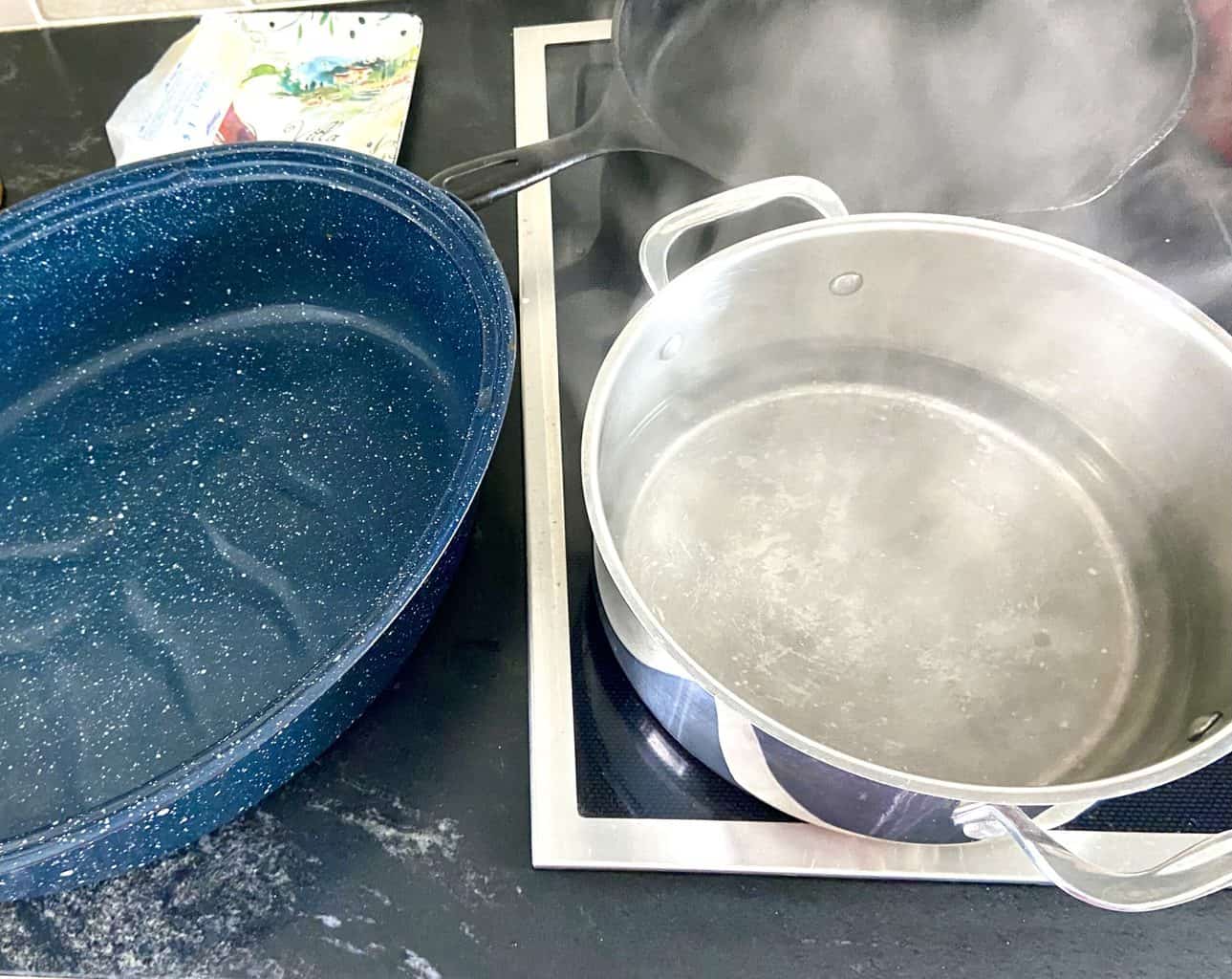 Press the graham cracker mixture into the bottom of the pan; use your fingers or a spatula and move some of the crust up along the sides of the pan.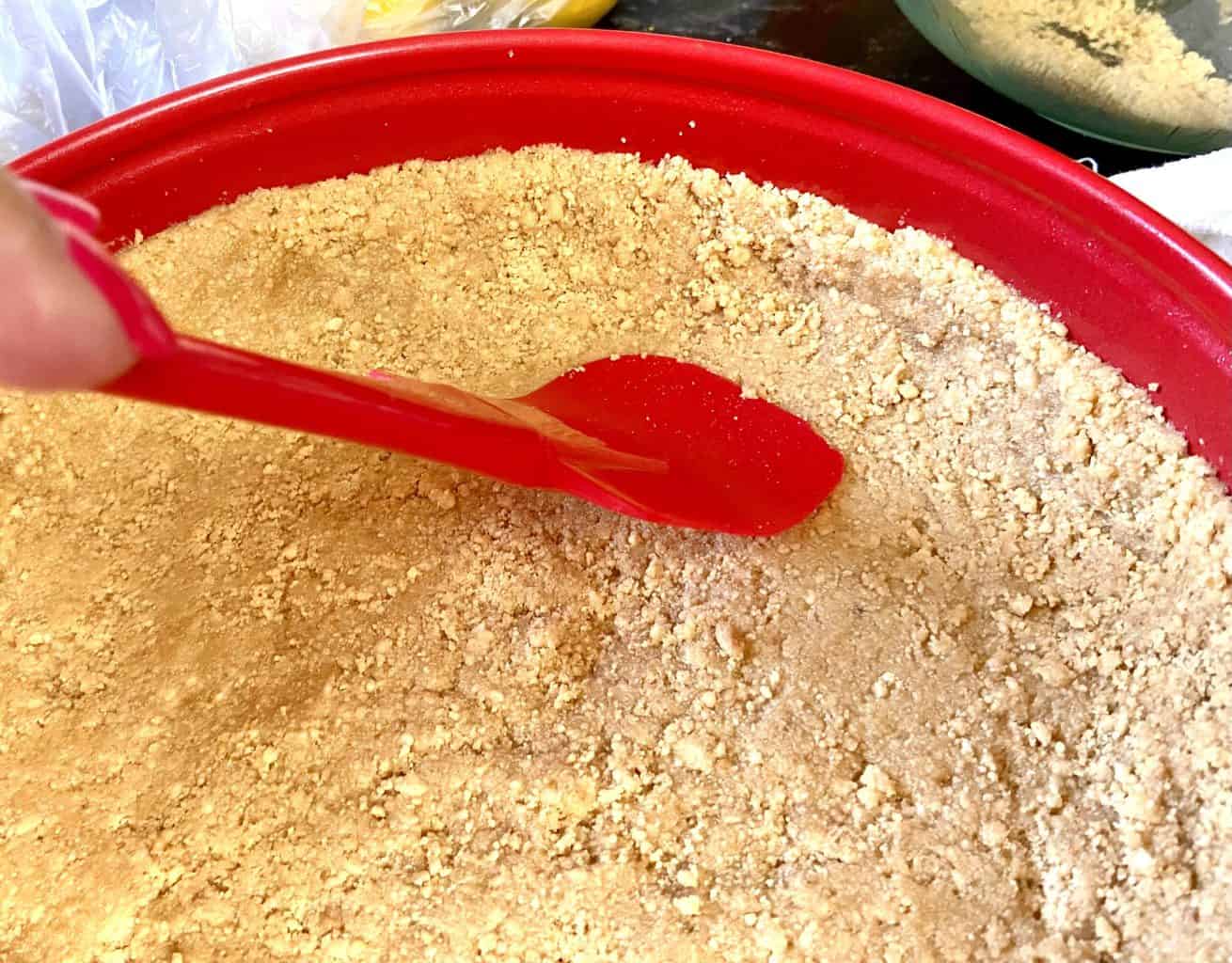 Make the cheesecake filling
In a large mixing bowl, combine cream cheese, sugar and vanilla; use a hand or stand mixer and add eggs one at a time, mixing continuously. Once combined, pour cheesecake batter into prepared pan with graham cracker pie crust shell. Bake on the middle rack over a hot water bath (put the hot water bath on the bottom shelf of the oven) Bake 50-60 minutes or until the center is slightly jiggly. Once the cheesecake is done, turn off the oven and LEAVE THE OVEN DOOR CLOSED FOR ONE HOUR.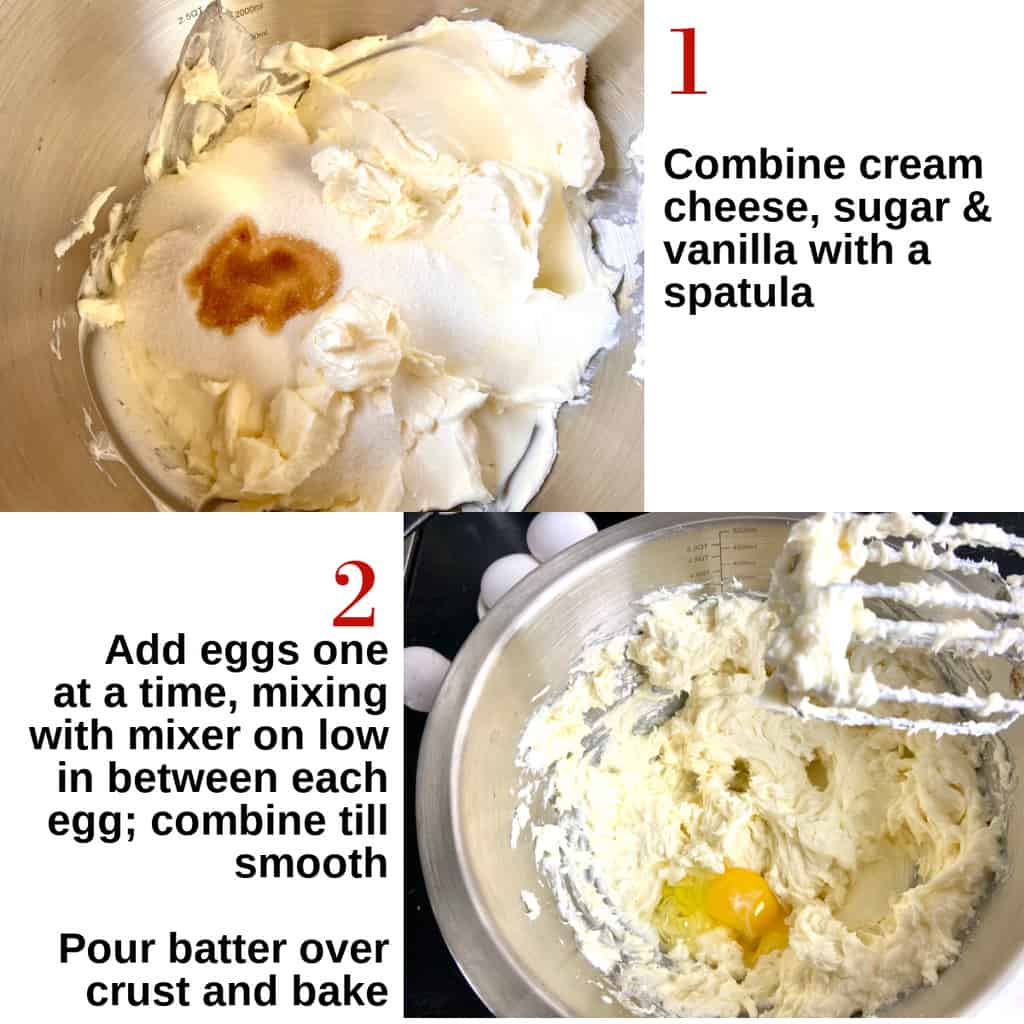 Place the steam bath on the lowest oven rack and the cheesecake, uncovered above it.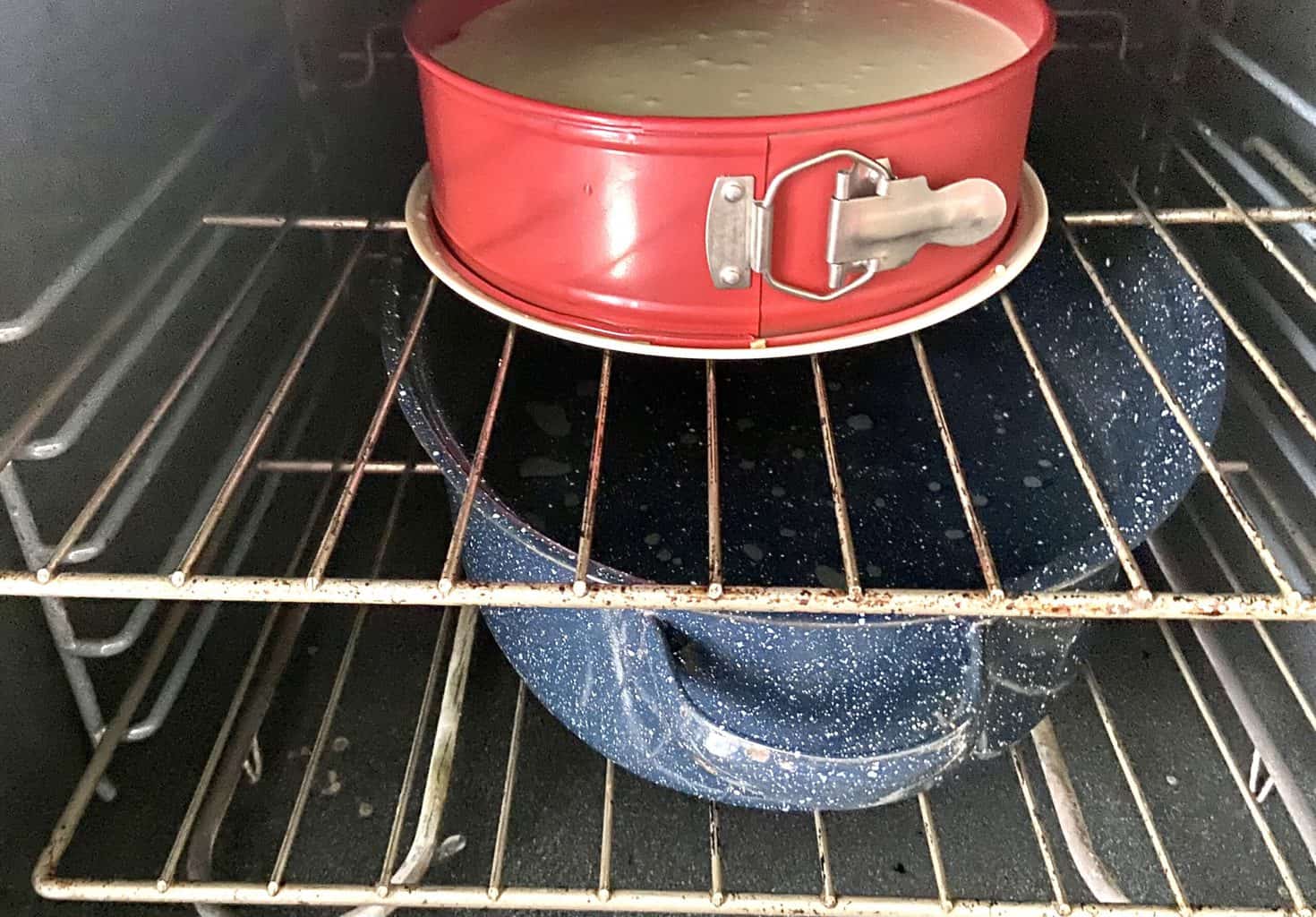 Bake for about 50- 60 minutes @ 325ºF and until the center is slightly jiggly.
How to prevent cracked cheesecake
When it's done; turn off the oven and leave the pans in the oven for 1 hour. Do not open the oven door during this time.
This allows the cake to rise and fall gradually, preventing the top from cracking.
After one hour in the oven, let the cheesecake cool on the counter. Then refrigerate for 4 hours.
Gently remove from base, place on serving platter and drizzle sauce over top; finish with sprinkles of kosher salt and serve!
No-cook caramel sauce
This is a huge timesaver! Typically, a made-from-scratch sauce takes about 20-minutes.
This recipe uses high-quality, prepared caramel sauce like Ghiradelli™ or Torani™ brands. You'll find these on the baking aisle in your grocer.
Drizzle a little over the entire cheesecae, or serve it on the side with individual slices! Don't forget to lightly sprinkle your cheesecake with kosher salt!
The difference between traditional and New York Style cheesecake
New York style cheesecakes typically have heavy cream or sour cream, which help stabilize the cake upon freezing. Traditional cheesecake recipes do not include heavy cream or sour cream.
How to prevent the top from cracking
The reason cheesecakes crack on top is due to an extreme change in temperature. In order to prevent cracks, use a steam bath then, let the cake sit in the oven after it's done with the oven turned off.
This "in-oven" resting time allows the cake to cool slowly.
This gradual change in temperature prevents the center of the cake from rising and falling too quickly.
How to remove the cheesecake from the springform pan
Once it's out of the oven, slide a knife around the pan and release the spring. Keep the cake on the base at room temperature for an hour.
Transfer the cake on the springform base to the refrigerator. Cover with plastic and allow to chill for 4 hours.
Once it's chilled in the fridge, use the tip of a sharp knife to gently loosen the cake from the pan. The cake will be firm at this point, so now is the time to place it on a serving platter.
How to slice it
Use a sharp, clean butcher knife and place the knife tip in the center of the cake. Gently press straight down, scoring the cake - do not saw back and forth.
If you have to repeat the score, clean the knife in between cuts. This results in a pretty slice of cheesecake.
Cut into quarters first then eighths, then sixteenths. Use the bottom of a butcher knife or a triangular pie spatula to remove individual slices.
How long to let it rest before serving
Generally speaking, you want to serve this salted caramel cheesecake relatively cool, so don't let it sit out more than 30 minutes or so.
How to store it
Store leftover cheesecake in the refrigerator, covered in plastic wrap for up to 7 days. Freeze for up to 2 months. Note: after freezing, allow cake to come to almost room temperature before garnishing with caramel sauce and serving.
Cheesecake Troubleshooting Tips
Bring eggs and cream cheese to room temperature
Combine cheesecake filling with spatula first
Add eggs one at a time, mix with a hand or stand mixer for a few seconds inbetween egg; mixer should be on low;
Use a steam bath
Let it rest in the oven with the oven turned off for 1 hour; then cool on the counter
Cover and refrigerate for 4 hours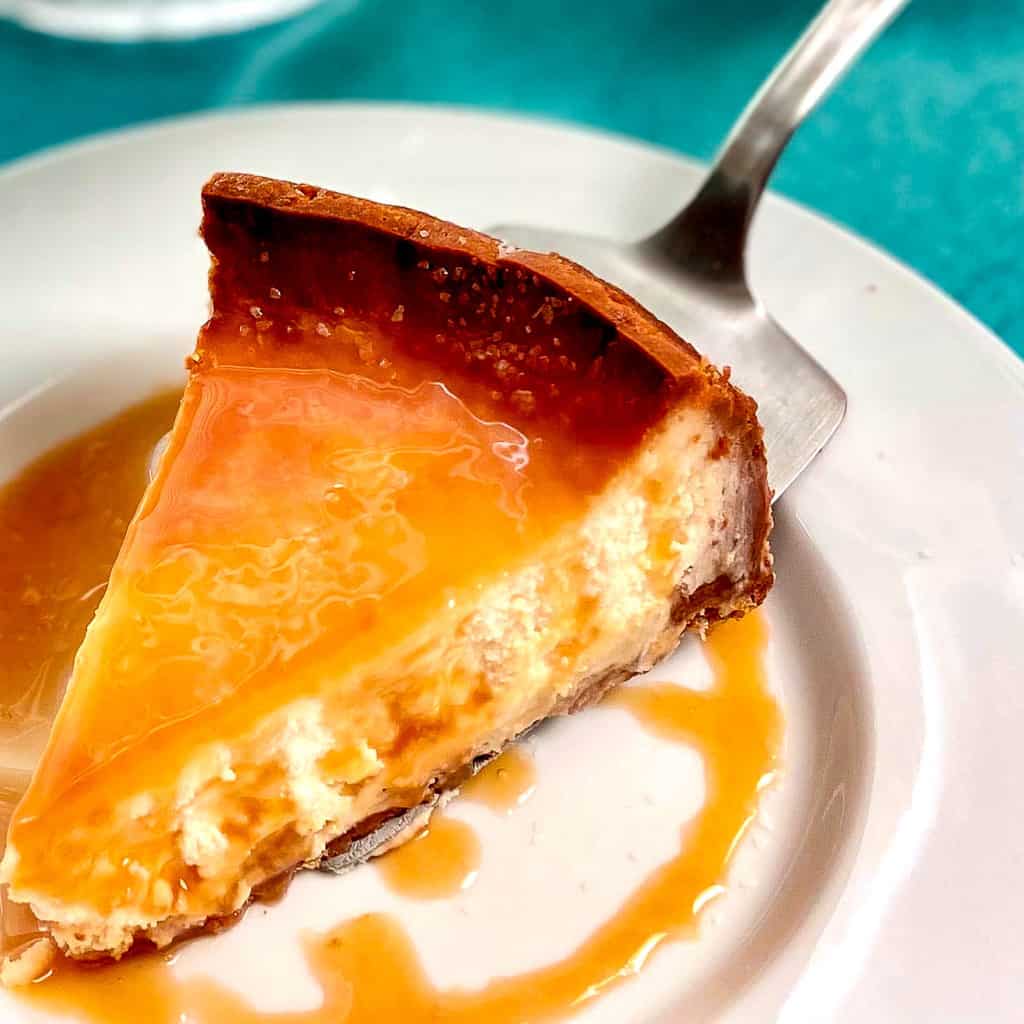 If you want to take this salted caramel cheesecake to another level, add homemade whipped cream and chopped pecans!
Related recipes
If you make this recipe, please scroll down and leave a comment and rating. I love to hear from you!
📋 Recipe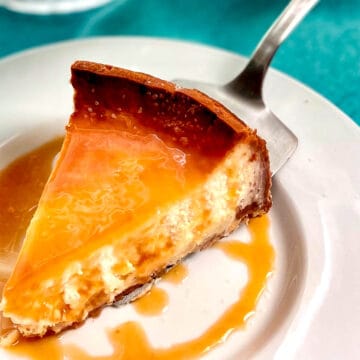 Salted Caramel Cheesecake
Silky traditional cheesecake topped with no-cook caramel sauce and kosher salt!
Print
Rate
Equipment
Hand or Stand Mixer

Spatula

Springform Pan

Spray Oil

Roasting pan (for water; to create steam)

Parchment paper (cut into a round to cover the springform pan bottom)
Ingredients
4

packages

cream cheese

(8 ounce packages; softened)

4

whole

eggs

, room temperature

water

, boiling (for steam bath)

1

cup

sugar

, granulated

1

teaspoon

vanilla extract

caramel sauce

, drizzle over top of cheesecake; Torani or Ghiradelli brand

kosher salt

, to sprinkle on top

½

cup

pecans

, chopped (optional)
Graham Cracker Crust
2

large

graham cracker pie crusts

, pre-made; or four 8"inch premade crusts; (you'll need 4 cups of crushed graham cracker premade crust) See Notes

1

stick

butter

, unsalted and melted
Instructions
Prep
Bring eggs and cream cheese to room temperature

4 packages cream cheese,

4 whole eggs

Cut parchment paper to cover bottom of springform pan

Lightly spray bottom and sides of springform pan

Place parchment round in pan; add the springform pan ring; secure tightly

Spray parchment paper lightly with oil; set aside
Graham Cracker Crust
In a large mixing bowl, add 2 large (or 4 small) pre-made graham cracker crusts

Use a meat mallet to crumble until fine

Add melted butter to crumbled crusts and combine well; it will be grainy

Pour this mixture into prepared springform pan; press the buttery crumbs onto the bottom and up the sides of the pan
Make the Cheesecake Filling
In a large mixing bowl, combine cream cheese, sugar and vanilla using a spatula

Once combined, add eggs, one at a time, and use a hand mixer on LOW to combine in between each egg

Pour silky cheesecake batter into springform pan

Turn oven to bake; add boiling water to large roasting pan and put it on the bottom rack in the oven

Place cheesecake on middle rack uncovered; bake 55 - 60 minutes

When the center is relatively "jiggly" turn off oven and leave cheesecake in oven for 1 hour

After one hour, remove cheesecake and allow to cool

Then, place in refrigerator, covered with platic for 4 hours

After 4 hours, remove cheesecake, slide a sharp knife under the cake and lift it onto a serving platter

Drizzle with caramel sauce and kosher salt; slice and serve; garnish with chopped pecans (optional)
Notes
Graham cracker crust:
You need 4 cups of crumbled graham cracker pre-made pie crust and 1 stick of butter.
The large premade crust yields 2 cups; the smaller 8"inch pie crust yields 1 cup.
You can make your own graham cracker crust from scratch using crumbled graham crackers and 1 stick of butter. If you do this, you'll need to bake it about 15 minutes @ 325ºF and let it cool before adding the cheesecake filling.
To prevent cracking, be sure to add boiling water to a large roasting pan before cooking cheesecake (to create a steam bath)
Allow cheesecake to sit in the oven for 1 hour after it's done
After it's sat in the oven for 1 hour, allow it to cool on the counter for 1 hour; then place it in the fridge lightly covered with plastic wrap for 4 hours.
Nutrition Estimate
Serving:
1
slice
Calories:
421
kcal
Carbohydrates:
29
g
Protein:
5
g
Fat:
33
g
Saturated Fat:
16
g
Polyunsaturated Fat:
2
g
Monounsaturated Fat:
11
g
Trans Fat:
1
g
Cholesterol:
78
mg
Sodium:
283
mg
Potassium:
117
mg
Fiber:
1
g
Sugar:
18
g
Vitamin A:
939
IU
Vitamin C:
1
mg
Calcium:
66
mg
Iron:
1
mg