Chicken Fricassée is an easy one-pan recipe that consists of braised chicken in a creamy mushroom sauce-an easy recipe anyone can make!
Don't be intimidated by the sound of this French Classic! It's a one pan chicken dinner that comes together in no time! Traditionally, the recipe uses chicken thighs, but you can use chicken breasts as well.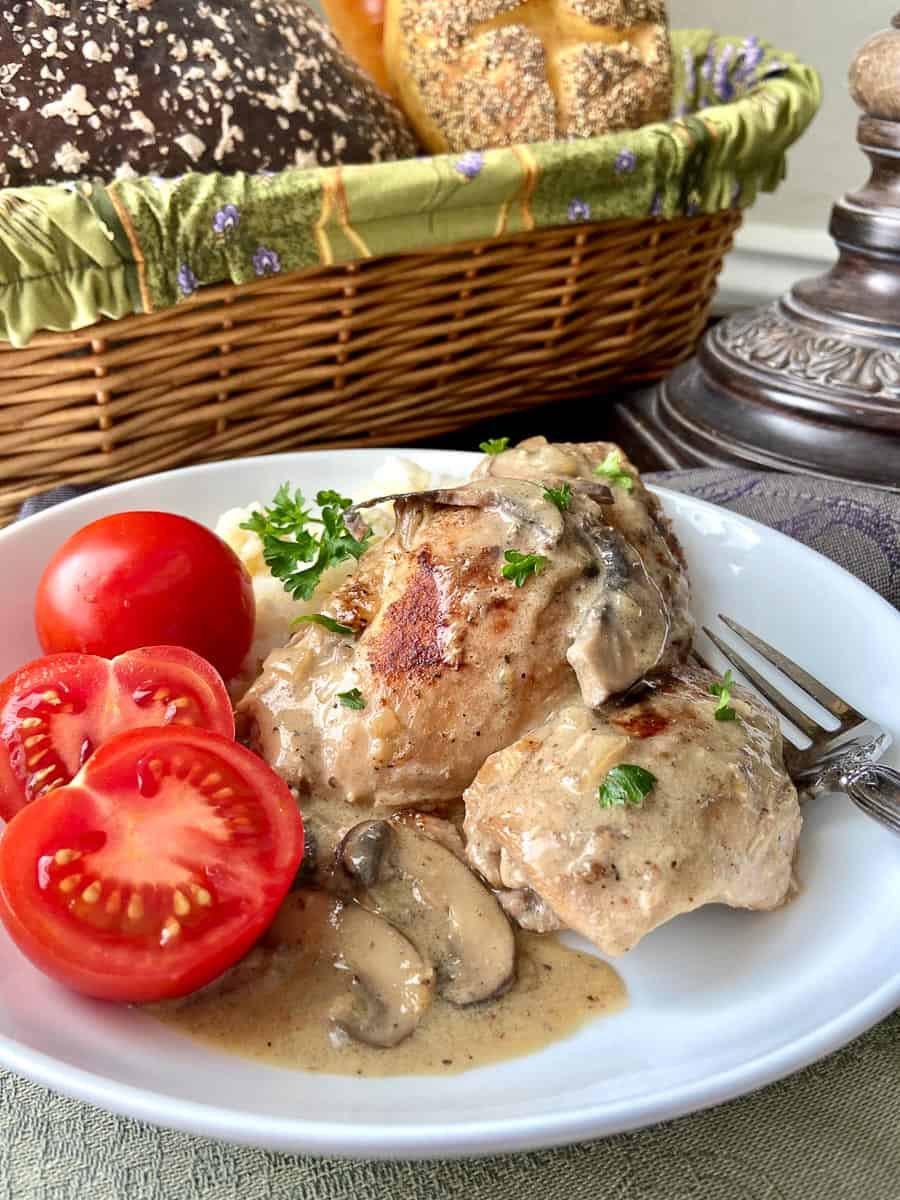 This slow simmered chicken dish has a mild, savory mushroom flavor with a hint of lemon and tarragon (optional.) If you're not a fan of tarragon, feel free to substitute with parsley!
What is Fricassée?
Fricassee is a French term that defines a cooking method meaning "to brown and braise a meat and serve with a sauce made from its own stock."
In this instance, the sauce for Chicken Fricassée is made with chicken stock and mushrooms. This is a traditional French classic, similar to the classic French dish "chicken stew."
Why you'll love this recipe!
Chicken Fricassee is a great weeknight dinner because once you brown the meat, it slow simmers in the skillet, which gives you time to do something else - you don't have to stand over the stove!
Easy clean-up: Doesn't require a lot of pots and pans; just one big skillet!
Variety - puts a new spin on your weekly chicken dinner with just a few seasonings
Affordable - nothing fancy or gourmet and makes a hearty meal for the whole family
No fancy equipment - the chicken and creamy mushroom sauce cook relatively quickly so there's no need for a slow cooker or crock pot; you can use a nonstick skillet or a medium weight skillet (no need for cast iron or a heavy skillet)
I make this dish with boneless, skinless thighs, but you can use breasts if you prefer. Just keep in mind that white meat cooks faster than dark meat chicken.
This dish is a French classic, so if you're feeling like you'd rather be in France, grab a beret and make this!
Here's what you need
Boneless, skinless chicken thighs, (or chicken breasts), butter, olive oil, (you can use vegetable oil), all-purpose flour, garlic cloves, dry white wine, mushrooms, chicken broth, egg, heavy cream, fresh lemon juice, and tarragon (optional) or the herb of your choice (parsley, thyme, sage, bay leaf, etc.)
What kind of mushrooms do I use?
You can use white button, Cremini or Portobello mushrooms. Just be sure to wipe the mushrooms with a damp paper towel and remove the stems before slicing.
How to make it
This easy Chicken Fricassee recipe comes together in no time, especially when you do the prep work first!
Prep
Separate egg and, in a small bowl, add egg yolk and cream; stir and set aside
Chop onions, mince garlic, clean and slice mushrooms; set aside
(If you have time, soak the chicken in buttermilk for an hour in the refrigerator. This makes it super moist. If you don't have time, don't worry about it--the chicken will still be delicious!)
Brown the chicken
Lightly season chicken with salt and pepper
In a large skillet on medium heat, add oil and butter; when butter is melted, place the chicken in the pan (in a single layer) and sear or brown it on both sides. Once the chicken is golden brown, transfer it to a plate and cover with foil. If your skillet isn't big enough to hold all the pieces of chicken, add a little more butter and oil to the skillet and make a second batch.
Make the creamy white mushroom sauce (use the same pan you cooked the chicken)
Deglaze the skillet with white wine; use a wooden spoon to scrape up any remnants or brown bits; add chopped onion and mushrooms to pan and saute for 8-10 minutes; add garlic and cook for 1 minute.
Sprinkle flour over mixture, stir well; add chicken stock and stir until there are no visible lumps; reduce heat to medium-low setting
Add cream/egg mixture and herb(s) (tarragon, parsley, sage...whatever herb you prefer or none at all); remove from heat; squeeze fresh lemon juice into pan and stir; return the skillet back to the stove
Return chicken pieces back to the pan; cover and simmer until the internal temperature of the chicken reaches 165°F.
Plate chicken and drizzle a little of the creamy white sauce over the top!
Recipe Tips
Whether you use white or dark chicken meat, trim away any fat first
Tongs are useful when making Chicken Fricassée; they help to transfer the chicken without it falling apart.
Have a meat thermometer nearby to ensure chicken reaches an internal temperature of 165ºF.
If you use dark meat with the skin-on, trim away the fat and, after you've browned the chicken, pour out some of the oil in the skillet...chicken fat produces more oil than you need for the creamy mushroom sauce
Make ahead and storage
If time isn't on your side, bake the chicken in advance and store in an airtight container in the fridge for up to 3 days.
When ready to serve, lightly brown the chicken on the stove, remove from pan, transfer to plate;
Make the sauce and return the meat back to the skillet to absorb some of the mushroom sauce.
You can make the sauce ahead of time, but I don't recommend doing so - it tastes best fresh from the skillet!
Serving suggestions
Traditionally, Chicken Fricassée is typically served with a starch, like scalloped potatoes, brown rice, white rice, egg noodles, creamy mashed potatoes, and a green vegetable (think peas, broccoli or sautéed spinach.)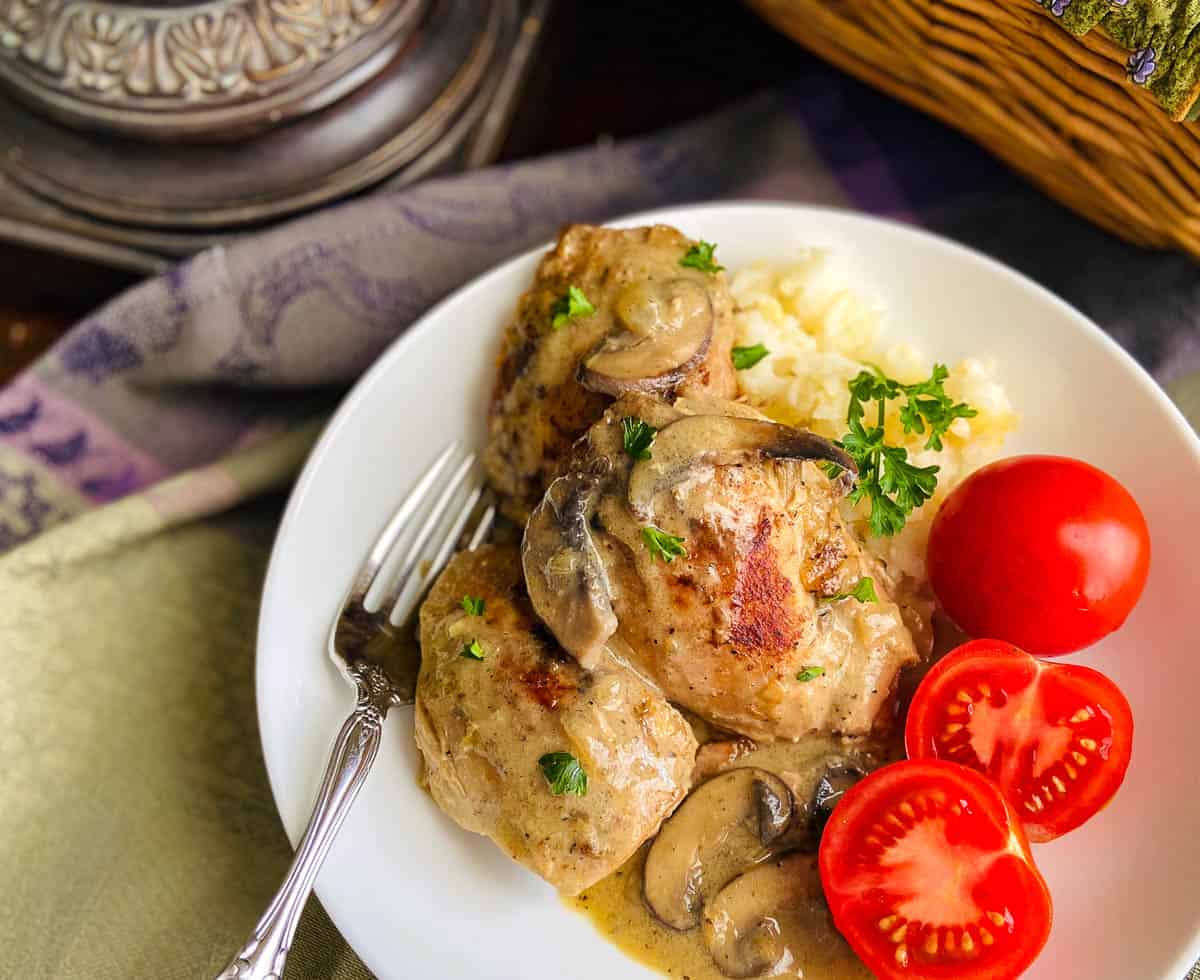 This easy Chicken Fricassee recipe pairs beautifully with a dry white wine like a Chardonnay or Pinot Grigio.
Related recipes
If you make this recipe, please scroll down and leave a comment and rating! I love to hear from you! Thank you!
📋 Recipe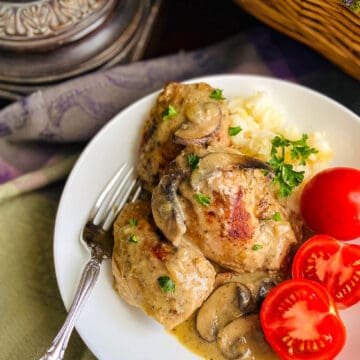 Ingredients
2

pounds

chicken

boneless, skinless - thighs or breasts

1

pound

mushrooms

, whole (Button, Cremini or Portobello)

1

tablespoon

fresh lemon juice

¼

cup

dry white wine

1

cup

chopped onion

1

clove

minced garlic

1

tablespoon

oil

, vegetable or olive oil

1

tablespoon

flour

, all-purpose

2

teaspoons

tarragon

, dried (optional); or parsley, thyme, sage

1½

cups

chicken stock

1

tablespoon

butter

¼

cup

heavy cream

, heavy whipped cream, room temperature

1

large

egg yolk

salt and pepper

, to taste
Instructions
Prep
Clean mushrooms with damp paper towel; remove stems; slice mushrooms thinly; set aside

Chop onion and mince garlic; set aside

Separate egg; in a small bowl, combine cream and egg yolk; set aside

1 large egg yolk,

¼ cup heavy cream

Trim away any fat; lightly salt and pepper chicken
Cook the chicken and make the sauce:
Add butter and oil to large skillet on medium heat

1 tablespoon oil,

1 tablespoon butter

Place chicken in a single layer in skillet; cook 4-6 minutes on medium heat or until lightly browned; flip and cook another 4-6 minutes; use tongs, remove chicken, transfer to plate and cover with foil

Deglaze pan: add white wine to skillet; use wooden spoon to scrape pan

Add chopped onions, mushrooms to pan; cook for 8-10 minutes

1 pound mushrooms,

1 cup chopped onion

Add garlic to mushroom/onion mixture

Sprinkle flour over mixture and add broth; stir well; reduce heat to medium-low

1 tablespoon flour,

1½ cups chicken stock

Add cream/egg mixture and tarragon; stir well; remove from heat; add lemon juice; season with salt and pepper to taste

1 tablespoon fresh lemon juice,

2 teaspoons tarragon,

¼ cup heavy cream,

salt and pepper

Place browned chicken back into pan; return pan to stove ; cover and simmer until the internal temperature reaches 160ºF

Plate and drizzle with mushroom sauce
Notes
At first glance, this recipe looks like you're moving the chicken around a lot...here's the deal:
First, you brown and remove it from the pan
then you make the sauce
then add it back in to finish cooking on a low simmer
If you use chicken thighs with the skin-on you'll have too much oil for the sauce (chicken fat renders a lot of oil), so you'll need to throw some of the oil away
Season the thighs and sear in pan; remove from pan; trim away fat
Pour out some of the oil in the pan (you only need about 2 tablespoons of fat in the pan)
Add flour and resume recipe instructions
If you have time, marinade the chicken in buttermilk in the fridge for about 1 hour. This results in super moist chicken. If you don't have time, no worries! It will still be good!
Out of heavy cream?
Substitute with ¼ cup sour cream or plain yogurt...just make sure it's room temperature
Do not add the lemon until the very end and make sure the skillet is OFF HEAT or the mixture will curdle
Nutrition Estimate
Serving:
1
cup
Calories:
715
kcal
Carbohydrates:
15
g
Protein:
45
g
Fat:
52
g
Saturated Fat:
15
g
Polyunsaturated Fat:
10
g
Monounsaturated Fat:
22
g
Trans Fat:
1
g
Cholesterol:
291
mg
Sodium:
353
mg
Potassium:
1045
mg
Fiber:
2
g
Sugar:
6
g
Vitamin A:
628
IU
Vitamin C:
8
mg
Calcium:
64
mg
Iron:
3
mg