If you love blue cheese, you'll love this creamy Blue Cheese Potato Salad recipe! Tender red potatoes, nestled in an easy homemade dressing with tangy blue cheese crumbles and accented with red onion, bacon and a hint of dill!
The beauty of this easy recipe is that its ready in no time, and you can serve it warm, room temperature or chilled!
It pairs beautifully with barbecued or grilled meats or as a side dish to fried chicken or your favorite sandwich!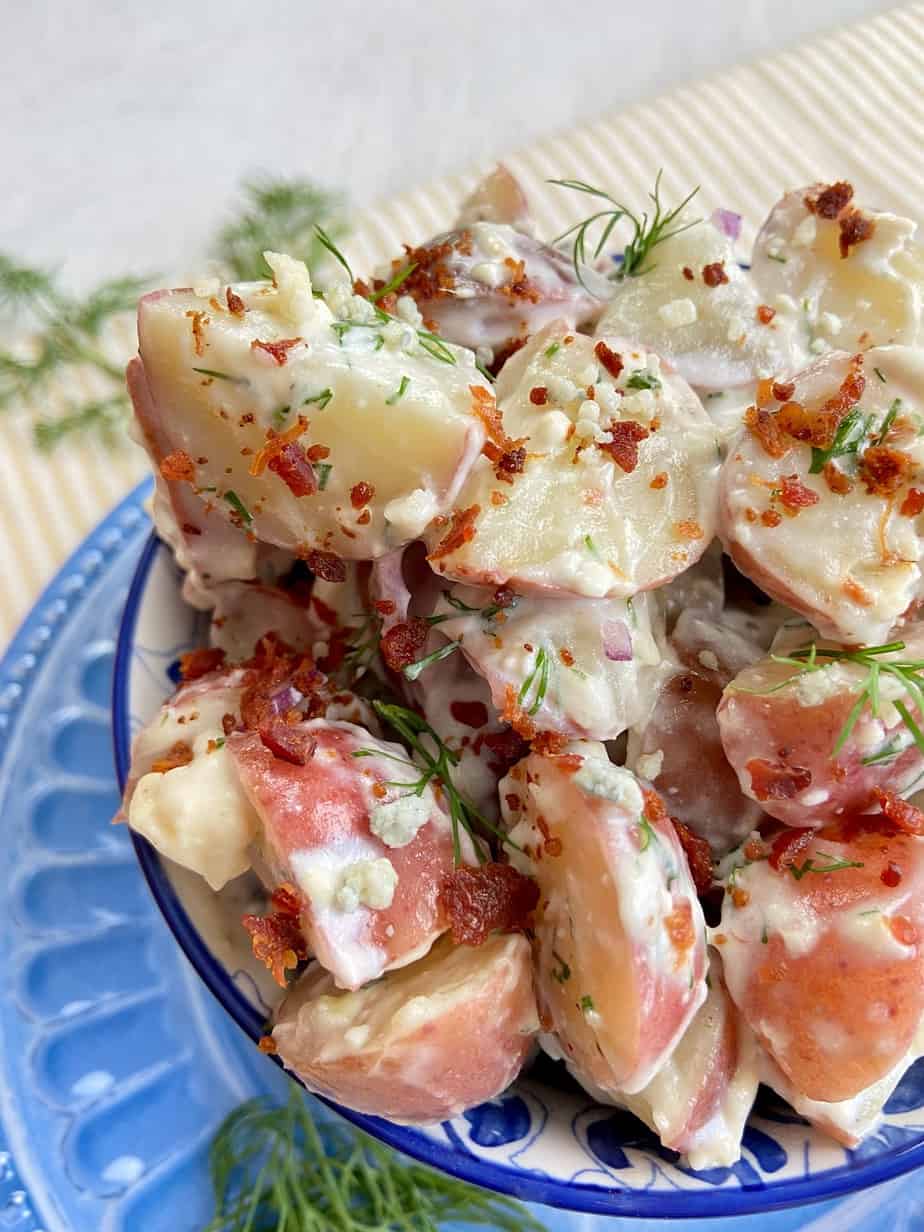 Why this recipe works
The red potatoes are waxy, which means they hold up well in a salad environment and do not disintegrate or turn to mush
No additives, preservatives or fillers - this recipe uses all-natural ingredients and high quality crumbled blue cheese
Inherently gluten-free; there's no wheat in most potato salad recipes (unless you use a jarred dressing, which might contain wheat or wheat fillers
Bite-size pieces, not mushy - you'll need a fork!
Affordable - this recipe doesn't require a lot of blue cheese crumbles, which are the most expensive item in this recipe. You can get a five-pound bag of red potatoes for under five bucks.
Here's what you'll need
A pound of red creamer (also known as new potatoes or petite reds), blue cheese crumbles, mayonnaise, buttermilk, onion and garlic powder, a splash of white vinegar (or lemon juice), a teaspoon or so of onion and/or garlic powder, salt and a teaspoon of black pepper. Some folks like celery in their salad, so if you do, too, feel free to add ¼ cup of finely chopped celery. The fresh dill and bacon are optional.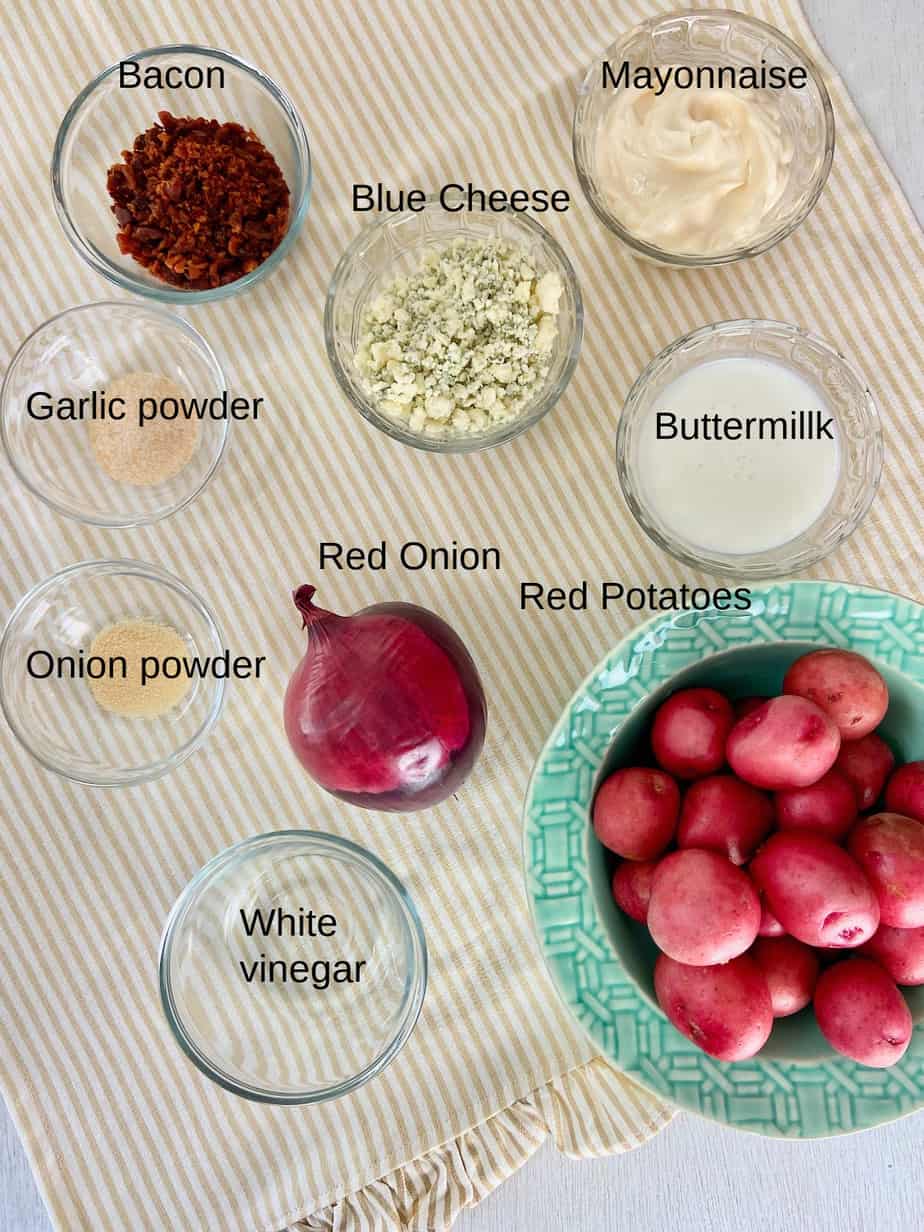 There's no need to add oil as the mayonnaise is creamy enough and the buttermilk allows the dressing to mix well with the potatoes.
Best potatoes for potato salad
Waxy potatoes hold up best in salads, soups, and stews: these would be red creamers, red new potatoes, red petite potatoes or you can use "white" potatoes - Yukon gold or waxy whites. Russet, "Idaho", or baker potatoes do not hold up as well - they absorb too much water when boiling and can easily (and quickly) turn mushy. The small red potato is my favorite potato for this dish.
If you don't have buttermilk, you can substitute with sour cream or make your own: just add a little lemon juice to plain milk, let it sit a few minutes, and you have buttermilk!
I like the flavor combination of sweet red onions and blue cheese, but you can use green onions if you prefer.
Blue Cheese tips and substitutions
You can buy blue cheese crumbles (they're usually in the deli section) or, you can buy a small block of English Stilton and crumble it yourself. You can also substitute with Gorgonzola crumbles or with a Danish Blue or Roquefort cheese, which are also in the deli section.
How to make it
Bring a large stockpot of water to a boil; add quartered or cubed potatoes; boil till tender, drain and set aside in a large bowl.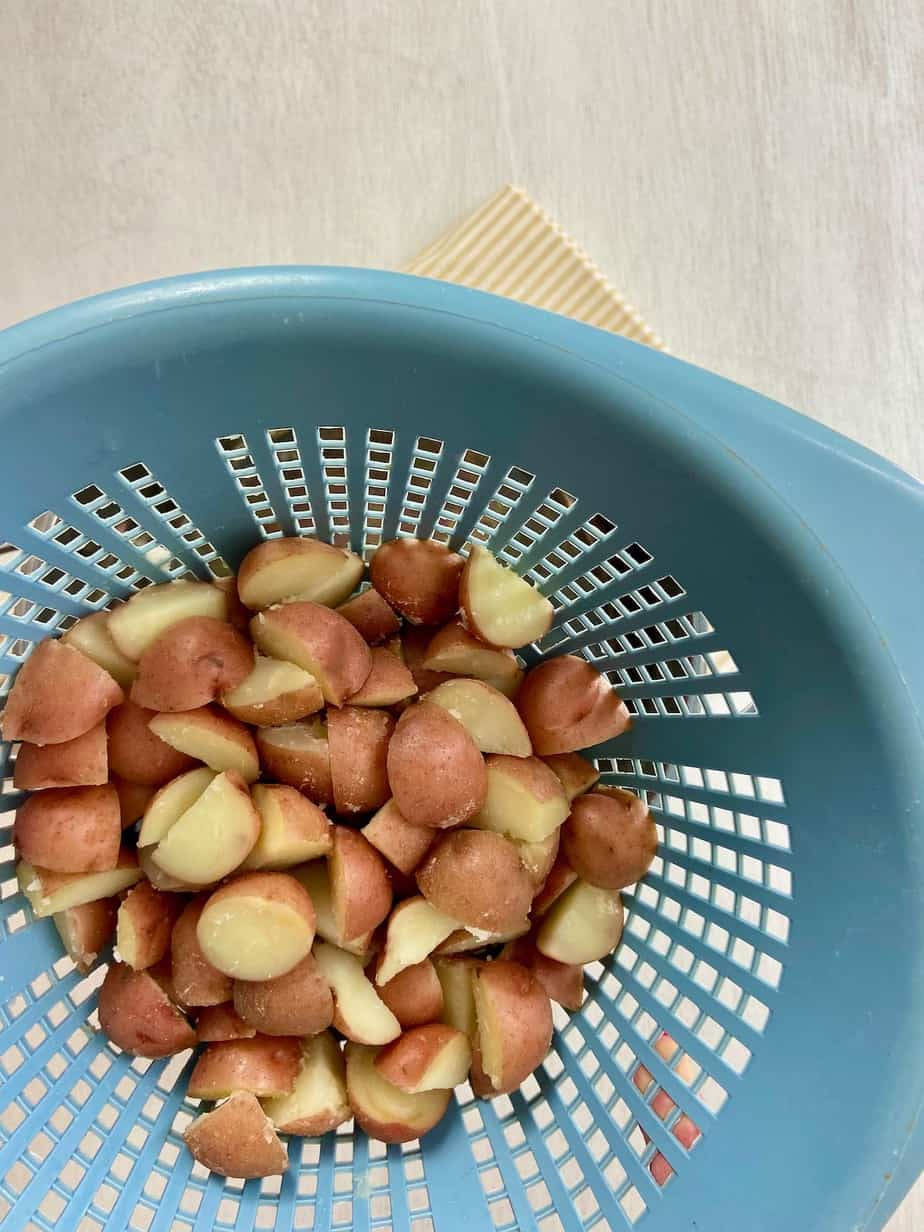 Meanwhile, make the blue cheese dressing. In a small mixing bowl, whick together mayonnaise, buttermilk, onion and garlic powder, and blue cheese crumbles.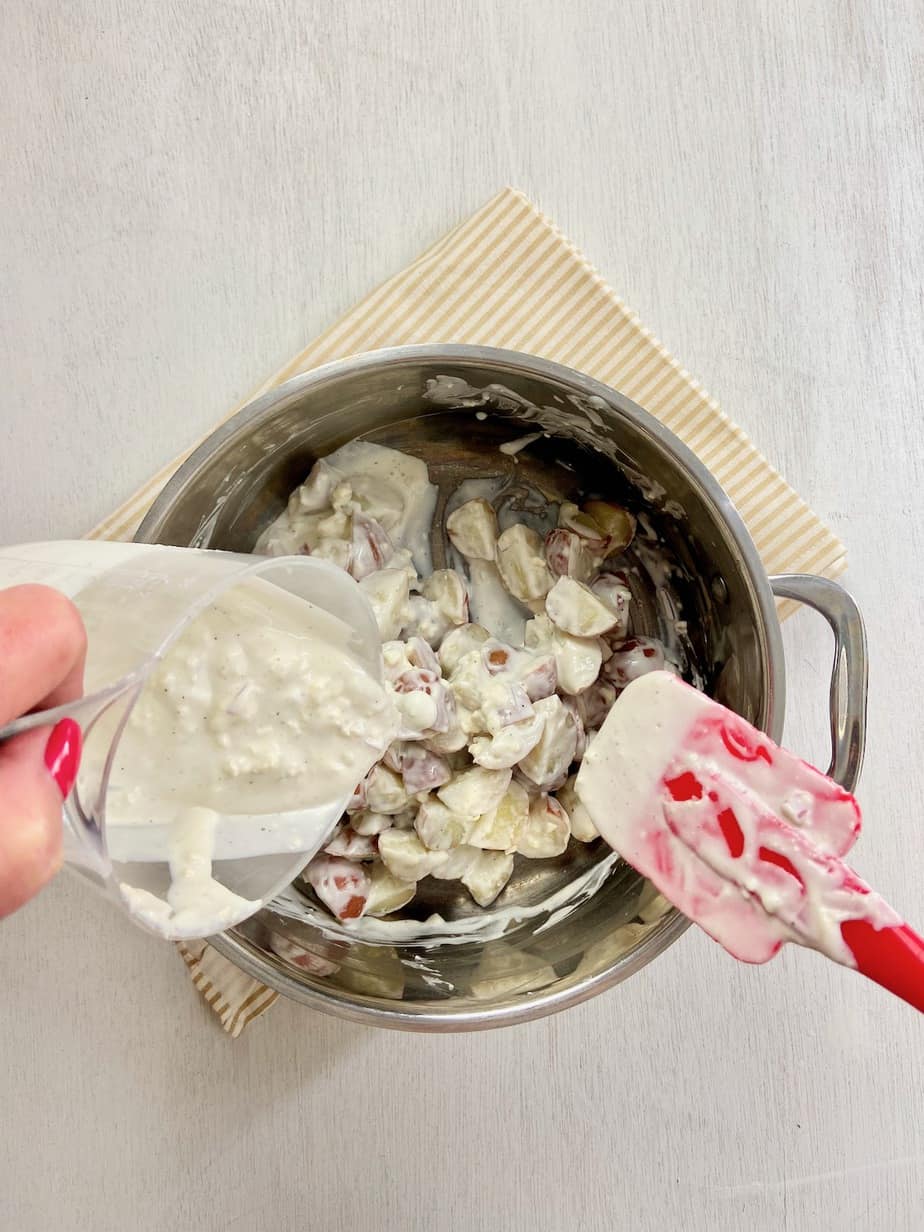 Drizzle mixture over potatoes and gently fold; add bacon bits and fresh dill (optional); season to taste with a teaspoon of salt and a teaspoon ground black pepper.
At this point, you can serve it warm, refrigerate it, or cover with plastic and serve within an hour.
Yield
One pound of small red potatoes makes about 4-6 half-cup servings; the blue cheese dressing recipe makes about 1-¼ cup, which is plenty for one pound of diced potatoes.
If you're using a 2 or 3 pound bag of potatoes, double the dressing recipe just to be safe.
Tips
I do not peel the potatoes; you can if you like
Do not overcook the potatoes - you want them fork tender; allow them to cool a bit before you add the dressing
Minced onion - use the small side of a cheese shredded and grate red onion
Potato salad for a crowd
If you're going to a family reunion, potluck or large gathering, double or triple the salad and dressing recipe. Allow about ½ cup serving per person.
Serving recommendations
In my experience, potato salads with cheese taste best when served slightly warm. If you refrigerate the blue cheese potato salad, it needs to rest at room temperature before you serve it, so the blue cheese dressing can soften a bit.
Make ahead and storage
You can make this up to 3-5 days in advance. You can assemble the whole dish, cover and refrigerate or, you can boil the potatoes and store them in the fridge (in an airtight container) and store the dressing in a jar. When ready to serve, let everything get to room temperature, fold dressing in and serve. Garnish with bacon and/or dill last.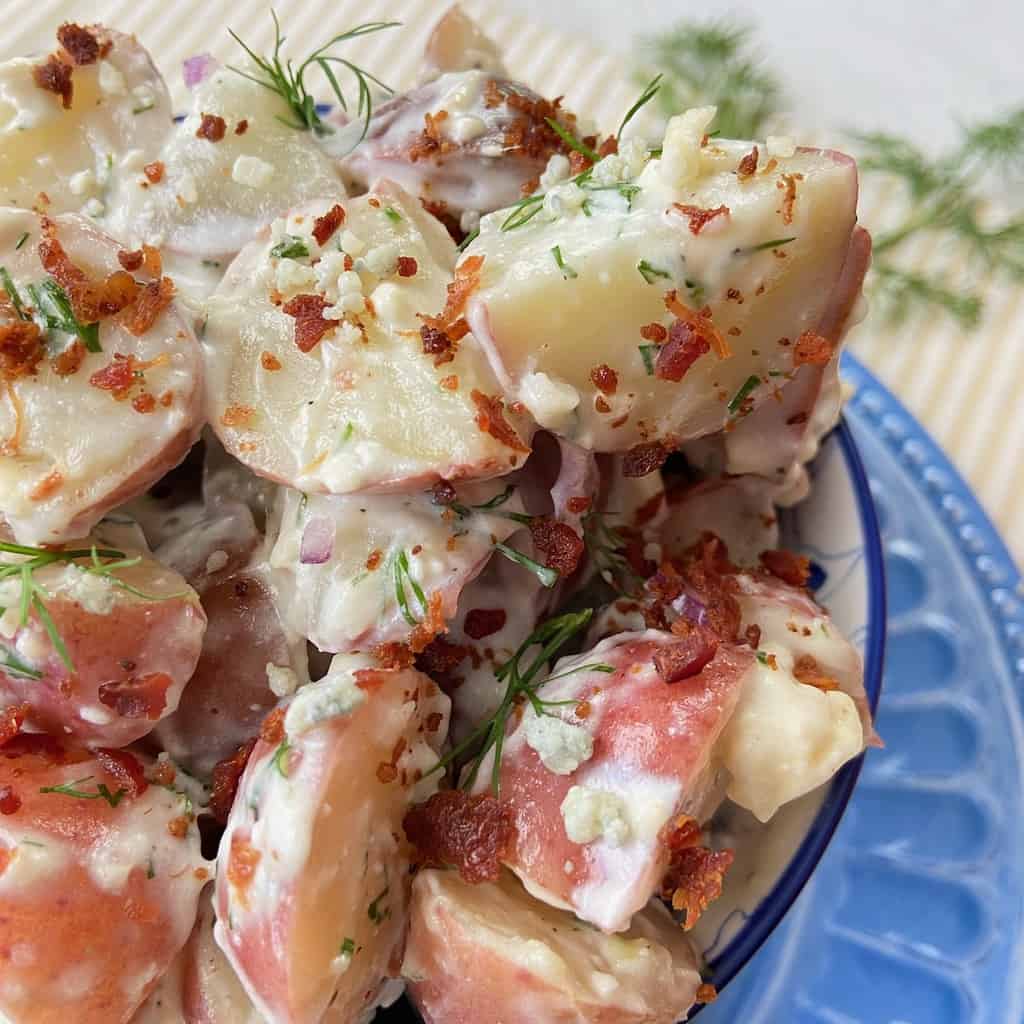 This Blue Cheese Potato Salad is one of my favorite recipes and I hope you enjoy it!
More potato recipes
If you make this recipe, please scroll down and leave a rating and comment! I love to hear from you! Thank you!
📋 Recipe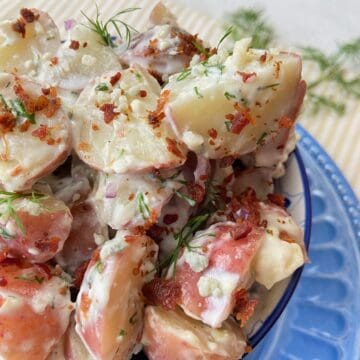 Blue Cheese Potato Salad
Tender red potatoes in a creamy blue cheese dressing with onion and bacon
Print
Rate
Ingredients
1

pound

small red potatoes, quartered or halved

4

ounces

blue cheese crumbles

½

cup

mayonnaise

⅓

cup

buttermilk

¼

teaspoon

onion powder

2

teaspoons

minced red onion

½

teaspoon

garlic powder

1

teaspoon

white vinegar

bacon crumbles (optional)

fresh dill (optional)

salt & pepper to taste
Instructions
Bring a large stockpot of water to a boil

Add quartered or cubed potatoes and cook till tender; drain, place in a big mixing bowl and set aside

1 pound small red potatoes, quartered or halved

Combine blue cheese dressing ingredients in a small bowl

½ cup mayonnaise,

⅓ cup buttermilk,

¼ teaspoon onion powder,

2 teaspoons minced red onion,

½ teaspoon garlic powder,

1 teaspoon white vinegar,

4 ounces blue cheese crumbles

Drizzle dressing over warm potatoes and gently fold until well-coated

Fold in bacon crumbles and fresh dill (optional); season with salt and pepper

bacon crumbles (optional),

fresh dill (optional),

salt & pepper to taste
Notes
If your potatoes are large, quarter them; you want bite-size pieces
Feel free to add chopped celery if you prefer
If you don't have buttermilk, substitute ½ cup of sour cream. The consistency will be a bit thicker, so you may have to add a few teaspoons of water to thin it.
Serve warm, room temperature or chilled; note, if you chill the potato salad, you'll need to let it come to room temperature (and stir it up again) before you serve it
Nutrition Estimate
Calories:
380
kcal
Carbohydrates:
20
g
Protein:
9
g
Fat:
29
g
Saturated Fat:
9
g
Polyunsaturated Fat:
13
g
Monounsaturated Fat:
7
g
Trans Fat:
1
g
Cholesterol:
34
mg
Sodium:
554
mg
Potassium:
632
mg
Fiber:
2
g
Sugar:
3
g
Vitamin A:
252
IU
Vitamin C:
10
mg
Calcium:
188
mg
Iron:
1
mg