If you've never made Veal Scallopini with Piccata sauce, you're in for a real treat! Tender slices of seasoned thinly sliced veal, lightly pan-seared and topped with a light lemon sauce!
And the beauty of this veal recipe is that it's ready in minutes - literally, each slice of veal takes minimal prep and cook time - about 3 minutes to cook per side!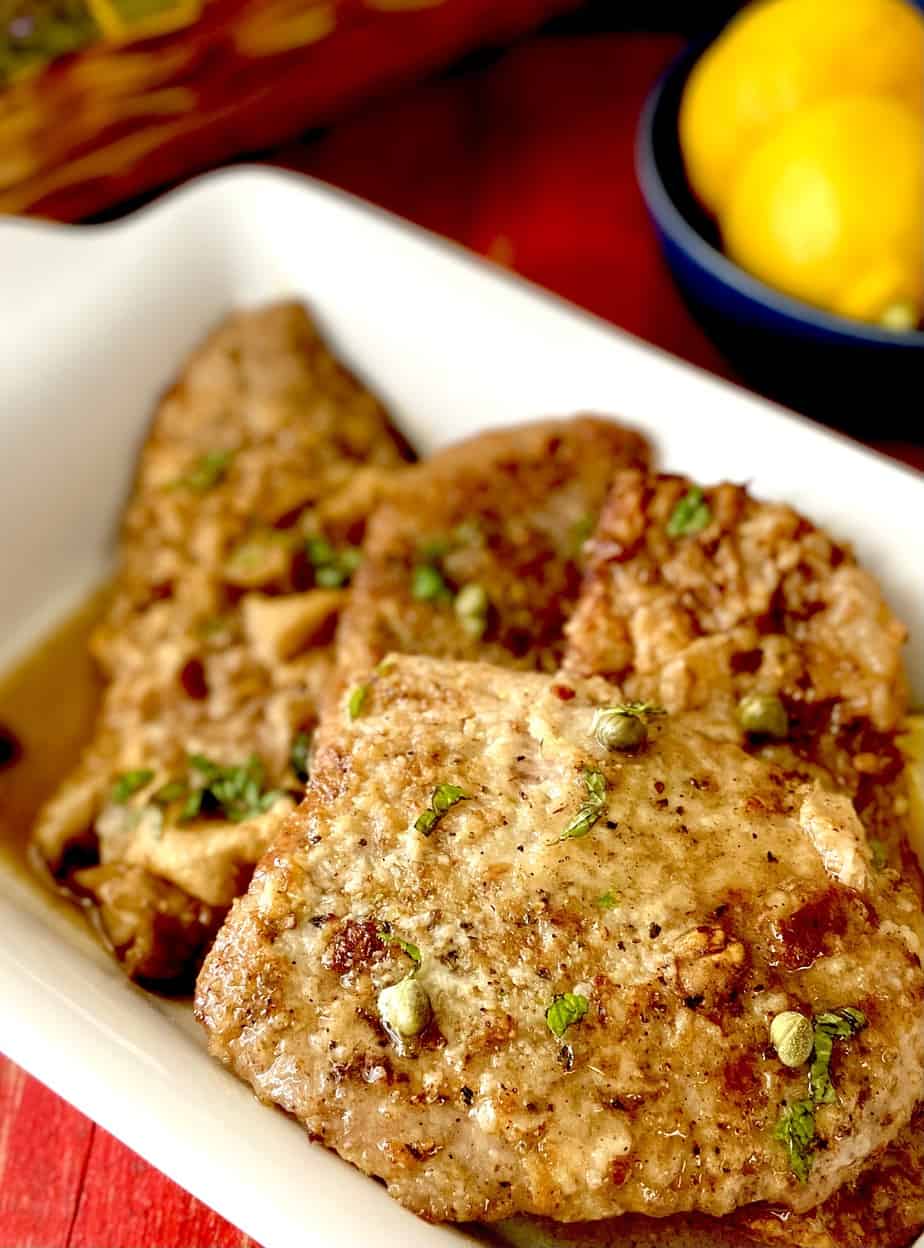 Why this recipe works
This is one of the easiest veal cutlet recipes you'll come across!
Simple ingredients - no preservatives or artifical anything - just stuff you probably already have in your pantry
A light dusting of flour creates just enough texture to support a light lemon sauce
The thin veal cutlet cooks quickly so dinner is on the table in minutes!
The hardest thing about this recipe is finding veal. I have to go to a nearby butcher and order it in advance.
Often, the terms scallopini, schnitzel and cutlet often used interchangeably.
This is not a "fried meat" dish like chicken fried steak, which consists of an egg/flour coating. In that recipe, the egg binds the flour to the meat.
In this recipe, the flour serves as a vehicle for the piccata sauce so your veal scallopini will be light golden brown and fork-tender with a slight crisp doating - not a thick crunchy lcoating ike chicken fried steak or fried chicken.
It's hard to find veal cutlets in the grocery store, so I usually have to go to my local butcher shop. Before you head out, you might Google "where to buy veal scallopini near me" first.
Ingredients
For this easy and delicious veal picatta recipe, you'll need:
Thinly sliced veal, oil (just a little vegetable, canola or olive oil), fresh lemon juice, all-purpose flour, butter, garlic powder, oregano, salt, black pepper, capers (optional) and dry white wine (optional) or chicken broth. Sometimes, I sprinkle a teaspoon garlic powder and / or onion powder and oregano on my this slices of veal... It's really up to you!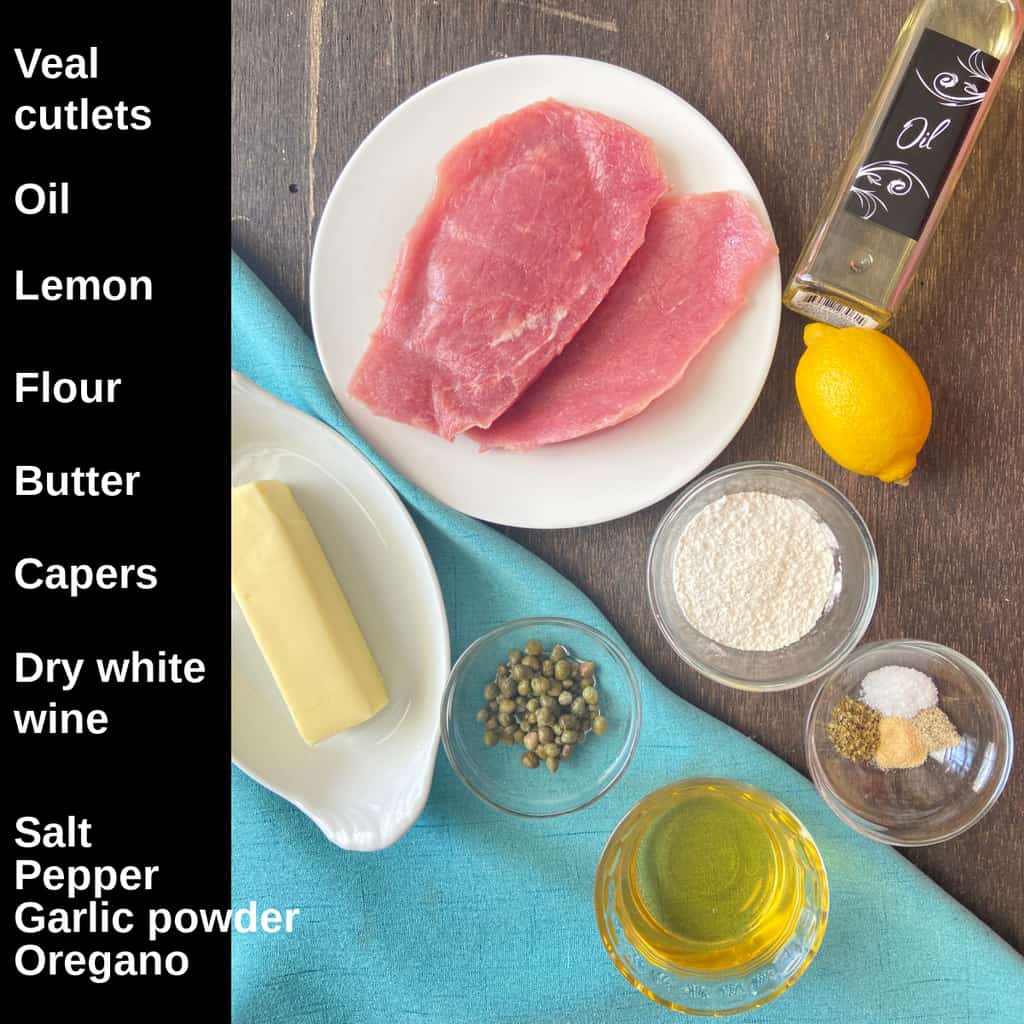 Note: Capers add a nice salty flair to the dish, but if you don't like capers, just leave 'em out!
How to cook veal scallopini
In a large skillet over medium heat, a few tablespoons butter and oil on medium heat. Lightly season thin veal slices with salt and pepper, (onion powder and garlic powder are optional). Dust the veal lightly with all-purpose flour mixture, then place in a single layer into the skillet with the oil/butter mixture. Cook 3 minutes per side on medium heat. Once the veal cutlets or veal scallopini is done, transfer to a plate and make the piccata sauce.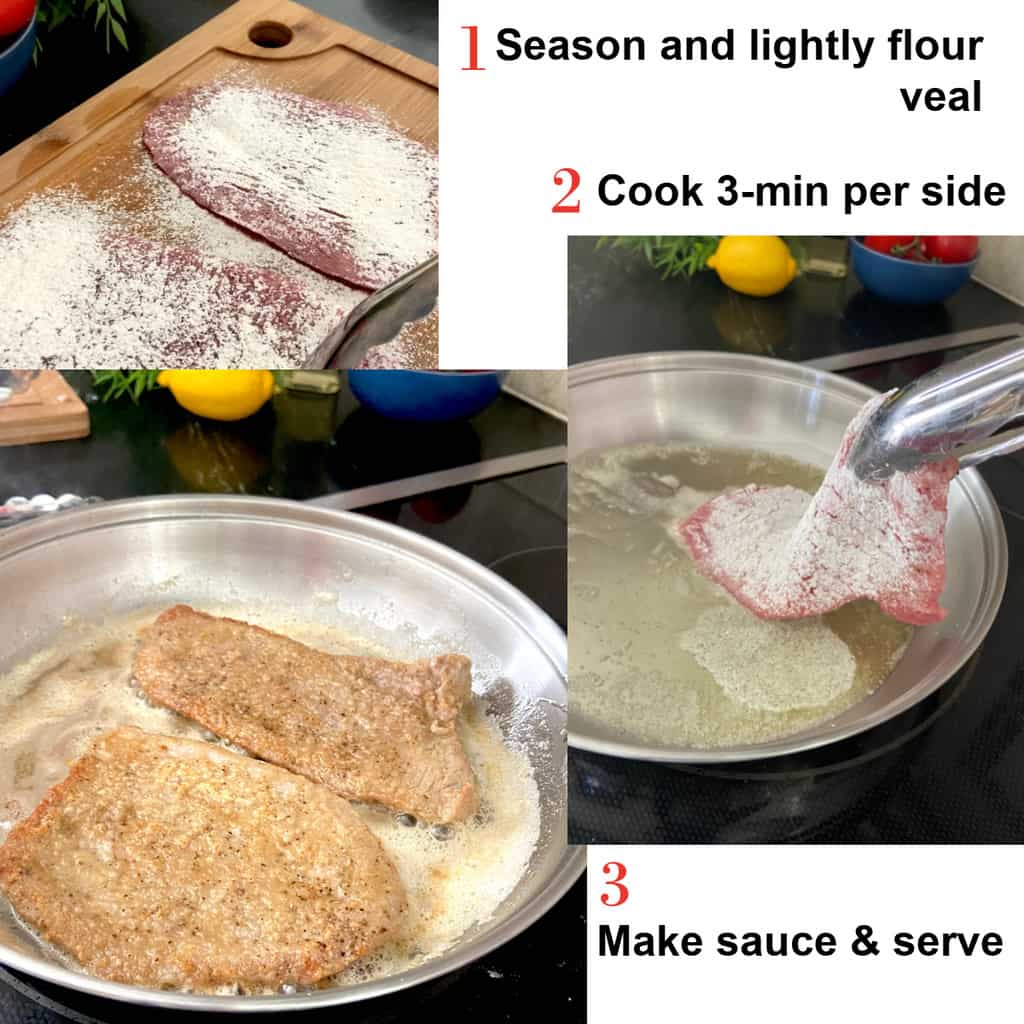 How to make Piccata sauce
The lemon piccata sauce is made in the same pan as the veal scallopini. Just add a little more butter to the skillet you cooked the veal in and turn the heat to low or medium-low heat.
Add a splash of dry white wine or chicken broth, capers (or sliced olives) and a teaspoon or so of fresh lemon juice to the pan. Use a wooden spoon to scrape up any brown bits.
Cook on low to medium-low heat until sauce is warm and well-blended throughout. See the recipe card below for details.
Add capers and return veal scallopini cutlets back to cooking pan; drizzle each piece of veal with the piccata sauce and plate.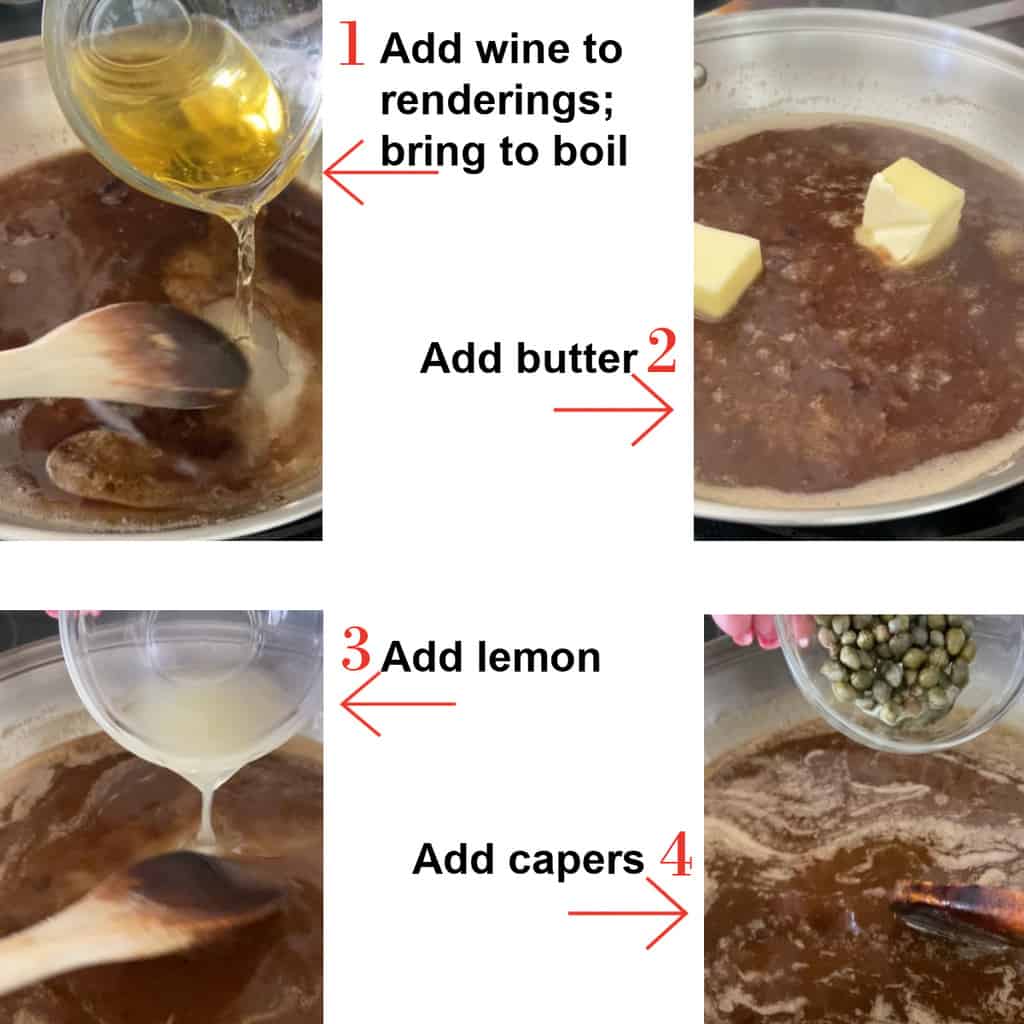 Recipe Tips and Notes
This isn't a "deep-fried" breaded cutlet like Chicken Fried Steak, so some of the flour will fall off and that's what you want!
The dusting of flour serves as a slight thickening agent to the piccata sauce, so don't freak out if it falls off your veal and into the pan
Use a little more canola, vegetable or olive oil than butter. Butter burns more easily than oil.
If you're making several pieces of veal, you may want to change the oil and butter in between batches.
If you're cooking in batches, keep the cooked veal scallopini on a rack in a warm oven while you prepare the remainder
Use an accurate meat thermometer to determine doneness.
Don't overcook it! Your veal scallopini will be tough as a boot if you cook it too long. The internal temperature should be between 145° - 160° F
Make ahead and reheating
This recipe is best when served immediately right after it's made. If you must reheat, I recommend placing the veal in a baking dish covered with foil and reheat at about 300°F for a few minutes.
FAQ
What is veal scallopini?
The term "scallopini" refers to thinly cut meats - typically veal, chicken, pork, beef, lamb or turkey- that's about ¼ " inch thick. It is pan-seared in a little oil and butter, cooks quickly and is fork-tender.
Most often, you'll find veal scallopini, (veal scaloppine) recipes served at Italian restaurants. It's basically a thinly sliced piece of tender veal, seasoned and lightly floured, then pan seared.
You'll find some veal scallopini with mushrooms, in a light, lemony piccatta sauce often accompanied with salty capers and usually served with a side of pasta like spaghetti or angel hair pasta.
What is Piccata sauce?
Piccata is a simple light lemon sauce and often includes a splash of white wine (or chicken broth), shallots, garlic, capers, butter, flour and of course, a few tablespoons lemon juice-ffresh lemon juice.
What do you serve with veal scallopini?
If you're wondering what to serve with veal scallopini and piccata sauce, the most common options are a side of lemony pasta, (strand pasta like spaghetti, linguine, fettucine), grilled or roasted asparagus spears, sauteed mushrooms and a classic Caesar salad.

This pairs beautifully with starches like pasta, rice or potatoes. Add a crisp green salad, a side of fresh green beans, Brussels sprouts, asparagus or broccoli and you've got a delicious, quick and easy, well-balanced meal!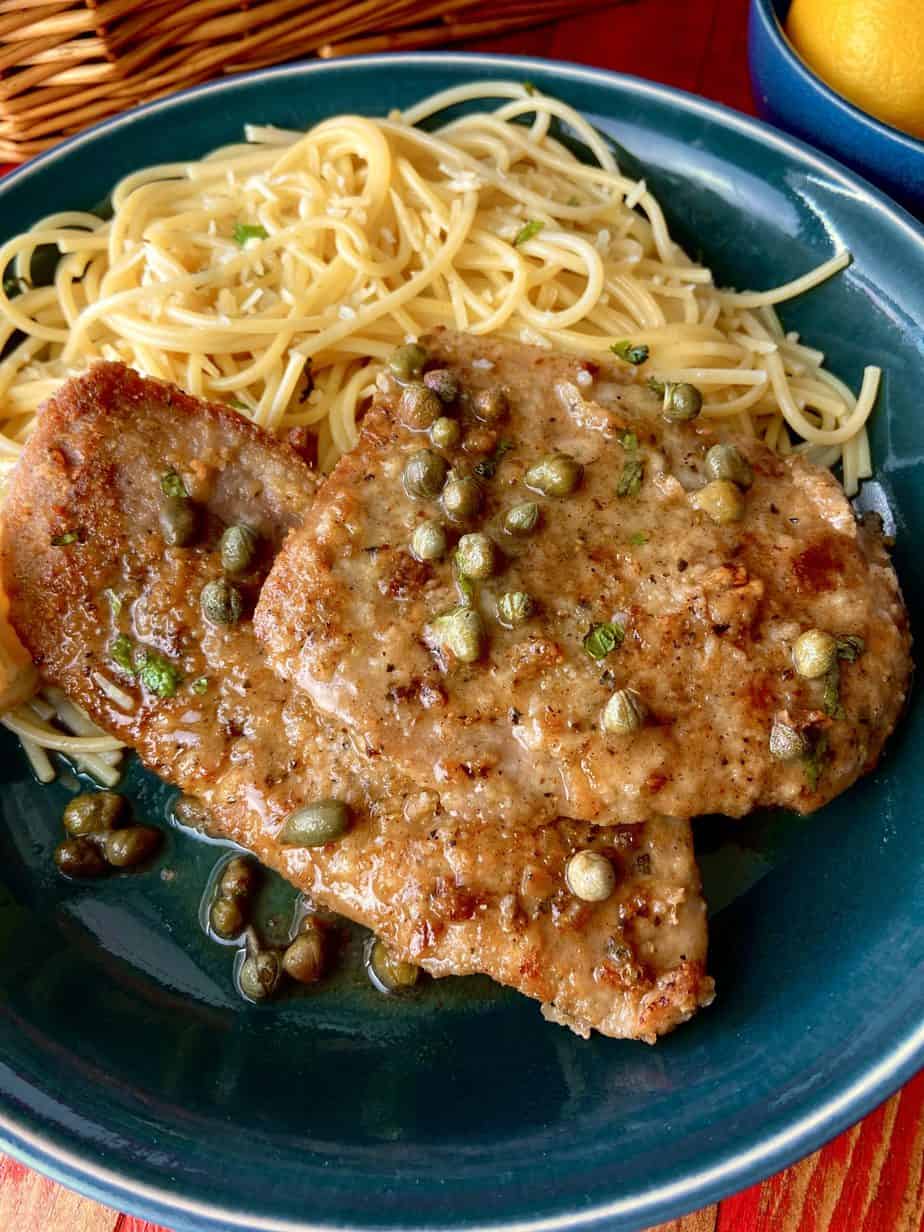 Veal Scallopini with piccata sauce is an easy, yet elegant dish suitable for a busy weeknight or special occasion!
Related recipes
If you make this recipe, please scroll down and leave a rating and comment! I love to hear from you!
📋 Recipe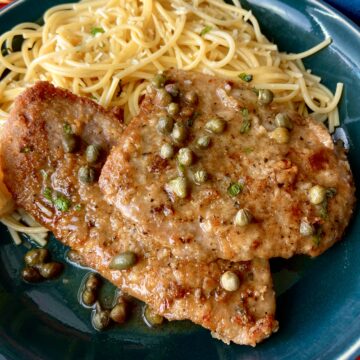 Veal Scallopini with Lemon piccata sauce
Thinly sliced and seasoned veal cutlets nestled in a light lemon sauce
Print
Rate
Ingredients
Veal Scallopini Ingredients
4

veal cutlets, ¼" inch thick

¼

cup

oil

canola, vegetable or olive oil

2-3

tablespoons

butter

, salted

1

cup

flour

, all purpose

½

teaspoon

salt

½

teaspoon

black pepper

¼

teaspoon

garlic powder

¼

teaspoon

oregano

, dried
Piccata Sauce Ingredients
pan renderings from cooked veal cutlets

2

tablespons

butter

, salted

½

cup

dry white wine or chicken stock

(wine is optional)

2-3

tablespoons

lemon juice

, fresh

2

tablespoos

capers

salt and pepper to taste
Instructions
Cook the Veal
Combine salt, flour, garlic powder, oregano and flour in a bowl; set aside

1 cup flour,

½ teaspoon salt,

½ teaspoon black pepper,

¼ teaspoon garlic powder,

¼ teaspoon oregano

Lightly salt and pepper veal cutlets on both sides

Add oil and butter to large pan; heat to medium high (about 300°F)

¼ cup oil,

2-3 tablespoons butter

Lightly dust both sides of veal with flour mixture and place cutlet into pan with the hot oil and butter

4 veal cutlets, ¼" inch thick

Cook veal for 3 minutes; use tongs to flip and cook another 3 minutes; remove from heat and keep warm on a rack in the oven; repeat until all cutlets are done
Make the Sauce
Add wine (or chicken broth) to the pan renderings (the same pan you cooked the veal); use a wooden spoon to scrape up any remnants; bring to boil and cook 3-5 minutes

½ cup dry white wine or chicken stock,

pan renderings from cooked veal cutlets

Turn heat to medium, add butter and continue to cook and stir until butter is melted and combined

Remove pan from heat; add lemon juice and capers; return to heat, stirring constantly (sauce will be thin); taste for salt and pepper

2-3 tablespoons lemon juice,

2 tablespoos capers,

salt and pepper to taste

Drizzle sauce over veal and enjoy
Notes
Read the Tips and Notes in the post first.
If you're making more than 4 veal scallopini, you may want to change out the butter and oil after you've cooked the first four veal cutlets because the oil/butter mixture turns the second batch a little darker color
Use about ½ cup of the pan renderings for the sauce.
If you don't have white wine, use chicken stock or chicken broth.
Nutrition Estimate
Serving:
1
cup
Calories:
521
kcal
Carbohydrates:
26
g
Protein:
39
g
Fat:
26
g
Saturated Fat:
4
g
Polyunsaturated Fat:
6
g
Monounsaturated Fat:
14
g
Trans Fat:
1
g
Cholesterol:
133
mg
Sodium:
489
mg
Potassium:
710
mg
Fiber:
1
g
Sugar:
1
g
Vitamin A:
273
IU
Vitamin C:
3
mg
Calcium:
23
mg
Iron:
3
mg