Get your taste buds ready for a delicious surprise with this savory acorn squash casserole recipe! This is the perfect side dish for your Thanksgiving table and it's always a hit!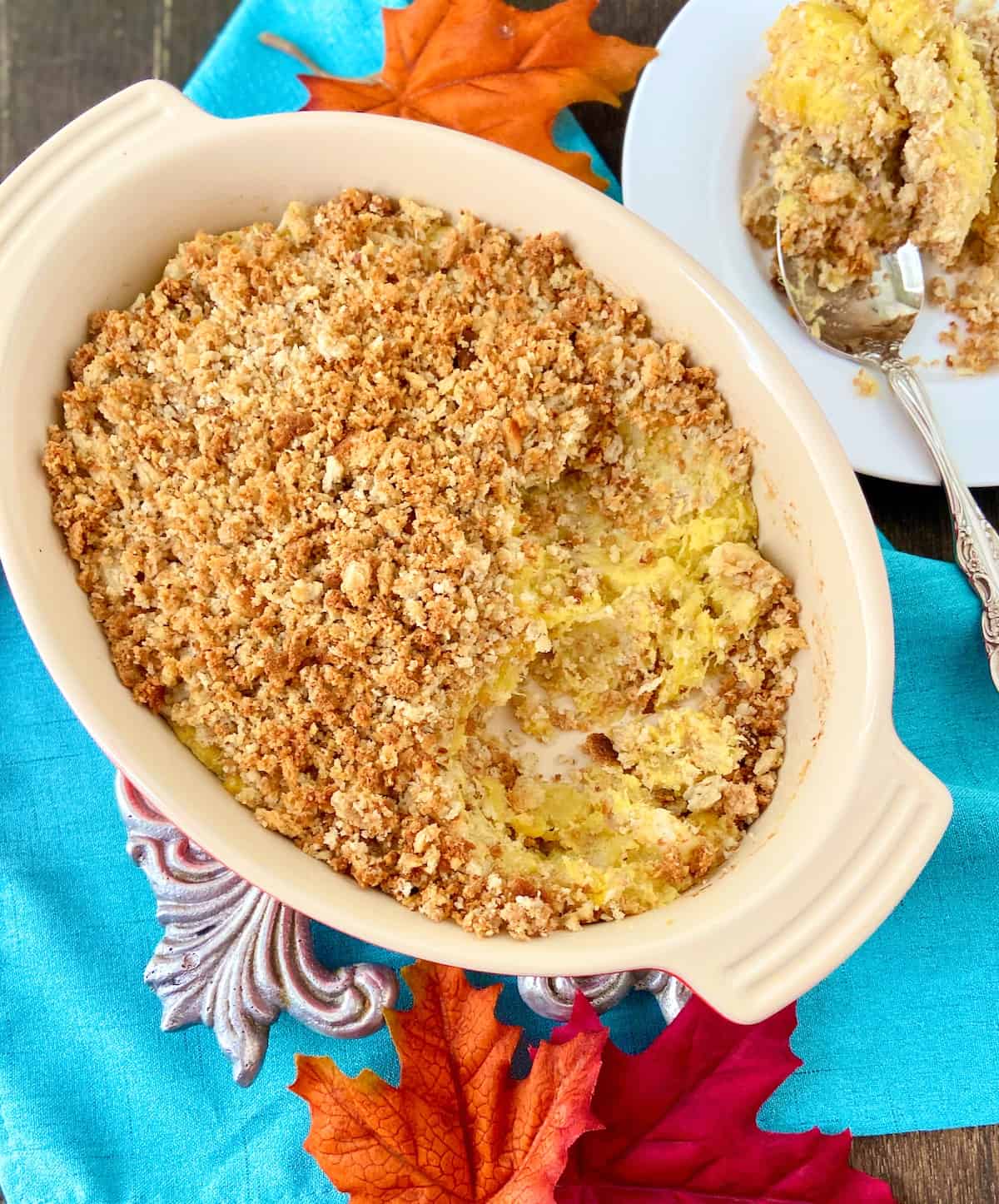 You may have come across other acorn squash recipes that use the typical sweet ingredients - a little butter, brown sugar, cinnamon and maple syrup, but this version offers a savory, herb flavor that contrasts and pairs beautifully with other holiday side dishes like maple pecan carrot casserole, candied sweet potatoes and good ole' Southern cornbread dressing!
Why this recipe works
Acorn squash is a winter squash and is readily available during the Fall and Winter months. This recipe focuses on the all-natural delicious flavors of this winter vegetable, accented with a hint of salty Parmesan cheese and a light herb flavor from the seasoned bread crumbs. I guarantee you, this is one of the best savory acorn squash recipes around!
Affordable - you can make a large casserole dish for your holiday table without breaking the bank, in fact, it's as affordable as my Southern eggplant casserole recipe!
Healthy side dish - squash is loaded with nutrients and vitamins and is a great source of iron
Easy to make in advance - especially when you're holiday cooking, you need that precious oven space; make this ahead of time and just reheat!
Great for serving large groups - turning baked squash into a casserole allows you to serve large groups without having to hollow out individual squash; just combine the cooked squash mixture and top with the herbed seasoned topping, then bake
What you'll need
First things first, you'll need a sharp knife. The hardest part of this is cutting the squash in half and a super-sharp chef's knife really does the trick. Next, you'll need the following ingredients: (See Recipe Card below and Recipe Notes)
Acorn squash - these are the round green squash in your local grocery store that look like a big acorn! Depending upon the size, once you hollow out the center and remove the seeds, you'll get about ¾ - 1 cup of squash flesh per squash, so keep this in mind if you're serving a large group
Butter - I use unsalted butter, but you can use salted if that's all you have. You'll need some for the prepared baking pan and a little melted butter for the bread topping mixture
Eggs - large eggs
Pecorino cheese - grated; you want a sharp aged cheese. If you can't find Pecorino, use Parmesan, Asiago or Romano cheese
Breadcrumbs- I recommend using Pepperidge Farm Herb Seasoned Stuffing Mix-the infused herbs in the stuffing mix help lift up the savory flavor
Onion powder
Minced garlic- I use jarred minced garlic; it's easy to measure
Milk - 2% or whole milk
Ground sage
Ground thyme
Salt and pepper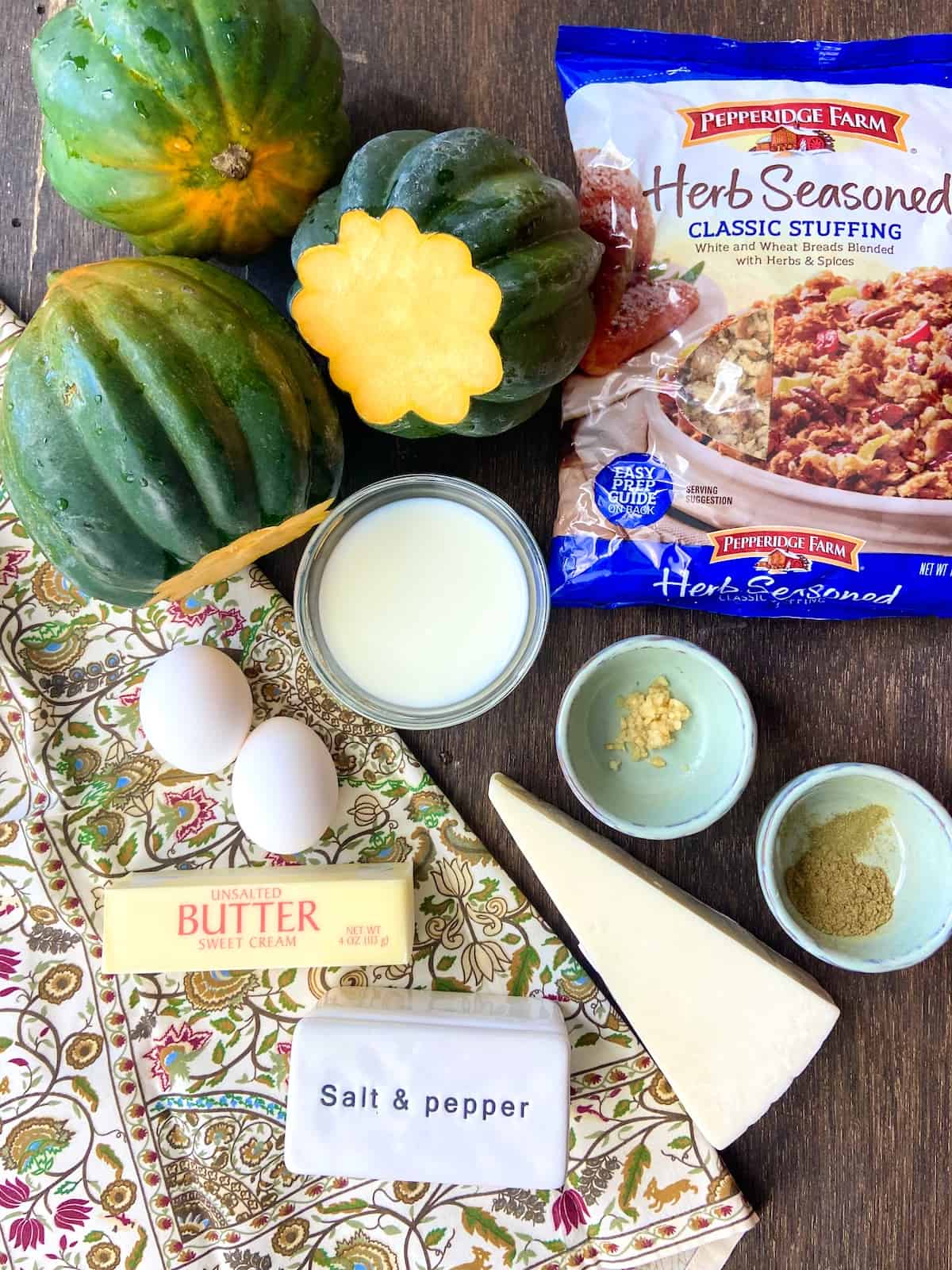 This savory acorn squash casserole is one of the best dishes you can have at your holiday meal. The nutty flavor of the golden squash pairs beautifully with other holiday recipes like spiced cranberry sauce, green bean casserole, sweet potato casserole and the main dish of either turkey, beef or ham.
How to make it
This classic baked acorn squash recipe comes together from start to finish in about 1 hour, so keep this in mind when you're planning your holiday menu. This an overview. For exact measurements and ingredients, see the complete recipe in the recipe card below.
Step 1 How to cut acorn squash
Place the acorn squash on a cutting board and cut about ½" inch off each end to form a flat surface
Place it on a cutting board, cut side down, and (using a sharp knife), slice in half; use a spoon to scoop out the seeds and the stringy flesh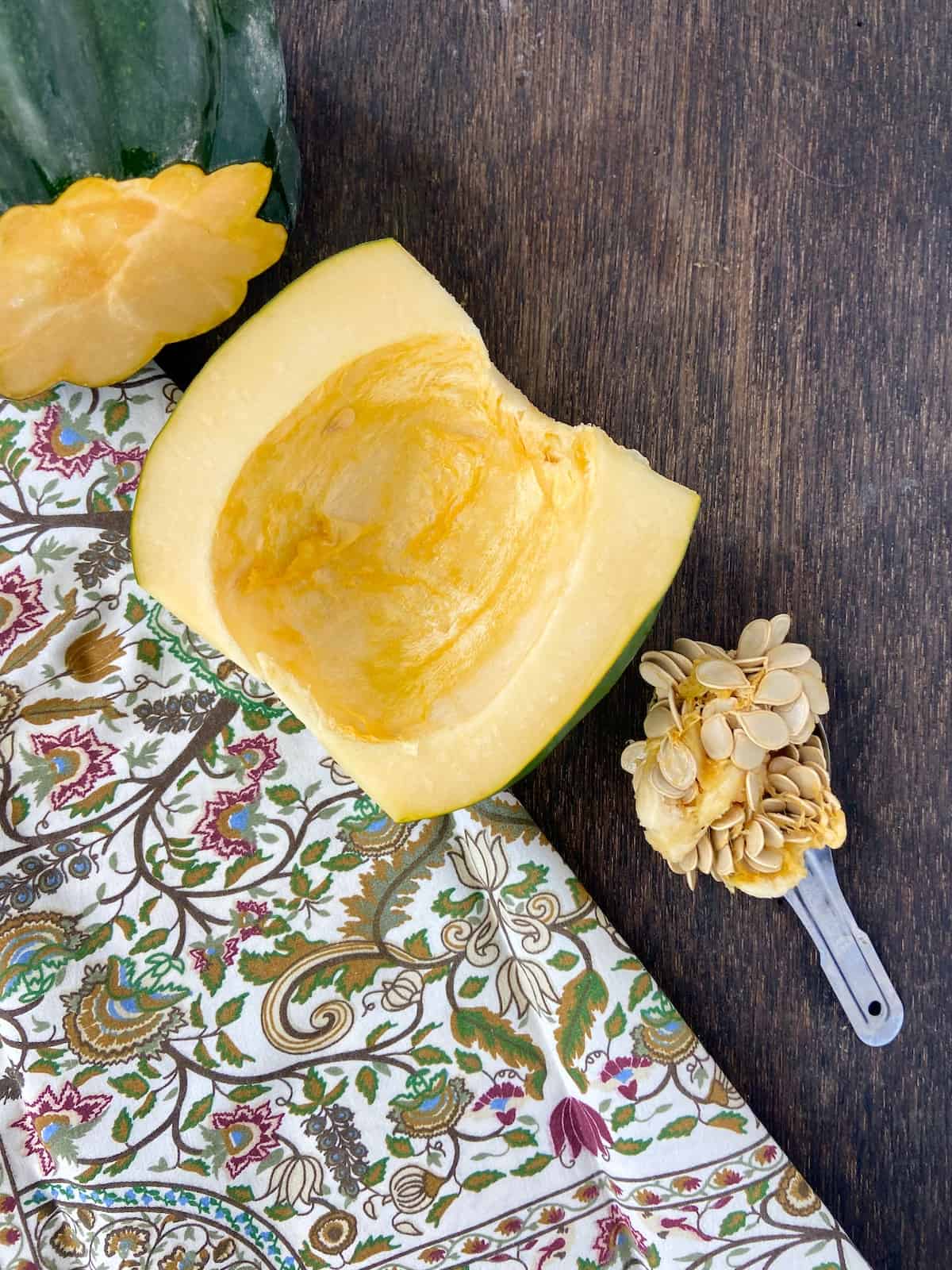 In a 9 x 13 baking dish, add ½" inch of water and place squash halves cut side down
Bake on the middle rack in a 350°F preheated oven, uncovered, for 25-40 minutes (see recipe notes below)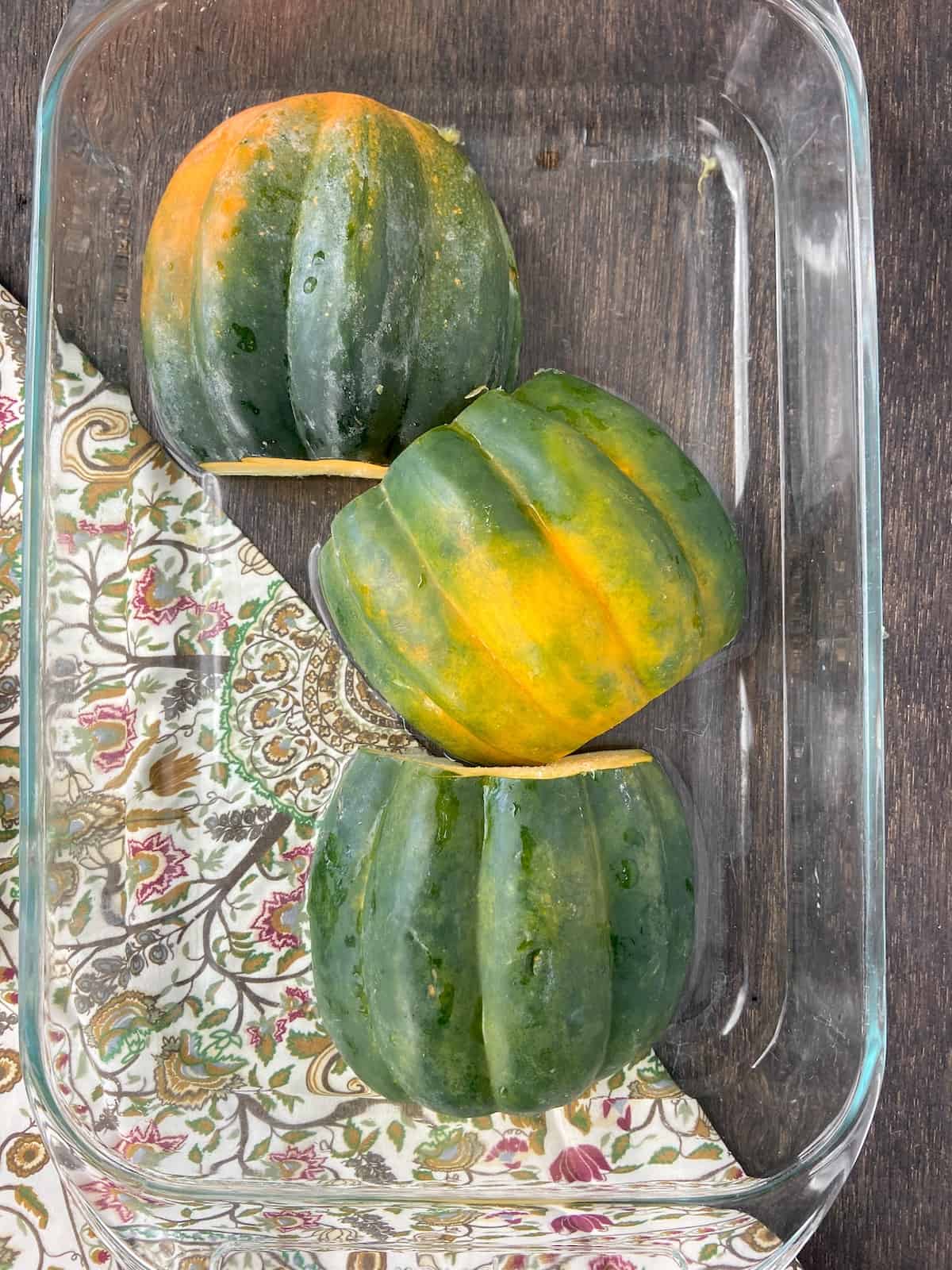 You'll know when it's done when you can squeeze it with a long handled pair of tongs and it gives a little
Remove from the oven and allow to cool a little; then, hollow center with a large spoon by removing the inner soft flesh and place it in a large bowl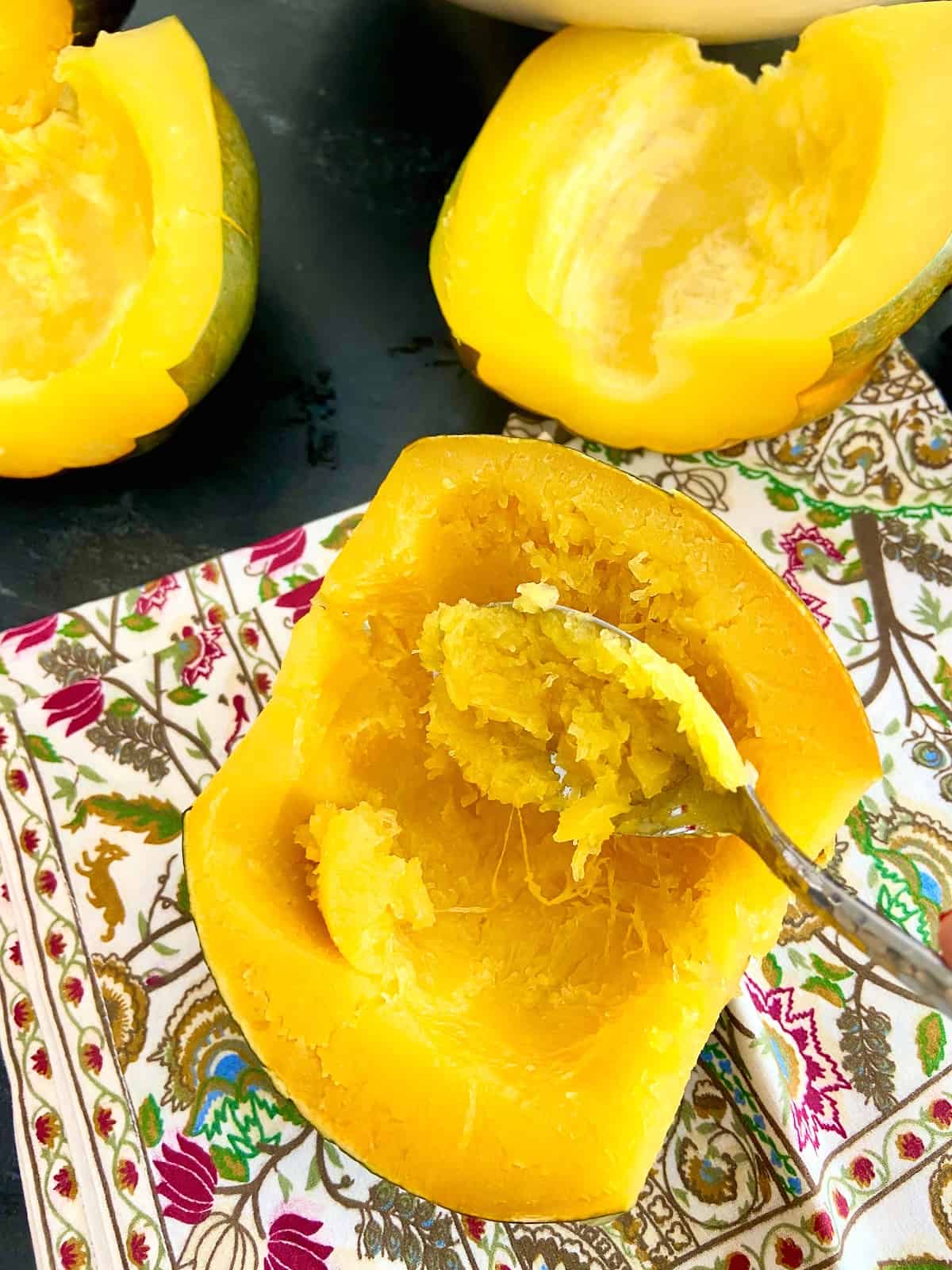 Use a fork or potato masher to mash the cooked squash; set aside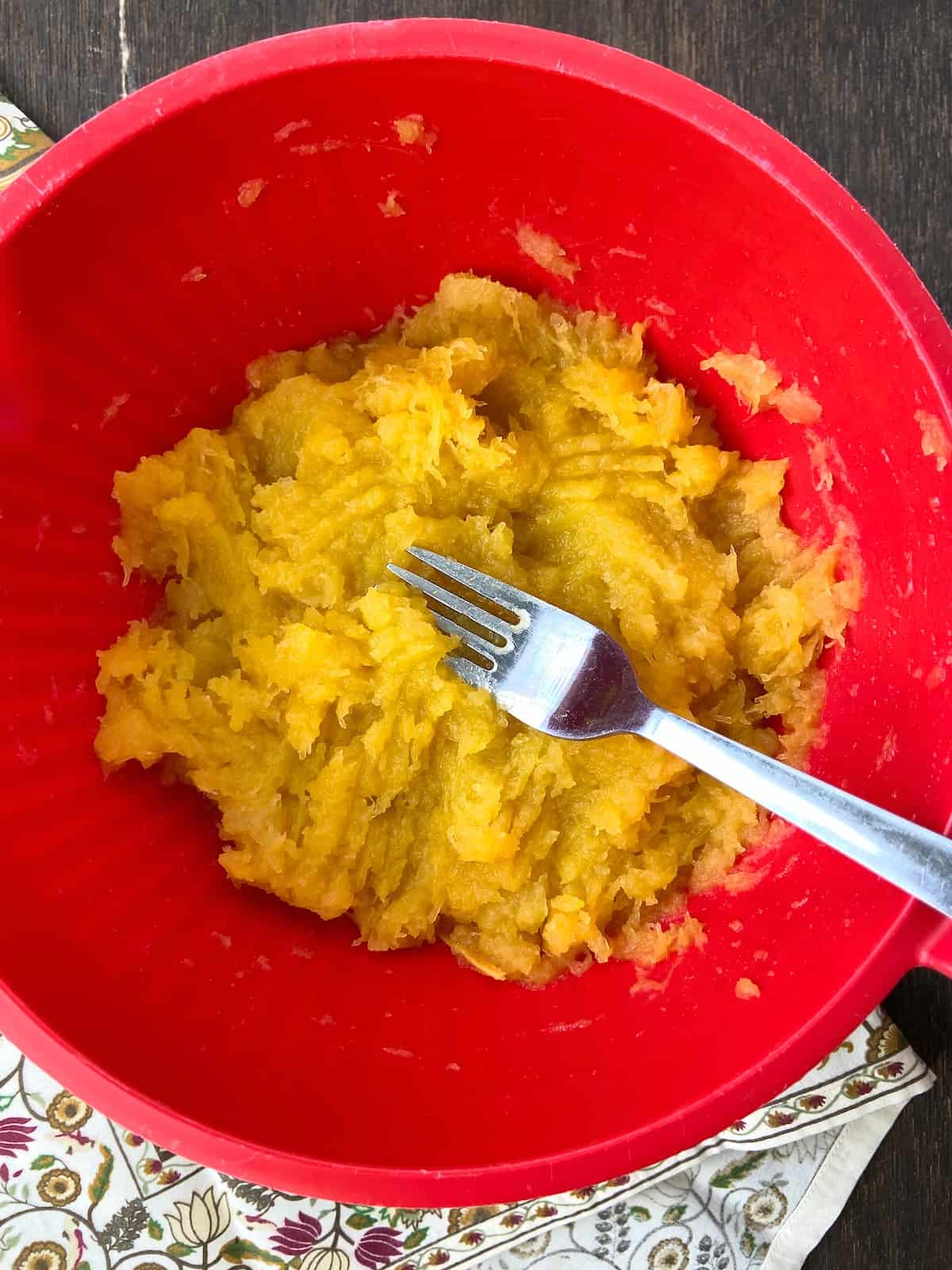 Meanwhile, prepare a 7 x 11 buttered casserole dish by rubbing a little butter around the bottom and sides
Step 2
Add milk, eggs, onion powder, minced garlic, a little salt and pepper, and half of the grated Pecorino cheese to the cooked squash; combine well
Spoon the mixture into the prepared casserole dish and smooth the mixture with a spatula; meanwhile, melt butter in microwave or in a small saucepan on medium heat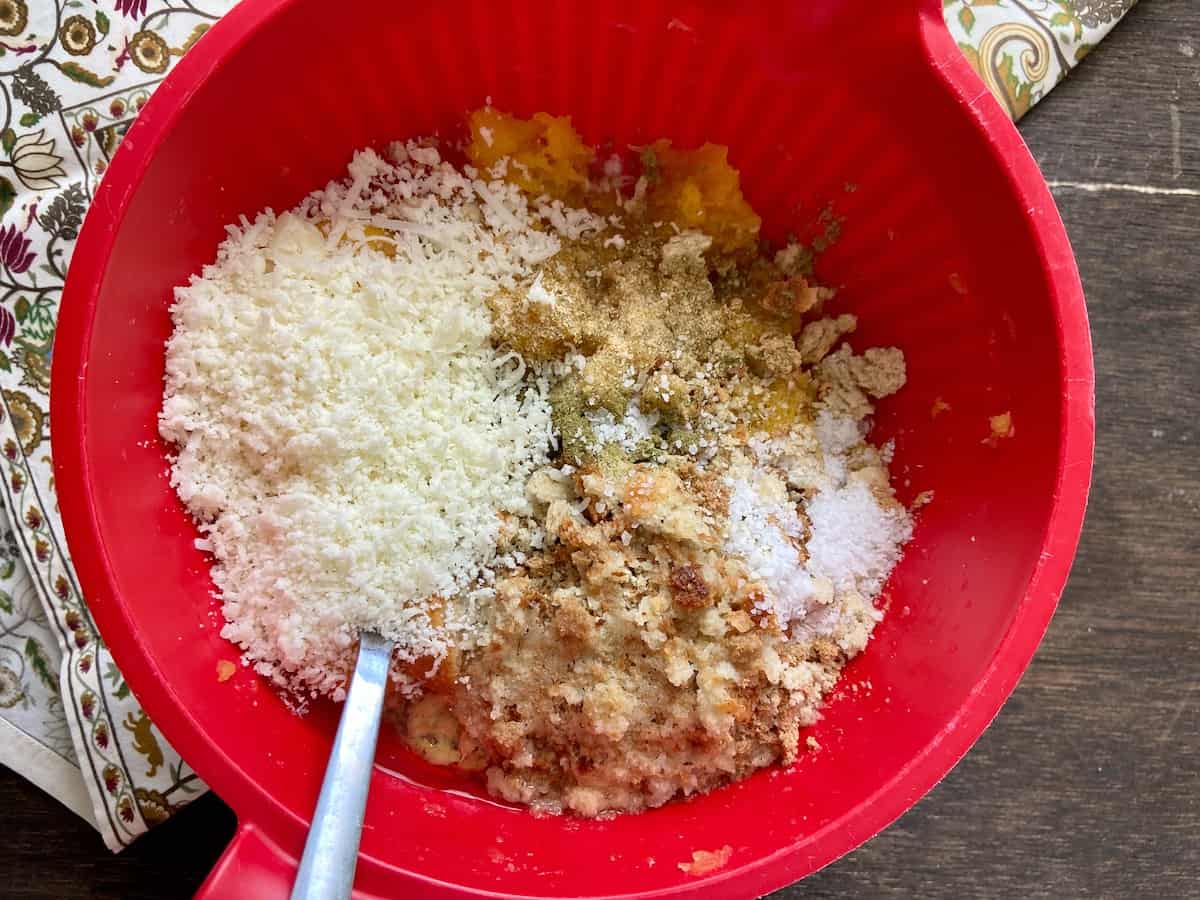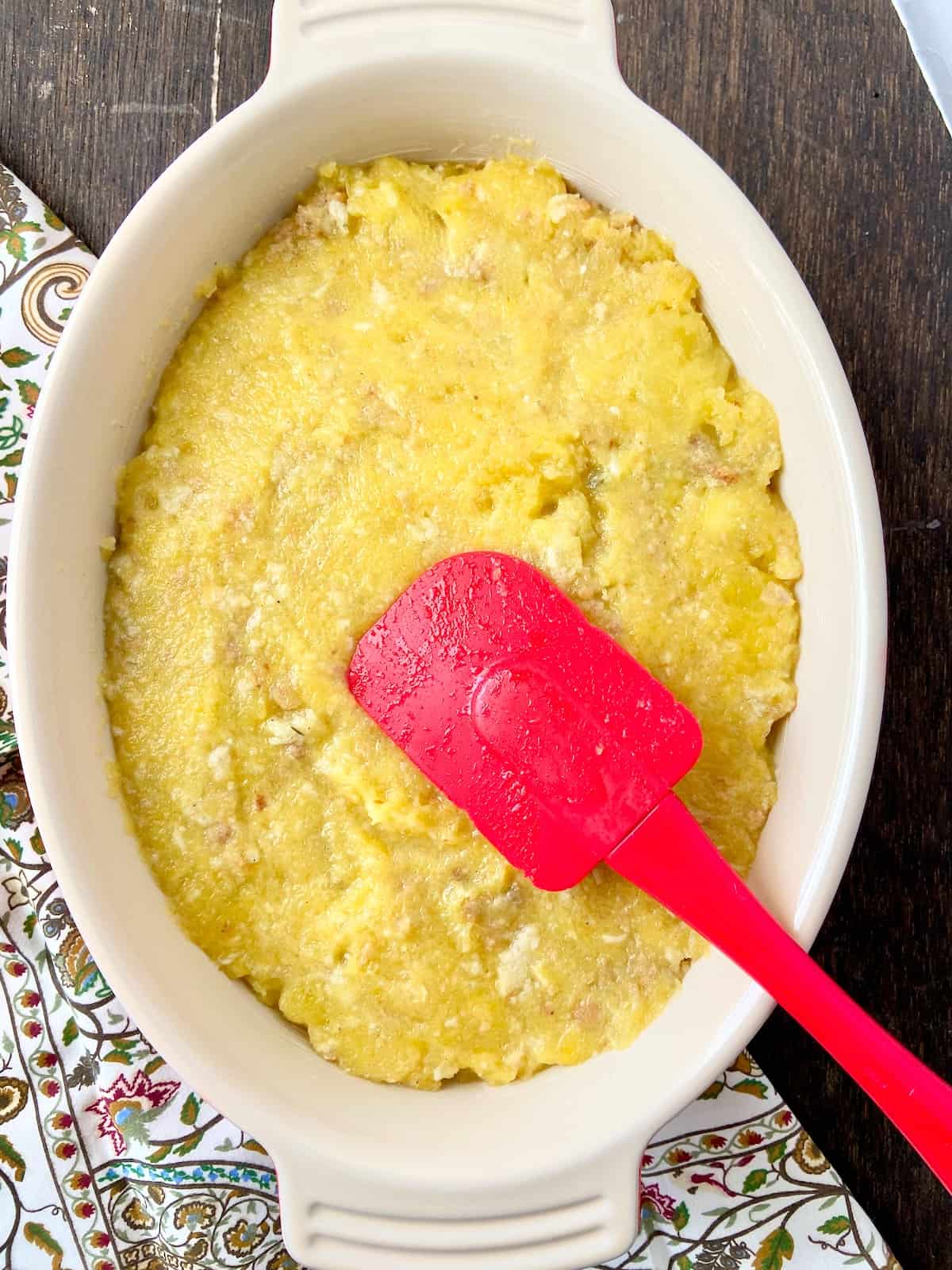 Step 3
In a separate bowl, combine the breadcrumbs, melted butter, ground sage, dried thyme and a pinch of salt and pepper; combine well and sprinkle over the top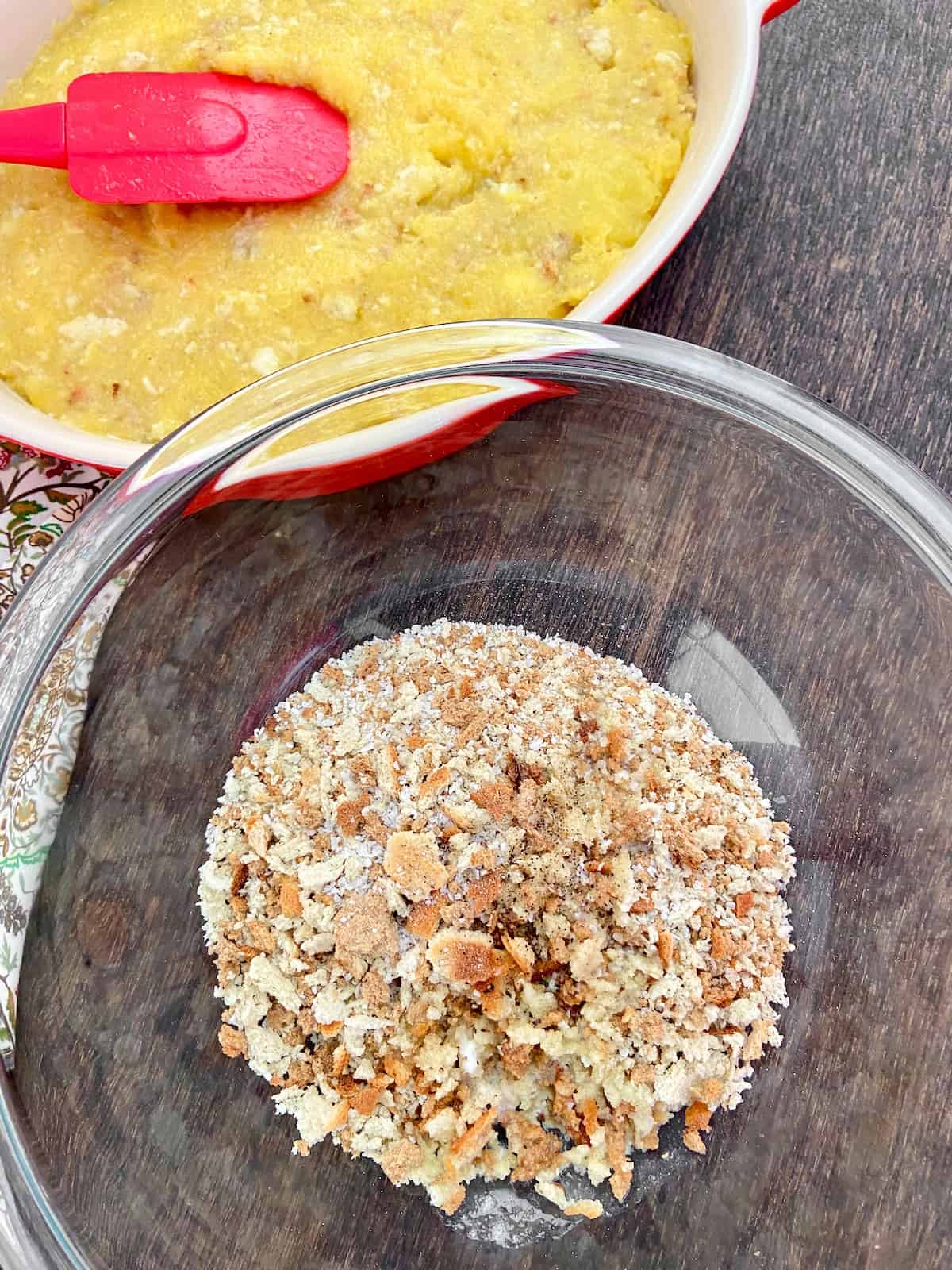 Bake 350°F, uncovered on the middle oven rack for 25 minutes
Once the topping is golden brown, you can turn the oven to broil for 1-3 minutes to ensure a crisp topping
Remove from oven and allow to rest at room temperature for 5 minutes, then serve
Recipe Tips
An average size acorn squash weighs around 1½ - 2 lbs. This recipe calls for 5-6 pounds of squash, so be sure to weigh them when you're at the grocery store.
If you don't have a sharp chef's knife, you can soften the acorn squash first by either parboiling it in a large stockpot or Dutch oven with really hot water for 5 minutes or, you can place it in the microwave for a few minutes to soften the outer skin. In my experience, a sharp knife is easiest.
You may need to use two large 9 x 13 baking pans to bake the halves - especially if they're large; I got three acorn halves per 9 x 13 so I had to use two pans
The actual cooking time will be determined by the size of your squash and the heat of your oven; I cooked 5 pounds of acorns (6 halves) in a 350°F oven and it took about 50 minutes
Storage and reheating
If you have leftover baked squash casserole, you can store it in an airtight container in the refrigerator for up to 5 days. For best results when reheating, place the baking dish on a baking sheet (on the middle rack of the oven), in a 200°F oven, covered with aluminum foil, or scoop out individual servings and reheat in the microwave a few minutes.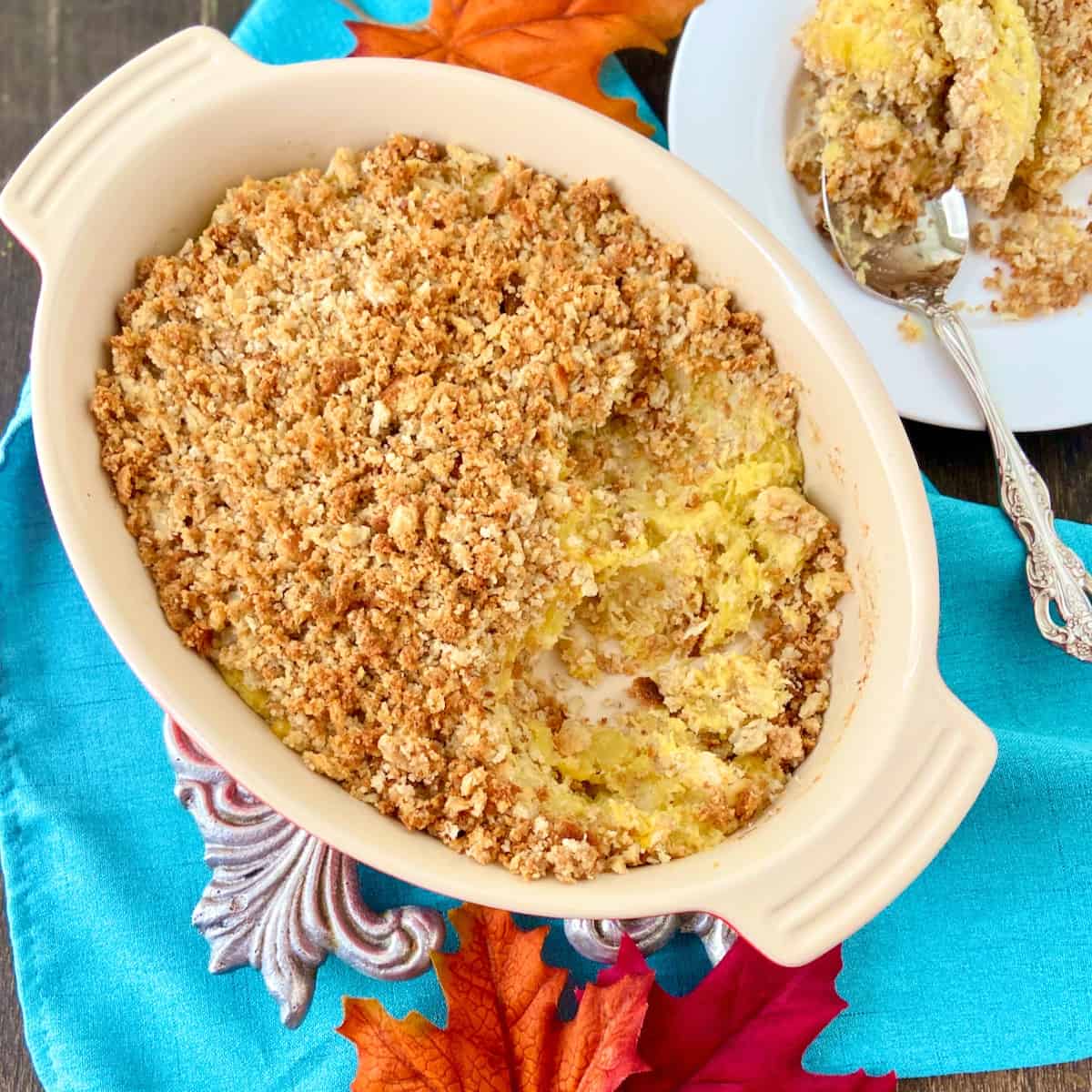 This savory acorn squash casserole is a great addition to just about any Fall meal- whether you're having easy pan fried pork chops or a classic Southern meatloaf with old fashioned tomato sauce, this winter squash casserole is always a winner!
Related recipes
​
📋 Recipe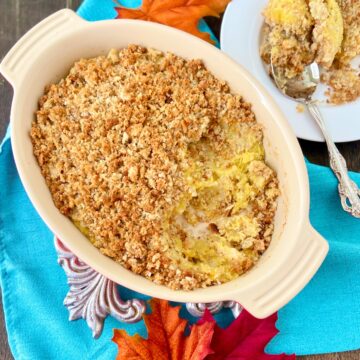 Savory Acorn Squash Casserole
Savory acorn squash nestled in a flavorful combination of herb-seasoned breadcrumbs and tangy Pecorino cheese.
Print
Rate
Equipment
9 x 13 Pyrex baking dishes

Long-handled tongs

7 x 11 baking dish
Ingredients
3

large

acorn squash

See Recipe Notes

¾

cup

milk

2% or whole

2

large

eggs

⅔

cup

grated Pecorino or Parmesan cheese, divided

⅓ for the squash mixture; ⅓ for the topping

1½

cups

Pepperidge Farm Herb Seasoned Stuffing Mix

3

tablespoons

melted butter for the breadcrumb topping

2

tablespoons

butter, to grease the baking dish

½

teaspoon

onion powder

1

teaspoon

minced garlic

(I use jarred, miced garlic)

½

teaspoon

ground sage

½

teaspoon

ground thyme

1

teaspoon

salt, divided

(½ teaspoon for squash mixture; ½ teaspoon for topping mixture)
Instructions
Prep and Cook the Squash
Preheat oven to 350°F; get two large 9 x 13 baking pans and add ½ - 1 "inch of water to each

Cut about ½ inch off the ends of the acorn squash; then slice them in half; use a sharp spoon and remove seeds and stringy pulp. Place the squash cut side down into the pans with the water; bake on middle rack, uncovered for 25-30 minutes or until squash can be easily squeezed using a pair of long handled tongs

Butter the bottom and sides of a 7 x 11 baking pan; set aside

2 tablespoons butter, to grease the baking dish
Resume Recipe
Once the squash are cool enough to handle, use a sharp spoon and remove the pulp; put the pulp in a large mixing bowl and combine with a fork until smooth

Add milk, eggs, half of the grated cheese, onion powder, garlic and half of the salt to the squash; combine well and pour this mixture into the prepared baking dish

¾ cup milk,

2 large eggs,

⅔ cup grated Pecorino or Parmesan cheese, divided,

½ teaspoon onion powder,

1 teaspoon minced garlic,

1 teaspoon salt, divided

Melt butter in microwave

In a separate large mixing bowl, combine Pepperidge Farm Herb stuffing mix, melted butter, ground sage, ground thyme, remaining grated cheese and the remaining salt

⅔ cup grated Pecorino or Parmesan cheese, divided,

1½ cups Pepperidge Farm Herb Seasoned Stuffing Mix,

3 tablespoons melted butter for the breadcrumb topping,

½ teaspoon ground sage,

½ teaspoon ground thyme,

1 teaspoon salt, divided

Sprinkle this over the squash mixture and bake at 350°F uncovered for 25 - 30 minutes; if you want a more crispy topping, pop it under the broiler for a few minutes

Allow to rest for 5 minutes before serving; garnish with fresh chopped parsley or sage
Notes
Acorn squash
Weigh the squash at the store; you'll need between 5- 6 pounds of squash, which equates to about 3-4 large squash. Once cooked, you'll want to have about 6 cups of cooked squash. I used large squash and got one cup of cooked squash from each half.
Pecorino cheese
You can substitute with Parmesan, Romano or Asiago cheese
Breadcrumb Topping
You may have to add a little more melted butter to the dried bread crumb topping; you want it to be moist, but not gummy
Salt
Taste the acorn squash mixture for salt before you put the topping on to make sure it's salty enough for you. You can always add more, but you can't take it out.
Yield
I got about 12 half-cup servings from 5 pounds of cooked squash. You may get more or less depending upon how much squash you bake, the size and depth of the baking dish, and the size of the serving spoon.
Nutrition Estimate
Serving:
1
cup
Calories:
241
kcal
Carbohydrates:
35
g
Protein:
7
g
Fat:
8
g
Saturated Fat:
5
g
Polyunsaturated Fat:
1
g
Monounsaturated Fat:
2
g
Trans Fat:
0.2
g
Cholesterol:
51
mg
Sodium:
699
mg
Potassium:
487
mg
Fiber:
3
g
Sugar:
3
g
Vitamin A:
627
IU
Vitamin C:
12
mg
Calcium:
149
mg
Iron:
2
mg