A collection of deliciously easy soup recipes that are ready in no time!
As cooler weather begins to roll in, there's nothing more comforting than a big bowl of homemade soup!
These made-from-scratch soup recipes consist of simple, all-natural ingredients - you probably have everything you need in your pantry right now!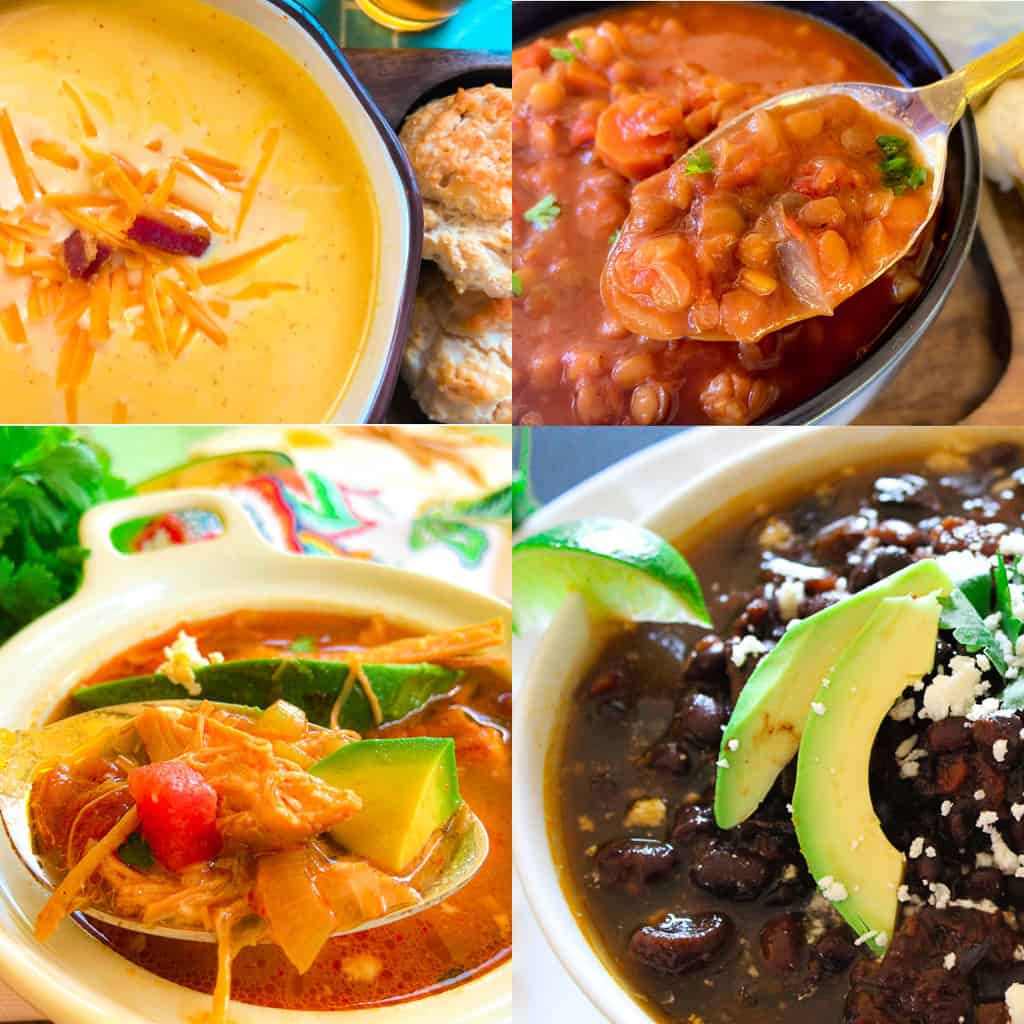 Serve soup as an appetizer or as a one-dish-dinner - cook up some homemade cornbread and you're done!
Jump to:
Why you'll love these "must-make" easy soup recipes!
Nothing fancy or gourmet - these soup recipes use "everyday" ingredients
Healthy - made from scratch soup recipes contain all-natural ingredients with no additives, fillers or preservatives and most are low-sodium
Simple and easy - doesn't require any special equipment and these are easy for beginner-level cooks!
Versatile - many of these are suitable or can be easily adapted for vegans and vegetarians
Meatless
Here's a collection of flavorful meatless soups that you can have ready in minutes! To make any of these soups for vegetarians, simply substitute vegetable broth for chicken broth.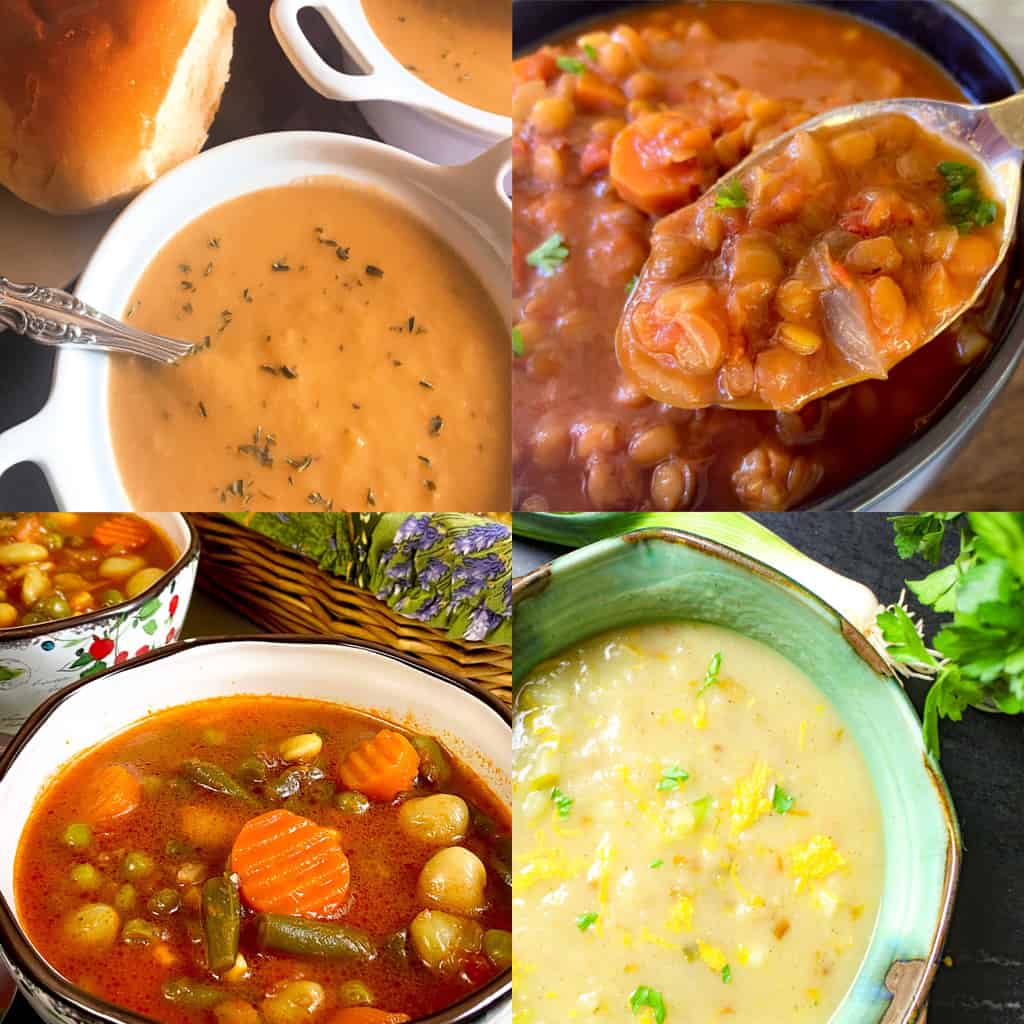 Lentils are super easy to cook and good for you! You don't have to soak them and they're naturally low-fat, low-calorie and high in vitamins and nutrients!
This unique combination is delicious! Savory leeks and artichokes paired with slightly sweet carrots! Leeks taste like a "light onion" so if you don't have leeks, substitute with a little onion!
This creamy vegan potato soup without cream is AMAZING! You'll never believe how delicious and easy it is to make and with no dairy!
You can't beat a homemade vegetable soup, and this organic soup recipe never fails! Full of vitamins, minerals and nutrients and easy on the waistline!
Creamy
A few of the best creamy soup recipes you'll find! These are quick, easy and guaranteed to warm your soul!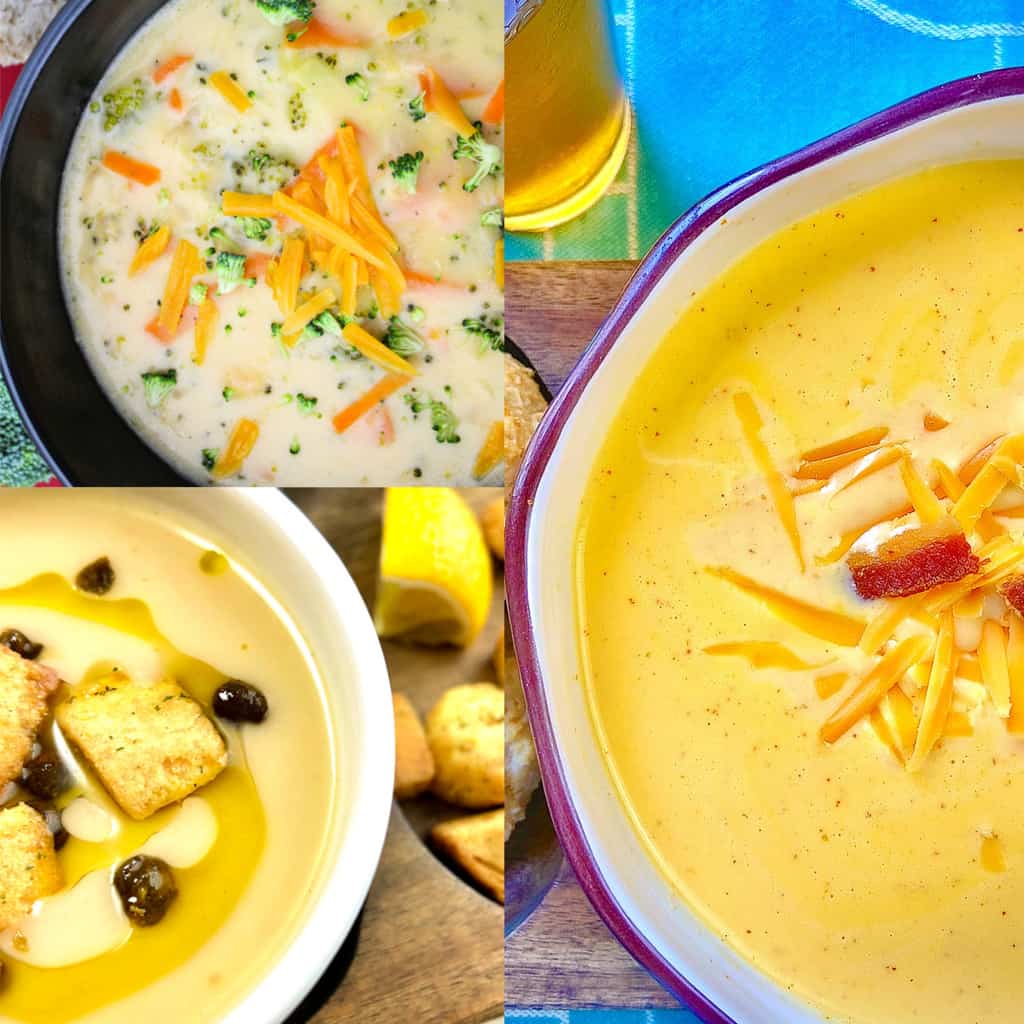 This organic Broccoli Cheese soup comes together in minutes and is made with Real Cheese - no Velveeta™ and better than Panera's™ broccoli cheese soup!
This dairy-free, "creamy" soup is delicious! Use Great White Northern canned beans in this recipe - I kid you not, it's really good and fast!
Here's a shout-out to our friends up North! This cheese soup recipe without Velveeta™ will not disappoint and it's super creamy and filling.
Chicken
A variety of soups with chicken. Use a deli or rotisserie chicken to make these recipes in minutes!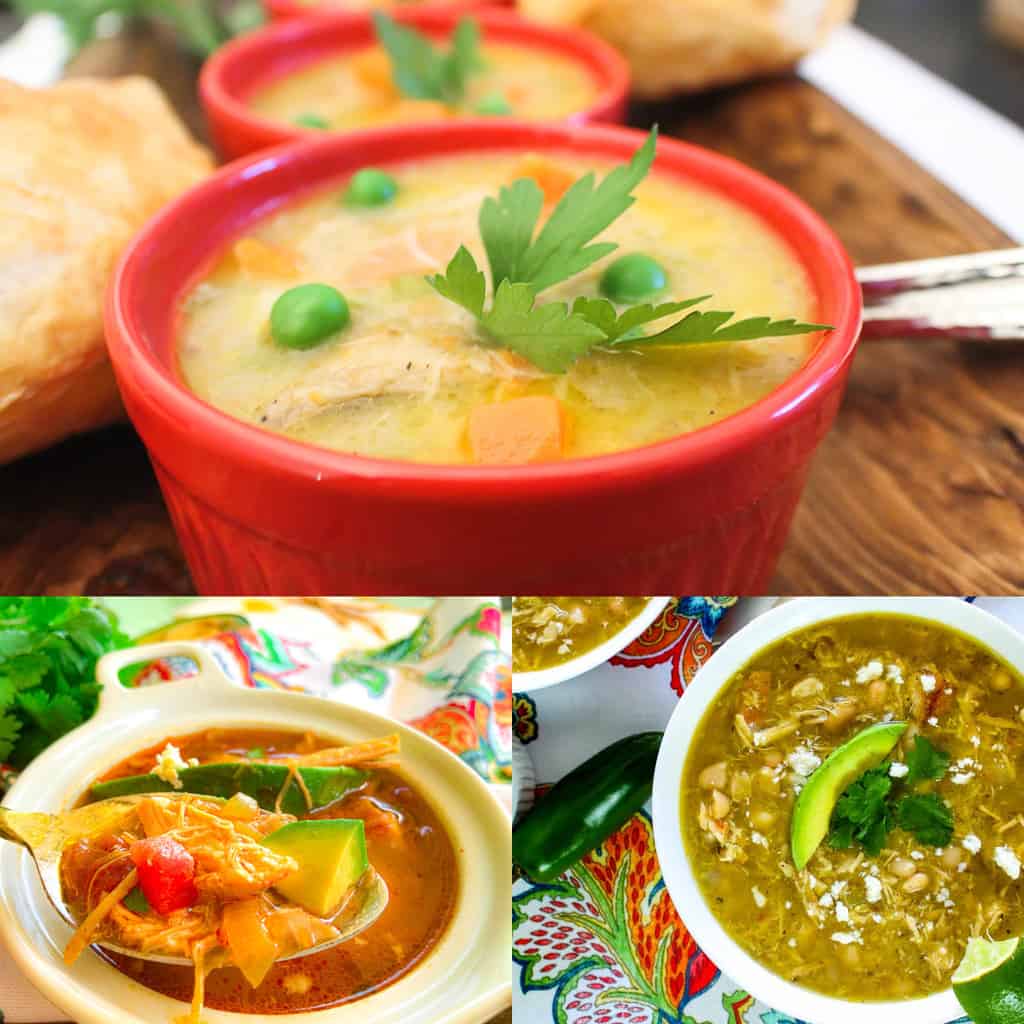 You'll love this south-of-the-border Chicken Tortilla Soup! The secret ingredient is what makes it "restaurant-quality" and it's a full meal in itself!
Southwestern green chile flavors abound in this zesty-flavored chicken soup!
No need to roll out dough for this easy Chicken Pot Pie recipe! Use a puff pastry as the "pie" and enjoy the rich, comforting homemade chicken pot pie flavor in minutes!
Bean
A few of the best bean soup recipes for Fall! Heart-healthy and easy on the waistline!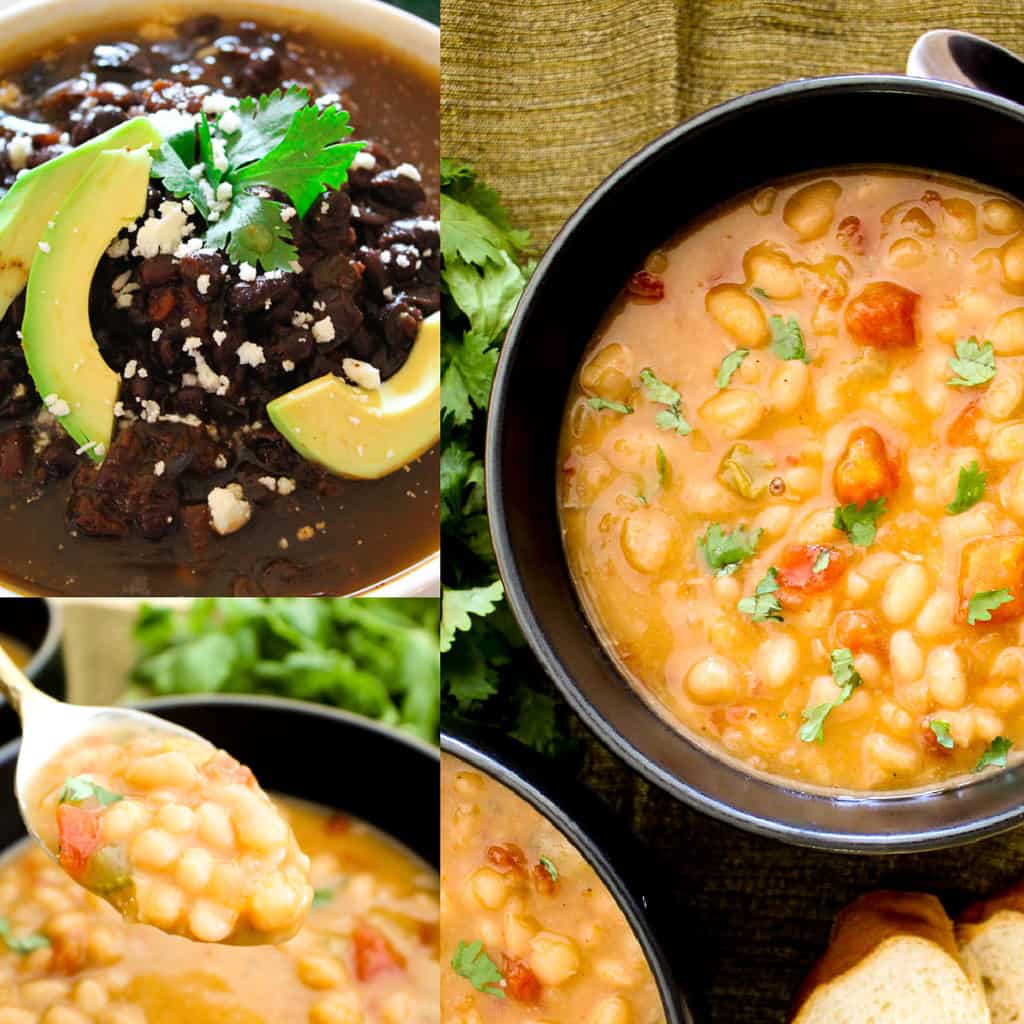 Quick and easy, hearty Black Bean Soup is rich in antioxidants and low-calorie and low-cholesterol! Pairs great with fajitas and Mexican rice!
You'll love this Southwestern spin on traditional Navy Bean soup! Flavors of the Southwest with stewed tomatoes and green chiles! Make this as mild or spicy as you like!
Tips and troubleshooting soups:
When to salt: Add salt last; if you accidentally get heavy-handed with the salt shaker, here's a way to remedy over-salted foods!
Legumes (split peas, lentils and beans) and grains: absorb a lot of liquid; check the liquid level of these soups frequently
How to prevent grainy soups: For the best creamy, cheese soups shred a block of cheddar, don't use pre-shredded cheese because it's coated with a preservative that doesn't melt well and ends up grainy
When to add cream: when adding heavy cream to a hot soup, let the cream sit out at room temperature before adding it; otherwise, it will curdle
Adding root vegetables: they take longer to cook - if you're adding carrots, turnips or rutabagas to a soup, add them at the beginning
Adding okra: If you add okra to a soup, add it last; it cooks in about 8 minutes and will thicken the soup
How to thicken soups
If you need to thicken a soup, add a "slurry" of either flour or cornstarch and water in ½ cup increments:
Combine ½ cup water + 2 tablespoons of flour or cornstarch; add to soup at the end. Use low heat for flour and high heat for cornstarch.
A cornstarch slurry results in a transparent soup, where flour will result in an opaque soup.
To thicken clear broth soups, use a cornstarch slurry; to thicken creamy soups, use a flour slurry
Storage and reheating
Most of these easy soup recipes can be stored in the refrigerator for up to three days and reheated on the stove or in the microwave.
Some may thicken upon refrigeration, so you may have to add a little water or broth upon reheating.
Broth-based soups can be frozen for up to 3 months. I do not recommend freezing cream-based or cheese soups because the texture turns grainy.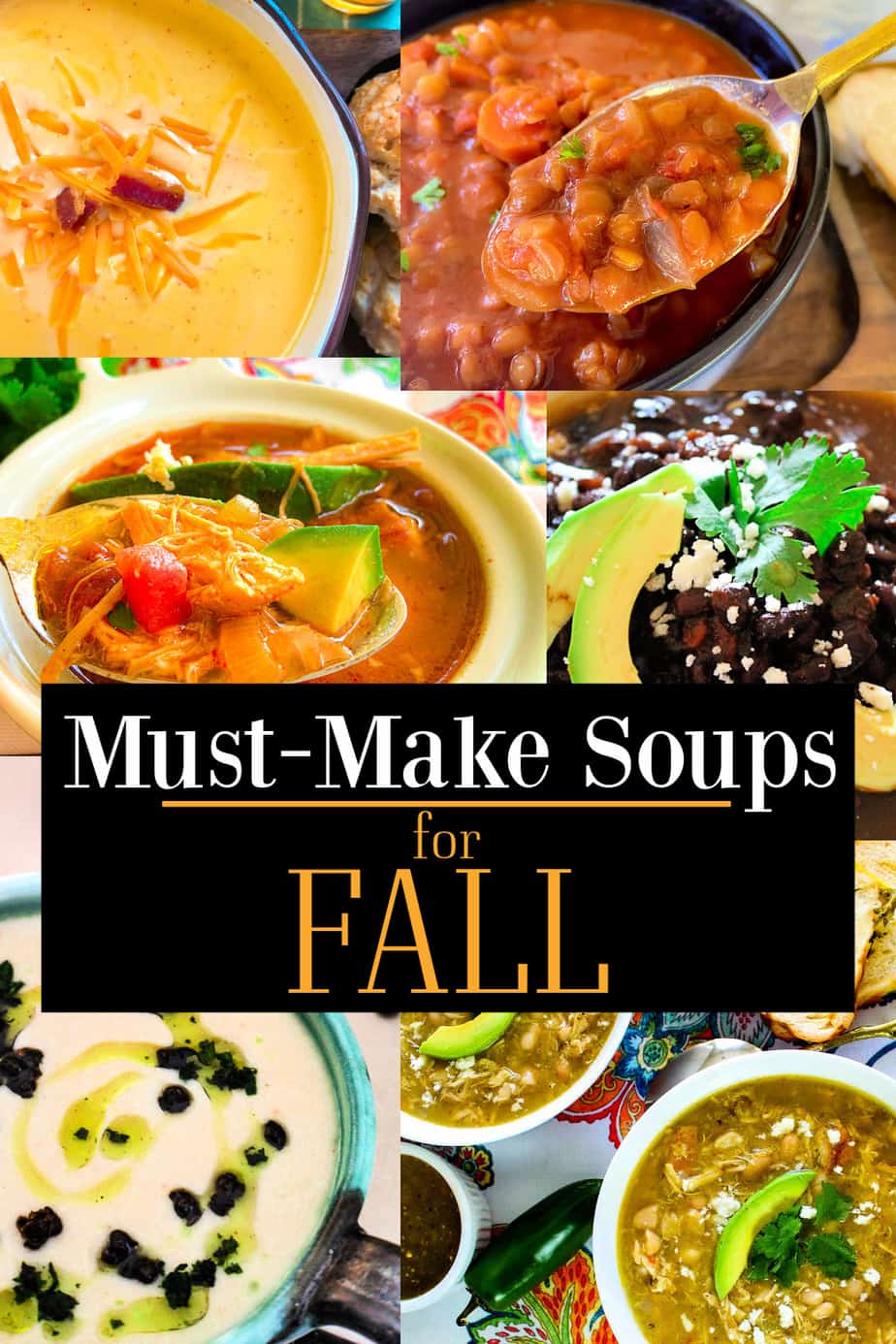 Enjoy these easy soup recipes in the Fall, Winter or whenever you like! Any day is a good day for homemade soup!
If you make any of these easy soup recipes, please scroll down and leave a comment and rating! I love to hear from you!
Related topics: