You'll love this creamy Wisconsin Beer Cheese soup! Creamy cheddar flavor ready in 30-minutes !
You don't have to go to Green Bay or Milwaukee to get this signature dish of Wisconsin!
Made with sharp Wisconsin Cheddar, this soup boasts a lot of flavor with the sharpness from the cheese and a slight tangy flavor from the amber beer.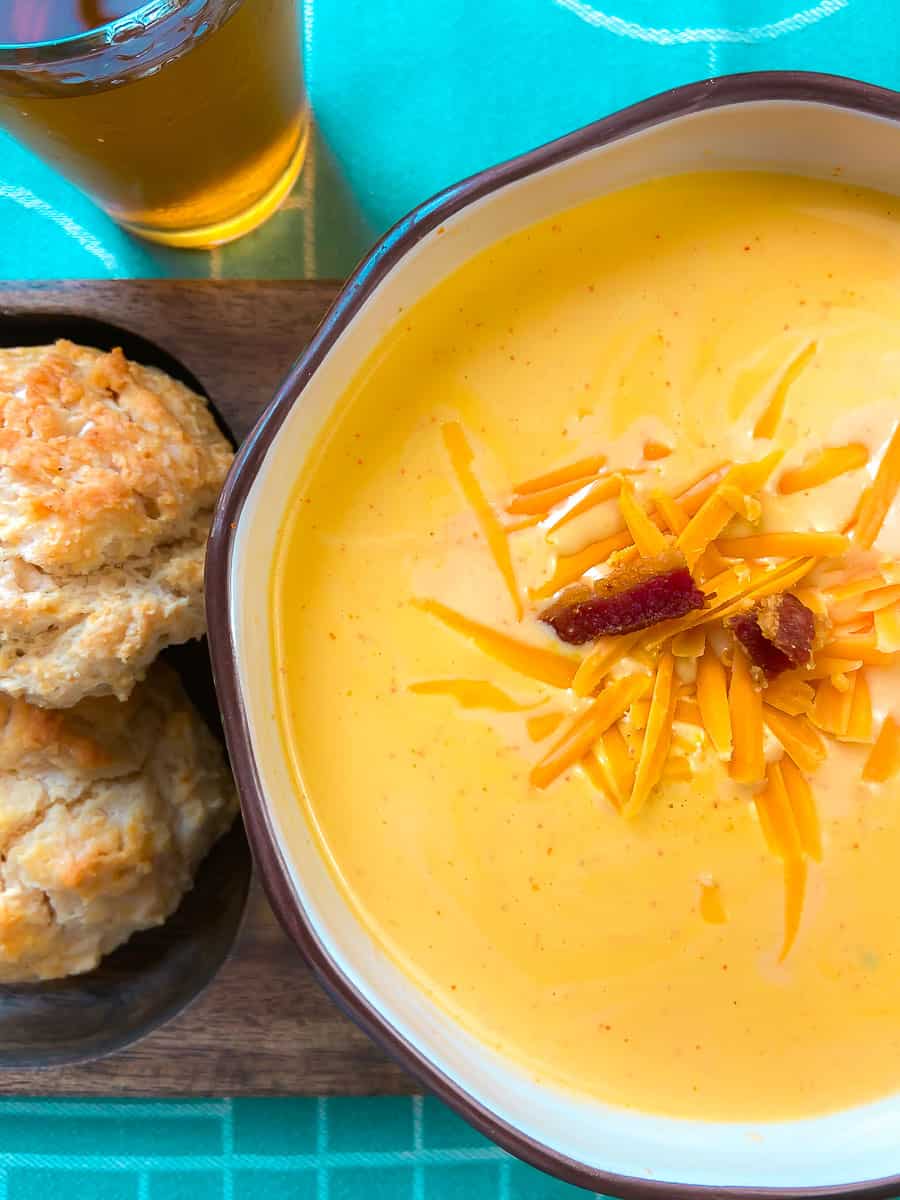 Wisconsin is known for its cheese so that's probably why you'll find this delicious soup served in every restaurant and bar in the State.
Interestingly, a lot of folks up there garnish this thick soup with popcorn! Yes, you heard me right! I've made it before and garnished it that way and it's pretty good!
You'll love this recipe!
Simple ingredients- you probably have all the ingredients in your kitchen!
Inexpensive- no fancy gourmet ingredients and easy on the wallet
Versatile-make it as thick or thin as you like!
Cooked popcorn is a common garnish added to this soup, particularly in Milwaukee bars and restaurants. Add some at the end if you like!
Ingredients
One thing is certain. For best results, the best cheese to use for this soup is brick Wisconsin cheddar cheese. You can buy Wisconsin cheese in most parts of the United States - just look at the label and make sure it's from Wisconsin. If you can't find a Wisconsin cheese, use a young (aged less than one year), high-quality, full-fat sharp cheddar cheese.
Do not use pre-shredded cheese. It's coated with some type of anticoagulant powder that doesn't melt well and turns out grainy.
The additional ingredients are: Dijon mustard, half-n-half, Worcestershire sauce, garlic powder, cayenne powder, all-purpose flour, butter, a sweet yellow onion, carrots, celery, bacon, beer, salt and ground white pepper.
How to make it:
In a Dutch oven or large stockpot, cook the bacon; once crispy, remove it and set aside. Leave the bacon grease in the stockpot. Add the butter and chopped vegetables and cook till tender. Sprinkle in the flour and cook for 2-3 minutes.
Add the beer, then add the half-n-half; on low heat, add remaining seasonings and shredded cheddar cheese. Cook on low until the cheese melts. Season to taste with salt and white pepper.
The liquids in this creamy soup are half-n-half, water and beer; however you can substitute with heavy cream and use chicken broth or chicken stock instead of water.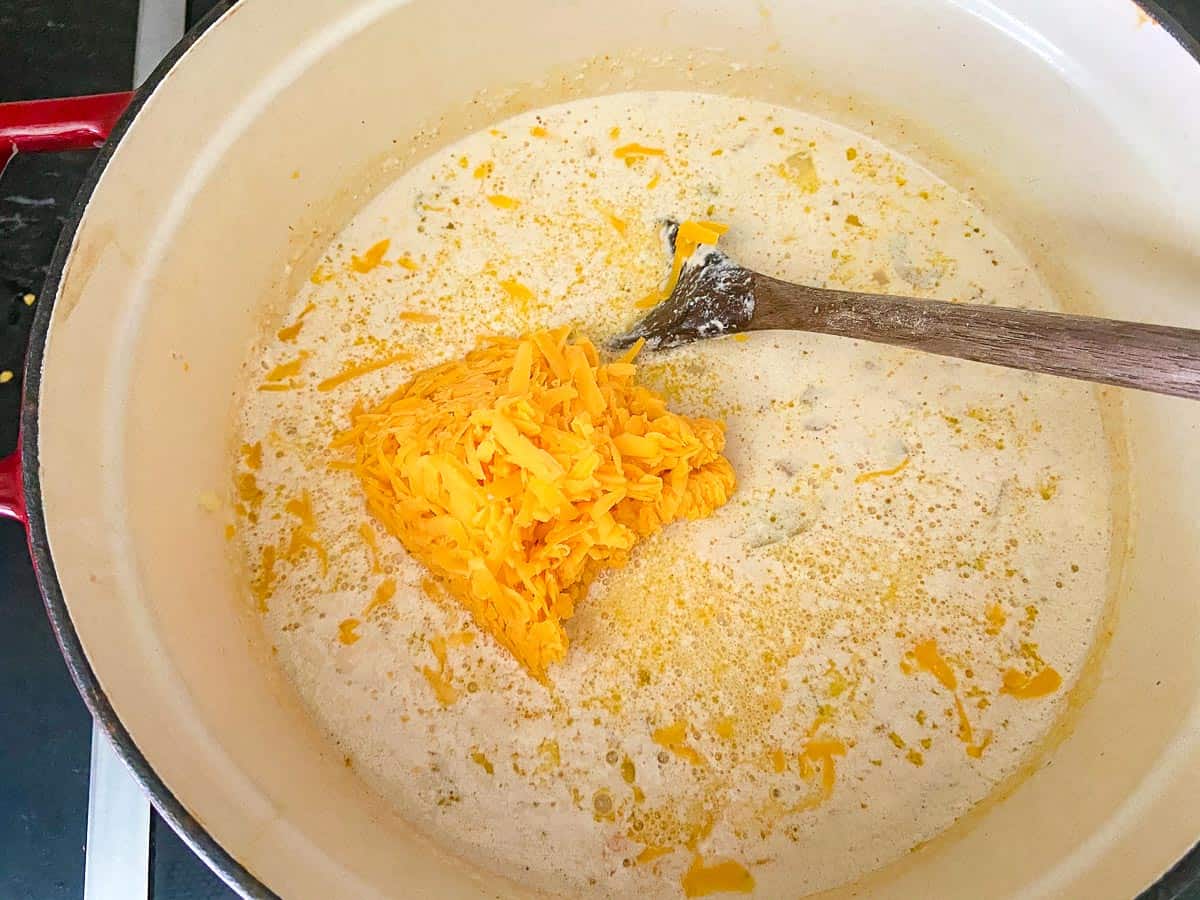 The best beer for beer cheese soup
Amber beer or lager works best in this recipe due to the medium malt and caramel flavors. If you don't have an amber beer, a pale ale or a darker beer will work as well.
If you prefer no alcohol in your soup, you can substitute with a non-alcoholic beer.
Expert tips
For best results, use a young sharp cheddar cheese that is not pre-shredded
Let the half-n-half sit come to room temperature; otherwise, it will curdle
If you want a thicker soup, add another slurry of water and flour; you may have to adjust the seasonings
Make sure the stove is on low heat when you add the cheese and when you add the slurry
If you want a super smooth texture, use an immersion blender or food processor
How to prevent the soup from being grainy
Use a high-quality, full-fat cheese and shred it using a food processor or hand shredder
Do not add cheese to a bubbling, super hot soup; add it when it's warm; this prevents the soup from being grainy
Storage and reheating
Store it in the refrigerator for up to three days in an airtight container. Freezing is not recommended, as the soup gets grainy. For best results, reheat in microwave or on stovetop. You may need to add a little water when reheating.
Serve your Wisconsin beer cheese soup on game day or any day with Irish soda bread or, top it with cooked popcorn like the natives do!!!
Related recipes:
If you make this recipe, please leave a comment below!
📋 Recipe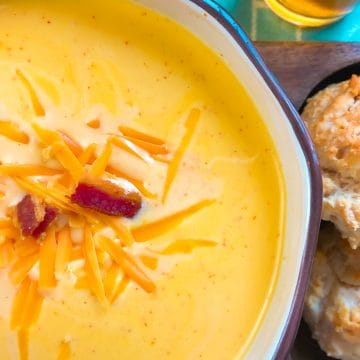 Wisconsin Beer Cheese Soup
Creamy Wisconsin cheddar cheese soup infused with a little beer and seasonings!
Print
Rate
Ingredients
1

lb.

cheddar cheese

, not pre-shredded; get a block of cheese

2

strips

bacon

1

tablespoon

butter

, salted or unsalted

¾

cup

yellow onion

.chopped

¾

cup

carrots, finely chopped

.chopped (about 1 large carrot)

¾

cup

celery, finely chopped

.chopped (about 2 stalks)

¼

cup

all-purpose flour

12

ounces

beer

amber

1½

cups

water

, for soup

2

cups

half n half

2

teaspoons

Worcestershire sauce

3

tablespoons

Dijon mustard (see recipe notes)

½

teaspoon

white pepper

½

teaspoon

garlic powder

¼

teaspoon

cayenne pepper
Instructions
Get half-n-half out of the fridge and let it come to room temperature. If you skip this step, you run the risk of it curdling.

In a large stockpot, on medium heat, cook bacon until crispy; remove and set aside; leave the bacon grease in the stockpot

Add butter, chopped onion, celery and carrots to stockpot; cook for 5-minutes or until semi-tender

1 tablespoon butter,

¾ cup yellow onion,

¾ cup celery, finely chopped,

¾ cup carrots, finely chopped

Sprinkle in all-purpose flour and cook 2-3 minutes

Add beer, a little at a time, until fully incorporated; then add 1 ½ cups of water, Worcestershire sauce, white pepper, garlic powder, Dijon mustard and cayenne pepper; turn heat to simmer for 10-minutes

12 ounces beer,

1½ cups water,

2 teaspoons Worcestershire sauce,

3 tablespoons Dijon mustard (see recipe notes),

½ teaspoon garlic powder,

¼ teaspoon cayenne pepper,

½ teaspoon white pepper

Add half-n-half and cheddar cheese to a warm broth; (See Recipe Notes); cook for 10-minutes on low, simmering heat.At this point, if you want a smooth, creamy soup, use an immersion blender or process in a food processor in small batches.

2 cups half n half,

1 lb. cheddar cheese

Season with salt to taste; garnish with bacon crumbles (or popcorn!)
Notes
While the bacon is cooking, chop vegetables and shred cheese
Remove half-n-half from fridge and let it sit out while you're making the soup (don't add cold half n half to hot soup--it will curdle). This also helps prevent grainy soup.
Dijon mustard
This adds a little heat and acid to the soup; if you're not a fan of spicy, start with 1 teaspoon of Dijon; as you simmer the soup, continue tasting until you have your preferred amount of Dijon mustard.
Once all the ingredients are added to the soup, let it simmer a few minutes; taste for salt
Turn the heat to low when you add the cheese. Cheese breaks down and gets gritty when it's added to super hot (bubbling) broth. Also,low fat cheeses turn gritty sometimes. Tillamook is a good higher-quality brand! Also, sometimes, if you remove the soup from the heat and add a smidgen of vinegar - this might remedy any gritty texture.
If you want a thicker soup, add a slurry to the soup (½ cup water + 2 tablespoons flour)
If you add more than one flour slurry, re-taste the soup; you may need to add more salt or cayenne
Amber or pale ale beers work best, but if you don't have either of these, a regular beer will work as a substitute
If you want a smoother texture, use an immersion blender or pour the soup into a blender or food processor (you may have to do this in batches); strain through a fine strainer and serve
Nutrition Estimate
Serving:
1
cup
Calories:
474
kcal
Carbohydrates:
11
g
Protein:
22
g
Fat:
37
g
Saturated Fat:
23
g
Cholesterol:
115
mg
Sodium:
553
mg
Potassium:
250
mg
Fiber:
1
g
Sugar:
2
g
Vitamin A:
2046
IU
Vitamin C:
2
mg
Calcium:
640
mg
Iron:
1
mg