Louisiana Shrimp Etouffee is a delicious Southern medley of tender Gulf shrimp nestled in a blonde Creole roux, and accented with The Holy Trinity - onion, celery and green bell peppers--all served over a bed of white rice!
If you can't get to Louisiana, this shrimp etouffee recipe is the next best thing! It's quick, easy and ready in minutes!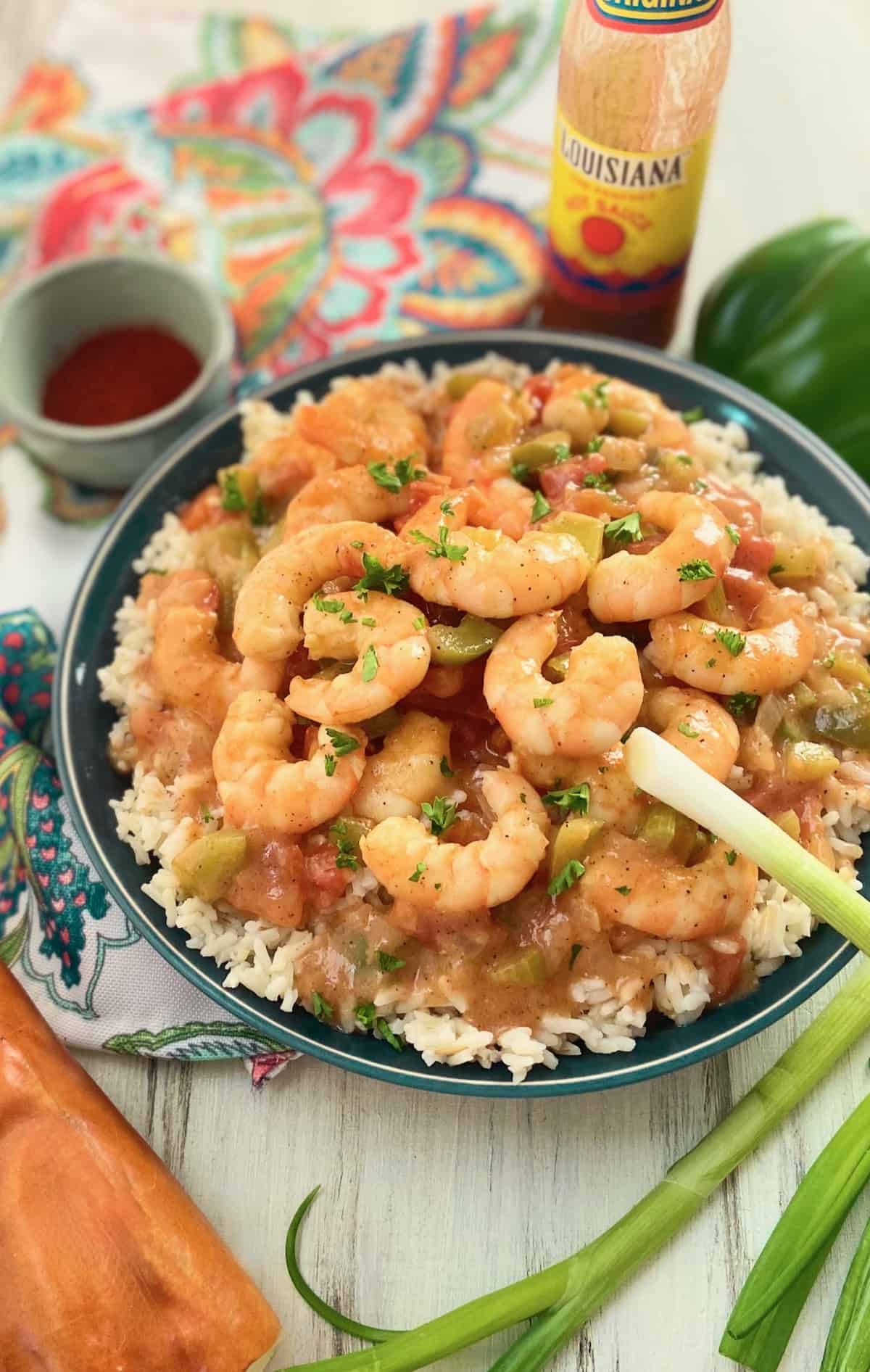 This is one of my favorite "go-to" recipes for shrimp because it's ready in minutes and it's a delicious Creole shrimp recipe!
The Creole sauce is based on tomatoes nestled in a blonde roux, which doesn't take long to make and the shrimp cooks in 5-minutes! It's a perfect weeknight dinner in your own kitchen-no need to go to Pappadeaux's™ for a really good etouffee!
You'll love this recipe!
You'll find various versions of Louisiana shrimp etouffee - some are Cajun recipes (that typically do not include tomatoes) and some are Creole recipes, which usually include tomatoes. This easy shrimp recipe is Creole and you can use fresh tomatoes or canned tomatoes.
This easy Creole shrimp etouffee recipe is based on a blonde roux," The Holy Trinity," stewed tomatoes and Creole seasonings.
Quick and easy - use premade seafood stock and this French classic is ready in 40-minutes!
Healthy - all-natural ingredients, no preservatives, fillers or additives
Easy Clean-up! One big skillet and a pan for rice...that's it!
Great flavor - make it as mild or spicy as you like!
Perfect Mardi Gras recipe!
What is Shrimp Etouffee?
Etouffee, pronounced "Ay-too-FAY", is a French word that means "smothered" , and is a popular cooking method where shellfish or chicken is cooked, or "smothered" in a blonde roux and served with white rice.
It is a popular French dish in and around all of Louisiana, including New Orleans, and is second to the famous Louisiana Seafood Gumbo.
A popular version of this recipe in New Orleans is Crawfish (or crayfish) Etouffee or etouffee recipes that include andouille sausage. This recipe mirrors the classic etouffee sauce recipe except with shrimp.
Generally speaking, traditional etouffee does not include tomatoes, but I added a few to give a Creole vs Cajun flair to this popular Louisiana dish.
Here's what you'll need
Fresh shrimp, flour, butter, yellow onion, celery, green bell peppers, stewed/canned tomatoes, a spice blend - Creole seasoning (or Cajun seasoning), high-quality prepared seafood stock, Worcestershire sauce, Louisiana pepper sauce (optional) and white rice.
If you want it really spicy, add cayenne pepper and Louisiana hot sauce - both of these are optional.
This classic dish calls for a high quality seafood stock; however if you can't find one, substitute with chicken broth, chicken stock, or shrimp stock or shrimp broth.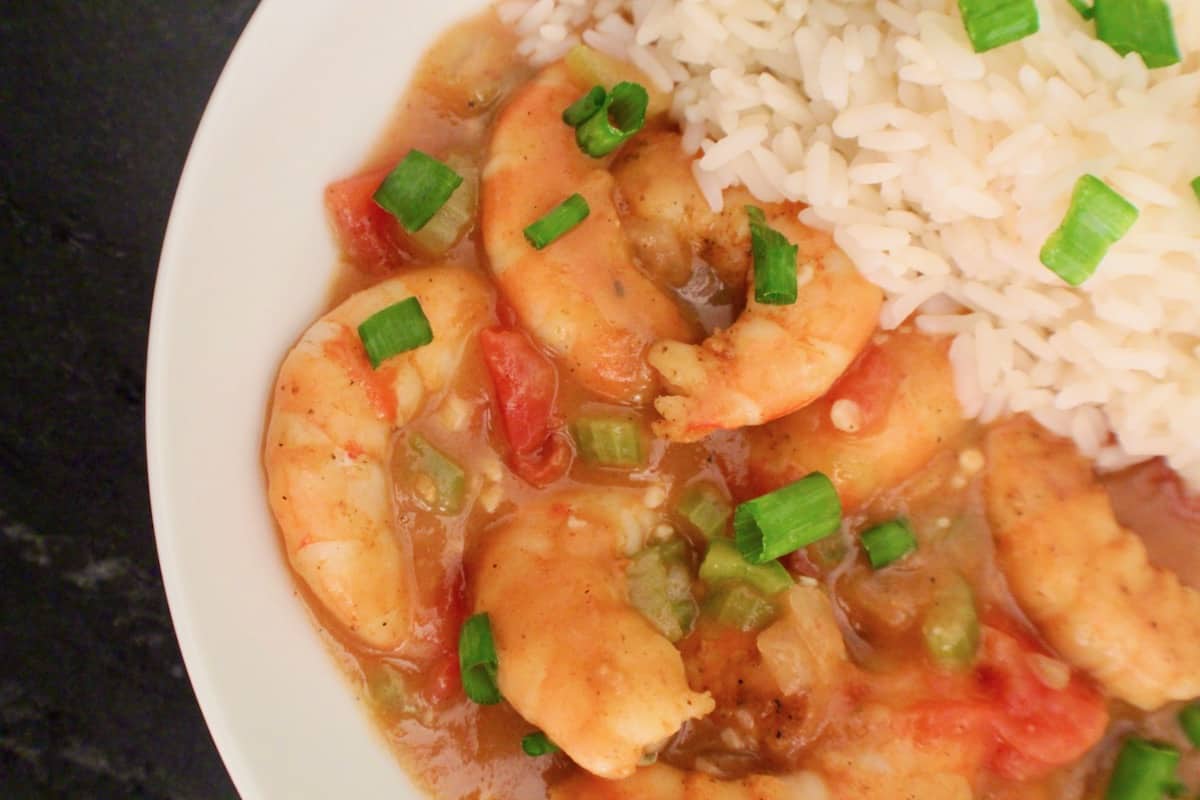 These simple ingredients are much better than etouffee mixes like Zatarain's™ Etouffee Mix, because they're all-natural. No additives, colorants or preservatives.
If you can't find Cajun or Creole seasoning, you can season the fresh shrimp with Old Bay seasoning.
How to make Shrimp Etouffee
If you're using fresh Gulf shrimp (which I recommend), you'll need to peel and devein the shrimp first; lightly season with Creole seasonings and set aside. Chop the onion, green bell pepper and celery into small pieces and set aside.
Next, make the roux. The main thing to focus on when making a proper etouffee is to get the roux to the right consistency.
In a large saucepan on medium heat, melt butter and sprinkle in equal parts flour; whisk and cook on low to medium-low heat for 2-3 minutes until the roux turns to a light golden brown
While continually whisking, add in the seafood stock, tomatoes, chopped vegetables and Creole seasonings. Allow this to simmer a while so the Creole flavors will develop.
Once these have simmered a bit, add the seasoned shrimp. It doesn't take much time for shrimp to cook - about 5 - 8 minutes! Serve over prepared white rice and you're done! Garnish with chopped green onion tops, fresh parsley or a little Gumbo filé powder.
The end result is a delicious, restaurant-quality Louisiana Shrimp Etouffee!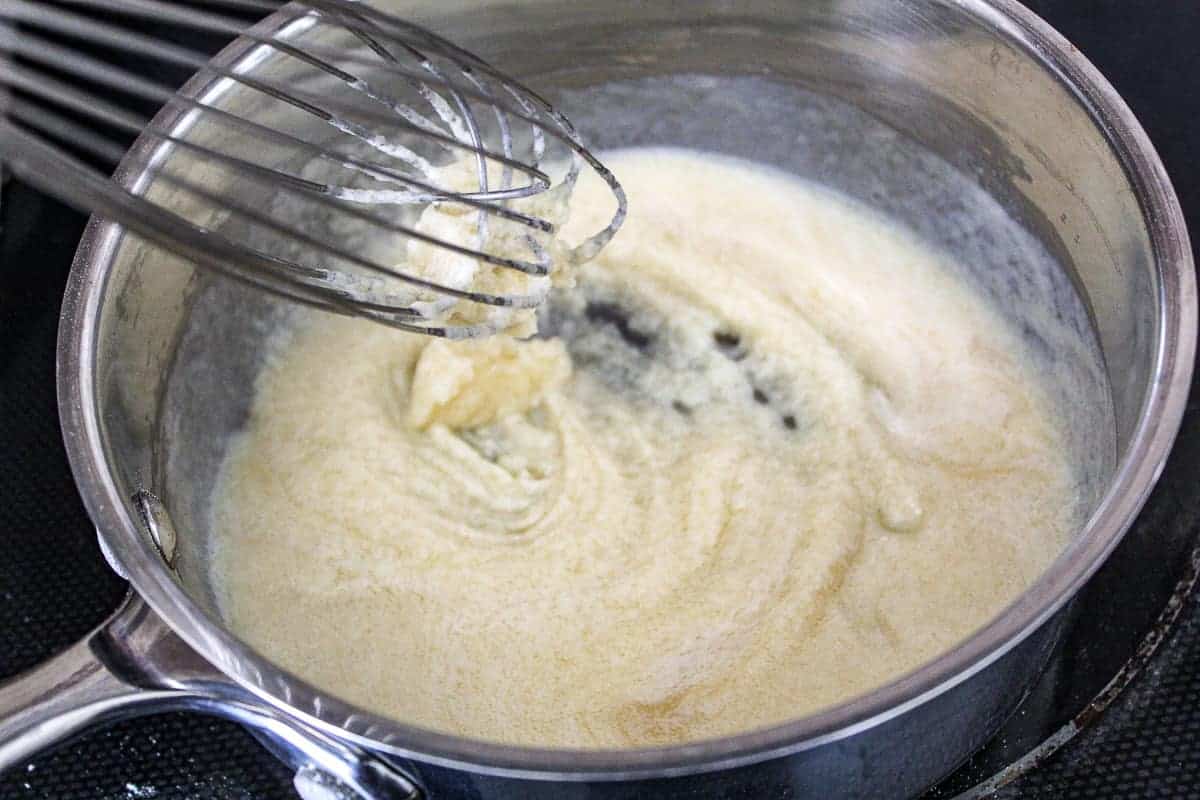 Recipe FAQ's
What's the Holy Trinity?
In Louisiana cooking,"The Holy Trinity" refers to the sauteeing of three vegetables: white or yellow onions, green bell peppers and celery. These vegetables form a "mirepoix" which is basically an aromatic base for soups, stews, Gumbos and other dishes.

The French version is chopped carrots, onions and green bell peppers, but Louisiana folks substitute celery for the carrots.
Can I use frozen shrimp?
Yes! Rinse, peel and devein frozen shrimp then, lightly season with Creole seasoning and set aside. If you want to go easy on the Creole seasoning, just light salt and pepper the shrimp.
What is a roux?
A roux is a combination of equal parts of fat and flour, heated to form a base for sauces. There are different types of roux, depending upon what you're making. For instance, Gumbos are based on dark roux.

A basic white cream sauce starts with a light, or white roux. The color and thickness of a roux depend upon how long they're cooked. A light roux is thicker than a dark roux.
How long does Louisiana shrimp etouffee take to cook?
This simple dish takes about 40-minutes from start to finish, and that includes prepping the shrimp and chopping the vegetables. It calls for prepared seafood stock and fresh shrimp.
Is Creole cuisine spicy?
Generally speaking, a classic Creole dish usually has more spice than it's cousin- Cajun. The Creole people were city dwellers and had easy access to bold flavors and spices like cayenne pepper , bay leaf and chili powder...so a lot of these warmer spices are found in Creole food. Cajun cooking generally consists of simple ingredients and less spices.

You control the heat of this shrimp creole by the amount of seasoning you add.

If you don't like spice, only salt and pepper the shrimp and start with ½ tablespoon of the seasoning blend in the tomato sauce. You can always add more.
What's the difference between Gumbo and Etouffee?
Gumbo and Etouffee are two totally different dishes.
Gumbo is a hearty Southern stew based on a savory dark brown roux and is served with white rice. The protein in this Louisiana classic might be seafood, chicken or sausage-but true gumbo always includes okra and The Holy Trinity.

Etouffee, on the other hand, is not as thick or dark as a gumbo stew; it is a lighter Southern favorite and is made with a blonde roux. (Blonde roux's typically do not take as long to make as dark.)

Classic etouffee consists of protein (such as crawfish or shrimp) that is "smothered" or simmered in a blonde roux that is seasoned with The Holy Trinity. It is not common to find okra in etouffee, but more often in Gumbo.
Serving suggestions
Although Louisiana Shrimp Etouffee is a complete dish on its own, you will often see it served with warm French bread and/or a cup of soup...like French Onion or a cup of Gumbo.
You might want to serve a side of Louisiana Crab Puffs with the etouffee, as well!
Storage and reheating
You can make this Louisiana shrimp étouffée recipe up to three days in advance and store it in an airtight container in the refrigerator. I recommend storing the etouffee sauce separately from the rice.
For best results, reheat the shrimp etouffee on the stovetop and reheat the rice in the microwave. (You might have to add a little water to the creole sauce as it may thicken upon storage.)
You can freeze this dish up to 6 months.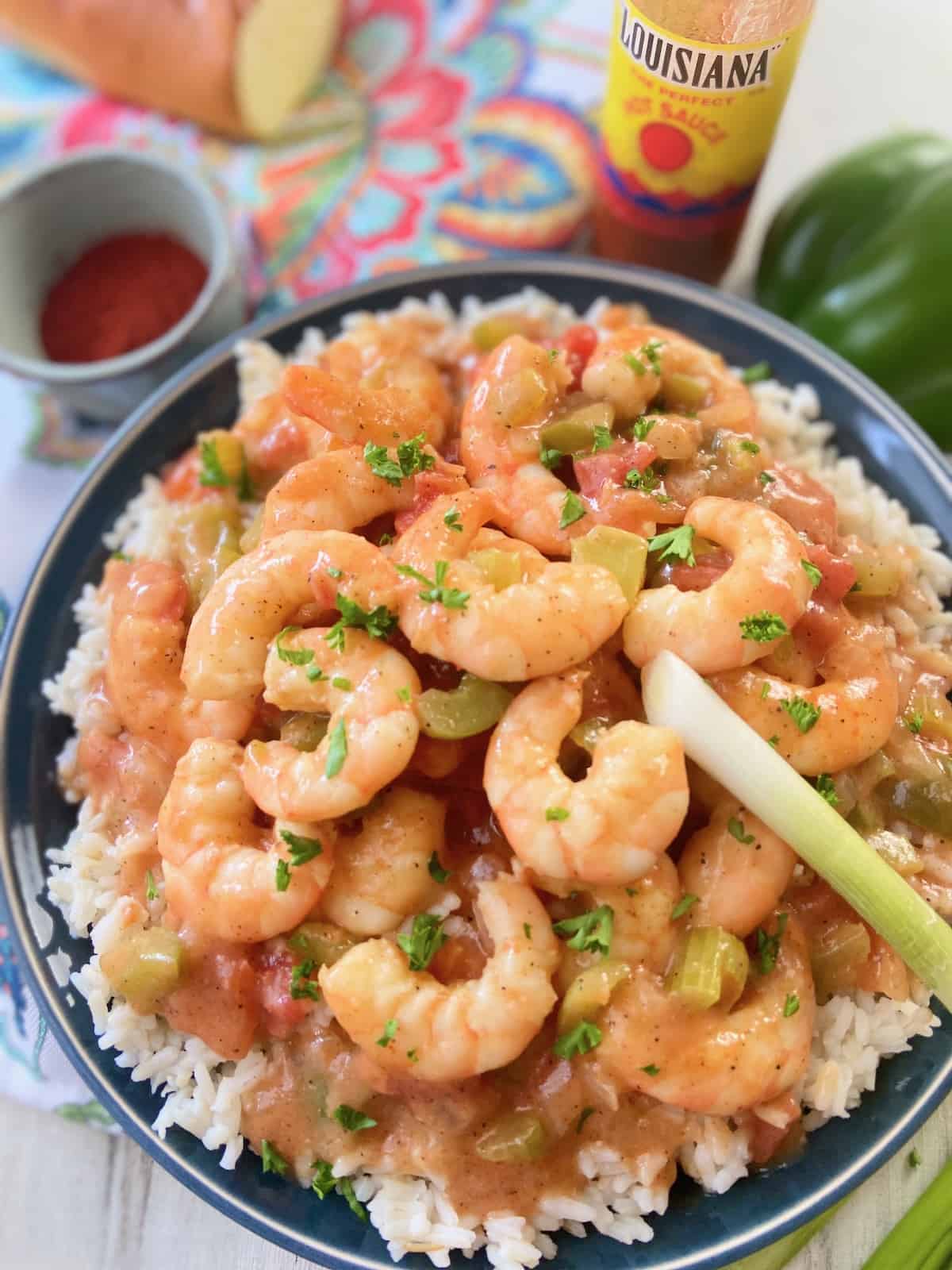 Make this quick and easy Louisiana Shrimp Etouffee for Mardi Gras or any day of the week!
More Louisiana and New Orleans recipes
If you make this recipe, please scroll down and leave a comment and rating! I love to hear from you! Thank you!
📋 Recipe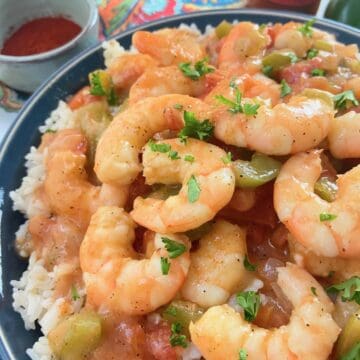 Louisiana Shrimp Etouffee
A delicious Southern medley of tender Gulf shrimp nestled in a blonde Creole roux, and accented with onion, celery and bell peppers--all served over a bed of white rice!
Print
Rate
Ingredients
1

lb

Gulf shrimp

shelled and deveined

4

tablespoons

butter

, salted or unsalted

½

cup

flour

, all-purpose

½

cup

chopped celery

½

cup

chopped yellow onion

choped

½

cup

chopped green bell pepper

1½

cups

seafood stock

See Recipe Notes

2

tablespoons

Creole seasoning

Creole Seasoning (divided); 1 tablespoon to season shrimp and 1 tablespoon for the sauce; See Recipe Notes

15

ounces

stewed tomatoes

, chopped; See Recipe Notes

2

tablespoons

Worcestershire sauce

1

teaspoon

Louisiana Hot Sauce

(optional)

4

cups

prepared white rice

1

bunch

green onions

, for garnish
Instructions
Remove shells and tails of shrimp. If you're making your own shrimp stock, place the shells and tails in a saucepan and cover with 1 ¾ cups of water and ½ teaspoon of salt; bring to boil; drain and reserve liquid for later in the recipe.

Season shelled, raw shrimp with 1 tablespoon of Tony Chachere's Creole Seasoning; set aside

1 lb Gulf shrimp,

2 tablespoons Creole seasoning

In a heavy bottom skillet on medium-low heat, melt butter; sprinkle in flour; combine and let cook for 2-3 minutes (it will be lumpy)

4 tablespoons butter,

½ cup flour

Add The Holy Trinity : chopped onion, celery and green bell peppers to butter/flour mixture; cook 5 minutes

½ cup chopped celery,

½ cup chopped yellow onion,

½ cup chopped green bell pepper

Gradually add in shrimp stock, stirring with whisk to remove any lumps

Add Worcestershire sauce, remaining 1 tablespoon of Tony Chachere's Creole Seasoning, stewed tomatoes with their juice, and Louisiana hot sauce (optional); combine well (use wooden spoon to break apart tomatoes)

2 tablespoons Creole seasoning,

2 tablespoons Worcestershire sauce,

15 ounces stewed tomatoes

Allow mixture to cook on low for 10 minutes, or until the tomatoes are tender; taste for salt

4 cups prepared white rice

Add seasoned shrimp to mixture; allow to cook for 6-10 minutes or until shrimp are light pink

Plate rice onto plates or bowls and ladle shrimp and roux over rice; garnish with chopped green onions

1 bunch green onions,

1 teaspoon Louisiana Hot Sauce
Notes
This dish is not super spicy, but if you don't like even a little heat, season the shrimp with a little salt and pepper and start with ½ tablespoon of Creole seasoning in the sauce.
I use

Tony Chachere's

™ Creole Seasoning.
Don't over cook the shrimp!
Nestle them in the hot tomato mixture and let them cook for about 5-8 minutes
Seafood Stock:
If you don't have seafood stock, you can use chicken or vegetable stock.
How to make shrimp stock
Peel shrimp and remove tails. Place in medium saucepan; add 1 ¾ cups of water and ½ teaspoon salt; bring to boil for 5-8 minutes; drain shells and tails, reserving the liquid.
Stewed tomatoes:
This recipe calls for stewed tomatoes but if you only have diced, that will work as well. Just cook them a little bit longer in the sauce so they thicken.
If you have stewed tomatoes with basil and/or garlic, that will work just as well.
Nutrition Estimate
Serving:
1
cup
Calories:
660
kcal
Carbohydrates:
69
g
Protein:
56
g
Fat:
17
g
Saturated Fat:
8
g
Cholesterol:
602
mg
Sodium:
2536
mg
Potassium:
789
mg
Fiber:
5
g
Sugar:
7
g
Vitamin A:
1852
IU
Vitamin C:
48
mg
Calcium:
454
mg
Iron:
11
mg