Love Mom's Pot Roast but forgot to take notes when she was making it? Search no more!
Here's a foolproof, delicious pot roast recipe for the most tender, juicy and flavorful Sunday roast you've ever had...just like Mom made!
You can make this in a Dutch oven on the stovetop, in a roasting pan in the oven, or in a slow cooker! Whatever method you use, this recipe will turn out delicious!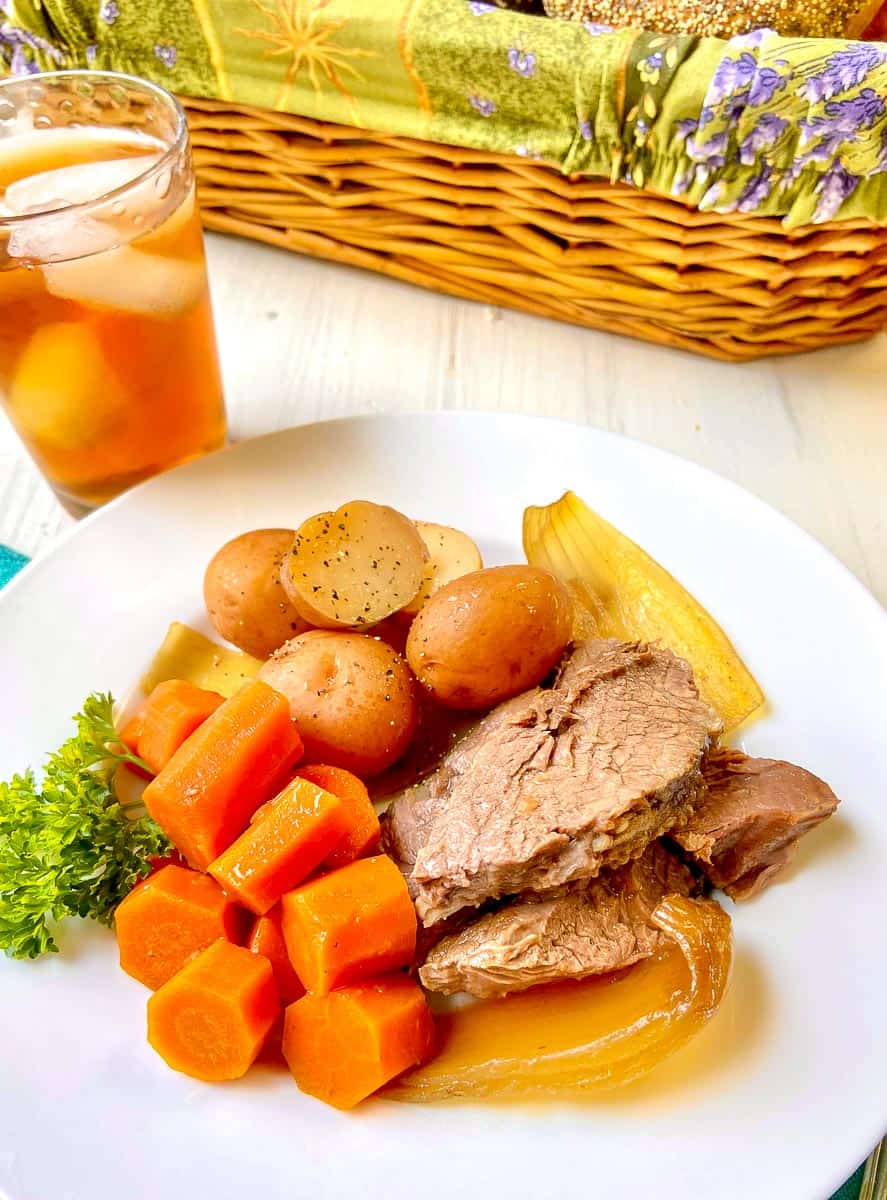 Classic Sunday lunch in the South, this is usually served with tender potatoes, carrots and onions...oh, and a big glass of Southern sweet tea!
Most often, all the ingredients cook in a big roasting pan in the oven-where the smell permeates throughout the house and smells delicious! This recipe can be made in a slow cooker or Dutch oven as well.
You'll love this recipe!
If you're homesick or just wanting a classic Sunday pot roast, this is probably one of the easiest recipes you'll ever make!
Easy - one pan clean-up! You can make this in a roasting pan in the oven, in a Dutch oven on the stovetop, or in a slow cooker.
Efficient - meat, vegetables and starch all ready to serve at once! No hassle in the kitchen!
Flavorful - savory flavored beef with seasoned potatoes, carrots and onions in a rich beefy broth
Mom's pot roast is a meal in itself, but if you want some green sides to go with your meal, make a big batch of turnip or collard greens!
Here's what you'll need
The secret to my Mom's pot roast is garlic. She taught me how to "plug" garlic cloves into the tender beef and the result is amazing!
Chuck roast, beef broth or beef stock, beefy onion dried soup mix (I use Lipton Beefy Onion dry mix), fresh garlic, onion (sweet yellow is my favorite, but white onions work just as well), carrots and potatoes (I use waxy potatoes like Red Creamer, New Potatoes or Yukon gold because they hold up best in the liquid).
You can use russet potatoes if you prefer. (Peeled or not). Just clean and cut the russet or Idaho potatoes but don't put them in the pot until about 2 hours before you're ready to serve.
(Russet potatoes are not as "waxy" as red or new potatoes, so they have a tendency to dissolve and turn to mush if you put them in the pot at the beginning of the cooking time.

A 3-4 pound chuck or rump roast, beef broth, a package of beefy onion soup dry mix, onions, carrots, garlic and potatoes!
How to make it
First, season the meat with a light sprinkling of salt, ground black pepper and a little onion powder (optional).
Peel the carrots and cut into 2" inch slices; quarter the onions (yellow or white onions); cut the new potatoes or Yukon gold potatoes in half; set all this aside
Slice a few cloves of garlic then, use the tip of the knife and cut slits into the meat (about 4-5 slits, depending upon the size of the beef). Insert the garlic cloves into the slits. The garlic will cook down so don't worry about getting a big bite of garlic!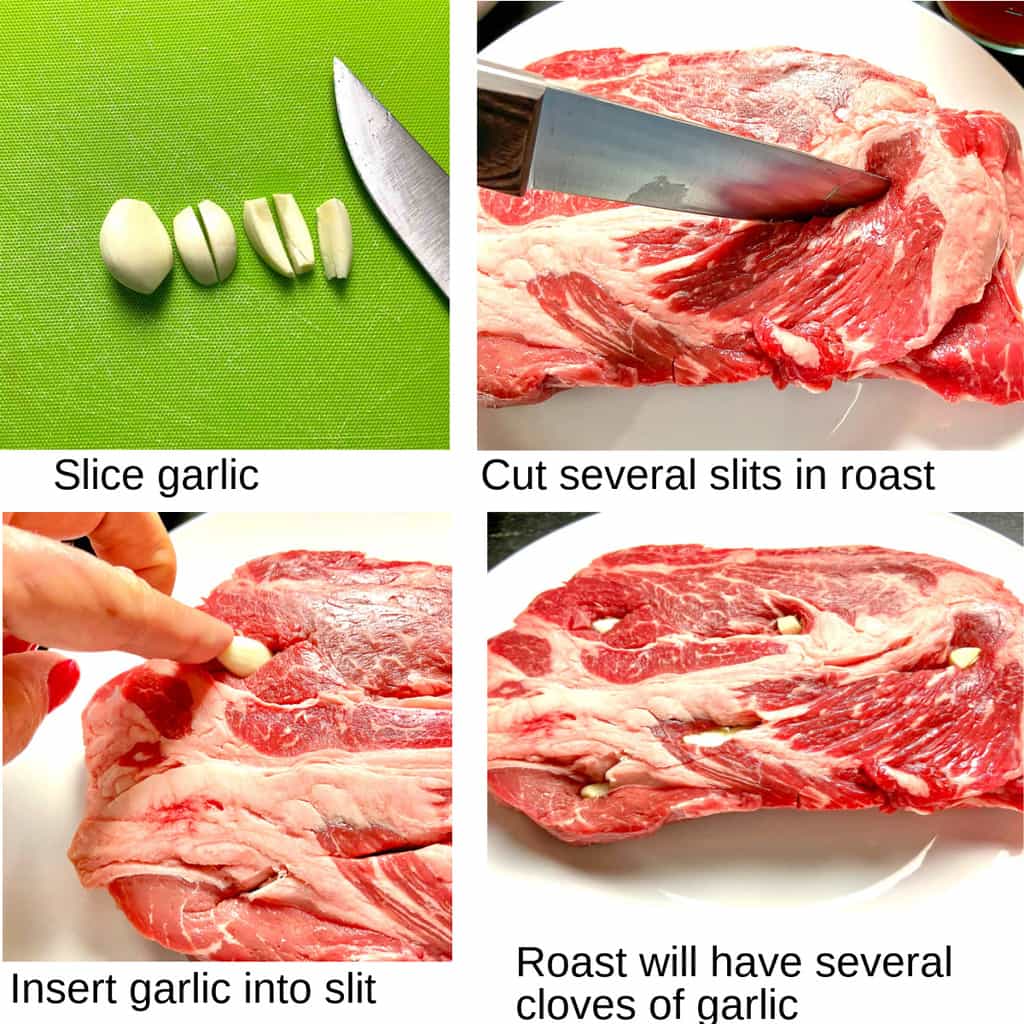 Next, place the beef in the cooking pan; add pototoes and cut carrots around the perimeter; top with quartered onions; add beef broth and beefy soup mix; sprinkle a little black pepper over everything, cover and cook on low heat for 4-6 hours, depending upon the size of the beef.
You can salt everything now, but the beefy onion soup mix has enough salt for us...your call!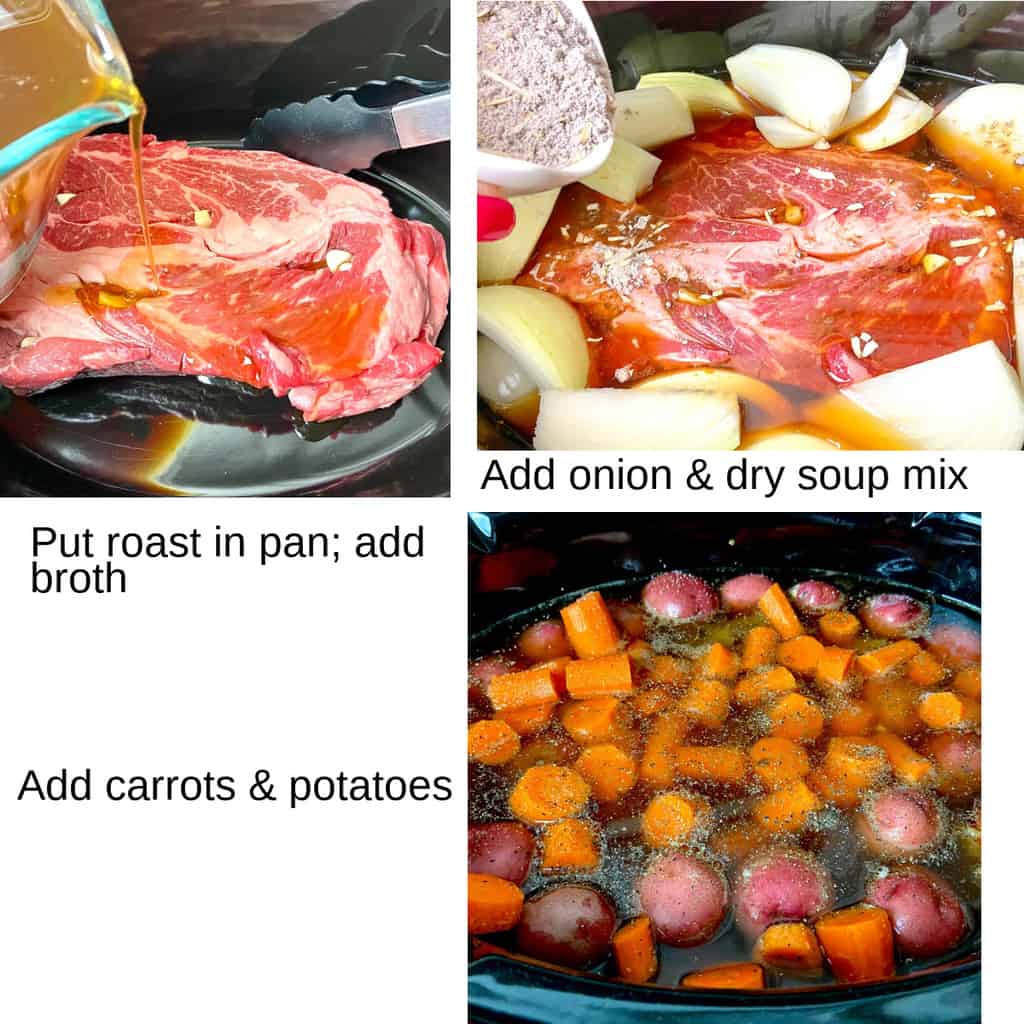 Recipe FAQ's
What is a Pot Roast?
It is not a particular cut of meat. The term "pot roast" refers to a braised cut of meat, simmered with seasonings and aromatics. Believe it or not, the tougher cuts of meat work best!
What cut of beef do I use?
The very first time I attempted to make my Mom's Pot Roast, I had no clue what kind of meat to buy. I asked the butcher, "what kind of meat do I buy for a roast?" If you don't know either, here's what to look for:

•Chuck cuts might be labeled as chuck roast, boneless chuck roast, 7-bone chuck roast, 7-bone-in roast, shoulder steak, chuck shoulder, or beef chuck arm.
•Brisket is a leaner, flat cut. Cuts might indicate "brisket point" which is usually fattier and often used for corned beef or barbecue recipes.
•Round rump roast or bottom round cuts are both relatively tough cuts but make delicious pot roasts
What do I use for braising liquid?
A braising liquid can be water, stock or broth. Typically, beef broth is the most common choice, combined with a few cloves of garlic or onion added to the broth.
What kind of potatoes work best in a roasting pan or slow cooker?
Yukon Gold or red creamer potatoes hold up best in the braising liquid. Both of these types of potatoes are "waxy" potatoes and have less starch than Idaho or Russets.

You can use Idaho or Russet potatoes, just know that they will not be as firm as a waxy potato.
What's the best way to cook a pot roast?
No matter how you cook the roast, the secret is to make sure you cook it on a low temperature with plenty of braising liquid.

For an oven baked roast, use a roasting pan with a lid
Stovetop - use a large Dutch oven with a lid
Slow Cooker - low setting with a lid
How long does it take to cook?
In a slow cooker, a 3-4 lb. roast usually takes between 5-6 hours. If you're cooking it in the oven in a roasting pan, it will take about 4-5 hours.
Do I sear the roast first?
You can, but it's not necessary since the roast will cook in a braising liquid. The liquid permeates the meat, resulting in a tender and flavorful pot roast.

If you want to sear the pot roast first, then lightly season the beef with salt and pepper; place in a dry, heavy bottom skillet on medium high heat. Do not add any oil to the skillet. We're gonna sear the beef in a dry, hot skillet; rotate the meat until all sides are browned, then remove from pan and place in roasting pan or slow cooker.
When do I add the vegetables?
You can never go wrong with adding onions, carrots and potatoes to Mom's Pot Roast! I usually put the carrots, onions and potatoes in the slow cooker or Dutch oven all at the same time. You can also wait until about an hour before serving to add the carrots to the cooking pot.

If you want to add sliced yellow or zucchini squash, add them about an hour before the meat is done because they cook faster than the other vegetables.
Can I overcook a roast?
Yes...If there's not enough braising liquid, the roast will be dry and tough. The best way to ensure your pot roast isn't overcooked is to have plenty of broth or water in the pan and cook the pot roast on low heat for a long time. Low and Slow!
Seasonings
This easy and delicious pot roast recipe uses simple ingredients. If you want to ramp up the flavor a bit, feel free to sprinkle in some oregano, marjoram or a little thyme. I use a package of Lipton's™ Beefy Onion Dry Soup Mix which gives a very savory, hearty flavor to both the meat and vegetables.
Salt, pepper and garlic powder are the most common seasonings, however, if you want a more developed flavor, add herbs to the broth.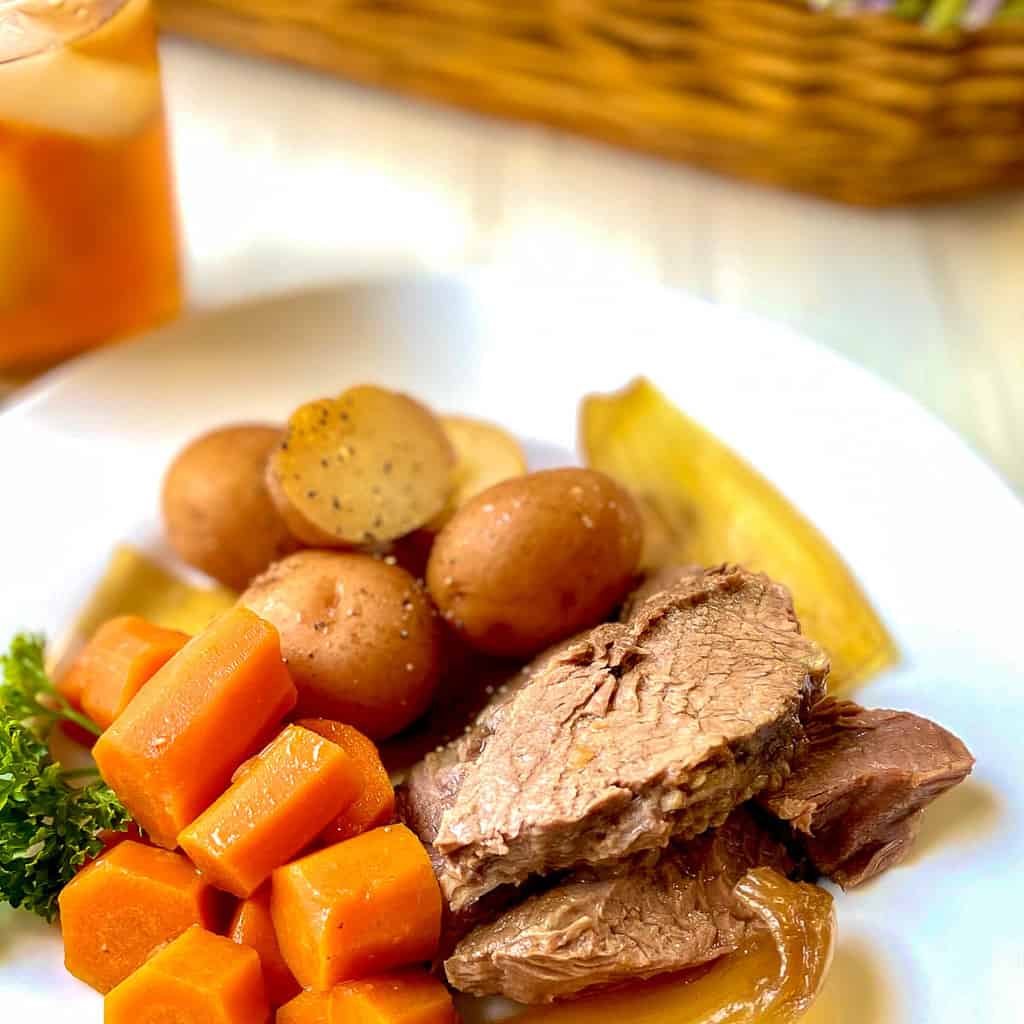 I make Mom's Sunday Pot Roast at least once a month! We use any leftover meat for vegetable beef soup or open faced roast beef sandwiches!
Related recipes:
♥If you make this recipe, please scroll down and leave a comment and rating below! Thank you!
📋 Recipe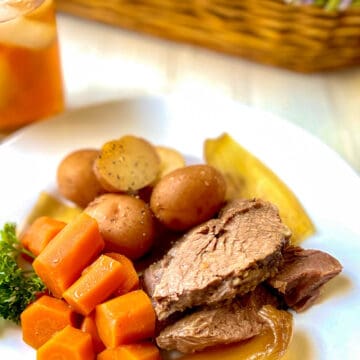 Mom's Pot roast
Sunday pot roast infused with garlic and served with organic carrots and potatoes.
Print
Rate
Ingredients
4

lb.

chuck or rump roast

(about ½ lb. per person)

1

pkg.

dry onion soup mix

, beefy flavor

2

large

onions

, quartered (yellow, sweet yellow or white)

3

cloves

garlic

, peeled and sliced

8

large

carrots

, peeled, cut into 2 inch pieces

3

lbs.

Yukon gold potatoes

, halved (you can use red creamer potatoes instead)

6

cups

water or beef broth

see recipe notes

salt and pepper

, to taste
Instructions
Preheat oven to 325Fº or turn slow cooker to low temperature for 6 hours

Peel and slice garlic cloves; set aside

Using the tip of a sharp knife, cut several slits into the roast; insert a slice of garlic into each slit

Place roast in roasting pan/slow cooker

4 lb. chuck or rump roast

6 cups water or beef broth

Place onions, potatoes and carrots on the meat

2 large onions,

3 lbs. Yukon gold potatoes,

8 large carrots

Sprinkle a package of dry onion soup mix over meat and vegetables

1 pkg. dry onion soup mix

Add more water or beef broth (enough to cover the vegetables)

Cook on low for at least six hours until meat and vegetables are tender; salt and pepper to taste
Notes
Add enough broth or water to cover the roast and vegetables; this amount will vary depending upon the size of roast, the pan and amount of vegetables
Yukon gold or red creamer potatoes hold up best in the low and slow cooking process; you can use russets, just add them halfway through the cooking process (after the roast has cooked about 3 hours)
If you start the crockpot in the morning and can't add the carrots/potatoes after three hours, don't worry about it. Just put everything in the crockpot and make sure there's plenty of liquid...it will all be ready when you get home!
Nutrition Estimate
Serving:
1
serving
Calories:
540
kcal
Carbohydrates:
28
g
Protein:
50
g
Fat:
26
g
Saturated Fat:
11
g
Cholesterol:
156
mg
Sodium:
572
mg
Potassium:
1789
mg
Fiber:
3
g
Sugar:
4
g
Vitamin A:
10220
IU
Vitamin C:
12
mg
Calcium:
81
mg
Iron:
6
mg