When you're craving Italian, but trying to push-back from the carbs, this is an excellent go-to recipe that's quick, easy and satisfies that Italian monster in you.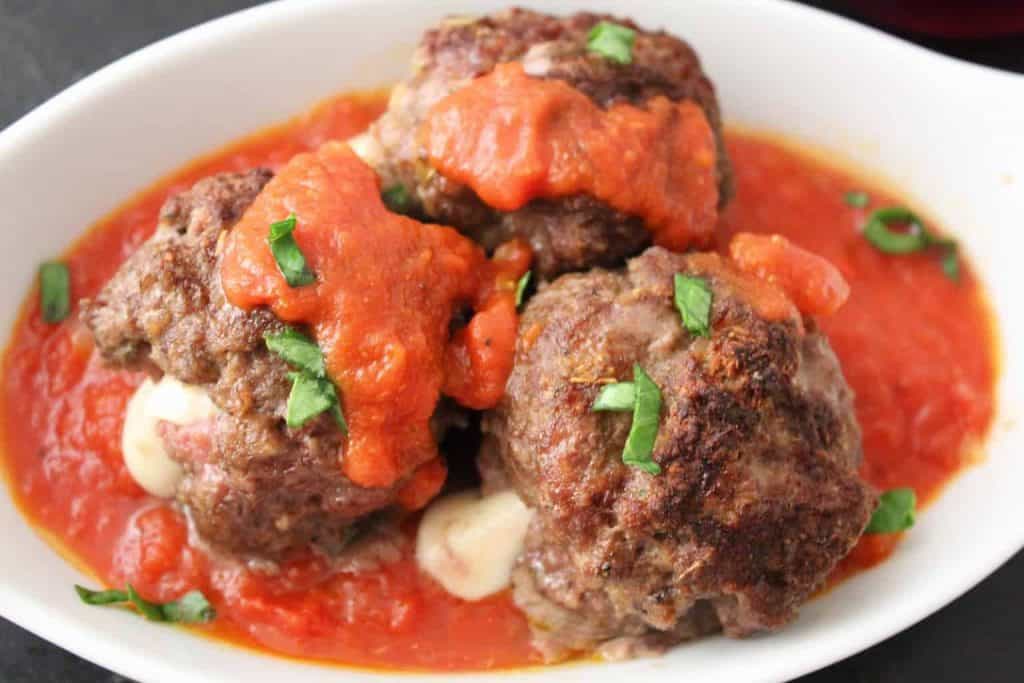 Mozzarella stuffed meatballs are the best of both worlds! Savory seasoned beef with a cheesy surprise in the middle! I love to eat these by themselves!
How to Make Mozzarello Meatballs
Start with seasoned lean ground beef, roll it into balls, stuff a cube of mozzarella in the middle, continue to roll and bake. It's that simple! You can make these as big or small as you like; bite-size, or a little bigger for entree size.
I used 2 pounds of lean ground beef, and made the mozzarella stuffed meatballs about 1/3 cup each; this made 14 meatballs.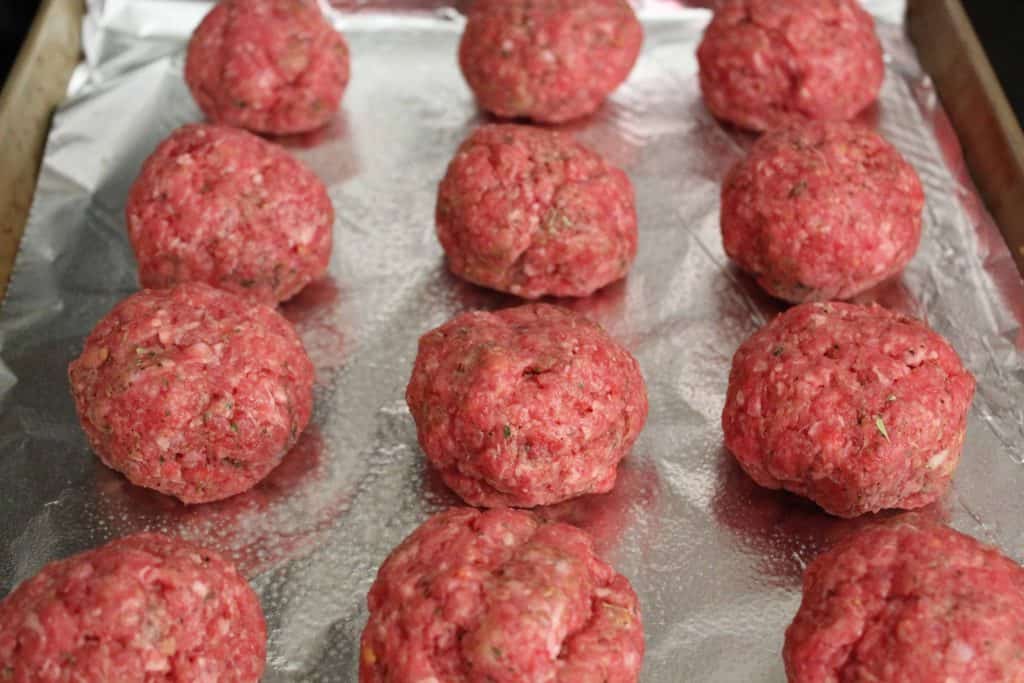 What Type of Beef Do I Use for Mozzarella Stuffed Meatballs?
I recommend a lean ground beef (90/10 or 80/20) because the higher the fat content, the more shrinkage.
Can I Substitute Ground Turkey for Ground Beef?
Yes! Keep in mind that ground turkey is super lean, so you won't  have much shrinkage and, you might have to reduce the cooking time because ground turkey cooks quicker than ground beef.
What Sauce Do I Use for the Stuffed Meatballs?
You can use a high quality jarred sauce (you might have to adjust the seasonings to your preference) or make my delicious San Marzano Sauce. I usually make the sauce in large batches then freeze it, so I always have it on hand:)
Do I Use Fresh or Packaged Mozzarella Cheese?
You can use either fresh or packaged mozzarella cheese. Fresh is usually packaged in water, so you'll want to let the cheese soak on a paper towel for a minute to absorb some of the moisture. I don't recommend using shredded mozzarella cheese–too tricky to stuff into the meatball.
Do I Use Fresh or Dried Herbs?
In this recipe, I used dried; however, you can use fresh if you prefer. Dried herbs are stronger than fresh. If you use fresh herbs for the sauce you'll want to increase the amount times 3 and add them at the end when preparing the sauce. As for the meatballs, you can use fresh herbs as well, just increase the amount.
Won't The Meatballs Split Open Under the Heat?
Maybe. Some of mine did! Since the mozzarella stuffed meatballs are placed under the broiler, they cook really fast and yes, some of them may split. The only way I know to prevent this is by putting the meatballs in the fridge for at least 15 minutes before you broil them. Also, make sure the cheese is dead center in the meatball.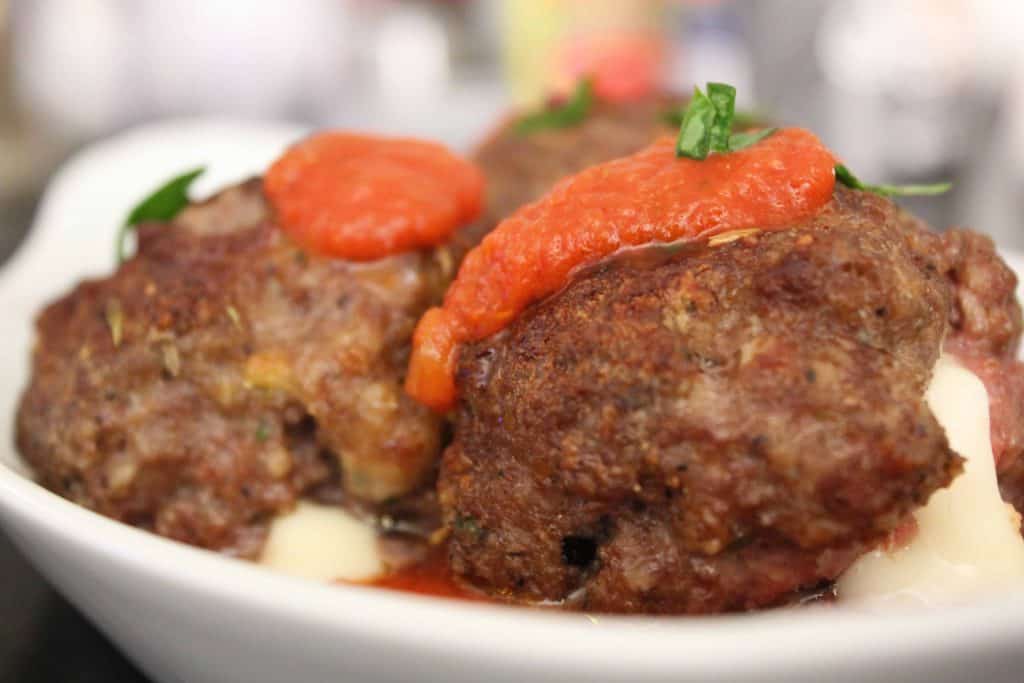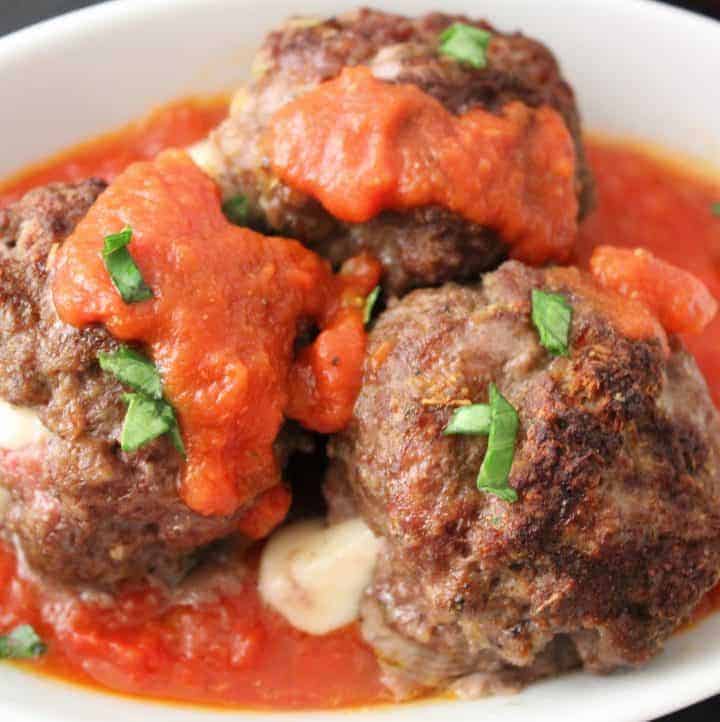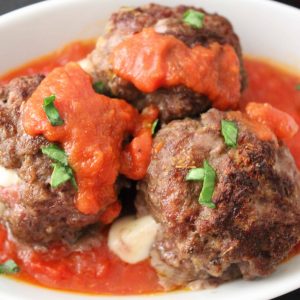 Mozzarella Stuffed Meatballs
Savory Italian seasoned meatballs with a center of mozzarella cheese.
Print
Pin
Ingredients
2

lbs.

lean ground beef

½

cup

onion

chopped

2

whole

eggs

lightly beaten

1

cup

breadcrumbs

plain or Italian seasoned

2

teaspoons

garlic

minced

3

tablespoons

Italian Spice Blend

see recipe notes

1

teaspoon

salt

1

teaspoon

pepper

4

oz.

mozzarella cheese

cubed
Instructions
Line baking dish with foil and spray with cooking oil

Cut mozzarella cheese into bite sized pieces

In a small bowl, lightly beat eggs

In a large bowl, add beef, eggs, bread crumbs, and all seasonings; combine well

Use a scoop or spoon to measure the beef for the size of meatball you want

Roll the ground beef into balls; poke a dent in the middle of the meatball and tuck in a piece of cheese

Continue to roll meatball until cheese is centered, or not visible

Place finished meatball onto foil

Once meatballs are on baking sheet, spray them lightly with cooking spray

Place meatballs under broiler; allow to cook for about 20-25 minutes (this time will vary depending upon the size you make the meatballs)

Once meatballs are cooked thoroughly, remove, plate and top with sauce
Notes
In this recipe, I used pre-mixed dried Italian seasonings. If you choose to use individual seasonings, (oregano, basil, parsley, marjoram, etc.), then I'd start with one teaspoon each (for 2 lbs. of beef) ; use 1/2 teaspoon of each for 1 lb. beef