Classic Buttermilk Pie is a popular Southern dessert that features a flaky pie crust filled with a tangy creamy custard pie filling. Use a homemade or premade pie crust, buttermilk, eggs, butter, sugar and a little vanilla extract and you've got a quick and delicious dessert to serve your guests!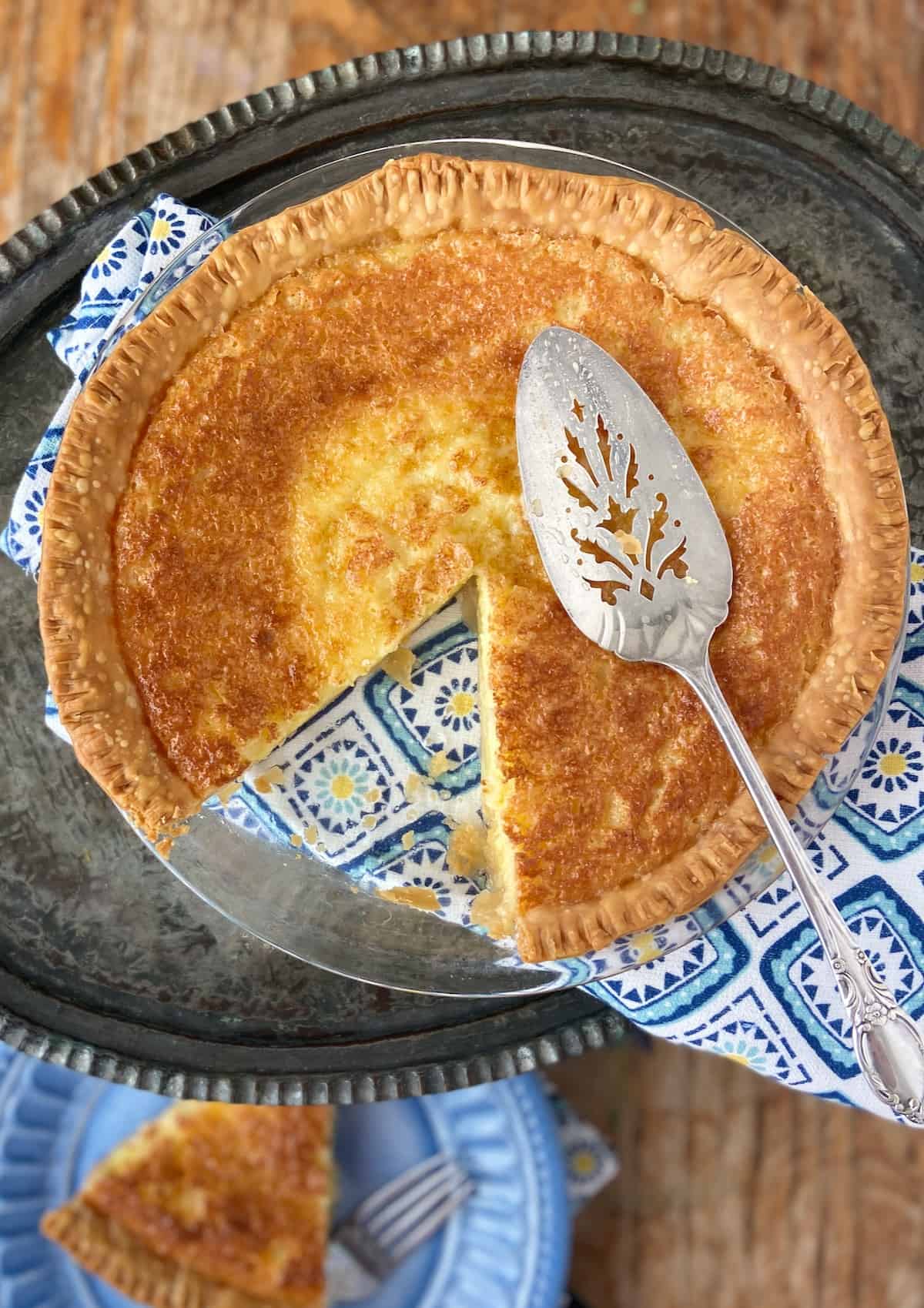 This easy recipe screams southern hospitality, so grab the simple ingredients and get started!
If you're not a fan of buttermilk, don't worry--I kid you not, my husband couldn't detect real buttermilk taste in this pie at all! He asked," what kind of pie is on the counter?" and I replied, "pie--just eat it!"
He hates buttermilk, but loved this! After I told him what it was, he was so surprised! Turns out, I had to make another one later that week so I could take pictures of it...he ate the whole thing.
You'll love this recipe
This old-fashioned southern dessert is the real deal..a type of custard pie with no fancy spices, fillers or preservatives; just an all-around great dessert!
Quick and Easy! Use a prepared roll-out refrigerated pie crust, mix together the yummy custard filling and you're done!
Simple ingredients - sugar, eggs, buttermilk, vanilla extract and butter...that's it!
This classic buttermilk pie is a cousin to the chess pie. Typically, chess pies contain cornmeal and are much sweeter than buttermilk.
Here's what you'll need
You only need a few simple ingredients to make this old-fashioned recipe which is way better than the copycat Cracker Barrel Buttermilk pie recipe.
Buttermilk (2% or whole fat buttermilk), granulated sugar, vanilla extract, a few whole eggs, butter, salt. You can use either salted or unsalted butter, but if you use salted butter, you won't add any salt to the recipe.
Use a 9" inch pie plate and a roll-out pie crust or a pre-made pie crust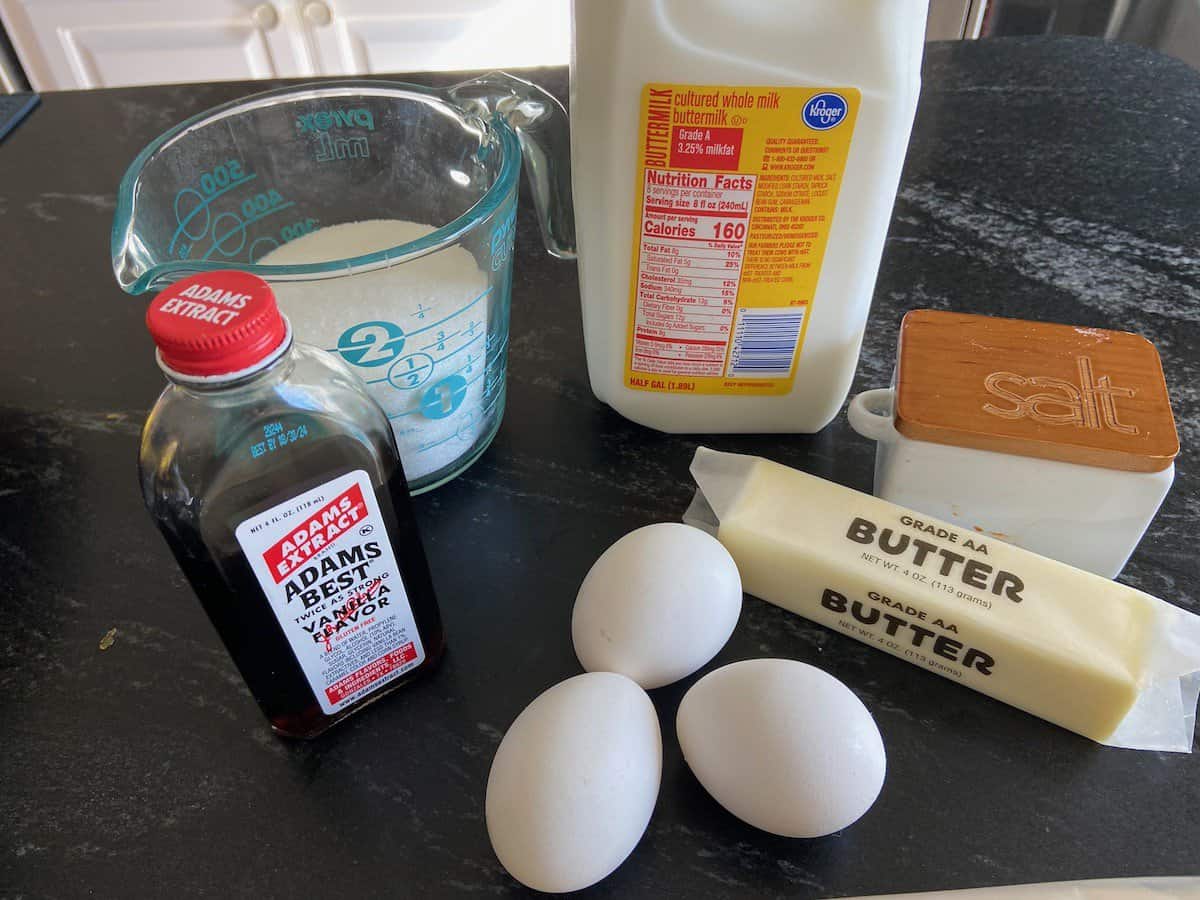 How to make it
Sometimes, simple is best and this is the best buttermilk pie recipe because it calls for a few simple ingredients and doesn't have a lot of spices (nutmeg, cinnamon, etc.). This bona fide recipe focuses on the main ingredient: the buttermilk custard pie filling.
First, melt the butter and set it aside (you can do this in the microwave or on the stovetop)
Then, roll the pie dough over the plate and refrigerate it while you mix together the sweet custard
In a large mixing bowl, cream together the sugar and eggs (you can do this by hand or use a hand mixer with a paddle); stir in the cooled, melted butter; add the buttermilk, vanilla extract and a pinch of salt (See the Recipe Notes about Butter.)
Pour into a cool shell and bake @350ºF for about 45-minutes on the middle rack (baking times may vary, depending upon your oven)
As it bakes, the custard will puff up and brown.
When you remove it from the oven, it will flatten out as it cools; that's exactly how it's supposed to be! This isn't a big fluffy pie; it's thin, light and creamy.
Once it's come to room temperature, slice and serve!
The crust
After you've rolled it into the plate, refrigerate it for about 10-minutes then immediately add the custard filling and bake. This ensures the crust doesn't get soggy.
Recipe Tips
Since buttermilk is the main ingredient, make sure you use a high-quality buttermilk and, I recommend using whole fat buttermilk if you can. Otherwise, 2% buttermilk works fine
Some folks like to add a little lemon juice to their pie; if you choose to add fresh lemon juice, add ½ teaspoon. If you add too much, you'll end up with lemon pie.
Use a 9"inch pie pan and bake it on the middle oven rack; put a baking sheet on the lowest rack to catch any spills
I use a Pillsbury roll-out pie dough for this classic southern buttermilk pie, but if you want, you can use a frozen pie crust or a graham cracker crust.
Refrigerate the pie crust for about 10-minutes before you add the creamy filling; this results in a flaky crust
For best results, refrigerate the pie after it's cooled; then, when you're ready to serve, let it come to room temperature
Storage
If you have any leftover pie, put some plastic wrap over it and hide it in the back of the refrigerator so nobody else can find it. When you're ready to devour the rest of it, just let it come back up to room temperature, or...do like I do and stand in the kitchen in the middle of the night and eat it cold!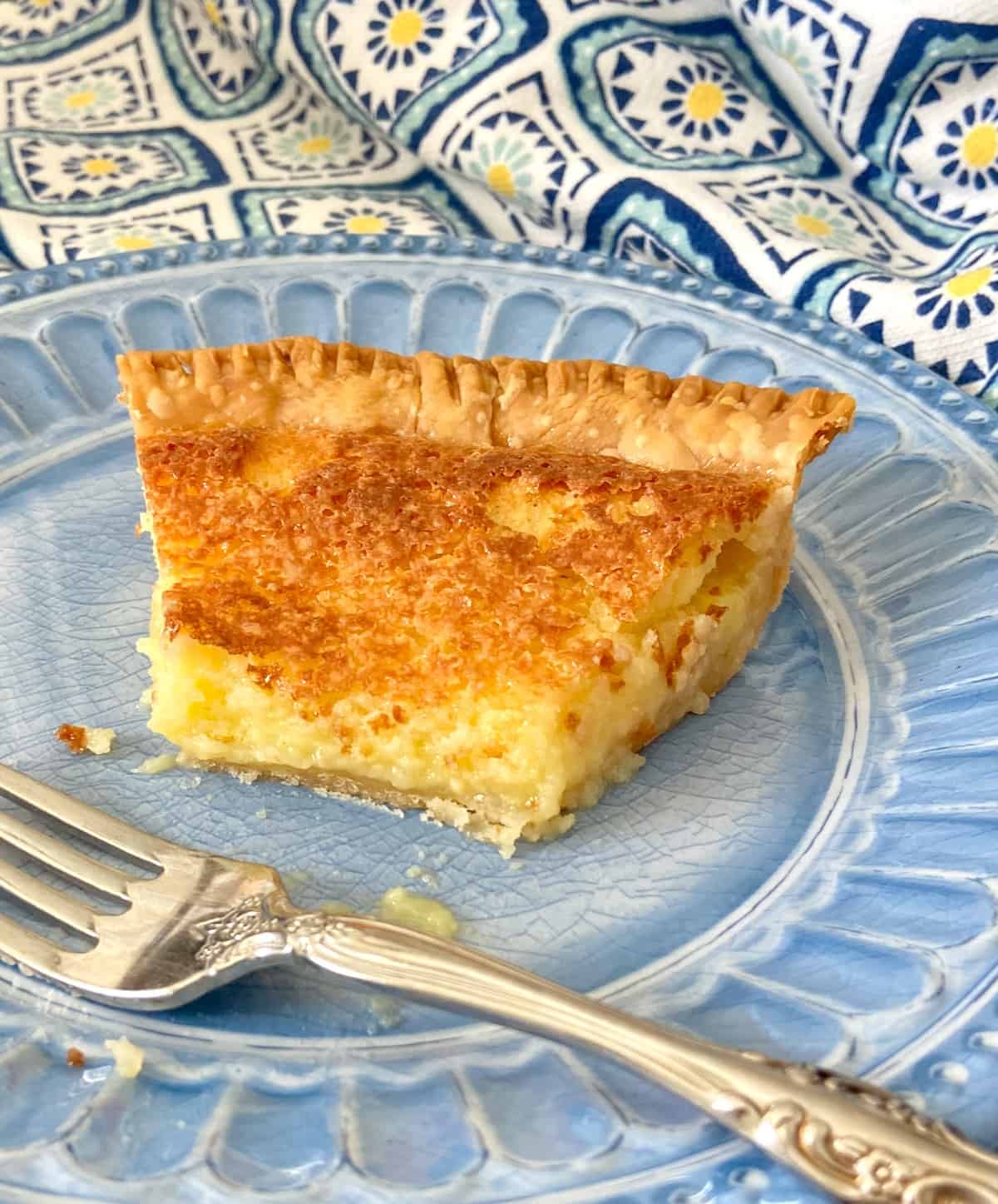 Classic Buttermilk Pie is a southern favorite you'll make time and time again! Serve it with homemade whipped cream, a scoop of vanilla ice cream, fresh berries or all by itself!
Related recipes
If you make this recipe, please scroll down and leave a rating and comment! I love to hear from you! Thank you!
📋 Recipe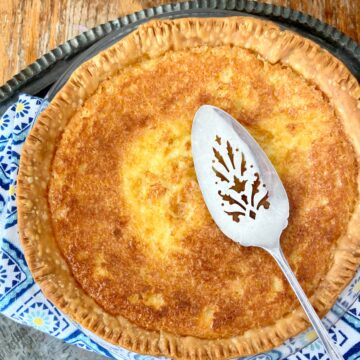 Classic Buttermilk Pie
Classic Southern Buttermilk Pie with buttermilk, eggs, sugar, butter and vanilla extract.
Print
Text Recipe
Rate
Ingredients
1

9" inch pie crust

, rolled pie pastry

¾

cups

buttermilk

, whole fat buttermilk or 2%

6

tablespoons

melted butter

, salted (see recipe notes)

3

whole

eggs

lightly beaten

1½

cups

sugar

, granulated

1½

teaspoons

vanilla extract

¼

teaspoon

salt

, table salt (if you're using unsalted butter)
Instructions
Melt butter and set aside to cool

6 tablespoons melted butter

Roll pie dough over pie plate; crimp edges and refrigerate for 10-minutesl (See Recipe Notes)

In a large mixing bowl, lightly beat eggs; add sugar and combine well

3 whole eggs,

1½ cups sugar

Add buttermilk, cooled melted butter and vanilla extract to the mixing bowl; combine well (Note: if you're using unsalted butter, add ¼ teaspoon table salt now)

¾ cups buttermilk,

6 tablespoons melted butter,

1½ teaspoons vanilla extract,

¼ teaspoon salt

Pour mixture into cool pie shell

Place on middle rack and bake at 350ºF for 45-50 minutes; the pie is done when the center cracks a little and the center filling is a little jiggly

Allow to cool before serving
Notes
Crust:
After you roll the pastry over the pie plate, refrigerate it for 10-minutes then pour the custard in; let the cool pie plate sit at room temperature for 5-8 minutes or so before putting it into the oven.
Why? If you put a super cold pie plate in a hot oven, the pie plate might blow up. Don't ask me how I know this.
For best results, refrigerate pie after it's done for at least 30-minutes; then, let it come to room temperature, slice and serve
I always put a baking sheet on the lowest oven rack when I'm making this pie because sometimes it bubbles over
Butter:
Make sure the melted butter is cool before adding it to the sugar/egg mixture, otherwise, the eggs will cook and clump
If you use salted butter, don't add any additional salt to the mixture
If you use unsalted butter, add ¼ teaspoon of table salt to the mixture
Cooling:
When the pie first comes out, it will be fluffy and might have a few cracks on top; this is normal. Cool the pie on a wire rack and as it cools, you'll notice it shrinks down; this is normal. Place the pie in the fridge and allow to cool thoroughly before serving.
Nutrition Estimate
Serving:
1
slice
Calories:
446
kcal
Carbohydrates:
65
g
Protein:
3
g
Fat:
20
g
Saturated Fat:
10
g
Cholesterol:
35
mg
Sodium:
249
mg
Potassium:
68
mg
Fiber:
1
g
Sugar:
51
g
Vitamin A:
399
IU
Calcium:
43
mg
Iron:
1
mg