Salisbury Steak with Brown Gravy is a family-favorite-comfort-food! Quick and easy using simple ingredients!
This stove top "hamburger steak" consists of ground beef, tender and seasoned, slow cooked in a skillet with savory onions and homemade brown gravy!
Serve it was mashed potatoes, over a bed of rice with a side of Parmesan Peppered Peas!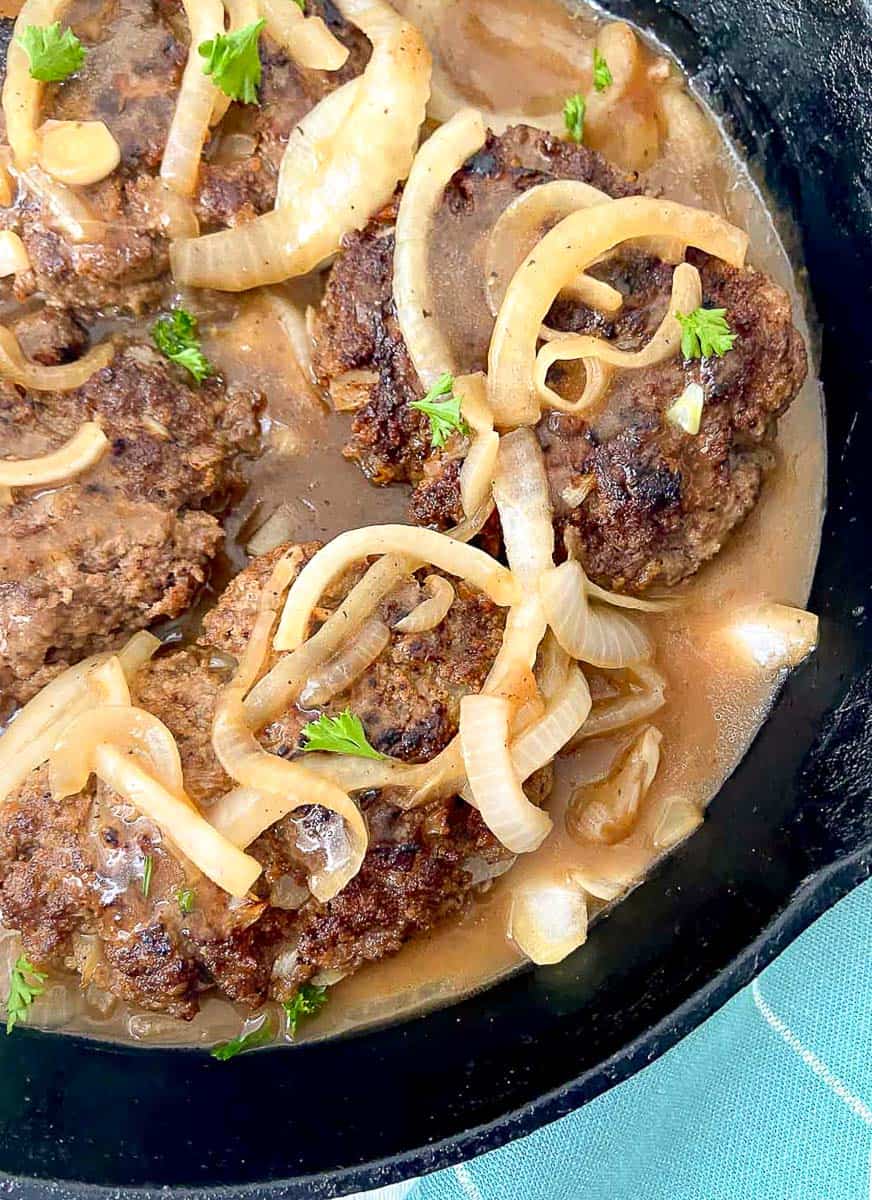 Salisbury Steak is a comfort food and is usually served with mashed potatoes. The dish itself was developed by Dr. James Salisbury in the 1800's.
Interestingly, he was an early proponent of a low-carb diet and believed that his signature dish was a cure for many ailments.
"Hamburger steak" consists of seasoned lean ground beef, sauteed onions, and a rich brown gravy to drizzle over it! Sometimes, I serve this with a green salad and macaroni and cheese!
Jump to:
Yield
Two pounds of ground beef turned out about 5-6 steak patties, but I've gotta tell ya', my husband ate three and my kid ate two, so...if your guy is a meat and potatoes type, plan on using at least two pounds of beef.
How to make the hamburger steaks
Combine steak patty ingredients in large bowl; form beef mixture into 4-6 balls, then flatten and shape like a "steak."
Lightly cook in oil until internal temperature reaches 150ºF. Remove steaks from stove and cover with foil; drain oil from cast-iron skillet; reserve 1 tablespoon of the oil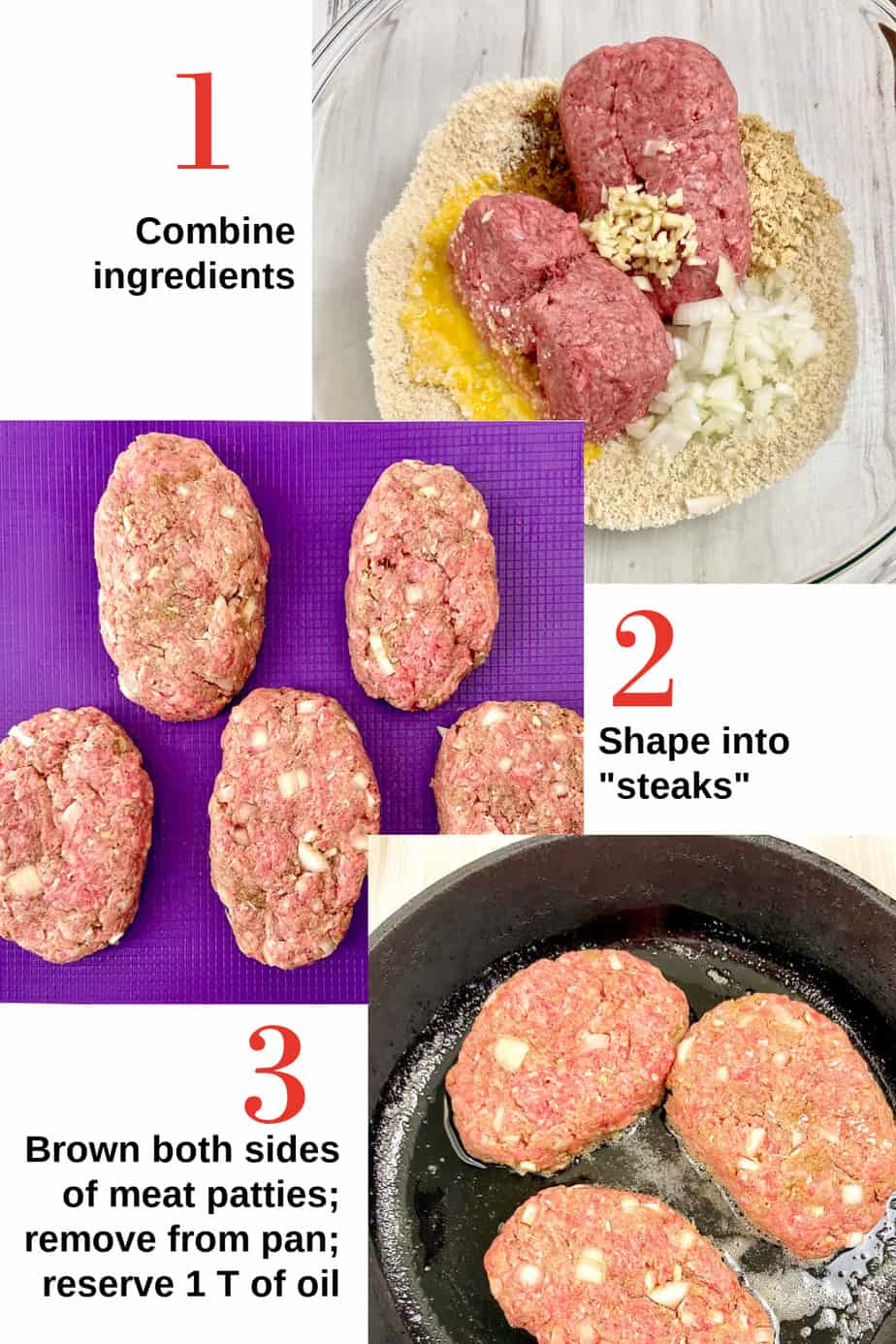 How to make the brown gravy
In the same skillet, add 1 tablespoon of the oil from the meat and butter; add cornstarch; whisk in broth; heat till thick; return steaks to skillet; cover and allow to simmer until the internal temperature reaches 160ºF.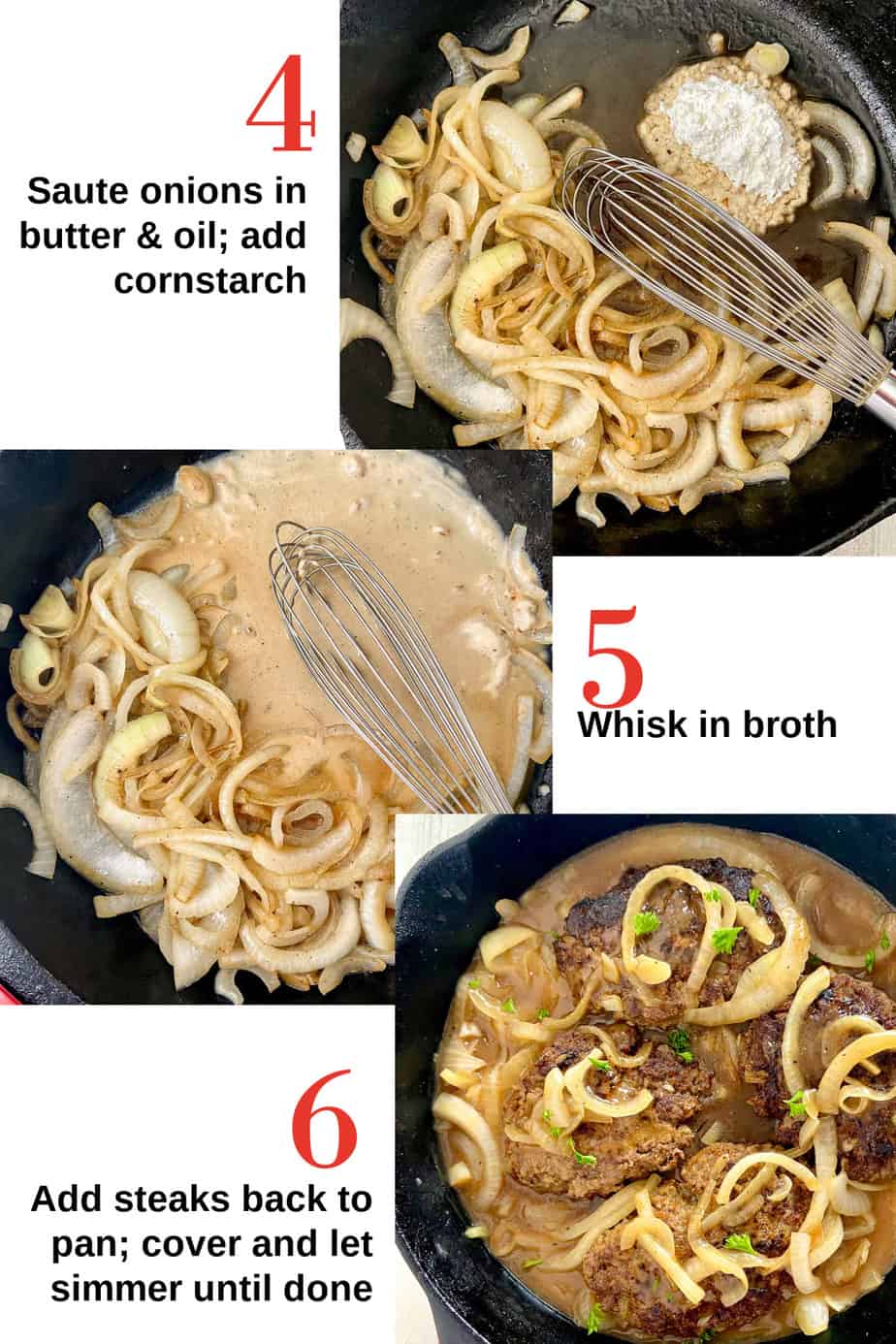 Some folks like to add mushrooms to their brown gravy - if you want to do that, just clean and slice a few mushrooms and toss them in with the onions!
7 Tips to keep hamburger steak from falling apart
One of the most common challenges for Salisbury steak is that the meat patty starts to fall apart. Here's how to prevent that from happening!
Use the right ratio of meat : egg : breadcrumbs. This recipes uses 2 pounds of beef: 1 whole egg: 1 cup breadcrumbs.
If you increase or decrease the amount of ground beef, adjust these ratios accordingly.
Don't overwork the hamburger mixture when you're adding in the seasonings. Mix the meat just a few times.
When you form the "steak," pack it tightly
Make sure your oil is hot and your meat is relatively cool
Once you place the hamburger steaks in the oil, don't touch them for at least 3-minutes. Let one side get good and brown then flip it over and brown the other side.
Type of beef
For a nice size beef patty, use a lean ground beef because if you use a fatty beef, the steak patties will shrink! I prefer ground sirloin, but if it's not available or too pricey, I use a beef lean ground meat.
Type of onions
This recipe works with sweet yellow, yellow or white onions.
Thickening the gravy
Flour thickens at LOW temperatures, whereas corn starch thickens at HIGH temperatures.
If you elect to use flour as a thickening agent, just turn the heat on the broth to low, then add the flour and whisk, strain, etc.
If you use cornstarch to thicken the brown gravy, turn the heat up and whisk it in.
Make it in advance, storage and reheating
If you want to make this in advance, cook the hamburger steaks thoroughly and then make the gravy.
Store each separately in the refrigerator for up to 3 days.
When it's time to reheat, place the steaks in a baking dish, cover with foil and bake at 350° F until steaks are thoroughly heated.
Reheat the gravy on the stove; note, you might have to add more broth as it tends to thicken or gelatinize when refrigerated due to the starch (flour or cornstarch).
Place the Salisbury steaks in the gravy; cover and let simmer about 20-minutes.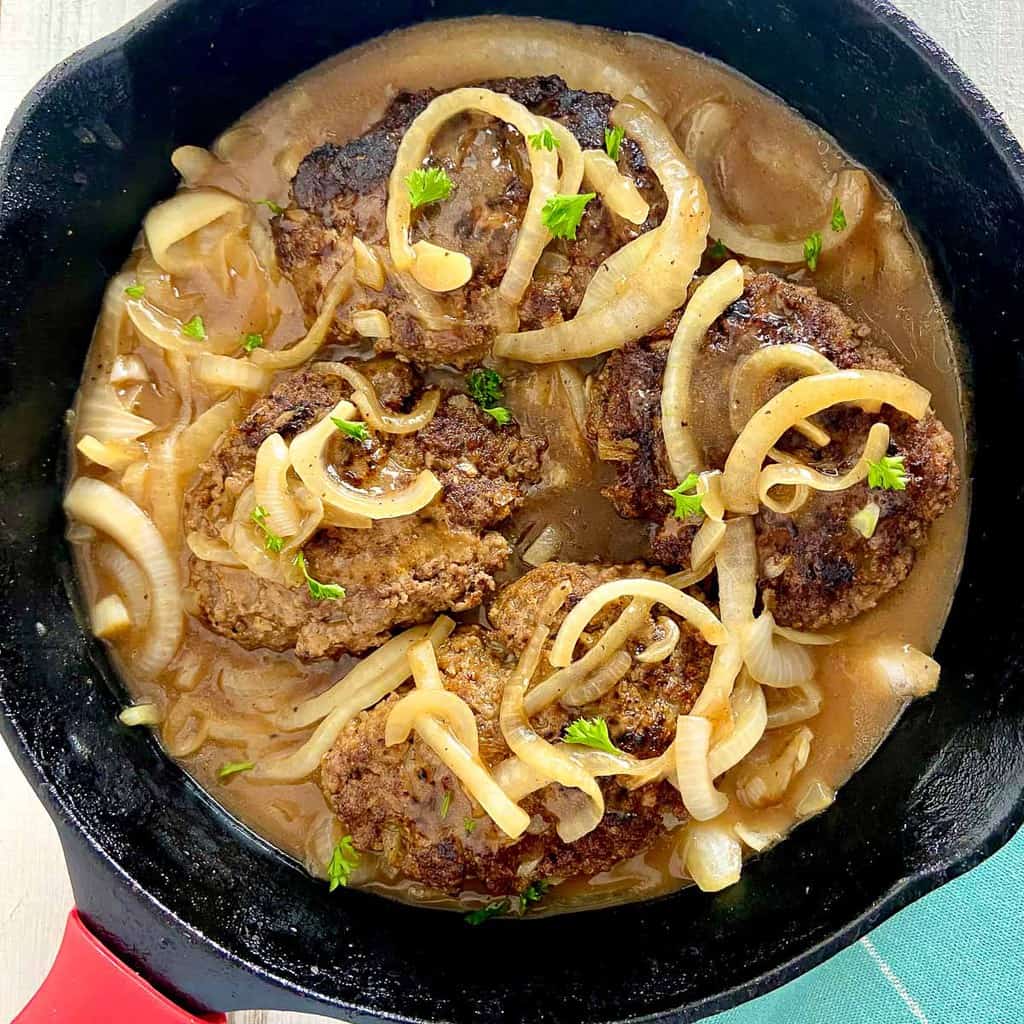 Salisbury Steak with brown gravy is a quick and easy weeknight dinner that comes together in no time and if you have leftovers - they're delicious, too!
Related recipes
📋 Recipe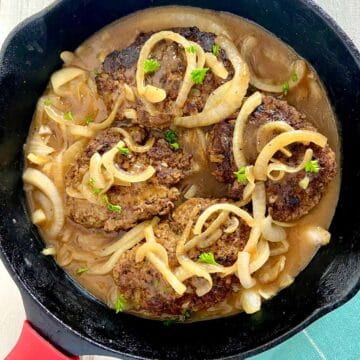 Salisbury Steak with Brown Gravy
Seasoned ground beef patties topped with a savory brown onion gravy
Print
Rate
Ingredients
Steak Patty Ingredients
2

lbs.

lean ground beef

1

whole

egg

lightly beaten

1

cup

chopped yellow onion

(for meat mixture)

2

cloves

garlic

minced

1

cup

breadcrumbs

2

tablespoons

Worcestershire sauce

2

tablespoons

dried mustard

½

tablespoon

salt

1

tablespoon

ground pepper

1

tablespoon

oil

1

tablespoon

butter
Brown Onion Gravy
1

large

yellow onion

thinly sliced

2

cups

beef broth

1

tablespoon

oil

, reserved from meat

1

tablespoon

butter

2

tablespoons

corn starch

see recipe notes
Instructions
Preparing Steak Patty
Combine all steak ingredients EXCEPT the oil and butter into large bowl; mix ingredients using your hands until mixture is well-combined

2 lbs. lean ground beef,

1 whole egg,

1 cup chopped yellow onion,

2 cloves garlic,

1 cup breadcrumbs,

2 tablespoons Worcestershire sauce,

2 tablespoons dried mustard,

½ tablespoon salt,

1 tablespoon ground pepper

Divide meat mixture into about 5-6 balls, them flatten the meat and form it in an oval shape (to resemble a steak); set aside

In a heavy bottom skillet, heat butter and oil on medium heat

1 tablespoon oil,

1 tablespoon butter

Cooking in batches, add three steaks to the hot oil/butter; let the steak cook for at least 3-minutes without touching it; once the first side is good and brown, flip the steak and let the other side get good and brown

Once both sides are nice and brown, turn the heat to medium-low; cover and cook until the meat reaches about 150ºF

Remove patties and place in foil to keep warm
Brown Onion Gravy
Strain the grease in a fine-mesh strainer; reserve 1 tablespoon of oil from the meat; add it back to the skillet and add butter

1 tablespoon oil,

1 tablespoon butter

Add sliced onions to the oil/butter; allow onions to cook until tender

Add 2 tablespoons of corn starch and whisk

2 tablespoons corn starch

Add ½ cup of beef broth to skillet; whisk till smooth

Add remaining 1 ½ cups of broth

Allow gravy to heat and thicken for about 5 minutes; taste for seasonings

Place cooked steaks in the gravy; pour gravy/onions over steaks and cook on low until steaks are nice and hot

Plate and pour additional brown gravy mixture over steak
Notes
I usually get 5-6 hamburger steaks from 2 pounds of beef; you may get more or less, depending upon how big you make them.
Mushrooms are a nice addition to this recipe; simply add sliced mushrooms in with the onions or substitute mushrooms for onions
When you're making the sauce, just scoot the onions are to the side in the pan and add the cornstarch. No need to remove the onions from the pan.
If you use cornstarch as a thickening agent, add it and bring the heat UP. If you use flour as a thickening agent, turn the heat DOWN to low, then add the flour.
Nutrition Estimate
Serving:
1
steak
Calories:
377
kcal
Carbohydrates:
22
g
Protein:
36
g
Fat:
15
g
Saturated Fat:
5
g
Cholesterol:
99
mg
Sodium:
889
mg
Potassium:
685
mg
Fiber:
2
g
Sugar:
3
g
Vitamin A:
58
IU
Vitamin C:
4
mg
Calcium:
81
mg
Iron:
5
mg