You'll love this creamy Southern macaroni and cheese recipe! All-natural, made with real cheddar (no processed or fake cheese here), this creamy concoction of cheesy elbow noodles can be served right off the stove or baked in the oven!
Want to make it au gratin? Top with breadcrumbs, a little melted butter and broil for a few minutes!
Southern mac and cheese is its own food category. You see, there's meat, potatoes, something green and "mac and cheese" and I'm not talking about the blue box--I'm talking homemade.
You'll find this cheesy noodle side dish in just about every restaurant south of the Mason-Dixon line, and in variations-some include chopped ham, chopped broccoli, or lobster and shrimp. It's a staple with fried chicken, especially at family reunions and church potluck dinners!
But no matter how you make these fancy variations, you need to start with a good basic mac and cheese recipe like this one.
Why this recipe works
A roux is the basis for this recipe. It's what gives this classic side dish it's creaminess and super silky cheese sauce. Start with a quick basic white cream sauce, (known as Bechamel sauce) then add cheddar cheese.
Bechamel is one of five French "Mother" sauces; when you add cheese, it turns into "Mornay" sauce. That's basically what we're making in this recipe and it's not hard to make at all!
Uses real cheese - no packaged, pre-shredded cheeses and no Velveeta cheese (plastic cheese) .
This Southern Macaroni and Cheese recipe has a lot of flavor! The addition of seasonings gives it a more robust flavor than macaroni and cheese boxed mixes.
Healthier than the boxed version - if you grew up on Kraft™ Macaroni and Cheese, you're gonna be in for a big surprise! This is so much better, creamier and has no preservatives and no fillers!
Here's what you need
This creamy Southern macaroni and cheese recipe comes together with simple ingredients. At first glance, you may scoff at the notion of adding additional seasonings to the recipe, but let me tell you, those extra seasonings bring this mac and cheese recipe to the top of "my favorite foods" list!
Elbow Noodles -large or small elbow noodles are the traditional pasta used in Southern Macaroni and Cheese, however you can use any other tubular pasta you like: Ziti pasta, Penne pasta, Rigatoni pasta - I would avoid strand pasta, like spaghetti or fettucine, simply because you want that cheese sauce to get up into those tubes of pasta!
Butter and flour for the Blonde Roux - equal parts of fat and flour form a roux which is the basis for the best mac and cheese
Cheddar cheese - for best results, use an aged block cheddar cheese and grate it yourself in a food processor or on a cheese grater; pre-shredded cheeses are coated with an anti-coagulant and result in an oily mac and cheese.
Milk-2% or whole milk give the cheese sauce a creamy consistency
Onion powder-just a dash will do! If you don't care for onion, omit
Dry mustard- believe it or not, not only does it add a hint of additional depth to the flavor, but dry mustard has thickening properties that add to the creaminess of this dish
White distilled vinegar- this gives a hint of a tangy flavor, which contrasts beautifully with the creamy cheese flavor
Salt and ground pepper (white or black)
Louisiana Hot Sauce -this Southern pepper sauce gives a hint of tang (vinegar) and when used in small amounts, it doesn't add heat to this classic Southern side dish.
Here's how to make it
The process of making homemade mac and cheese starts on the stovetop. You can serve this dish straight from the skillet or bake it in a casserole dish - either way, it just depends upon how much time you have.
Bring a large stockpot of salted water to boil and cook the elbow macaroni noodles as directed on the package; drain and set aside in a large mixing bowl
In a large saucepan on low heat, melt the butter; once the butter is liquid, sprinkle in the flour and whisk together; it will be clumpy so don't freak out! For best results, use a wire whisk.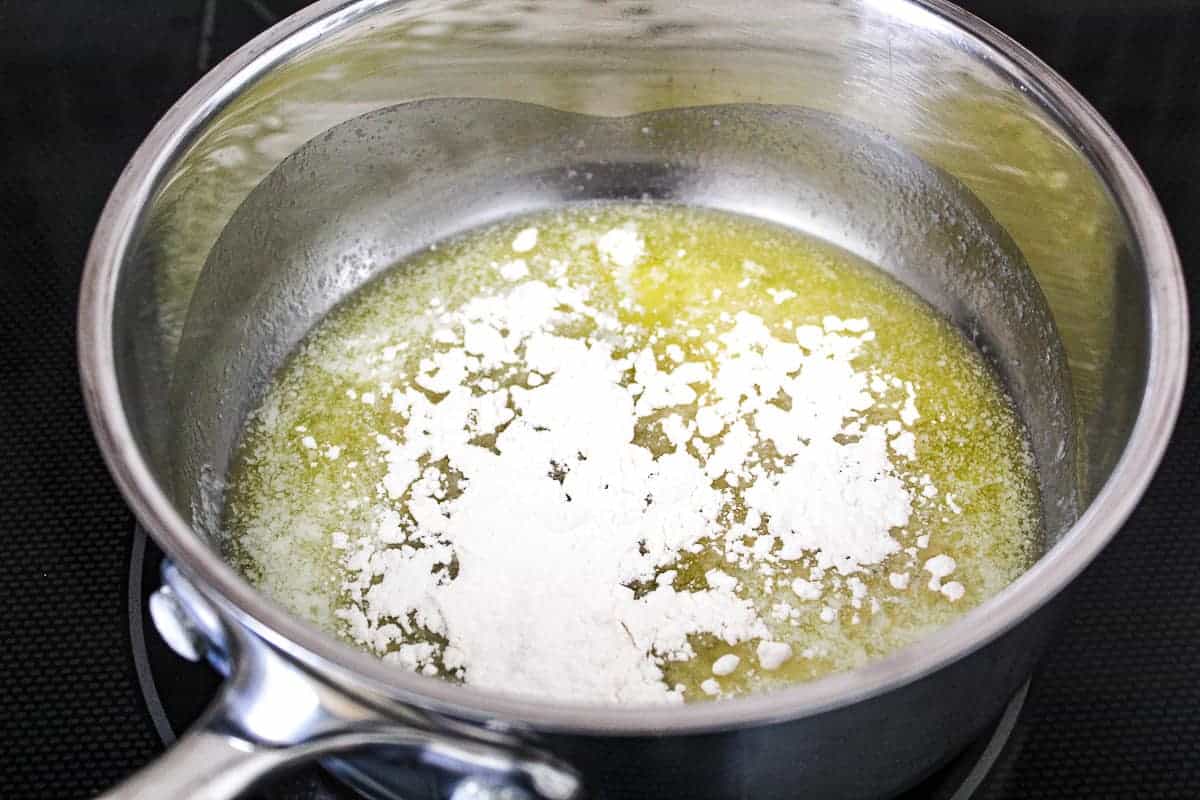 The combination of fat and flour forms a roux, which is a binding agent for the cheese sauce.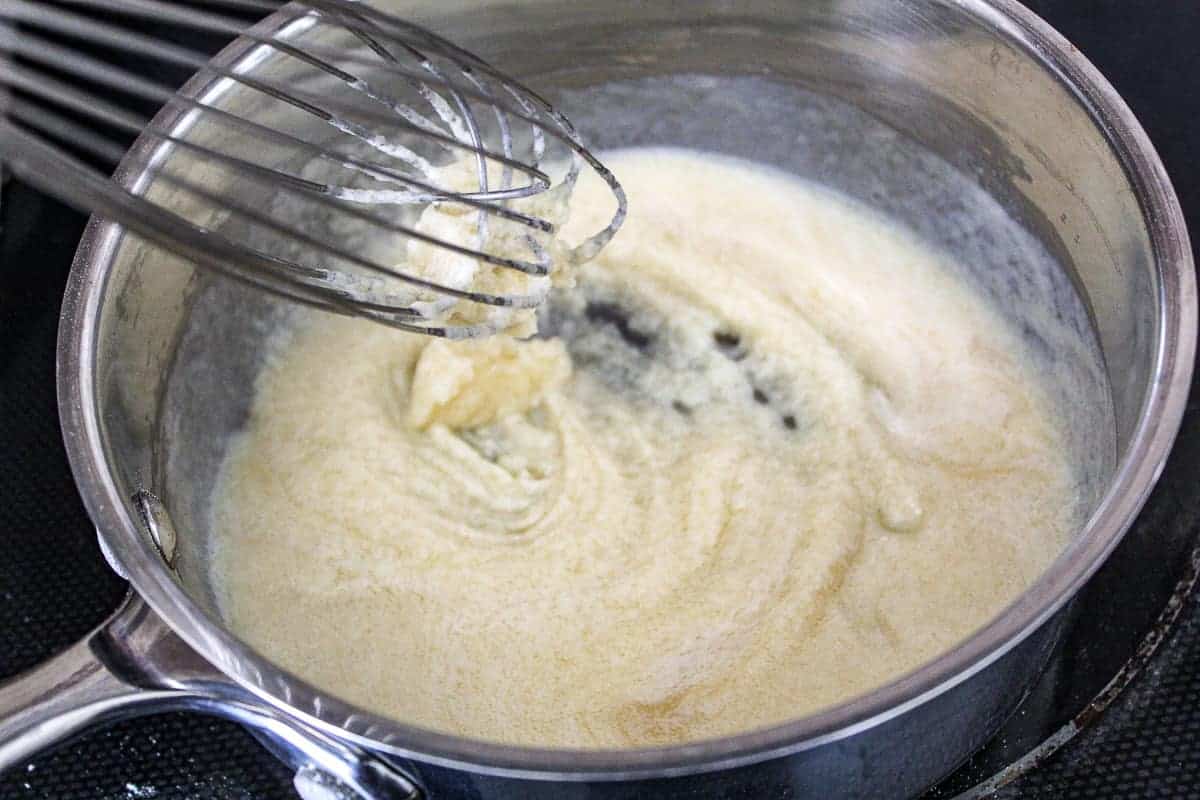 Cook (on low to medium low heat) the melted butter and flour for five minutes then, turn the heat down to low and gradually add the room temperature milk. Now, grab the whisk and whisk the dickens out of it until all the lumps are gone.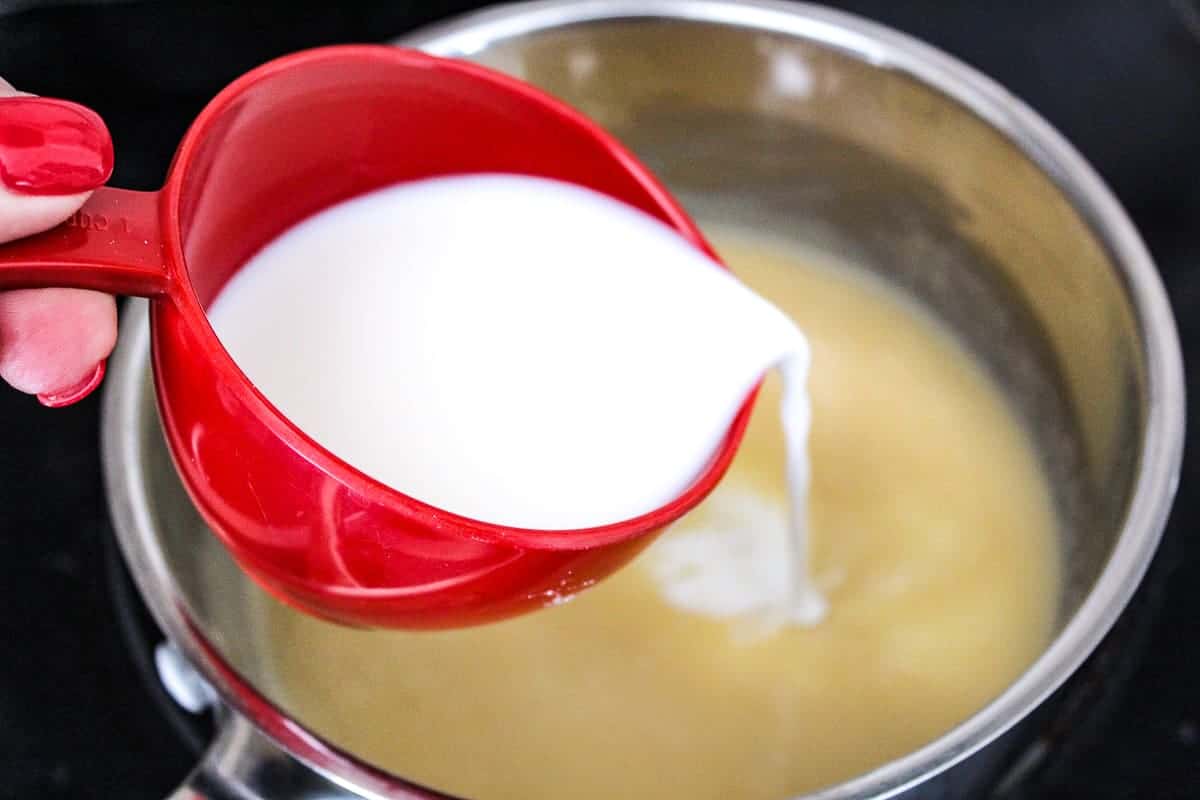 Once you're at this stage, you're halfway there! Gradually add shredded cheese to the roux, whisking all along. Southern Macaroni and Cheese has a bit of tang to it; that's why we include vinegar and the other seasonings. Add remaining seasonings and spices.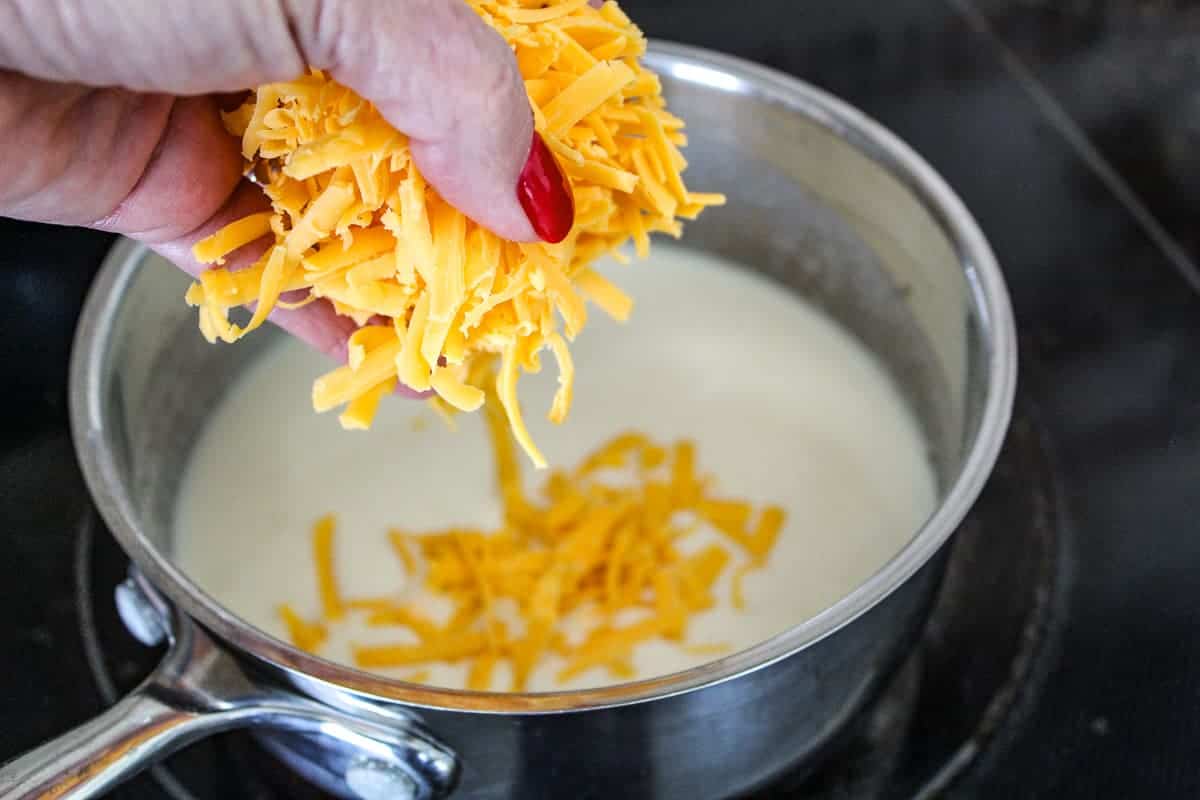 Sprinkle in the cheese and stir it till it melts and thickens a bit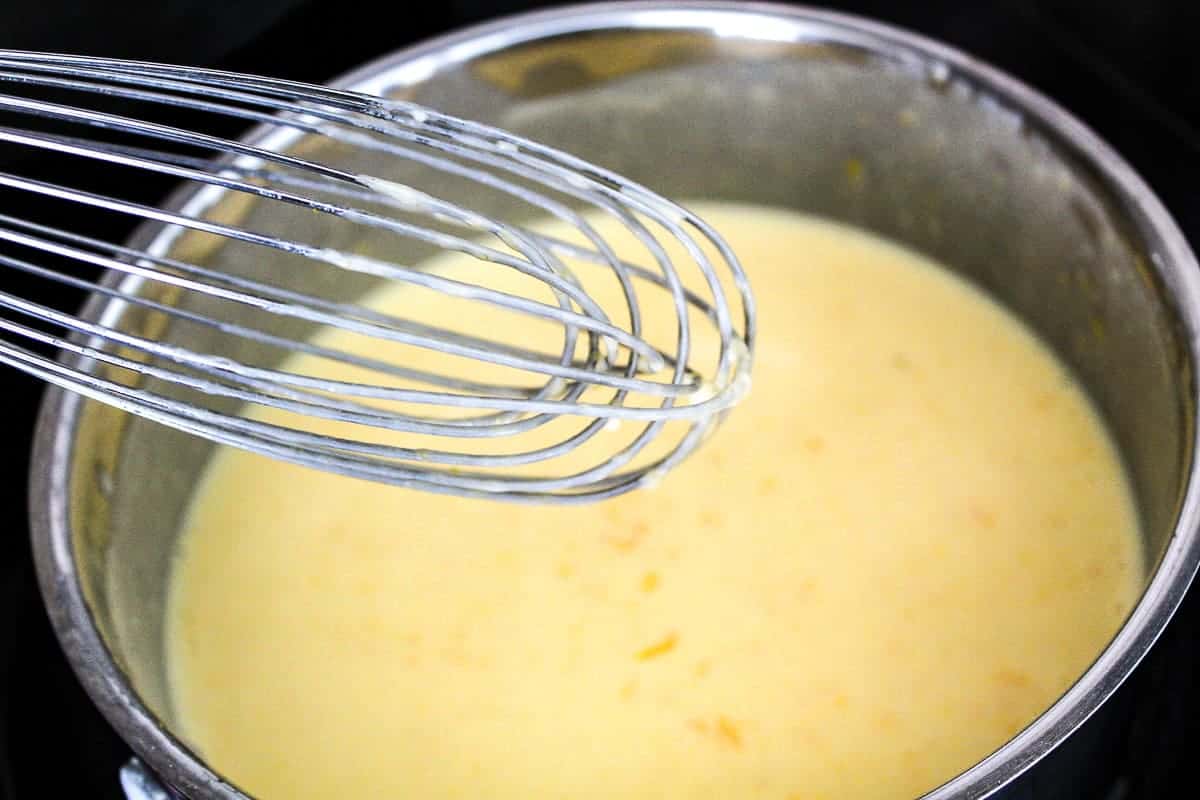 Taste for salt & pepper; pour the cheese sauce over the cooked elbow noodles and combine until the pasta is coated in the cheese sauce.
At this point, you can either serve it as it is straight from the stovetop or transfer it to an oven safe baking dish and bake it. If you want baked mac and cheese, add a little extra shredded cheddar to the top and place lightly oiled baking pan in a 300°F -350°F oven.
For a crisp topping, bake uncovered; for a creamy top, cover with foil
Recipe Tips
Serve this creamy Southern Macaroni and Cheese from the stovetop as is, or place in a lightly oiled baking dish and bake at 300°F for 15-20 minutes
If you want a crispy cheese topping, add a little extra shredded cheddar to the top and do not cover with aluminum foil and bake
Don't want a crispy topping on your mac and cheese? Cover the baking dish with aluminum foil.
Once you combine the cheese sauce (formally known as Mornay sauce) and elbow noodles, feel free to shred a little more cheddar cheese to the mixture and fold it in with a spatula... this "final touch" provides visible shreds of cheese and makes it even more delectable!
Taste for salt and pepper again after you've combined the cheese sauce with the noodles. I usually add ½ teaspoon of salt right at the end.
Want a crispy au gratin topping?
Au gratin means "crispy bread topping" which is certainly welcome on just about every Southern casserole!
If you want to make this au gratin, with a crunchy, crispy topping, combine bread crumbs and melted butter in a separate mixing bowl, sprinkle the top of the cheesy macaroni with the buttery bread crumbs and bake uncovered at 350°F until crispy on top OR place under the broiler for a few minutes!
You decide how crispy you want the topping to be!
Storage and reheating
Store in an airtight container (or covered with plastic wrap or foil) in the refrigerator for up to 5 days. For best results, reheat in a 300°F-350°F oven, covered with foil, until warm throughout.
You can also reheat it in the microwave; just place it in a microwave-safe bowl, cover with plastic wrap and heat a few minutes (you may have to stir it between each minute to ensure it's warm throughout).
Variations
There's a million variations of Southern macaroni and cheese, however, most common are adding chopped ham, chopped broccoli or lobster meat.
If you want to add any of these ingredients to your dish, add them to the cheese mixture before you pour it over the elbow noodles. This ensures every bite is coated with that delicious cheese sauce!
Southwestern Mac and Cheese: add in drained, chopped green chiles and green onions; garnish with a light dusting of red chile powder
Italian version: substitute the cheddar cheese with a creamy Fontina cheese; add in drained sundried tomatoes, dried Italian herb seasonings to the cheese mixture; garnish with chopped parsley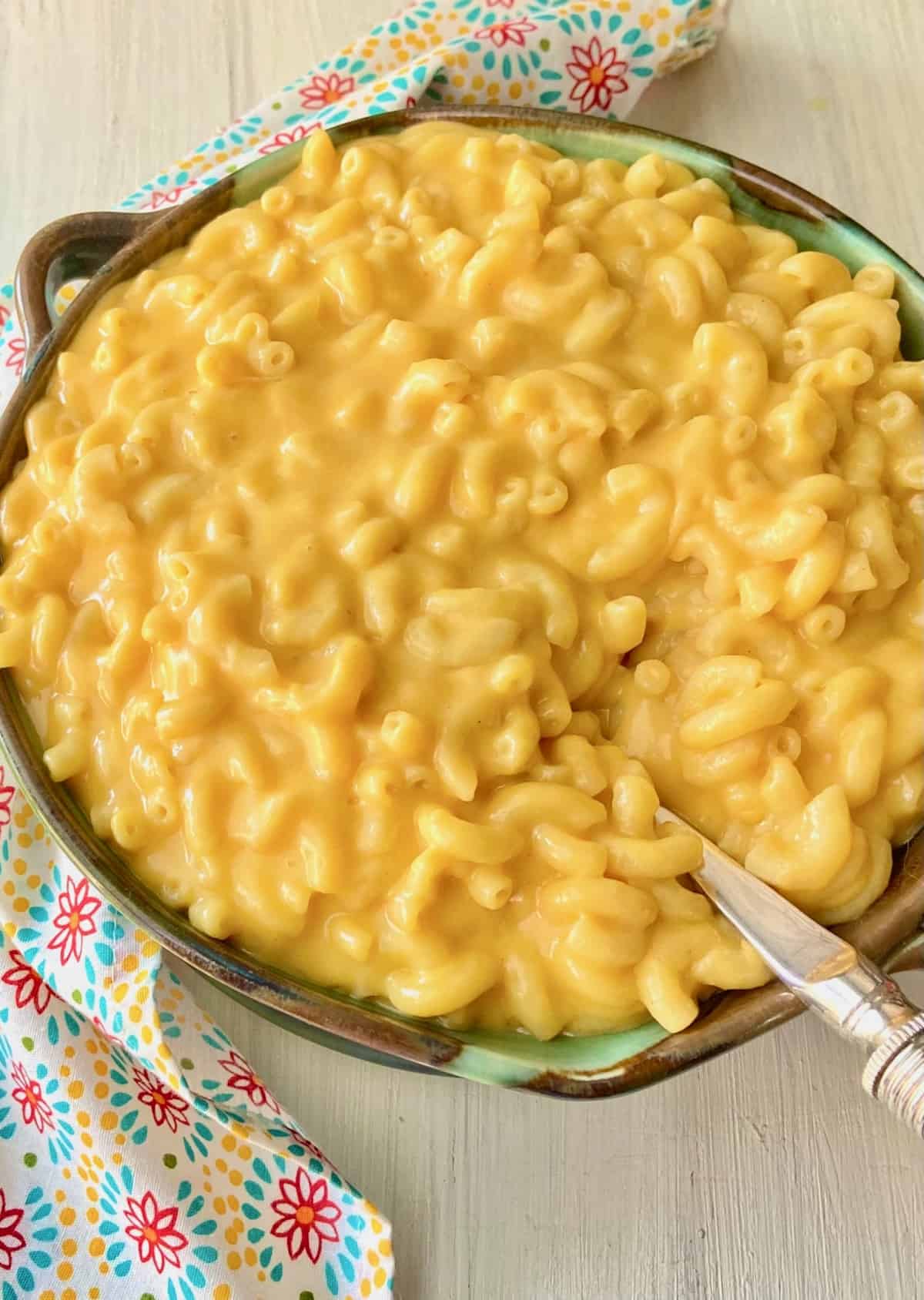 Southern Macaroni and Cheese is the ultimate comfort food and a welcome side dish to Southern dishes like: chicken fried steak, meatloaf, fried catfish and Easter ham!
You'll often find this side dish accompanied with other Southern side dishes like collard greens, purple hull peas, green beans & new potatoes, pinto beans and rice, candied sweet potatoes and more!
More Southern recipes
♥ If you make this recipe, please leave a comment and a rating! I love to hear from you!
📋 Recipe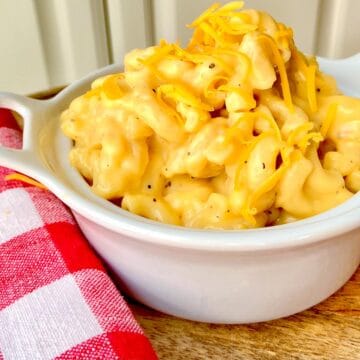 Southern Macaroni and Cheese
Classic Southern mac and cheese recipe with real cheese
Print
Rate
Ingredients
1

lb.

large elbow noodles

16

oz.

Sharp Cheddar cheese

Block cheese; not pre-shredded

1

stick

butter

, salted or unsalted

2¼

cups

milk

, 2% or whole : See Recipe Notes: Milk

½

cup

flour

, all-purpose

½

tsp.

onion powder

1

tsp.

dried mustard

½

tsp.

ground white pepper

1½

teaspoon

white vinegar

½

tsp.

Louisiana hot sauce

salt and black pepper

to taste
Instructions
Prep
Shred cheese; set aside

Get milk out of the fridge to sit at room temperature

16 oz. Sharp Cheddar cheese

Prepare elbow noodles in a large stock pot; cook for 9 minutes; drain and return to stockpot

1 lb. large elbow noodles
Cheese Sauce Instructions
In a large pan on low heat, add butter; once butter has melted, gradually add flour; whisk continuously

1 stick butter,

½ cup flour

Once flour and butter are combined, gradually add milk, whisking constantly

Turn the heat to medium low

Gradually add cheese and continue to stir; if sauce looks too thick, add more milk-See Recipe Notes: Milk

16 oz. Sharp Cheddar cheese

Add onion powder, dried mustard, vinegar, ground white pepper and Louisiana hot sauce; combine well

½ tsp. onion powder,

1 tsp. dried mustard,

½ tsp. ground white pepper,

1½ teaspoon white vinegar,

½ tsp. Louisiana hot sauce,

salt and black pepper

Pour cheese sauce over cooked pasta; combine and taste for salt; add more if desired

Serve from the stove top-OR-bake in a lightly oiled baking dish and either serve or bake (See recipe notes for Baking)
Notes
Milk:
The amount of milk determines how thick or thin the cheese sauce will be. After you melt the butter and add the flour, add one cup of milk. Then add shredded cheese in increments. At this point, the mixture may be thicker than you like. If so, add more milk until you get the cheese sauce as thick as you like it.
It's best to add the milk in half or one-cup increments.
Baked Mac and Cheese:
If you want to bake it, you can either bake it covered or uncovered. You'll want to lightly spray an oven proof baking dish with oil then transfer the combined noodles and cheese sauce to the baking dish.
If you bake it uncovered, the top will be slightly firmer than if you cover the baking dish with foil. Bake covered or uncovered at 350°F for up to 20 minutes on the middle rack.
Au gratin topping:
If you want a crispy crunchy bread topping, combine breadcrumbs and melted butter in a mixing bowl. I use this ratio: 1 cup breadcrumbs to ½ stick of melted butter
Pour the mac and cheese into a prepared baking dish; sprinkle the breadcrumb mixture over the top and bake, uncovered at 350°F until the top is a light golden brown OR place under the broiler for a few minutes. (Keep an eye on it...)
Nutrition Estimate
Serving:
1
cup
Calories:
503
kcal
Carbohydrates:
43
g
Protein:
20
g
Fat:
27
g
Saturated Fat:
17
g
Cholesterol:
79
mg
Sodium:
595
mg
Potassium:
249
mg
Fiber:
2
g
Sugar:
5
g
Vitamin A:
855
IU
Vitamin C:
1
mg
Calcium:
425
mg
Iron:
1
mg