You'll love this light and easy pan fried rainbow trout recipe! It's quick and uses super simple ingredients: light and fresh rainbow trout fillets (without flour or breading), seared in a hot skillet and seasoned with a tangy Dijon mustard and topped with crunchy toasted smokehouse almonds.
The light coating of Dijon mustard gives the fish a light hint of heat and citrus which pairs beautifully with the smoked crushed almond topping. I use smokehouse almonds, but you can use whatever nut or seed you prefer to give added texture or omit them altogether.
Trout is a quick and easy fish dinner that's healthy and ready in minutes!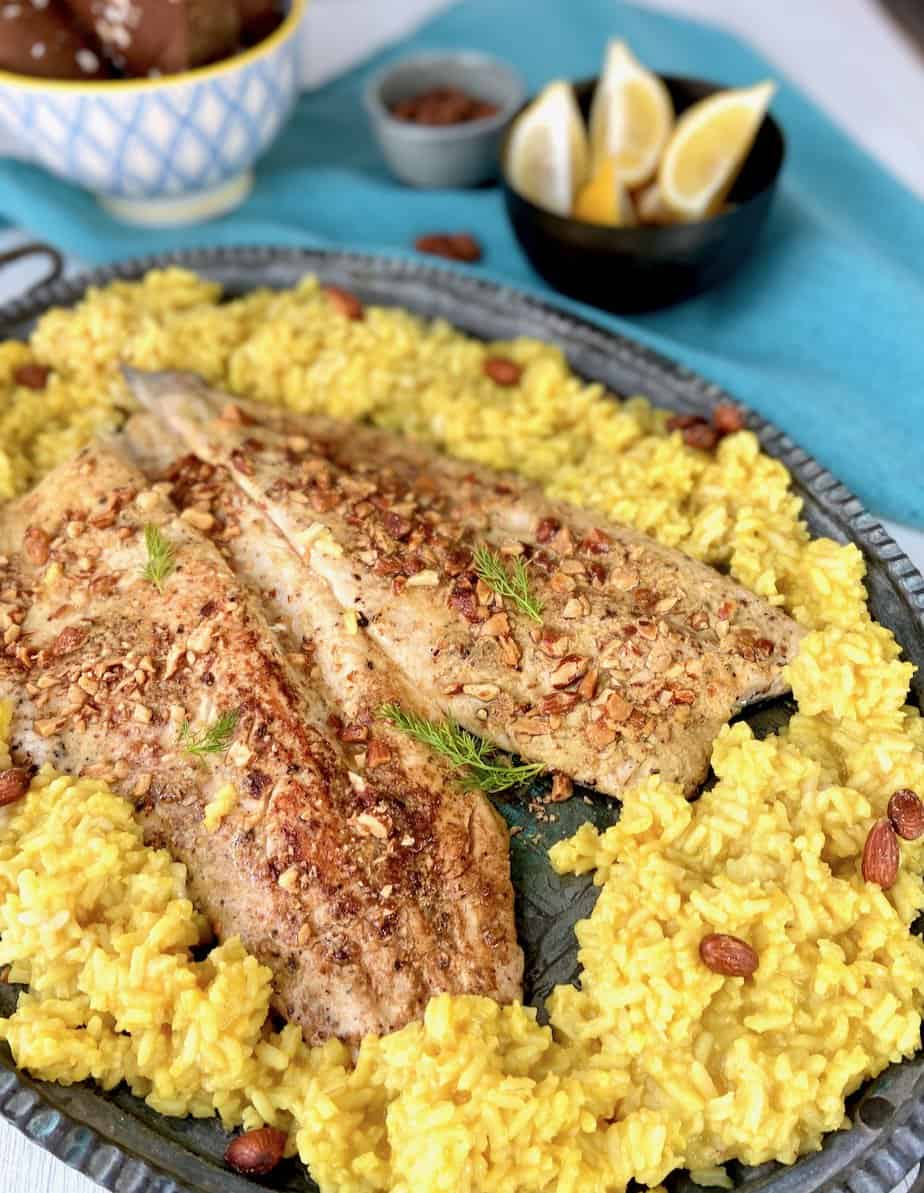 Why this recipe works
Technically, this dish is more of a "pan seared trout" recipe versus deep pan fried. It's a wet-method of cooking technique versus deep frying with a heavy breaded coating.
The result is a cleaner tasting fish and less calories and carbohydrates.
Pan seared isn't the same as deep fried or "heavy breading in deep hot oil", like a chicken fried steak.
The light coating of Dijon mustard gives the fish a light hint of heat and citrus which pairs beautifully with the smoked crushed almond topping
Trout is a freshwater fish and is typically in season during March and April, but if you're going trout fishing, it really depends on where you fish.
If you can't get fresh trout fillets, frozen trout works for this recipe. Just thaw them first. Frozen fish, while not the optimal choice, is better than having no fish in your diet.
I usually buy fillets at the grocery store with the skin on, which I prefer, but if you can only find trout fillets without skin, that will work as well.
I went to a restaurant in Arkansas and ordered "pan fried trout" and it came out heavily breaded and deep fried - this pan fried trout recipe is NOT a deep fried fish recipe. And I will not go back to that restaurant either. Just sayin'
Ingredients
This simple pan fried trout recipe is gluten-free - no panko crumbs, no eggs, bread crumbs or heavy breading - pretty much a delicious gluten-free fish recipe, lightly pan-seared with some simple seasonings and a little bit of crunchy nut topping of your choice.
Rainbow trout fillets or trout fillets- I prefer skin on, but you can use skinless fillets
Dijon mustard- even if you don't like the spicy taste of Dijon, trust me...this is a flavor enhancer and no one will taste the horseradish
Smoked Almonds-I like those roasted, salted smokehouse almonds with this trout recipe, but you can use any nuts or seeds you like. I've made this with a crushed pistachios and that was really good, too!
Butter
Salt & pepper to taste
Fresh lemon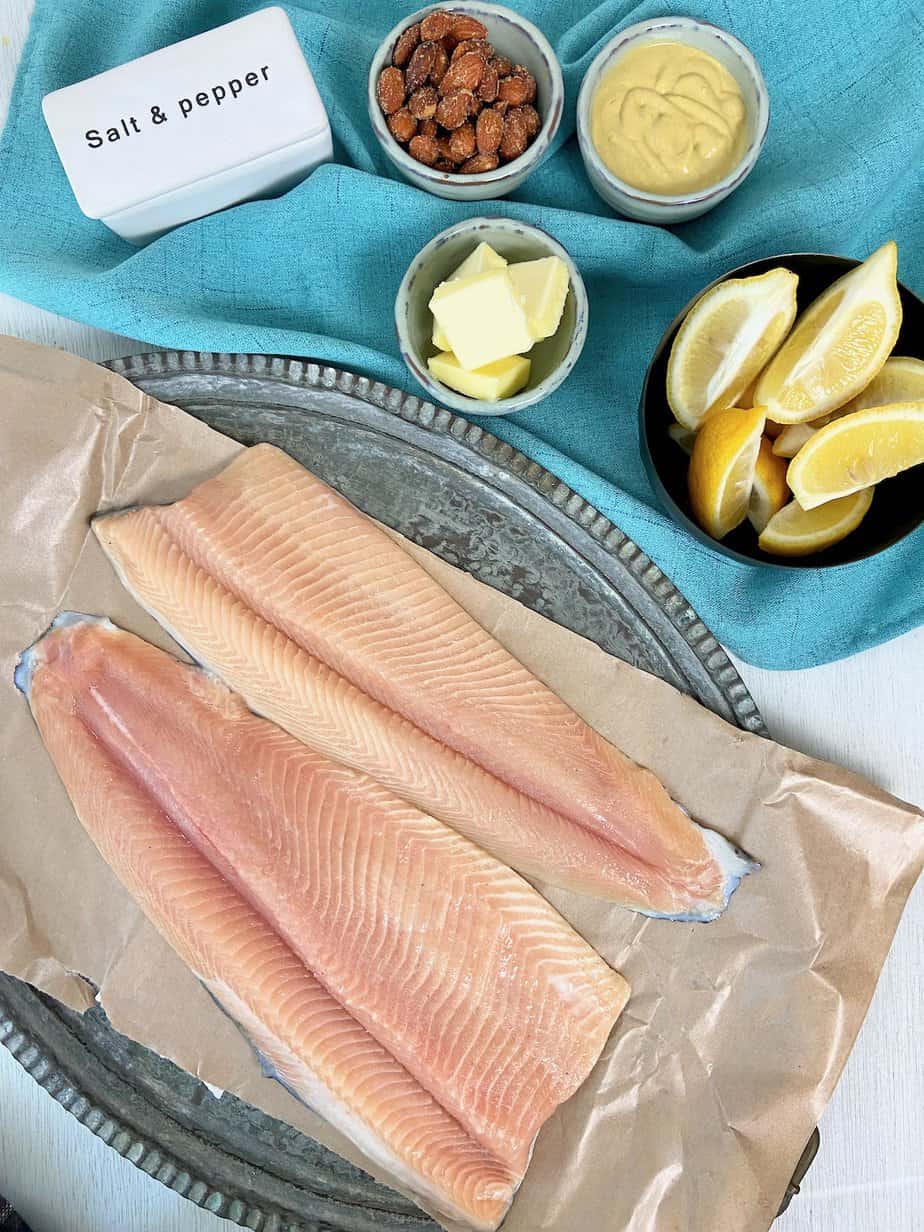 How to cook pan fried trout
If you're not familiar with cooking trout, or any skinned fish for that matter, the secret to cooking a really good pan fried trout fillet is to start the fish out in a cold skillet skin side down.
Why?
The gradual increase in heat slowly stabilizes the skin of the fish so it doesn't curl up and, the crisp skin is easier to slide off with a knife.
This works best in a non-stick skillet or a heavily or well-seasoned cast iron skillet.
Pat the fillets with paper towels, then lightly season with salt and freshly ground black pepper (some folks add a sprinkle of garlic powder, too - but it's up to you)
Spread a little Dijon mustard over the top of the fillet and coat the flesh side of the fish well; set aside.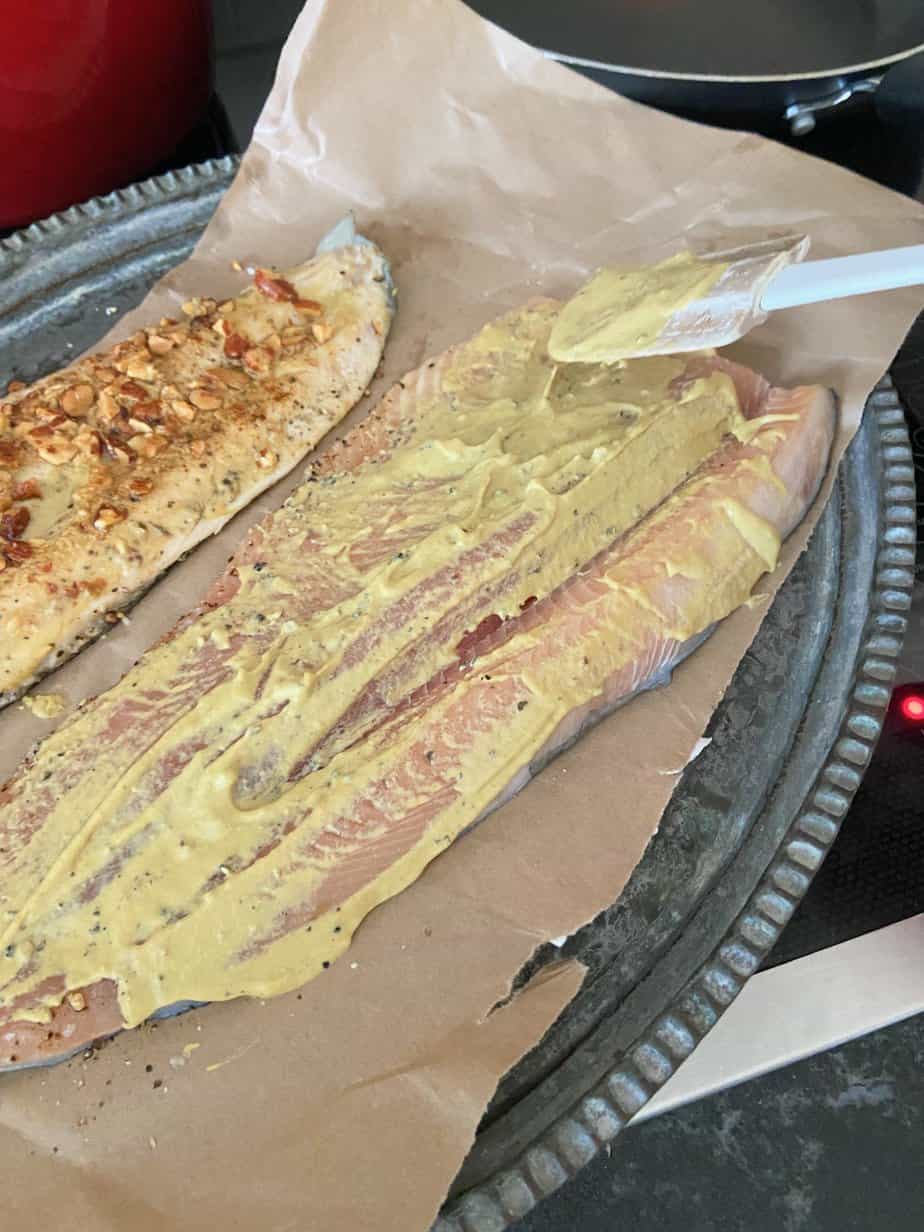 Chop up some pecans, pistachios or, in this case, smoked almonds and set aside. I usually do this in the food processor, but you can put the nuts in a plastic bag and pound them with a meat cleaver as well:)
Place the rainbow trout fillets skin side down in a cold non-stick skillet and turn the heat to medium heat (or medium high heat, depending upon your stove.) Let the trout fillets cook over medium heat for about 3-5 minutes.
Shake the pan around a little then take a peek using some tonges and lift one side up; if the skin is nice and crispy, then flip the fish fillets, add a few small dollops of butter and the crushed smokehouse almonds to the top of the fillet.
Flip it one more time to let the almonds toast a little. The pan fried trout is done when the internal temperature reaches 145 degrees Farenheit.
Remove fillets from the skillet and plate. If you like, drizzle a little of the remaining butter over the rainbow trout, garnish with a little fresh lemon juice and serve!
Recipe Tips
I recommend using a non-stick skillet to pan sear or pan fry trout
This is a really quick dinner, perfect for a busy weeknight so if you're serving your pan fried trout with rice or steamed vegetables, you'll want to go ahead and get your side dishes started before you pan fry the trout.
If your cast iron skillet isn't well-seasoned, you may have to add a little butter and oil to it. You can use vegetable, canola or olive oil; just make sure you don't add too much oil to the pan-just enough to barely coat the bottom of the skillet
You can tell when it's time to flip the fish by sliding a meat flipper or spatula underneath the fish; if it feels easy to slide the spatula under the fish, the skin is crisp; if your spatula or meat flipper kinda sticks, wait a few more minutes before flipping
The easiest way to flip a big fillet of trout is to slide the flipper under the widest part of the fillet, then turn the fish over vertically - not horizontally. I've found if you try to flip a big fillet horizontally, it tears up.
Frequently Asked Questions
What's the difference between steelhead and rainbow trout?
Even though these fish are in the same family, their lifestyles and feeding habits are different, which results in a different taste and texture among the two.

Steelhead has a darker pink hue to it (much like salmon) where rainbow trout is a more opaque whitefish (like cod or halibut) but with a light pink hue.
Do steelhead and rainbow trout taste the same?
No. Steelhead trout tastes very much like salmon but a little milder and rainbow trout has a mild, nutty flavor.
How long to pan fry rainbow trout?
It really depends upon your stovetop. Every stove is different, but generally, it takes 2-3 minutes per side. You'll need a good meat thermometer and the rainbow trout is done when its reached 145 degrees internally.

What to serve with pan fried trout
This fish dish is relatively light and pairs beautifully with fluffy seasoned rice or scalloped potatoes. I usually serve this with a crisp Caesar salad, green beans or steamed Brussels sprouts.
Of course you can never go wrong with a side of Southern greens and a nice big baked potato!
Storage and reheating
Store leftover pan fried trout in an airtight container or wrapped in foil or plastic wrap in the refrigerator for up to 3 days. Freeze fish in an airtight container for up to 6 months.
To reheat, thaw fish (if frozen), wrap in aluminum foil and place on a baking sheet. Place in a 350°F oven until the fish is warmed throughout - about 15 minutes.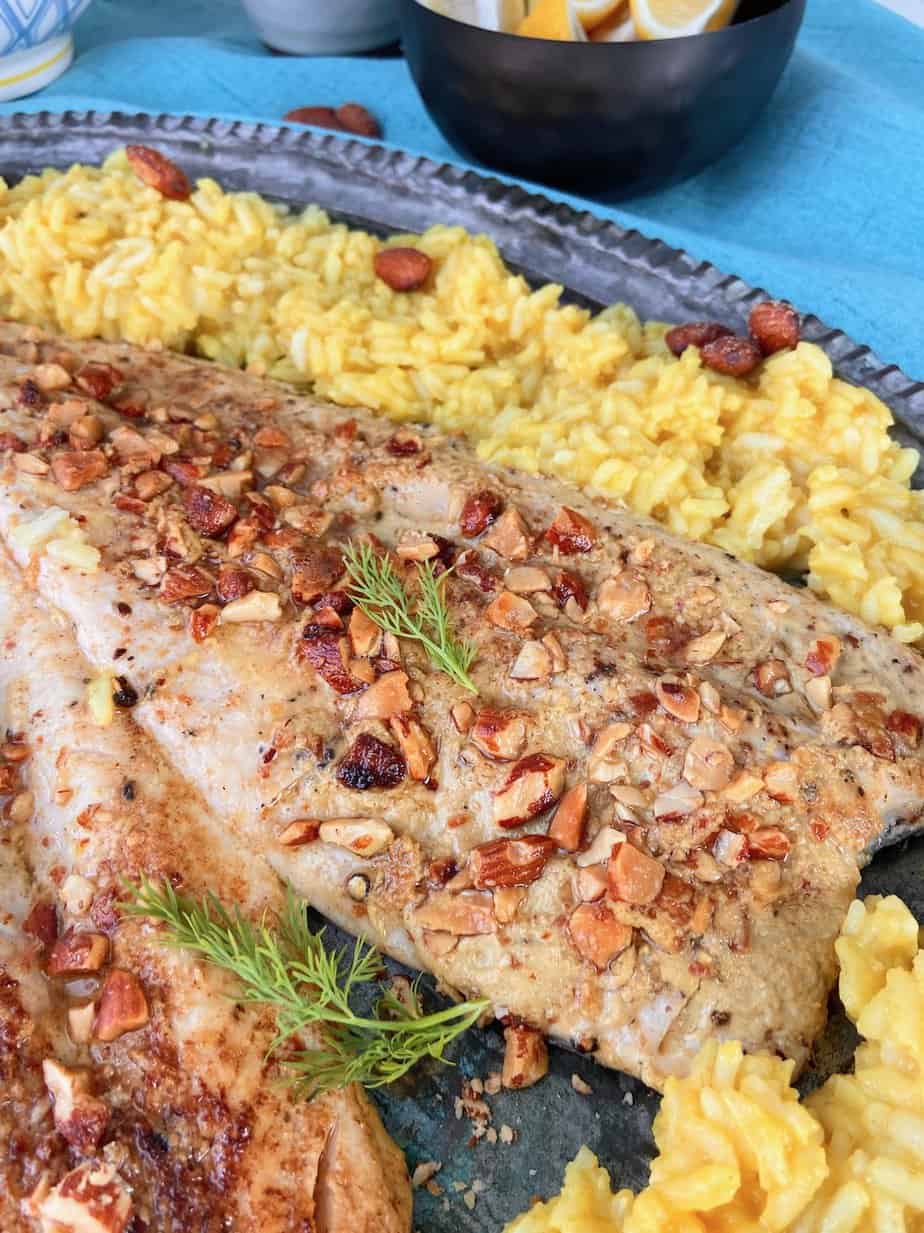 Pan fried trout is not only a delicious way to get those healthy Omega-3 oils, it's also a great dinner for a busy weeknight or for entertaining guests.
More Southern recipes
📋 Recipe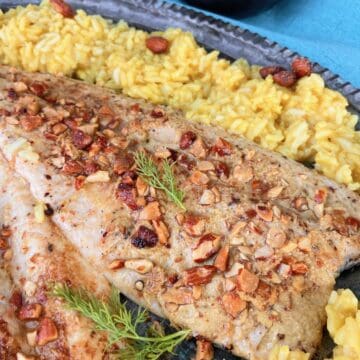 Pan Fried Trout
Pan fried trout lightly seared with Dijon mustard and topped with crunchy smokehouse almonds
Print
Rate
Equipment
well-seasoned cast iron skillet -OR-

Non stick skillet (recommended)

Meat flipper or heavy duty spatula

Food processor or meat mallet

to crush almonds
Ingredients
1½

pounds

Trout fillets

leave the skin on

½

teaspoon

salt

just enough to lightly coat fillets

½

teaspoon

black pepper

just enough to lightly coat fillets

½

cup

Dijon mustard

See notes

1

stick

Butter

cut into tablespoons; See notes

1

cup

Smoked almonds

, crushed or pulsed in food processor See notes

1

Lemon

garnish; optional; squeeze lemon juice over cooked fish right before serving
Instructions
Pre-heat oven to 200ºF if you're making more than one big fillet (optional)

Pat dry fish with paper towel; lightly season with salt and pepper; use the back of a spoon or spatula and smear Dijon mustard over the top of the fillets (do not put Dijon on the skin side of the fish)

1½ pounds Trout fillets,

½ teaspoon salt,

½ teaspoon black pepper,

½ cup Dijon mustard

Place mustard-coated fillet skin side down into the cold non-stick skillet and turn stove heat to medium heat; cook for about 5 minutes on medium heat until the skin is crisp; flip the fillet

Add 2-3 tablespoons of butter to fillet and sprinkle crushed almonds on the top; cook for 2 minutes; flip the fillet and cook it another 2-3 minutes, until the almonds are lightly toasted and the internal temperature of the fish reaches 145°F

1 stick Butter,

1 cup Smoked almonds

Remove from pan, transfer to a baking dish, tent with foil and place in warm oven; repeat process for the remaining fillets

Plate filets and drizzle fresh lemon juice over the top
Notes
This recipe is based on 1 to 1 ½ lbs. of trout which serves two people
Adjust ingredient amounts accordingly if cooking more than two fillets
If the fillet is too big for your skillet, cut it in half or thirds and cook the fish in batches
Skillet and Oil
If you're using a non-stick skillet (recommeded), don't add any oil or butter to the skillet
If you're using a well seasoned cast iron skillet, you don't need to add oil or butter to the skillet-but it must be "well-seasoned"
Dijon mustard
You may not need ½ a cup; just smear it over the top of the fish fillet; use as much or as little as you like
Butter
Just put about a few ½ tablespoons or so of butter on the top of each fillet; I use about 2-4 tablespoons (divided into half) per fillet
Almonds
Measure one cup of whole almonds and pulse them in the food processor; this should be enough to lightly coat two large fillets; use more almonds if you're cooking more than two large fillets
Nutrition Estimate