If you're headed out to a picnic our outdoor gathering, you'll want to whip up this quick, easy and tasty Summer Broccoli Crunch Salad!
This healthy salad is loaded with good stuff: broccoli, apples, Craisins™(which are dried cranberries), red onion and nuts! All mixed in a creamy, sweet and tangy mayonnaise-based dressing. This low carb broccoli salad can be made with no bacon easily modified with other simple ingredients as well.
The best thing is, it's an easy recipe you can make it in advance and it tastes better the next day and it's a perfect side dish for holidays or summer parties!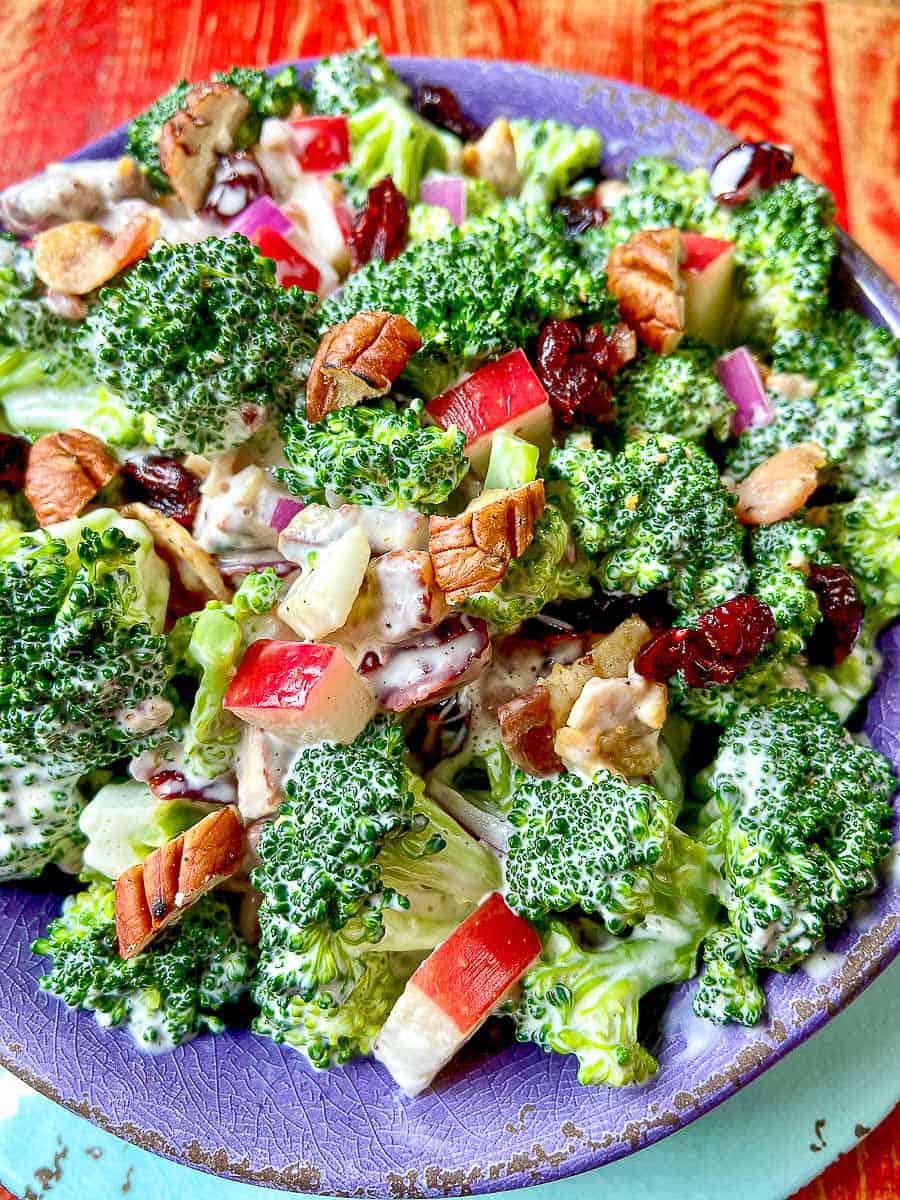 There are a million spins on this classic and easy broccoli salad. This version is inspired by Whole Foods Market's infamous Broccoli Crunch salad with a few variations.
It's very versatile and you can put whatever you want in your classic broccoli salad-there's no rule and no right or wrong way to make it!
Why you'll love this recipe!
You'll often find traditional broccoli salad includes a combination of sweet and salty; some recipes include crispy bacon; however this broccoli salad has no bacon (it's optional)
Quick and easy - minimal prep time; ready in 10-minutes
Make ahead- this broccoli salad actually tastes better the next day
Inexpensive - great for crowds because the ingredients don't cost much
Broccoli Crunch pairs well with just about everything! Ribs, fried catfish, ham or fried chicken! It's also good as a side to a sandwich or as a snack!
Here's what you'll need
1-2 big crowns of broccoli (I recommend fresh broccoli but you can use frozen broccoli as well), 1 large honeycrisp apple, mayonnaise, apple cider vinegar, honey, salt and pepper. (Bacon is optional)
If you want to add nuts or seeds, consider chopped walnuts, pecans or roasted sunflower seeds. See Variations below.
How to make it
In a small bowl, combine the dressing ingredients and set aside; chop onions and apple; place both in the dressing. (The apple cider vinegar in the dressing keeps the apples from turning brown.)
Blanch the broccoli for a few minutes, submerge it an ice bath; pat dry with a paper towel and add to a large mixing bowl.
After you've blanched and chopped the raw broccoli florets into very small pieces, make the creamy dressing, dump all the ingredients into the mixing bowl with the broccoli, drizzle the mayonnaise dressing, combine well, cover and refrigerate - That's it!
Yes, this recipe calls for blanching the broccoli, and here's why: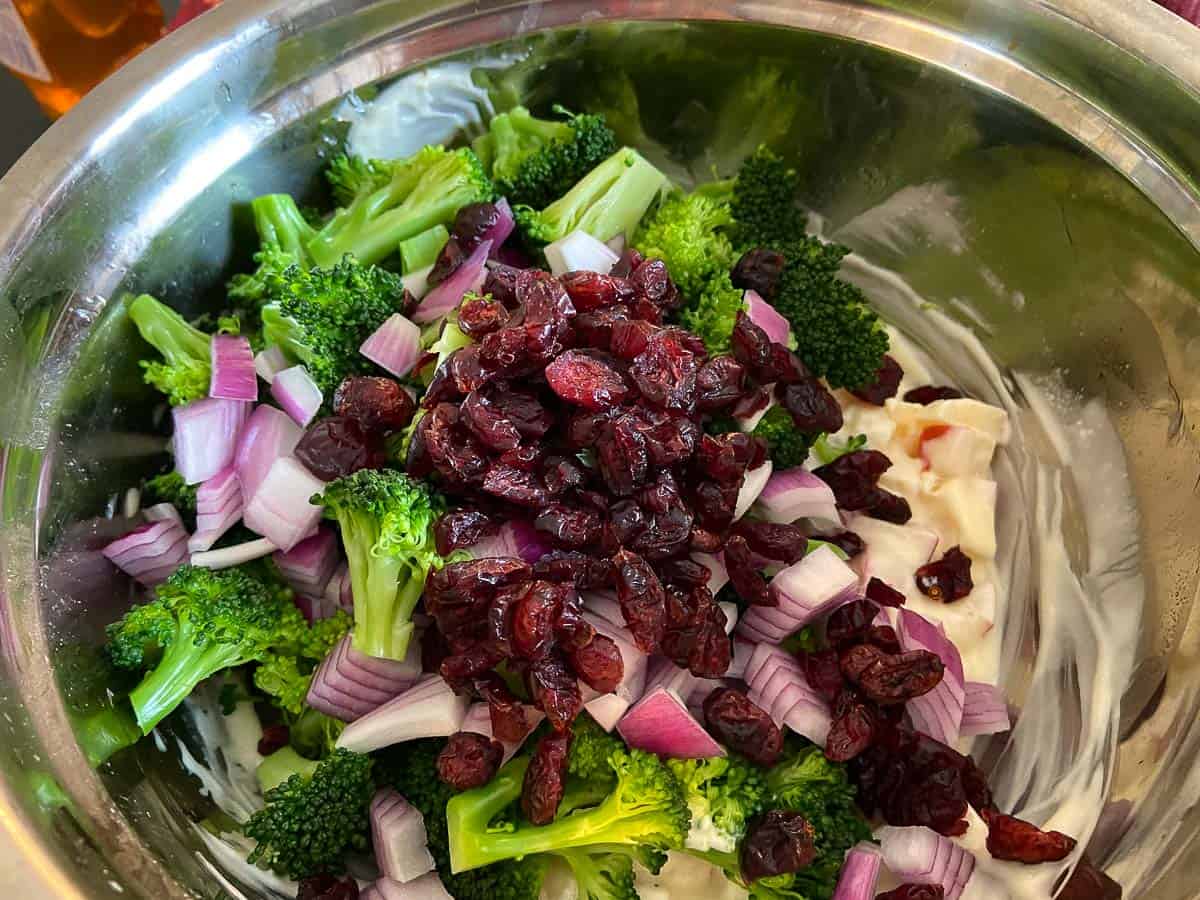 What does blanching the broccoli do?
Blanching ensures that the overall color remains bright green and the broccoli is a crunchy texture.
This green vegetable is a very sulphurous and sinewy, much like cauliflower.
The high-heat water molecules stop enzymatic and gaseous actions that naturally occur in broccoli-these actions cause loss of color, flavor and affect the texture of the vegetable.
If you've ever ordered a professional vegetable platter from a caterer, you've had blanched broccoli.
Blanching also removes any debris or dirt that might be stuck in the florets. It only takes about 5-minutes, but it's totally worth it.
To stop the cooking process, immediately submerge the crowns in ice cold water.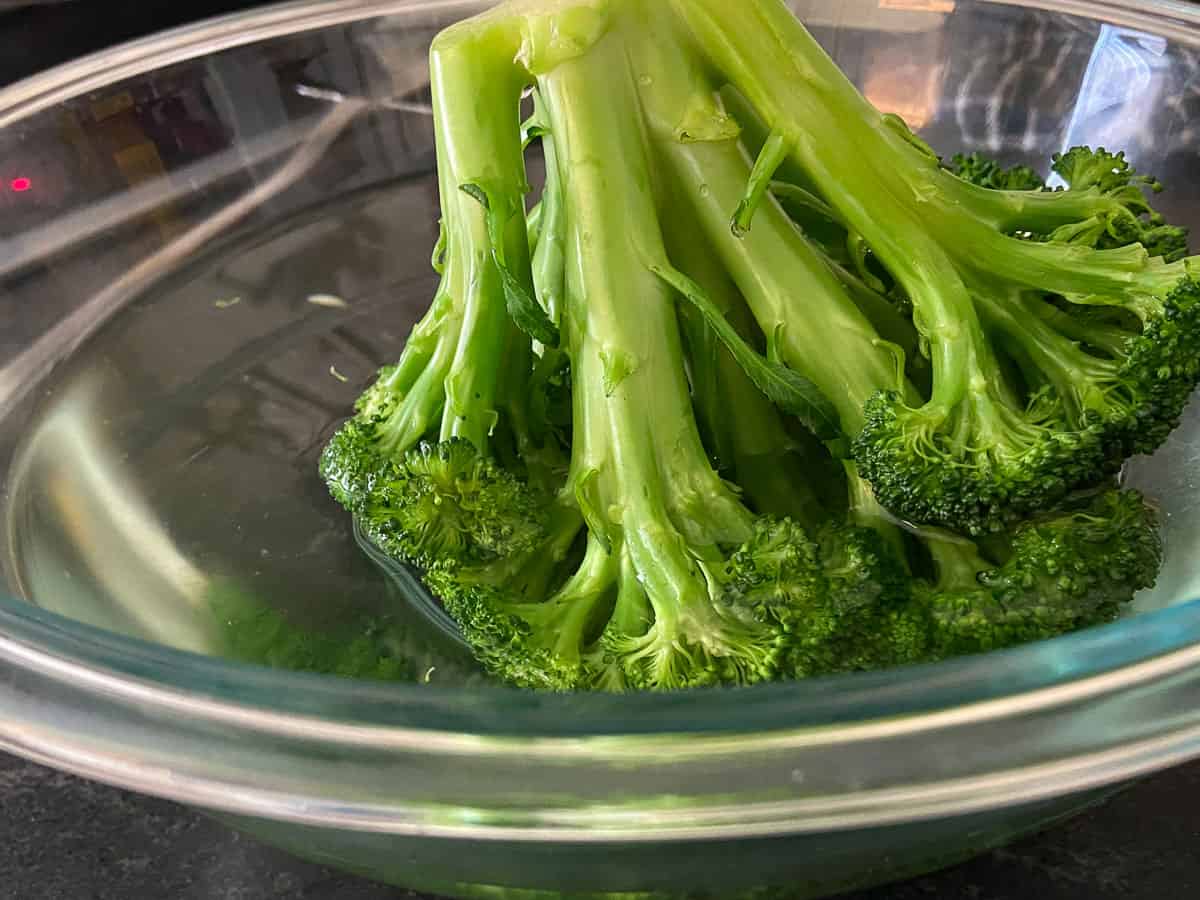 How to blanch broccoli
Bring a large stockpot of water to high heat; place uncut broccoli crowns in water and let sit for 3 minutes; remove and submerge in ice bath. After about 5 minutes, remove broccoli from the ice bath, pat it dry with a paper towel and chop the broccoli crowns into small florets-try to cut them about the same size.
Note: if you use frozen broccoli, skip the blanching step. Frozen broccoli is already blanched.
Yield
One large crown makes about 4 cups of Summer Broccoli Crunch salad. If you're feeding a crowd or taking this to a potluck or picnic, double the recipe and dressing.
Recipe Tips
How to select fresh broccoli crowns
The crowns are the the little florets, minus the stalk. If you can't find crowns, buy it with the stalk. You'll cut the stalk off later
Choose the darkest green crown; sometimes you'll see light green areas on the surface; try to avoid these, as they've aged and/or been exposed to light.
Pick from the back of the broccoli bin; broccoli is light-sensitive, as is cauliflower, so try to get one that hasn't been exposed to the fluorescent lighting
The crowns should be dark green in color and firm; if it feels soft or soggy and is a light lime green color, don't get that one...look in the back of the vegetable bin for the darkest crowns.
FAQ
Can I use frozen or pre-packaged broccoli?
Frozen or packaged broccoli works for this recipe as well. If you use frozen, buy the florets and place them in a colander to thaw them. Frozen broccoli florets have already been blanched so you can skip the blanching process if you use frozen broccoli.
I find fresh or prepackaged best because I can actually see how much broccoli I'm getting.
The frozen bags don't seem to have enough and I never know how much to buy, so I buy too much.
Variations
As I mentioned earlier, there are thousands of ways to make this classic Summer Broccoli Crunch salad. Here are some ideas you might want to consider for this tasty vegetable salad:
Don't have dried cranberries? Substitute with raisins or golden raising
Don't have honey? Substitute with a little maple syrup
Substitute plain yogurt for mayonnaise
Add chopped pecans, walnuts, peanuts, macadamia nuts or roasted and salted, crunchy sunflower seeds
Chopped carrots, cauliflower, red pepper
Season with red pepper flakes for a bit of heat
Add diced ham, cooked crispy bacon or small bites of canadian bacon (or top with bacon bits)
Add shredded or cubed cheddar cheese
Serving suggestions
If you take this dish to outdoor family gatherings or a summer BBQ, place the serving bowl in a larger bowl full of ice so the mayonnaise won't turn rancid
Serve in individual ramekins or parfait cups for ease and presentation (by the time the third person has scooped into the salad, it doesn't look as appetizing)
Serve with a slotted spoon if you accidentally put too much dressing on it
Make ahead and storage
You can make this version of broccoli salad up to three days in advance and store it in the refrigerator for up to 5 days in an airtight container or covered with plastic wrap. Freezing is not recommended.
If you don't have room in your refrigerator for a big bowl, divide the salad up into large zipper storage bags - they take up less space.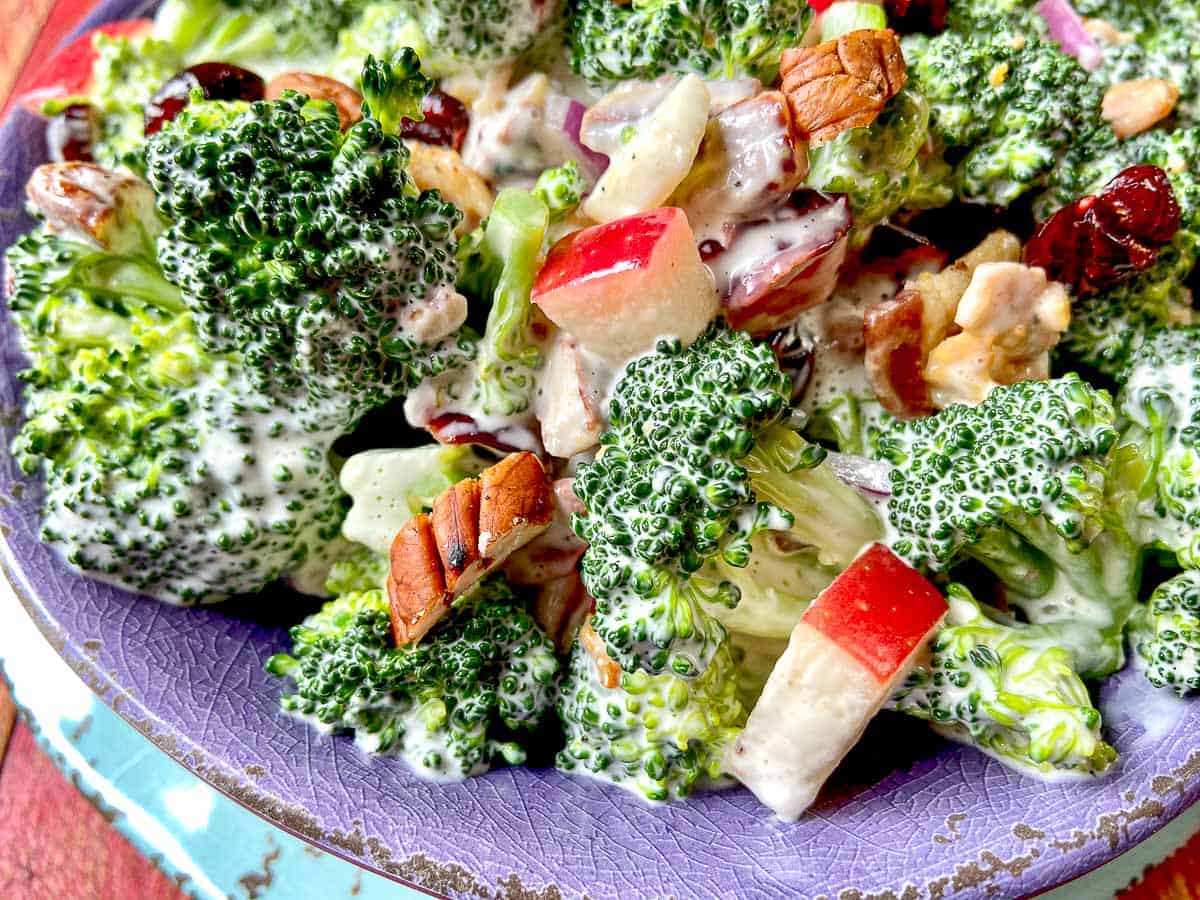 This refreshing no bacon Broccoli salad is always a crowd pleaser and a hit at holiday dinners, weeknight dinners, summer BBQ's or family reunions!
Related recipes:
If you make this recipe, please scroll down and leave a comment and rating! I love to hear from you! Thank you!
📋 Recipe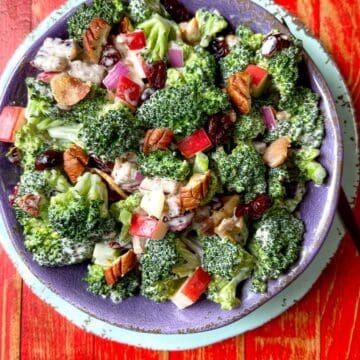 Summer Broccoli Crunch Salad (no bacon)
Crunchy broccoli florets nestled in a sweet and tangy mayonnaise dressing with apples, pecans, onions and dried cranberries.
Print
Rate
Ingredients
Salad Ingredients
1

large

broccoli crown

1

large

apple

, Honeycrisp, Gala or Fuji

¼

cup

red onion

, chopped finely

¾

cup

Craisins

, or raisins

1

cup

pecans

, chopped (optional)

5

strips

bacon

(optional), fried and crumbled
Dressing Ingredients
1

cup

mayonnaise

1½

tablespoons

apple cider vinegar

2

tablespoons

honey

pinch of salt and pepper

, to taste
Instructions
Blanch the Broccoli
If using fresh broccoli, blanch it first. If using frozen broccoli, rinse and thaw but do not blanch it.

How to blanch broccoli: Bring large stockpot of water to high heat; place broccoli crown in water for 5-minutes

Remove crown and submerge in ice water for 5-minutes

Once cooled, remove, pat dry with paper towel and cut florets into bite sized pieces; set aside
Make the Salad
If you're adding bacon to the salad, fry, drain and chop it; then set aside

Mix dressing ingredients in large mixing bowl

1 cup mayonnaise,

1½ tablespoons apple cider vinegar,

2 tablespoons honey

Chop onion, pecans and apple into small pieces and add to the dressing

1 large apple,

¼ cup red onion,

1 cup pecans

Add chopped broccoli and dried cranberries to the mixture; combine well

Cover and refrigerate for at least one hour

When ready to serve, stir salad ingredients; taste for salt and pepper and serve
Notes
Make the dressing first; cut the apple (leave the skin on) while the broccoli is blanching; put the cut apple immediately into the dressing (the apple cider vinegar will keep it from browning)
Bacon is optional; if you don't want to fry bacon, use real bacon bits
If you're making this for a crowd, double the recipe: use 2 big crowns and double the dressing
Add whatever else you want to the salad
If you add too much dressing, serve the salad individually or with a slotted spoon
Nutrition Estimate
Serving:
1
cup
Calories:
740
kcal
Carbohydrates:
50
g
Protein:
7
g
Fat:
61
g
Saturated Fat:
8
g
Trans Fat:
1
g
Cholesterol:
24
mg
Sodium:
408
mg
Potassium:
686
mg
Fiber:
9
g
Sugar:
34
g
Vitamin A:
1028
IU
Vitamin C:
139
mg
Calcium:
102
mg
Iron:
2
mg