Bring back the 70's with this Classic Cheese Fondue recipe! There's nothing more fun than inviting a group of friends over to gather around the fondue pot! Serve this Swiss cheese appetizer with bread, tomatoes, mushrooms, shrimp–just about everything goes great with fondue!

Cocktail-party foods have a tendency to trend and back in the 70's, all the rage was over fondue! Creamy, melted cheese served in the center of the table in a heated fondue pot with an assortment of "dippers"- typically french bread and served with wine. Your basic wine and cheese party, but the fun of fondue is not losing your dipper!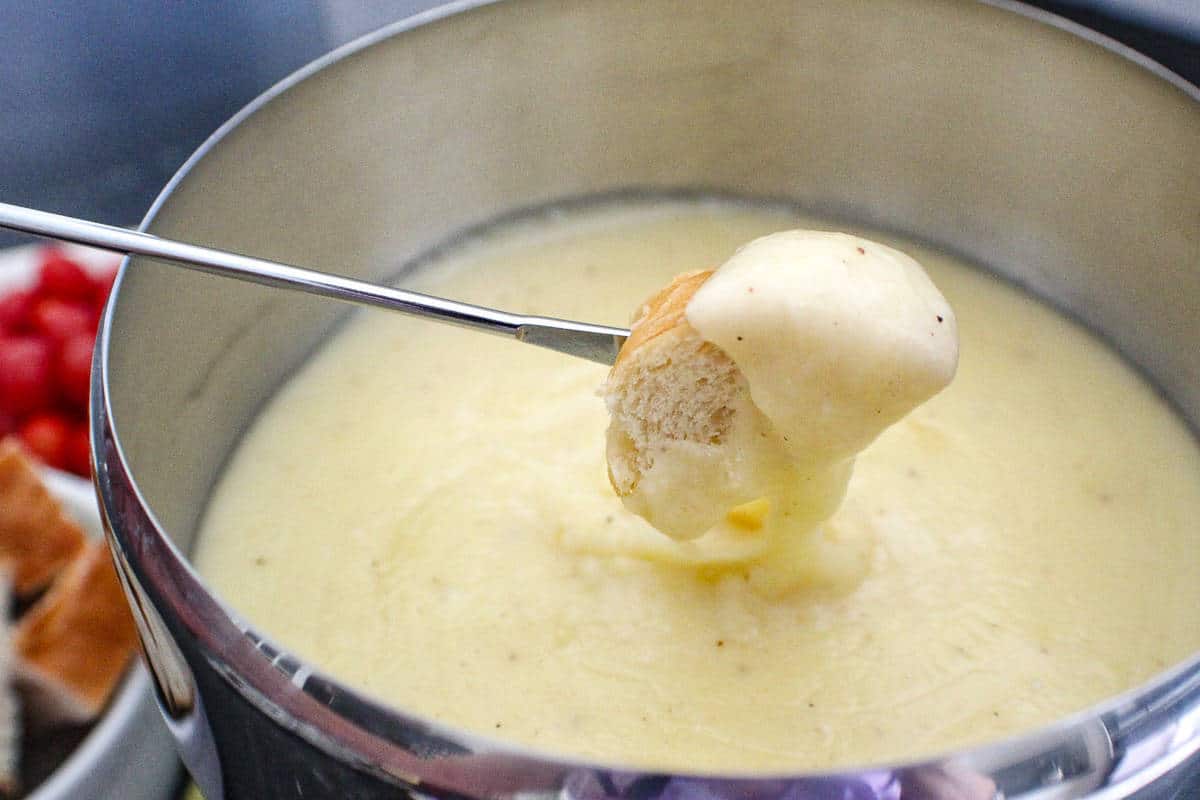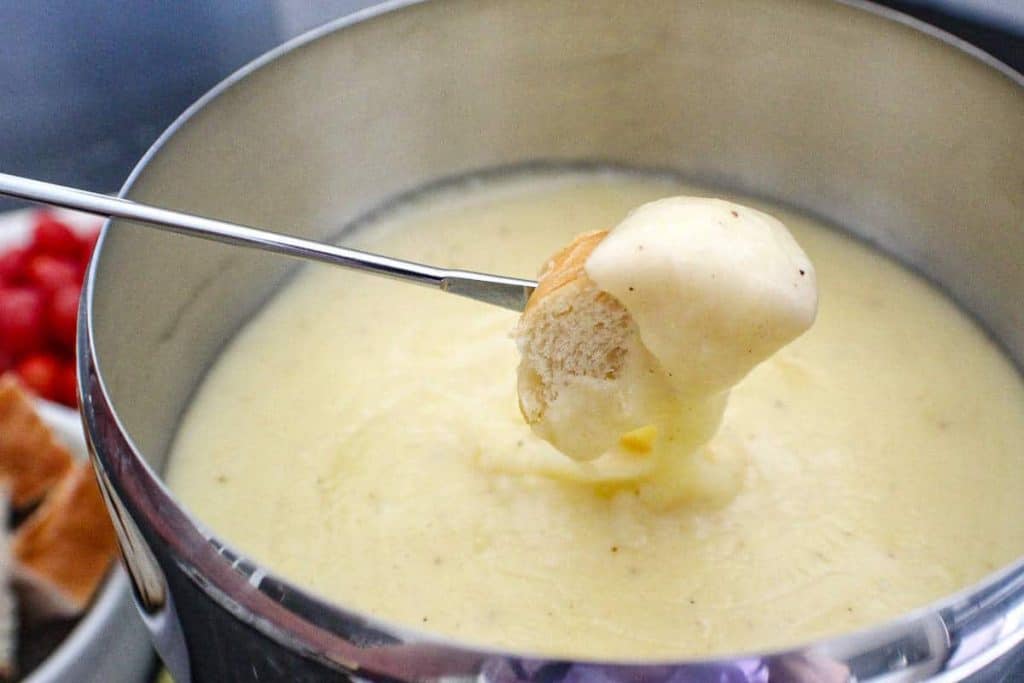 The Swiss Cheese Union declared fondue was the national food of Switzerland back in the 1930's. Wonder what took it so long to become popular in the States? Make a batch of this and imagine this awaiting you after your skiing adventure down the Swiss Alps!
Ingredients for Classic Cheese Fondue
Since this dish is all about the cheese, you want the best quality aged fromage from a specialty store or the gourmet cheese department of your grocer.
Gruyere is a favorite cheese in Swiss fondue's because it offers a nutty, buttery flavor and melts beautifully!
Emmental, also known as Emmentaler or Emmenthal, is basically Swiss cheese that offers a slight tangy flavor. Gruyere is also an aged cheese with a slight nutty flavor.
Fontina is also from cow's milk, and has a nutty, yet slightly sweet flavor. When combined, these three cheese varieties make the perfect cheese dip for dipping bread and enjoying a glass of wine.
What Can I Dip in Swiss Fondue?
The traditional "dippers" for fondue are bite-sized nuggets of bread. Other delicious options are:
cherry tomatoes
small red potatoes
shrimp
bell peppers, carrots
mushrooms
beef
How to Serve Classic Cheese Fondue
A fondue pot is a free-standing pot that rests on a stand. Traditional fondue servers stand over a direct heat source, generally a can of Sterno®, which is a self-contained can of gel that produces heat when lit. There are several fondue pots on the market (both traditional and electric), and each comes with 4-6 color coded skewers.
How to Make
Make the cheese dip in a big saucepan on the stovetop, then transfer it to the fondue serving pot.
Shred cheese
Add cornstarch to cheese and combine
In a saucepan, add wine and garlic clove; bring to medium-high heat
Gradually add cheese, continuously stirring until the cheese is melted; add nutmeg and lemon
Transfer melted cheese to fondue serving pot and begin dipping

A little cornstarch helps bind the aged cheese for a creamy fondue

Coat the shredded cheese with cornstarch before melting

After heating the wine, gradually add the cheese, stirring constantly
Can I Make This in Advance?
If you're hosting a party and want to get a jump on preparations, make this classic cheese fondue up to two days in advance. Store it in the refrigerator (tightly covered) and when you're ready to serve, add the cheese to a large saucepan set on medium heat, and allow the cheese to melt. Transfer melted cheese to fondue pot.
Craving More? Try Wine Poached Pears or Brie en croute with Pear Compote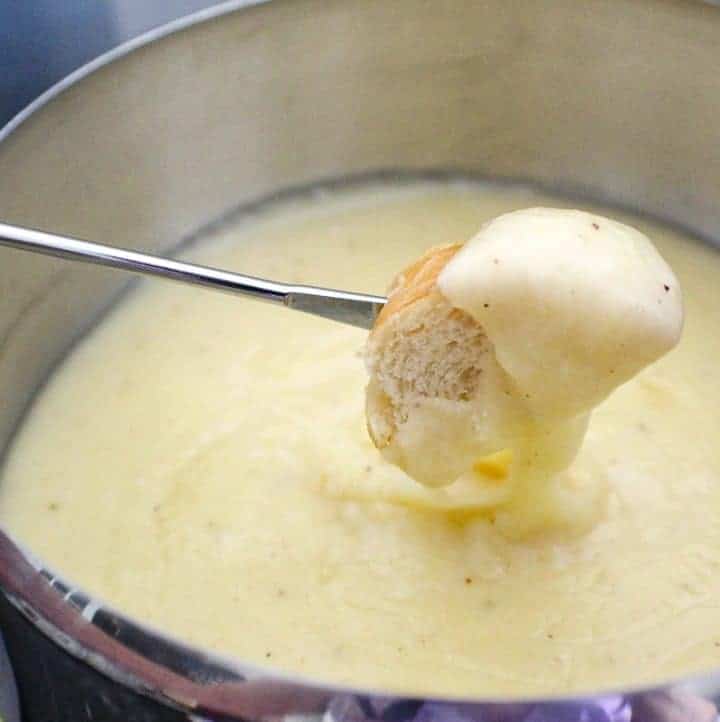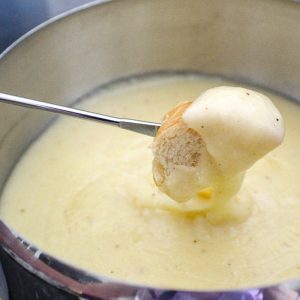 Classic Cheese Fondue
Classic creamy Swiss Fondue recipe with Gruyere, Emmental and Fontina cheese.
Print
Pin
Rate
Ingredients
⅓

lb.

Gruyere cheese

shredded

⅓

lb.

Fontina cheese

shredded

⅓

lb.

Emmental cheese

grated

½

cup

dry white wine

1

clove

whole garlic clove

peeled; not cut or sliced

2

tablespoons

corn starch

½

teaspoon

ground nutmeg

1

tablespoon

lemon juice
Instructions
In a medium saucepan on medium heat, add wine and whole clove of garlic; allow to heat for 5 minutes

Shred cheese and place in a large bowl

Add cornstarch to cheese; coat cheese well

Add shredded cheese gradually to wine, constantly stirring with a wooden spoon

Once all cheese has been melted, remove garlic clove, add nutmeg and lemon juice

Pour cheese into fondue serving dish and enjoy with your favorite dippers-bread, apples or shrimp