Nothing screams "Spring" more than delicious Orange Glazed Carrots! Feature these healthy root vegetables at your Easter table or on your weeknight dinner table.
You'll love this quick and easy, light and flavorful healthy carrot recipe with a hint of orange !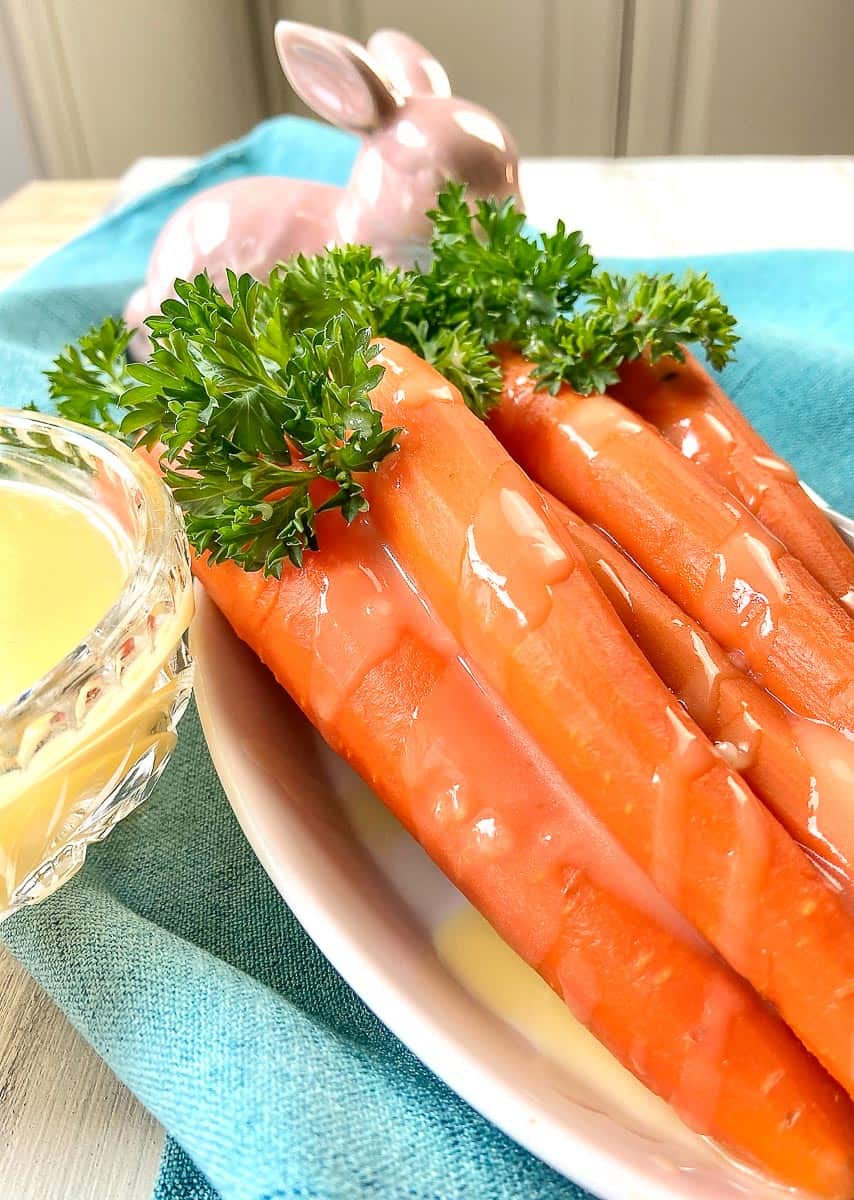 Why you'll love this recipe!
The orange glaze is light, mild-flavored, and easy to make and ready in about 5-minutes! So while your carrots are steaming, you can make this quick and easy carrot glaze.
Quick and easy - ready in minutes
All-natural ingredients - no additives, preservatives or yucky stuff
Deliciously flavorful and light-adds a hint of orange, which pairs beautifully with carrots
This recipe is designed to accent the natural sweetness of the carrot and let the flavor of the carrot shine-through. I use organic carrots because they seem to have the most flavor, but you can use conventional carrots as well.
I like to include these on my Easter menu as a side dish, along with steamed Brussels sprouts and English Pea salad...the perfect combination with ham!
Simple ingredients for carrot glaze
You'll need butter (salted or unsalted butter), cornstarch, a little granulated white sugar, and fresh squeezed orange juice.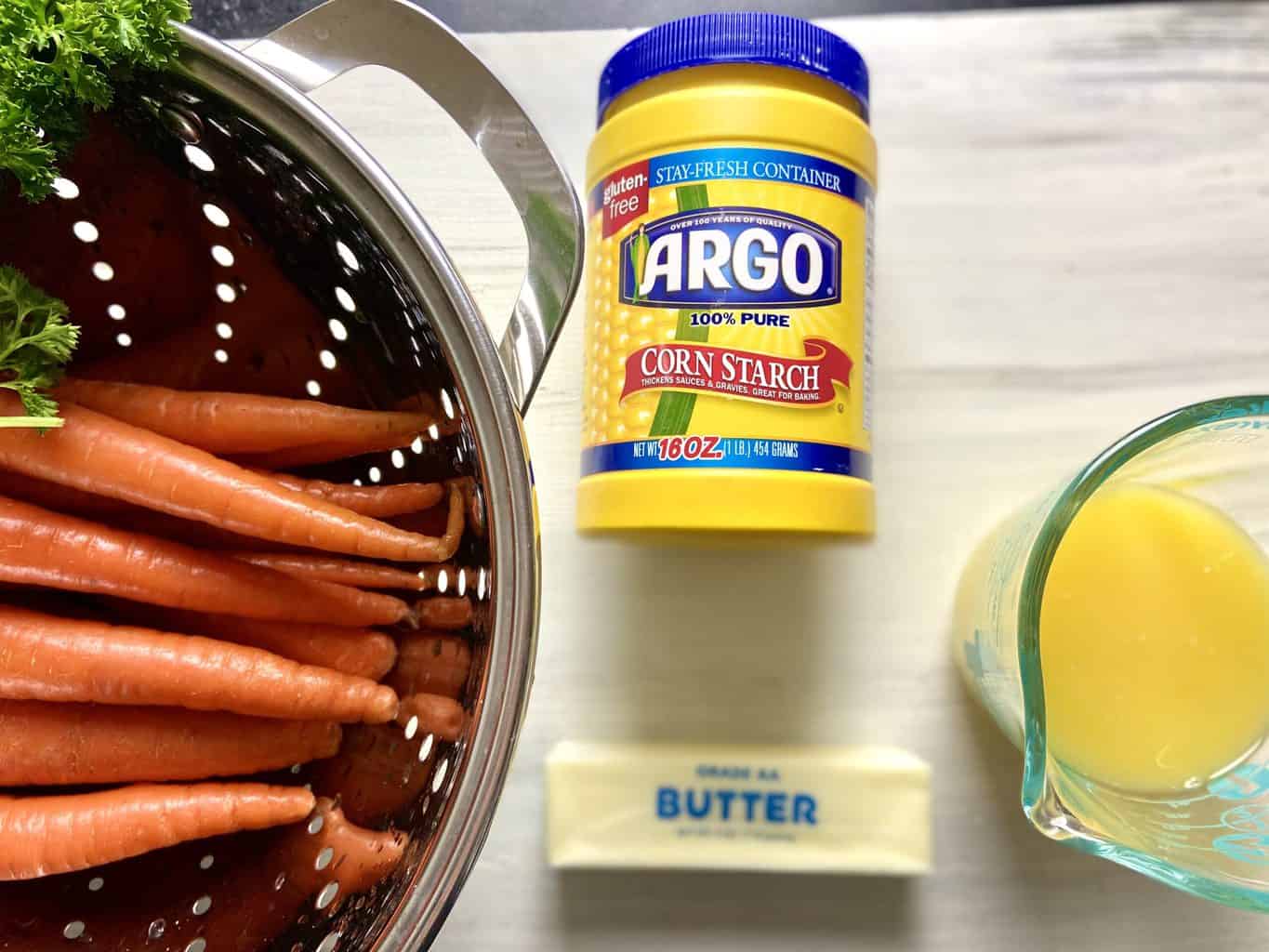 Carrots - I think I'm a carrot snob. I find "baby" and conventional (non-organic) carrots very bland, therefore, I highly recommend using whole organic carrots for this recipe.
Butter - you can use salted butter or unsalted butter; if you use salted butter, don't add salt to the steamed carrots until the very end after you've done a "taste test" for salt.
Orange juice - you can use fresh squeezed or prepared orange juice. This recipe uses pulp-free prepared orange juice.
Cornstarch- is the thickening agent which provides a nice, translucent sheen to this smooth sauce. Use this glaze on roasted or steamed carrots; just drizzle the sauce over them and serve!
Sugar - I add a little granulated sugar to the orange carrot glaze, but this is purely optional.
3 ways to cook carrots: steam, boil, broil
There's a few ways to cook these delicious root vegetables. Steam, boil or roast...whichever method you use, you'll want to cook them until their slightly fork-tender, yet still a bit firm.
Steaming method: (Recommended)
Steaming vegetables is the preferred method for retaining nutrients and vibrant color. Use a steamer basket or, if you don't have one, place an aluminum colander over a large pot of boiling water; make sure the boiling pot has a lid.
(Don't use a plastic colander; they often melt over the high heat and produce a gas that offsets the flavor of the vegetable.)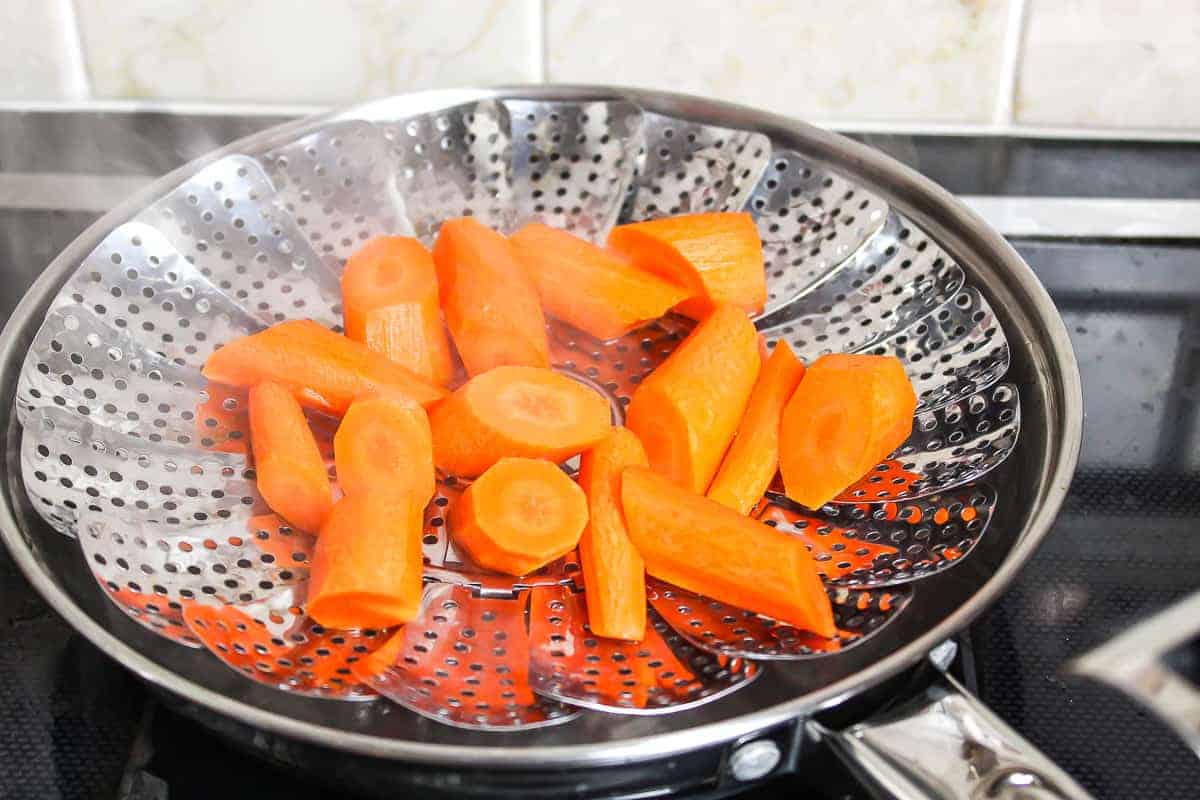 The amount of water you need depends upon the size of the saucepan. I use a 1.5 quart saucepan and add 1 ½ cups of water.
Peel and slice carrots
Add water to large stockpot; place steamer in pot; add water and bring water to hard boil
Place sliced carrots on steam basket
Cover and cook for 8-12 minutes, or until fork-tender
If your saucepan lid doesn't completely cover the pan and steamer, just place it over the steamer (the lid doesn't have to fit perfectly; you just want to trap some of the steam from the boiling water.)
Keep an eye on the water level and replenish if needed. While the carrots are steaming, prepare the sauce.
Boiling method:
Place 8 cups of tap water and 3 tablespoons of table salt into large pot and bring to boil
Add carrots
Cook for 5-minutes; test for doneness. When the carrots are fork-tender, they're done!
Drain and serve with orange glaze
Roasting method:
Preheat oven to 375ºF
Place cleaned, peeled carrots on lightly oiled baking sheet
Bake 20-25 minutes, or until fork-tender
Remove from oven and serve with orange glaze
How to make the orange glaze
With just a few simple ingredients, you'll have a smooth, silky glaze for your carrots. Be sure to have a wire whisk on hand to fully incorporate the cornstarch, which is a thickening agent. If you want to add a little more sweetener, add a little more sugar or honey while the orange/butter mixture is warm on the stove.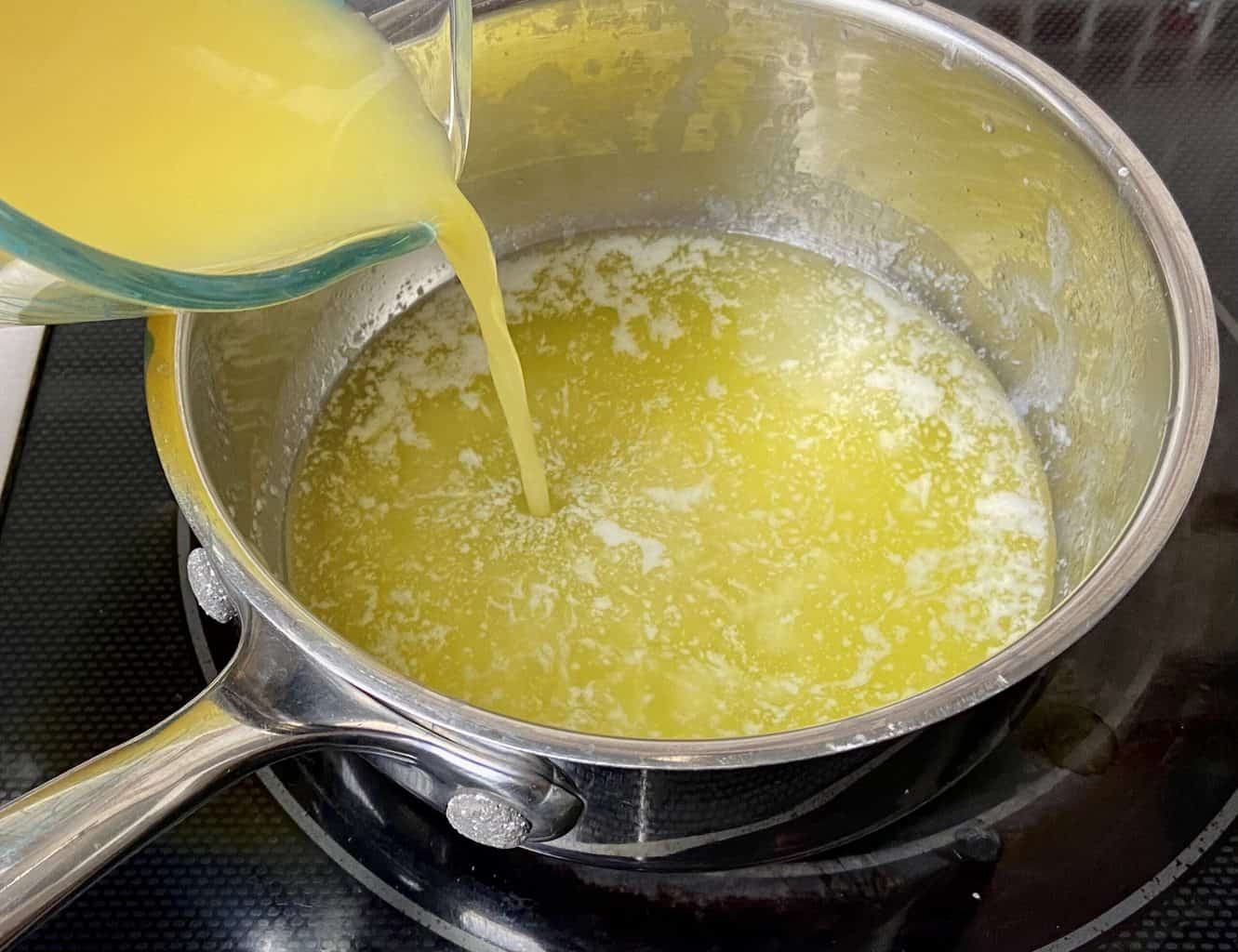 Melt the butter in a saucepan and add orange juice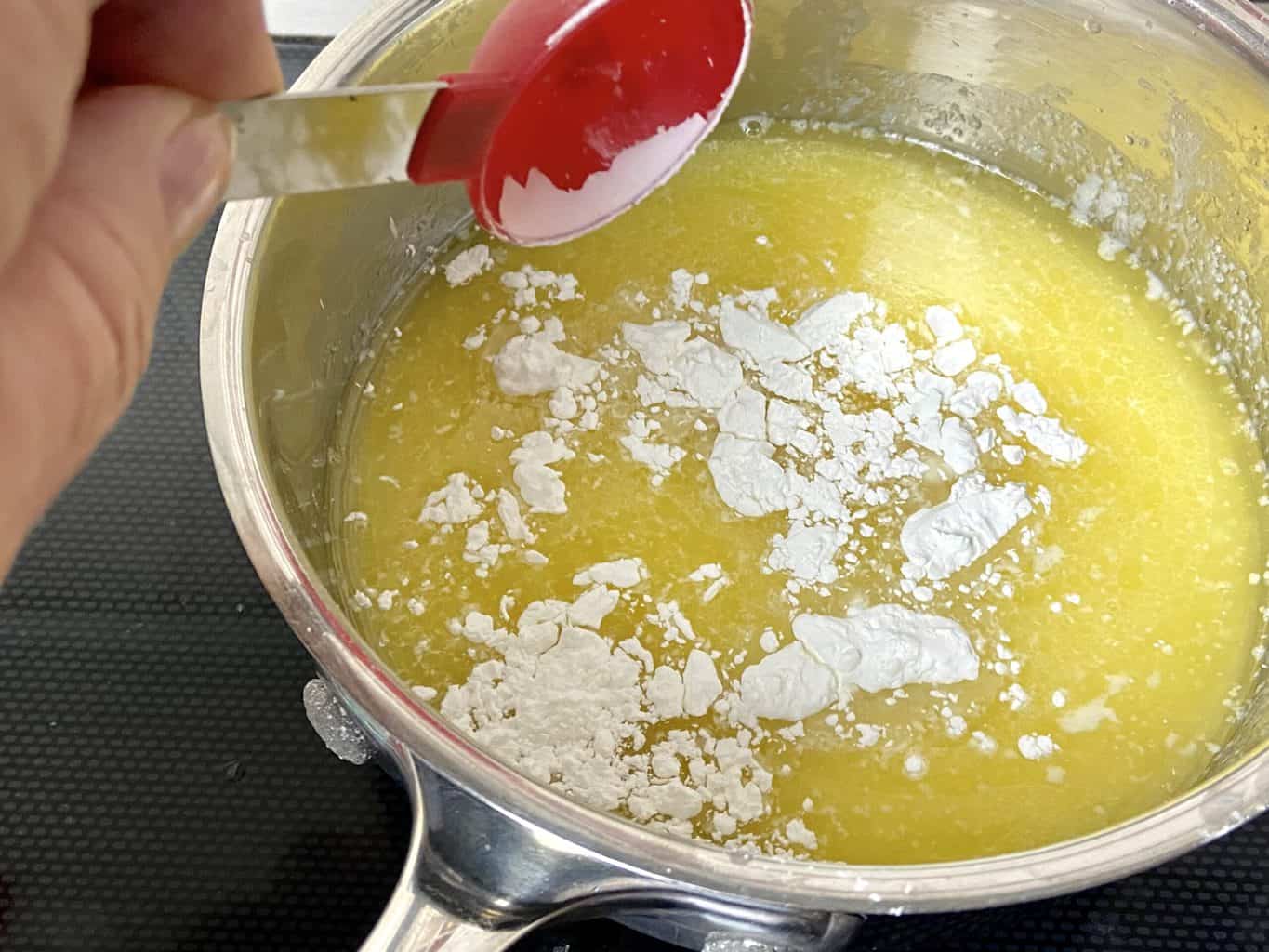 Sprinkle in the cornstarch and whisk until the mixture is free of lumps; add sugar. and continue to stir until glaze thickens (about 5-minutes)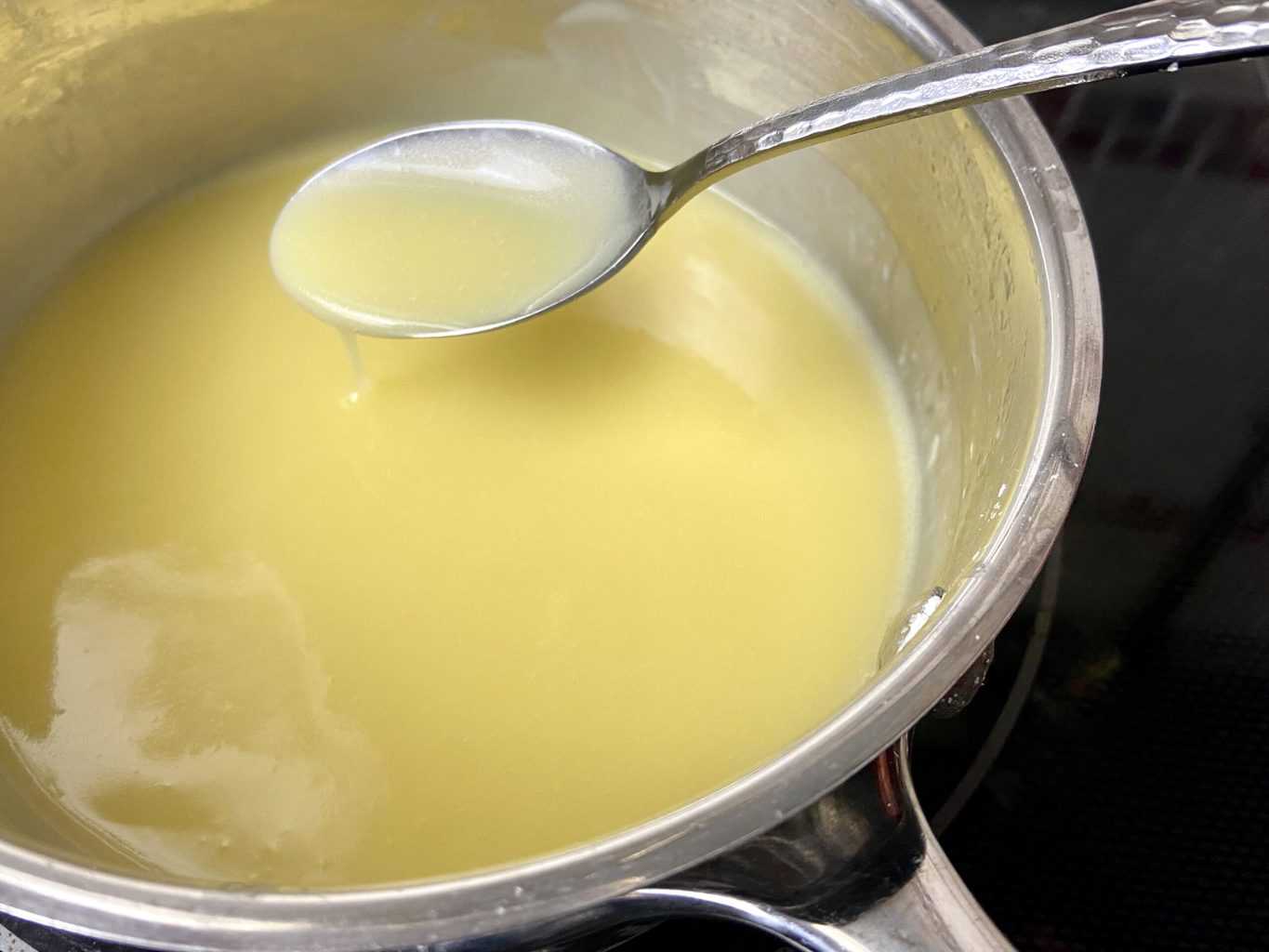 Drizzle over vegetables and serve
Tips
Fresh squeezed or prepared orange juice?
You can use fresh or prepared juice for this recipe, but note that if you use fresh squeezed orange juice, the texture will not be silky smooth due to the pulp. You can always strain the pulp for a silky smooth glaze.
Use pre-made, pulp-free--or make your own from frozen concentrate. I recommend prepared OJ for the best results.
Make ahead glaze
This glaze or sauce can be made in advance. Just pour it into a glass jar and allow to cool; then replace the lid and refrigerate up to 3 days.
When you're ready to serve, reheat the sauce on the stovetop; use a whisk to combine. You may have to add a little water, as the sauce tends to thicken in the fridge.
Don't overcook the glaze
As soon as the sauce thickens, remove it from the heat. Prolonged heat breaks down the cornstarch's thickening properties which results in a thinner glaze (or thinner sauce.)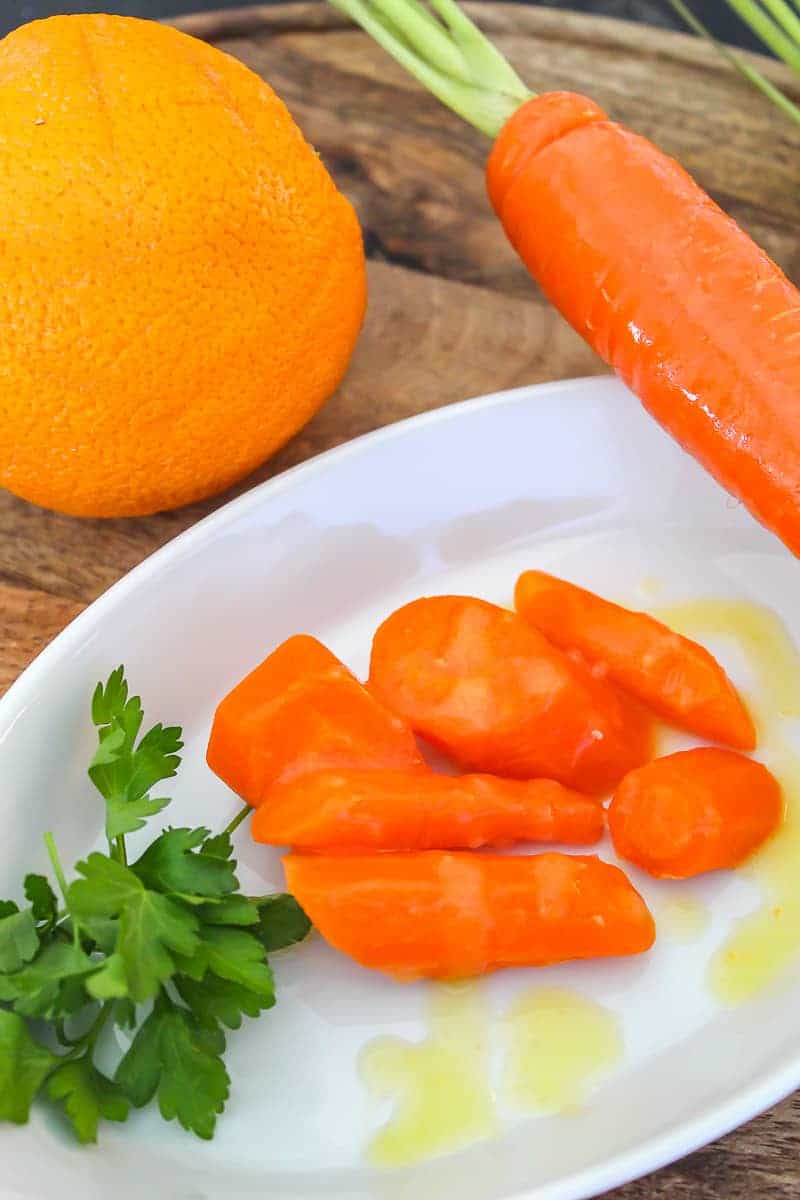 Serving Suggestions
This orange glazed carrot recipe is quick and easy. You can drizzle the sauce over cooked carrots or serve it on the side. It also pairs beautifully with fish or chicken. We usually serve this at our Easter dinner table with Pineapple BBQ glazed ham, Maple baked beans and a big bowl of collard greens!
Serve these delicious orange veggies with:
If you make this recipe, please scroll down and leave a comment and rating! I love to hear from you! Thank you!
📋 Recipe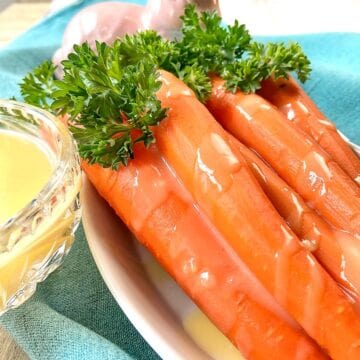 Orange Glazed Carrot recipe
Tender organic carrots with a light orange glaze
Print
Rate
Ingredients
1

lb

organic carrots

peeled and sliced
Orange Glaze
1

stick

butter

unsalted

1⅔

cup

prepared orange juice

1½

tablespoons

cornstarch

1

teaspoon

sugar (+ more if you want it sweeter)

pinch of salt to taste
Instructions
Prepare the Carrots- Steaming Method
In a large stockpot, add 7-8 cups of water; place steamer basket in stockpot; bring water to boil

Add sliced carrots to steam basket; cover and cook 8-12 minutes or until carrots are fork-tender
Prepare the Orange Glaze
In a large saucepan on medium heat, melt butter

Add orange juice; whisk (start with one cup of OJ and taste; add remainder if you want more orange flavor)

1⅔ cup prepared orange juice

Sprinkle in cornstarch and sugar; whisk until smooth

1½ tablespoons cornstarch,

1 teaspoon sugar (+ more if you want it sweeter)

Cook on medium high heat, stirring constantly until sauce begins to thicken; taste for sugar and salt; remove and drizzle over cooked carrots

Drizzle orange glaze over carrots; garnish with parsley and/or orange zest
Notes
You can use flour instead of cornstarch, just double the amount of flour. Example: 1 tablespoon of cornstarch = 2 tablespoons flour.
If you use flour, the sauce will turn opaque; it won't be translucent.
The nutritional value is for the total recipe: 1 pound of carrots and 1 cup of sauce
If you want to add a little color to your glaze, substitute plain sugar with brown sugar.
If you want a sweeter glaze, add more sugar.
Nutrition Estimate
Serving:
1
cup
Calories:
1243
kcal
Carbohydrates:
101
g
Protein:
8
g
Fat:
94
g
Saturated Fat:
58
g
Cholesterol:
243
mg
Sodium:
1125
mg
Potassium:
2278
mg
Fiber:
14
g
Sugar:
60
g
Vitamin A:
79428
IU
Vitamin C:
233
mg
Calcium:
222
mg
Iron:
2
mg