This Watermelon Arugula Goat Cheese salad recipe is definitely a summer staple and perfect for a hot day!
It includes a handful of simple ingredients: white Raspberry Balsamic Vinegar, roasted and salted pepitas (pumpkin seeds), creamy goat cheese crumbles, fresh raspberries and a hint of peppery arugula which offers a different and unique alternative to the typical or basic watermelon salad recipe.
You'll want to keep this summer salad recipe on hand all summer-long!
Watermelon salad is always a hit at summer gatherings, on a hot summer day or at your favorite summer BBQs!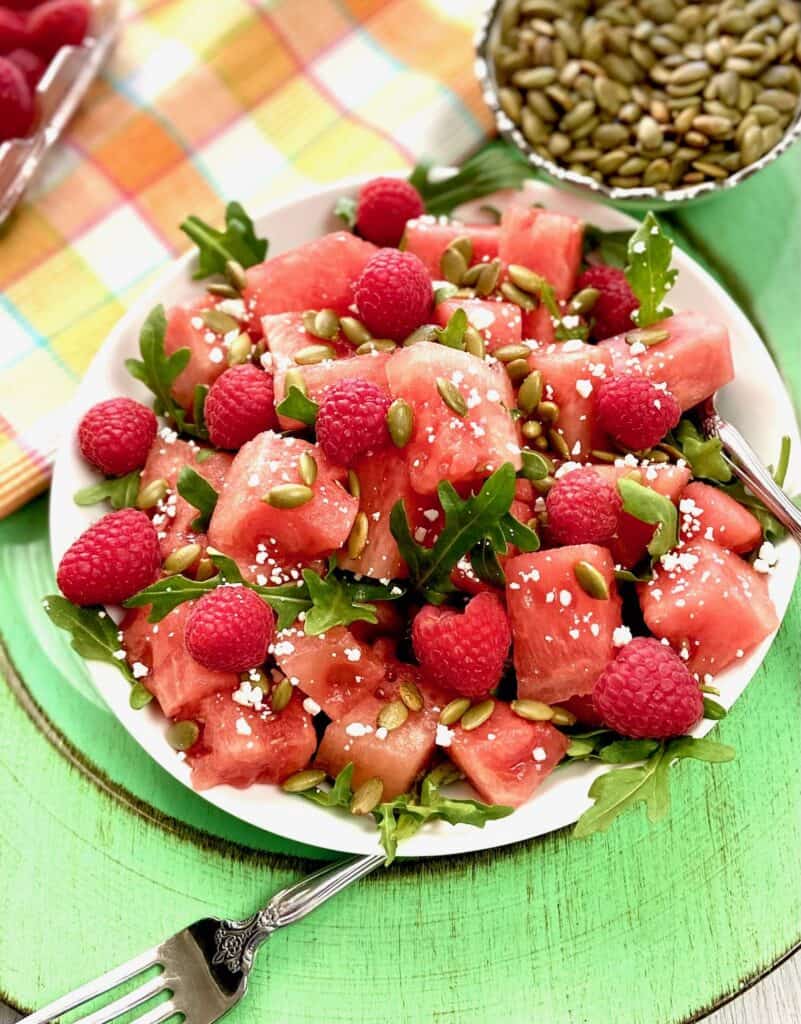 Watermelon salad is always a hit at summer gatherings, on a hot summer day or at your favorite summer BBQs!
Why this recipe works
It's different - made with simple ingredients. You'll find the basic watermelon feta salad at just about every outdoor picnic. Some include red onion or fresh basil while others rely on a good ole juicy watermelon with a hint of lime juice, but most summer potlucks include one offering of this summer fruit with feta crumbles. This watermelon salad without goat cheese is always a hit at a summer BBQ!
Terrific Flavor combination
Sweet watermelon paired with a sweet and tangy raspberry infused vinegar is the perfect balance between sweet and savory.
The combination of the sweet fruit with the tangy balsamic vinegar, and a hint of salt from the roasted pumpkin seeds pairs beautifully with the hint of spicy arugula, sweet raspberries and creamy goat cheese crumbles.
Why watermelon arugula salad is without Feta cheese
The reason this recipe has no Feta cheese is due to the white raspberry balsamic vinegar - when I used the tangy Feta cheese during recipe development, I found the saltiness of the Feta cheese overpowered the raspberry flavor. That's why I use goat cheese which is milder in flavor and pairs best with the peppery arugula.
This recipe yields about 4 cups of diced watermelon; for a really big watermelon, double the recipe.
Serve with your favorite grilled protein, as a healthy snack or a side to homemade chicken salad and a big glass of sweet tea!
What you'll need
Ripe watermelon - seedless is preferred, but you can use one with seeds
White Raspberry Balsamic Vinegar- make sure it's "white raspberry balsamic vinegar" not dark
Red Wine Vinegar
Honey-or agave nectar
Toasted Pumpkin Seeds (Pepitas)-If you can't find pepitas, try substituting with roasted sunflower seeds, crushed pistachios or pecans.
Arugula - a peppery green found in the produce department of your grocery store
Fresh raspberries
Salt- to taste
How to make it
My favorite way to make this easy watermelon salad is to combine the balsamic vinegar, red wine vinegar and honey in a small bowl, whisk together and combine with salad ingredients. The vinegar and honey make a delicious balsamic glaze that you can use for other summer salad!
With a sharp knife and a sturdy cutting board cut the melon in half, then slice it into bite sized pieces- about 1-inch cubes. (If you aren't using a seedless watermelon, just remove the watermelon seed)
Combine watermelon cubes and the balsamic vinaigrette mixture over diced melon and refrigerate for 15-20 minutes; garnish with roasted/salted pepitas, fresh raspberries, arugula and crumbled goat cheese! (It tasted best when you serve a cool, crisp watermelon!)
If you want a pretty fruit salad use a melon baller !
Watermelon salad is always a hit at summer gatherings, on a hot summer day or at your favorite summer BBQs!
Recipe FAQs
How to pick a ripe watermelon
I like to go to farmer's markets to get the best, sweetest watermelons! If you can't get to a local grower, grab one from the grocery store.
The best way to pick a good watermelon is to look for a creamy yellow "field" spot on the melon-usually on the side.
This is where the melon has rested on the ground and, as it ripens, this field spot turns yellow. The larger, more creamy yellow spot indicates it is sweet, fresh watermelon.
Can I make this in advance?
This easy recipe can absolutely be made in advance! Simply make the dressing and refrigerate in an airtight container.
On the day of serving, cut the melon, pour the dressing over it, and let it chill in the fridge for about 15 minutes. Then, add the toasted pepitas, crumbled goat cheese and arugula and you're good to go!
What can I substitute for goat cheese?
Any mild cheese works great in this refreshing salad; you might try crumbled Queso Fresco, Mozzarella or shredded Parmesan.
I'm allergic to nuts. Can I eat pepitas?
Pepitas, or pumpkin seeds, are generally safe for those with nut allergies, however, in some instances the pepitas may have been co-mingled with nuts. For the most part, pumpkin and sunflower seeds are safe to consume if there is an allergy to nuts.
How to roast pumpkin seeds (pepitas)
Simply heat a cast-iron skillet on medium-high heat. (Do NOT add any oil; the oil from the seeds releases when the seeds get hot enough.)
Allow the seeds to lightly brown, tossing and stirring them occasionally. When you can smell them, they're done.
Remove from heat immediately and lightly salt if desired. Allow to cool, then add to salad.
What can I substitute for pepitas?
Any roasted salted nut pairs well - try salted, roasted sunflower seeds, walnuts, macadamia nuts or smoked almonds!
What can I substitute for honey?
You can use agave nectar, sugar, maple syrup or molasses.
This no Feta watermelon salad is quick, easy and always delicious at your favorite summer gathering or picnic! You might also like to serve fresh fruit kabobs with cantaloupe, prosciutto, mozzarella with a honey infused raspberry dipping sauce!
Storage
Store in an airtight container in the refrigerator for up to 5 days.
Variations
There are many variations you can add to this delicious watermelon salad recipe: red onion, a little bit of extra-virgin olive oil, lemon juice, lime juice, fresh mint leaves, basil leaves or other fresh herbs (sage, basil, dill or thyme), black pepper, English cucumbers, or regular cucumbers. Add any of these to provide a more savory flavor.
If you want to put a Mediterranean spin on this side dish, add a little fresh mint, some salty feta cheese, cherry tomatoes and a few Kalamata olives!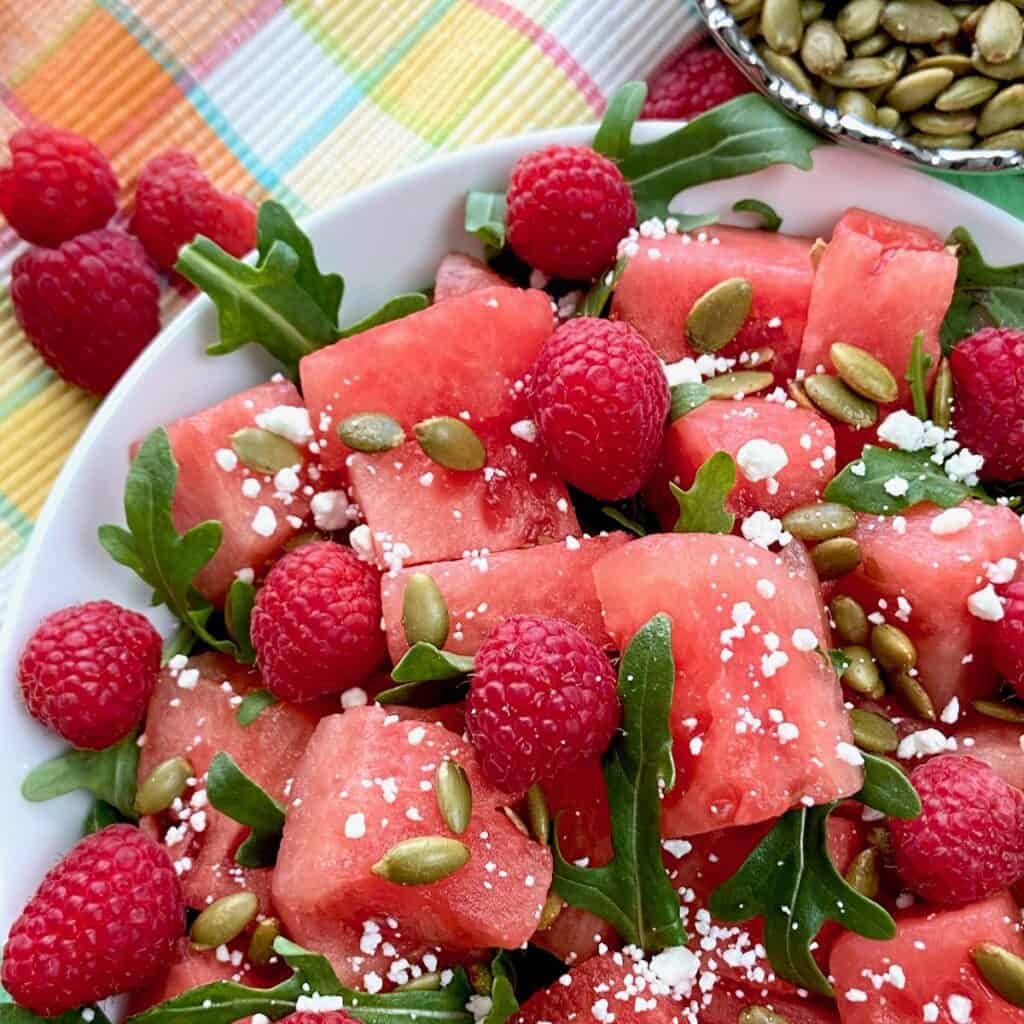 This Watermelon Arugula Goat cheese salad is quick, easy and always delicious at your favorite summer gathering or picnic!
Put a big serving bowl of this near your outdoor grill and enjoy this delicious side dish with your favorite barbecued meats or Grilled Sesame chicken kabobs!
This is one of the best ways to offer your guests a healthy side dish!
Related recipes
If you make this recipe, please scroll down and leave a comment and rating! I love to hear from you!
📋 Recipe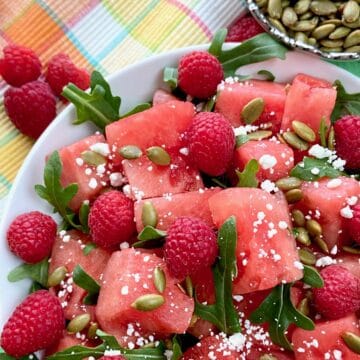 Watermelon Arugula Goat Cheese Salad
Crisp, sweet watermelon combined with tangy goat cheese and toasted pumpkin seeds, infused with in white raspberry balsamic glaze and garnished with spicy arugula and fresh raspberries.
Print
Ingredients
4

cups

watermelon

cute into bite size pieces

⅓

cup

white raspberry balsamic vinegar

⅓

cup

red wine vinegar

⅓

cup

honey

½

cup

toasted pumpkin seeds

½

cup

goat cheese

2

pints

fresh raspberries

½

cup

arugula

, finely chopped

salt to taste
Instructions
Balsamic Dressing
Combine white raspberry balsamic vinegar, honey and red wine vinegar; whisk till blended

⅓ cup white raspberry balsamic vinegar,

⅓ cup red wine vinegar,

⅓ cup honey
Salad Assembly
Cut watermelon into bite-size pieces

Pour balsamic dressing over watermelon; combine well, cover and allow to rest in fridge for about 15 minutes

When ready to serve, lightly salt watermelon; add goat cheese crumbles, toasted pumpkin seeds, raspberries and fresh arugula; serve immediately

½ cup toasted pumpkin seeds,

½ cup goat cheese,

salt to taste,

½ cup arugula,

2 pints fresh raspberries
Notes
Add the goat cheese right before you serve the dish
Nutrition Estimate
Serving:
2
cup
Calories:
473
kcal
Carbohydrates:
72
g
Protein:
16
g
Fat:
17
g
Saturated Fat:
7
g
Polyunsaturated Fat:
4
g
Monounsaturated Fat:
4
g
Trans Fat:
1
g
Cholesterol:
17
mg
Sodium:
1352
mg
Potassium:
718
mg
Fiber:
17
g
Sugar:
50
g
Vitamin A:
1454
IU
Vitamin C:
76
mg
Calcium:
148
mg
Iron:
4
mg