This creamy no bake Orange Creamsicle icebox pie is inspired by the famous ice cream treat we loved when we were kids and is perfect on a hot summer day!
Just combine a few simple ingredients and refrigerate!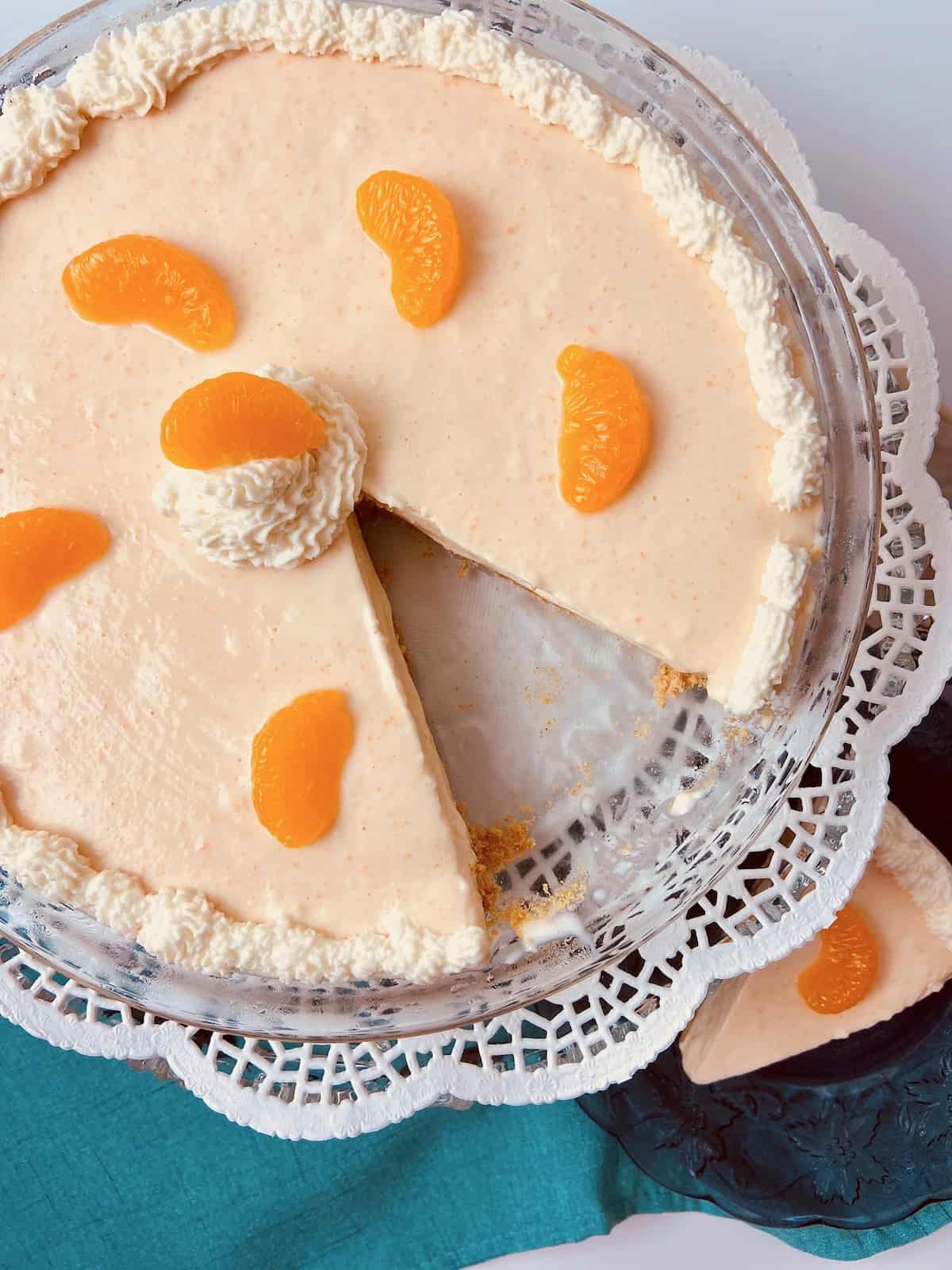 I remember every Sunday during the summer months, around 6:30 pm, hearing the music from the ice cream truck...I'd run through the house screaming, "I NEED A DIME" like the house was on fire!
It was a critical issue to find a dime FAST...because the ice cream man was out front RIGHT NOW...and two nickels wouldn't suffice...I needed a DIME for an Orange Creamsicle.
That dreamy sugary concoction on a stick...orange and vanilla, swirled together...oh, what a treat it was then, and still is today!
Why this easy pie recipe works
This no bake dessert is an easy dessert recipe that requires minimal prep time and helps beat the summer heat
No bake...when it's too hot to heat the oven to bake a pie this classic icebox pie works perfectly. jJst combine the ingredients and pour it into a prepared graham cracker pie shell
Simple ingredients - no eggs, no egg whites, melted butter, vanilla wafers or fresh oranges- just cream cheese, orange jello powder, vanilla and sweet condensed milk; garnish with homemade whipped cream or a whipped topping from the grocery store and mandarin oranges; the orange gelatin helps the creamsicle icebox pie set-up beautifully without using any marshmallow creme or whipped topping
Perfect for summer - this chilled, light icebox pie is heavenly on a hot day
Ingredients for Orange Creamsicle Icebox Pie
If you've lived long enough, you'll discover there are a million different ways to make an icebox pie. Some use eggs, while others use Cool Whip.
This one relies on orange gelatin and a hint of vanilla to get that super flavor combination we all love.

How to make it
Chill a prepared graham cracker pie crust in the refrigerator for about 30 minutes (If you want to make your own crust, use graham cracker crumbs and melted butter; press into a pie plate and refrigerate) See recipe notes in the recipe card below for details
Pour orange gelatin granules (orange Jello™ powder) into ¼ cup cold water; do not stir; let sit for 15-minutes
In a large mixing bowl or electric mixer, use the paddle attachment and combine cream cheese, sweet condensed milk and vanilla extract in food processor, stand mixer or use a hand-mixer and cream till smooth
Add gelatin mixture to the cream cheese mixture and mix on low for a second or two - not too long
Pour pie filling mixture into chilled pie shell
Cover with plastic wrap and freeze for 4 hours; move pie from freezer to fridge about 30-minutes before you want to serve it (this lets the crust thaw, which makes slicing the pie easier.
Mandarin orange slices - for garnish (optional)
Heavy whipping cream for homemade whipped cream
If you want to make a pretty Orange Creamsicle icebox pie, make some homemade whipped cream and pipe it around the perimeter of the pie form

Recipe tips
This orange creamsicle pie recipe will turn out just right if you follow these easy recipe tips
Chill the pie crust - I put it in the freezer for about 30-minutes
Soften the cream cheese - at room temperature
Mix the orange gelatin granules with cold water - let it sit for 15-minutes; don't stir it
Freeze the pie - when ready to serve, move it from the freezer to the fridge; let it sit in the fridge for about 15 minutes; if you don't let the crust thaw in the fridge, it sticks to the pie plate
The best way to slice the icebox pie is to use a slightly warm knife to slice the cold pie - for a super clean slice, use a sharp butcher knife; run it under hot water for a few minutes; dry the knife, then stick the tip of the knife in the center of the pie and move the knife back...don't lower the handle to "slice" it-- just use the tip of the knife and drag it towards you
After you've made one slice; run the knife under warm water again; dry; slice; repeat
If your icebox pie gets runny, put it back in the refrigerator
Graham cracker pie crust hack
If you don't want to make your own graham cracker crust, but you want your pie to be served in your glass pie plate and not in the aluminum pie form, then use this hack:
Buy two prepared graham cracker pie crusts; take them out of the aluminum pan and pulse them in the food processor, pour them into a big bowl; add a stick of butter (melted) over the crumbs; combine well
Pour buttered crumbs into your own 9"inch pie shell; using your fingers, pat the crumb mixture-packing it into a glass pie plate
If you're worried about serving "pretty slices," you might want to use small, individual 4-ounce graham cracker tart shells; this pie makes 2 cups of filling (16 ounces) so you'd need 4-6 individual shells
Storage and serving
If you're lucky enough to have any of this orange creamsicle icebox pie leftover, then cover it with plastic wrap and store it in the refrigerator. You might want to whip up some additional whipped cream if you have leftovers of this creamy dessert!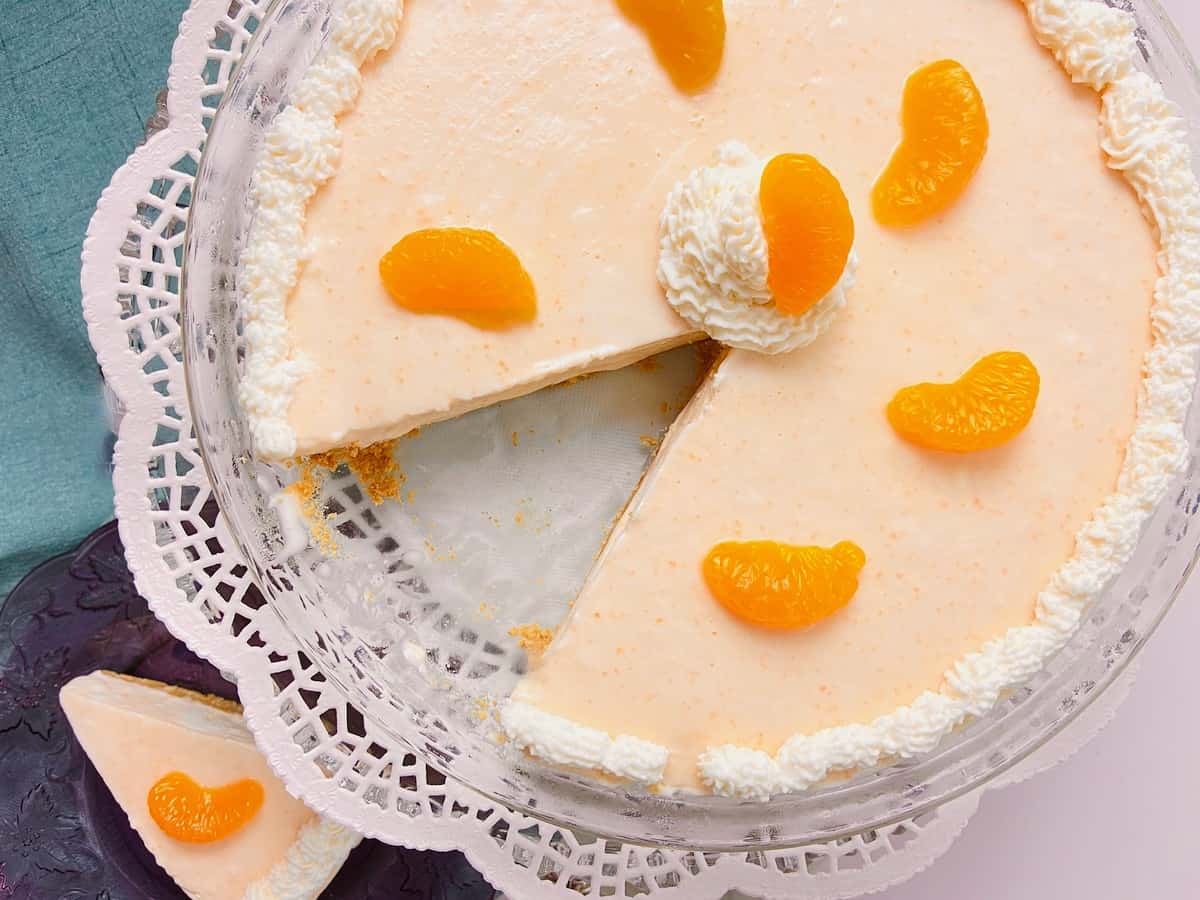 The hardest part of this recipe is waiting for the dreamy orange creamsicle icebox pie to set up in the fridge!
Related recipes
📋 Recipe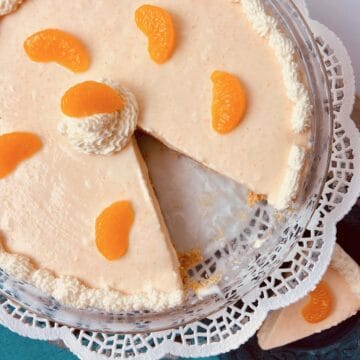 Orange Creamsicle Icebox Pie
Dreamy, creamy orange and vanilla Creamsicle Icebox Pie will remind you of your youth!
Print
Rate
Ingredients
16

ounces

cream cheese

, room temperature

14

ounces

sweetened condensed milk

2

teaspoons

vanilla extract

1

tablespoon

orange flavored gelatin

¼

cup

water
Instructions
Place prepared graham cracker crust in freezer for 30-minutes

Bring cream cheese to room temperature

Add gelatin (Orange flavored Jello powder) to cold tap water; do not stir; let sit 15-minutes

Use a food processor or a stand/hand mixer- add softened cream cheese, sweetened condensed milk and vanilla extract; cream mix till smooth

Add gelatin/water mixture to cream cheese mixture; pulse once or twice or combine well with paddle attachment or spatula

Pour mixture into chilled pie shell

Place in freezer for 4 hours

Remove pie from freezer (about 30-minutes before serving) and place in refrigerator

Garnish with whipped cream and mandarin oranges
Notes
Tips:
Chill the crust - I put it in the freezer for about 30-minutes
Soften the cream cheese - room temperature
Mix the orange gelatin granules with water - let it sit for 15-minutes; don't stir it
Freeze the pie - when ready to serve, move it from the freezer to the fridge; let it sit in the fridge for about 15 minutes; if you don't let the crust thaw in the fridge, it sticks to the pie plate
Use a slightly warm knife to slice the cold pie - for a super clean slice, use a sharp butcher knife; run it under hot water for a few minutes; dry the knife, then stick the tip of the knife in the center of the pie and move the knife back...don't lower the handle to "slice" it-- just use the tip of the knife and drag it towards you
After you've made one slice; run the knife under warm water again; dry; slice; repeat
If your icebox pie gets runny, put it back in the refrigerator or freezer and wait awhile
Graham cracker pie crust: I find the ones in the store work just fine, but they're too skimpy so, I buy two crusts; take them out of the aluminum pan and crumble them up in a big bowl; melt a stick of butter; drizzle the butter over the crumbs; combine well
Pour buttered crumbs into your own 9"inch pie shell; using your fingers, pat the crumb mixture-packing it into a glass pie plate
If you're worried about serving "pretty slices," you might want to use small, individual 4-ounce graham cracker tart shells; this pie makes 2 cups of filling (16 ounces) so you'd need 4-6 individual shells
Nutrition Estimate
Serving:
1
slice
Calories:
359
kcal
Carbohydrates:
30
g
Protein:
7
g
Fat:
24
g
Saturated Fat:
14
g
Cholesterol:
79
mg
Sodium:
250
mg
Potassium:
262
mg
Sugar:
30
g
Vitamin A:
894
IU
Vitamin C:
1
mg
Calcium:
196
mg
Iron:
1
mg