Looking for a healthy, refreshing and flavorful appetizer that captures the essence of summer? Transform traditional cantaloupe salad into the perfect summer finger food with this simple fruit kabob recipe.
This recipe captures the key components for a delicious fruit salad and applies them to individual skewers making them the perfect summer finger-food and a festive fruit kabob!
Sweet cantaloupe, salty prosciutto, savory herbs with a hint of acidicity from the raspberry balsamic dipping sauce.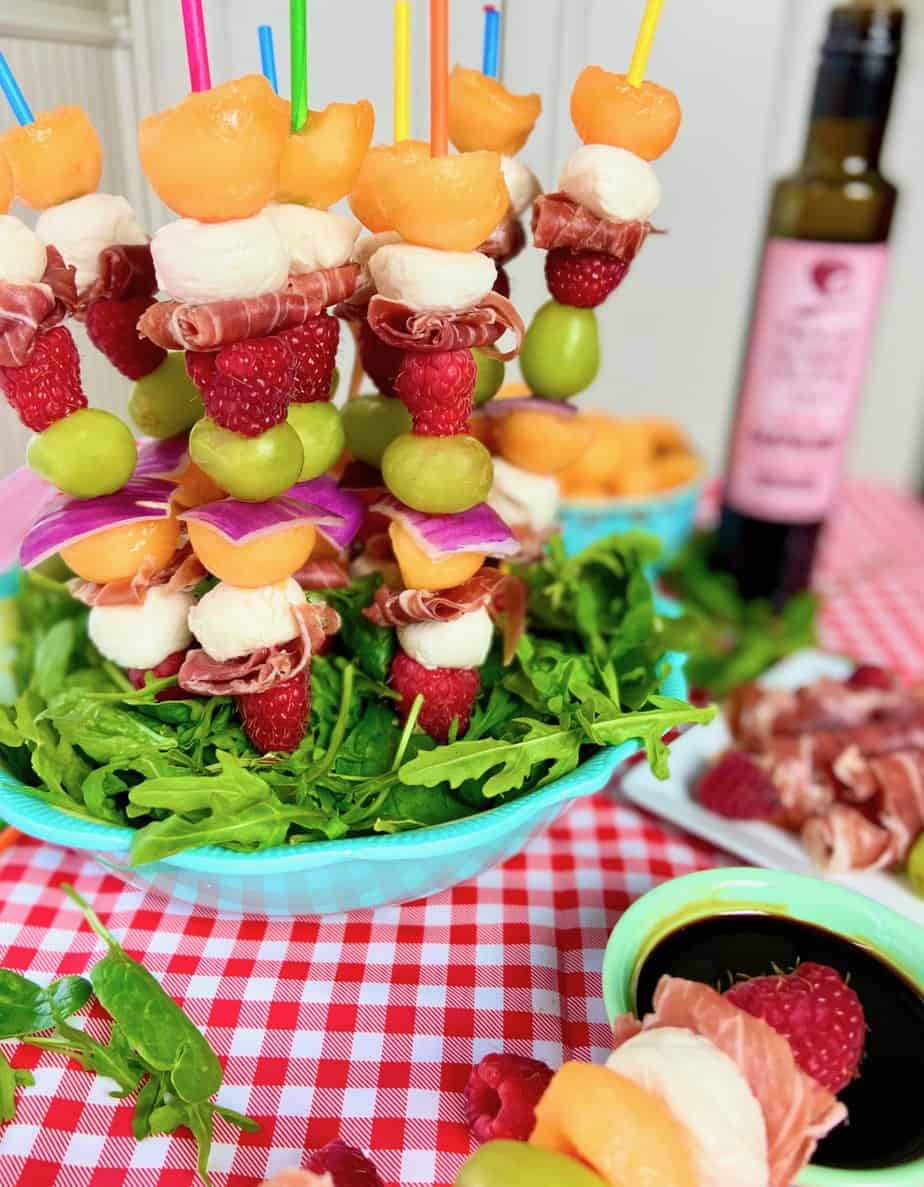 This is a perfect alternative to the traditional melon salad because the skewers turn the salad into the perfect picnic finger food! No utensils necessary!
Why this recipe works
The sweetness from the cantaloupe pairs beautifully with the saltiness of the prosciutto, the creaminess of the cheese and the tanginess of the raspberry balsamic vinegar.
Prep time is minimal for these fruit shish kabobs - cut melon into bite size cubes or use a handy melon baller to make melon balls
Versatile - the key components of a delicious fruit salad are: sweet, salty, savory, herbs and acid-typically in the form of a hint of vinegar
Ingredients
The beauty of this festive fruit kabob is that you can incorporate whatever ingredients you like. Here's the ingredients for this recipe, but scroll down to see variations.
Ripe cantaloupe
Prosciutto
Fresh mozzarella balls-the small ones (Ciliegine) work best for this recipe
Raspberries - fresh red raspberries pair beautifully
Green grapes
Red onion-optional, but the sweet onion gives a nice savory balance to the combination
Fresh basil leaves or arugula- for plating
Raspberry Balsamic Vinegar - I use Texas Hill Country Olive Company brand; it's a dark balsamic vinegar. There are other brands you can use or you can use a white raspberry balsamic vinegar from Grapevine Olive Oil Company
Honey
Salt (optional)
Skewers - you can use long wooden skewers or find pretty decorative ones at your local party store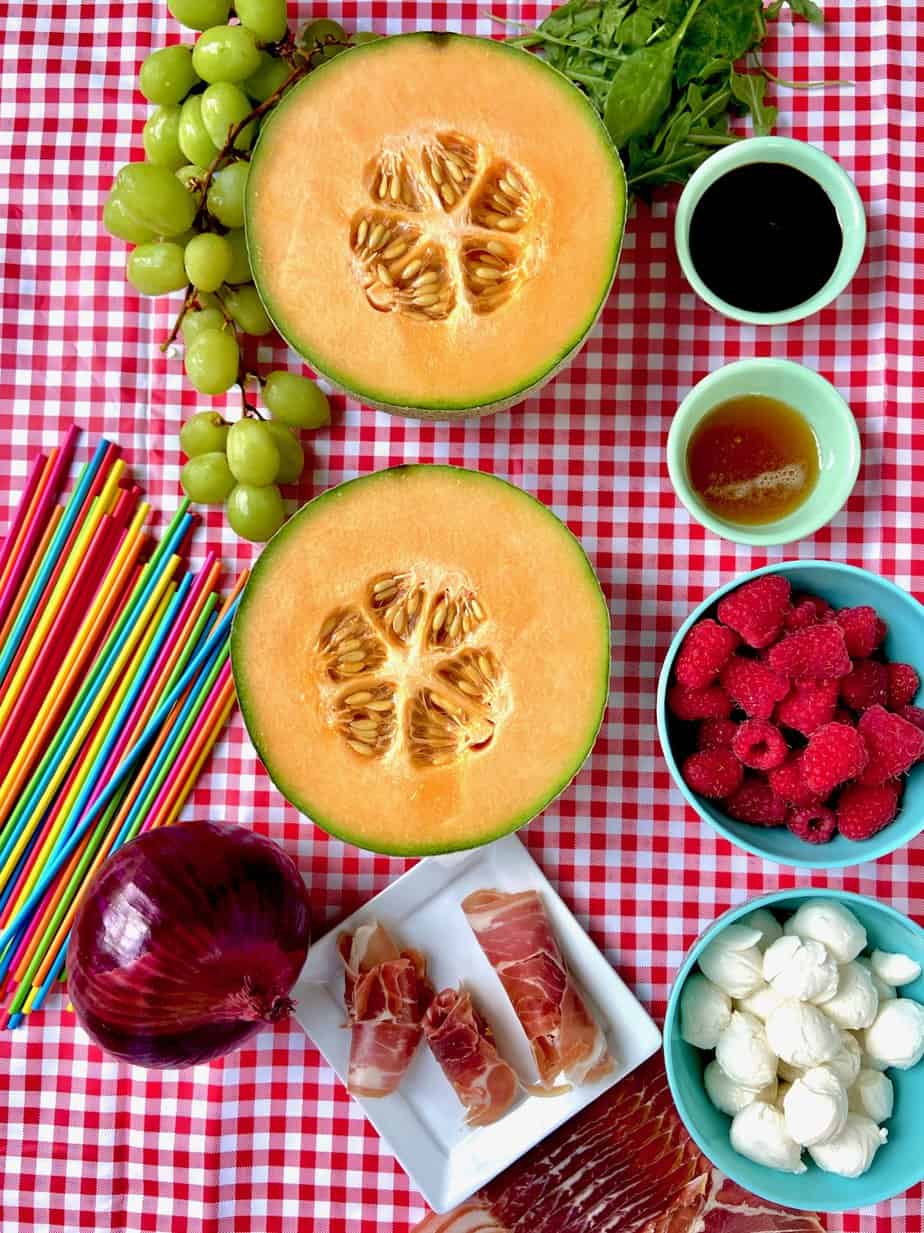 This is a spin off the traditional cantaloupe prosciutto salad you've seen before. The main difference is the skewers turn the fruit salad into sassy party kabobs! And the delicious raspberry honey dipping sauce makes this a great sweet and savory party food!
How to make it
To make these cantaloupe prosciutto fruit kabobs, start by selecting a ripe cantaloupe. Ideally, you want a sweet ripe melon from a local farmer's market, or a sweet Pecos cantaloupe or Sugar Queen cantaloupe, which you can find at roadside fruit stands or sometimes at the grocery store.
Cut the melon in half and remove the seeds.
Cut the orange flesh into bite-sized pieces or use a melon baller and form bite size melon balls. Gently roll each slice of prosciutto into a tube shape and cut into halves or thirds; set aside
Chop red onion into 1"inch bites; rinse and pat dry grapes; drain mozzarella balls from the packaging liquid; set this all aside.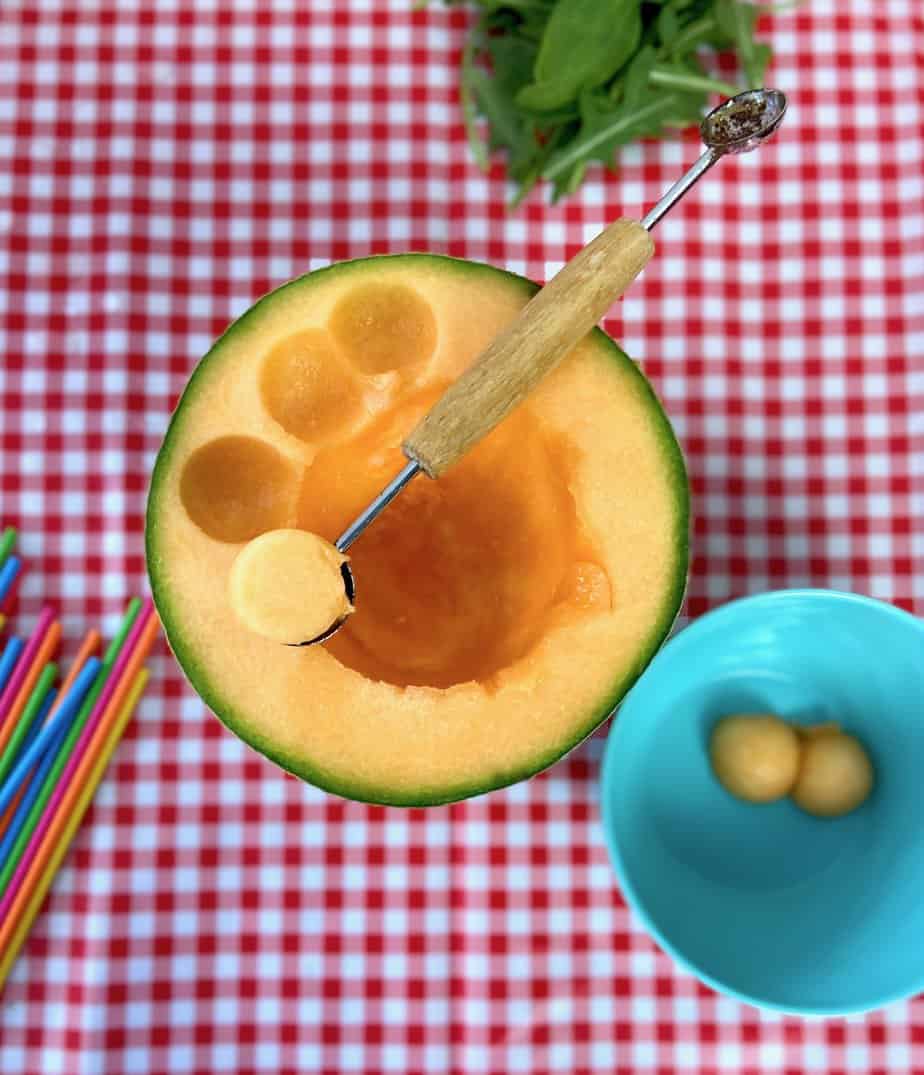 Recipe Tips
If you're using fresh herbs, like fresh basil leaves - do not cut and plate the basil until you're ready to serve the dish. Why? Once the basil leaves hit the air, they turn black.
Make the sauce first
Don't over stuff the skewers. Leave enough space for your guest to hold the skewer
Prosciutto is thin, oily and delicate; do your best to roll it into a tubular shape then use sharp kitchen scissors to cut the tub into ½ or ⅓ pieces
Place a small serving spoon in the dipping sauce bowl so your guests can help themselves
If you don't have skewers, use this recipe for a cantaloupe prosciutto salad
Assembling the fruit kabobs and serving suggestions
For a pretty presentation, you'll want to load the skewers with alternating ingredients: add cantaloupe, prosciutto, cheese, raspberry, onion. Repeat the sequence ending with a fresh red raspberry!
I serve these sweet and savory fruit kabobs on a decorative platter or in a bowl. You can get a little piece of floral foam to put in the bottom of the serving bowl. Place a layer of spinach or arugula over the foam, then stick each fruit kabob into the foam.
Another serving option is to place place a single layer of fresh herbs on a serving platter, position the slightly chilled fruit kabobs in a nice arrangement with the handle part of the skewer on the outside of the platter; place a small to medium bowl of the balsamic dipping sauce in the middle with a small serving spoon.
Fruit Kabob Raspberry Honey Dipping Sauce
The easy sauce for this cantaloupe prosciutto appetizer is absolutely the star of the show in this easy summer recipe! Delicious and super-simple! In a medium mixing bowl, whisk together raspberry balsamic vinegar, honey and a dash of salt (optional).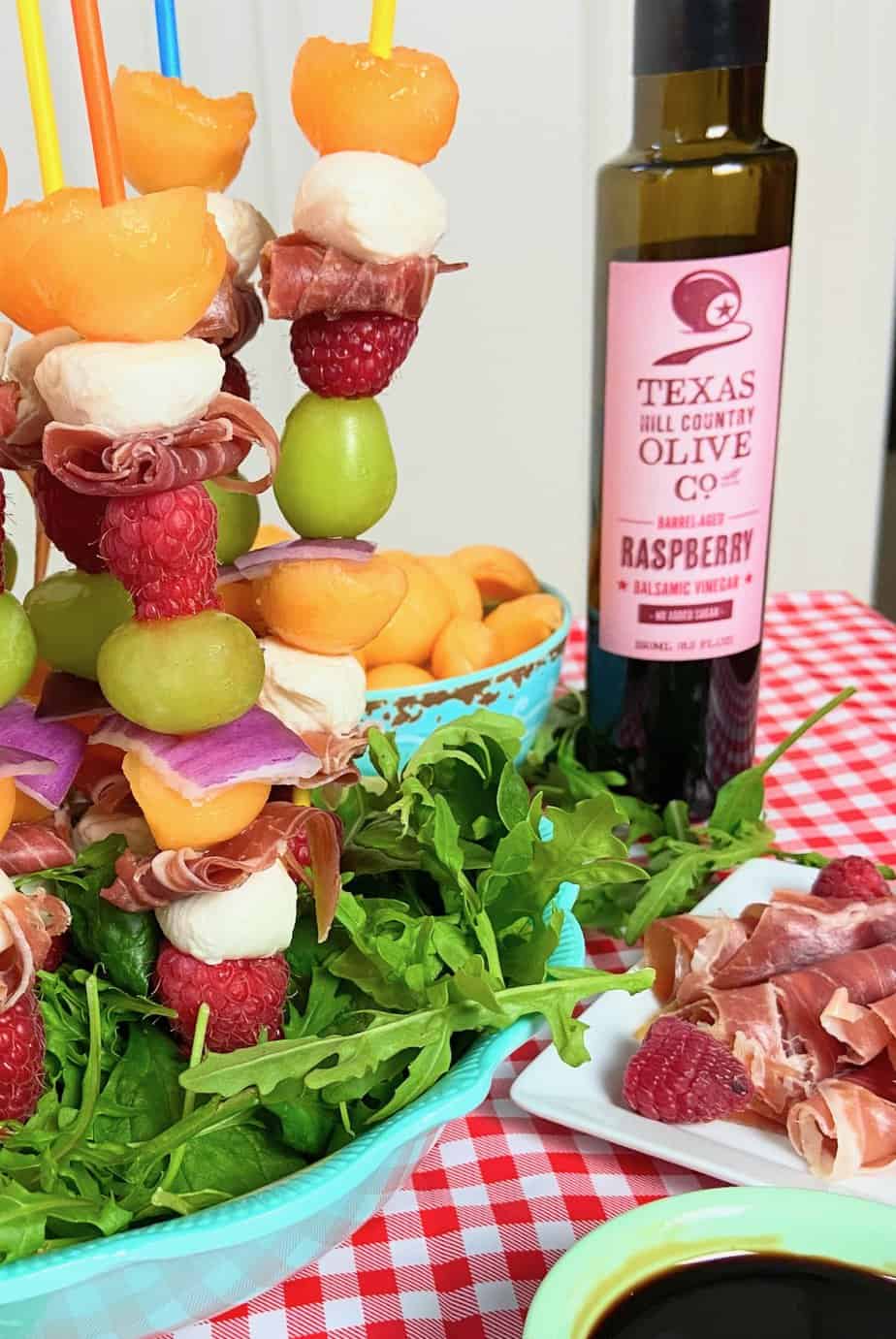 If you prefer not to have the dipping sauce with a spoon, pour it into a squeeze bottle and let your guests drizzle a little of the tangy sauce over their cantaloupe fruit kabob.
Make ahead and storage
For best results, these are best when made on the day of your party or event. You can prep the cantaloupe into bite sized pieces first (which saves a lot of time) and store it in an airtight container for up to 3 days in the refrigerator.
Not only are these fruit kabobs delicious, but they're also healthy and nutritious! Cantaloupe is low in calories and high in vitamins A and C, while the salty prosciutto provides protein and iron.
This recipe is perfect for a light lunch or as a side dish for a summer barbecue. Serve it alongside grilled chicken or fish for a complete meal. It's also a great option for a picnic because it's easy to transport and assemble.
Fruit Shish Kabob Ideas and Variations
You can easily turn these fruit kabobs into your own creation! If you want to get creative with this recipe, there are plenty of variations you can try.
Melon - Substitute the cantaloupe with other melons such as honeydew or watermelon
Cheese - cubed cheddar, smoked cheddar, Gouda or smoked Gouda pair well with the fruit
Vegetable- I use grape tomatoes but you can use sliced cucumber, cherry tomatoes or red bell pepper
Prosciutto - you can substitute with different types of cured meats like pancetta, cooked bacon, diced ham, dried beef jerky or cooked sausage
Herbs-substitute fresh basil with mint, peppery arugula, baby spinach or kale
Dipping sauce - you can use a store bought fruit dip like a poppyseed dressing or combine sour cream and marshmallow cream together for a fabulous sweet dipping sauce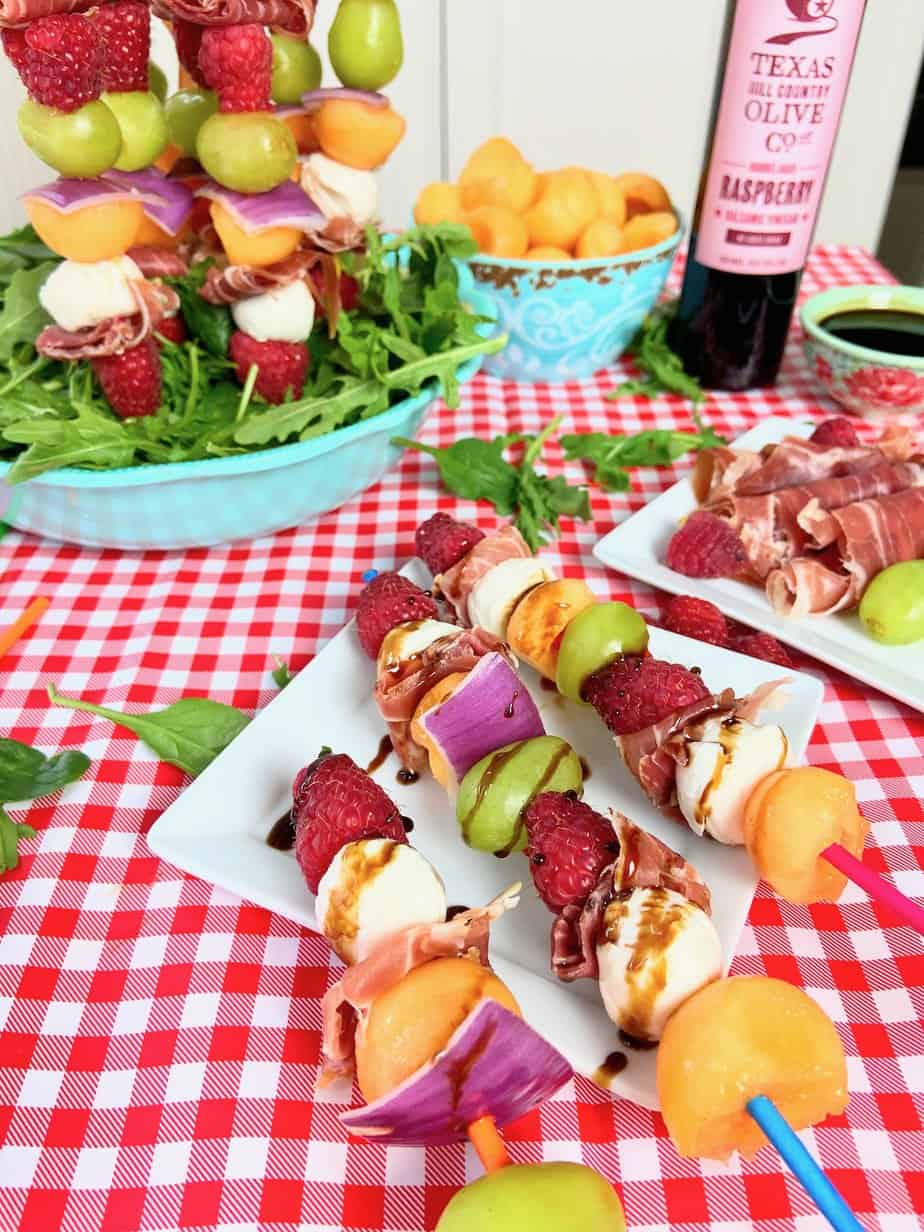 These healthy fruit kabobs are a versatile party food that can be enjoyed all summer long. It's a great way to offer an alternative to the traditional cantaloupe prosciutto salad and add seasonal fresh fruits and vegetables to your party menu, while still indulging in some tasty and satisfying flavors.
Related recipes
📋 Recipe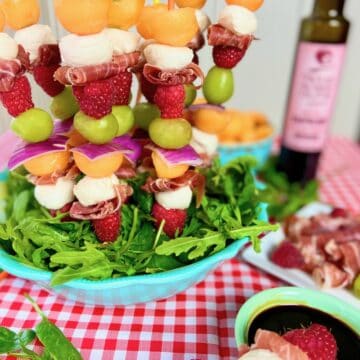 Cantaloupe Prosciutto Fruit Kabobs
Seasonal fruit kabobs with fresh cantaloupe, prosciutto, mozzarella cheese, red onion, raspberries and green grapes with a delicious honey infused raspberry balsamic dipping sauce.
Print
Rate
Equipment
Skewers

Melon baller (optional)
Ingredients
1

large

cantaloupe

1

package

fresh Ciliegine mozzarella balls

See Recipe Notes

8

ounces

prosciutto, thinly sliced

See Recipe Notes

2

cups

green grapes

1

red onion, cut into ¼" inch pieces

1

pint

red raspberries
Dipping Sauce Ingredients
3

tablespoons

red raspberry balsamic vineger

See Recipe Notes

2

tablespoons

honey
Instructions
Mix the sauce ingredients together and set aside

3 tablespoons red raspberry balsamic vineger,

2 tablespoons honey

Drain and pat dry mozarella cheese balls; roll prosciutto into thin tubes or "cigar" shapes and cut into halves or thirds; slice red onion; rinse and dry grapes and berries (See recipe notes about the prosciutto)

1 package fresh Ciliegine mozzarella balls,

8 ounces prosciutto, thinly sliced,

2 cups green grapes,

1 red onion, cut into ¼" inch pieces,

1 pint red raspberries

Cut cantaloupe in half and remove seeds; use a melon baller to form melon balls. If you're using a knife to cut cube sized bites, I recommend removing the rind. Place the melon cut side down. Gently insert knife at an angle and move it down to remove the rind. Then cut the melon into 1"inch bite sized pieces.
Assemble the fruit kabobs
Leave plenty of room for the "handle" on the skewer. Slide a melon ball onto the skewer, then prosciutto, cheese ball, red raspberry, slice of onion. Repeat, ending with a raspberry. (See recipe nots)
Notes
The serving size or yield depends upon how big your cantaloupe is and what size chunks you cut the melon into or, the number of melon balls you get from a cantaloupe.
I got enough medium sized melon balls (enough for 10 skewers) from one large cantaloupe, so you can use this as a gauge.
Ciliegine Mozzarella Balls
These are small mozarella cheese balls (about the size of a cherry or grape tomato) and are packed in liquid; they're usually in the gourmet cheese department or delicatessan area at your grocer.
Dipping Sauce
As written, the dipping sauce yields about ¼ cup; if you're serving a large group, increase the ingredients in the same ratio:
3 tablespoons raspberry vinegar: 2 tablespoons honey
6 tablespoons raspberry vinegar: 4 tablespoons of honey, and so on
Assembling the fruit kabobs
The hardest part about this recipe is fooling with the prosciutto. It's thin, delicate and oily. I remove one slice at a time, roll it up into a cigar shape, and use kitchen scissors to cut it to the size I want.
If it doesn't roll perfectly, don't worry about it; just pinch it together and stick it on the skewer!
Nutrition Estimate
Serving:
1
kabob
Calories:
345
kcal
Carbohydrates:
61
g
Protein:
8
g
Fat:
9
g
Saturated Fat:
3
g
Polyunsaturated Fat:
2
g
Monounsaturated Fat:
4
g
Trans Fat:
0.03
g
Cholesterol:
15
mg
Sodium:
397
mg
Potassium:
257
mg
Fiber:
1
g
Sugar:
56
g
Vitamin A:
2781
IU
Vitamin C:
11
mg
Calcium:
17
mg
Iron:
1
mg