You'll find some version of this baked pineapple bread casserole on just about every Southern dinner table! Sweet pineapple, combined with bread cubes, sugar and baked to a light golden brown.
This simple dish is an easy recipe that goes great as a side dish with spiral ham, turkey or savory barbecue! The sweetness of the pineapple contrasts with the saltiness of the meat resulting in a flavor-match made in heaven!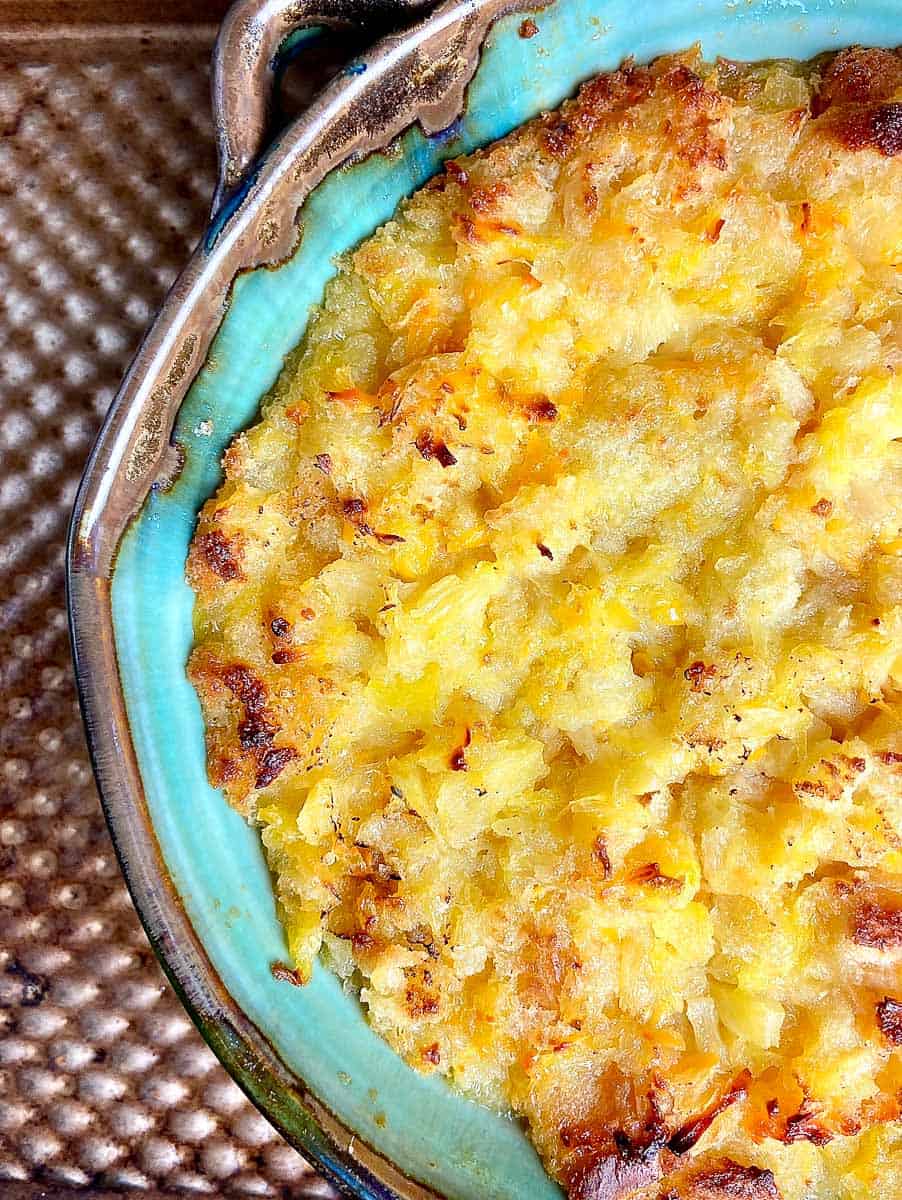 The first time I had this was at Thanksgiving dinner one year when my dear friend brought this --it was a perfect side dish to our turkey dinner and a big hit! It's since become a family favorite for just about every special occasion.
She brought it slightly warm, and when I removed the foil from her serving dish, I was amazed at how beautiful and scrumptious it looked!
Why this recipe works
This Southern pineapple bake is the epitomy of Southern graciousness, after all, the pineapple does represent hospitality!
You'll usually find a baked pineapple bread casserole served as a side to Easter dinner or as a side dish to a holiday dinner because it's a great side dish with a spiral holiday ham and turkey! You'll usually find alongside Southern Cornbread Dressing, English Pea Salad and Homemade Mac n Cheese.
Quick and easy - 5-minutes preparation time
Simple ingredients- nothing fancy; eggs, bread cubes sharp cheddar cheese, canned pineapple and butter
Versatile - serve as a side with Easter of Thanksgiving dinner or as a dessert!
There are many variations of this recipe: some use buttery Ritz crackers, while others use saltine crackers; other pineapple bake recipes use Challah bread or French bread.
This recipe uses canned pineapple and white sliced bread. How simple is that?
Jump to:
What you need to make it
The ingredients are simple: bread slices (I use plain old white bread), butter, eggs, shredded cheese (sharp cheddar cheese), canned crushed pineapple,and white sugar.
The bread does not need to be stale.
You can use pineapple chunks, or cubed pineapple as well. I have never made this with fresh pineapple but I suppose you could.
How to make it
Pineapple Casserole takes no time to prepare and you don't need an electric mixer or stand mixer! Just get a heavy spatula or wooden spoon to mix the ingredients together.
Get the butter out of the fridge and let it soften to room temperature.
​Next, lightly butter a 9 x 13 baking dish. Preheat oven to 350°F.
Tear or cut bread into ½" cubes; drain the pineapple
In a large mixing bowl, cream sugar, butter and lightly beaten eggs. By the way, to "cream" means mash the butter into the eggs and sugar and mix it all up:)
Add bread cubes, drained pineapple (crushed or diced), and shredded cheddar cheese to the butter mixture; Stir together well and scoop it into a prepared baking dish; cover with aluminum foil and bake it in a 350°F preheated oven on the middle rack.
In about 45-50 minutes, the pineapple bake is done. If you want the top of the baked pineapple dish to be crispy, pop it under the broiler for 3 minutes, or until the top is a little bit golden brown.
You can serve this yummy side hot or warm..oh heck... you can even serve it as dessert!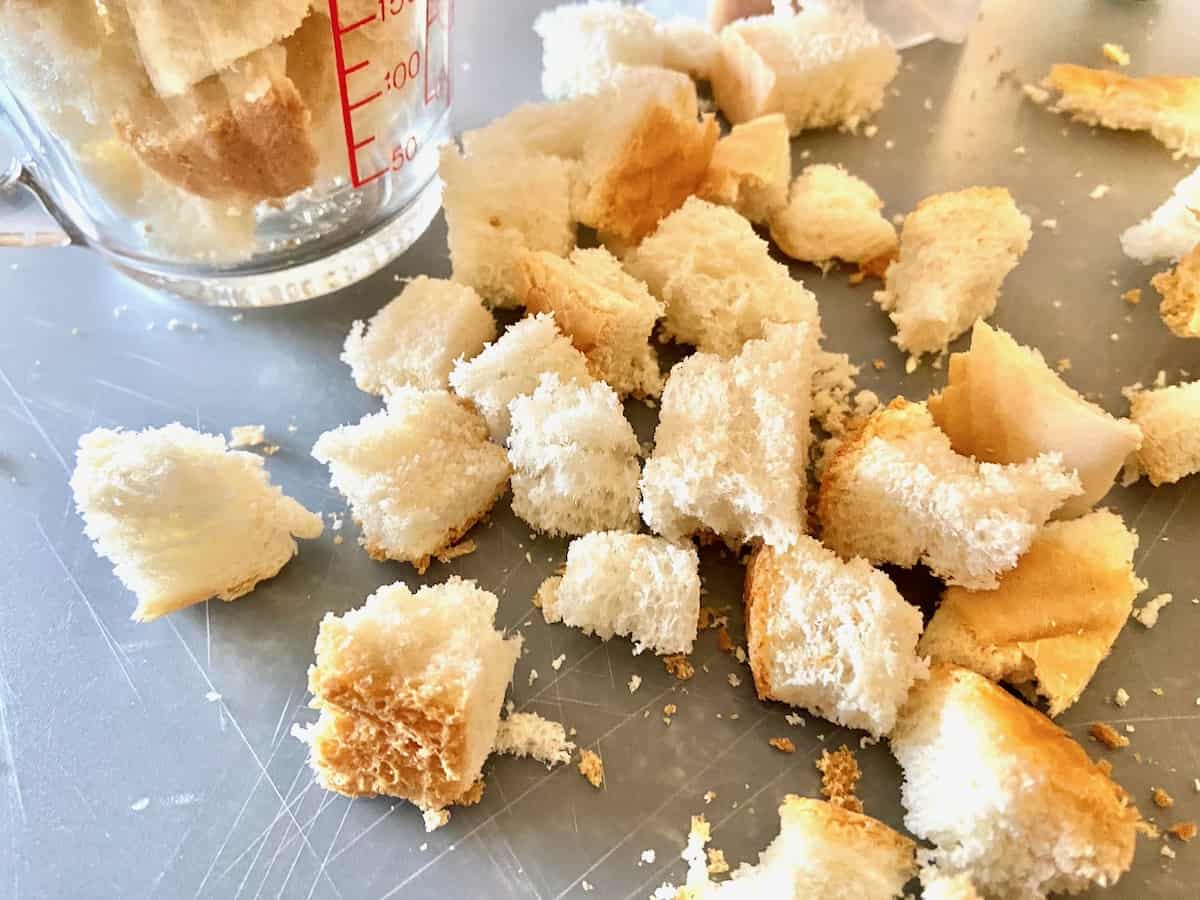 Tear the bread, (or cut it with a sharp knife) into 1" inch cubes; set aside
In a large mixing bowl, cream butter, sugar and eggs. Add bread, drained pineapple and shredded cheese to the sugar mixture; combine well, then scoop into a prepared baking dish. Cover with foil and bake. For detailed recipe tips, see the recipe card below.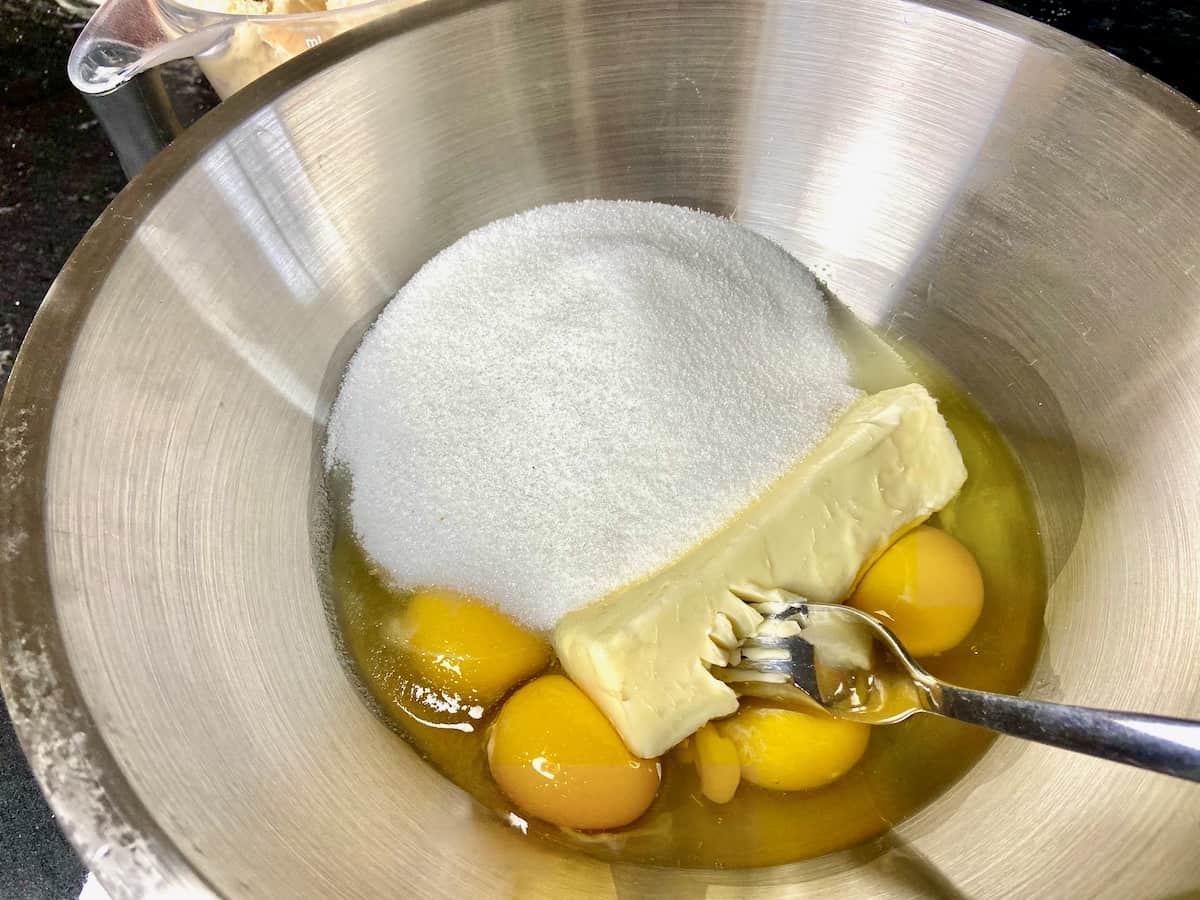 Recipe Tips
A few tips for a successful and pretty baked pineapple casserole
Drain the crushed pineapple well; use crushed or diced pineapple chunks--your call
Don't forget to butter the baking dish
Bread - the bread does not have to be stale; Use fresh sliced bread. Tear or cut bread into ½-inch cubes; include the crust
This recipe works best when baked in a 9 x 13" casserole dish because, a little goes a long way and...everybody wants a bite of the crunchy top. When you put it in a deeper dish, the crunchy topping doesn't go as far.
Bake covered for 40-45 minutes; if you want to brown the top, pop it under the broiler for a few minutes
Let the pineapple bread casserole rest a few minutes before serving
You can safely leave the casserole out at room temperature for up to 2 hours covered with plastic wrap; since it contains eggs, it is not advised to leave it out longer than this or in the heat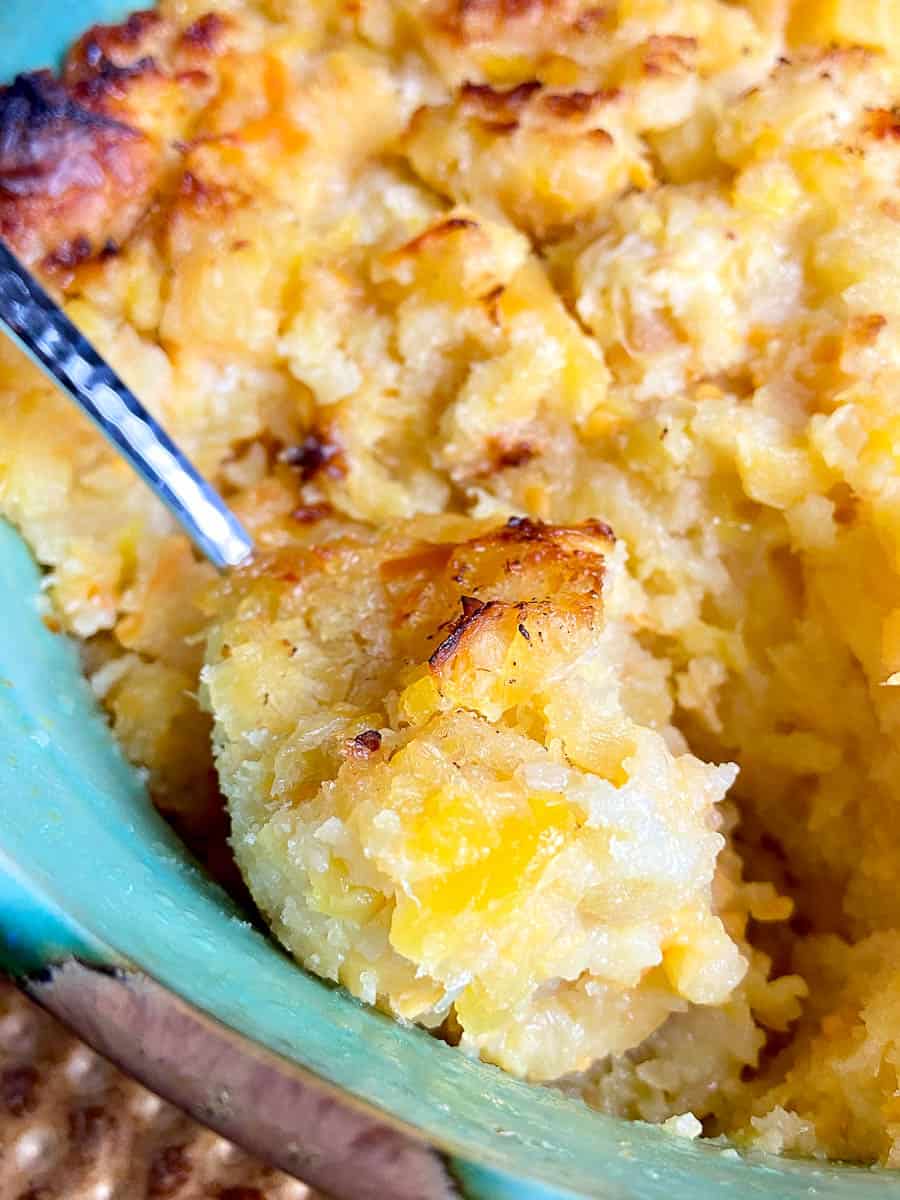 FAQ
What size baking dish do I use?
This recipe works best in a 9 x 13" glass dish, however, I've made it in two 9"inch pie plates and also in an 8 x 3½ round casserole dish.
The 9 x 13 x 2" inch casserole dish works best for serving a large group-the batter fills the rectangular pan up about half-way, so that allows each person to get a scoop of the crunchy top and warm filling.
Who invented the Southern pineapple casserole?
Nobody really knows who invented this sweet Southern Pineapple bread Casserole recipe. Perhaps by the Dole pineapple company?

I can only imagine this baked pineapple bread casserole was developed out of love and compassion by some kind Southerner, perhaps originally as a "funeral" dish or as a potluck or welcoming dessert. Afterall, the pineapple is a symbol of Southern hospitality.
Make ahead instructions
Make and bake the pineapple cheese casserole ahead of time. Refrigerate up to three days. If reheating from the freezer, allow to come to room temperature before reheating.
If you want a crusty brown top, pop the casserole under the broiler for a few minutes after you've baked it.
Reheating and storage
Reheat the entire pineapple casserole covered at 350ºF for 20-25 minutes (until center is warm.) Store leftovers in an airtight container in the refrigerator for up to three days.
Freezing is not recommended due to the eggs-the texture of the pineapple bread casserole changes if you freeze it and it isn't as good as fresh.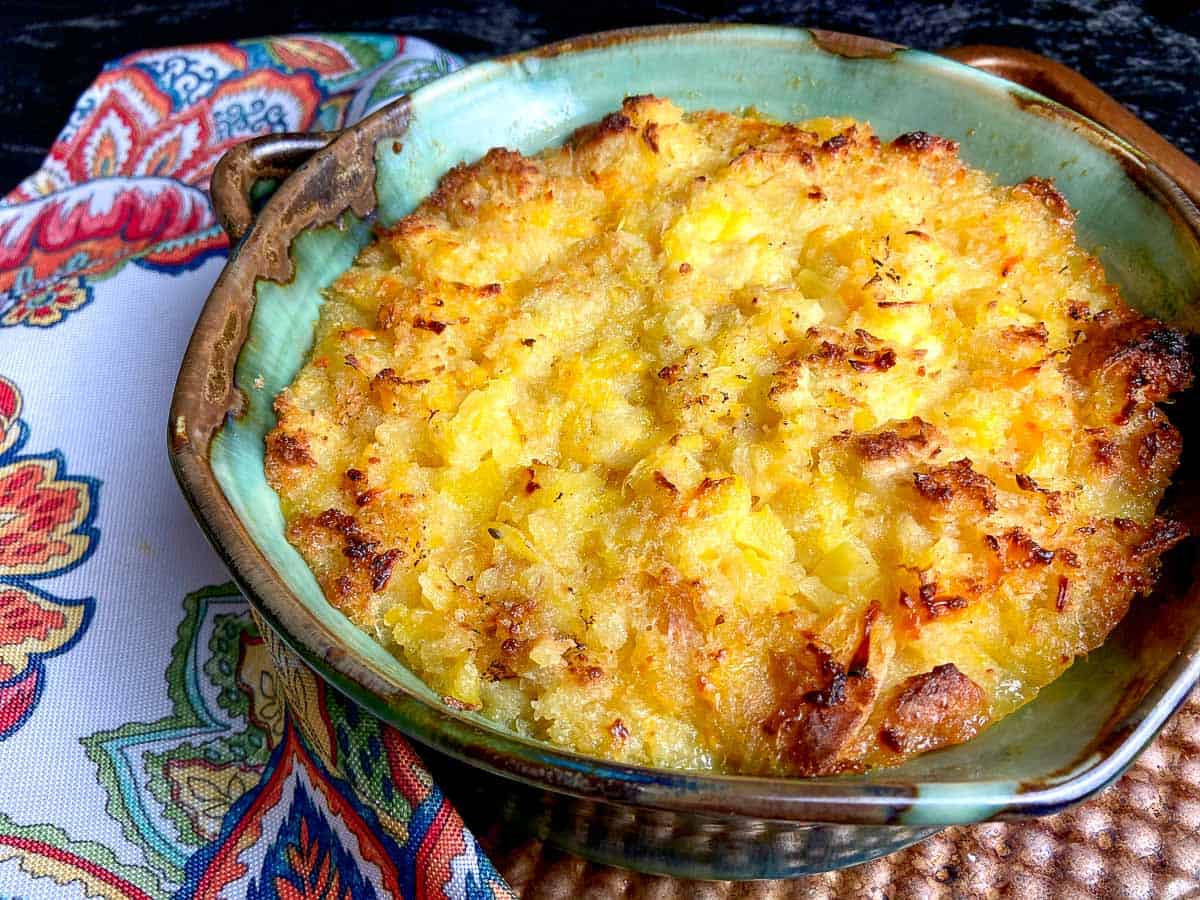 Serve this baked pineapple bread casserole with your favorite BBQ, spiral ham or smoked turkey!
Related recipes
📋 Recipe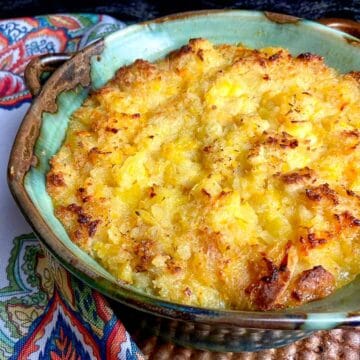 Baked Pineapple Bread Casserole
Southern vintage recipe that features pineapple in a savory, sweet combination with sharp cheddar cheese
Print
Rate
Ingredients
40

ounces

Crushed Pineapple

, drained

1

stick

Butter

, unsalted; room temperature

4

whole

Eggs, lightly beaten

, large

2

cups

Cheddar cheese

, shredded

2

cups

Sugar

, granulated

4

cups

Bread

,torn into ½" pieces; See Recipe Notes
Instructions
Preheat oven to 350 degrees

Lightly oil baking dish with a little butter and drain pineapple; set aside

In a large bowl, combine butter, sugar and eggs and cream together until well blended

1 stick Butter,

2 cups Sugar,

4 whole Eggs, lightly beaten

Add torn bread, pineapple and cheese to butter mixture

40 ounces Crushed Pineapple,

4 cups Bread,

2 cups Cheddar cheese

Pour mixture into lightly greased baking dish

Cover with foil and bake for 40-50 minutes @ 350ºF

Remove and let rest for 15 minutes before serving (See Recipe Notes for Crunchy Topping)
Notes
Bread:
Use plain white bread; I include the crust, but you don't have to (this is about 8 slices of normal white bread)
The bread doesn't have to be stale
Press the bread gently into the measuring cup
Crunchy topping:
If you want a crunchy top, after casserole is cooked thoroughly, place baking dish back into oven under the Broiler for about 2-3 minutes
Yield:
This recipe yields about 4 cups total. Most large serving spoons are about ½ cup, so you can estimate that you'd get about 8 ½-cup servings.
If you're serving this to a large group, either double the recipe or, use a smaller serving spoon
Nutrition Estimate
Serving:
1
serving
Calories:
916
kcal
Carbohydrates:
131
g
Protein:
20
g
Fat:
37
g
Saturated Fat:
22
g
Trans Fat:
1
g
Cholesterol:
93
mg
Sodium:
995
mg
Potassium:
427
mg
Fiber:
7
g
Sugar:
77
g
Vitamin A:
1068
IU
Vitamin C:
14
mg
Calcium:
397
mg
Iron:
5
mg