If you've ever been on a road trip through The Lone Star State, you know there are certain things you must have in order to travel like a true Texan.
This native Texan needs a package of sunflower seeds and Dairy Queen Steak Fingers with white cream gravy.
Just about every small town in Texas has a local Dairy Queen restaurant located in or right outside of town. This Dairy Queen Steak Fingers recipe is about as close as it gets to their country steak finger basket and cream gravy.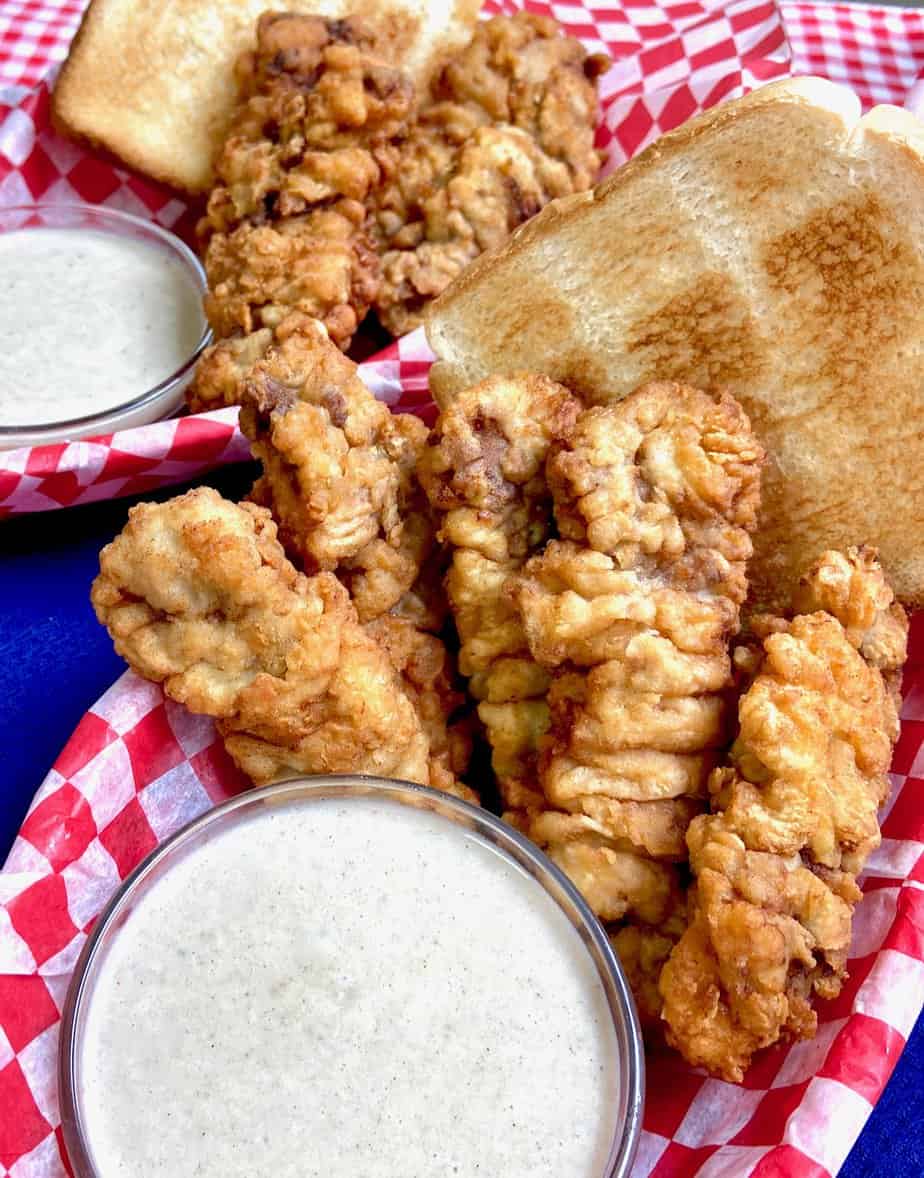 They're made with simple ingredients and, in fact, this recipe is so close to the real thing, you might have to go sit in the car to enjoy it!
What is a steak finger?
Basically, it's sliced cube steak that is sliced into strips, breaded and deep fried to a golden brown- kinda like a chicken fried steak, but only in beef strips.
Some folks use sirloin strips, but I highly doubt that Dairy Queen steak fingers are sirloin...sirloin strips are more tender, but most of the time we just use texturized cube steak.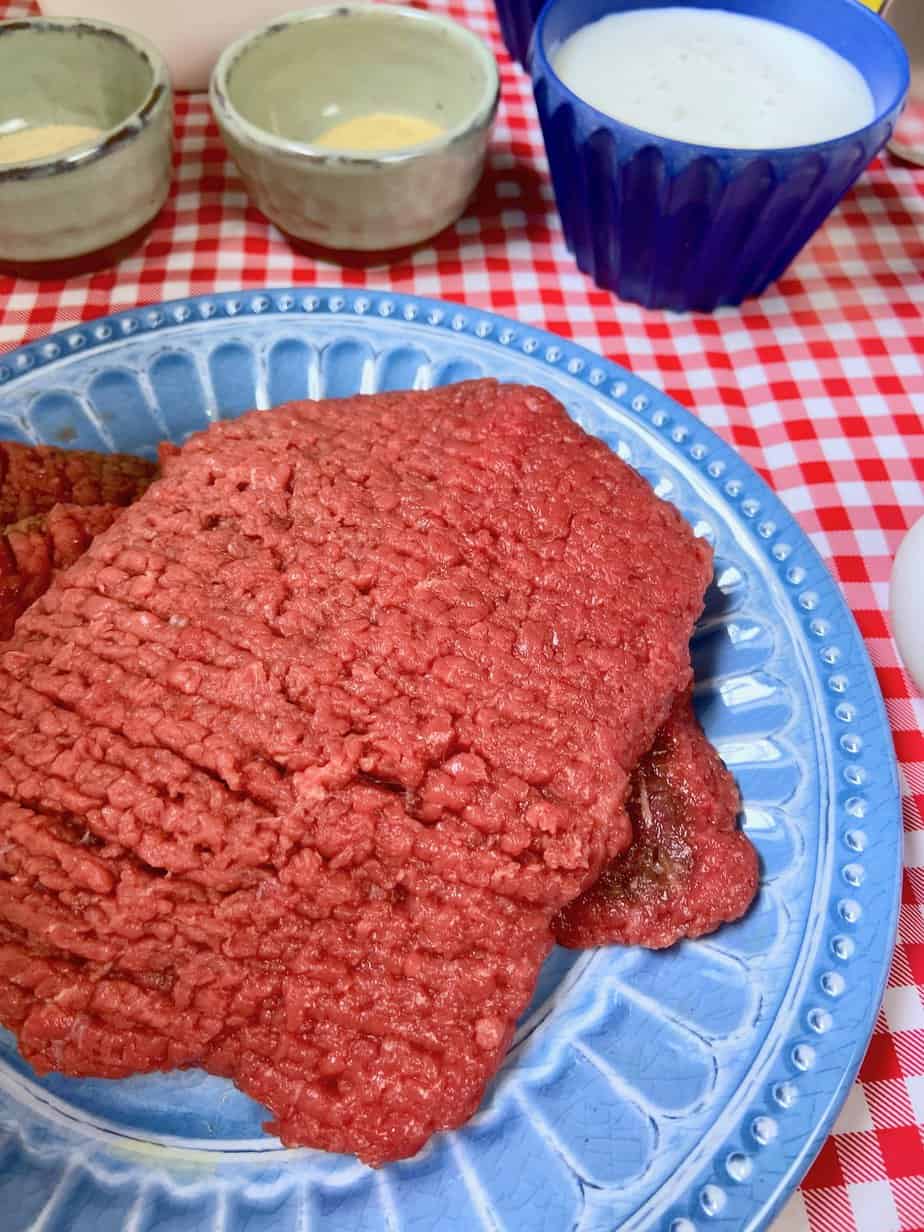 Dairy Queen is known for their steak finger country basket that comes with a big piece of Texas toast, cream white gravy (some call it country gravy) and a heaping portion of french fries. (They're also known for their dipped cone Dilly bars, but that's a different story:)
I guess the founders of Dairy Queen wondered how to serve chicken fried steak to travelers, so they cut the steak into strips which are manageable while driving in the car. I bet you money these are probably one of their most popular travelin' menu items!
Even though Dairy Queen restaurants weren't founded in Texas, each of the DQ restaurants in Texas is managed by The Texas Dairy Queen Operators' Council. Those kind folks ensure that every order is the same across the state.
Consistency in the quality of steak fingers is a good thing, especially if you're making the drive from Brownsville to Amarillo!
Here's what you'll need to make Dairy Queen Steak Fingers
The ingredients are simple and this one-pan dinner is ready in minutes!
Cubed steak - these homemade steak fingers are best if you get a textured round steak from the meat department and cut it into strips
Buttermilk - round steak is typically tough, so this serves as a meat tenderizer
Frying oil - vegetable oil or canola oil work best due to the high frying temperature
All-purpose flour
Cornstarch
Baking powder
Eggs
Garlic powder
Onion powder
Salt
Black pepper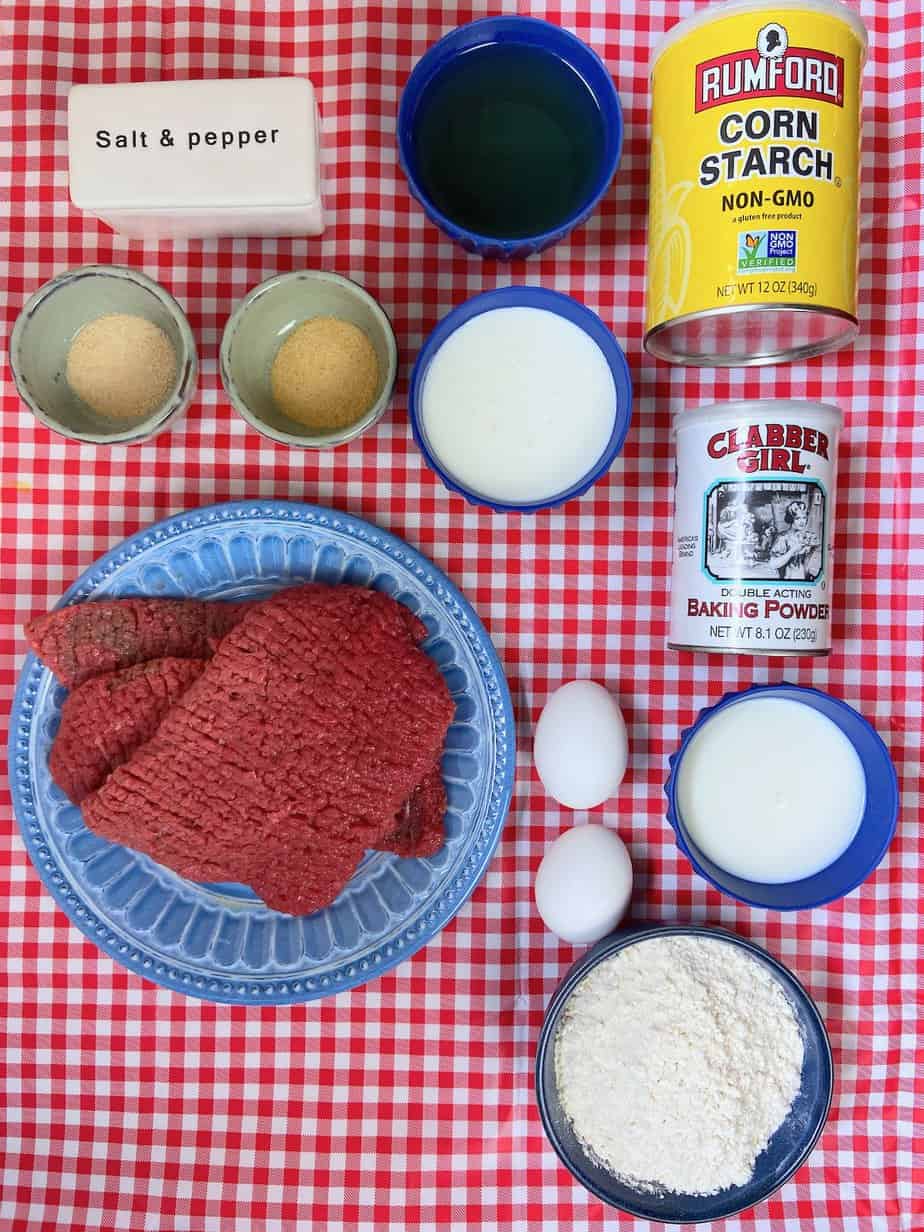 Cream Gravy Ingredients (for dipping)
Of course you're gonna need something to dip these classic steak fingers in so I've included a recipe to make the best cream gravy possible. For the gravy, you'll need some of the pan renderings from the cooked strips of beef.
​All-purpose flour
Milk - you can use heavy cream if you like, but milk works just fine
Salt
Black pepper
How to make steak fingers
We don't eat a lot of fast food meals, so this homemade Dairy Queen steak finger recipe is a rare treat and a quite good "copycat recipe" of what you get at any Texas Dairy Queens when you order a steak finger basket.
First, slice the cubed round steak into strips about 1" inch wide and 3"inches long. Then soak them in buttermilk. While they're soaking, set up an assembly line: one flat plate for the seasoned flour mixture and a second shallow plate with the lightly beaten eggs and a little more buttermilk.
In a large cast iron skillet, add the frying oil and bring it to medium high-heat. Next, add enough oil to fill the skillet up at least halfway with the oil (to mimic a deep fryer) so meat can deep fry in the hot oil. It looks like a lot of oil, and it is, but the steak strips should be completely covered in the oil so you don't have to flip them.
Once the oil is good and hot, start to dredge the beef strips. Remove them from the buttermilk - don't pat them dry, just shake off any excess liquid and start to bread them. The first dredge is in the flour mixture, then you coat them in the lightly beaten eggs, and do one last dredge back through the seasoned flour. Some call this "the Texas Two Step" - either way, the double coating of the flour mixture is what matters.
Place the breaded beef strips in a single layer in the hot oil and cook them about 4-6 minutes. (If your oil doesn't completely cover the steak fingers, you'll have to flip them and cook 'em a little while longer.)
Once the Dairy Queen copycat steak fingers have reached an internal temperature of 145°F, remove them and place them on a wire rack. (If you put them on a paper towel-lined plate, they get soggy.)
How to make the white cream gravy
You can watch a video of me making cream gravy, or follow these easy instructions.
Strain the cooking oil and reserve a cup of oil; add it back to the cast iron skillet on medium heat, and sprinkle in a cup of all-purpose white flour
Use a wooden spoon and stir that around for about 2 minutes - it will be clumpy and that's okay. The whole point is to cook the flour so it doesn't taste raw in the country gravy.
Turn the heat to low or medium-low heat and gradually add in the milk, constantly whisking with a wire whisk.
Keep whisking and adding milk until the cream gravy gets to the right consistency for dipping. Season with salt and fresh ground black pepper to your liking.
Recipe tips
Read the recipe notes first-the notes are at the end of the recipe card below
Make sure you have a heavy-bottom skillet (cast iron, preferably)
Use vegetable oil or canola oil - not olive oil. It can't take the high cooking temperature.
Put enough oil in the pan to completely cover the steak fingers (or you'll have to flip them)
The frying oil at restaurants is 350°F; I find that too scary to do at home, so I shoot for 315-325°F
Use an accurate meat thermometer to determine doneness. The fingers are done when the thickest part reaches 145°F
Drain on a wire rack; paper towels will make the bottom soggy
If you're making two or more batches, you might want to refreshen the frying oil after the second batch because everytime you fry a batch, they get darker and darker
When you make the gravy, don't freak out at first when the oil and flour are clumpy (the oil and flour mixture forms what is known as a roux)
Gradually add room temperature milk in ½ cup increments to the roux and use a wire whisk to get rid of any lumps
Storage and reheating
Store steak fingers and cream gravy separately, each in an airtight container. For best results, wrap the meat in aluminum foil. When it's time to reheat, turn the oven to 300°F, place the foil covered strips on a baking sheet and back 15-20 minutes, or until they're warm throughout.
To reheat the gravy, it's best to do this in a saucepan on the stovetop instead of the microwave. Pour the leftover cream gravy into the saucepan on medium low heat; the gravy will naturally thicken upon refrigeration, so you may need to add a little milk or water to thin it.
FAQ
What kind of meat is a steak finger?
In the South, you'll find most steak fingers made from tenderized cubed round steak. Some folks use sirloin strips for their steak fingers.
Are chicken fingers the same as chicken fried steak?
Yep. The strips are nice because you can eat them in the car while you're on a road trip:)
More Southern recipes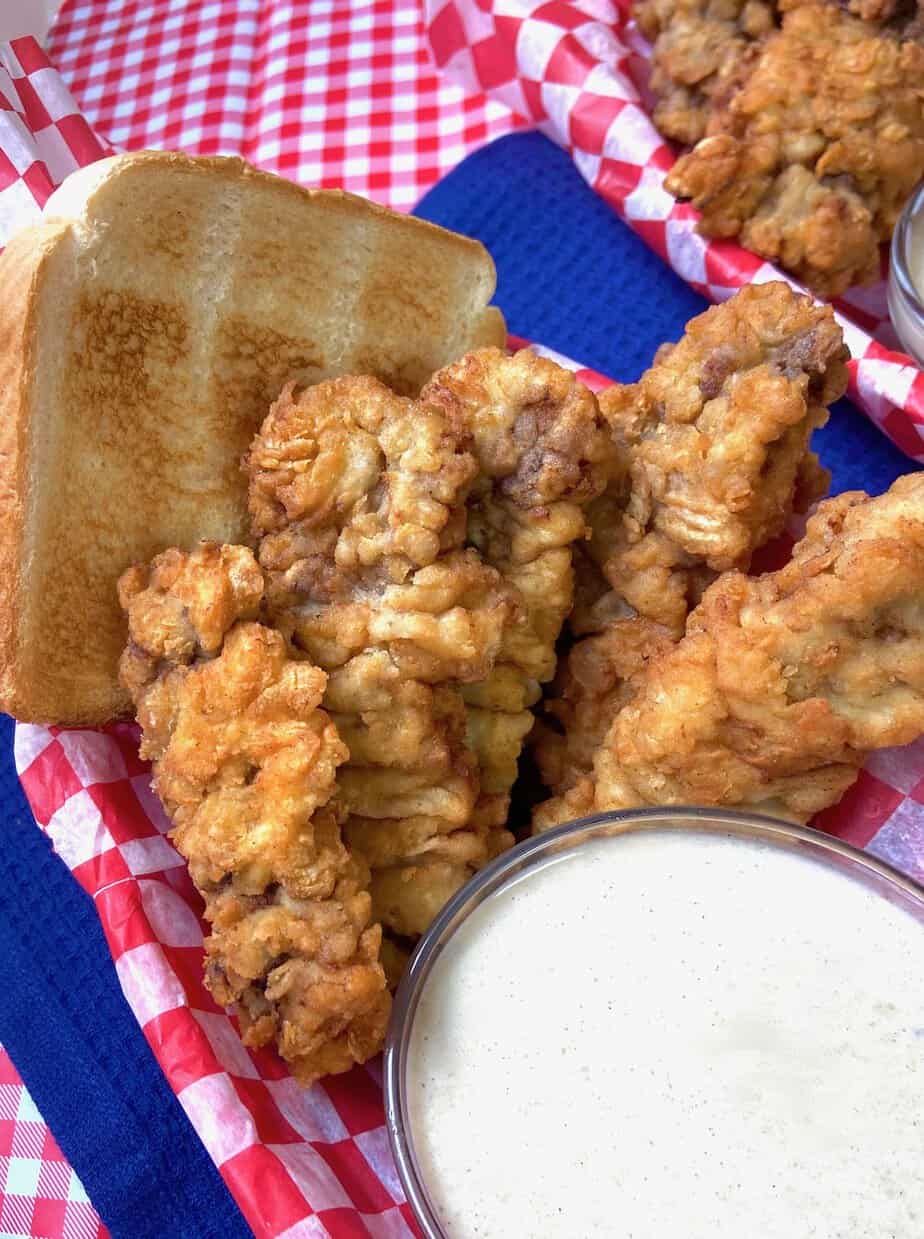 📋 Recipe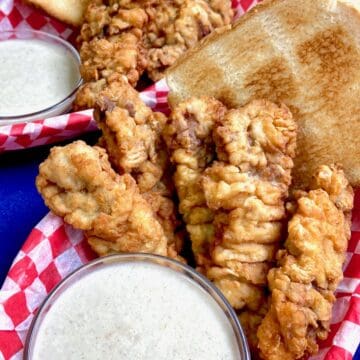 Dairy Queen Steak Fingers Recipe
No need to drive-through DQ, make their famous steak fingers in your own kitchen! Seasoned tenderized beef, deep fried to golden brown and served with cream gravy.
Print
Rate
Equipment
Cast iron skillet

Accurate meat thermometer

Wooden spoon

Wire whisk

Tongs

Wire rack for cooling
Ingredients
Steak Finger Ingredients
4

tenderized, cubed round steaks (about 5 ounces each)

, cut into 1"inch slices (See Recipe Notes: Yield)

2¼

cups

buttermilk

2 cups for soaking the strips; ¼ cup for the egg mixture

2

cups+

frying oil (vegetable or canola - NOT olive oil)

See Recipe Notes: Oil

2

cups

all-purpose flour

2

tablespoons

cornstarch

1

tablespoon

baking powder

2

teaspoons

onion powder

1

teaspoon

garlic powder

1½

teaspoons

salt

1½

teaspoons

black pepper
Cream Gravy Ingredients (this makes 1 cup of gravy so you might need to double the recipe)
¼

cup

reserved oil from steak fingers

¼

cup

all-purpose flour

1½

cups

milk

, 2% or whole

salt and pepper

, to taste
Instructions
Steak Finger Recipe
(If you plan on making cream gravy, take the milk out of the fridge now and let it get to room temperature-cold milk will cause your gravy to be lumpy)

Slice the cube steaks into 1"inch strips and place in a flat casserole dish; pour buttermilk over strips and coat them well; let that sit for at least 15 minutes

4 tenderized, cubed round steaks (about 5 ounces each),

2¼ cups buttermilk

In a large mixing bowl, combine flour, cornstarch, baking powder, onion powder, garlic powder, salt and pepper; stir and set aside

2 cups all-purpose flour,

2 tablespoons cornstarch,

1 tablespoon baking powder,

2 teaspoons onion powder,

1 teaspoon garlic powder,

1½ teaspoons salt,

1½ teaspoons black pepper

In a second casserole dish (or pie plate), add the eggs and ¼ cup buttermilk; use a fork and lightly beat the eggs and combine them with the buttermilk

Turn stove to medium high heat and add oil; monitor the heat of the oil; you want it to be around 325-350°F; Use a meat thermometer if you have one. See Recipe Notes: Oil

2 cups+ frying oil (vegetable or canola - NOT olive oil)

Remove a strip of meat from the buttermilk and dredge it through the flour mixture; then dredge it through the egg mixture, and give it a final dredge in the flour mixture again. Flour, Egg, Flour. Repeat until all strips are coated.

Test the oil temperature with a meat thermometer to make sure it's hot enough or, test the oil by flicking a little flour in it; if it sizzles, the oil is hot; if it doesn't sizzle, wait a few minutes and test again or turn the heat up a little

Gently place the breaded steak fingers into the hot oil in a single layer; cook 3-5 minutes until the internal temperature is 145°F and the exterior is golden brown; transfer to wire rack
Cream Gravy Recipe
Strain the frying oil into a glass bowl and wipe out hot skillet with a sturdy dishtowel or a bunch of paper towels; add oil back to the cast iron skillet; turn heat to low (See Recipe Notes)

¼ cup reserved oil from steak fingers

Sprinkle in flour and stir for about 2-3 minutes on low to medium-low heat; flour thickens at a low heat so don't turn the heat up too high or it won't thicken up

Gradually begin to add milk in ½ cup increments while constantly whisking with a wire whisk; keep adding milk and whisking until it gets to the consistency you like; season to taste with salt and pepper

1½ cups milk,

salt and pepper
Notes
Yield
Each texturized cube steak is about 5 ounces and when you cut it, you'll get about 4-5 steak fingers per piece of meat. I roughly allow about one steak per person,(that's 4-5 slices per person), but if you've got big eaters, men or no side dishes to go with it, I'd allow 1 ½ steaks per person just to be safe.
Oil
Do not use olive oil; it can't tolerate the high heat. The amount of oil depends upon the size of your skillet and how many steak fingers you're frying.
I use a 10"inch skillet with 2 cups of oil. You want enough oil to completely cover the breaded steak fingers, so fill the skillet up about ¾ of the way with oil.
Flour mixture
Start with two cups of flour; that should be enough to coat 3 large steaks. If you're making this for a crowd, double the flour mixture ingredients (flour, cornstarch, baking powder, onion powder, garlic powder salt and pepper) and increase the eggs to 3 or 4.
Adding oil back to the skillet
First - BE CAREFUL. That skillet is hot and so is that oil. Strain the frying oil through a fine mesh strainer. Wipe out the skillet using tongs and a bunch of paper towel or an old rag, then add a little of the strained oil back to the skillet for your gravy.
Nutrition Estimate
Serving:
16
steak fingers
Calories:
356
kcal
Carbohydrates:
18
g
Protein:
4
g
Fat:
31
g
Saturated Fat:
5
g
Polyunsaturated Fat:
17
g
Monounsaturated Fat:
7
g
Trans Fat:
0.2
g
Cholesterol:
3
mg
Sodium:
359
mg
Potassium:
109
mg
Fiber:
1
g
Sugar:
3
g
Vitamin A:
39
IU
Vitamin C:
0.4
mg
Calcium:
115
mg
Iron:
1
mg