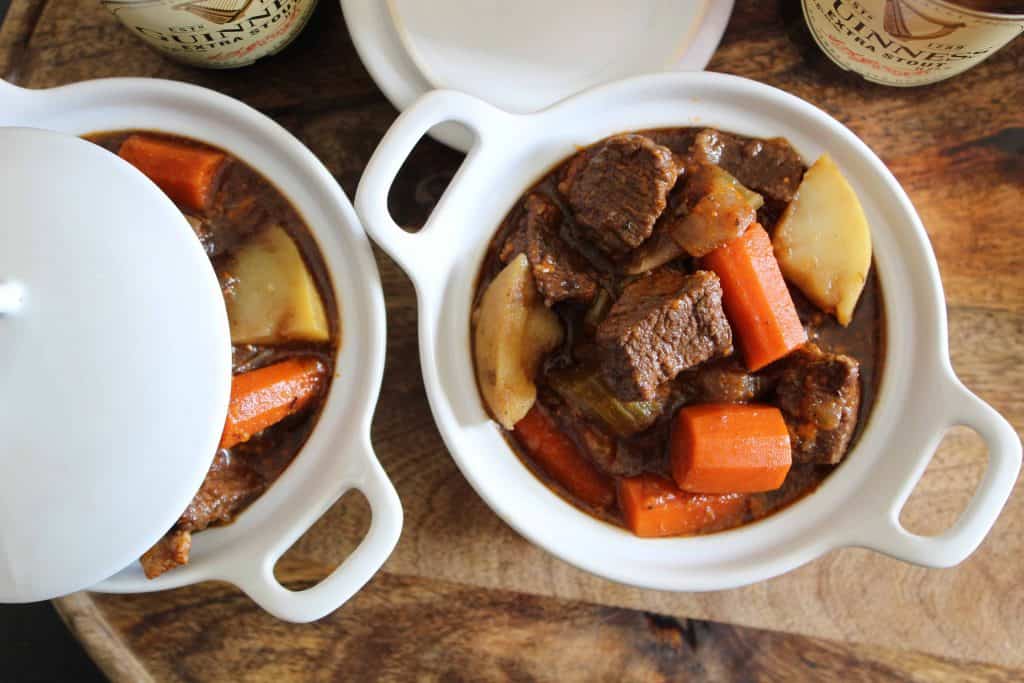 Irish-American Guinness Stew
Irish-American Guinness Stew is tender bites of beef nestled in a savory Guinness Stout broth with onions, potatoes and carrots. Not only is it hearty, filling and delicious, but it can be made on the stove in one big stock pot, or in the slow cooker.

Back in the day, traditional Irish stew, or "Stobhach," was made with mutton, onions, potatoes and water. The dish was considered peasant food because the Irish had to live off the land–farmers grew root vegetables (parsnips, carrots, onions and potatoes) and raised sheep for milk and cheese, warmth (from the sheering and sheepskin) and ultimately for food. Beef was not an ingredient in this working man's dish because it was expensive and consumed exclusively by the upper classes.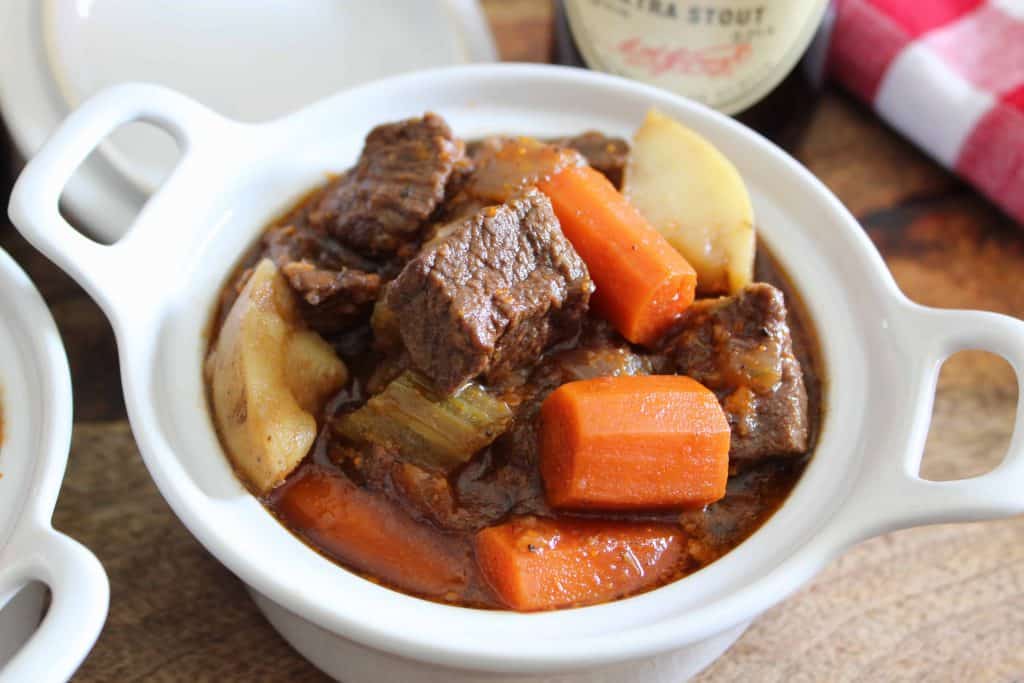 History notes in the earliest recipes for Irish Stew, all the ingredients are cooked in a large pot, or cauldron, with water and cooked over an open fire for many hours.
This Irish-American Guinness Stew recipe features beef, instead of mutton, onions, potatoes, celery and carrots…the inclusion of carrots in a so-called Irish stew is quite controversial, but they are included in this recipe to provide additional nutrients and color.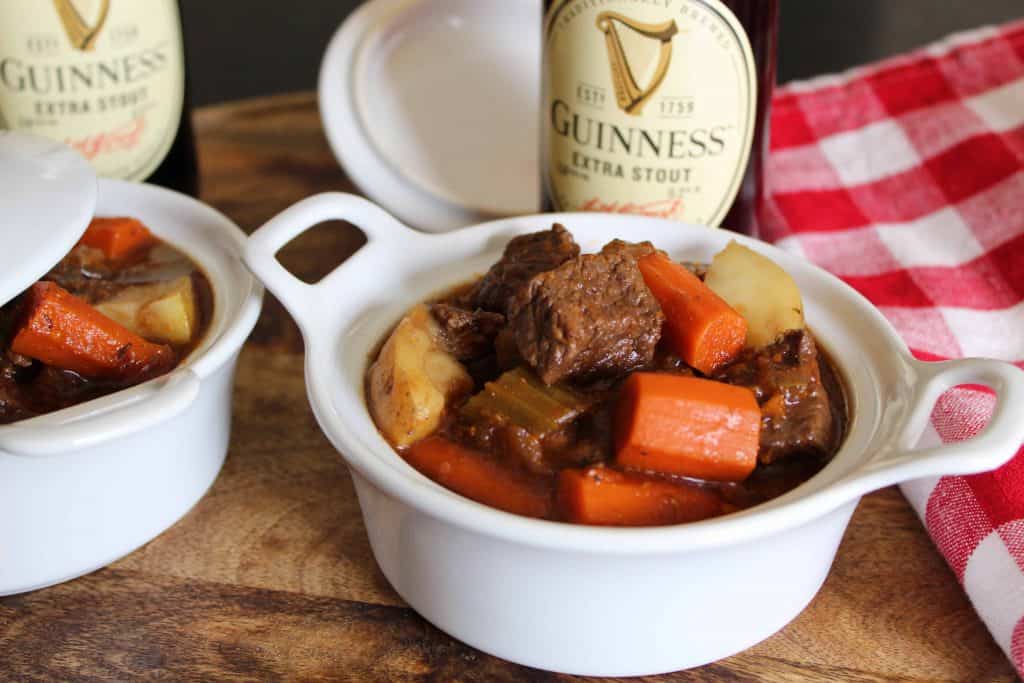 Can I Make Irish-American Guinness Stew in a Slow-Cooker or Crock Pot?
Yes, If you want to make this stew recipw in a slow-cooker, simply cook the bacon and sear the beef first, then put everything else into the crock pot. You may need to add a little more water or beef stock. Cook on low 5-6 hours.
What Cut of Meat Do I Use?
It is not necessary to use more expensive, tender cuts such as sirloin. This recipe calls for cubed chuck roast; however, you can substitute round or top steak because the meat becomes very tender during the cooking process.
Can I Make Irish Stew Without Alcohol?
The Guinness Stout lager (which consists of barley, roasted malt extract and hops) is what truly makes the seasoning so spectacular ; however, if you cannot use Guinness, try a very strong beef stock or add a bit of espresso to the stew. Keep in mind that boiling does not cook off all of the alcohol; about 2% remains, so if you're cooking for someone who is intolerant of alcohol, use a cup of espresso, strong beef stock or mushroom broth.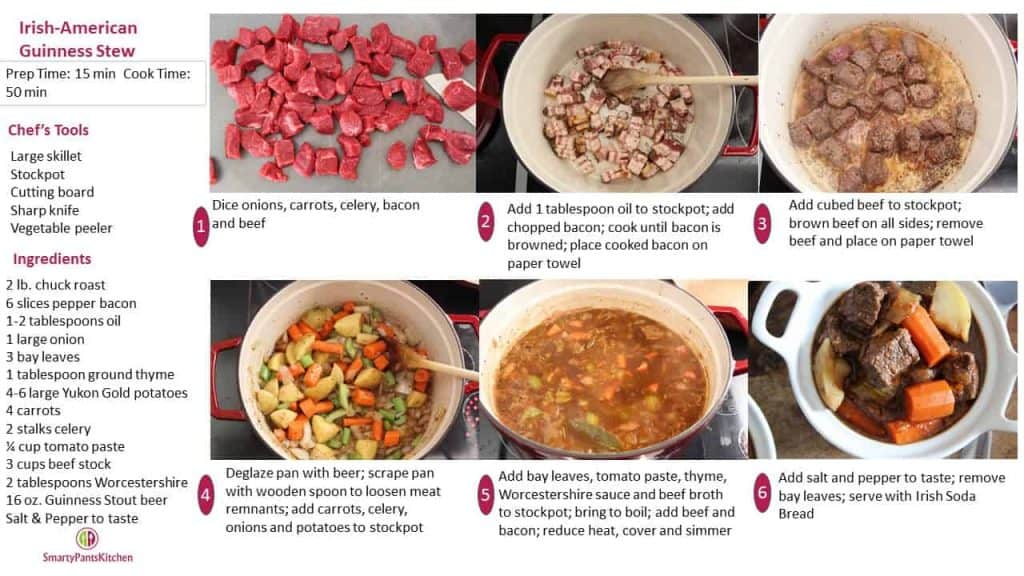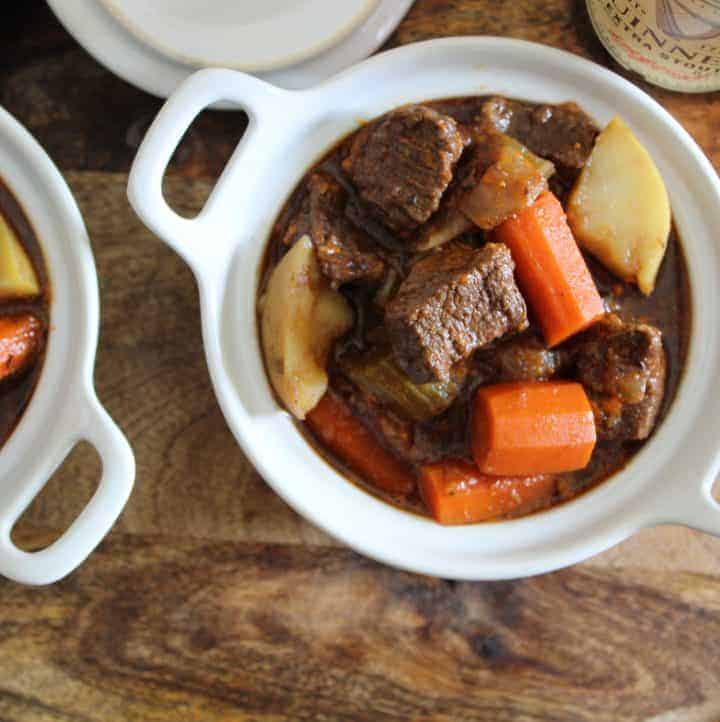 Print Recipe
Irish-American Guinness Stew
Irish-American Guinness Stew with beef nestled in a savory Guinness Stout broth with onions, potatoes and carrots.
Ingredients
2

lb.

chuck roast

cubed

6

slices

pepper bacon

(or regular bacon), cubed

1-2

tablespoons

oil

4-6

large

yukon gold potatoes

cubed

1

large

onion

diced

4

large

carrots

sliced

2

stalks

celery

chopped

1/4

cup

tomato paste

3

cups

beef stock

2

tablespoons

Worcestershire sauce

1

teaspoon

ground thyme

16

oz.

Guinness Stout beer

salt and pepper to taste

3

bay leaves
Instructions
Prep vegetables, beef and bacon

In a large stockpot, add oil; bring to medium heat and add bacon; cook bacon until it is somewhat crisp; use a slotted spoon, remove bacon bits and place on paper towel

Working in batches, add cubed beef to the stockpot; brown meat on all sides; remove beef from stockpot and set aside

Deglaze the stockpot: Pour Guinness Stout beef into the stockpot; bring heat to high and use a wooden spoon to scrape any remnants from the bottom of the pan

Add onions, carrots and celery to stockpot; allow to cook for 3 minutes

Add seared beef, cooked bacon, beef broth, tomato paste, potatoes, thyme, Worcestershire sauce and bay leaves to the stockpot; cover and allow to simmer for 50 minutes; check the liquid level frequently; if the liquid begins to absorb, add more beef stock or water
Nutrition
Make a loaf of Irish Soda Bread while your Irish-American Guinness Stew is simmering!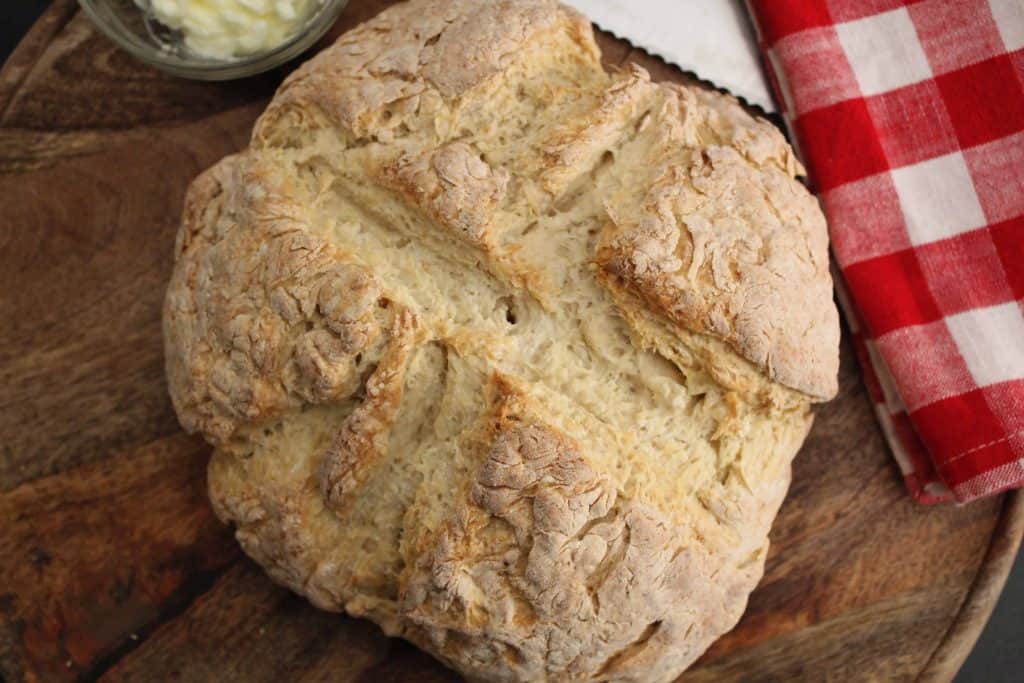 Happily Shared at Meal Plan Monday!