Bolognese sauce, or "ragù alla bolognese" is a hearty and flavorful meat sauce for pasta.
The classic version has no beef broth -it's a very rich, thick meat sauce that relies upon the flavors of simple ingredients for its delicious flavor and texture - carrots, onions, celery, a combination of ground beef and pork, fresh herbs, a splash of heavy cream and red wine.
It's typically served over a thick strand pasta like Tagliatelle, which is similar to Fettuccine, but you can use any pasta you prefer!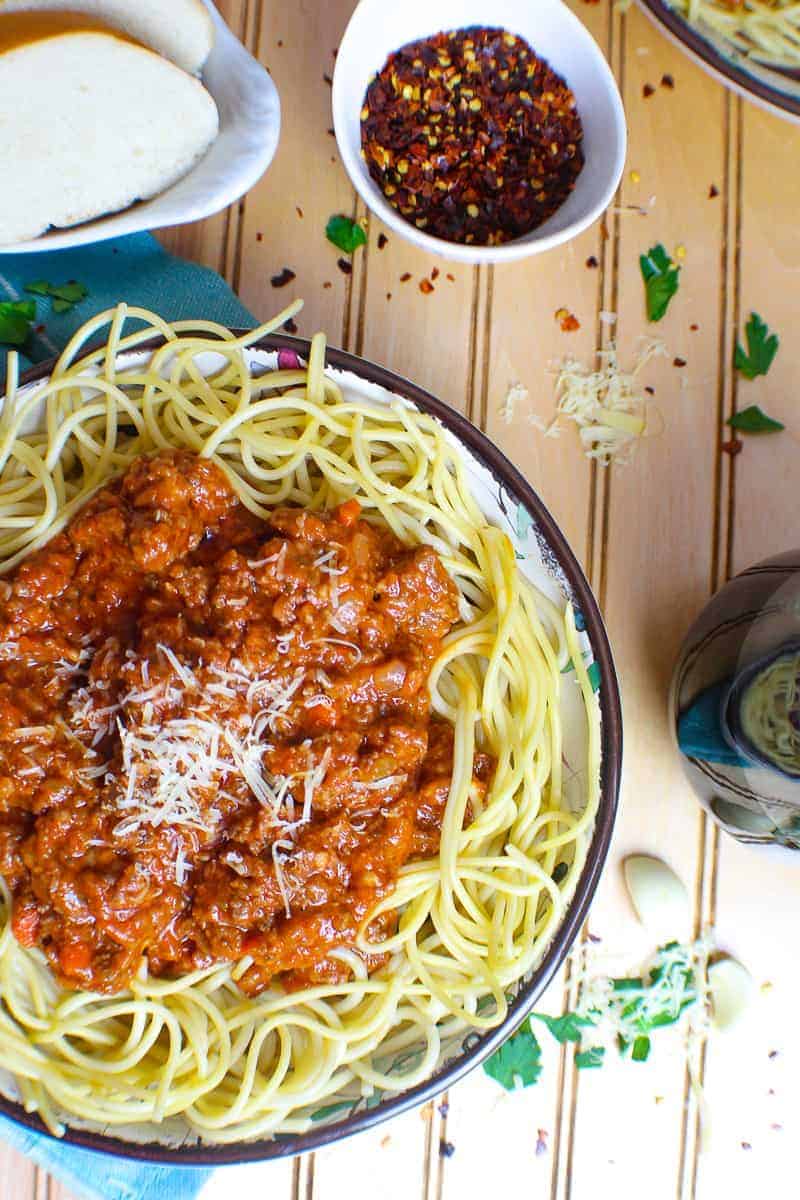 This recipe is reminiscent of Marcella Hazan's original recipe. I took a few liberty's in the ingredient structure, but it's still delicious!
What is classic Bolognese sauce?
Bolognese sauce is a rich, Italian meat sauce that incorporates sauteed vegetables, seasonings, heavy cream and red wine. Typically, it's a tad thinner than it's even thicker cousin, "ragu sauce."
It's a bit different from typical American meat sauces in that it has no beef broth or stock, and has minimal tomato flavor.
Why this recipe works
This is one of those great recipes you'll want to keep on hand! Make a big batch of bolognese meat sauce and freeze it so it will be quick to reheat next time you're craving pasta bolognese!
Subtle flavor: not "over the top Italian" with lots of Italian herbs
Simple ingredients: what makes this Italian dish so good is the addition of carrots, nutmeg, cream and red wine
All-natural: no preservatives, additives or fake stuff
Simple dinner - serve with a crisp Caesar salad and call it dinner!
[feast_advanced_to_jump]
What you'll need
This rich sauce doesn't require a lot of fancy ingredients. Sometimes simple is best, especially when making a classic bolognese sauce!
Bolognese Meat Sauce Ingredients:
Carrots, celery, onion, garlic cloves, tomato paste, nutmeg, heavy cream, ground beef, Italian ground pork sausage, basil (fresh basil leaves or dried basil), red wine and Parmesan cheese for garnish. If you want a spicy twist to this recipe, add in a teaspoon of red pepper flakes.
It may seem odd to add carrots to an Italian red pasta sauce, but believe it or not, the carrots add a tiny bit of sweetness. The hint of nutmeg provides a bit of a smoky flavor, resulting in a meaty red sauce to die for!
The red wine gives a bit of substance and depth and further tenderizes the meat.
How to make it
The secret to making a really good spaghetti bolognese is to use high quality ingredients and organic carrots. Organic carrots offer a hint of sweetness to the bolognese sauce, more than conventional carrots.
Here are the basic steps for making homemade Bolognese sauce. For detailed instructions, see Recipe card below.
On medium heat, add olive oil and butter in a large Dutch oven or large saucepan; add chopped onions, carrots, and celery and saute about 5 minute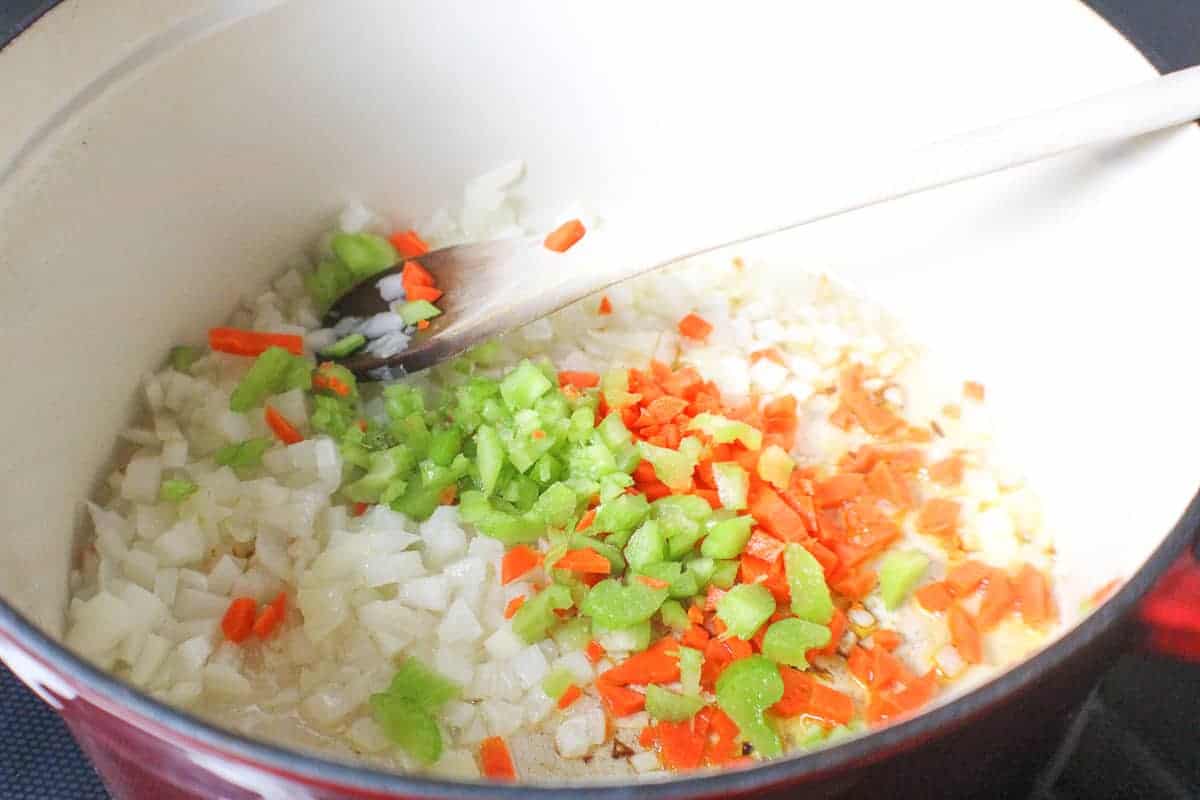 Add the ground beef and ground pork to the vegetable mixture and cook on medium-high heat until completely browned; drain and return to pan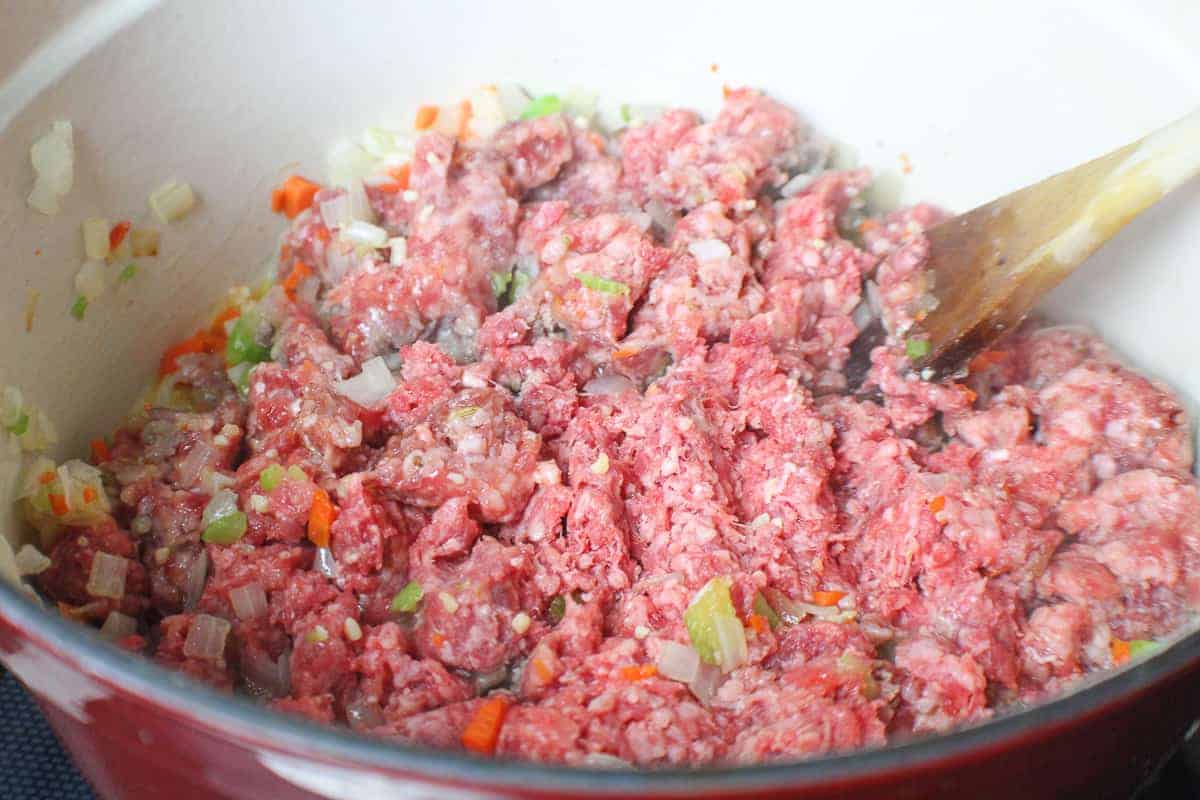 Add tomato paste, red wine, garlic, nutmeg and bay leaves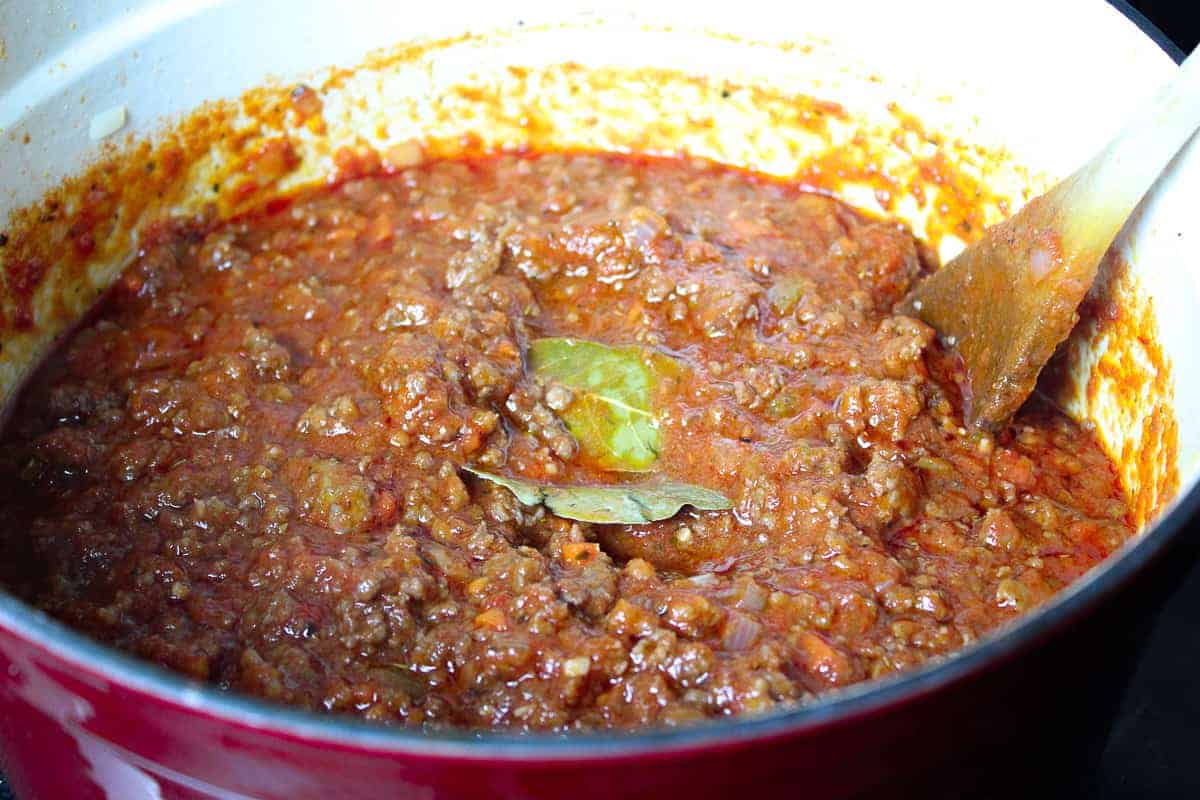 Add red wine, nutmeg, heavy cream
Turn to medium low heat and cover; allow to simmer 45 minutes; before serving, season with kosher salt, ground black pepper and red pepper flakes (optional); remove dried bay leaves
Meanwhile, bring a large pot of water to boil; cook pasta according to directions (usually 7-9 minutes for al dente pasta)
Once pasta is done, reserve a cup of pasta water; add the reserved pasta water to the meaty bolognese sauce; (this easy secret helps the sauce stick to the pasta!)
Drain pasta ; plate pasta and top with the Bolognese sauce; garnish with fresh basil and Parmesan cheese
Recipe FAQ
What's the difference between meat sauce and Bolognese sauce?
Generally speaking, the primary difference between these two sauces is the inclusion or absence of liquid, usually in the form of beef broth. The only liquids in Bolognese sauce are milk (or cream) and red wine. Traditional meat sauces are thinner and include beef broth or beef stock.

In terms of flavor, Bolognese sauce is a subtle Italian meat sauce due to the inclusion of carrots and milk. There aren't a lot of overbearing Italian seasonings in the recipe and the hearty meat sauce sticks well to any kind of pasta!

Traditional "American-Italian" meat sauces often includes a host of Italian seasonings which may include thyme, oregano and/or basil and usually includes beef broth or stock.
How long does Bolognese sauce take to make?
Bolognese sauce can be ready in about 35 minutes, however, for the flavors to fully marry, let the rich, meaty tomato sauce simmer for at least 45 minutes. My favorite way is to cook it for an hour for a fully flavored bolognese sauce.
What kind of red wine should I use?
I always say, when cooking with wine, "use a wine you'd drink," however, if you don't drink wine, a nice red wine works well in this Bolognese sauce recipe. You might use a Cabernet, Merlot, Pinot Noir or a mild Red Blend.

The red wine does not need to be expensive, but a red cooking wine is not recommended simply because it doesn't offer the same flavor profile as a non-cooking red wine.

If you prefer not to include any wine, the recipe will still be delicious!
Variations
You can use different types of meats: ground beef, ground pork, Italian sausage (mild, medium or spicy)
Some folks like to add a green bell pepper to the vegetable mixture
Add ½ cup flat-leaf Italian parsley
Add chopped button or porcini mushrooms to the saucepan of vegetables
Add whole tomatoes or canned tomatoes
For extra flavor, include a parmesan rind in the sauce
Garnish with a fresh, hard Italian cheese like Parmesan, Pecorino Romano, Grana Padano
Storage and reheating
Store any leftovers in the refrigerator in an airtight container for up to 5 days; Freeze for up to six months. For best results, reheat on the stovetop in a heavy skillet; you may have to add a little water to the sauce as it thickens upon storage.
Suggestions for leftover Bolognese Sauce
If you have some meat sauce leftover, use it to make Lasagne or stuffed shells, like Cannelloni or Manicotti!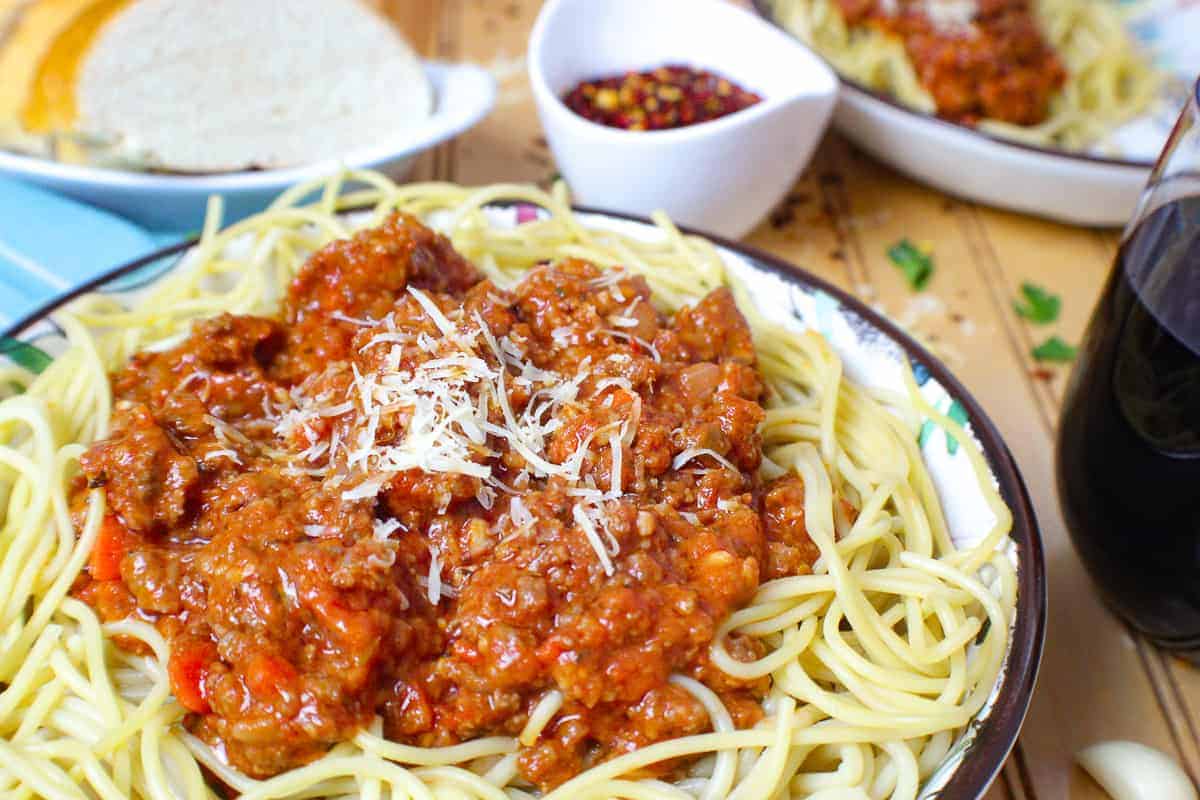 If you can't get to Italy fast enough, make a big batch of this this traditional Bolognese sauce and serve with a crisp green Caesar salad and some warm bread! This will easily be your family's favorite pasta dish or Sunday dinner!
More Italian recipes
If you make this recipe, please scroll down and leave a rating and comment. I love to hear from you! Thank you!
📋 Recipe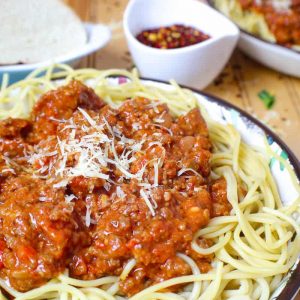 Ingredients
1

pound

ground beef

, lean ground beef (90/10)

1

pound

ground Italian sausage

, mild or spicy

2

tablespoons

butter

, salted or unsalted

½

cup

milk or heavy cream

, 2% or whole

1

tablespoon

oil

, canola, vegetable or Olive oil

1

teaspoon

ground black pepper

½

teaspoon

ground nutmeg

½

cup

chopped yellow onion

⅔

cup

chopped celery

⅔

cup

chopped carrot

2

tablespoons

garlic

, chopped or minced

2

dried bay leaves

3

ounces

tomato paste

½

cup

red wine

(optional)

Parmesan cheese

grated (as garnish)

1

tablespoon

fresh basil

, chopped (for garnish-optional)

salt- to taste
Instructions
Prep
Dice onion, celery and carrot

½ cup chopped yellow onion,

⅔ cup chopped celery,

⅔ cup chopped carrot
Make the Sauce
Add oil and butter to large stockpot; add chopped carrots, onion and celery; saute for 6- 8 minutes

2 tablespoons butter,

1 tablespoon oil,

½ cup chopped yellow onion,

⅔ cup chopped carrot,

⅔ cup chopped celery

Add ground beef and pork to vegetbles to same stockpot; cook until beef and pork are browned (no visible pink) (See Recipe Notes: "Cook the Meat")

1 pound ground beef,

1 pound ground Italian sausage

Add minced garlic, red wine, tomato paste, pepper, nutmeg and bay leaves to stockpot; combine well

½ teaspoon ground nutmeg,

2 tablespoons garlic,

2 dried bay leaves,

3 ounces tomato paste,

½ cup red wine,

1 teaspoon ground black pepper

Stir in milk or cream (See Recipe Notes: "Milk or Cream")

½ cup milk or heavy cream

Cover and allow to simmer at least 30 minutes; add additional pepper and salt to taste

Remove bay leaves; serve over cooked pasta of your choice; garnish with basil and Parmesan cheese

Parmesan cheese,

1 tablespoon fresh basil
Notes
Cook the Meat
If you use a fatty ground beef (more than 80/20), you may want to drain off a bit of the oil after browning the meat and sausage thoroughly. Pour contents into colander, drain, and return to stockpot. Resume recipe instructions.
Milk or Cream
This recipe calls for milk or heavy cream, however, you can substitute half and half.
Nutrition Estimate
Serving:
1
cup
Calories:
252
kcal
Carbohydrates:
13
g
Protein:
12
g
Fat:
16
g
Saturated Fat:
6
g
Polyunsaturated Fat:
1
g
Monounsaturated Fat:
7
g
Trans Fat:
1
g
Cholesterol:
48
mg
Sodium:
293
mg
Potassium:
655
mg
Fiber:
3
g
Sugar:
7
g
Vitamin A:
2300
IU
Vitamin C:
14
mg
Calcium:
65
mg
Iron:
3
mg