Once you taste this naturally sweet, homemade San Marzano pasta sauce, you'll never use another type of tomato for your Italian pasta sauce!
These tomatoes are slightly sweeter than conventional grocery store tomatoes, so there's no reason to add a sugar to the sauce. But don't be fooled by copycat San Marzano tomatoes.
Read on to learn how to buy real San Marzano tomatoes to make The Best Fresh pasta sauce.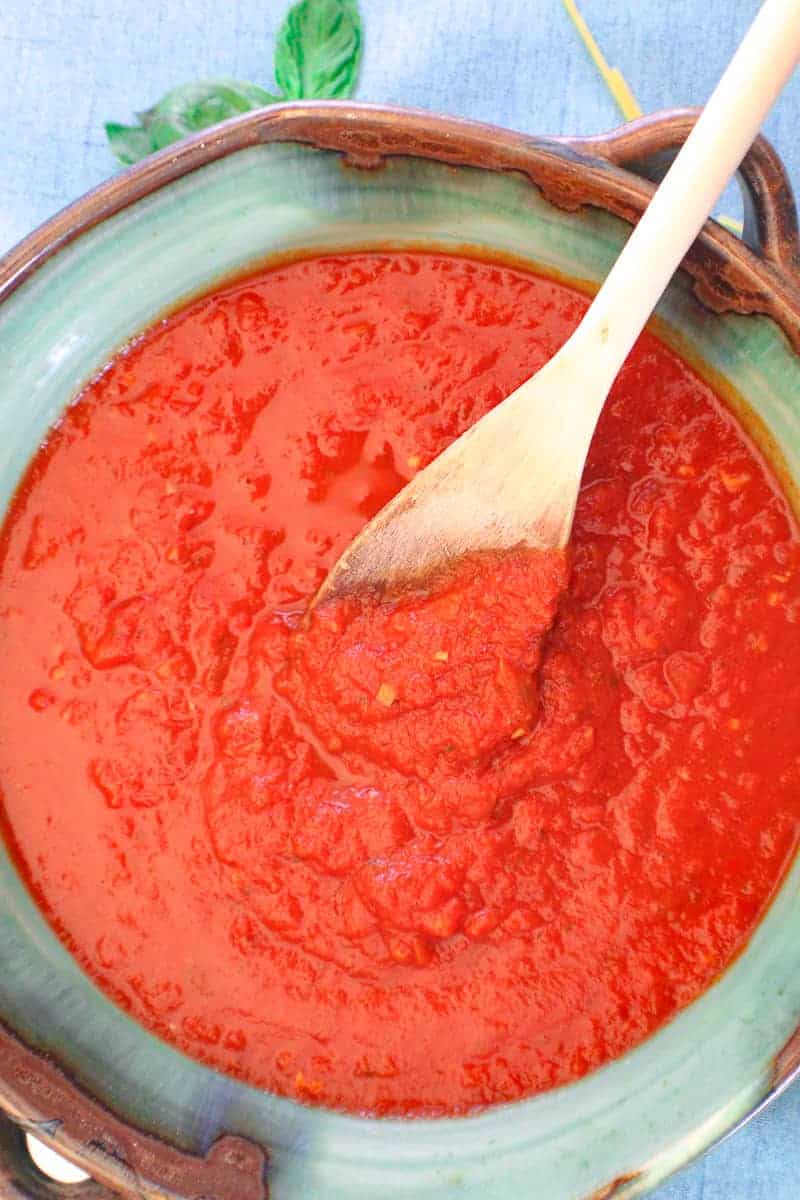 I make this sauce in large quantities then freeze it in plastic bags. That way, I have a delicious, all-natural pasta sauce ready to go at any given moment!
Jump to:
Why you'll love this recipe!
Amazing flavor - San Marzano tomato sauce is not as acidic as "normal" sauce so there's no readon to add sugar
Quick and Easy - with a few ingredients you have in your pantry, you can make this in 10-minutes!
Stores well - make a big batch and freeze it for those busy nights when you don't have time to cook!
This semi-chunky, meatless sauce is simply a tomato-based sauce with minimal ingredients, allowing the full flavor of the San Marzano tomato to shine!
Use this fresh, from-scratch sauce on spaghetti, rigatoni, linguine or in a hearty lasagne with meat sauce or on a pizza!
The difference between Pomodoro and Marinara sauces:
Even though both are tomato based, homemade marinara is usually chunkier than Pomodoro because it's usually made with diced tomatoes.
Pomodoro is slightly thicker and has a smoother texture because it is typically made with crushed or pureed tomatoes.
Here's what you'll need:

How to make it:
In a large stockpot, heat oil on medium; add chopped onions; cook 5 minutes; add chopped garlic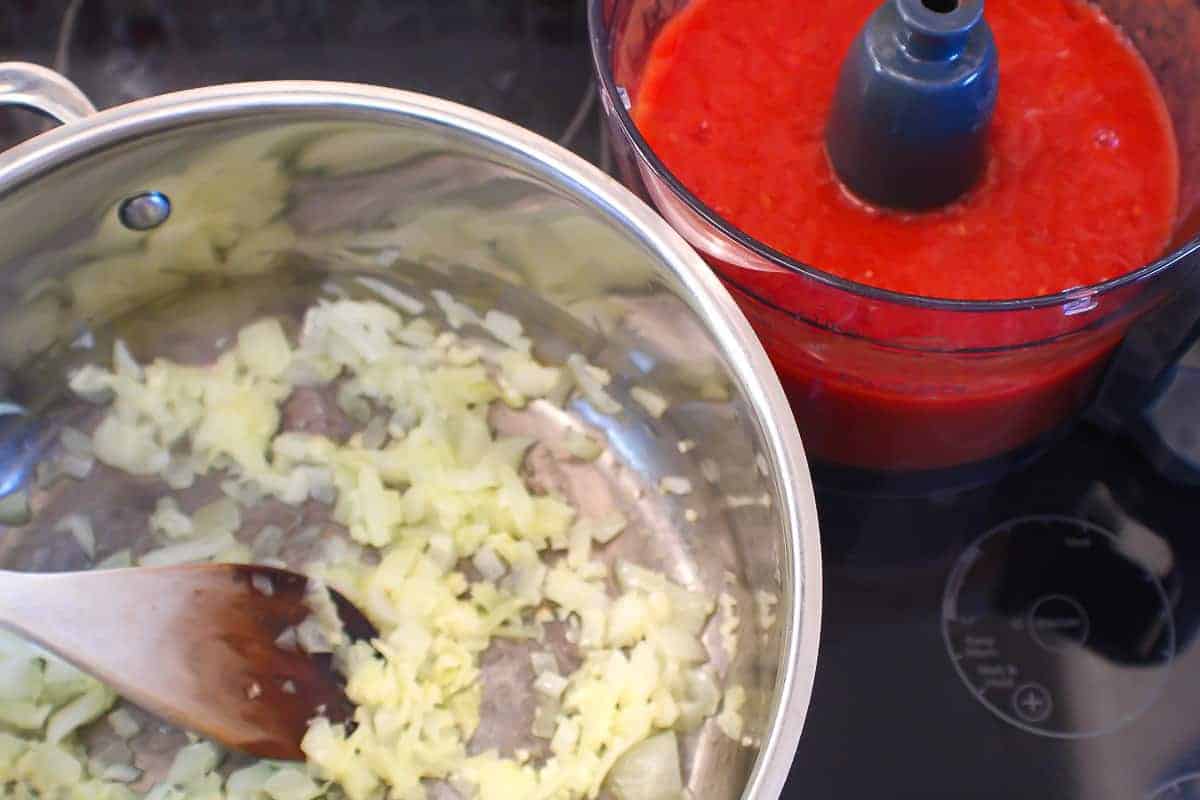 Add crushed San Marzano tomatoes, tomato paste, dried Italian seasonings, and crushed red peppers (optional) to stockpot; Bring to boil for 3 minutes; reduce heat to medium-low and allow to cook for at least 30 minutes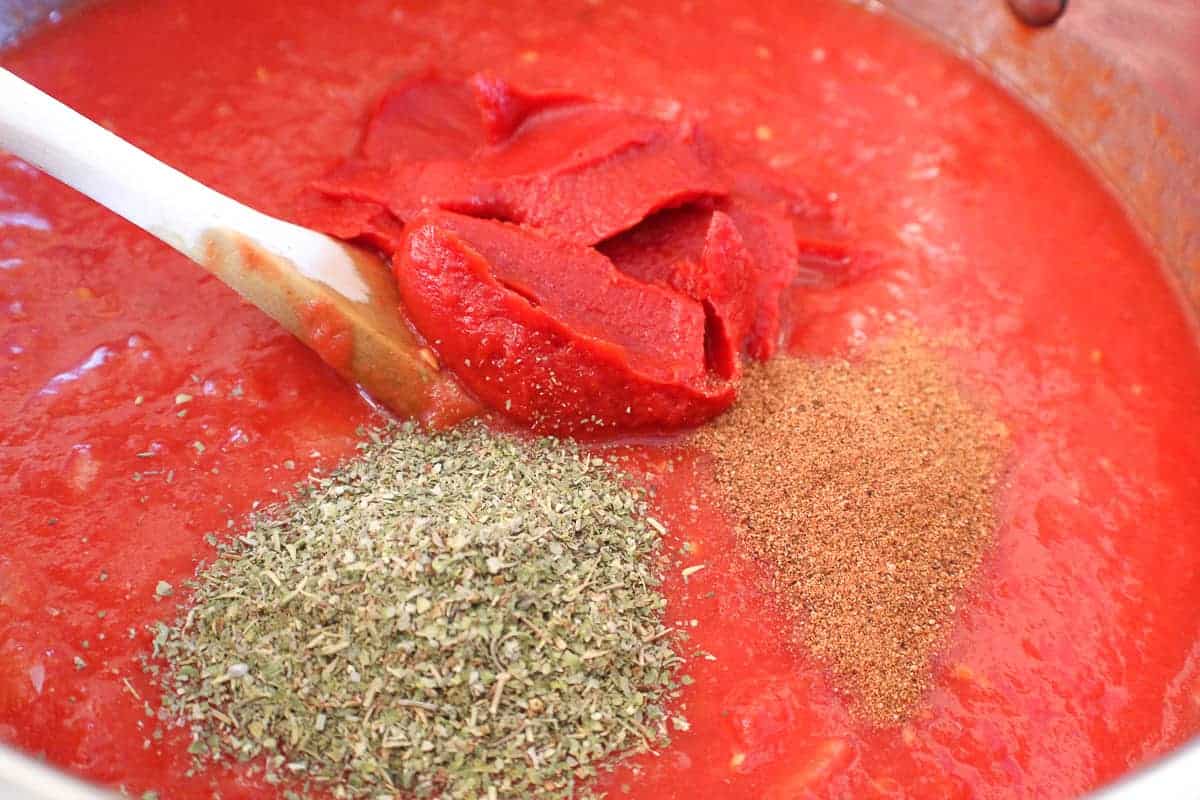 What is a San Marzano tomato?
Authentic San Marzano tomatoes make the best pasta sauce, or "red gravy" as Italians call it.
These delicious Italian tomatoes are grown in the volcanic grounds of Campania near the Mount Vesuvius and offer a very distinct and rich flavor.
Their elongated shape resembles what Americans know as a"plum" or Roma tomato, but they have fewer seeds and are less acidic than conventional plum tomatoes.
The lower acid content contributes to their natural sweetness.
How to identify Authentic Italian San Marzano tomatoes
In American grocery stores, there are several brands that label their tomatoes as San Marzano on the front, but the ingredient list labels them as "San Marzano style tomatoes". Tomatoes labeled as such are not true San Marzanos.
It's like buying a knock-off Louis Vuitton bag…it's not the real deal.
In Italy, there are strict labeling rules regarding San Marzanos.
The label must include the DOP, (the Italian protected designation of origin), which entails strict requirements for the growth and production of these red beauties.
A true San Marzano tomato brand will include the:
DOP on the front and a round seal with a series of production numbers underneath. The front label might read something like, "San Marzano Tomato of Agro Sarnese-Nocerino area D.O.P" or "Pomodoro S. Marzano dell 'Agro Sarnese-Nocerino D.O.P."
The label will also indicate the product is produced and packed in Italy
Look for a statement of certification (in Italian)
Cookware for tomatoes
Even though San Marzano tomatoes are less acidic than other varieties, they still contain acid therefore, you want to use a stainless steel or ceramic stockpot for the San Marzano Pasta Sauce.
As with all tomatoes, avoid using a cast-iron skillet to cook tomatoes as the acids conflict with the elements of the iron and cast off a weird, metal or "tinny" flavor.
Wanna add meat?
If you want to add a little ground beef, turkey or Italian sausage to this sauce, that's no problem! Simply cook and drain the it first.
You can add meat to the Pomodoro sauce at any time during the cooking process. Keep in mind you might need to add a little more Italian seasonings and salt/pepper.
Storage and Reheating
If you make San Marzano Pomodoro sauce in advance, store it in the refrigerator for up to 3 -5 days.
In the freezer, if stored in an air-tight container, it will last up to 6 months. I pour the cooled Pomodoro sauce into plastic freezer bags.
That way, when I want to use it, I just thaw the bag in the sink under cold water or place it in a big pot of hot (not boiling) water.
When reheating, pour pasta sauce in a saucepan and heat on low; you may have to add a little water as the tomatoes thicken when stored in the fridge or freezer.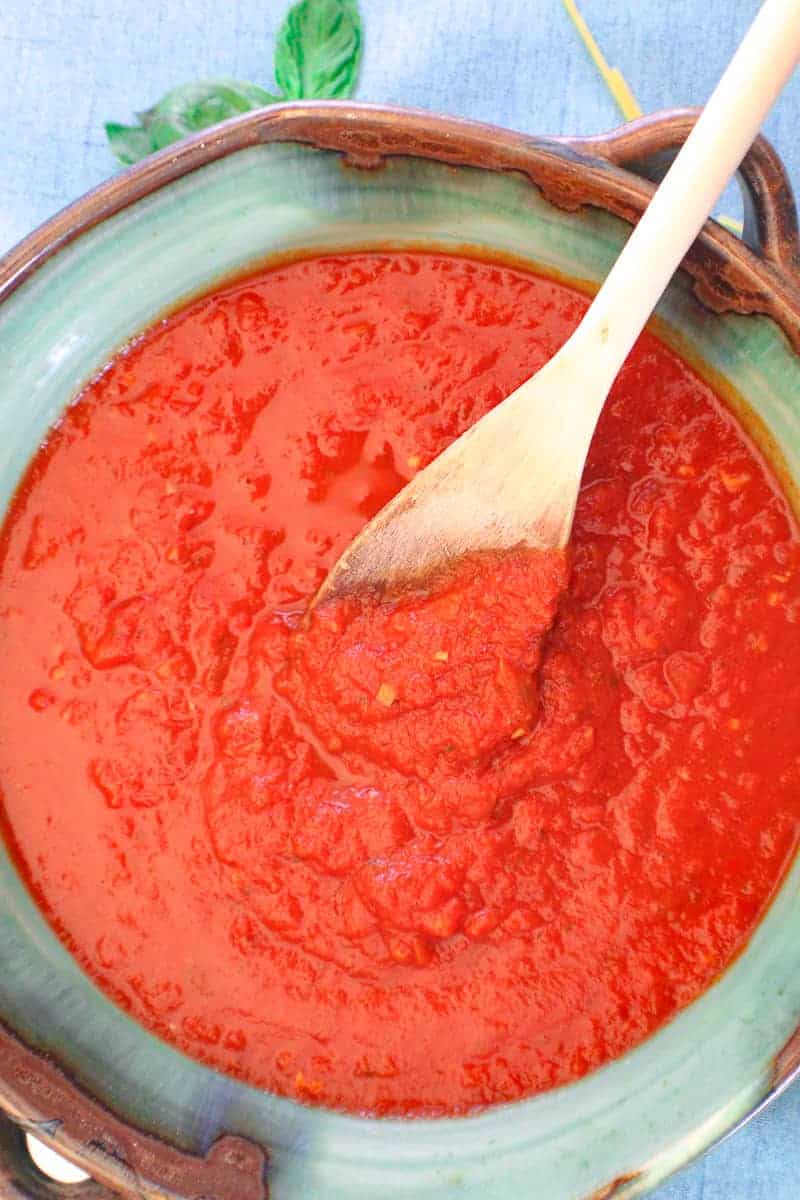 Serve this fresh San Marzano Pomodoro Sauce over your favorite pasta or use as a pizza sauce! You can also use it in lasagna recipes or as a dip with some warm garlic bread.
Related recipes:
📋 Recipe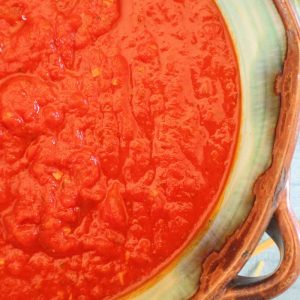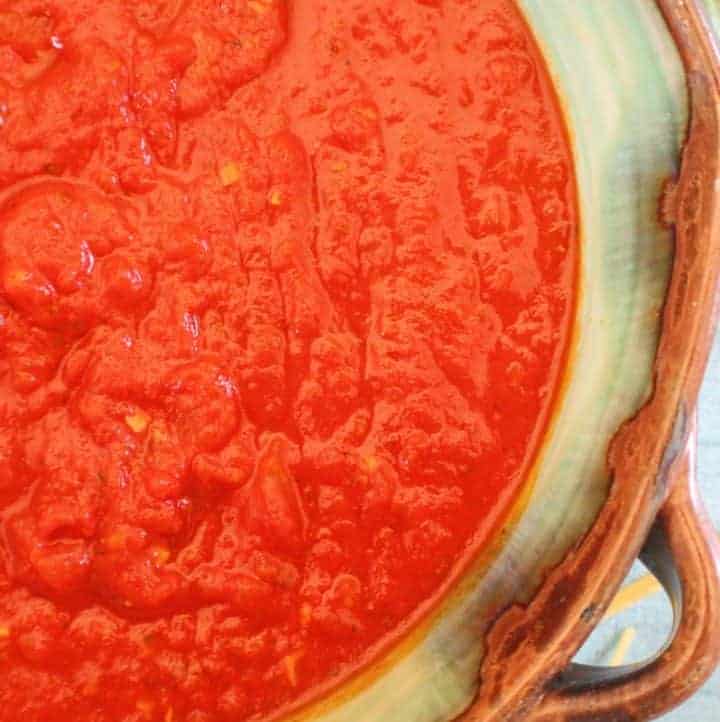 San Marzano Pasta Sauce
A taste of Italy in your own kitchen! San Marzano tomatoes make the most delicious, authentic pasta sauce and there's no added sugar.
Print
Rate
Ingredients
56

ounces

San Marzano Italian Tomatoes

, canned crushed (see notes); (2-28 ounce cans)

1

tablespoon

olive oil

good quality

6

ounces

tomato paste

, (one small can)

1

cup

onion

,finely chopped

1

tablespoon

garlic

,finely chopped (about 4 cloves)

2

tablespoons

Italian herbs

dried - OR -

¼

teaspoon

of each: parsley, thyme, oregano, rosemary, sage and marjoram

SEE RECIPE NOTES: Herbs

½

teaspoon

salt

-or to taste

½

teaspoon

pepper

-or to taste

1

teaspoon

crushed red pepper

optional
Instructions
In a large stockpot on medium temperature, add oil and chopped onion; saute 5 minutes or until onions are translucent; then add garlic; combine and cook for 2 minutes

1 tablespoon olive oil,

1 cup onion,

1 tablespoon garlic

If using whole peeled San Marzano tomatoes, pulse them and their juice in food processor (1-2 minutes) and add to onion mixture; if using crushed tomatoes, just add them to the onion mixture

56 ounces San Marzano Italian Tomatoes

Add tomato paste, dried Italian seasonings and red pepper flakes; NOTE: if using fresh italian herbs, don't add them now; we'll add them at the end

6 ounces tomato paste,

2 tablespoons Italian herbs

Bring sauce to boil for 5 minutes and stir; reduce heat to low; cover; stir frequently

Allow sauce to simmer for at least 30 minutes; (for best results, allow to cook on low for 50 minutes); taste and season with salt and pepper;

Add red pepper flakes (optional); If using fresh herbs, add them now and allow to cook for 5 minutes

1 teaspoon crushed red pepper

Add salt and pepper to taste

½ teaspoon salt,

½ teaspoon pepper

Serve over warm pasta or refrigerate up to 5 days
Notes
If your store doesn't have crushed San Marzano tomatoes, buy whole or diced and pulse them and their juice in the food processor
Do not cook tomatoes in a cast iron skillet; the acidity interferes with the iron and gives off an unpleasant flavor.
If the tomato sauce starts to splatter and spew, turn the heat to simmer and add 3-4 tablespoons of butter and ½ cup water
Herbs:
The ratio of fresh to dried herbs is 3:1. If using fresh herbs, use 3 tablespoons and add them in the last 5 minutes of simmering (after you've tasted and adjusted for salt and pepper.)
Nutrition Estimate
Serving:
1
cup
Calories:
29
kcal
Carbohydrates:
3
g
Protein:
1
g
Fat:
2
g
Saturated Fat:
1
g
Sodium:
152
mg
Potassium:
50
mg
Fiber:
1
g
Sugar:
1
g
Vitamin A:
95
IU
Vitamin C:
2
mg
Calcium:
26
mg
Iron:
1
mg