Once you taste this San Marzano pasta sauce, you'll never use another type of tomato for your Italian dishes. These tomatoes are slightly sweeter than traditional tomatoes, so there's no reason to add a pinch of sugar to the sauce. But don't be fooled by copycat San Marzano tomatoes. Read on to tell how to get the real deal.
What is a San Marzano Tomato?
Authentic San Marzano tomatoes make the best pasta sauce. San Marzano tomatoes are Italian tomatoes grown in the volcanic grounds of Campania, near the Mount Vesuvius . Offering a very distinct and rich flavor, their elongated shape resembles what Americans know as "plum" tomatoes.
San Marzano tomatoes are less acidic and have fewer seeds than a conventional plum tomato.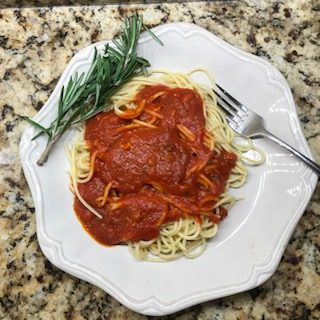 In Italy, there are strict labeling rules regarding San Marzanos. The label must include the DOP, (the Italian protected designation of origin), which entails strict requirements for the growth and production of these red beauties.
In American grocery stores, there are several brands that label their tomatoes as San Marzano on the front, but the ingredient list labels them as "San Marzano style tomatoes". Tomatoes labeled as such are not true San Marzanos.
It's like buying a knock-off Louis Vuitton bag…it's not the real deal. I can usually find Delallo Imported San Marzano Whole Peeled Tomatoes, Cans, 28 oz
 on the very bottom shelf at the grocery store.
A true San Marzano tomato brand will include the:
DOP on the front and a round seal with a series of production numbers underneath. The front label might read something like, "San Marzano Tomato of Agro Sarnese-Nocerino area D.O.P" or "Pomodoro S. Marzano dell 'Agro Sarnese-Nocerino D.O.P."
The label will also indicate the product is produced and packed in Italy, as well as
a statement of certification (in Italian).  As one might expect, these Italian tomatoes cost more than the "San Marzano style" but the difference in taste is definitely worth the cost.
 High Quality Oil
The quality of olive oil is also important to this recipe. There has been controversy about the purity and quality of olive oils in the United States. The best way to select a flavorful olive oil is to consider the ingredient list, country of origin, use by date, seal of certification and color.
True olive oils have a fairly green cast to them and are bottled in darker glass due to the harmful florescent lighting in stores. Imported olive oils can be expensive, so consider a high-quality extra virgin olive oil from California.
Several manufacturers have elected to go beyond basic olive oil blending and refining requirements and in doing so, receive a stamp of approval from the North American Olive Oil Council. The symbol is a red circle with a green olive branch.
San Marzano Pasta Sauce tastes great with  Baked Rigatoni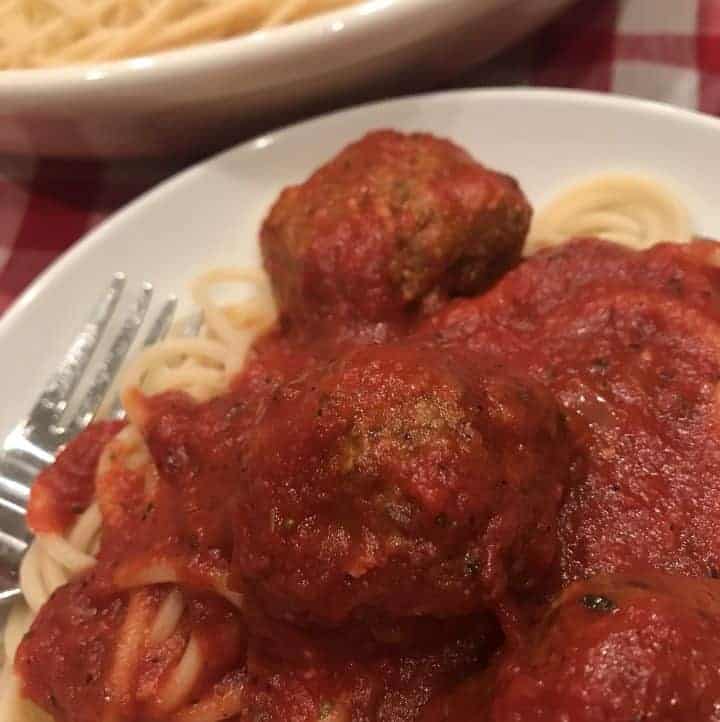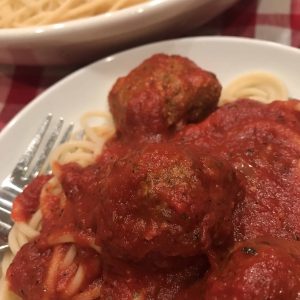 San Marzano Pasta Sauce
A taste of Italy in your own kitchen! San Marzano tomatoes make the most authentic pasta sauce.
Print
Pin
Rate
Ingredients
2

28 oz. cans

San Marzano Italian Tomatoes

whole or diced

1

can

tomato paste

1

tablespoon

olive oil

good quality

1

cup

onion

finely chopped

4

cloves

garlic

finely chopped

1

teaspoon

nutmeg

ground

1

15 oz. can

beef broth

2

tablespoons

Italian herbs

dried - OR -

¼

teaspoon

of each: parsley, thyme, oregano, rosemary, sage and marjoram

SEE RECIPE NOTES

½

teaspoon

salt

-or to taste

½

teaspoon

pepper

-or to taste

1

teaspoon

crushed red pepper

optional
Instructions
In a dutch oven, on medium temperature, add oil and onion; saute until onions are translucent

Puree tomatoes in food processor to desired consistency

Add pureed tomatoes to onions

Allow tomatoes to cook down for about 10 minutes then add broth and tomato paste

**If using dried herbs, add them now, along with the garlic and nutmeg

**If using fresh herbs, just add garlic and nutmeg for now

Allow sauce to simmer for 15 minutes; taste and season with salt and pepper;

Add fresh herbs and allow to cook for 5 minutes

Serve over warm pasta or refrigerate up to 5 days
Notes
San Marzano tomatoes are so mild and flavorful, you could really do without any herbs if you prefer. 
Do not cook tomatoes in a cast iron skillet; the acidity interferes with the iron and gives off an unpleasant flavor.
Fresh herbs make a big difference in most recipes, but if you're garden hasn't bloomed yet, dried will work as well. The ratio of fresh to dried is 3:1. If a recipe calls for 3 tablespoons of fresh, you'll need 1 teaspoon of dried (3 teaspoons = 1 tablespoon). 
Dried herbs are more potent than fresh, thus the 3:1 ratio. You'll want to add fresh herbs at the end of the cooking time; add dried at the beginning of cooking time.