Foolproof Oven Baked Ribs are perfect any time of the year, but particularly when it's too hot outside to grill. Just pop the ribs into the baking bag and you're done! These low and slow oven baked ribs are fall-off-the-bone-tender and go great with mayo-free coleslaw!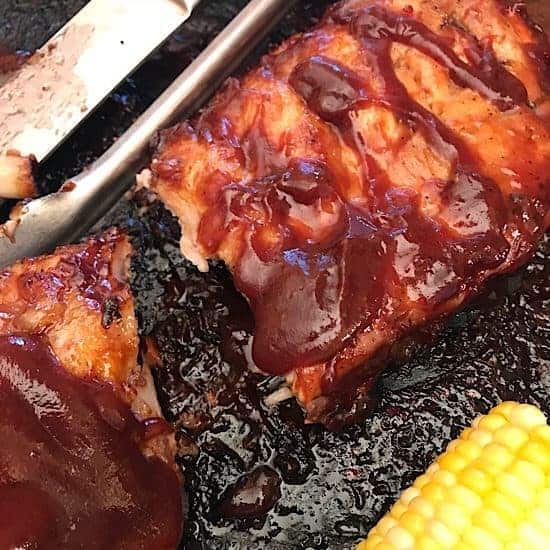 What Kind of Baking Bag is Used?
Use a "turkey bag" to cook the ribs. Turkey bags are the best choice to use for oven baked foods because they've been coated with a special something to keep them from burning. Follow the bag instructions for cooking a turkey,  and add a tablespoon of flour to the empty bag before adding the ribs.
How Long Do I Cook Oven-Baked Ribs?
One rack of ribs takes about 3-4 hours because they are cooked at 250ºF. A higher temperature would decrease the cooking time, but then you run the risk of serving tough ribs. The secret is Low and Slow!
What Makes These Ribs So Tender?
These ribs turn out so tender because they are marinated in citric acid and are cooked on a low temperature for quite some time.
When Do I Add the Barbecue Sauce to the Ribs?
After the ribs are cooked thoroughly, remove them from the baking bag;
Turn the broiler to high (about 500ºF) and pour the barbecue sauce on them.
Place the ribs under the broiler for a few minutes–until the sauce is bubbly and somewhat thick.
Remove the ribs from the broiler and allow them to sit for a few minutes before serving. This method of cooking ribs, or any meat, is foolproof in retaining moisture and ensuring a tender protein entree.
Craving More? You might like Maple Sriracha Slow Cooker Ribs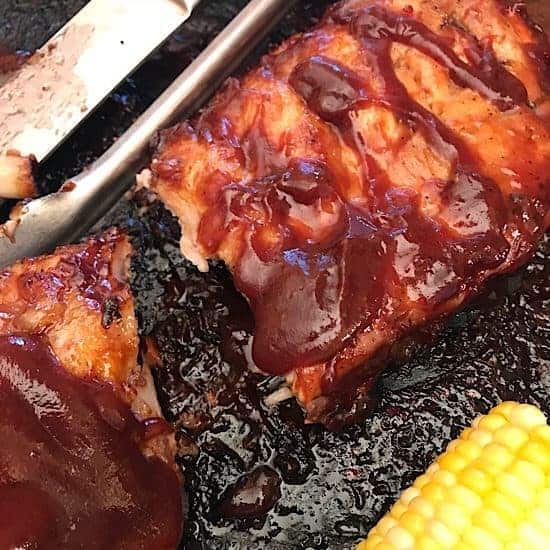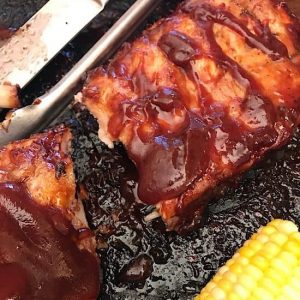 Foolproof Ribs
The good thing about this indoor method of cooking ribs is you cook them low and slow, so the kitchen doesn't heat up and the meat remains nice and tender.
Print
Pin
Marinade and Cooking Time:
5
hours
Total Time:
4
hours
10
minutes
Servings:
4
depending upon who you're feeding
Ingredients
1

rack

baby back ribs

1/2

cup

orange juice

1/3

cup

liquid smoke

2

tablespoons

chili powder

2

tablespoons

salt

2

tablespoons

pepper

2

cups

barbecue sauce
Instructions
Add 1 tablespoon flour to oven bag; shake bag until flour has coated interior

Add orange juice and remaining ingredients; massage ingredients to coat ribs

Remove from refrigerator; cut slits into the top of the baking bag

Place bag on baking dish; tuck the sides of the bag into the pan so they're not overhanging the baking dish

Bake for 4 hours at 250ºF

Remove ribs from oven; carefully cut away oven bag and slide ribs onto baking dish

Pour barbecue sauce on ribs; coat both sides

Place ribs under broiler to desired crispness

Remove from heat; allow to rest 10 minutes

Slice ribs individually, or in sections (3 ribs per person) with knife.
Notes
If you don't have four hours to let ribs cook slowly, no big deal! Just turn the oven to 350ºF and cook them for about 50 minutes, or until they've reached an internal temperature of 140ºF