Seafood ceviche recipe featuring small bites of your favorite seafood - fish or shellfish- nestled in a seasoned medley of fresh citrus juice.
Orange, lemon and lime juices make this a cool and refreshing side dish perfect for individual plates of tapas or "edible little plates."A dash of cayenne pepper offers a little optional heat and diced red onions offer sweetness and a bit of crunch!
A sprinkle of dill weed and a little orange zest finish this beautiful summer seafood dish! Serve as an appetizer with crispy tostada chips and guacamole! This "no cook" appetizer will be your new favorite summer dish!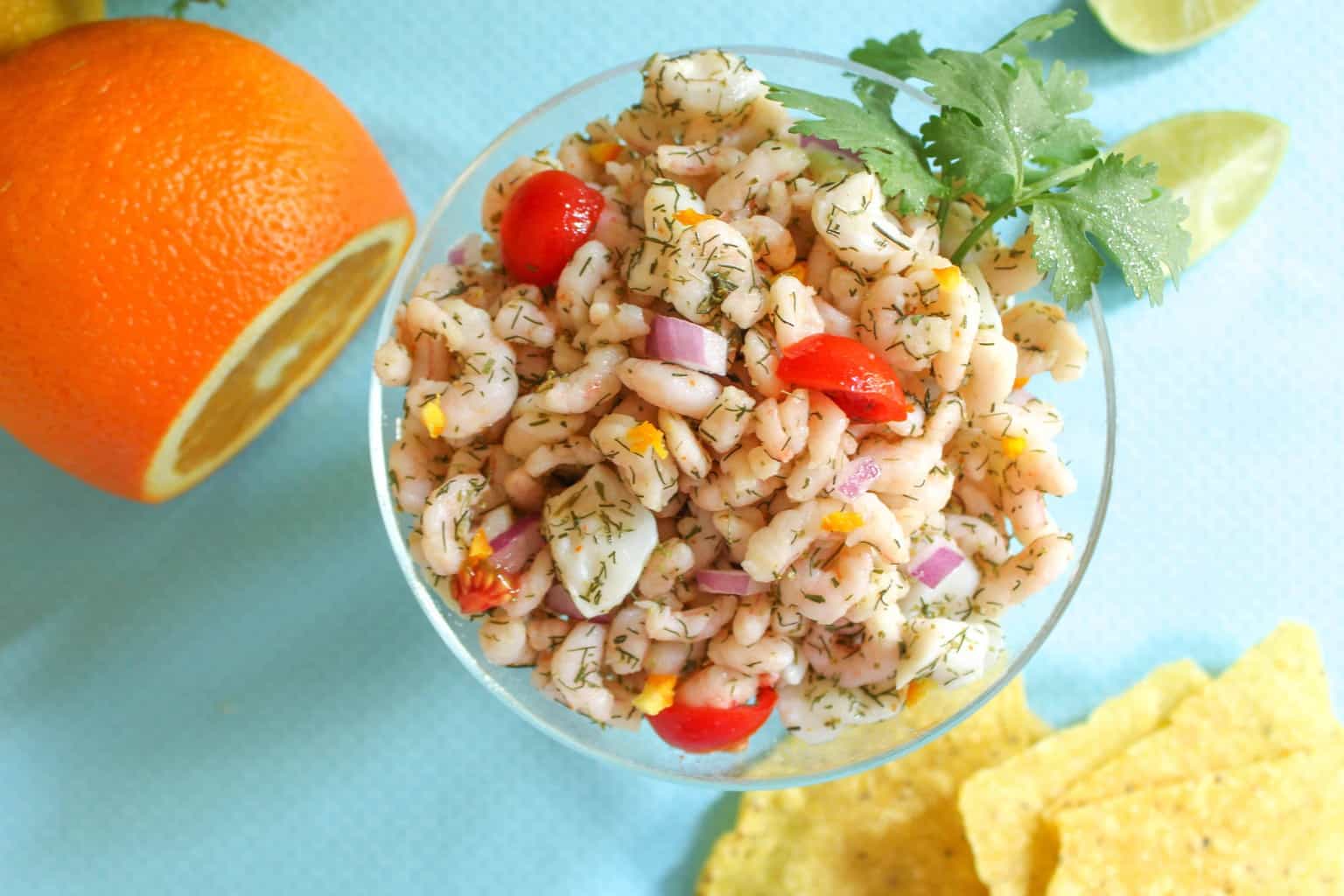 Why this recipe works
Seafood ceviche requires minimal prep time - this recipe features shrimp an scallops, but you can use any fish or shellfish you like!
Requires no cooking at all! - the citrus juices "cook" the seafood! All you do is combine it and enjoy!
Light - perfect for hot summer days when the thought of cooking is unbearable!
Keto-friendly - get some Omega-3's and no carbs!
What is ceviche?
Ceviche is raw seafood dish that consists of shellfish or fish that is marinated, or "cooked" in citrus juice. The concept of cooking without heat is an old method which hails from South America and is frequently served in Peruvian and Mexican restaurants as an appetizer.
What's in ceviche?
A traditional seafood ceviche recipe features raw seafood - often a mixture of seafoods - shrimp, red or white fish (halibut, cod, mahi mahi, ahi tuna ceviche, red snapper - really, any freshwater fish or your favorite fish works great), scallops, crab, lime and lemon juice, and perhaps a little seasonings from chopped chili peppers, bell peppers or onions. The acidic marinade "cooks" the raw seafood.
Also known as "Seviche" or "Cebiche," this raw shellfish dish is typically served as an appetizer and served with crisp tortilla chips.
Ingredients for seafood ceviche
For this easy shrimp and scallop ceviche recipe, you can use a combination of mixed seafood or fresh fish. I think the best ceviche recipe uses the freshest ingredients.
This recipe calls for salad shrimp, scallops, fresh squeezed orange juice, fresh lemon juice, fresh lime juice, salt, dill weed. Cayenne pepper and diced avocado are optional.
If you want to add a little heat to the dish, serve ceviche with chopped chili peppers like serrano pepper or jalapeno pepper.

How to make seafood ceviche
For best results, you'll want to marinate the shrimp and scallops for the right amount of time.
Small salad shrimp work best, but if you don't have those, use regular size shrimp and cut the raw shrimp, fish and scallops into small pieces and place in a large mixing bowl or plastic container.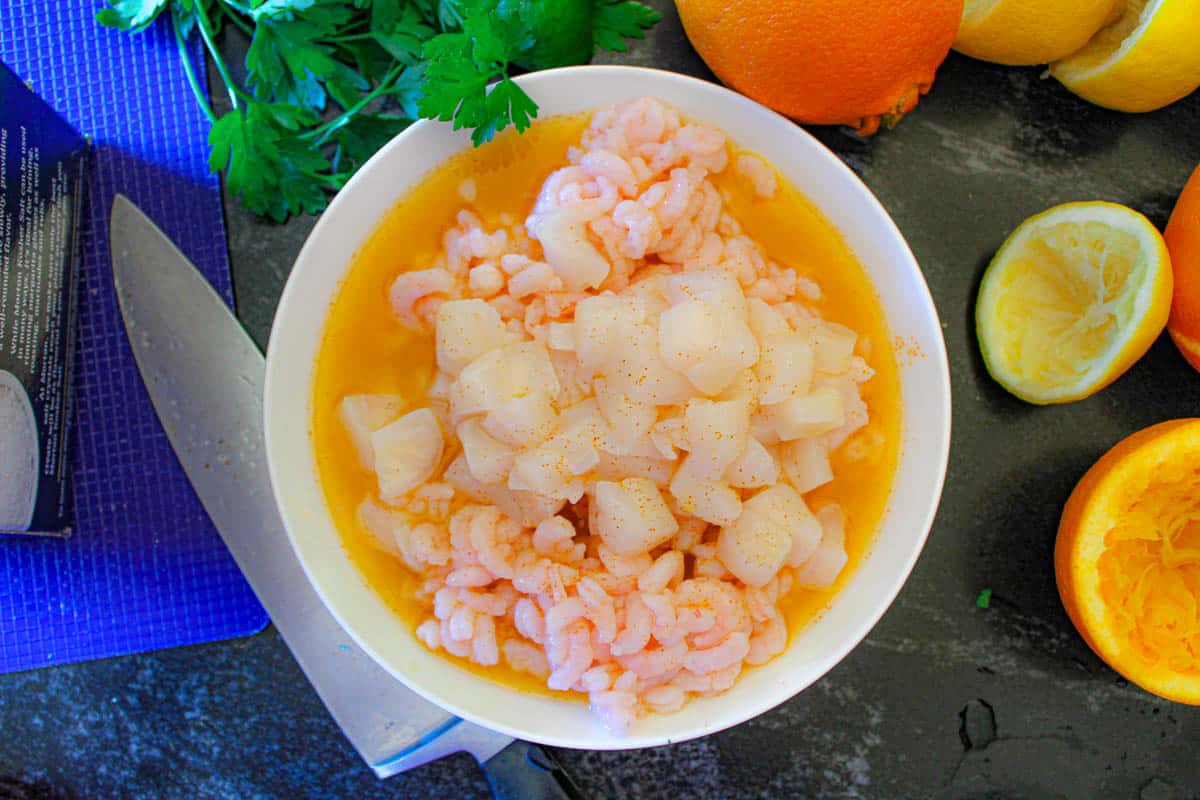 In a large glass or non-reactive bowl (stainless steel is okay), combine orange juice, lemon juice, and lime juice; add salt and cayenne pepper; pour the citrus mixture over the shrimp and scallops; combine well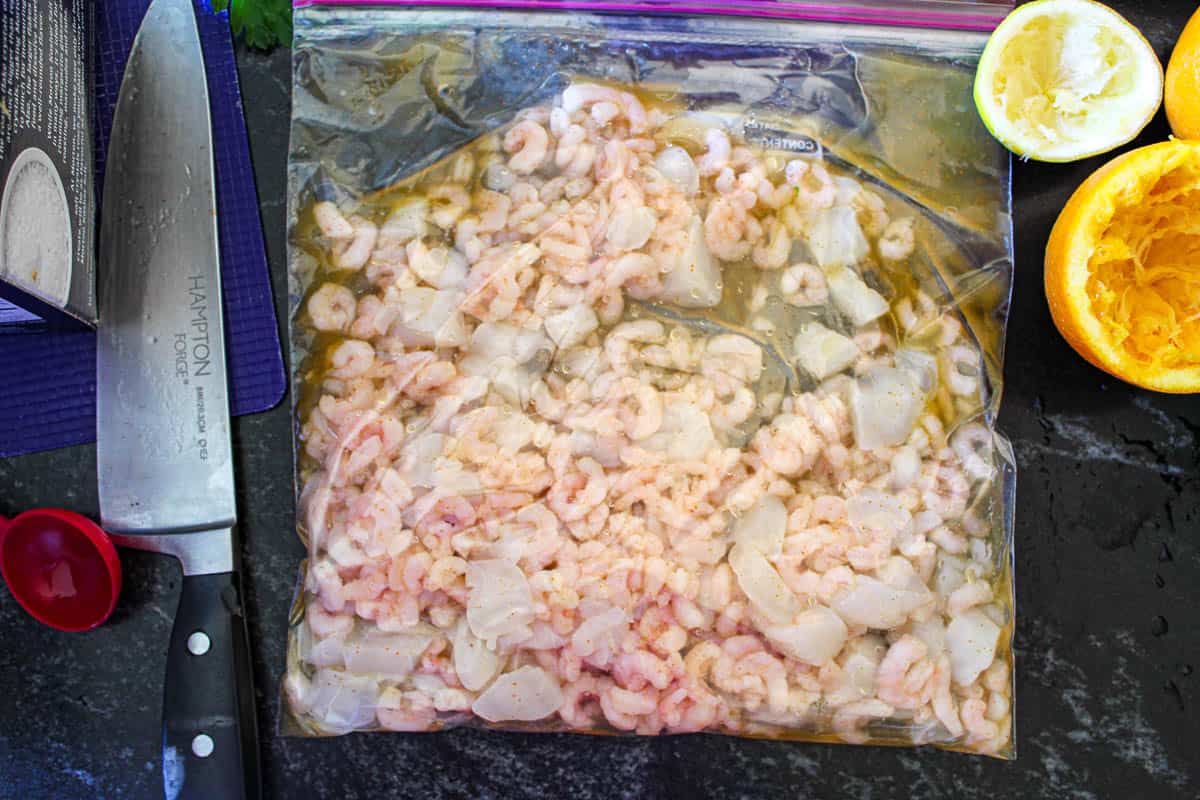 Place the shrimp and scallops in plastic bag or an airtight container with the citrus juice; refrigerate at least 1 hour (rotate bag or stir every 15 minutes)
The longer the seafood sits in the ceviche sauce the more tender it gets; however, if you marinate it too long, the ceviche ingredients become soggy and rubbery. Timing is key to making the best ceviche that is well seasoned and has a nice flaky texture!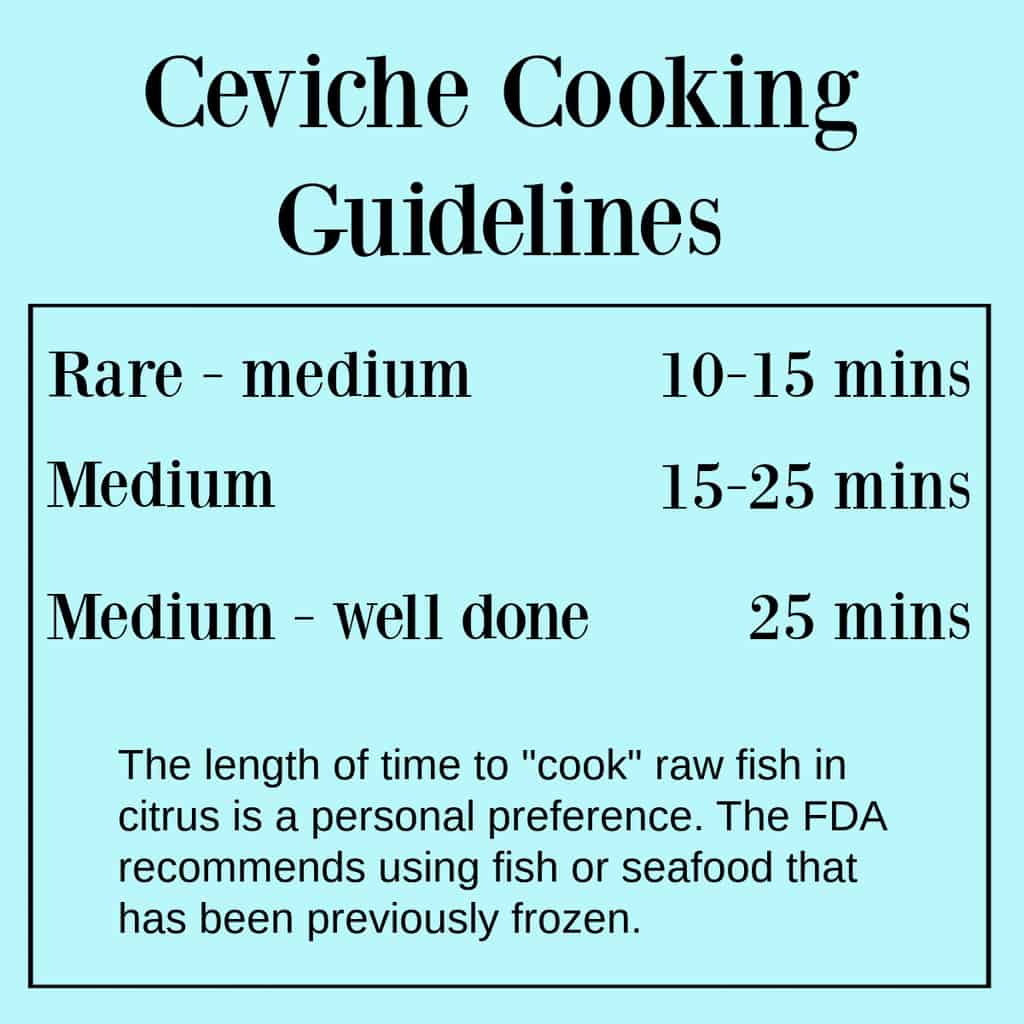 Recipe Tips
I recommend fresh squeezed citrus juices for the acidic liquid. Bottled lemon juice or bottled lime juice are concentrated and often too strong for a really good ceviche
If you don't have lemon or orange juice, just use substitute with one cup lime juice-you want just enough juice to lightly coat the different fish and or seafood
You can use frozen shrimp, frozen scallops or fish for this recipe, just make sure it's completely thawed first.
Popular fish selections are: halibut, cod, redfish, sea bass; other options include crab meat, shrimp, scallops
Serve ceviche slightly chilled; you don't want the ingredients to get to room temperature
What to serve with ceviche
You can be as creative as you like with ceviche! You can easily spin this dish to be South American, Peruvian or South Pacific!
Serve over crisp greens for a ceviche salad, or serve in a chilled martini glass for an elegant appetizer!
Seafood ceviche pairs beautifully with fish tacos, tamales, enchiladas or carne asada!
Stuff avocado halves with this delicious classic ceviche or plate some on crispy tostada shells with a little hot sauce or salsa on the side
If you want to give your first course a "peruvian food" spin, serve it with baked sweet potatoes, fried plantain chips
FAQ's
Is ceviche safe?
There is a risk to eating any raw meat or seafood and the best way to ensure food safety is through a combination of Time and Temperature-how long the meat or seafood is cooked, and at what temperature.
In this case, there is no "temperature", but the citric acids denature the proteins, thus "curing" or "cooking" it.
Best practices suggest using commercially frozen seafood that is frozen at -31ºF for 15 days or at -10ºF for 7 days. Together, the freezing temperatures and acidity of the citrus fruits reduce the risk of contamination. It is recommended that pregnant women avoid raw shellfish and oysters.
How does citrus juice "cook" raw fish?
Citrus juices cook or "cure" raw fish through a process called denaturation. Without getting too scientific, denaturation is the process of breaking down proteins through either heat or acid.
In this easy shrimp ceviche recipe, the citric acids break down the proteins and "cooks" the fish.
How long should it marinate?
The general consensus is that the seafood should marinate in an acidic environment for at least 30 minutes to a minimum of an hour to ensure there's no harmful bacteria. Interestingly, the longer the raw shellfish or fish marinades, the more opaque it gets, and it begins to disintegrate.
I prefer the texture and flavor of seafood ceviche after 25 minutes of marination; but it's really a personal preference.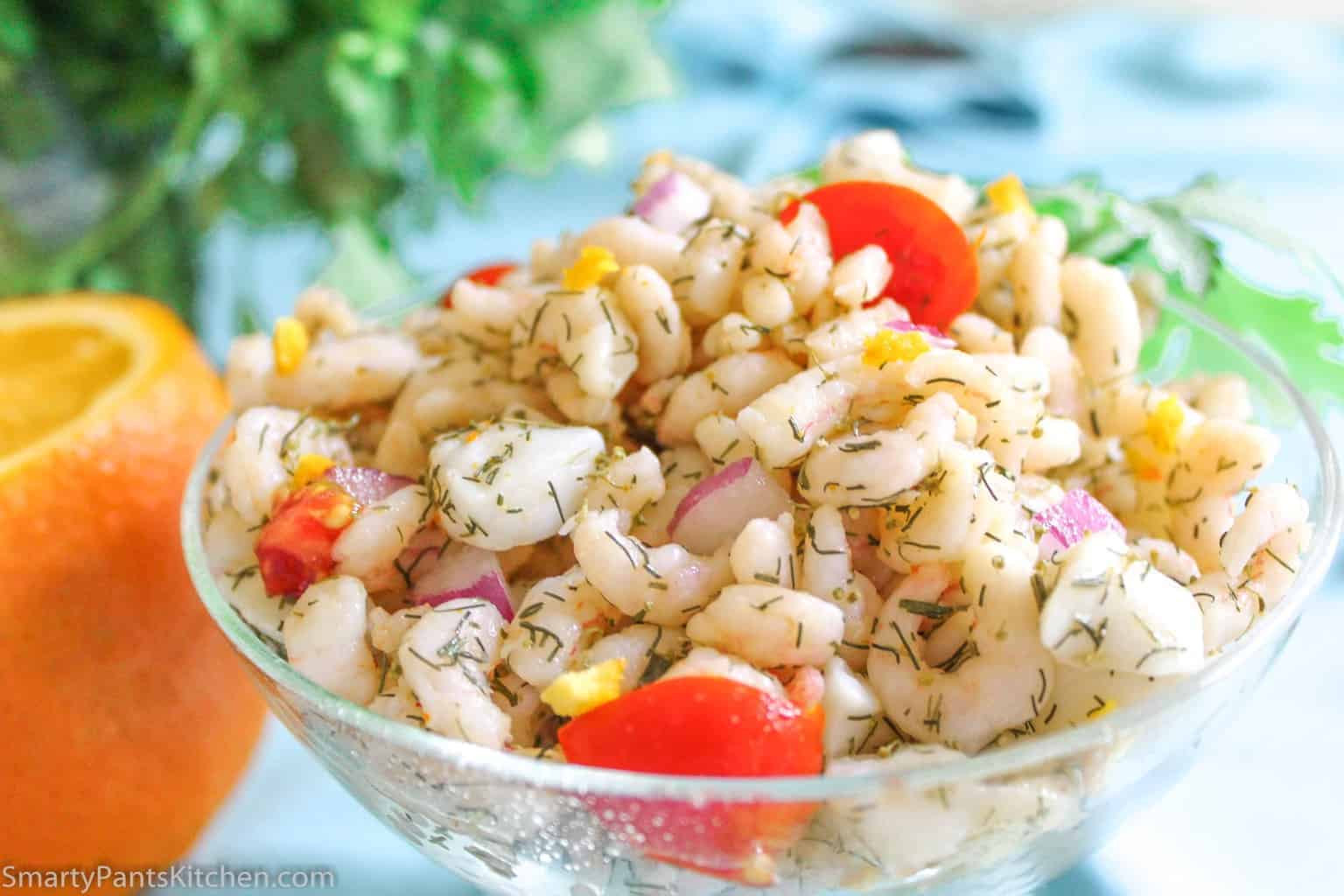 Serve shrimp and scallop ceviche as a chilled appetizer or as a dip with tortilla chips, sliced avocado and garnish with dill or chopped cilantro.
Serve this deliciously light seafood ceviche as a chilled appetizer or as a dip with tortilla chips, sliced avocado and garnish with fresh chopped cilantro.
Related recipes:
📋 Recipe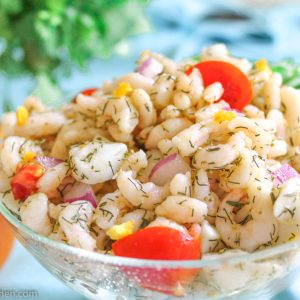 Seafood Ceviche
Shrimp and scallops marinated in a seasoned mixture of orange, lime and lemon juice with hints of fresh dill!
Print
Rate
Ingredients
12

oz.

small salad shrimp,

fresh or frozen (thawed)

½

lb.

scallops

fresh or frozen, diced

¼

cup

fresh orange juice

( about 2 large oranges)

¼

cup

fresh lemon juice

(about 2 large lemons)

¼

cup

fresh lime juice

(about 4 large limes)

½

teaspoon

cayenne pepper

3

tablespoons

red onion

chopped

½

teaspoon

salt

1

tablespoon

fresh dill

1

avocado

diced, optional

orange zest

garnish, optional
Instructions
Rinse and pat dry shrimp and scallops; cut into small pieces; set aside

12 oz. small salad shrimp,,

½ lb. scallops

Dice red onion into fine, very tiny pieces; set aside

Put the seafood and red onions into an airtight container (plastic bag or plastic storage container)

In a medium mixin bowl, combine fresh citrus, salt and cayenne pepper; mix well

¼ cup fresh orange juice,

¼ cup fresh lemon juice,

¼ cup fresh lime juice,

½ teaspoon salt,

½ teaspoon cayenne pepper

Pour fresh juice over shellfish; combine, cover and place in refrigerator for a minimum of 30 minutes. Rotate bag or stir frequently.

When ready to serve, use a slotted spoon and plate Ceviche; garnish with orange zest, dill and diced avocado

1 tablespoon fresh dill,

1 avocado,

orange zest
Notes
For best results, taste the ceviche after its marinated for 30 minutes; if it feels "tough" to you, marinate it a little longer - taste it about every 20 minutes until it gets to the texture you like.
Frozen seafood
You can use frozen seafood, just make sure it's thawed well first.
Nutrition Estimate
Serving:
8
oz.
Calories:
527
kcal
Carbohydrates:
45
g
Protein:
53
g
Fat:
18
g
Saturated Fat:
3
g
Cholesterol:
456
mg
Sodium:
2360
mg
Potassium:
1293
mg
Fiber:
14
g
Sugar:
17
g
Vitamin A:
701
IU
Vitamin C:
168
mg
Calcium:
365
mg
Iron:
6
mg