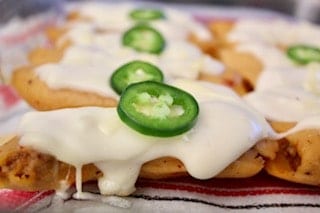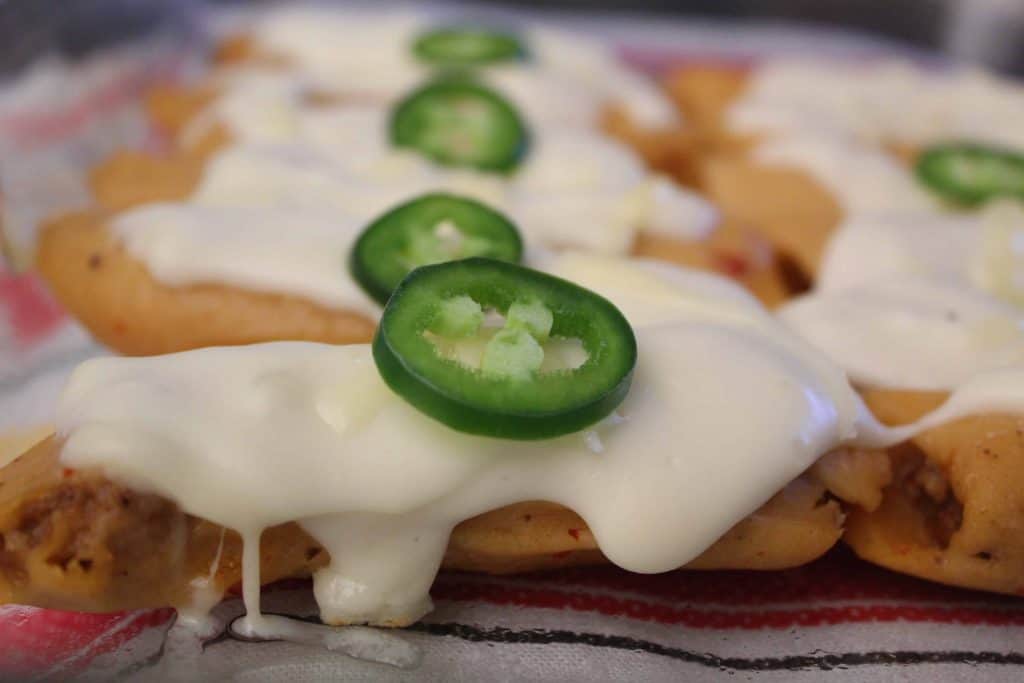 Tex-Mex Sour Cream sauce is perfect for enchiladas or tamales because it has a hint of jalapeno…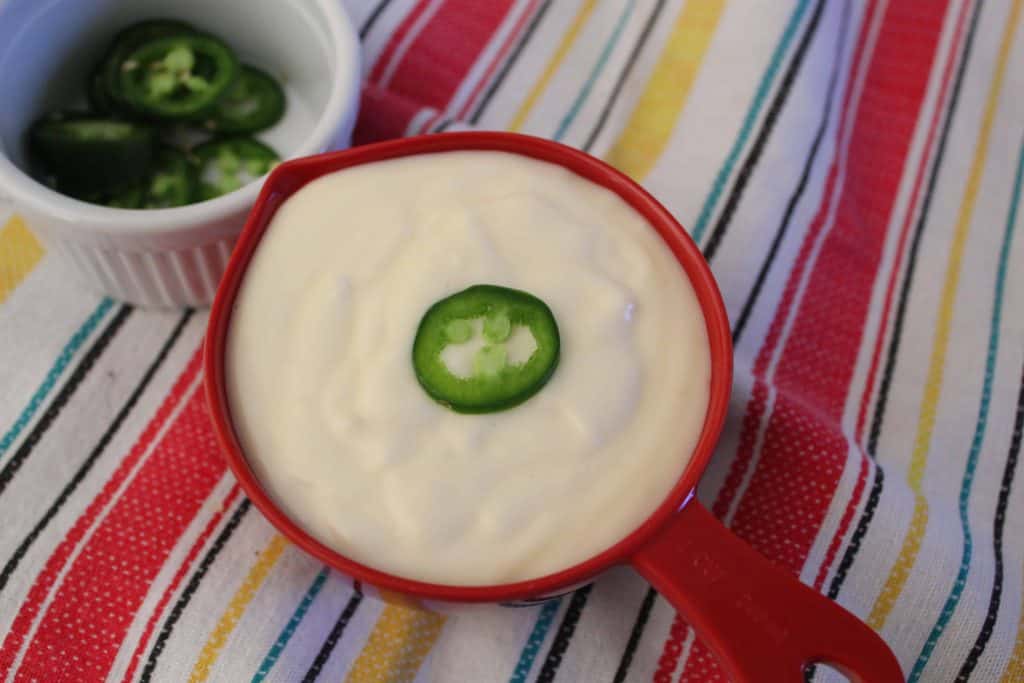 No need to worry about spending all day making a restaurant-quality Tex-Mex Sour Cream sauce! This sauce takes only a few minutes and a few ingredients. Sour cream cheese sauce is perfect for Mexican dishes like enchiladas, tamales, tacos, and fajitas. I like to put a swirl of this delicious sauce on my black beans!
I love the sour cream sauce they serve on chicken enchiladas at my favorite Mexican restaurant, Mazatlan, in Denton, Texas. This place has been around forever and while it's definitely not swanky, they do crank out some awesome Tex-Mex dishes and their sour cream sauce is to die for!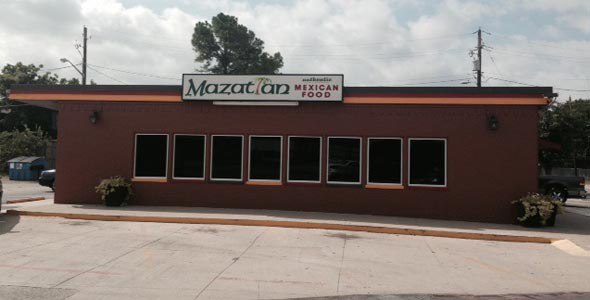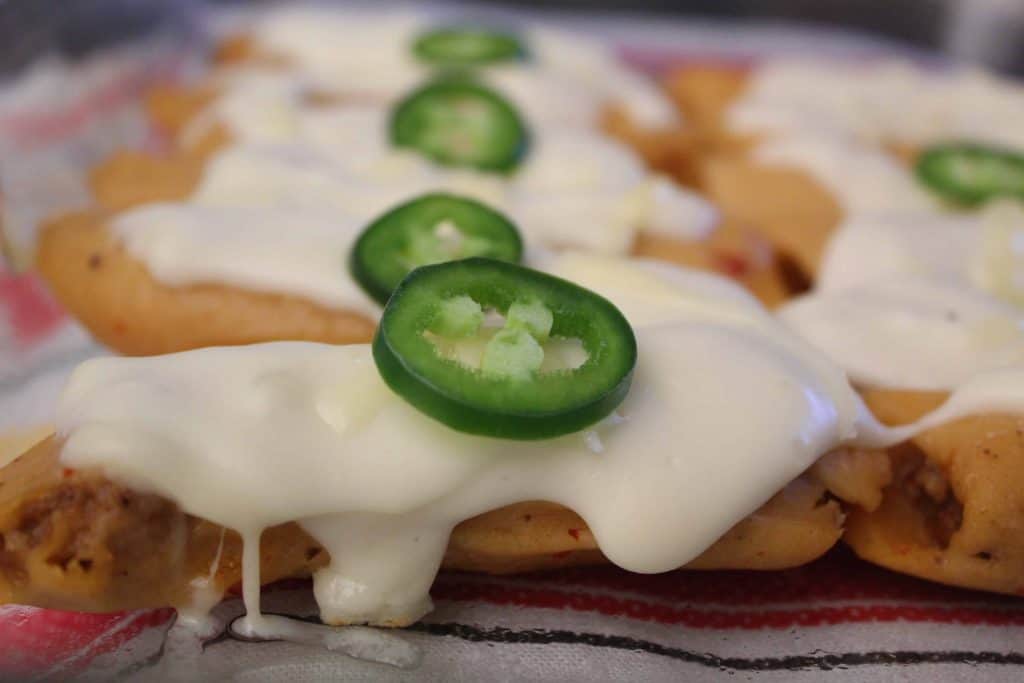 This Tex-Mex Sour Cream Sauce has a hint of jalapeno; I usually use one tablespoon of jalapeno juice from jarred jalapenos, however, you can achieve the same flavor by putting a few slices of jalapeno and a teaspoon of white vinegar.
What Can I Substitute for Chicken Broth?
You can use vegetable broth or water. If you use water, you may want to add more salt.
What Type of Cheese Works Best for Tex-Mex Sour Cream Sauce?
I like to use shredded Monterrey Jack because of the sharp flavor. You could use a Colby-Jack cheese or a sharp Mexican cheese as well. I always use Monterrey Jack because it's white and tangy, and doesn't alter the color of the sauce as a yellow cheddar might.
Can I Make Tex-Mex Sour Cream Sauce in Advance?
Yes, just store it in an airtight container in the fridge until you're ready to serve. It may tend to form lumps in the fridge. but that's easily remedied. Simply heat the sauce on the stove, medium heat, and whisk until the sauce is creamy and smooth. If it's too thick, add a little more broth/water and continue whisking.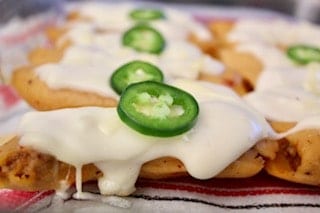 Tex-Mex Sour Cream Sauce
Tangy sour cream sauce with a hint of jalapeno and Monterrey Jack cheese. Perfect for enchiladas or tamales!
Keyword:
Cheese and Sour Cream Sauce, Sour Cream and Cheese Sauce
Ingredients
1

cup

chicken broth

3/4

cup

sour cream

6

oz.

Monterrey Jack Cheese

shredded

2

tablespoons

corn starch

1

teaspoon

vinegar or jalapeno juice

pinch of salt

1

slice

jalapeno

optional
Instructions
In a medium size pan and on medium high heat, add chicken broth and sour cream

Add salt, cheese and jalapeno slice (optional); bring to boil, whisking frequently

Add cornstarch and continue to whisk mixture until it begins to boil

Reduce heat and add jalapeno juice or vinegar; combine well and serve
Recipe Notes
This sour cream sauce is medium thick; if you want a thinner sauce, omit the cornstarch; if you want a thicker sauce, add more cornstarch

Make sure the mixture is at a high heat when you add the cornstarch; cornstarch thickens at high temperatures, versus flour, which thickens at lower temperatures

This sauce goes great over enchiladas or tamales because of the jalapeno juice. If you want a more universal flavor, substitute the jalapeno juice with either white vinegar or lemon juice. 

The universal version of this sauce goes well with fish, potatoes, asparagus, broccoli and brussels sprouts.
You might want to try this sauce with Beef Fajitas, too!
0