The holidays aren't complete without a little Southern Bread Pudding with bourbon sauce. It's a classic recipe we serve every Christmas and March during Mardi Gras!
It seems very fancy when you're serving it...our little secret...this simple bread pudding recipe is very easy to make!
You'll find this decadent dessert on just about every restaurant menu in New Orleans. Some versions are very dense, while others are a little more fluffy.
This recipe is fluffy, not dense and, if you don't care for raisins, no problem! Leave 'em out!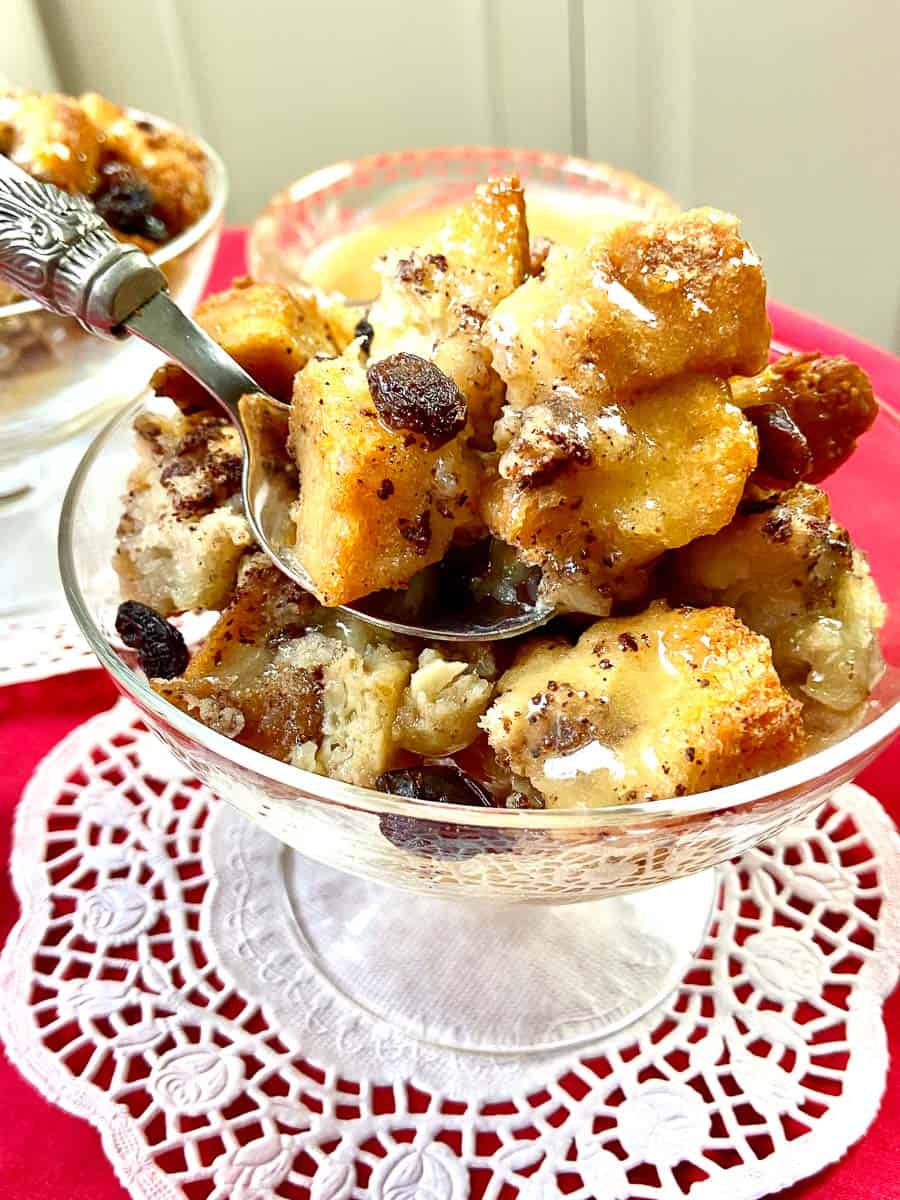 It all started with remnants of an old fashioned bread pudding recipe we found. My Mother has a handwritten note on the scratch pad says, "delicious- from a Creole restaurant."
This was in the early 80's. Then it lists the ingredients with a few measurements for the cinnamon and nutmeg, as well as heating instructions--vague, to say the least.
We studied that recipe and had many questions: How much bread? What kind of bread? What size pan?
So, we started comparing her "recipe" to others...we found that many required similar ingredients, but in different proportions...some used cream versus whole milk while others used half-n-half.
I knew if we had that many questions, you would, too. So, I've tried to address every question in order to make this seemingly difficult recipe a super easy recipe!
Read the Tips below and recipe notes first...
Jump to:
What is bread pudding?
Southern bread pudding with bourbon sauce is a bread-based custard, typically with warm seasonings of cinnamon and nutmeg. It often includes currants (raisins) and is often served with warm liquor-based sauce such as whiskey sauce, bourbon sauce, or a hard sauce (caramel sauce).
The concept is originally from Europe and was considered "poor man's food"- stale bread, soaked in a seasoned milk and egg mixture then baked in a casserole dish.
The recipe was altered to include warm spices like cinnamon and nutmeg (and dried fruit - raising) and escalated to fine dining restaurants in Louisiana, most notably in New Orleans. Now, you'll find this warm dessert served in just about every restaurant in the state!
Why you'll love this recipe!
Easy dessert- pretty straight-forward; nothing too difficult, but it does require time to soak the bread
Flavorful - sweet, but not too sweet
Make ahead - you can make the pudding and the sauce in advance; a great time-saver
Light and airy - cooking the custard in a hot water bath creates steam, which keeps the dessert light
Great texture! -the top is lightly crunchy and the custard is soft, but not mushy
This recipe is not hard to make, but it is IMPORTANT you read the tips below, as well as the recipe notes before you begin.
Ingredients
The ingredients for this recipe are pretty simple; in fact, you've probably already got these everyday ingredients in your kitchen ready to make Southern Bread Pudding with Bourbon Sauce.
6 cups of cubed stale white bread, (I use stale French bread), milk, half-n-half, eggs, cinnamon, vanilla, nutmeg, butter, sugar and whiskey bourbon (not pictured)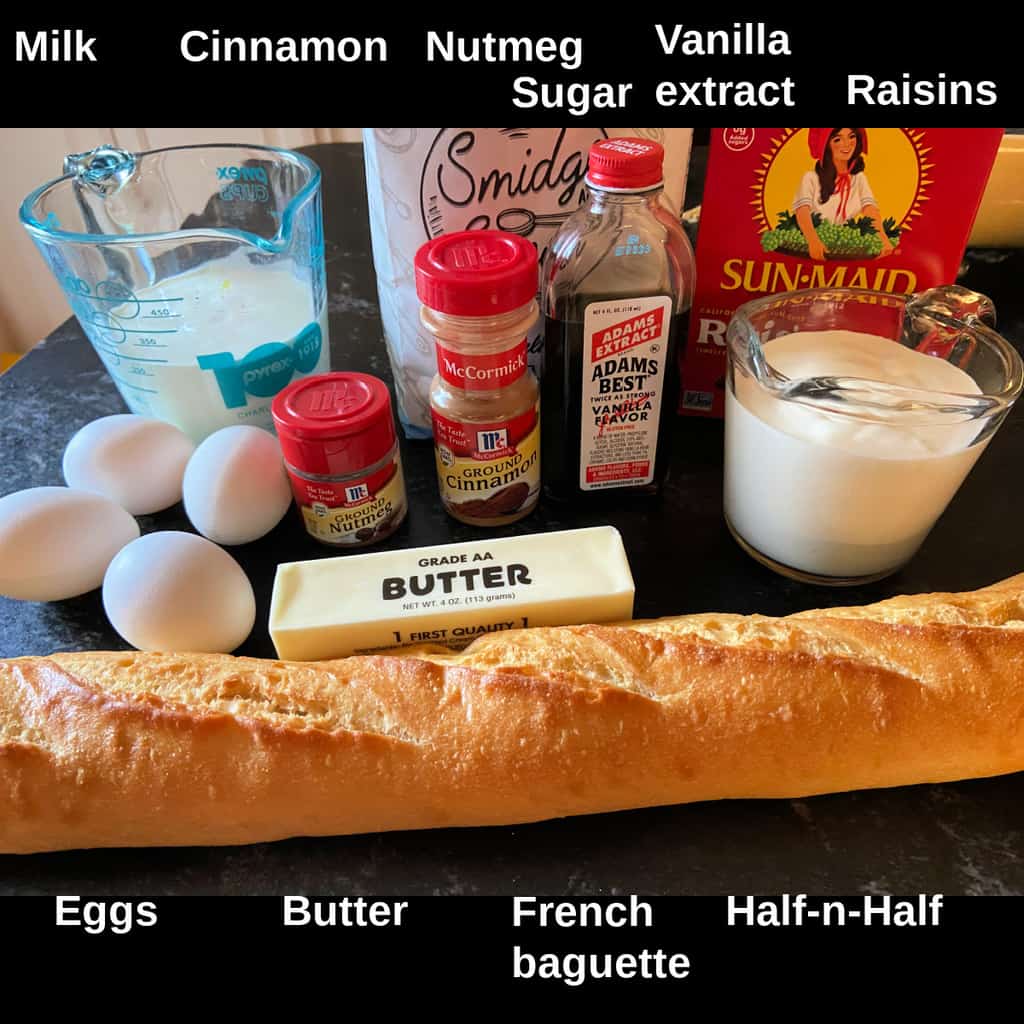 If you've ever had a chance to have a bowl of Louisiana gumbo or Shrimp Etouffee at Commander's Palace, then you'll understand why New Orleans bread pudding is perfect after a rich savory Cajun or Creole meal! The fluffiness and sweetness offsets the rich flavors in the entree and makes for the perfect sweet treat after a delicious meal.
How to make the Southern bread pudding with bourbon sauce
This recipe relies on steam and oven heat to bake it to a nice golden brown. The result is fluffy - and not dense or gooey.
Preheat oven to 350ºF, put top rack in the middle slot of the oven and prepare the pans.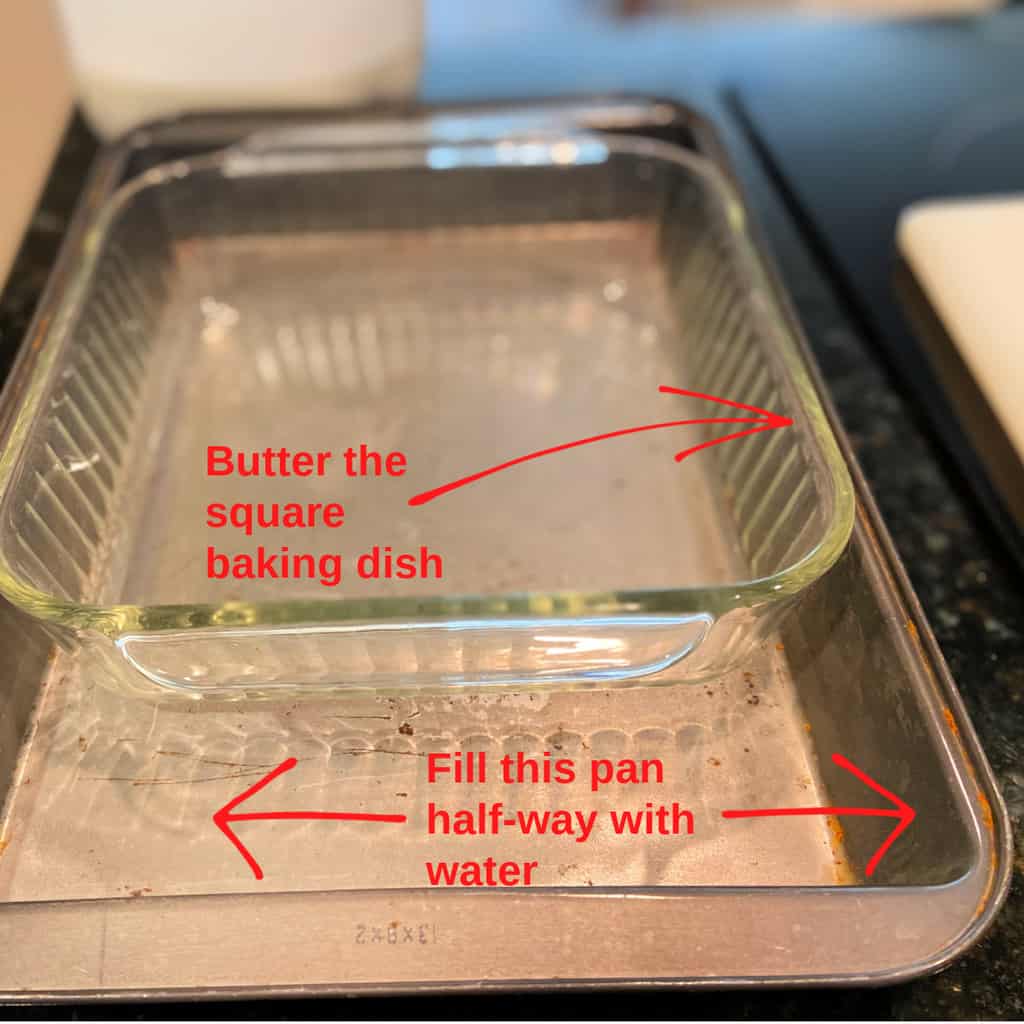 Next, get the bread and custard mixture together; slice bread cubes into ½ "inch cubes and set aside
In a small bowl, combine half - n - half (or heavy cream), sugar, eggs, cinnamon, nutmeg, vanilla extract and raisins (optional)
Add the dry bread and soak bread in milk mixture for one hour; after the bread has soaked for an hour, heat oven to 350°F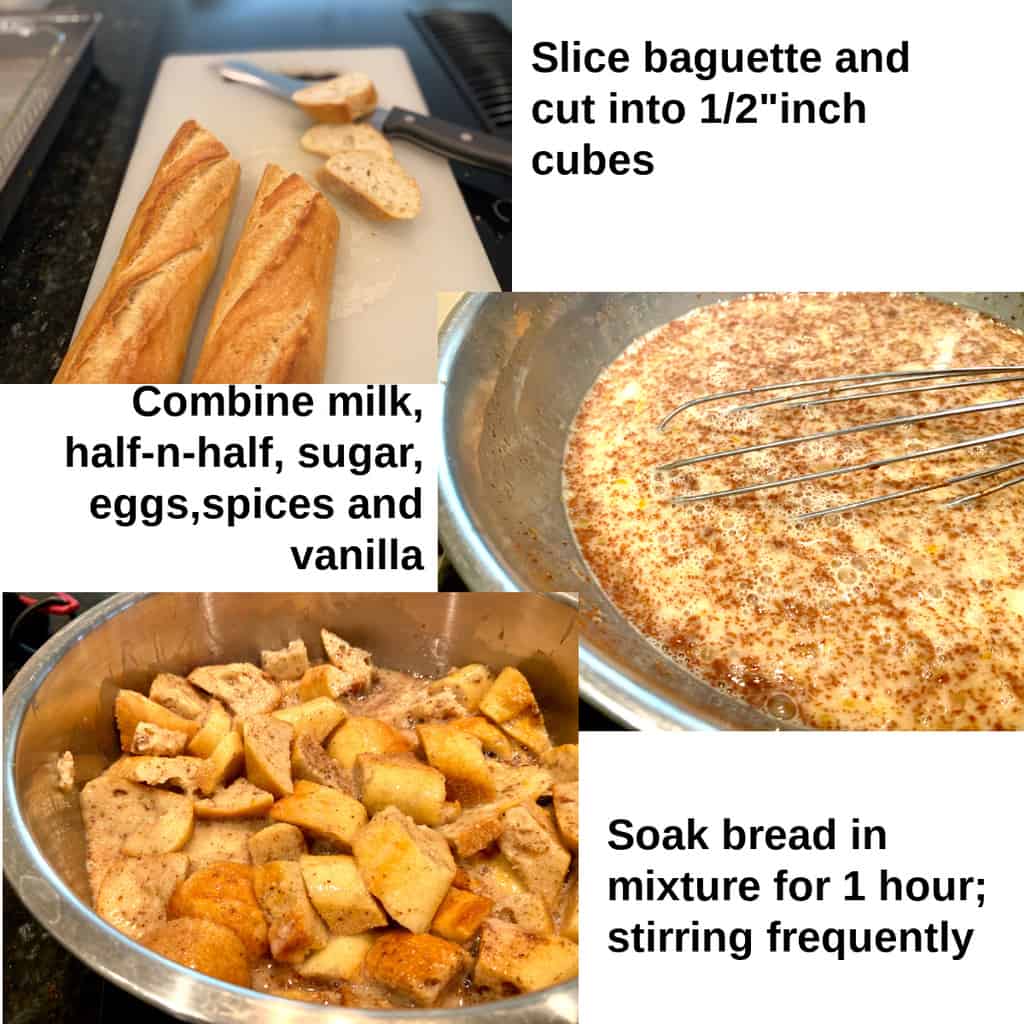 Ingredients for Bourbon Sauce
You'll need butter, sugar, eggs, a pinch of salt and whiskey or bourbon (or rum, if you prefer). The sauce requires less than a cup bourbon whiskey (3 tablespoons to be exact) but if you're going to have a little "sip" while you're waiting for the bread to soak, you might need a little more!
See Recipe Notes in the Recipe Card below for a "no booze" Vanilla sauce
What kind of bourbon whiskey to use
You can make the sauce with any kind of bourbon whiskey - it doesn't have to be "high-end" or fancy. We use Kentucky Straight Bourbon for this recipe because we like to have a sip while we're making the whiskey sauce.
If you're not gonna have a little bit of a "snort" then don't worry about what kind of bourbon you get. But, if you ARE gonna have a little "snort," get a good-quality bourbon-something you'd offer to a friend!

Use a double boiler and melt a few tablespoons butter in a small saucepan on low heat; remove from heat and allow to cool about 10-minutes
Combine sugar and eggs in separate bowl
Gradually add sugar mixture to melted butter off heat - this means, remove the saucepan off the stovetop
Once all the sugar mixture has been added to the melted butter, return the saucepan back to the double boiler and continue cooking until most of the sugar is dissolved
When sugar is dissolved; remove from heat and allow to cool a bit
Add whiskey, stir and drizzle over the warm dessert
Tips for bread pudding
Cut the bread into ½" inch cubes
Use an 8 x 8" baking dish (2-quart) for the pudding; you'll need a larger bowl for the hot-water bath
You'll need about 6 cups of cubed bread; this is equivalent to one skinny French baguette or half a loaf of the bigger French breads usually found in grocery store deli's
Ovens vary, so check the center with a knife after about 40-minutes
Place on middle rack in hot-water bath; this helps the custard set-up and keeps the top from getting too crispy
Tips for the bourbon sauce
You only need about 3 tablespoons of whiskey for the sauce itself, but if you want to "sneak-a-sip," you'll need more:)
Be patient when you're making this classic dessert sauce!
The sauce cooks for about 10-minutes on low heat. This is because, if you add the sugar/egg mixture to hot butter, the egg will cook so, you have to work on super-low heat and work in increments.
Melt the butter on low in a double-boiler; remove from heat and allow to cool a bit
While the butter is off heat, gradually add in the sugar/egg mixture in increments, stirring well between
Once all the sugar/mixture has been added to the slightly warm butter, return the double-boiler sauce pans to the burner on low heat, stirring constantly
Continue stirring the sauce ingredients for about 3-4 minutes on low heat
As the sugar begins to dissolve, you can turn the heat up a little-still stirring constantly
After about 8-10 minutes, most of the sugar is dissolved; remove from heat and allow to cool before adding the whiskey
Make ahead and reheating
You can make Southern bread pudding with bourbon sauce up to three days in advance. Store baked the pudding in the fridge tightly covered with foil or plastic wrap.
To reheat the pudding, set the oven to 300ºF, cover the dish with foil, and bake 25-minutes, until the center is warm.
To reheat the sauce, place it in a saucepan on low heat and stir until the sugars are dissolved and the whiskey sauce is smooth and warm.
Bread pudding for large gatherings
This ultimate comfort food goes great with just about everything! Serve it on a small plate or in individual ramekins.
If serving for a large group, double the pudding and bourbon sauce recipes. Then bake individual servings oven-proof ramekins. Keep the sauce warm on the side (in a chafing dish) for self-serving.
To keep it warm for longer periods, put the casserole dish or ramekins in a steamer pan with a lid
Use a hot-mitt when serving individual ramekins - THEY GET HOT from the steam!
Feel free to offer alternative toppings like vanilla ice cream or caramel sauce!
What to make with leftover bread pudding
If you're lucky enough to have any of this left over, it makes a perfect french toast! Simply beat eggs in a medium bowl, then dip individual slices in the eggs and pop it on the griddle or in a large skillet! Serve with leftover bourbon sauce, vanilla sauce or maple syrup!
If you can't get to The Crescent City, take a few minutes to prepare this Southern bread pudding with bourbon sauce! Your friends and family will love this delicious dessert and it will become a family favorite in no time!
Related recipes
If you make this recipe, please scroll down and leave a rating and comment! I love to hear from you!
📋 Recipe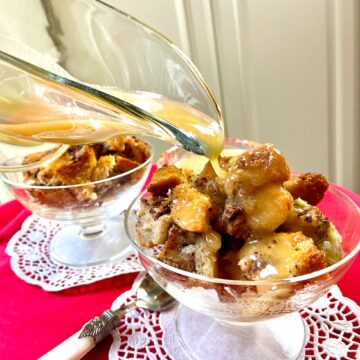 Southern Bread Pudding with Bourbon Sauce
A Louisiana Classic! Homemade bread pudding with a flavorful custard served with warm whiskey bourbon sauce
Print
Rate
Equipment
8" x 8" inch baking pan (2 quart pan)

9 x 13" pan to hold water
Ingredients
Bread Pudding Ingredients
6

cups

dried bread; cut into ½" cubes

, cubed; (one long skinny French baguette or 3 7-inch hoagie rolls or ½ a loaf of Italian bread)

1

tablespoon

butter

, to coat baking dish

1

cup

half-n-half

1½

cups

milk

, whole (you can use 2%)

4

whole

large eggs

2

cups

granulated sugar

1

cup

raisins (optional)

1

tablespoon

vanilla extract

1

tablespoon

ground nutmeg

1½

teaspoons

ground cinnamon
Bourbon Sauce Ingredients
1

stick

butter

1

cup

sugar

1

whole

egg

3

tablespoons

bourbon, whiskey or rum (See recipe notes)
Instructions
Cut bread into cubes (you need about 6 cups of cubed bread total)

6 cups dried bread; cut into ½" cubes

In a large mixing bowl, combine milk, half n half, sugar, eggs, nutmeg, vanilla, cinnamon and raisins

1 cup half-n-half,

1½ cups milk,

4 whole large eggs,

2 cups granulated sugar,

1 tablespoon vanilla extract,

1 tablespoon ground nutmeg,

1½ teaspoons ground cinnamon,

1 cup raisins (optional)

Pour mixture over bread; coat well; allow to rest for 1 hour (stir occasionally)

Lightly butter an 8 x 8" baking pan and place it in a 9 x 13" pan; add water to the 9 x 13" until it the pan is half full

Pour soaked bread and milk mixture into 8 x 8" greased pan; if you want to add raisins, mix them in now. (See recipe notes about raisins)

Place both pans in oven on the middle rack, uncovered; bake 45-60 minutes on 350ºF until center is set (test with knife)

While the bread pudding is baking make the sauce; melt one stick of butter in a double boiler on low heat; remove from heat; set aside

In a bowl, combine sugar and egg

Gradually add sugar/egg combination to melted butter (off heat), stirring constantly; return pan back to low heat; continue stirring; as sugar begins to dissolve, you can turn the heat up a little; when sugar is dissolved, remove pan from heat and set aside; allow to cool a little before the next step

Stir in whiskey; plate bread pudding and drizzle warm sauce over it

3 tablespoons bourbon, whiskey or rum (See recipe notes)
Notes
Serving/Portions:
This recipe makes a full 8 x 8" (2 quart) pan of bread pudding; the number of servings depends upon the size spoon you use. I used a standard serving spoon (not a teaspoon) and got anywhere from 12 - 16 servings.
Pan Size:
If you're making this for a big group, I recommend you double the recipe and bake it in a 9 x 13" pan.
If you use a 9 X 13" pan, you're going to need a bigger pan to put the water in...get one of those aluminum pans at the grocery store, but be careful when removing it from the oven--take the 9 x 13" pan out first; then the aluminum pan with hot water
Bread:
You'll need 6 cups of cubed bread. This is equivalent to:
3-7"inch hoagies
1 skinny French baguette
½ loaf of Italian bread
Make the cubes small--bite size-about ½"inch
Milk/Cream:
This recipe calls for milk (whole) and half-n-half. If you only have 2% milk, use that. If you don't have half-n-half, use heavy cream in the same proportion as the half-n-half.
Raisins:
If you want to add raisins, mix them into the bread mixture when you pour it into the baking dish. If you don't want raisins, omit them.
Bourbon Sauce:
Use a double-boiler to make the sauce
Allow the butter to cool slightly off-heat before adding the sugar/egg mixture, otherwise, the eggs will cook
Add the sugar/egg mixture in increments, not all at once--stirring constantly
Once all the sugar/egg mixture is combined, return the saucepan to the stove on low heat; stir, stir, stir...you'll begin to see the sugar dissolve
Once you see the mixture becoming less grainy, you can turn the heat up a little
After mixture is relatively smooth and not too grainy, remove from heat; allow to cool about 10-minutes before adding the whiskey
Don't want liquor in sauce? No problem!
If you don't want liquor in your sauce, just omit it and make a Vanilla sauce by substituting the bourbon for a teaspoon of vanilla extract.
3-tablespoons of whiskey bourbon or dark rum
You can eliminate the booze in the sauce if you like
Nutrition Estimate
Serving:
1
cup
Calories:
687
kcal
Carbohydrates:
122
g
Protein:
12
g
Fat:
16
g
Saturated Fat:
9
g
Cholesterol:
35
mg
Sodium:
827
mg
Potassium:
296
mg
Fiber:
4
g
Sugar:
53
g
Vitamin A:
385
IU
Vitamin C:
1
mg
Calcium:
157
mg
Iron:
4
mg