How to Make Roux
Roux, pronounced "roo", is a French term for the combining and heating equal amounts of fat and starch to create a thickening agent. A roux is the base of a dish or sauce; it is not a sauce on its own.
Roux is the basis of sauces and gravies. The fat content is typically butter, but other fats include oil (vegetable or canola), pan drippings (from bacon) or roasted meats (chicken, turkey). Melt the fat first, then sprinkle in the flour stirring constantly. What you're doing here is cooking the flour; raw flour tastes awful! After about two minutes or so the flour is done. At this point, you can do a couple of things:
Add the roux directly to a soup or stew for thickening
Add a liquid to the roux to make a sauce or gravy
Using equal amounts of butter and flour, melt butter in a heavy-bottom skillet.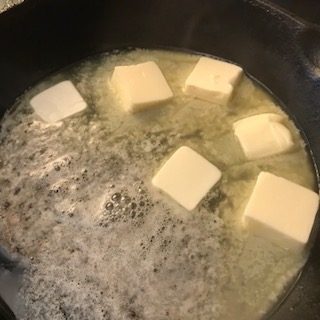 Once butter has melted, sprinkle in flour, stirring continually. 
White roux is thin and used for white sauces, blonde roux is thicker than white and is used for thickening soups and stews, dark roux is the thinnest and is used for gravies and gumbos.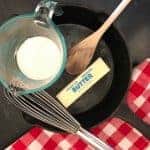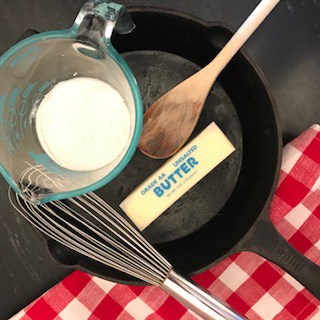 Print Recipe
Roux
Roux is a French term for a thickening agent made of equal parts of fat and flour.
Instructions
Gradually add flour, stirring constantly

For a light roux: cook 2-5 minutes

For a blonde roux: cook 5-8 minutes

For a dark roux: cook 8-10 minutes
Notes
Once the roux is cooked, you can add a liquid, (broth, dairy, water) to make a sauce. Use a whisk to remove any lumps from sauce
A dark brown roux is generally used in deep, savory dishes like gumbo. A light roux is often used for cream gravies and white sauces. Once you've made the roux, you can begin to create a sauce. Bechamel, Mornay, Tomato, Veloute or Hollandaise!
Now that you know how to make a roux, try Chicken Stew or Louisiana Gumbo!