There's no magic to making the best hot pastrami sandwich, just technique and quality ingredients! This classic New York deli sandwich is quick and easy, loaded with shaved hot pastrami, sauerkraut, Thousand Island dressing and creamy Provolone cheese.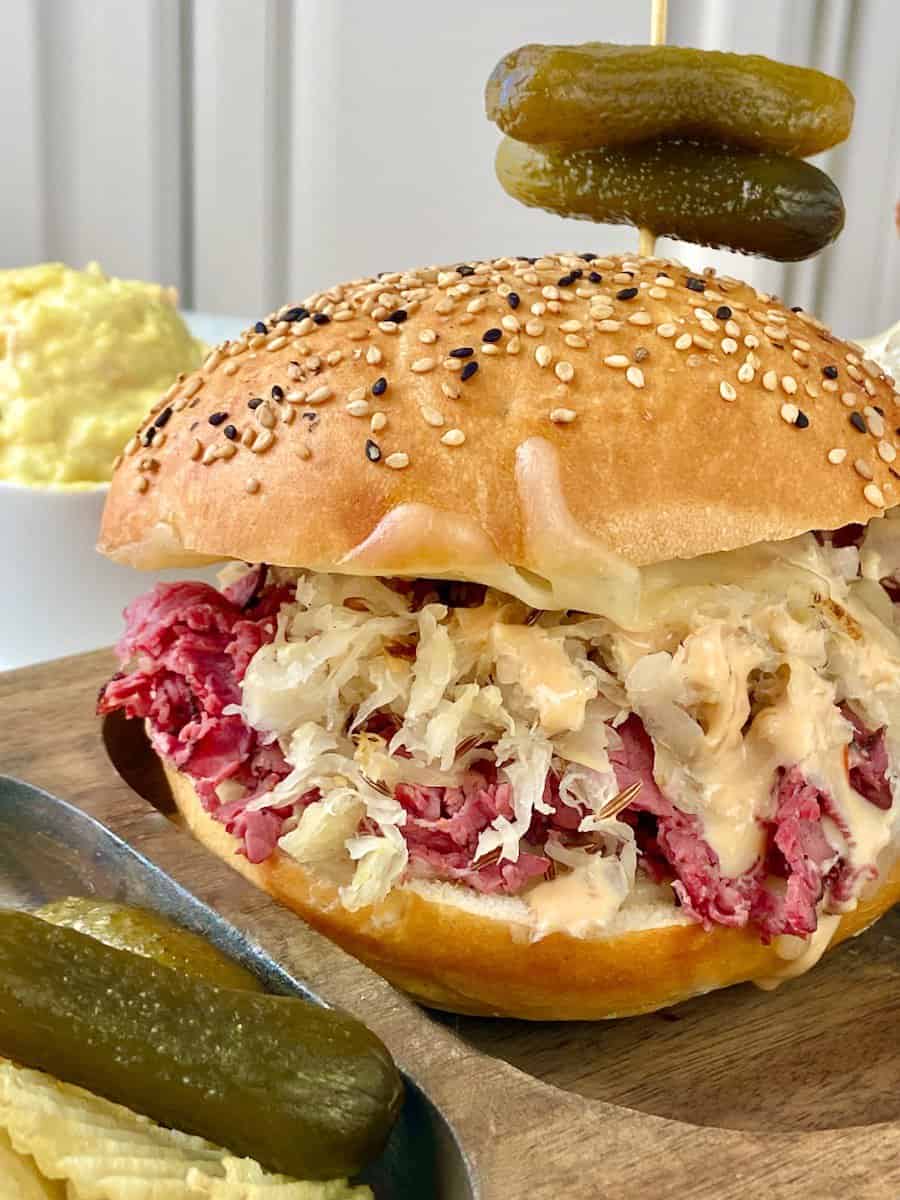 And when you heat this baby up, it's even better!
Why this recipe works
This easy deli sandwich recipe will make you feel like you're in New York!
Quick and easy - ready in minutes!
High quality ingredients - shaved Boar's Head pastrami, Provolone cheese, fresh sauerkraut and Ken's Thousand Island dressing
Filling & Flavorful - the salty pastrami works great with the sweet dressing and tangy sauerkraut
Hot Pastrami and Reuben sandwiches are staple items you'll find in most Kosher delicatessens but they're actually not Kosher because they include meat and cheese together.
You'll also find the hot pastrami a number one seller at the iconic Katz's deli on the lower east side of Manhattan in New York City.
Here's what you'll need
Sure anybody can throw some meat on bread and call it a good sandwich, but for a GREAT hot pastrami sandwich, you'll want to get high-quality ingredients.
Pastrami: The best hot pastrami sandwich starts with a high quality meat. No packaged meats, here, you're gonna want to get a high-quality delicatessen pastrami - I like Boar's Head beef pastrami personally, but if you want a leaner sandwich, turkey pastrami is equally good.
Bread: A good quality bread is also important in making a perfect sammy! Traditional sandwiches are served with pastrami on rye. You can use a soft sweet Brioche bun, regular or seed-topped hamburger buns, or a good Jewish rye bread - any of these will work! I like to use the onion buns from the deli-they hold up well and have a nice flavor!
Cheese: Provolone cheese is the typical cheese for this meaty sandwich. Grab a few thin slices of provolone at the deli. If you can't find Provolone you can substitute with another mild white cheese like Swiss cheese or Mozzarella cheese.
Sauerkraut: Invest in a good sauerkraut from the refrigerated section of the grocery store. Canned sauerkraut will work in a pinch, but the refrigerated ones are more crispy and flavorful.
Thousand Island dressing: Traditional versions usually have a homemade "Reuben" dressing, which is similar to a "Russian" dressing. While homemade dressing is best, you'll find Ken's Thousand Island dressing works well to slather on your pastrami! Some versions use deli mustard or stone ground mustard, but there's definitely no mayonnaise on a truly authentic deli pastrami sandwich.
Caraway seeds: Caraway seeds are found in the spice section of the grocer and are the secret ingredient to a truly authentic New York pastrami sandwich. Lightly toasted caraway seeds give the sauerkraut a delicious hint of savory flavor which pairs beautifully with the salty meat and sweet, tangy 1000 Island dressing.
How to make the best hot pastrami sandwich
The secret for making the best hot pastrami sandwich is in the methodology of putting the sandwich together. Sure, you can stack the ingredients on bread and heat it, but some ingredients need to be nurtured.
Drain the sauerkraut and set aside; heat oven to 350°F for warming the bread (optional, but highly recommended)
In a large non-stick skillet on low heat, add the drained sauerkraut with a sprinkle of caraway seeds; let this cook for 3-4 minutes- just enough for the seeds to soften) then, use a spatula or wooden spoon and move these ingredients to one side of the pan; add shredded pastrami to the other side of the pan and let it warm a bit;meanwhile, melt cheese on the bread or buns (optional, but recommended)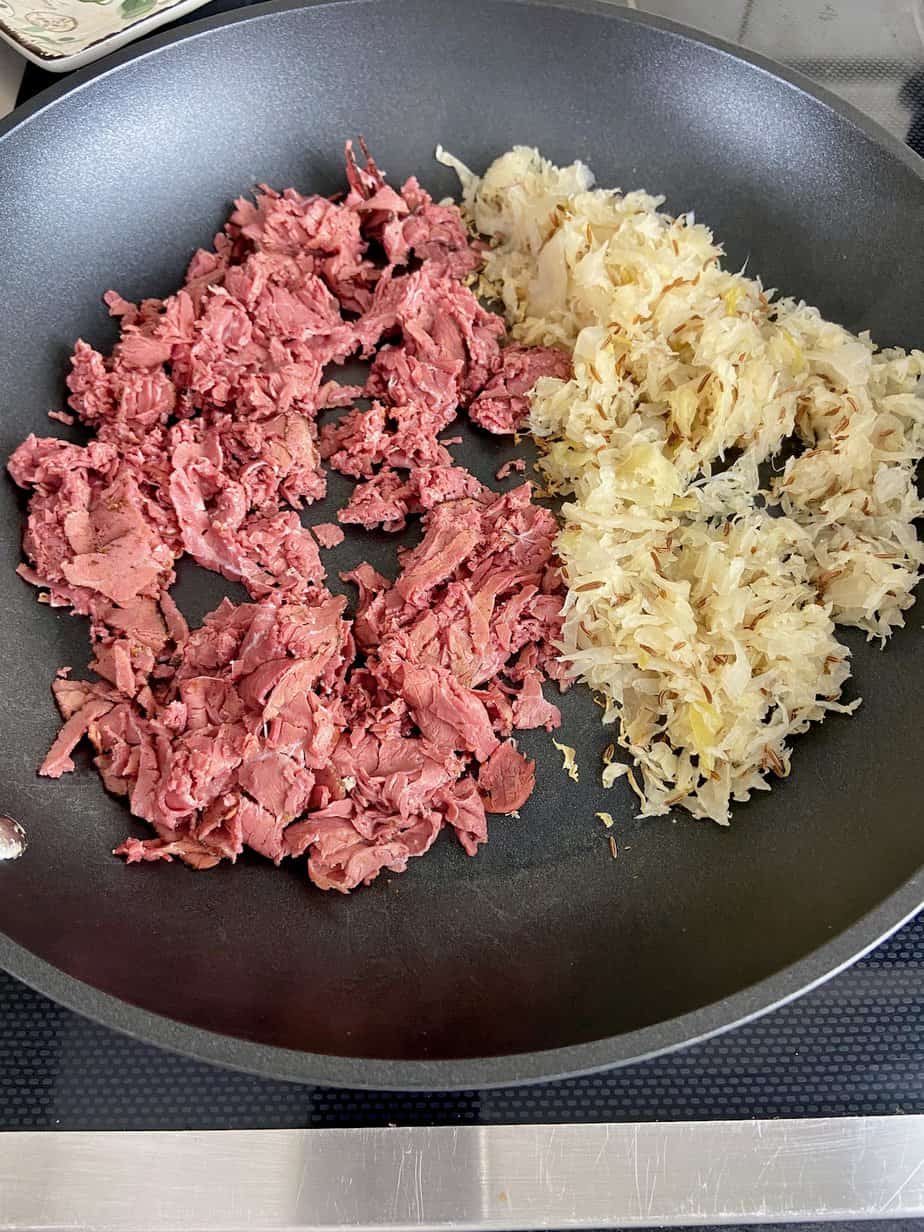 Preheat the oven to 350°F; place a slice of Provolone on each bun- put a slice of cheese on both the top and bottom buns; place the cheese-topped buns in a single layer on a baking sheet and heat in the oven for 3-5 minutes - just until the cheese begins to melt!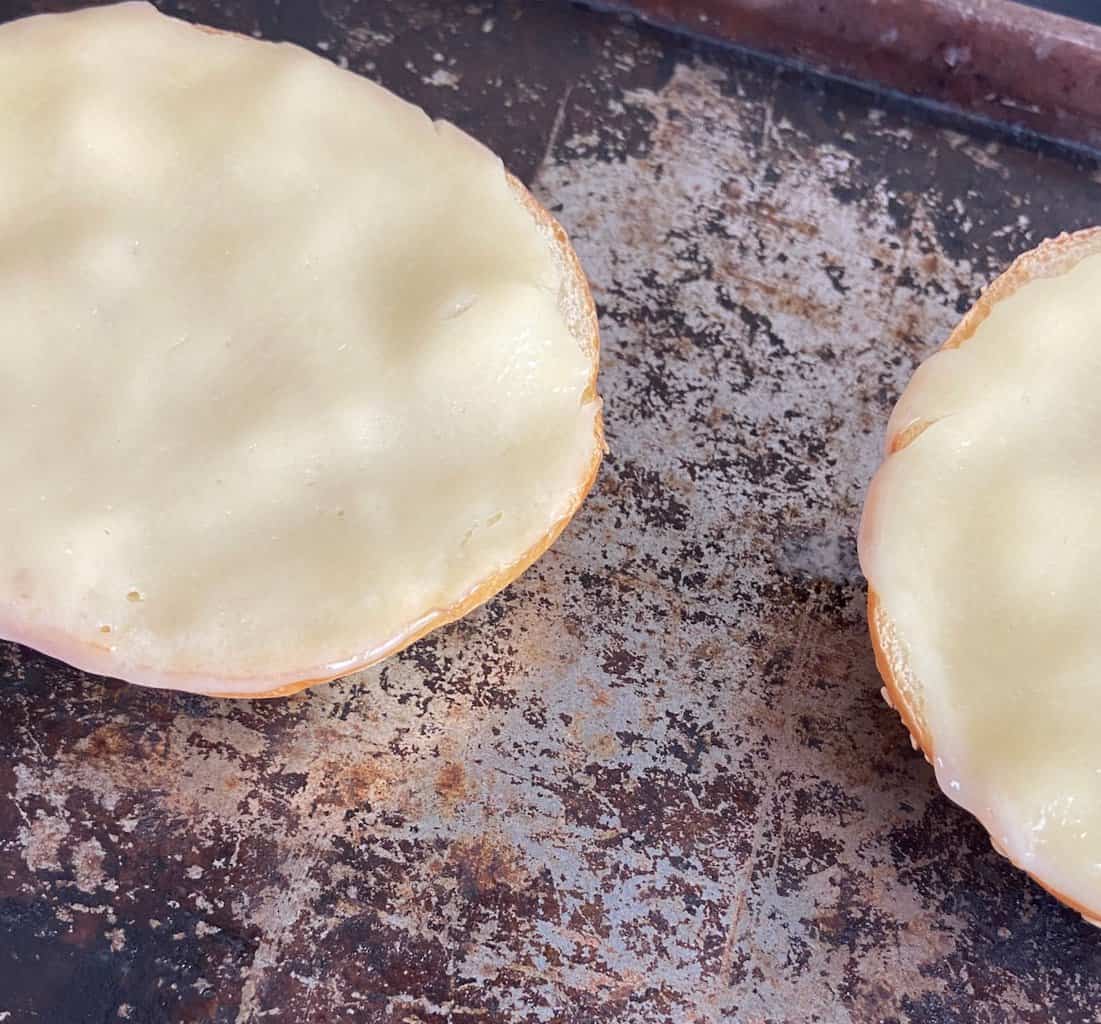 Remove warm bread from oven, place hot pastrami on the bottom bun, then add a big scoop of warm sauerkraut, then drizzle with Thousand Island dressing and place the top bun on top.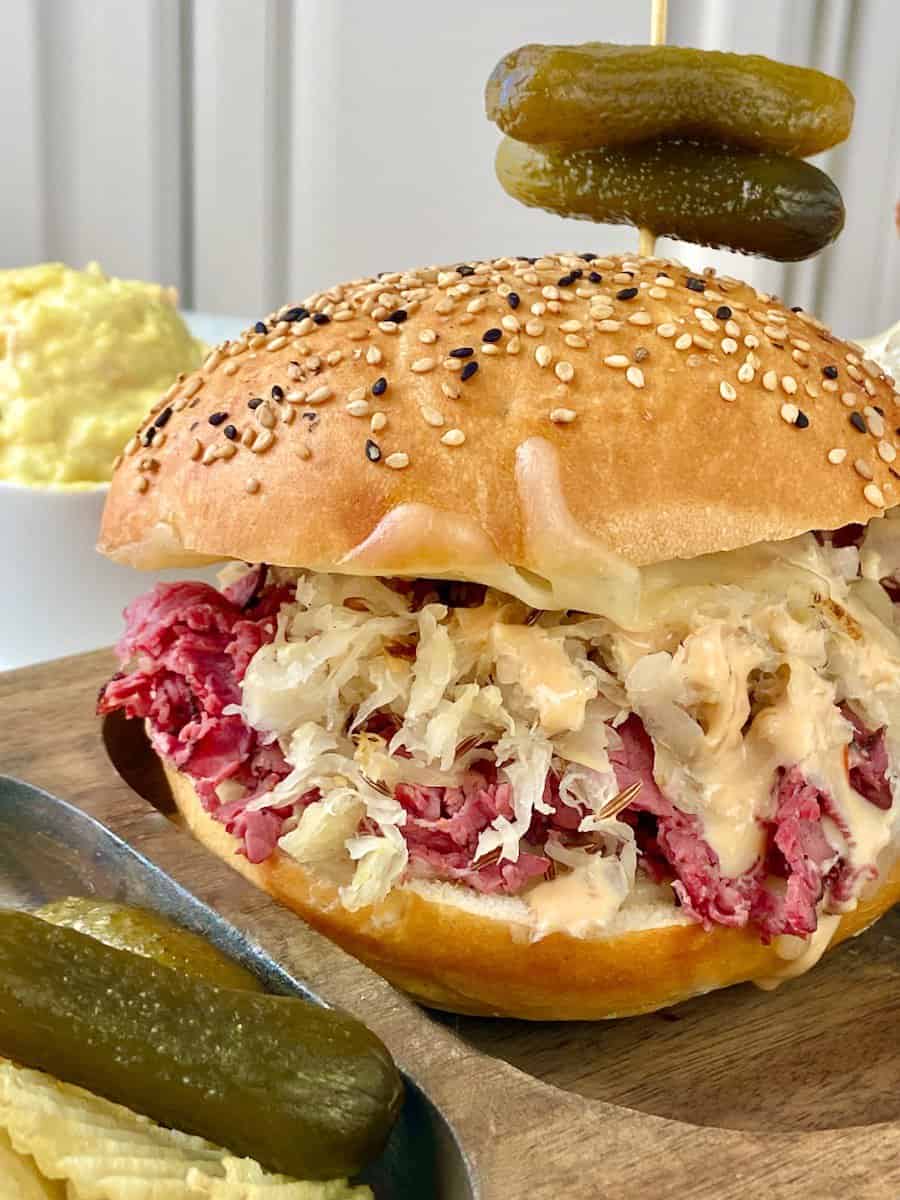 Recipe Tip
Use a non-stick skillet to heat the sauerkraut, caraway seeds and pastrami. If you don't have a non-stick skillet, add a tablespoon of butter to the pan when you heat the sauerkraut and caraway seeds
Recipe FAQ
What's the difference between Hot Pastrami and Corned Beef?
While both are cured meats, corned beef is boiled and pastrami is smoked and is often coated with ground black pepper and spices.

The flavors are very similar--both are a bit salty, which works great with the tangy sauerkraut and sweet thousand island dressing.

A classic Reuben sandwich is made with corned beef.

What kind of cheese goes best on a pastrami sandwich?
A mild white cheese is best for the salty pastrami sandwich. Use Provolone or Swiss cheese.
Should a pastrami sandwich be served hot or cold?
Serve pastrami sandwiches hot or cold, either way is fine, however, the pastrami has more flavor when it's slightly warm.
Serving suggestions
Turn a hot pastrami sandwich into a dinner or lunch entree with the addition of a side of homemade potato salad, egg salad or a cup of your favorite soup!
Serve mini-hot pastrami sliders on your charcuterie board at your next party!
Don't forget to serve a nice slice of cheesecake to follow up with this big sandwich!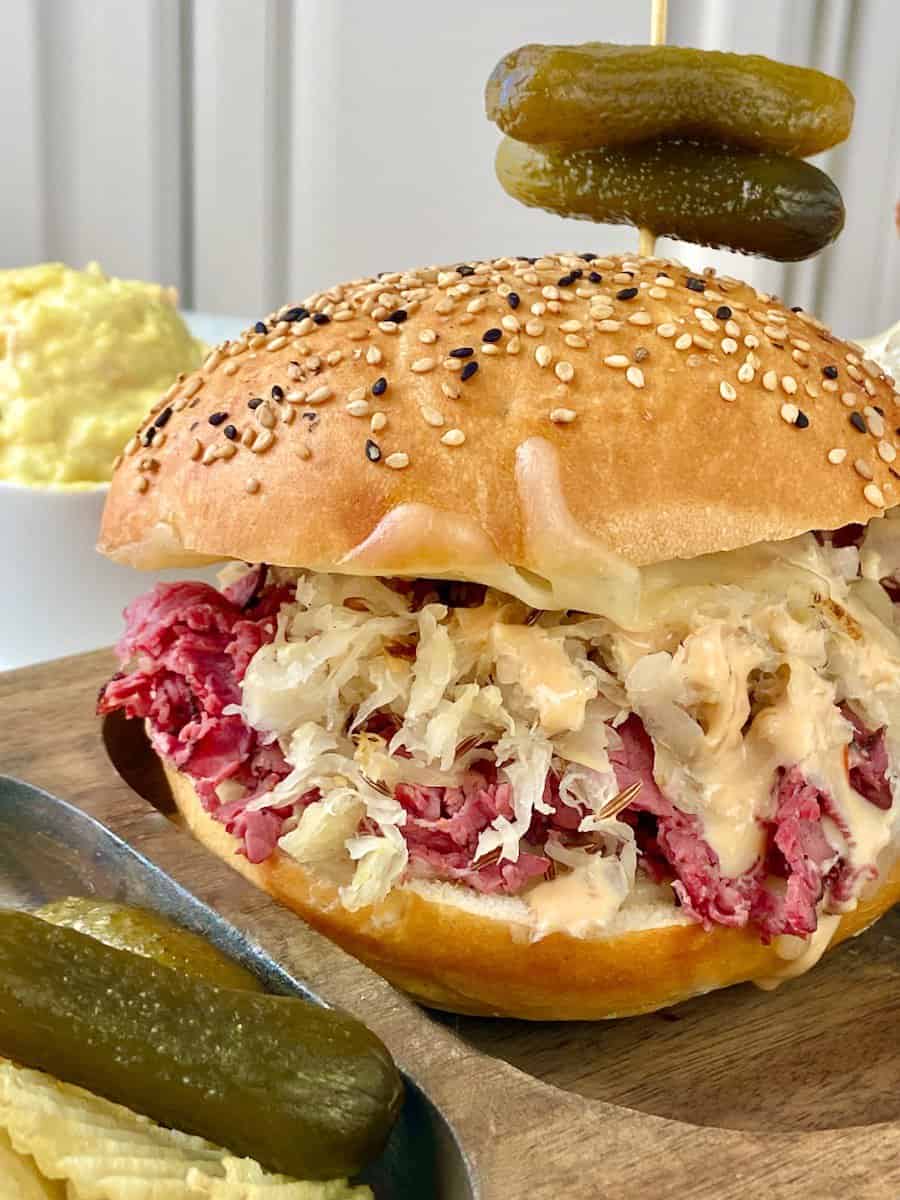 So the next time your in "a New York state of mind" and can't get to the infamous Katz's New York deli, make the best hot pastrami sandwich at home and enjoy!
Related recipes
♥ If you make this recipe, please leave a comment and rating! I love to hear from you!
📋 Recipe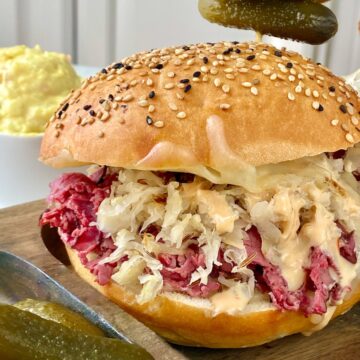 Hot Pastrami Sandwich
Hot pastrami, caraway-seasoned sauerkraut, creamy Provolone cheese with a tangy dressing makes the perfect sandwich!
Print
Rate
Ingredients
4

oz.

pastrami

shaved, beef or turkey pastrami

4

oz.

sauerkraut

drained

1

tablespoon

caraway seeds

2

oz.

Thousand Island

salad dressing

6

oz.

Provolone cheese

thinly sliced

1

tablespoon

butter (See Recipe Notes)

Bread: Jewish rye bread, artisan bread or Brioche buns
Instructions
Preheat oven to 350°F to melt cheese on bread (optional, but recommended)

Cut buns in half and drain sauerkraut; set aside

Bread: Jewish rye bread, artisan bread or Brioche buns,

4 oz. sauerkraut

In a large non-stick skillet, on medium low heat, add drained sauerkraut and caraway seeds; cook 3-5 minutes or until seeds are soft

4 oz. sauerkraut,

1 tablespoon caraway seeds

Once the caraway seeds are soft, move the sauerkraut to one side of the skillet

Add pastrami to the other side of the skillet;

While the pastrami is heating, place a slice of cheese on each piece of bread (you'll put a piece of cheese on the top AND bottom bun)

Place cheese topped buns or bread on a baking sheet in a single layer (you don't need parchment, foil or oil on the pan); bake on middle rack just until the cheese begins to melt; remove from oven and assemble sandwich
Assemble the Hot Pastrami sandwich
On the botttom bun, add a scoop of warm pastrami; then add a scoop of warm sauerkraut; drizzle that with thousand island dressing and place the top bun on top!
Notes
If you're not using a non-stick skillet, add a tablespoon of butter to the pan when you saute the sauerkraut and caraway seeds
Nutrition Estimate
Serving:
1
sandwich
Calories:
889
kcal
Carbohydrates:
49
g
Protein:
44
g
Fat:
59
g
Saturated Fat:
30
g
Cholesterol:
251
mg
Sodium:
2371
mg
Potassium:
414
mg
Fiber:
3
g
Sugar:
6
g
Vitamin A:
1703
IU
Vitamin C:
29
mg
Calcium:
734
mg
Iron:
5
mg