Chewy Pretzel Balls are perfect as a snack, appetizer or a bite of bread to go with your favorite soup! They're soft and chewy on the inside and crispy and salty on the outside!
Once the dough is formed, they take about 20 minutes to boil and bake!
If you can't get to your local "Germanfest" these are the next best thing!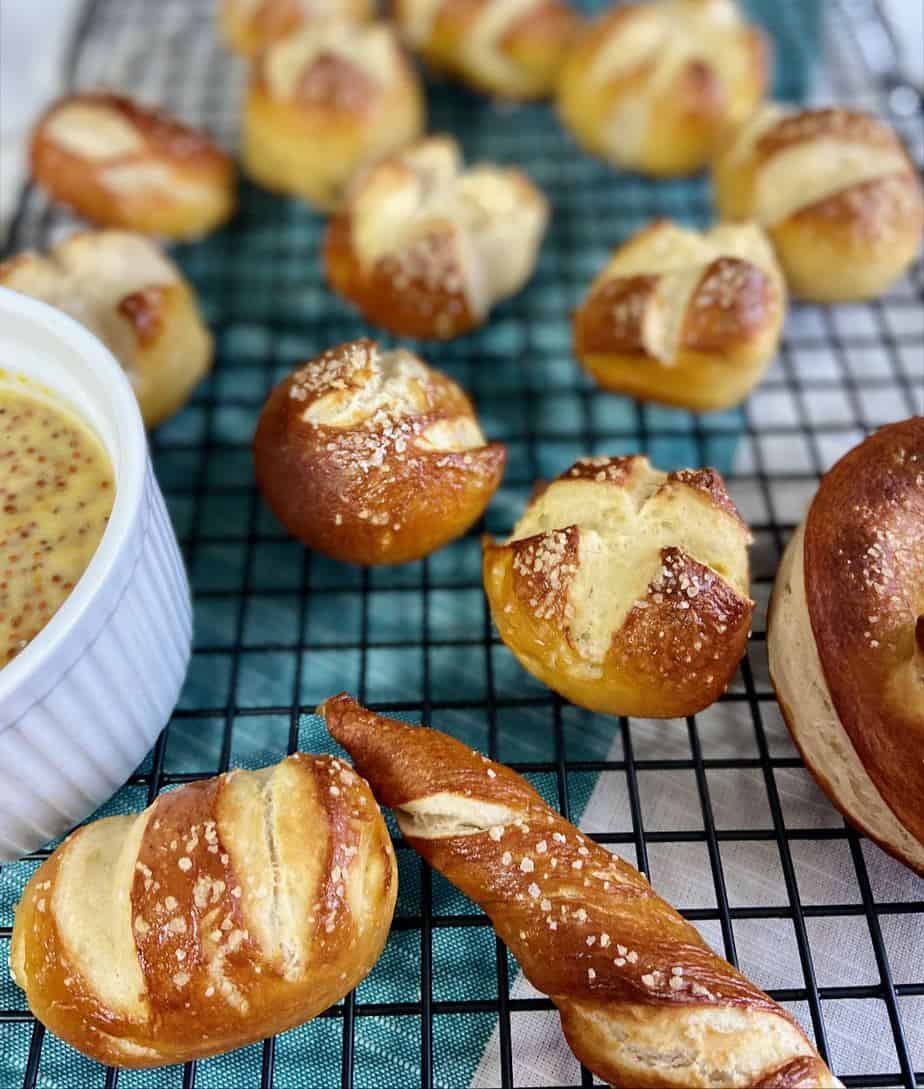 Why this recipe works
No kneading dough - combine the flour, melted butter, sugar, salt, water and yeast; proof for 1 hour, punch the dough once, and you're ready to go!
Versatile - you can shape the pretzel dough any way you like: traditional pretzel shape, mini-pretzel bits, or twisty pretzel sticks!
Golden brown, crispy on the outside and chewy texture on the inside!
Simple ingredients - no fancy bread flour or bread dough, just all purpose flour, baking soda and a few other ingredients
The first time I made these I formed the dough into a traditional pretzel shape. I've found this simple method of forming balls with the dough is much easier! It doesn't require a large work surface and there's no frustration with twisting the dough into thin ropes.
Ingredients
The ingredients are very simple:
flour, all-purpose
yeast - use Original, not "Fast Acting" or instant yeast
sugar
egg yolk
baking soda (make sure it's fresh!)
butter
spray oil
salt
Some pretzel makers use a food-grade lye to dip the dough into prior to baking. Lye is high in alkalinity and by dipping the pretzels in the lye, it increases the alkalinity so that the Maillard effect takes place.
The Maillard effect is a process central to all bread baking...it is the reason breads brown.
By adding about ⅔ cup of baking soda to water, the alkalinity of the water is raised to about 9 versus the lye alkalinity of 14. As a result, baking soda accomplishes almost the same result as a food-grade lye.
Equipment and tools
To successfully make homemade pretzels, you'll need a few essential tools:
a stand mixer
an accurate thermometer
spray oil
parchment paper
spatula or frying spider
large stockpot
baking sheet
cooling racks
How to make soft chewy pretzel balls
These pretzel balls are actually super easy to make and taste delicious!
First, make the pretzel dough in a large bowl of a stand mixer (you'll want to use the dough hook attachment on low speed); combine until it pulls away from the sides of the bowl; cover with plastic wrap or a damp towel and place it in a lightly greased bowl (I use a nonstick spray oil) and place the bowl in a warm place to let the dough rise to about double in size.
Then cut into 16 equal pieces pieces, form the balls in the palms of your hands and bring a large pot of water and baking soda to a rolling boil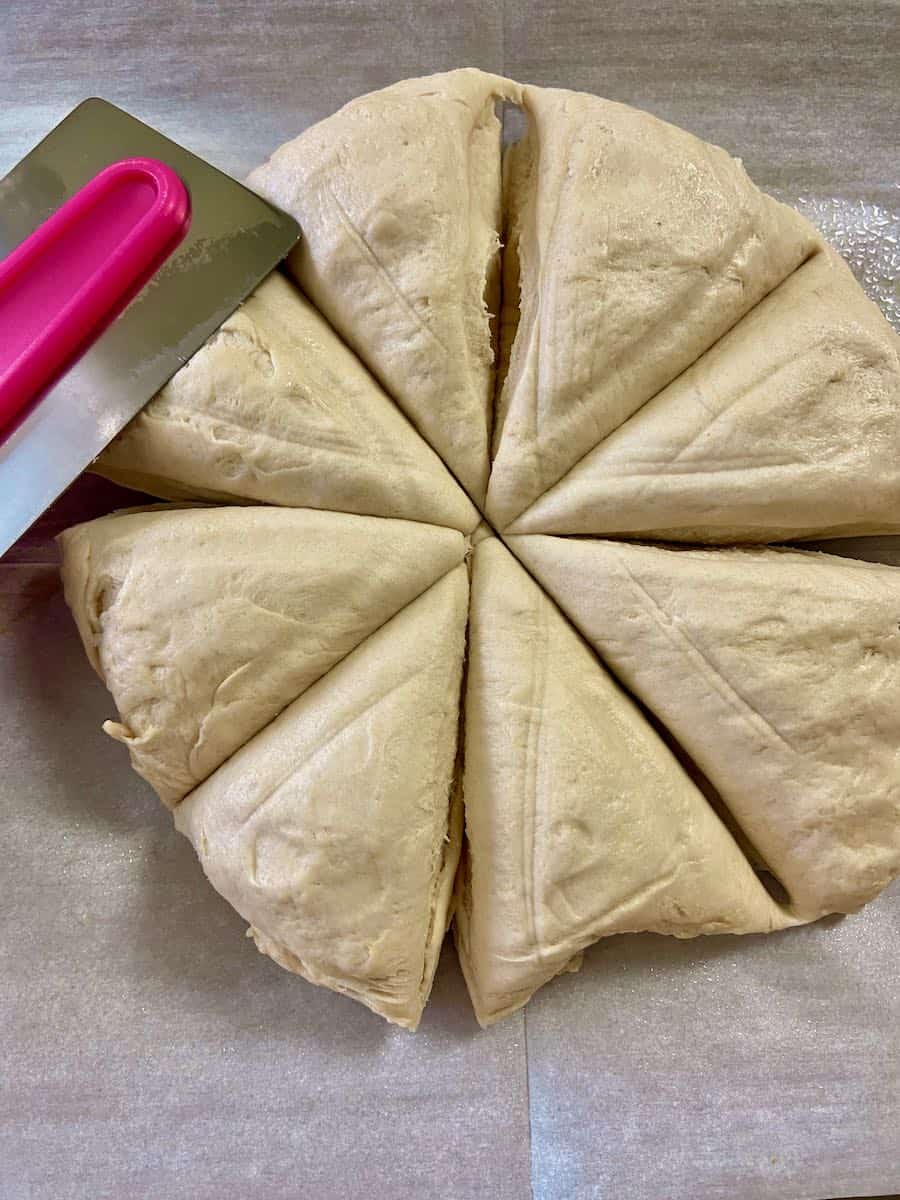 Place pieces of dough in boiling water boiling water (make sure it's a rolling boil); boil dough for about 30 seconds (when it floats, it's done)
Remove from water with a slotted spoon or spider, place on prepared baking sheet, score with a sharp knife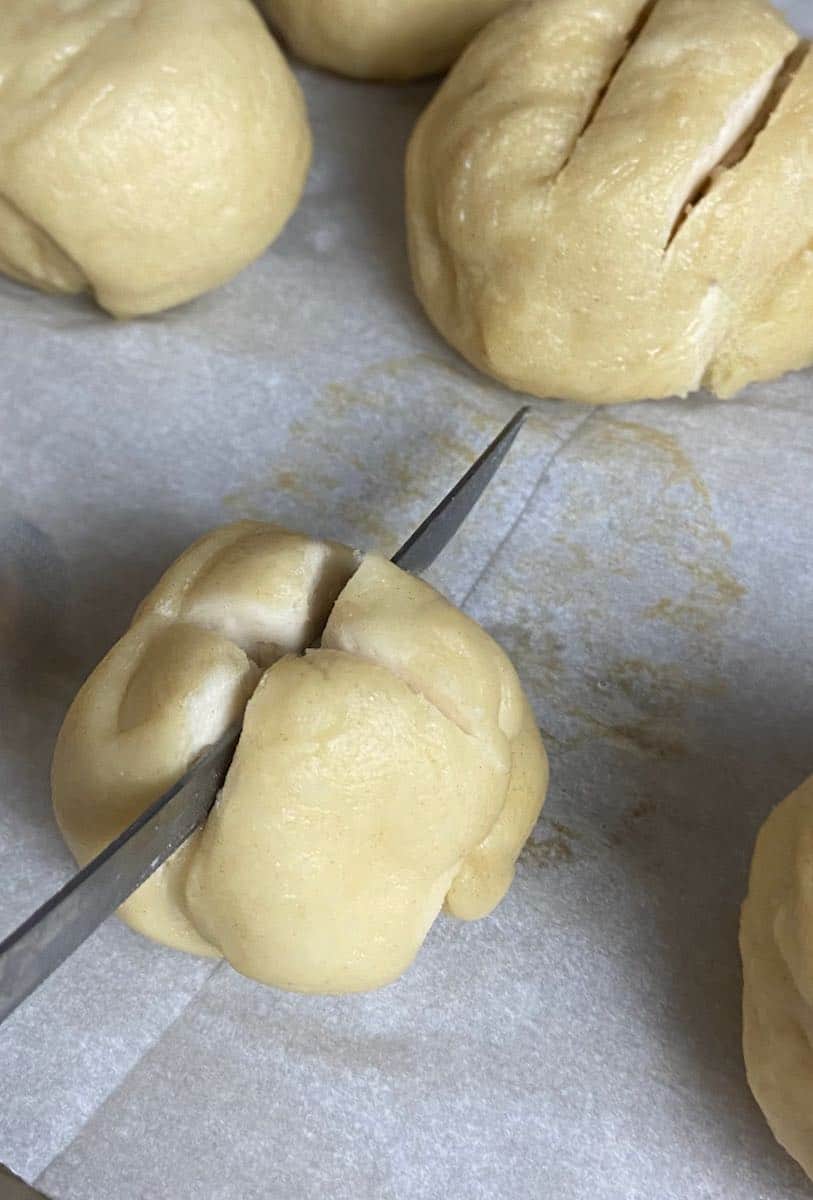 Brush with egg wash sprinkle with "pretzel salt" which is coarse salt or sea salt and bake 15-18 minutes.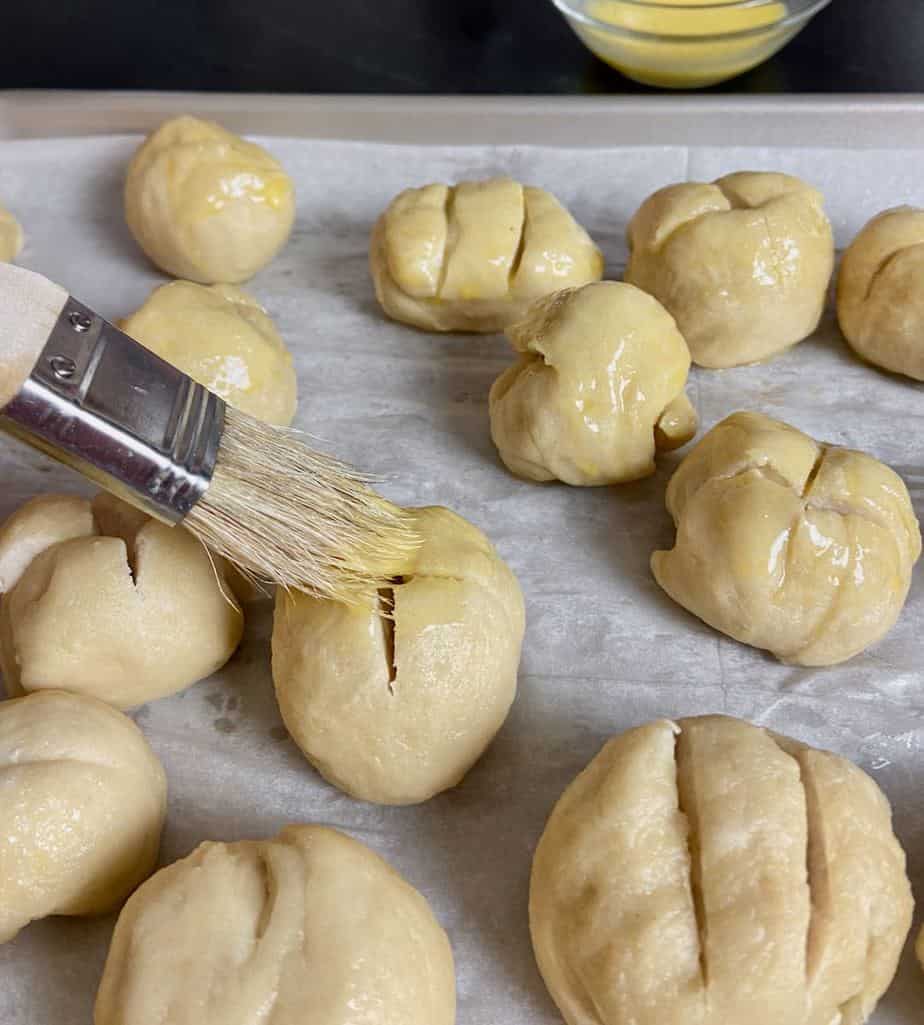 When the pretzels are nice and brown, remove them from the hot oven and place on a wire rack to cool for a few minutes.
Tips
The water must be hot enough to activate the yeast. Get a cup of hot water and make sure it's 110-115°degrees F; for best results, get the water to 120•°F, pour it into the stand mixer with salt, sugar and yeast; the warm water will reduce in temperature slightly as the yeast activates but it won't cool to the point where the yeast won't work
When placing the dough into the water, I recommend you use a slotted spatula or spider, and gently lower the dough into the water, hold the spatula in place until the dough begins to float.
Make sure your baking soda is fresh!
When forming the pretzel balls, if you have sticky dough , lightly oil the palms of your hand with spray oil; this helps a ton!
One the dough floats, it's probably ready to come out...this boiling process only takes 30 seconds per pretzel.
Make sure you apply the egg wash all around the pretzel ball; otherwise, the sides won't brown
Note also that there are two kinds of salt in this recipe; salt (table salt, kosher salt) for the pretzel dough and coarse salt for the garnishing of the pretzel.
Have fun making these soft pretzels! I like to serve homemade soft chewy pretzels with plain yellow mustard or my homemade honey mustard dipping sauce!
Variations
The best part of this recipe is that you can form and season them any way you like!
Make traditional pretzel shapes or shape into pretzel sticks or mini-bites
Savory: Sprinkle with sesame seeds or "everything bagel seasoning"
Want buttery soft pretzels? Just dip them into some melted butter!
Cinnamon Sugar: Before baking and after the egg wash, sprinkle a mixture of brown sugar or regular sugar and cinnamon to a sweet flavored pretzel
Dipping sauce for chewy pretzel balls
Traditional dipping sauces are usually mustard based; however, if you want a different flavor, try a honey mustard dipping sauce, cream cheese and chives, or a cheese sauce!
Storage and reheating
If you have any pretzel balls leftover, store them in an airtight container at room temperature for up to 2 days or in the refrigerator for up to 5 days. The best way to reheat these (and maintain the crispy exterior) is to wrap them in foil and bake at 400°F for 10 minutes or so.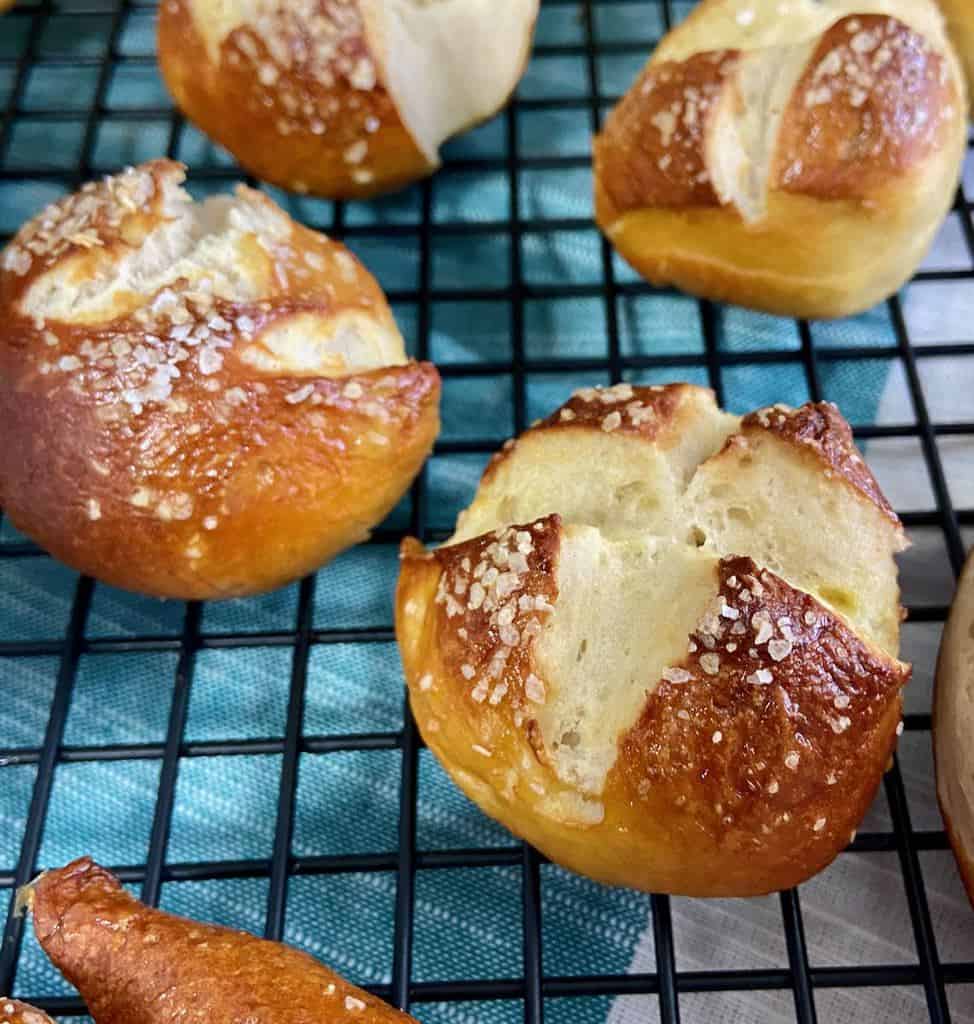 I like to have these chewy pretzel balls by themselves, or with a bowl of Wisconsin Cheddar soup!
Related recipes
If you make this recipe, please scroll down and leave a comment and rating! I love to hear from you! Thank you!
📋 Recipe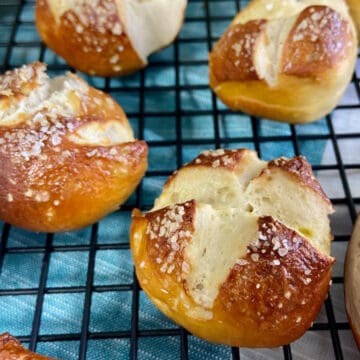 Chewy Pretzel Balls
Soft, chewy pretzels are so easy to make, and an excellent vessel for your favorite dip!
Print
Rate
Equipment
stand mixer with dough hook

Thermometer
Ingredients
4½

cups

flour, all-purpose

1

pkg

active dry yeast (Original; not Fast Acting)

1

tablespoon

sugar

1½

cups

water

warm 110º-115ºF

2

teaspoons

salt

kosher, not sea salt

2

tablespoons

butter

melted

12

cups

water

⅔

cup

baking soda

spray oil

1

large

egg yolk

1

tablespoon

water

course sea salt
Instructions
In a stand mixer bowl, add warm water, sugar, salt; sprinkle one package active dry yeast and let sit for 5 minutes; don't stir it! After 5 minutes, the yeast will begin to form a foam. This is good. If it doesn't form a foam, start over because your yeast died due to the water not being the correct temperature

NOTE: use a thermometer to test the temperature of the water; it MUST be between 110ºF - 115ºF.

1 tablespoon sugar,

1½ cups water,

2 teaspoons salt,

1 pkg active dry yeast (Original; not Fast Acting)

Pour the flour into the yeast mixture; then add the melted butter. Combine using the dough hook of the stand mixer; mix on low until dough begins to pull away from the sides of the bowl; (5-10 minutes)

4½ cups flour, all-purpose,

2 tablespoons butter

Take the dough out of the stand mixer bowl; lightly oil a large, clean bowl, place dough in bowl and cover with plastic wrap; place in a warm area (heat rises, so I put it on top of the fridge); let the dough sit for 50 minutes (until it has doubled in size)

Meanwhile, line a baking sheet with parchment paper and lightly coat the paper with oil

Once the dough has doubled, punch it once with your fist, then turn it out onto a lightly oiled surface; (NOT FLOUR)

Form a big ball with the dough and cut it into quarters; then cut the quarters into half; repeat until you have 16 balls of dough

Bring water and baking soda to rolling boil;

⅔ cup baking soda,

12 cups water

Form pretzel balls; using a spatula or spider, gently lower a few into the boiling water; let it boil for 30 seconds or until it float; you might have to hold the spatula/spider in the water for a bit-or until the pretzel floats

After each pretzel is removed from the boiling water, place on the oiled parchment sheet

Once all pretzels are boiled, use a sharp knife and score an "X" on the top.

Separate one large egg and place the yolk in a bowl with 1 tablespoon of water; beat lightly

1 large egg yolk,

1 tablespoon water

Using a pastry brush, lightly coat each pretzel with the egg wash; sprinkle pretzels with course sea salt

Place in 450° F oven and bake 15 minutes, or until pretzels are golden brown

Remove pretzels from baking pan and place on cooling rack
Notes
If the yeast doesn't form a light foam after 5 minutes, start over. The water must be between 110° - 115°F. Get the water to 120°F, then quickly add it to the mixing bowl with sugar, salt and yeast.
Do NOT stir this mixture; let it sit for five minutes, then resume recipe.
Be sure to coat the whole pretzel ball in the egg wash; this ensures it browns completely all the way around
Nutrition Estimate
Serving:
2
cup
Calories:
148
kcal
Carbohydrates:
28
g
Protein:
4
g
Fat:
2
g
Saturated Fat:
1
g
Polyunsaturated Fat:
1
g
Monounsaturated Fat:
1
g
Cholesterol:
12
mg
Sodium:
1687
mg
Potassium:
44
mg
Fiber:
1
g
Sugar:
1
g
Vitamin A:
78
IU
Vitamin C:
1
mg
Calcium:
14
mg
Iron:
2
mg