One of the Five Mother Sauces, Hollandaise Sauce is a tangy, lemony sauce that pairs well with asparagus and Eggs Benedict. It is the only Mother Sauce that does not require a roux.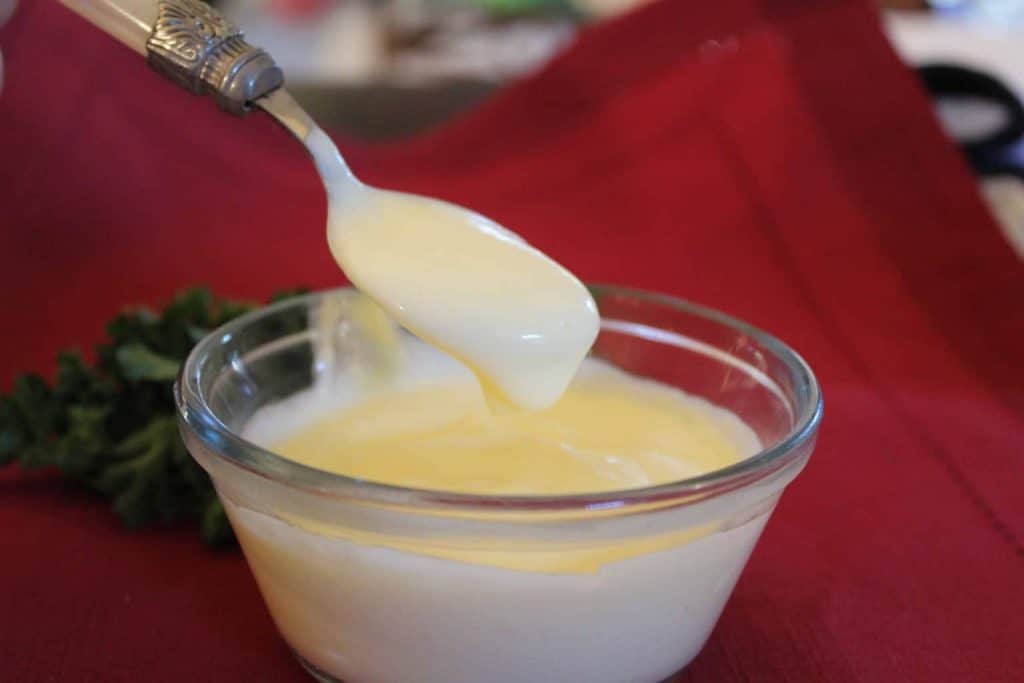 The traditional, or stove top method, requires a significant amount of time, but this quick and easy recipe allows you to have a delicious sauce in a matter of minutes! All you need is butter, eggs, vinegar, water and a food processor!
Got Sauce Paranoia?
We've all experienced it…the extreme fear of preparing any sauce from scratch. Symptoms range from sweaty palms to a rapid heart rate and usually result in an inordinate amount of time spent searching the Internet for "easy, fail-proof" alternatives, or a nap.
In the majority of cases, sauce paranoia patients "give in" and buy a packaged dry mix. The dry mix resolves the paranoia and provides a nice sauce.  Problem solved? Well, sort of. You see, the ingredients in packaged goods are not so good for us and they're just not necessary.
What's In Dry Sauce Mixes?
After reading the labels of some of the more popular dry sauce brands, I realized they all contained a combination of dried ingredients that present themselves on the label as long science words. I can only presume these scientific words to be additives, preservatives, colorants, flavorants, or stabilizers.
Keep in mind, some of these ingredients are not harmful, they're just not necessary in our bodies. Here's a sample ingredient list from a popular brand:
"Corn starch, maltodextrin, salt, monosodium glutamate, canola oil, modified milk ingredients, citric acid,yeast extract, guar gum, spices, color, concentrated lemon oil, modified corn starch, disodium guanylate, disodium inosinate, tocopherols and sulphites."
I recognized "monosodium glutamate" right away…that's MSG, which I am highly allergic. If I consume MSG, my eyes immediately begin to swell. As I continued to read, I was okay with corn starch, canola oil, yeast extract, but when I got to the scientific words, I began to shy away from the packaged mix. Disodium what? Turns out, disodium guanylate is a food additive often used in conjunction with MSG. Don't need that, and I've learned by now, I don't need any added sulphites or sulphates. 
While the definition of these ingredients may indicate they're "natural", I don't buy it. I can't believe that a lifetime of consuming so-called "natural" additives wouldn't encourage or result in chronic inflammation, bloating, headaches, or something more serious. For this reason, I try to cook with ingredients I can make at home.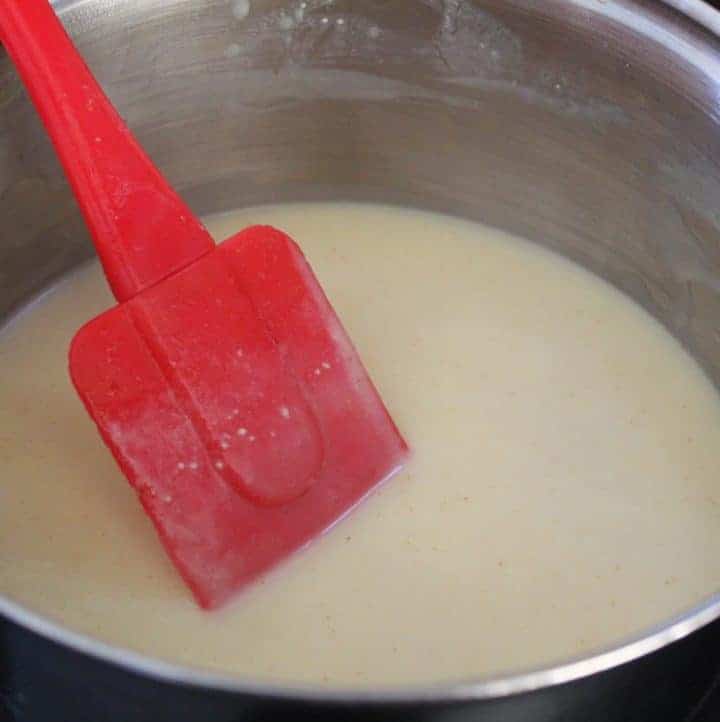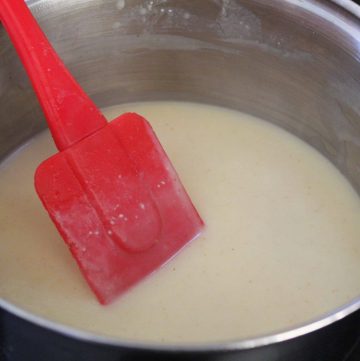 No matter which method you use to prepare Hollandaise Sauce, you're going to need clarified butter.
What Is Clarified Butter?
Clarified butter is simply melted butter that has been cooked long enough for the water to evaporate and the milk solids to separate. What's left is pure butterfat, i.e., clarified butter.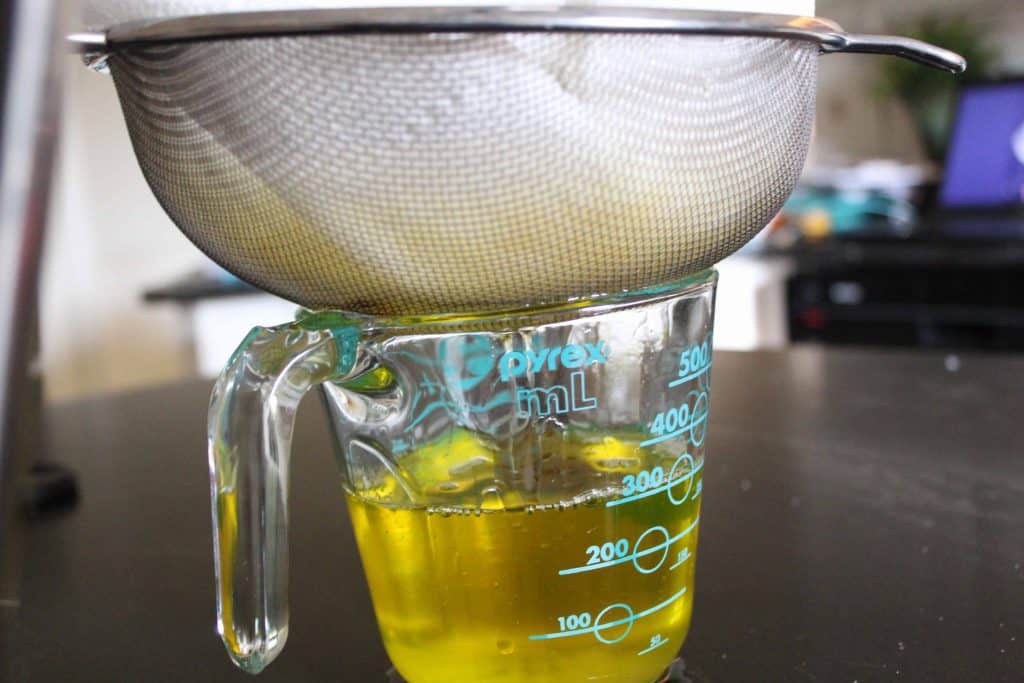 Traditional methods required the butter to cook on the stove and at a low temperature for up to 45 minutes (allowing enough time for the solids to rise to the top), and then the solids were removed.
A quicker and easier method to separate butter fat solids is to use the microwave. Simply microwave the butter on a low temperature. In this case, the fat solids go to the bottom of the bowl, which results in an easier (and quicker) end product.
How To Make Hollandaise Sauce 
Once you've clarified the butter, simply add the eggs, water and vinegar to a saucepan on low heat and stir continuously for about five minutes. Pour the egg mixture into a food processor and while the processor is on, gradually add the clarified butter. Taste for salt, pepper, lemon and cayenne. It only takes about 6 minutes to whip up a batch of this decadent sauce!
Can I Substitute the Clarified Butter with Ghee?
Yes. Ghee is a clarified butter that has been cooked longer–the fat solids are cooked to the point of caramelization, then removed.
Can I Make Clarified Butter in Advance?
Yes. Place the golden liquid in a secure storage container (I recommend a Mason Jar®) and make sure the lid is on tight. Clarified butter will keep for up to six weeks.
Can I Make Hollandaise Sauce in Advance?
You can, but I wouldn't recommend it for a couple of reasons: 1) you're dealing with eggs here and they are highly susceptible to bacterial growth and 2) refrigeration will cause the sauce to break apart very easily, which is a challenge to repair.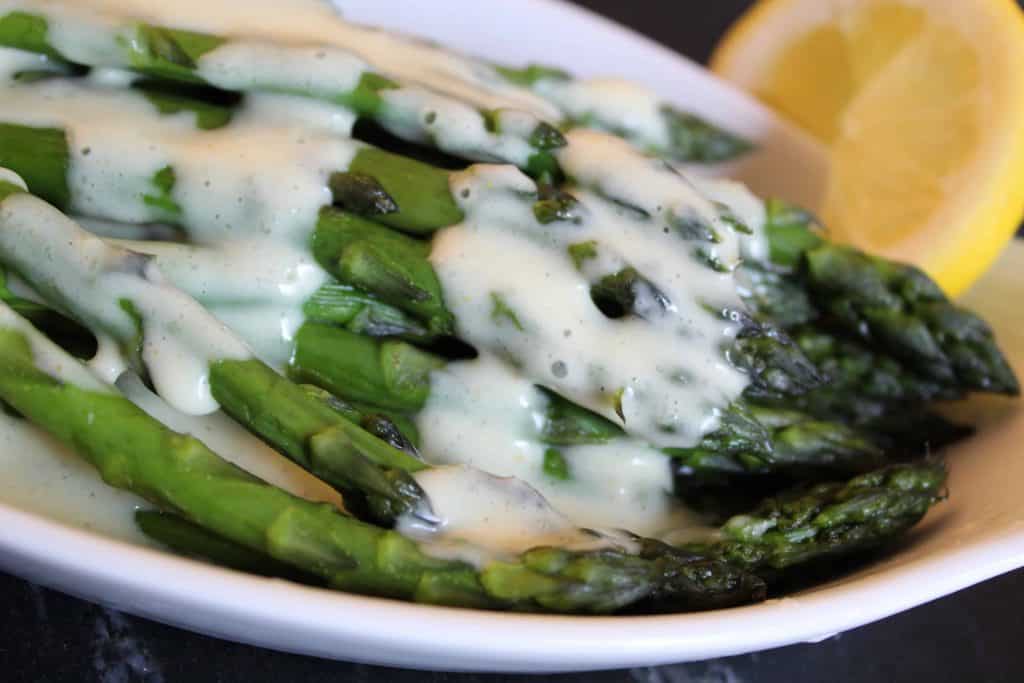 This quick and easy Hollandaise Sauce works every time!
You might want to try a little preservative-free Hollandaise sauce on some Garlic Roasted Broccoli!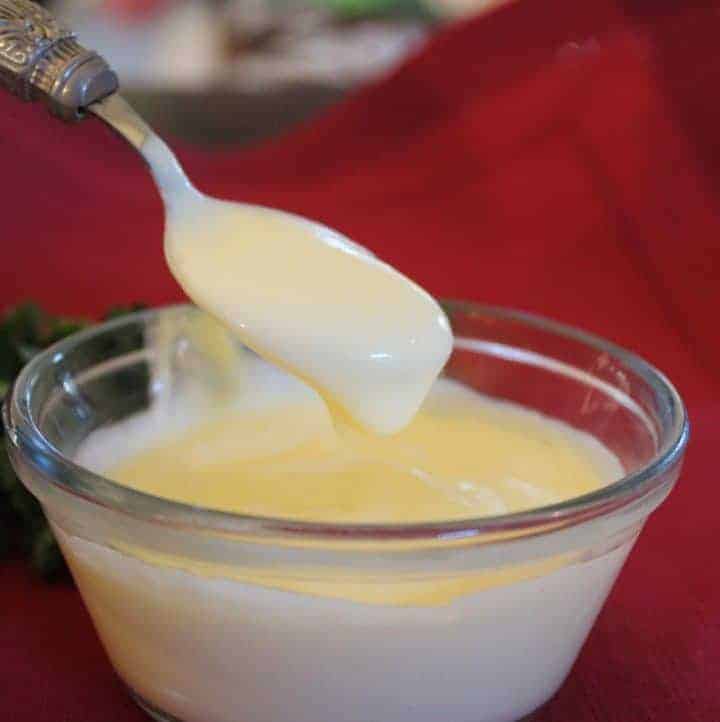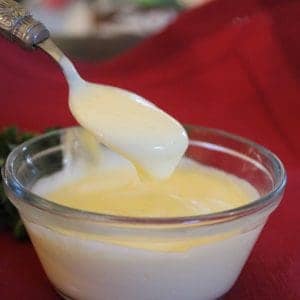 Hollandaise Sauce
Creamy, buttery Hollandaise sauce goes will with roasted vegetables, eggs or artichokes!
Print
Pin
Ingredients
1

lb

butter

melted

3

egg

yolks

extra large or jumbo

5

tablespoons

water

2

teaspoons

white vinegar

lemon juice, salt, pepper, cayenne

to taste
Instructions
Soften butter on "reheat" mode in microwave; set aside (NOTE: fat solids will sink to the bottom of the bowl)

In a small bowl, whisk together egg yolks, water and vinegar

Pour egg mixture into a saucepan on medium low heat

Stirring constantly, heat egg mixture until it becomes a bit thicker and begins to bubble around the edges (about 5 minutes)

NOTE: if the eggs begin to cook, remove the saucepan from the heat and continue to stir

Transfer egg mixture to food processor

While food processor is pulsing continuously, gradually drizzle in the melted butter (NOTE: do not add fat solids to the eggs)

Once sauce has combined thoroughly, taste for lemon, salt, pepper and cayenne

Add lemon juice, salt, pepper and/or cayenne pepper to taste
Notes
The traditional method for making Hollandaise sauce calls for clarified butter. Clarified butter is simply butter that has been cooked long enough for the fat solids to separate. Prior to microwaves, cooks would strain the fat solids off the top of the melted butter (a 45 minute process!)  Today, heating butter in the microwave results in the fat solids sinking to the bottom of the bowl in about 3 minutes!