If you're throwing an outdoor party this summer, here's a collection of Hot Dog Bar ideas for toppings and condiments! There's nothing more fun that turning this traditional summer favorite into a fun and flavorful do-it-yourself buffet!
Let your guests make a fancy hot dog using a variety gourmet toppings and condiments beyond the traditional mustard and ketchup!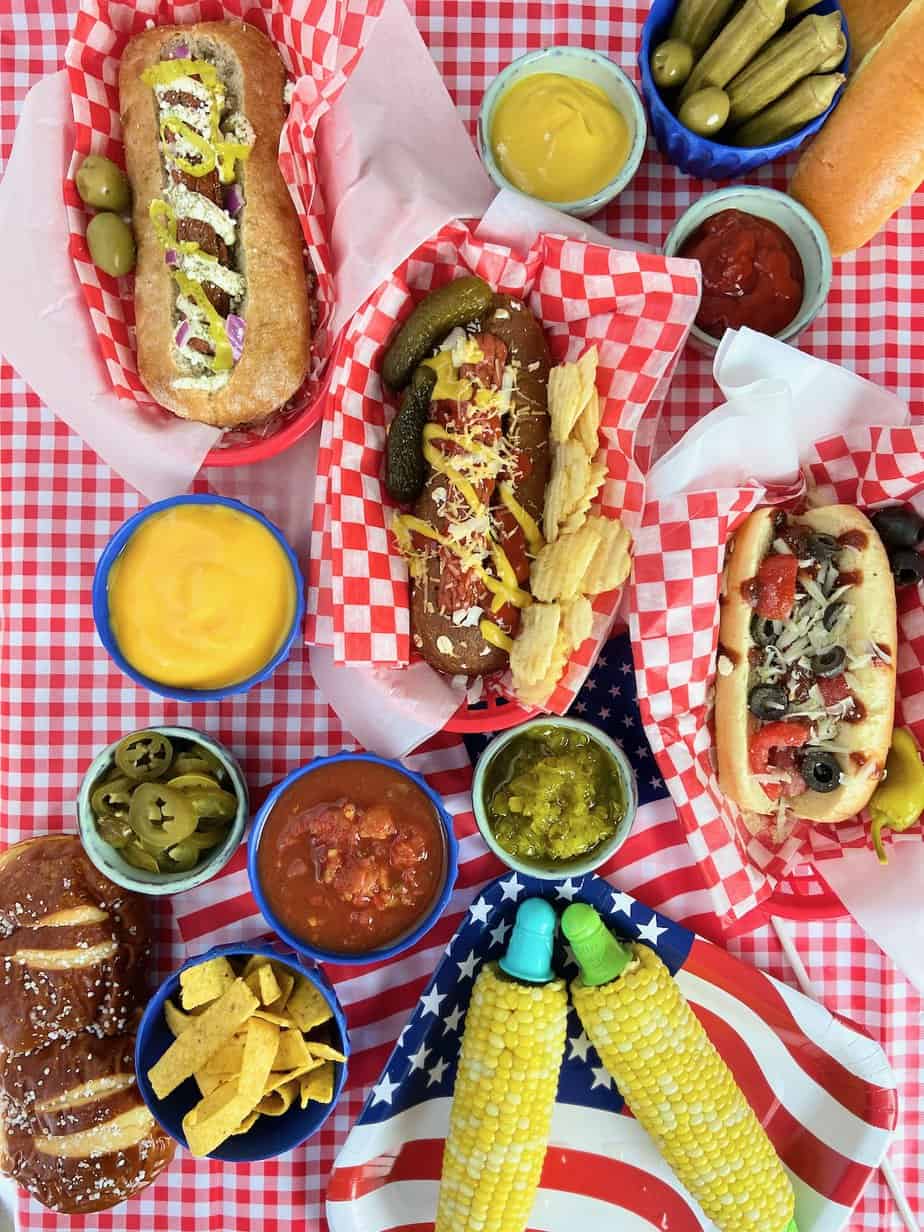 Featured here are the All-American, a Tex-Mex Chili Dog, Italian Dog and a Greek Dog! Use your creativity and build a hot dog buffet your guests will rave about! Feel free to use these hot dog bar ideas for your next party!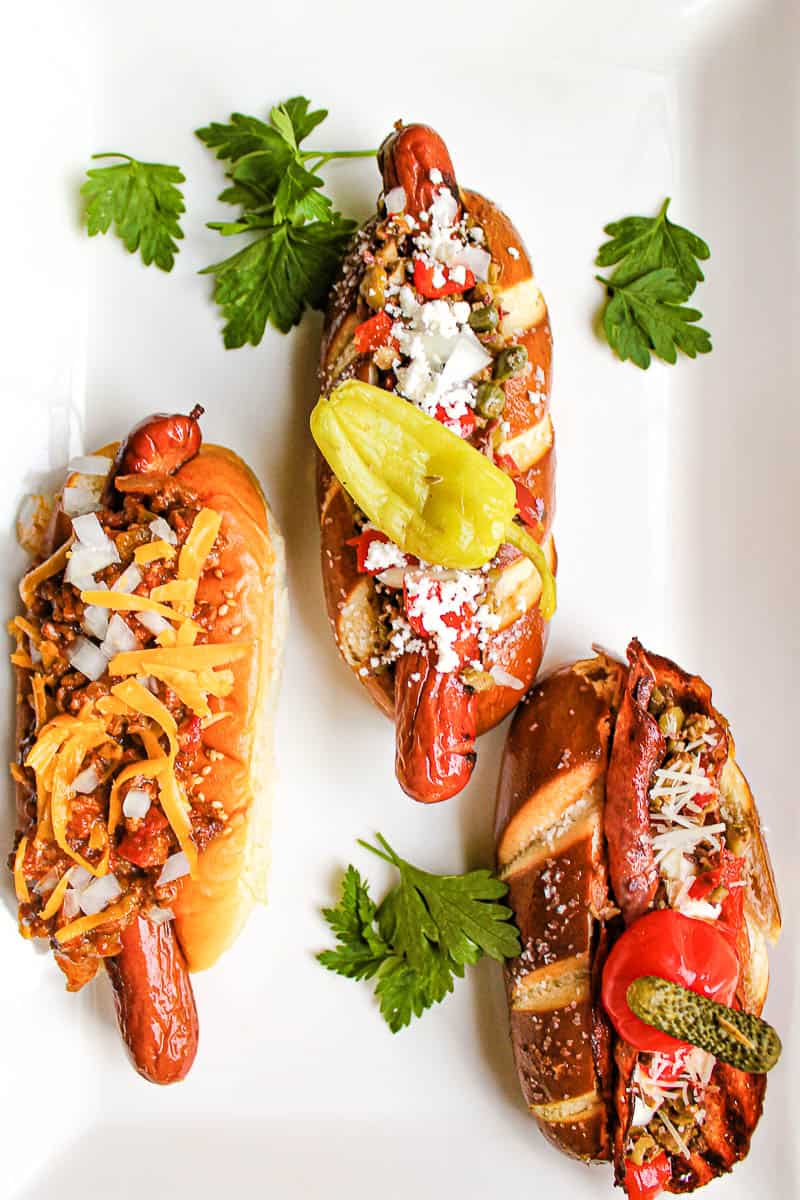 Ideas for Hot Dog Bar
Start by offering a variety of buns, cheeses, slaws, mustards, spreads and condiments!
This type of buffet is perfect for all types of summer parties: family reunions, Memorial Day, 4th of July, Graduation party, Labor Day, swim party or a good old fashioned cookout!
The variety of offerings is what makes this such a great DIY picnic idea-everyone can make their own!
Easy set up-fire up the grill and set out the condiments!
Versatile-set up your gourmet bar indoors or out
Variety - a little something for everybody! Think American, Mexican, Italian and Greek!
Perfect for a party - people go nuts over this idea!
Excellent alternative to the traditional taco bar, and requires little effort!
Hot Dog Fixings
The toppings can be as extravagant or simple as you like. Offer an assortment of spreads and sauces, shredded cheeses, and an acidic element like onions, pickles or olives.
If you imagine you're traveling the world and eat a hot dog in each country you visit, you'll have plenty of hot dog bar topping ideas!
High-Quality Beef
First and foremost, the frankfurter needs to be of high-quality, preferably an uncured, all-beef with no fillers, additives, sugar or gluten. I use Boar's Head Uncured All-Beef Hot Dogs.
These are usually found in the gourmet cheese department or in the delicatessen at your grocery store. I like them because they stand up to the heat of the grill and they don't shrink.
They're all-natural, too! They also have no nitrites or nitrates, or caramel coloring and are bit longer than the "other" packaged dogs, which makes for a nice presentation.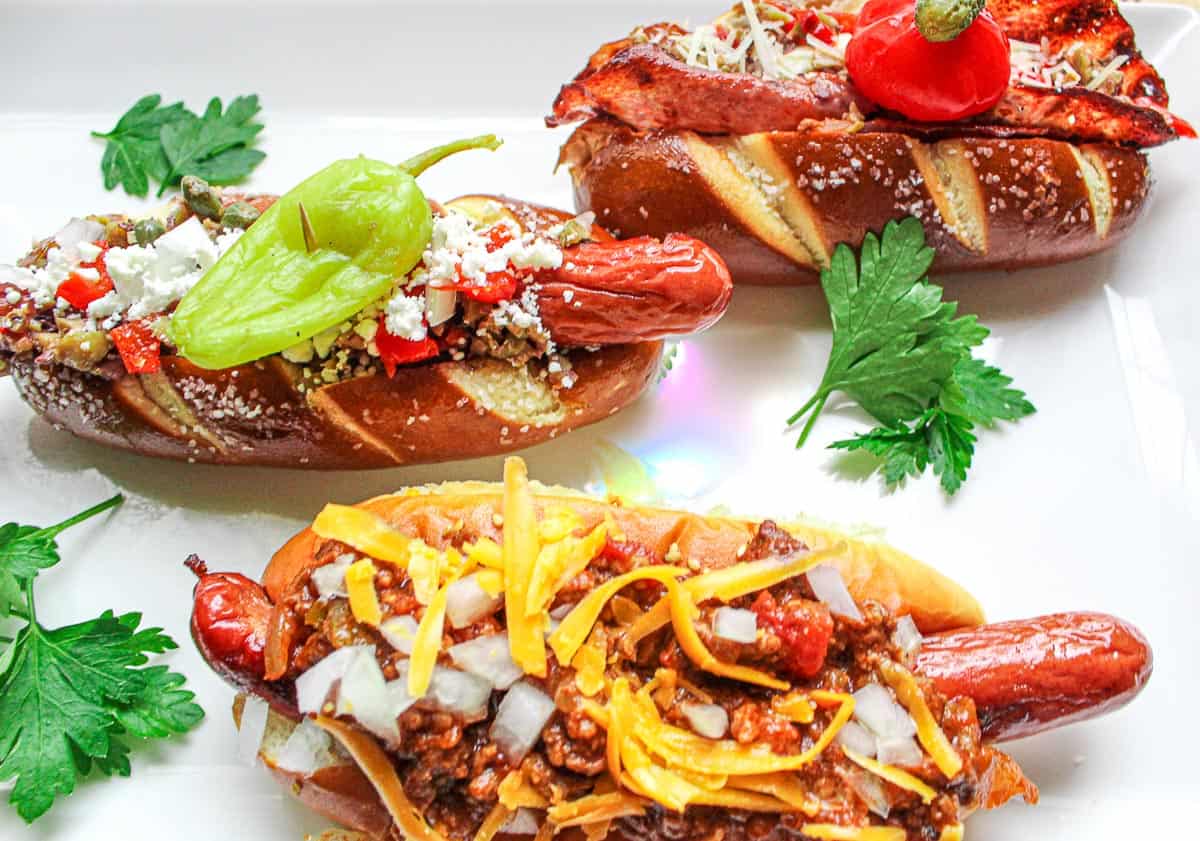 Hot Dog Buns
The second important element is the variety of buns you offer.
Now, some folks want the same old packaged buns, but kick it up a notch by offering sweet Brioche buns, salted pretzel buns, sesame seed or poppy seed buns!
How to Make Toasted Sesame Seed, Poppy Seed or Salted Hot Dog Buns
Poppy seed and sesame seed hot dog buns are hard to find, but you can easily make them at home! Get the bun of your choice and lightly spray it with oil.
Sprinkle the seeds and/or salt over the buns and bake at 350ºF for 5 minutes. The seeds and salt stick to the buns and you've got a "designer" gourmet hot dog bun!
Hot Dog Bar Toppings
Of course, you'll want to include the classic condiments:
yellow mustard
ketchup
onions
pickle relish or dill pickle spears
But if you really want to kick it up a notch, try adding some of these dog toppings to your party:
Crumbled bacon
Ranch dressng
Chopped fresh jalapelos
Pickled jalapenos
Roasted red peppers
Nacho cheese sauce
Shredded cheddar cheese
Shredded mozzarella cheese
Dill and sweet pickle relish
Diced green chiles
Olive tapenade
Crumbled feta cheese
Goat cheese
Pepperoncini peppers (banana peppers)
BBQ sauce
Salsa
In Texas, we like to include a bowl of candied jalapenos (Cowboy Candy) on the buffet! Another idea for toppings is to look in the Gourmet cheese section for crumbled feta, olive tapenade or fresh Mozzarella.
Be sure to swing by the olive bar in the delicatessen and grab some marinated olives and feta, garlic and roasted tomatoes or marinated mushrooms!
Condiments are a personal preference, so be sure to offer plenty of options to your guests!
Hot Dog Bar Ideas
Here are some ideas for your next gathering...feel free to use your imagination and mix it up!!!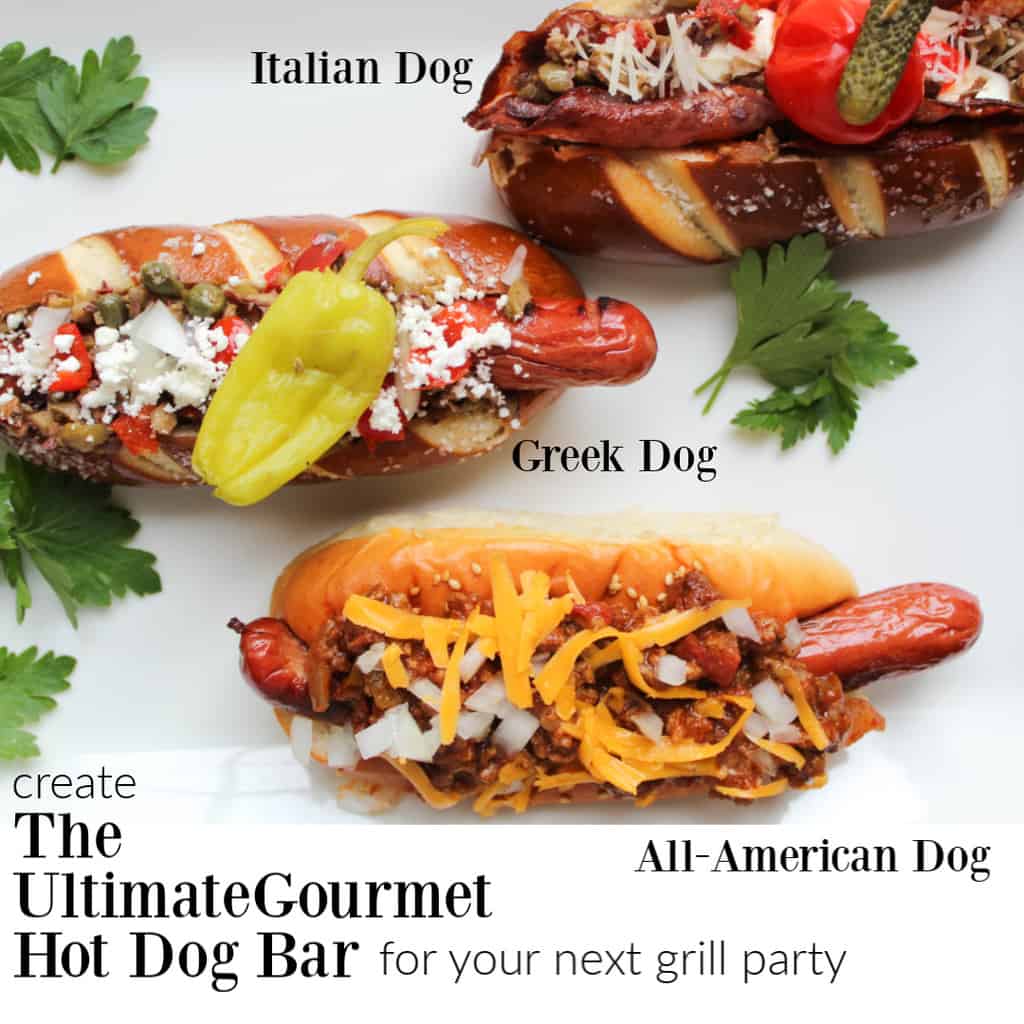 The All-American Hot Dog
Nothing speaks sports and summer like a good ole' All-American hot dog. Simple with a soft white bun, warm dog topped with your choice of toppings: mustard, ketchup, onion or relish. Serve with mayo-free coleslaw or potato chips!
Tex-Mex Chili Dog
Add a dollop of Texas Chili to your All-American Dog, and create a Tex Mex chili dog!
Toss some jalapenos or green chiles on the top, too! Serve with Guacamole,and tortilla chips--don't forget the salsa!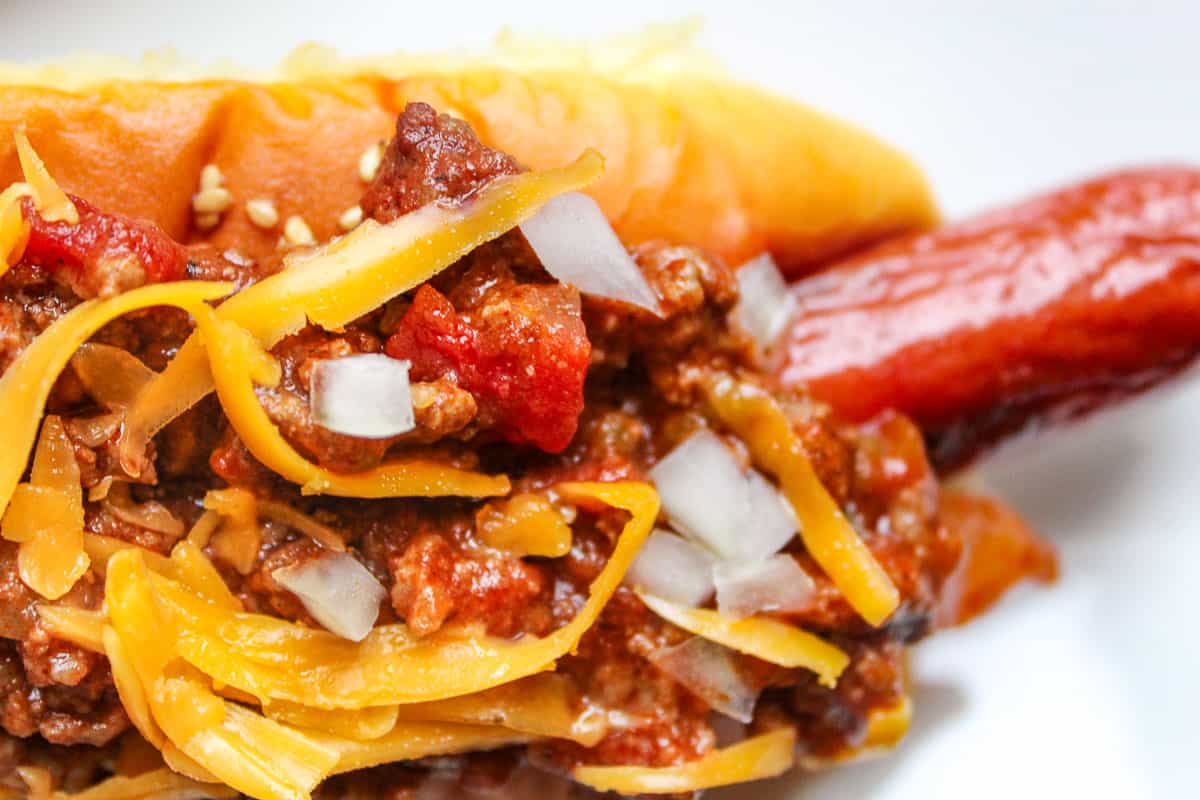 Greek Dog
Think Mediterranean... we're talking Kalamata olives, olive tapenade and Pepperoncini peppers over a warm dog...put it in a salted pretzel bun or pita bread and garnish with crumbled feta cheese!
Serve with Eggplant fritters!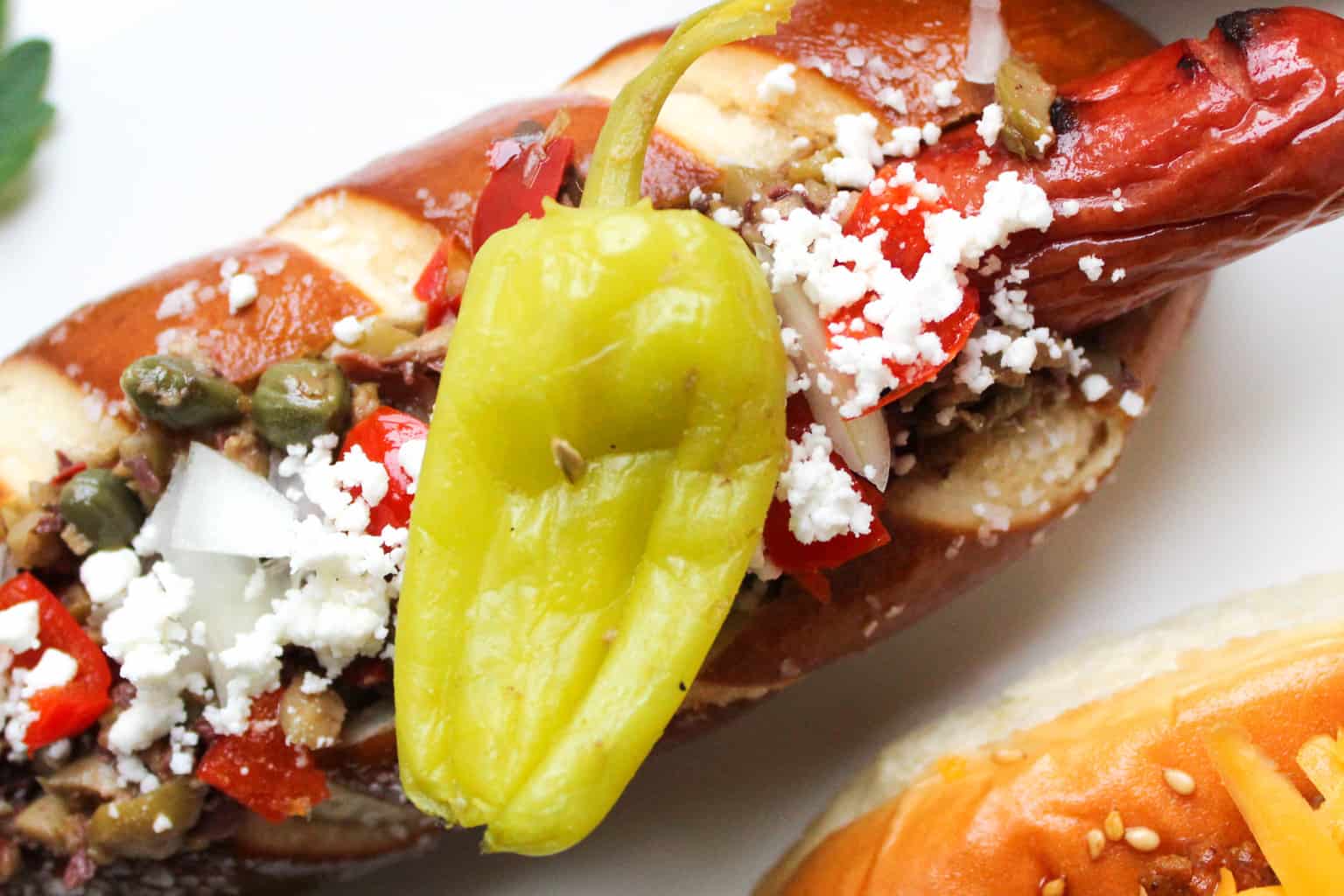 Italian Dog
An Italian hot dog in a mini French bread loaf, topped with salami, melted Mozzarella cheese, roasted red peppers and a touch of Parmesan!
Serve with fried zucchini fritters!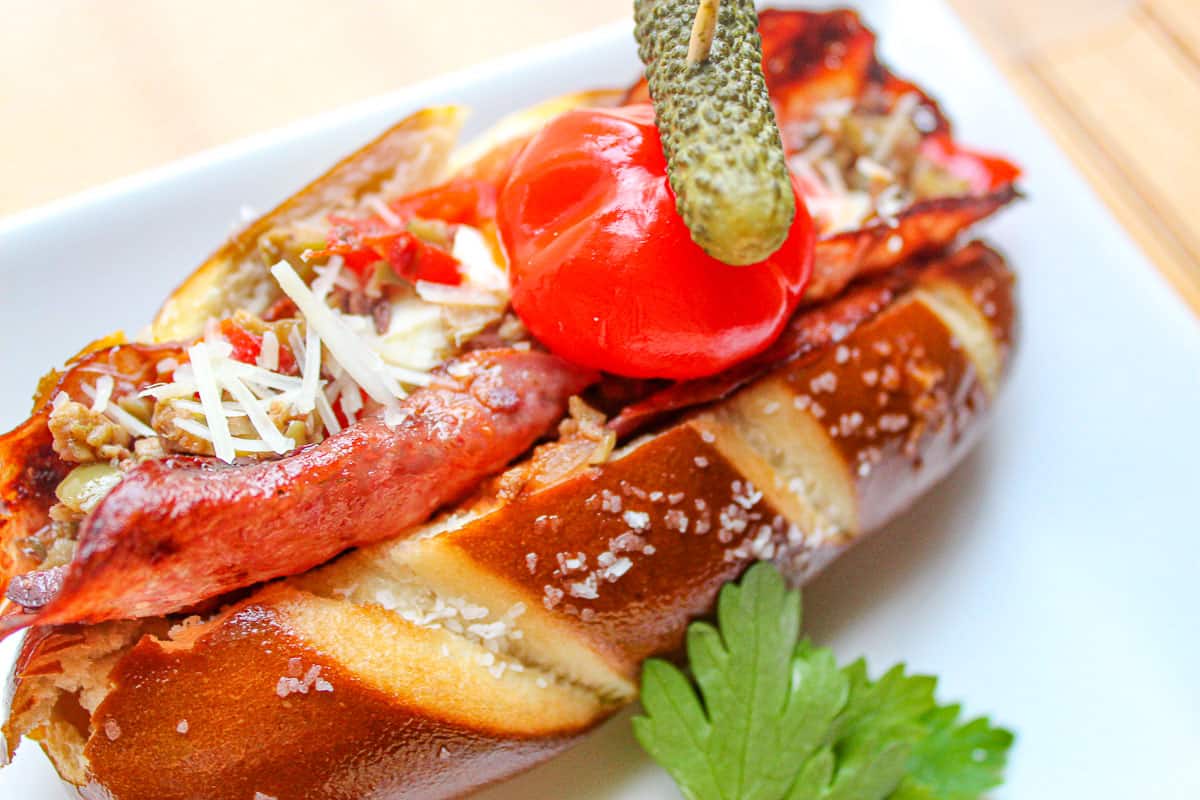 More condiments for hot dog bar
You can go as big as you want with your party! Ramp up the condiments to create an impressive selection of flavor and variety! In addition to the typical condiments, consider adding some of these!
Brown spicy mustard
Whole grain mustard
Creamy horseradish sauce
Spicy ketchup
Pickled okra
Spicy green beans
Spicy bread and butter pickles
Roasted garlic
Marinated garlic and roasted tomatoes
Variety of Cheeses: Mozzarella, Feta, Cheddar, Parmesan, Manchego
How to set up a DIY Hot Dog Buffet
Set up your food bar in a central area, where your guests have access to all sides of the table
Consider the process of making your own hot dog and go from left to right: plates or baskets, buns, dogs, condiments, sides. Consider buying some throw-away hot-dog containers.
Keep the hot dogs and buns in warming trays, each with a pair of tongs. This ensures nobody sticks their grubby hands in the tray:)
Place toppings and spreads in the center of the table in medium sized ramekins, each with their own spread knife.
Finally, set out sides at the end of the table, again with tongs or mini forks (for pickles, etc)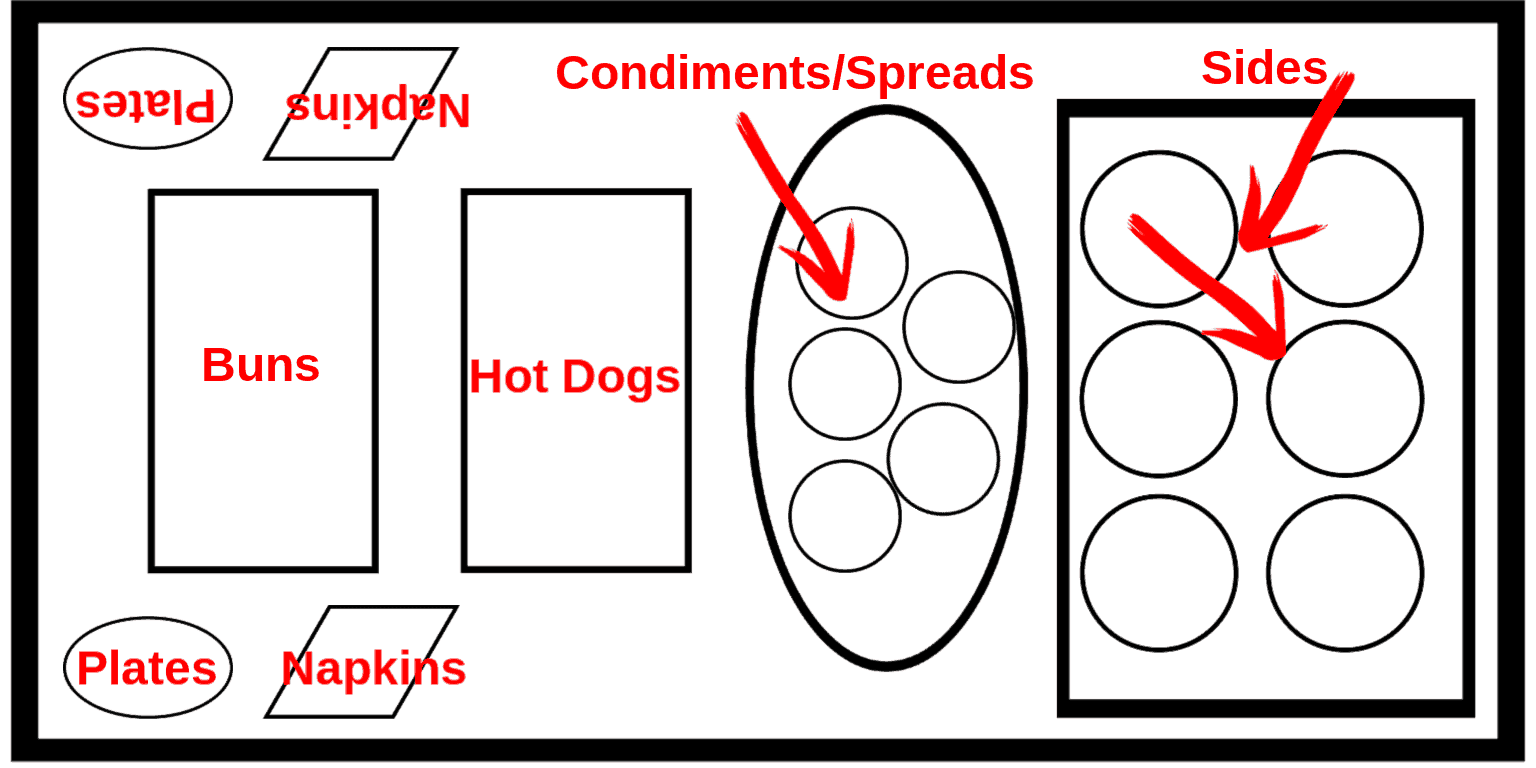 Once you've selected your menu from these hot dog bar ideas, you're ready to set up your buffet table and fire up the grill!
For easy clean-up, consider purchasing disposable hot dog trays or baskets. Stock coolers with plenty of cold drinks and enjoy your party!
Suggested sides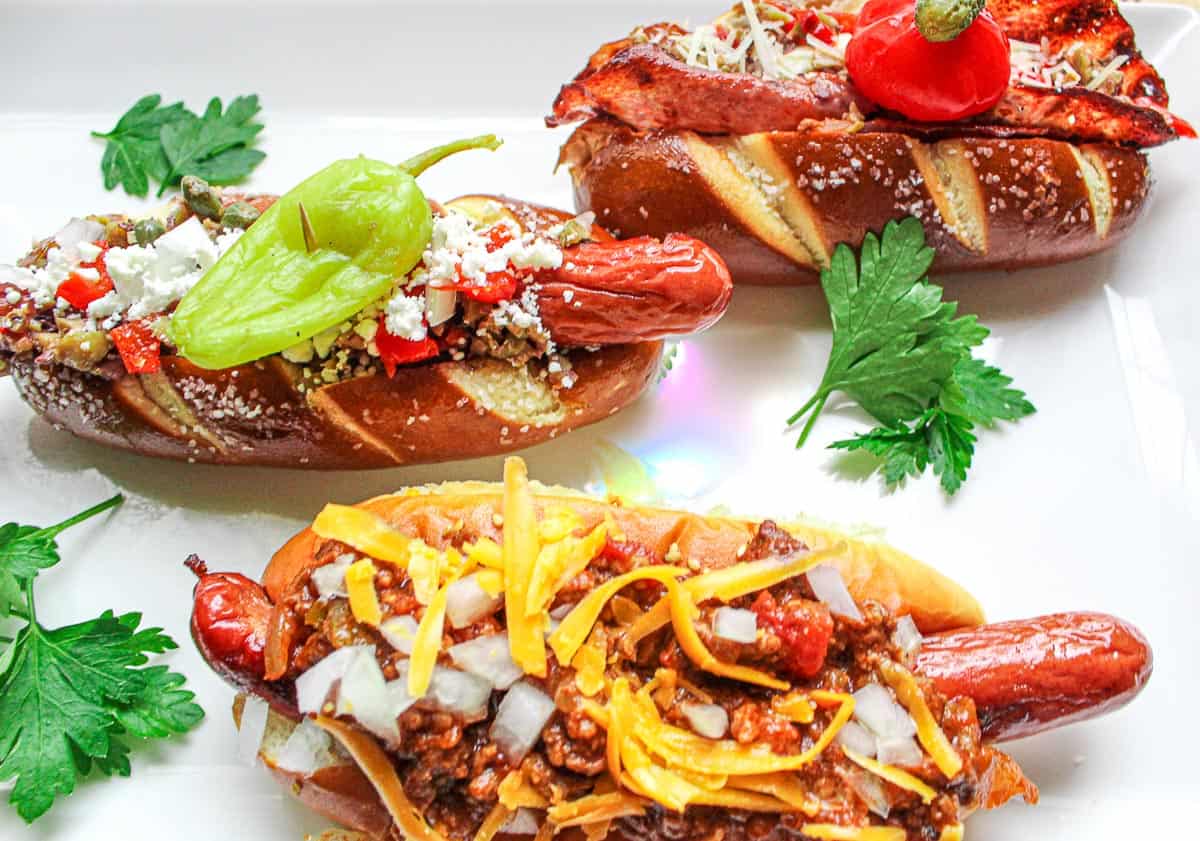 📋 Recipe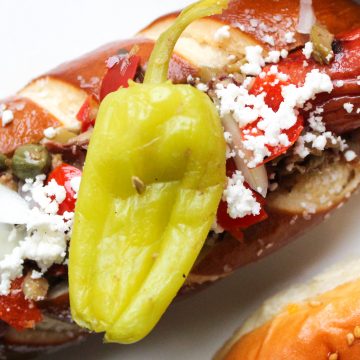 Greek Hot Dog
A Mediterranean spin on the traditional hot dog, includes Tzatziki sauce, kalamata olives, feta cheese, capers and a pepperoncini pepper
Print
Rate
Ingredients
1

hot dog

grilled

1

pita bread

1

tablespoon

onion

, chopped

1

tablespoon

kalamata olives

, chopped

1

tablespoon

Greek seasoning

1

tablespoon

feta cheese

, crumbled

1

tablespoon

Tzatziki sauce

, homemade or prepared from the store

1

tablespoon

capers

optional

1

pepperoncini pepper
Instructions
Put Tzatziki sauce on pita bread

1 hot dog,

1 tablespoon Tzatziki sauce,

1 pita bread

Add kalamata olives, onions, capers

1 tablespoon onion,

1 tablespoon kalamata olives,

1 tablespoon capers

Lightly season hot dog with a sprinkle of Greek Seasoning

1 tablespoon Greek seasoning

Garnish with pepperoncini and crumbled Feta cheese

1 pepperoncini pepper,

1 tablespoon feta cheese
Notes
Use a prepared Tzatziki sauce
Italian dog
Spread a little marinara on a sourdough hot dog bun; add hot dog and garnish with a sprinkling of Italian seasonings, diced roasted red peppers, shredded mozzarella and/or parmesan cheese. You could also substitute cured salami for the beef hot dog.
Tex-Mex Chili Dog
Place hot dog in bun; top with homemade Texas chili, diced green chiles, chopped onions, shredded cheddar cheese and a little salsa!
Nutrition Estimate
Serving:
1
cup
Calories:
206
kcal
Carbohydrates:
25
g
Protein:
8
g
Fat:
9
g
Saturated Fat:
4
g
Cholesterol:
18
mg
Sodium:
843
mg
Potassium:
54
mg
Fiber:
1
g
Sugar:
4
g
Vitamin A:
72
IU
Calcium:
177
mg
Iron:
1
mg