This creamy Texas coleslaw is a traditional Southern favorite that is easy to make and always a crowd-pleaser. Simple ingredients make this classic side dish a winner every time and everybody agrees, there's nothing better than homemade coleslaw with your BBQ or fried catfish!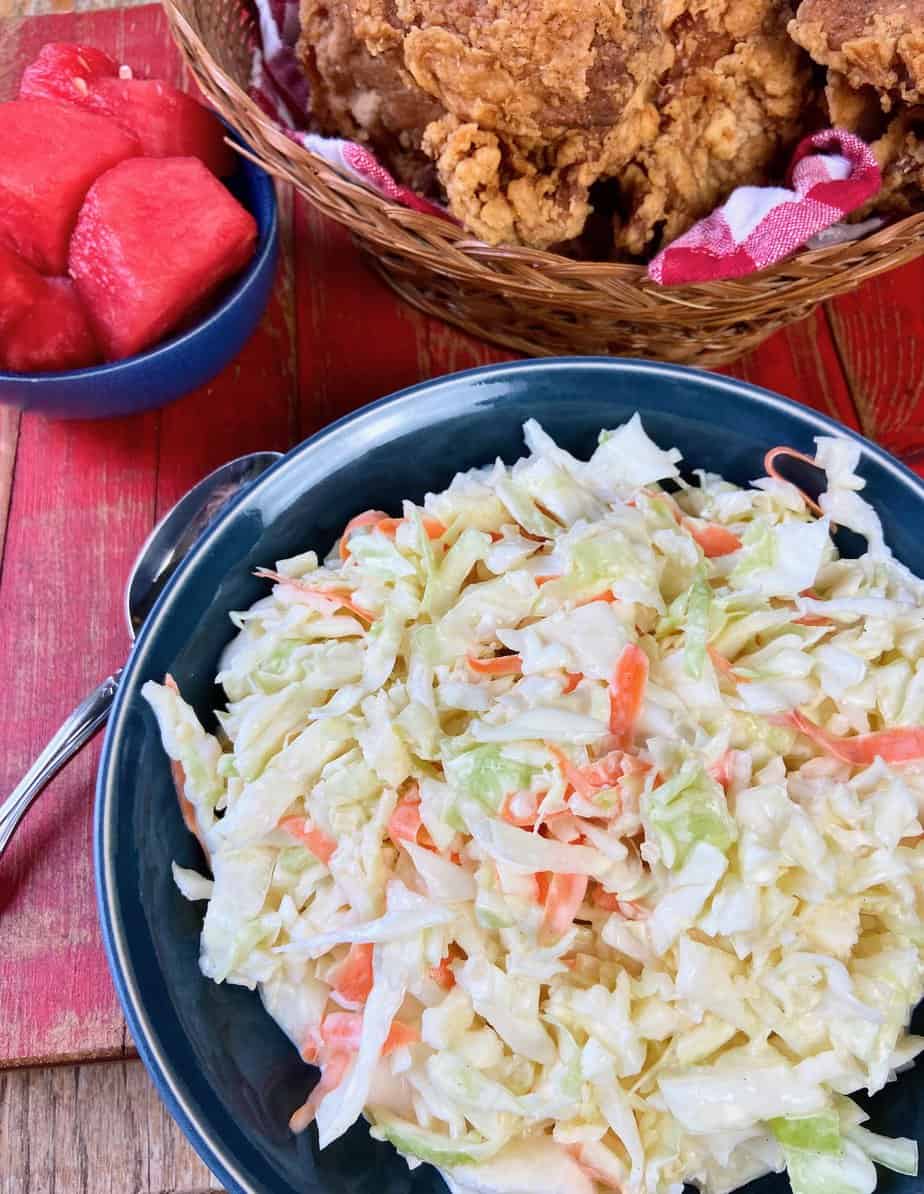 The dish is simple to prepare and is an excellent side dish for any BBQ or picnic. It is the perfect balance of sweet and tangy flavors, and the creamy dressing gives it a satisfying texture.
Why this recipe works
They say everything is bigger in the Lone Star State and the tangy bold flavor of this Texas coleslaw is living proof!
This creamy coleslaw recipe is sweet and tangy, just like you'd get at at Texas BBQ restaurant-in fact, the flavor resembles Kentucky Fried Chicken coleslaw but without any preservative or additives!
Simple ingredients and minimal prep time - easy recipe
Make ahead - this coleslaw mixture tastes even better after its marinated in the refrigerator
Perfect complement to pork sandwiches, BBQ, ham, pastrami sandwiches and more-make it shredded or chopped!
Relatively healthy recipe - the total fat and sugar in this cabbage recipe is minimal; the amount of dietary fiber that the cabbage provides more than offsets the calories
The combination of vinegar, lemon, mayonnaise and buttermilk give this Texas coleslaw its tangy flavor!
The best coleslaw is simple; however some folks like to add other stuff to their recipe like red bell pepper, green bell pepper, celery seeds, granny smith apples, small green onions and yes, I've seen a recipe that included a cup pecans. This Texas coleslaw recipe is short and simple!
Ingredients
To make creamy Texas coleslaw, you will need the following ingredients:
1 medium head of green cabbage, shredded (you'll need about 8 cups shredded); do not include purple cabbage or red cabbage or the cole slaw will turn pink. Don't ask me how I know this.
2 carrots, shredded; about ¼ cup shredded. You can use one large carrot if it's big enough-I use a potato peeler to shred the carrot into strips, but you can also put it in the food processor
Coleslaw dressing ingredients
½ cup of mayonnaise
2 tablespoons dried minced onion; (if you use fresh onion, use 1 small onion)
1 ½ tablespoons of white vinegar (don't use red wine vinegar or the coleslaw will turn pink)
2 ½ tablespoons fresh lemon juice
¼ cup milk- 2% or whole
¼ cup buttermilk-2% or whole (this is optional but it does make it really good!)
⅓ cup of granulated sugar
½ teaspoon salt
½ teaspoon of black pepper
Instructions
Before you get started, pull off any outer cabbage leaves that have brown spots; rinse the cabbage head, cut in half and remove the core. You can shred the cabbage with a sharp knife, or put it in the food processor- your call! If there's any big hard chunks of white cabbage pieces in the mix, just throw them out.
Next, rinse and peel the carrots. I recommend using a potato peeler for this. Place the shredded cabbage and carrots in a large bowl.
In a separate bowl, make the creamy cabbage salad dressing: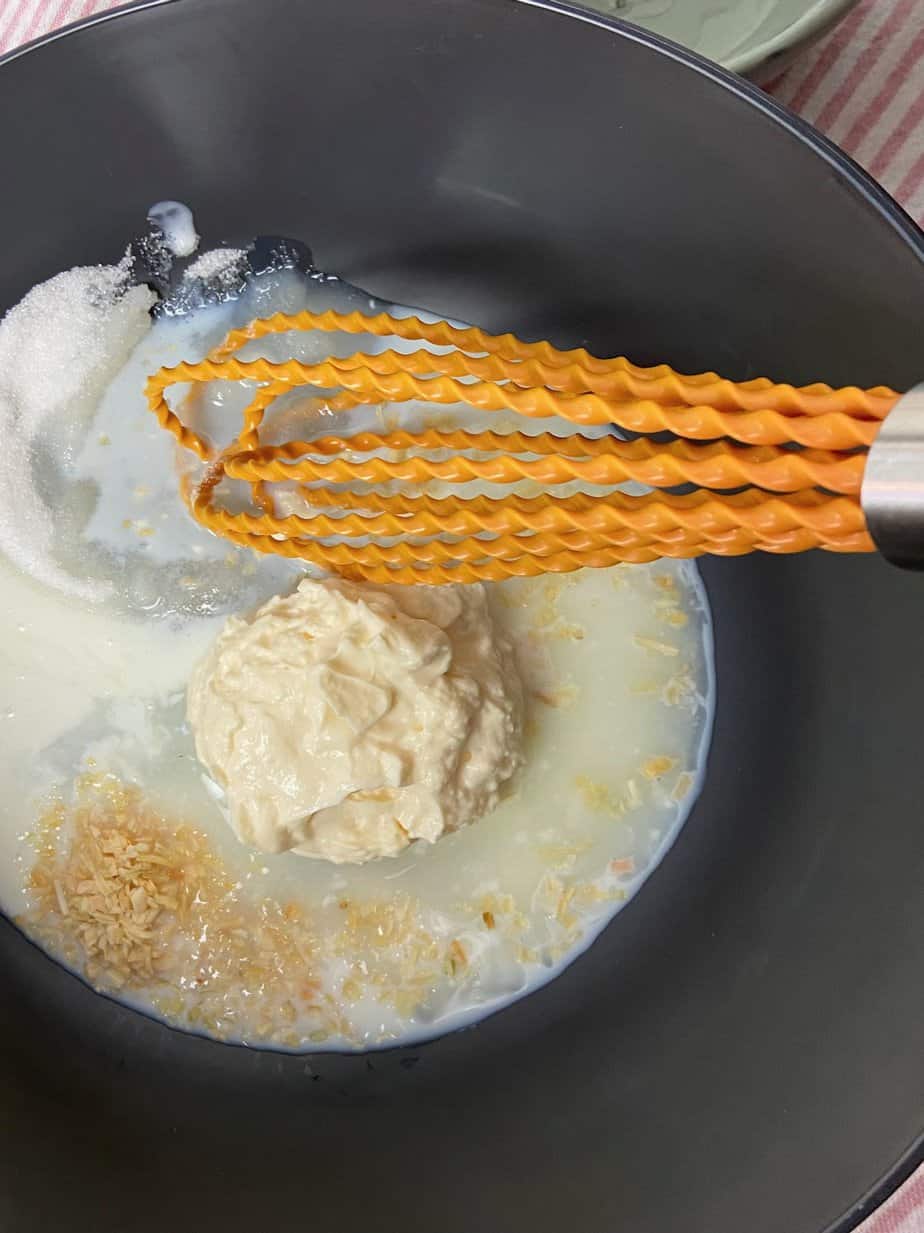 Combine the mayonnaise, onions, sugar, milk, buttermilk, vinegar and lemon juice in a mixing bowl; whisk together until smooth; taste for salt and pepper and add a smidgen if you prefer.
Pour the dressing over the cabbage and carrots; use tongs to toss coleslaw mix until it's well-coated. Cover with plastic wrap or place in an airtight container and refrigerate for about 30 minutes.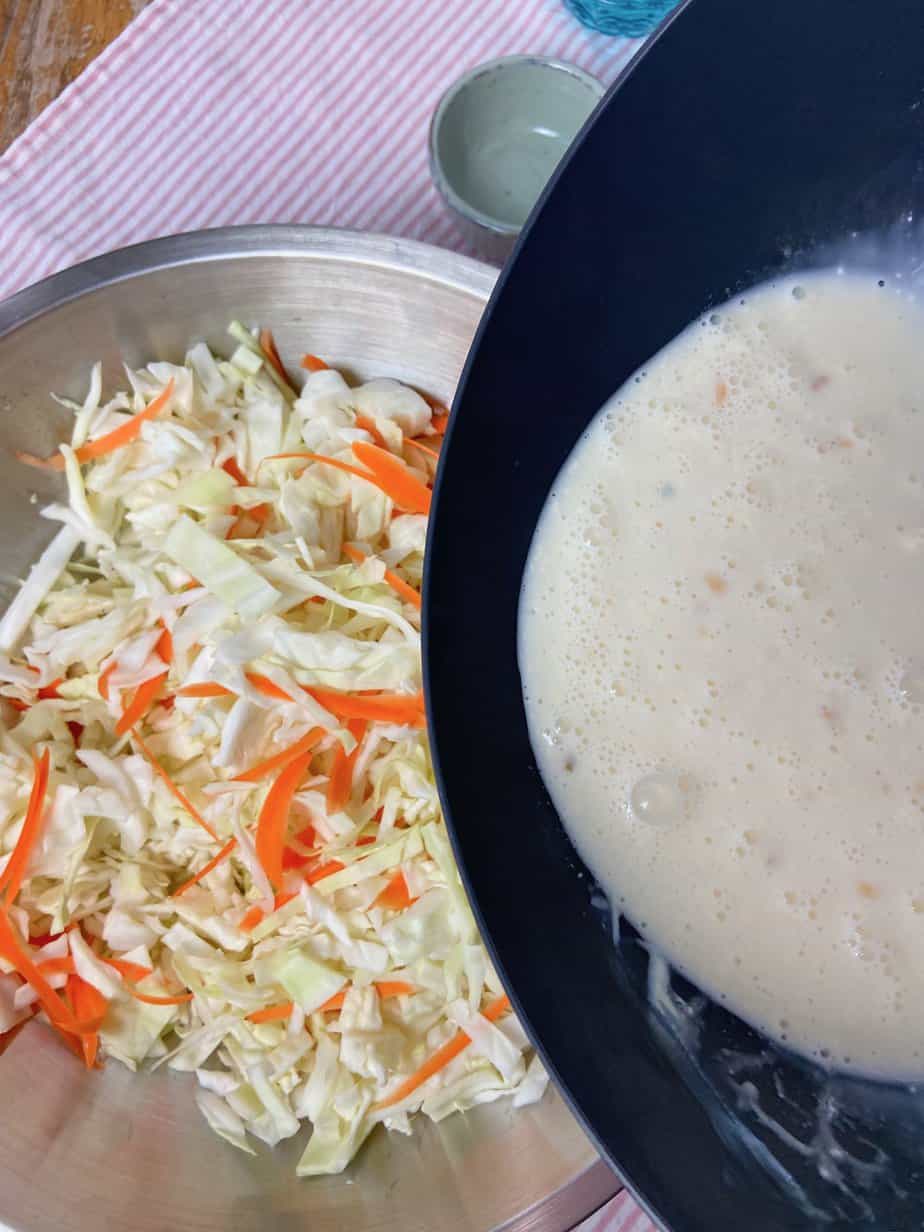 Before serving, give the coleslaw a good stir to ensure that the dressing is evenly distributed.
Recipe Tips
I use dried, minced onions in this recipe. You can use a fresh minced onion, but you'll need a little more than two tablespoons (dried spices are stronger than fresh); shred or mince a small onion and add it to the coleslaw dressing in tablespoon increments until it tastes right to you. Keep in mind, the flavors will intensify upon refrigeration, so go easy on adding fresh, raw onion.
This tastes best if made ahead at least one hour ahead of time
Storage
Store any leftover coleslaw in an airtight container in the refrigerator for up to 5 days. Before serving, be sure to give it a good stir. Freezing isn't recommended because the mayonnaise contains eggs and the eggs change texture when frozen.
FAQ
Can you freeze coleslaw?
If you use a mayonnaise-based dressing, the answer is "no." The eggs in the mayonnaise do not freeze well and the texture of the coleslaw changes drastically.
Can I make this ahead of time?
Yes! It's actually better when it's had at least 30 min - 1 hour to rest in the refrigerator. You can safely make this up to 3 days in advance, provided it is stored in an airtight container in the refrigerator.
Variations
This creamy Texas coleslaw recipe is versatile and goes great with BBQ ribs, pulled pork sandwiches, fried chicken and fried catfish. You can shred or chop the cabbage and carrots then add chopped green bell pepper, chopped jalapenos, green onions, diced radishes, sweet or dill relish, chopped pecans, chopped water chestnuts or even salted roasted sunflower seeds!
I've got another Texas coleslaw recipe that has a bit of a Louisiana flair to it- you might like it, too: Creamy Creole slaw
Or, if you prefer a slaw with no mayonnaise, try my Southern Coleslaw with Vinegar Dressing!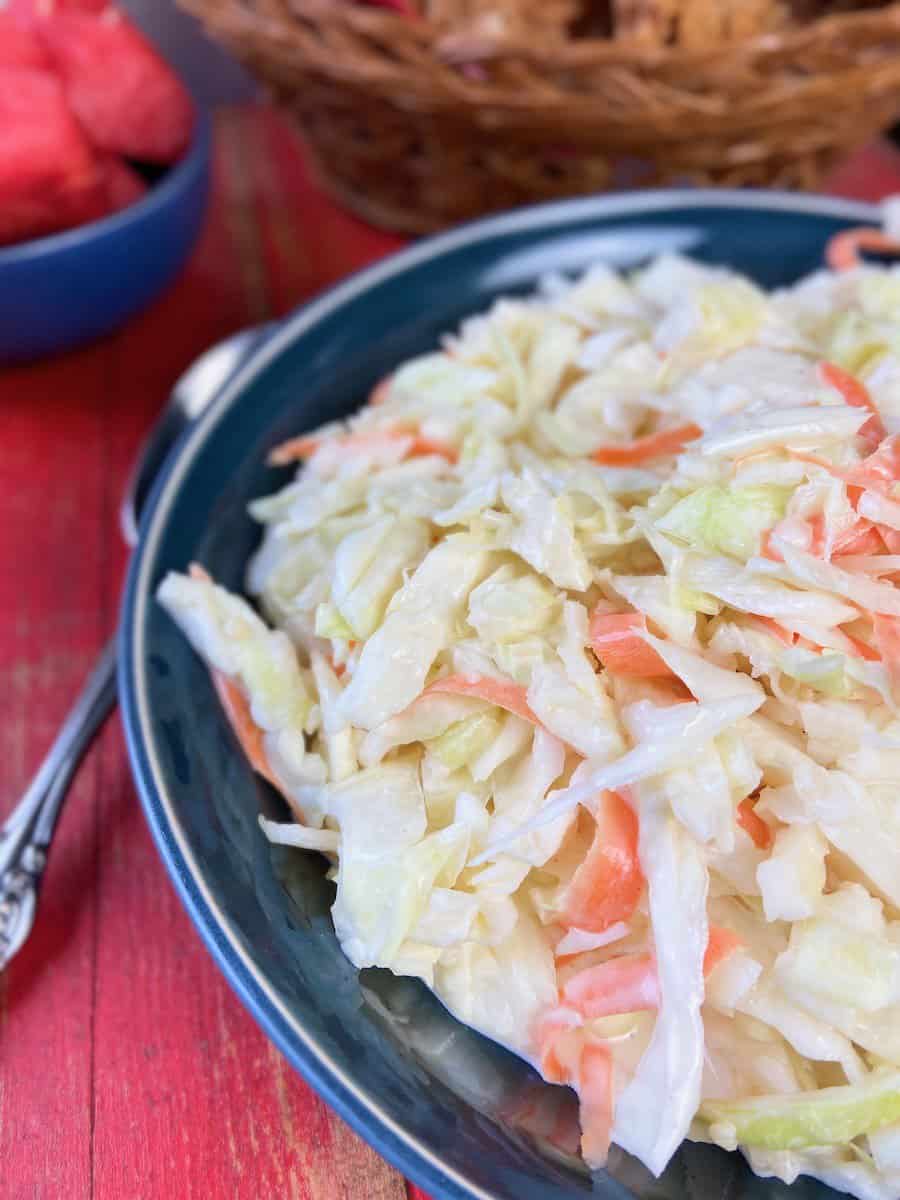 The sweetness of the Texas coleslaw complements the smokiness of the meats, making for a delicious combination.
If you are looking for a quick and easy side dish to accompany your next BBQ, picnic, potluck or family reunion, this creamy Texas coleslaw recipe is the perfect choice. With its sweet and tangy flavors and creamy texture, it will definitely be a hit with your family and friends
This Texas Coleslaw recipe is the real deal - a sweet and tangy slaw recipe you'll use time and time again!
More Texas recipes
📋 Recipe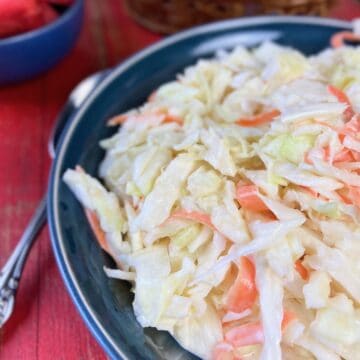 Creamy Texas Coleslaw
Traditional Southern creamy coleslaw recipe with shredded cabbage, carrots and a sweet and tangy dressing!
Print
Rate
Nutrition Estimate
Serving:
1
cup
Calories:
165
kcal
Carbohydrates:
16
g
Protein:
2
g
Fat:
11
g
Saturated Fat:
2
g
Polyunsaturated Fat:
6
g
Monounsaturated Fat:
2
g
Trans Fat:
0.03
g
Cholesterol:
7
mg
Sodium:
274
mg
Potassium:
226
mg
Fiber:
2
g
Sugar:
13
g
Vitamin A:
3096
IU
Vitamin C:
30
mg
Calcium:
56
mg
Iron:
0.4
mg