We love our Mexican food, but when we're at a restaurant, we don't want to ask the server, "are your corn tortillas keto friendly?"
If you're on a low-carb diet, or keto diet, you're watching your daily intake of carbohydrates, right? But when it comes to dining at your favorite Mexican restaurant or buying low-carb tortillas at the grocery store, it can be frustrating and confusing.
Granted, not all Mexican dishes include tortillas, but many of our favorites do! Here's how to learn what kind of tortilla to order and buy at the store, resulting in a healthier alternative!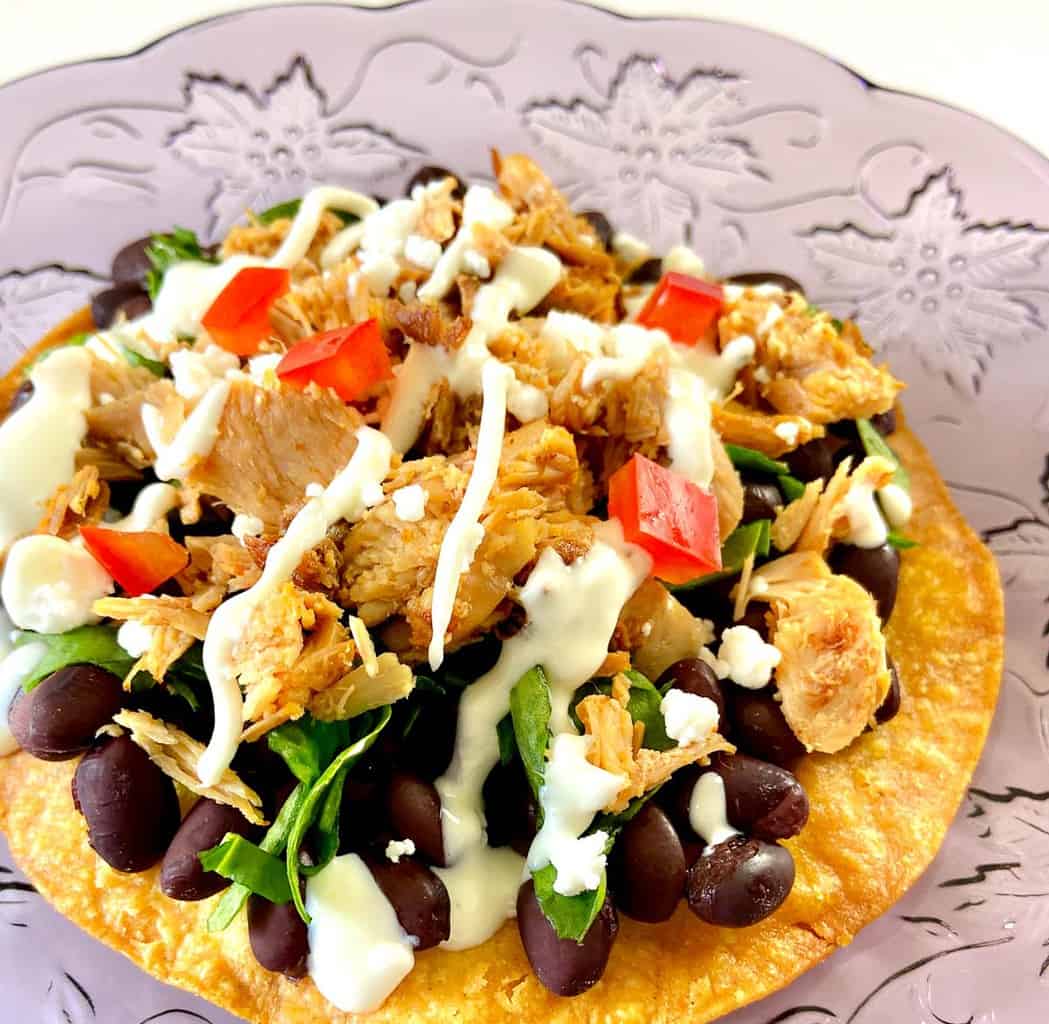 There are many types of tortillas in the grocery store: wheat tortillas, whole wheat flour tortillas, whole grain tortillas, flour tortillas, traditional corn tortillas, keto-friendly tortillas, low carb tortillas, low calorie - in fact, if you're trying to reduce your daily carb intake, it can be overwhelming.
What are corn tortillas?
Corn tortillas (and flour) are an unleavened flatbreads. The main ingredients are whole kernels of corn that are stone ground and soaked in a lime alkaline solution. This process, originated with the Mayan and Aztec cultures, is known as "nixtamalization" and it enhances the nutritional profile of the corn tortillas.The ingredients may be listed as stone ground maize or corn "flour"-even though it's not really flour.
Homemade tortillas are formed by hand, flattened with a rolling pin and lightly seared on a dry frying pan on medium heat, on a griddle or a non-stick pan. Manufactured tortillas are processed through a food processor and a huge tortilla press, producing thousands at a time.
You'll find flour and corn tortillas typically served with Mexican food - usually served with salsa, queso or guacamole as an appetizer, or often as a soft taco, enchilada or a crunchy corn taco entree.
Which has lower keto carbs- flour tortillas or corn tortillas?
Tortilla carbs vary from brand to brand. Generally speaking, corn tortillas have a slightly lower keto (carb content) and calorie count than flour. ¼ cup of corn masa flour has 20g net carbs and 103 calories. ¼ cup all-purpose white flour has 28g net carbs and about 147 calories.
(Net carbs are the amount of carbs your body processes after dietary fiber carbs are removed from the total grams of carbs.) For instance, if a tortilla has 20g of total carbs and 16 grams of fiber, you deduct the grams of fiber to determine 4g net carbs: 20-16=4). Dietary fiber does not count toward net carbs in a ketogenic diet.
But there are several other factors to consider when comparing keto corn tortillas with regular tortillas.
Ingredients in corn tortillas
After you read the label of your favorite keto corn tortilla, don't freak out! An organic, non-GMO tortilla will have few ingredients: water, stoneground organic yellow corn masa flour, organic guar gum and lime. If you're concerned about gluten, do not be alarmed by the "corn masa flour" as it isn't wheat flour, but finely stone ground corn.
Conventionally manufactured corn tortillas will have more ingredients and preservatives than organic/non-GMO. While these additives are not necessarily harmful to a keto lifestyle, some question the necessity of these ingredients.
Some manufactured corn and flour tortillas you find at the grocery store have additives and preservatives added, so the best way to ensure you're getting truly keto tortillas is to read the packaging label and compare. If you're skeptical about the ingredients, you can always make homemade tortillas!
More often than not, in conventional corn tortillas you'll find these ingredients: yellow corn masa flour, water, contains 2% or less of: cellulose gum, guar gum, xanthan gum, amylase, and propionic acid, benzoic acid and phosphoric acid. Each of these ingredients is gluten-free, but let's break down what each one does.
Cellulose gum: thickening agent and stabilizer
Guar gum and Xanthan gum: thickeners
Amylase: enzymatic powder
Propionic acid: prevents against mold
Benzoic acid: for longer shelf life
Phosphoric acid: controls pH levels in foods
The shelf life of tortillas - low-carb or regular, depends upon any of these ingredients.
Tips for comparing keto corn tortillas
The best option for determining which keto corn tortilla is best for you is to read the ingredients, compare regular corn tortillas to low carb tortillas ( both flour and corn) and consider the following:
Look at the nutritional information on the package.
Consider the size of the tortilla. A small tortilla - say a small "street" taco that is flour may have less carbohydrates than a larger corn tortilla. This will impact the amount of carbs you consume. Tortillas come in a variety of sizes, so be sure to compare "apples-to-apples"
Consider the quantity per serving. Some tortilla manufacturers list one serving as "one tortilla" where others list one serving as "two tortillas"
Corn versus flour versus whole grain tortillas or whole wheat tortillas are also factors to compare when deciding which is a healthier option.
Whole grains generally contain more fiber, resulting in a lower net carb count; however, whole grain and whole wheat are not as keto friendly as corn tortillas!
Here's a comparison of a popular tortilla brand, Mission™ tortillas. You can see from the chart below that it depends upon the size, quantity, fiber and type of flour - wheat or corn. Remember, you're looking at NET CARBS on a keto diet.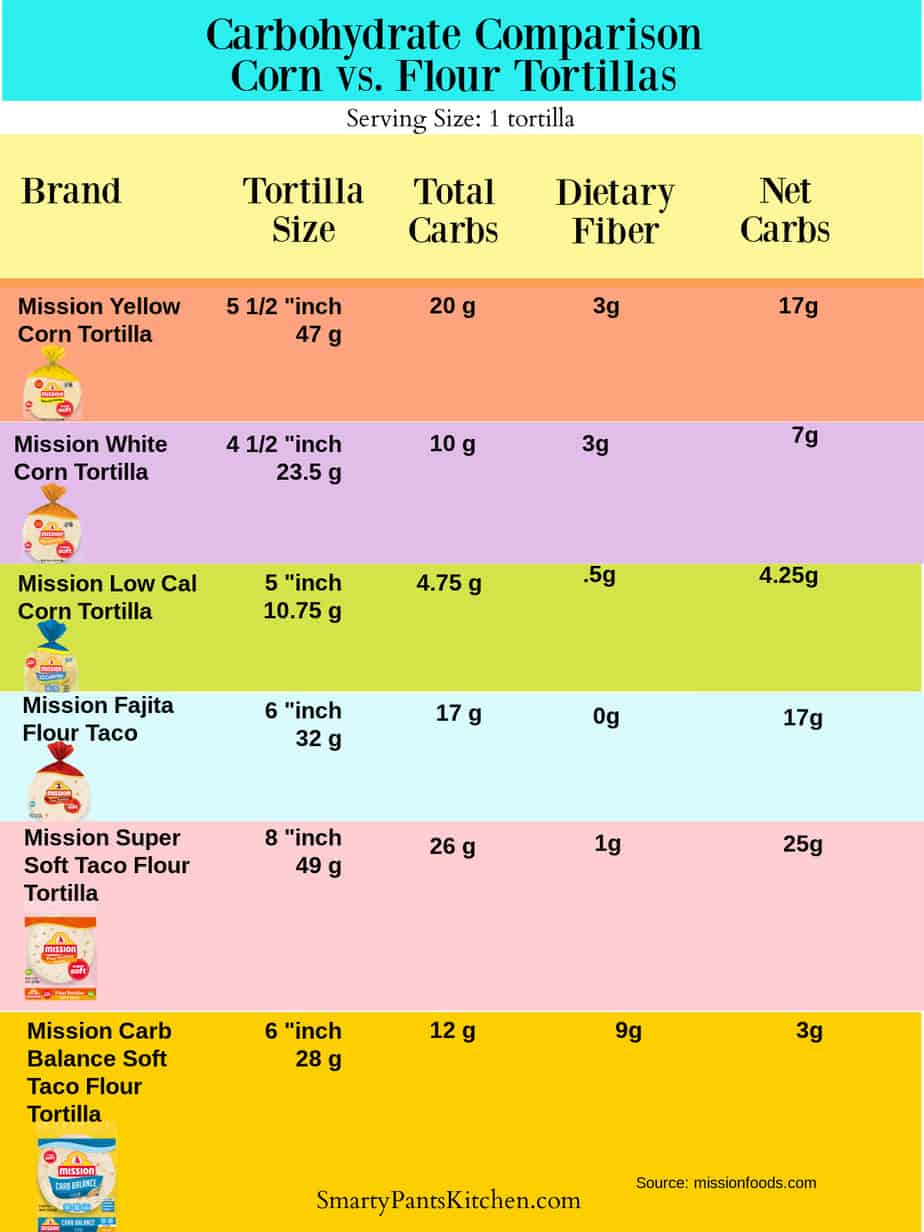 Are corn tortillas gluten free?
Depends. Most often, packaged corn tortillas are gluten-free, however, some fillers, preservatives and additives may contain gluten. In order to ensure you are choosing a truly gluten-free corn tortilla, read the ingredients on the label and remember -"corn masa flour" is not flour; it's stone ground corn.
Why are flour tortillas softer than corn tortillas?
Flour tortillas contain wheat - whether it be white flour, wheat or whole grain wheat flour-flour produces gluten. The formation of gluten in flour tortillas results in this soft texture.
Keto Crispy Tortilla Chips
You can easily make crispy keto tortilla chips by taking your favorite low carb tortilla and dropping it in a fry pan of oil (on medium high heat) for a few minutes! Just drain it on a paper towel or parchment paper, lightly season with salt and dip it into your favorite salsa, queso, guacamole, sour cream or pico de gallo!
If you're on a standard keto diet or a cyclical keto diet, it is still possible to enjoy your favorite foods without sacrificing flavor and texture! There are tons of options at your local grocery store! Just read the ingredient label, compare and if you're making homemade traditional tortillas from a recipe, double check the ingredients of that low carb tortilla recipe!
Related topics