In Texas, it's a tradition to serve tamales around Christmas, and here's some quick and easy recipes for "what to serve with Tamales" on Christmas Eve, game day, Cinco de Mayo or any day!
Here's you'll find out what goes best with tamales any time of day or year : appetizers, side dishes, brunch, main dish tamale dinners and more! We've got you covered on authentic Mexican side dishes, as well as a few other sides for tamales!
And folks around here eat these any time of the day - we're talking tamales for breakfast, brunch, lunch and dinner!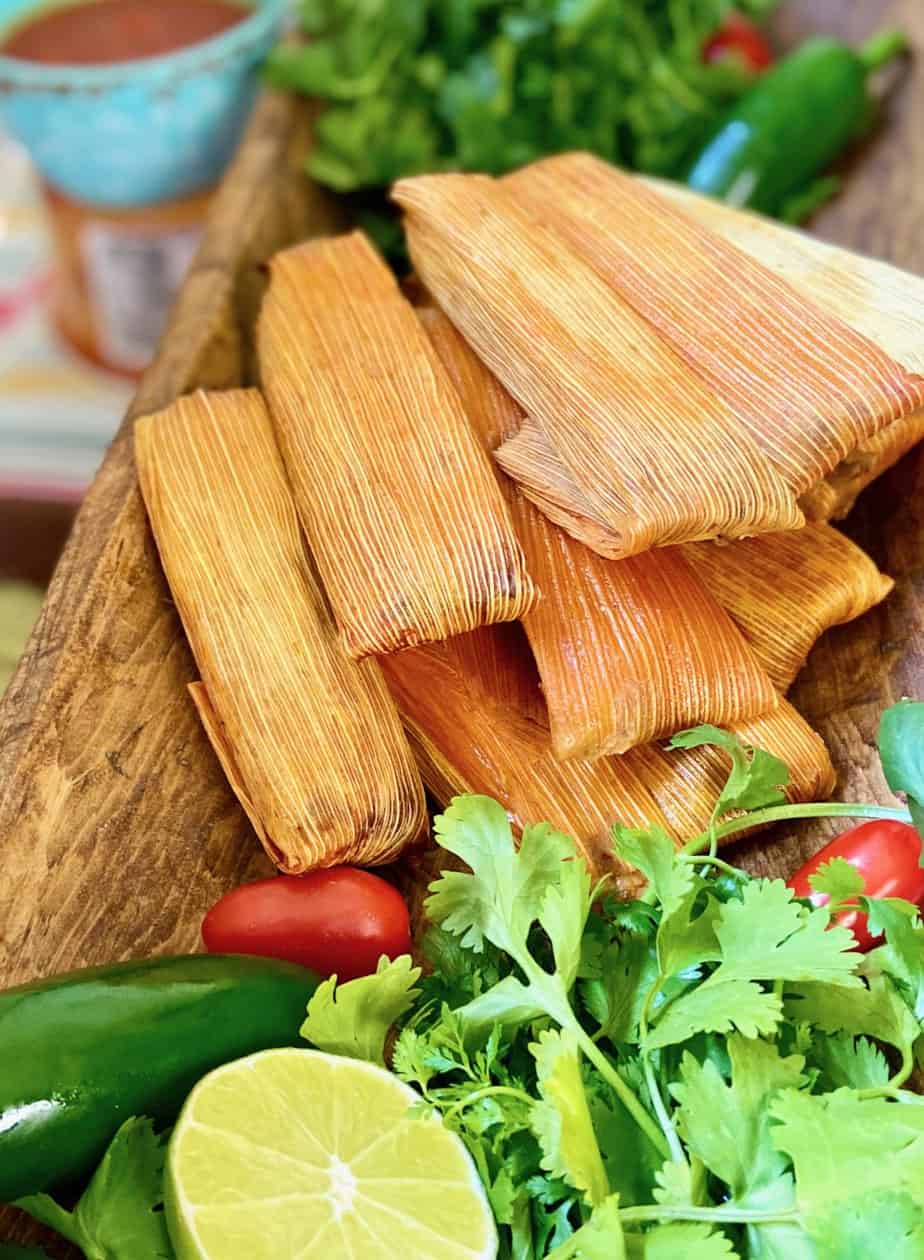 Most of these side dishes are quick, easy, ready in no time and don't require a lot of work!
What are tamales?
Tamales are a quintessential Mexican food and are made with lightly seasoned masa dough, then filled with a savory combination of beef, pork or chicken.
The tamale filling is often seasoned with chiles and peppers -Ancho chiles, chile powder, perhaps a little adobo sauce, ground cumin, sometimes Chipotle peppers, Pasilla chiles, or Guajillo chiles, a few garlic cloves and onion powder.
This mixture is placed in the center of the masa flour mixture, rolled and then wrapped in dried corn husks. They're typically steamed with the corn husks on; the husks are removed before consuming the tamale.
[advanced-feast-jump-to]
Jump to:
Breakfast or brunch
1. Eggs
Serve your favorite fried, scrambled or poached eggs, alongside your tamales! Or make quick and easy Migas (Mexican egg dish) and top it off with spicy flavor of homemade Ranchero sauce!
This warm tomato-based salsa goes perfectly with Huevos Rancheros or any type of eggs! Fresh sliced tomato and slices of ripe avocado also go great with a Mexican breakfast!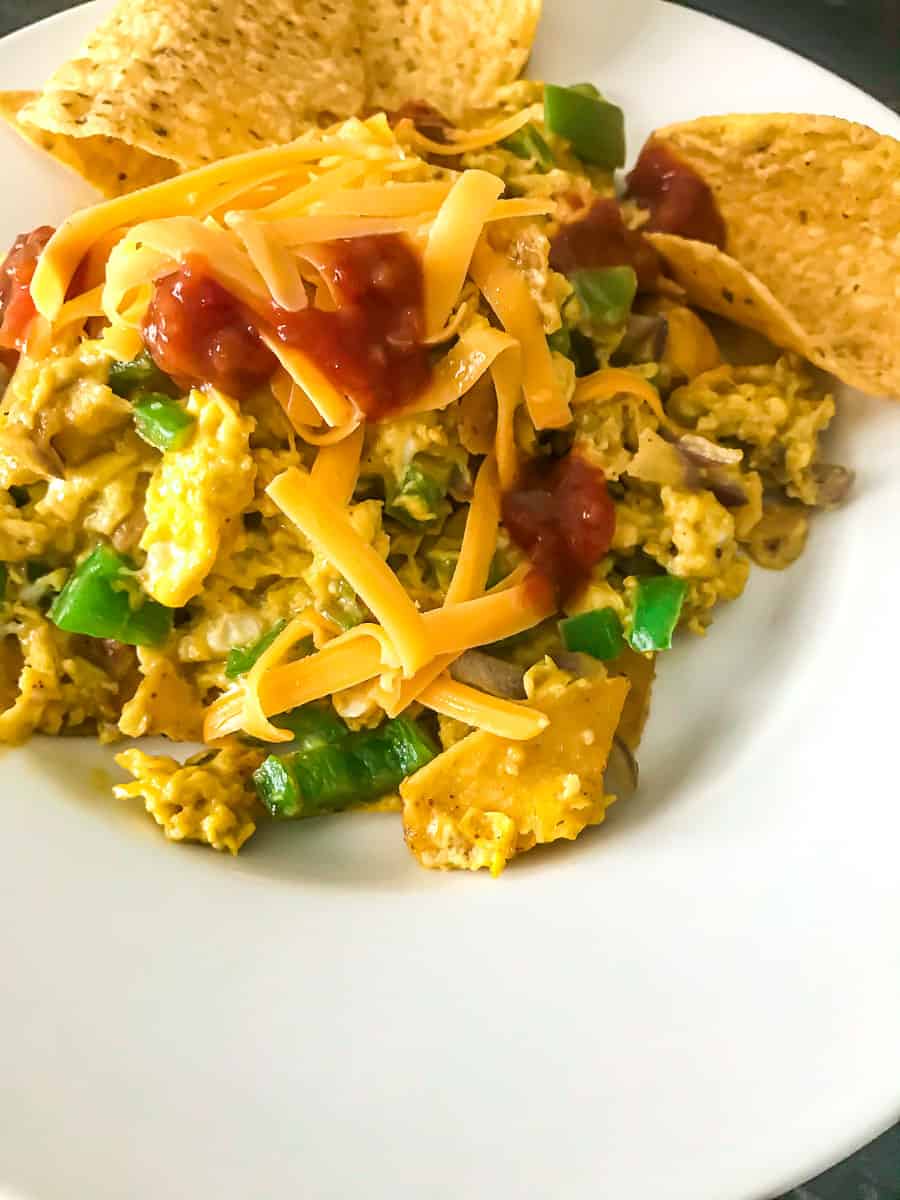 2.Breakfast burritos
Warm and cheesy eggs nestled in a warm flour tortilla, topped with a little fresh salsa and a side of beans and a little pico de gallo! Add a little more protein with cooked pork sausage, seasoned ground beef or Mexican chorizo!
No, it's not really "fudge," but more like an egg casserole that you can cut into cubes like you'd do fudge...or serve it in larger square portions. Make this as mild or spicy as you like! Perfect for large gatherings and overnight guests!
Lunch and dinner
4. Beans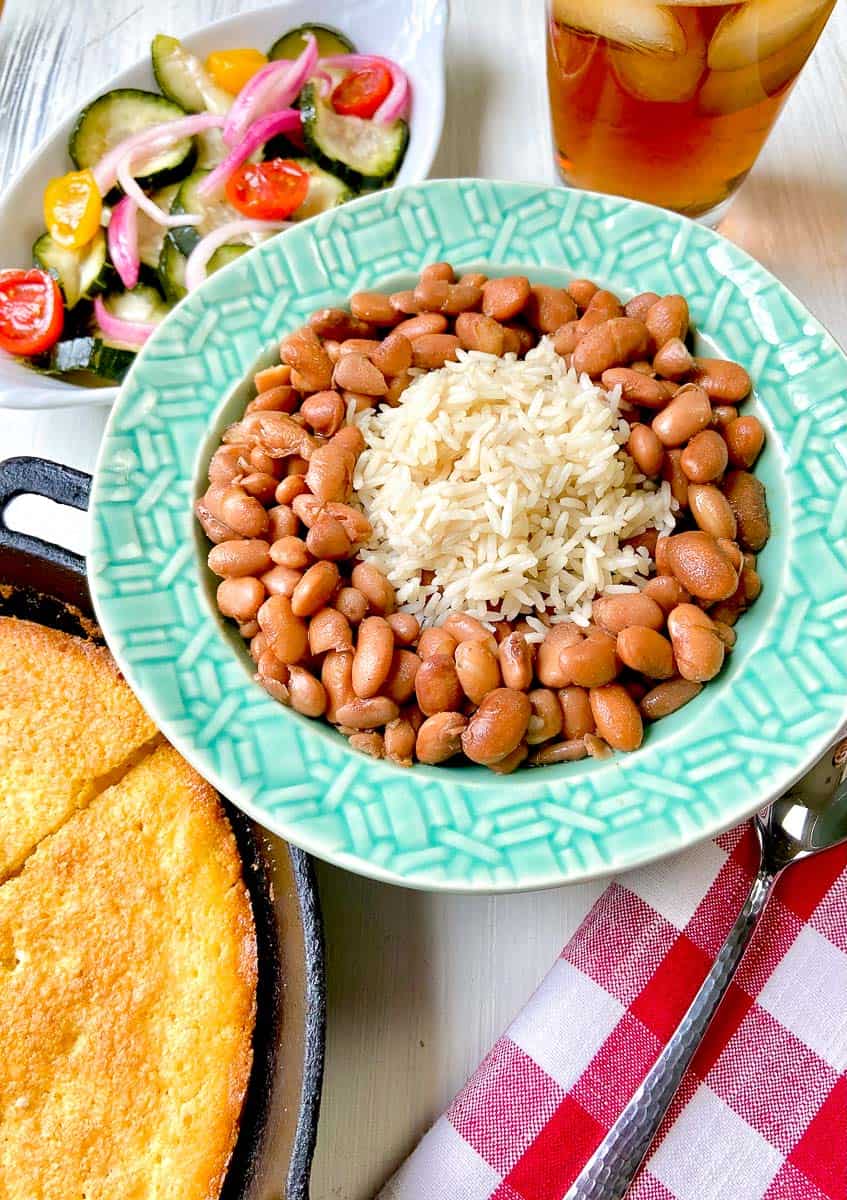 You'll usually find some type of bean served with these - perhaps a big bowl of mexican refried beans, black beans, pinto beans, Charro beans or Borracho beans. If you're pressed for time, here's a great way to make canned refried beans taste just like you'd get at your favorite Mexican restaurant!
5. Rice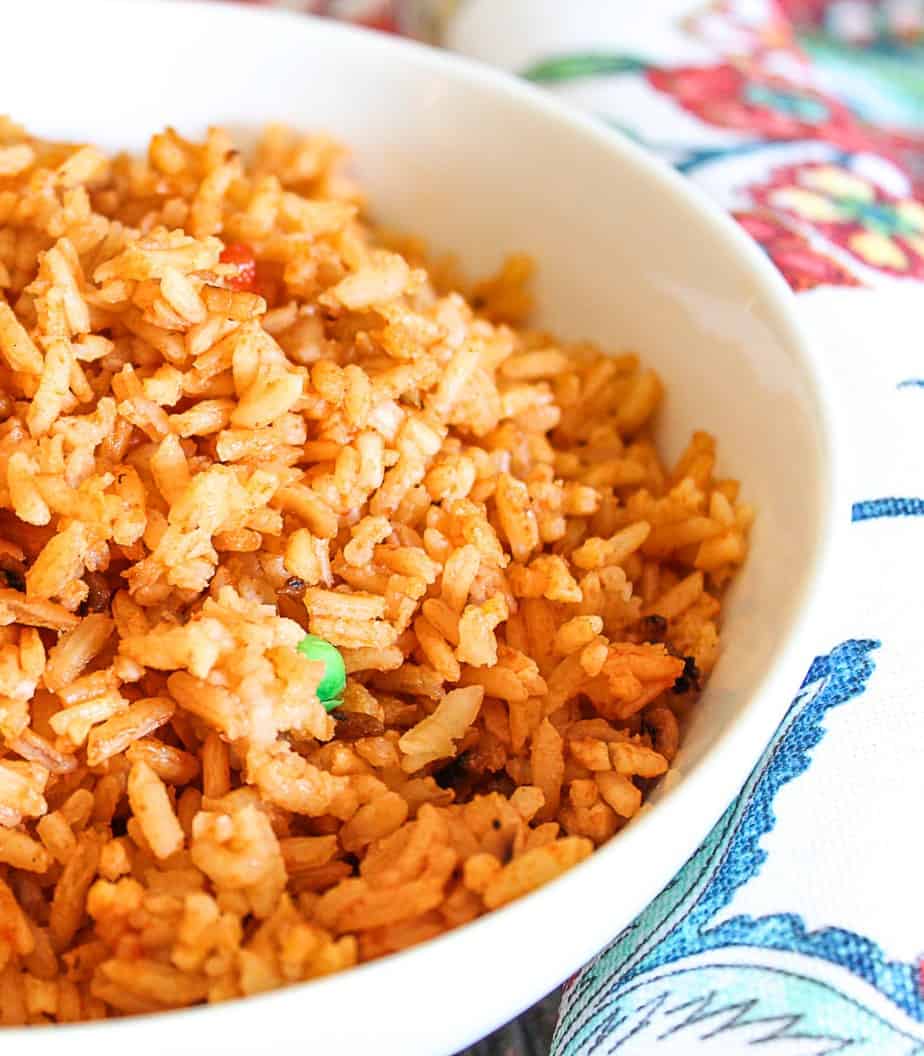 Authentic Mexican rice is a staple menu item for most Mexican food and this quick and easy recipe not only offers delicious flavor, but it's a perfect way to round out your Mexican cuisine Christmas dinner. This rice recipe uses plain long or short grain rice, chicken broth, tomato sauce and a few seasonings! Add in steamed peas and carrots for garnish.
6. Sweet Corn Tomalito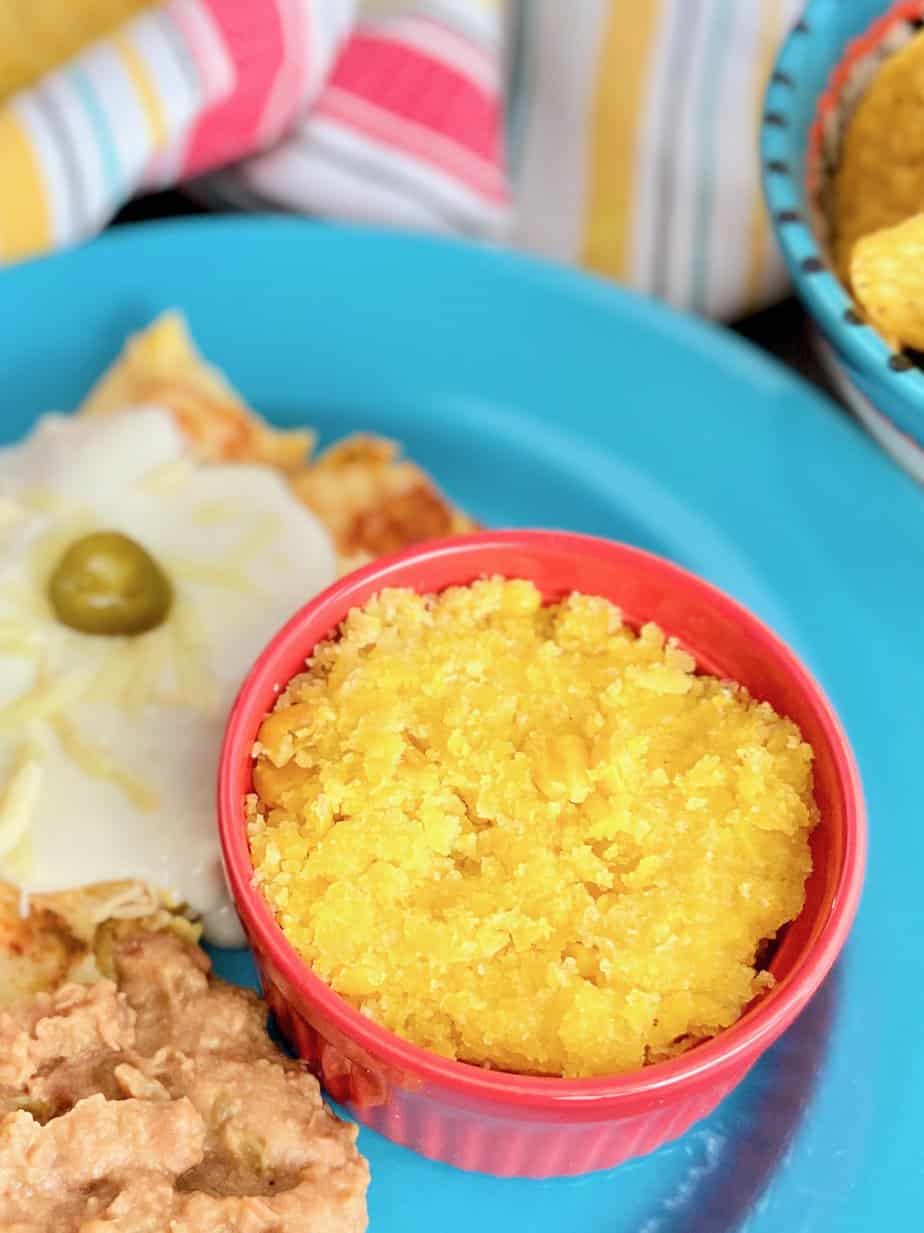 If you want to go a little beyond the traditional tamale dinner for Christmas eve, make a big pan of Sweet Corn Tomalito! This easy corn dish is delicious with any tamale - pork tamales, beef tamales, chicken tamales and vegetarian tamales!
This is truly one of the best side dishes I've found for a special occasion tamale dinner
7. Marinated Tomato Cucumber Salad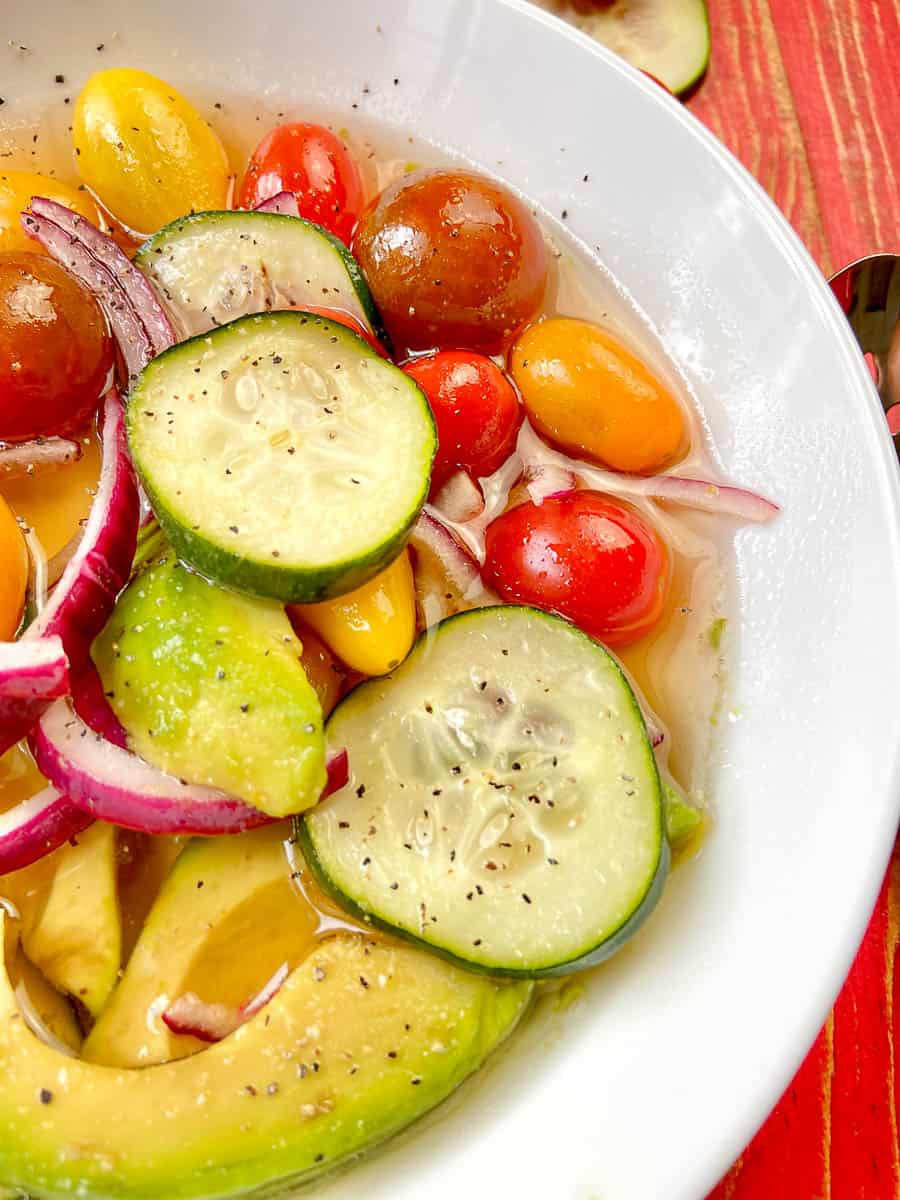 This is a light and refreshing vegetable salad that has great flavor! Slightly sweet and tangy, the flavors pair beautifully with just about any type of tamale!
8. Candied Jalapenos (Cowboy Caviar or Cowboy Candy)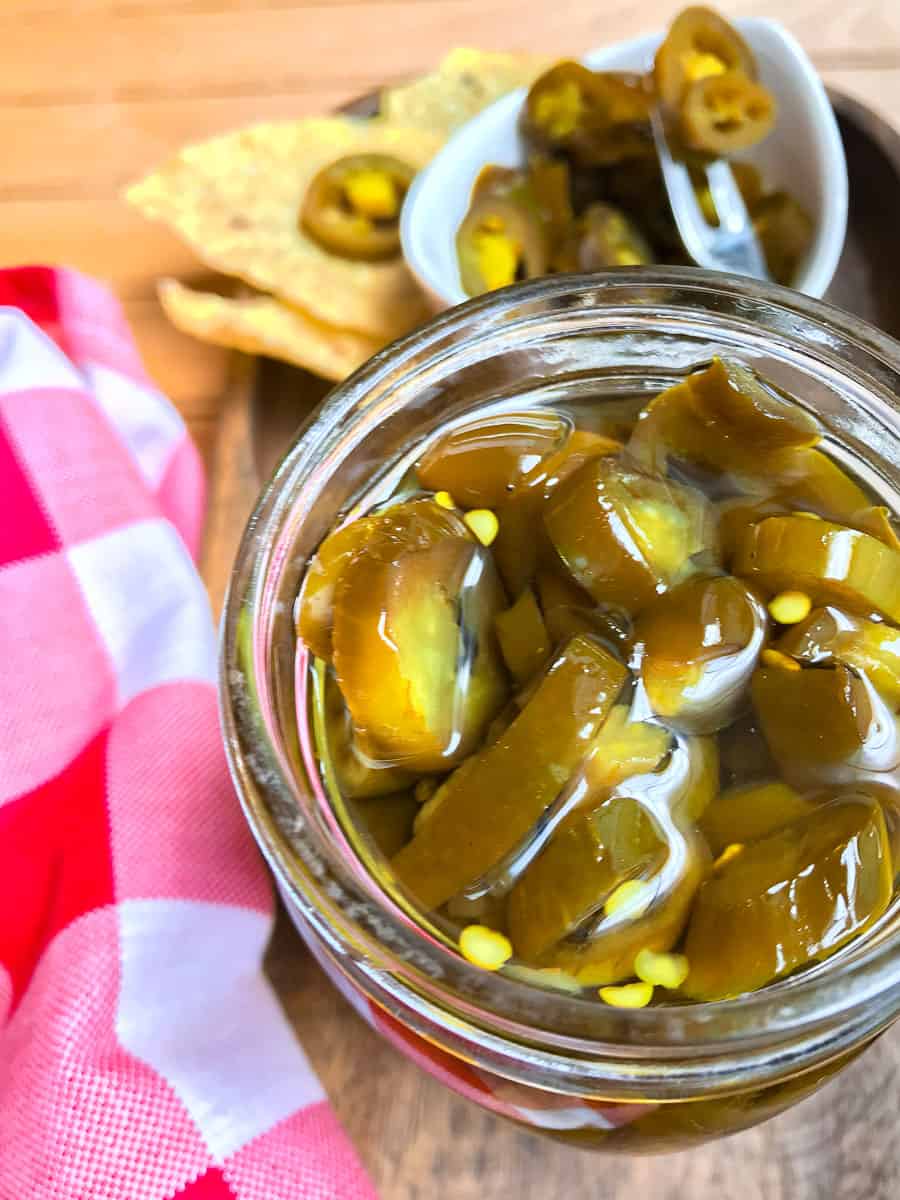 Sweet and tangy candied jalapenos offer a change of pace in tamale land, especially if you've got a "hot tamale!" These "bread and butter" jalapenos are just what the doctor ordered if you got a tamale too hot for your taste!
9. Sweet Chipotle Corn Casserole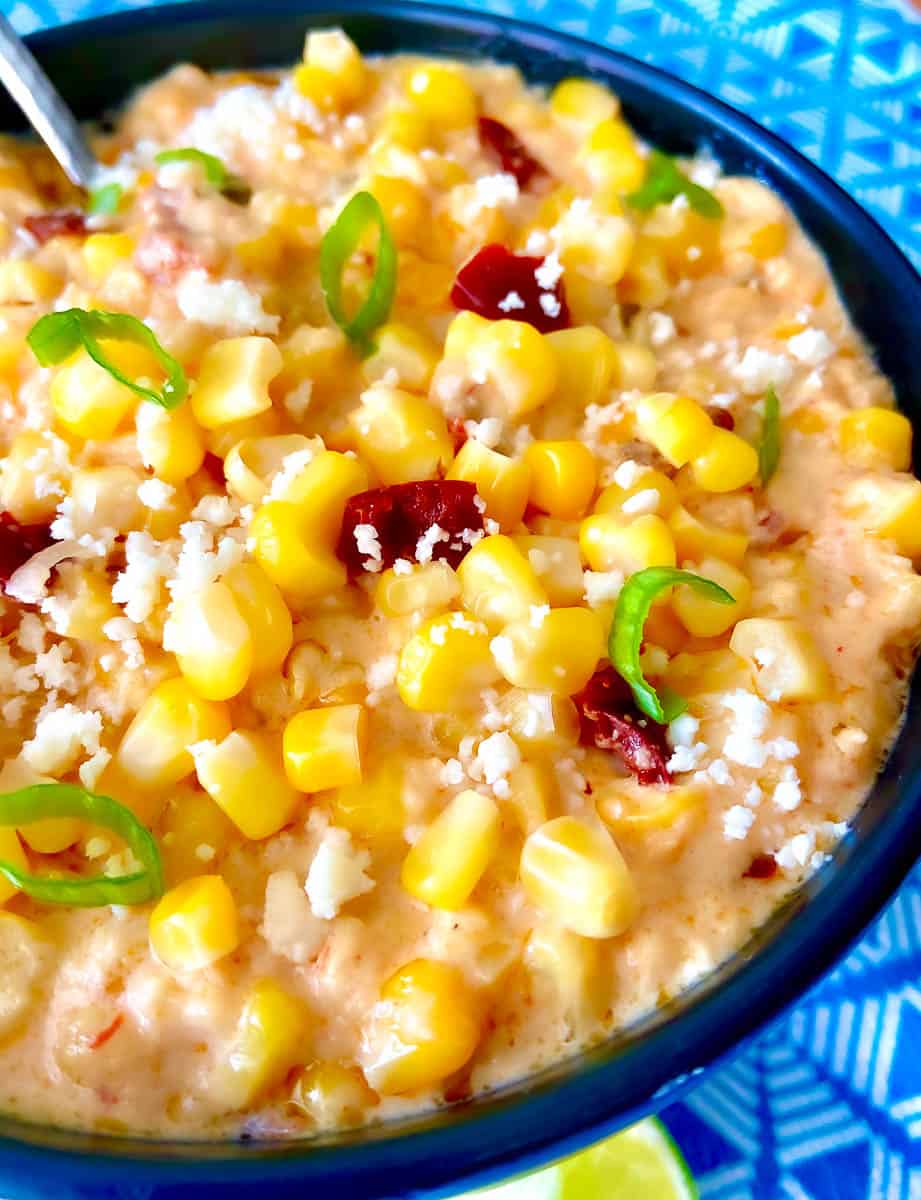 This is much like traditional "Mexican Street Corn" only served in a casserole dish and with sweet chipotle peppers! It doesn't take much time to throw this together and it's always a hit
10. Salad
Taco salad - with beef, chicken or no protein is always a nice addition! Serve a crisp green chopped iceberg lettuce salad with a few sliced tomatoes, shredded cheddar cheese or crumbled Mexican cotija cheese and a drizzle of Creamy Avocado Sauce as the salad dressing.
What to serve with tamales on Christmas Eve
Make your Christmas tamale dinner menu a hit by incorporating any of these delicious Mexican dishes!
Appetizers
These are pretty filling, especially with all the fixins' and side dishes! Here's some easy appetizer recipes for your tamale dinner!
11. Chips
You can never go wrong with offering a big bowl of yellow corn, blue corn or white corn tortilla chips! There are so many varieties of tortilla chips available at the grocery store - check out Julio's original and chile lime flavored tortilla chips!
12. Chicharrones
Another favorite "crunchy" chip are Chicharrones!- Also known as pork rinds. These are the dipping chip of choice if your looking for a keto friendly "chip"! You'll find these on the chip aisle at your local grocer and they come in various flavors!
13. Salsa
Since no two salsas are alike, step beyond the traditional and try something new! Fire roasted salsa, tomatillo salsa, salsa verde or peach salsa! Fredericksburg Farms, out of Fredericksburg, Texas has a nice line of fresh salsa! You can find this brand at most grocers or online.
14. Guacamole
Select a few ripe tomatoes and make fresh guacamole! This is always a great appetizer, especially for those who don't care for dairy or tomato salsa! Avocados, a little onion, fresh lime juice, and a few other simple ingredients!
15. Queso
There's nothing better than a little cheesy Mexican dip with some corn or flour tortillas! This recipe takes only 15 minutes and contains real cheese - no Velveeta!
16. Pickled jalapenos
Jalapenos always pair beautifully with tamales and other Mexican dishes! Set out a small bowl of pickled jalapenos and call it done!
17. Candied jalapenos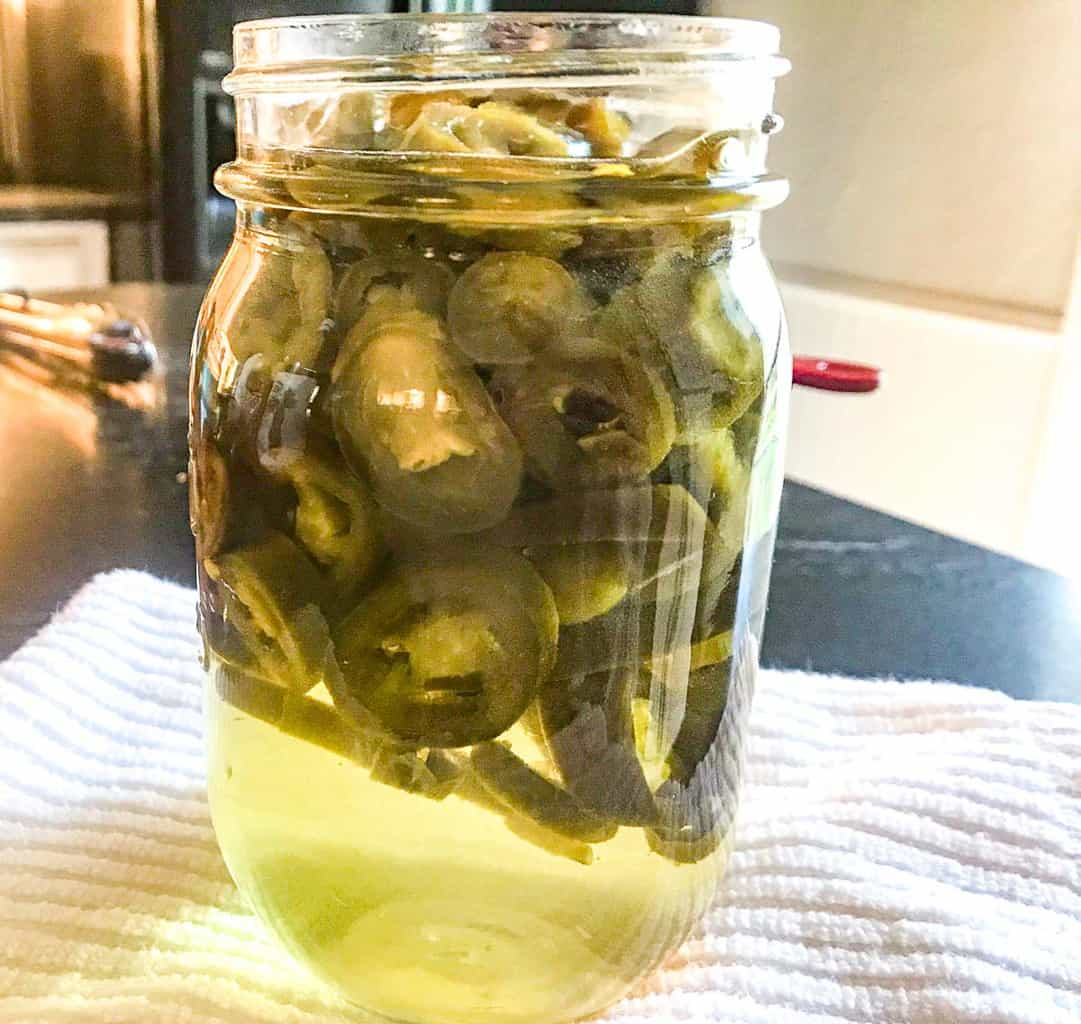 Sweet jalapenos with a hint of heat - these are a favorite accoutrement to tamales in Texas! Make them from pickled jalapenos with a little sugar and red pepper flakes (or not).
18. Jalapeno Fudge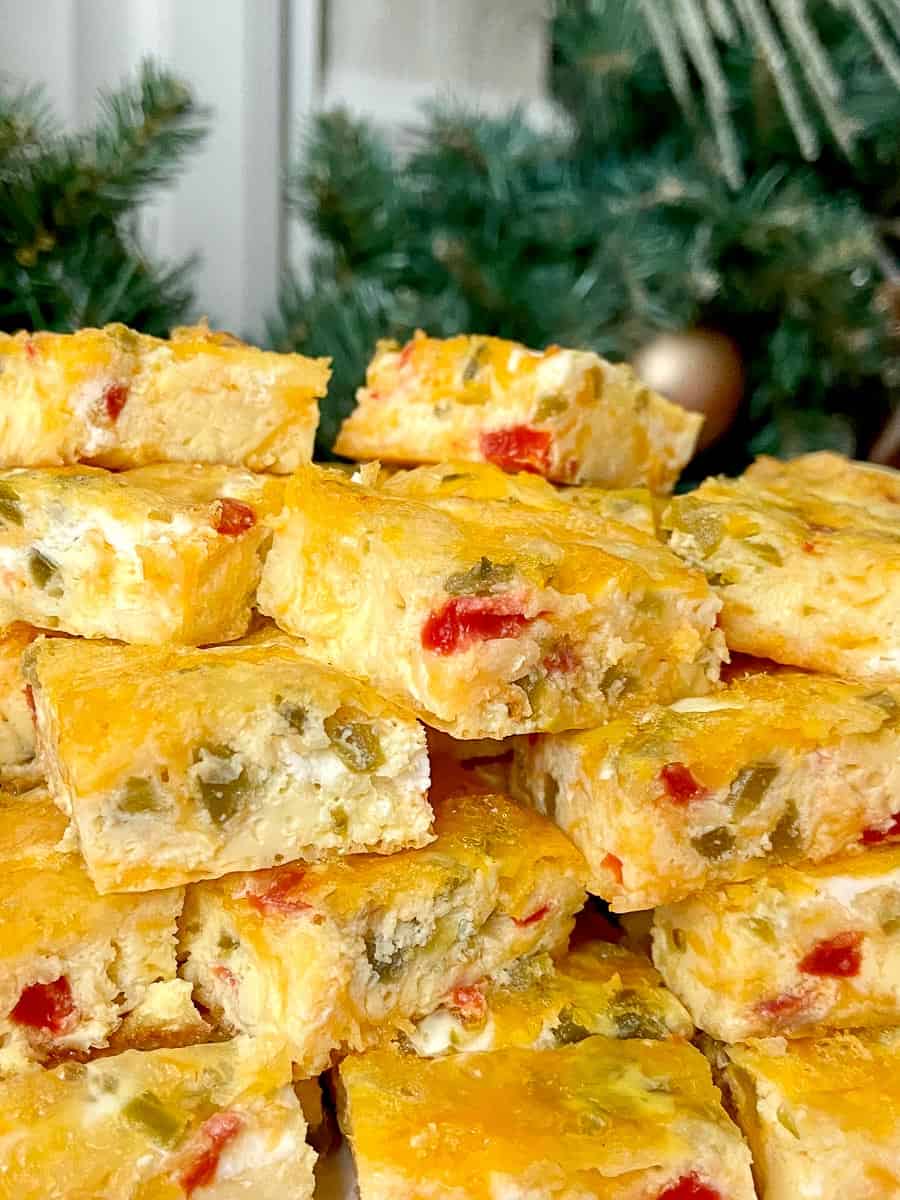 Even though it's not really a chocolate - or even sweet- Mexican dish, this easy Jalapeno "fudge" makes a great keto-friendly appetizer! It's also a good brunch dish, especially with a spicy Bloody Mary and some tater tots!
19. Mexican Shrimp Cocktail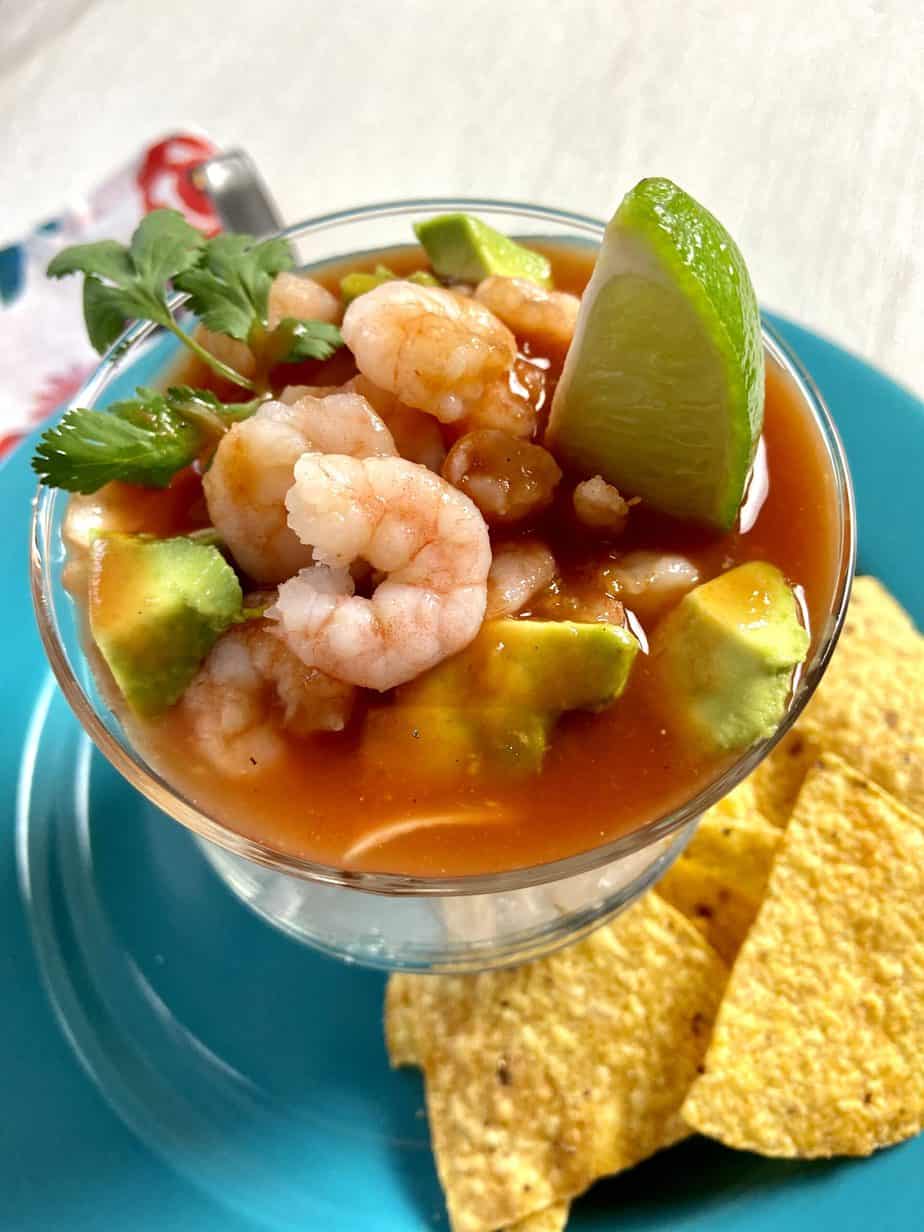 If you're going all out for your Christmas Eve Tamale Dinner, then by all means, serve this quick and easy (and delicious) Mexican Shrimp Cocktail! You can side -tep this recipe by using pre-cooked shrimp, then marinate it in a seasoned tomato juice broth and serve in chilled glasses! A beautiful appetizer always!
20. Creamy Avocado Dip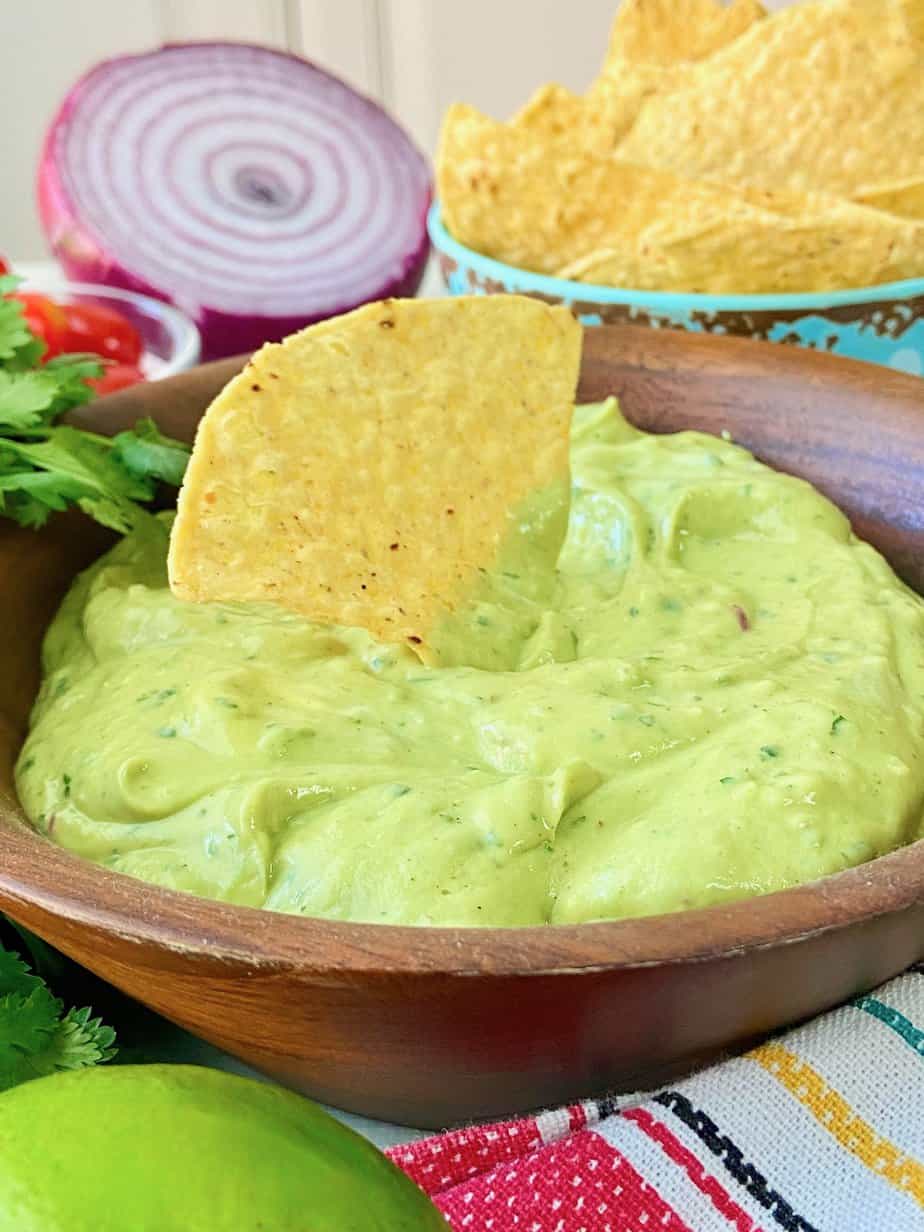 Ripe avocados, pureed to a smooth consistency with a mild-heat index: a teaspoon of minced jalapeno pepper, garlic, onion, fresh cilantro, ground cumin, salt & pepper! This "no cook" dip is ready in minutes because all you do it put everything in a food processor!
Sauces for tamales
Some folks like their tamales with no sauce, but if you want some great sauces for tamales, read on! One of my favorites is a Creamy Avocado sauce! Quick, easy and delicious!
21. Traditional Red Sauce
This traditional mexican red sauce (also known as red enchilada sauce) pairs beautifully with just about any type of tamale! It has an earthy flavor but does not contain any tomatoes!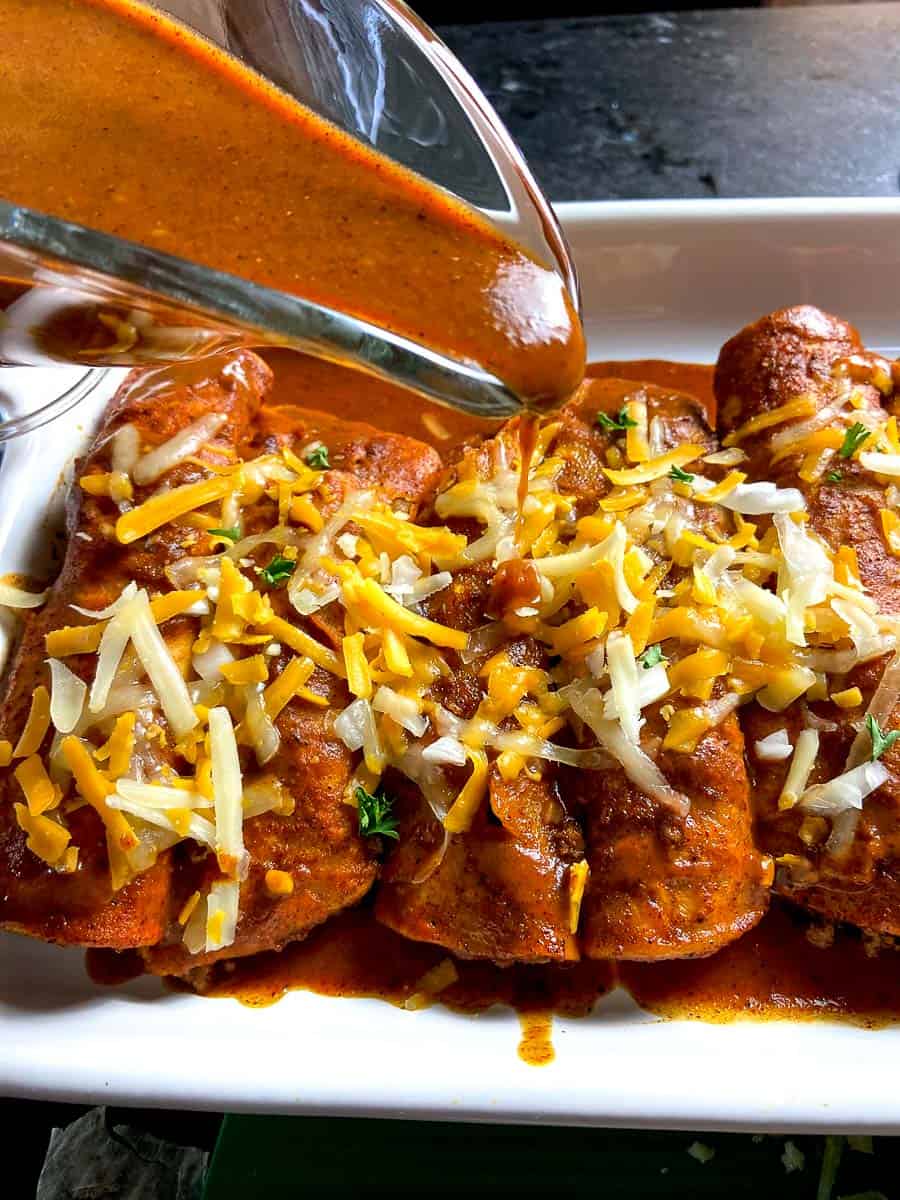 22. Chile con queso (Cheese sauce)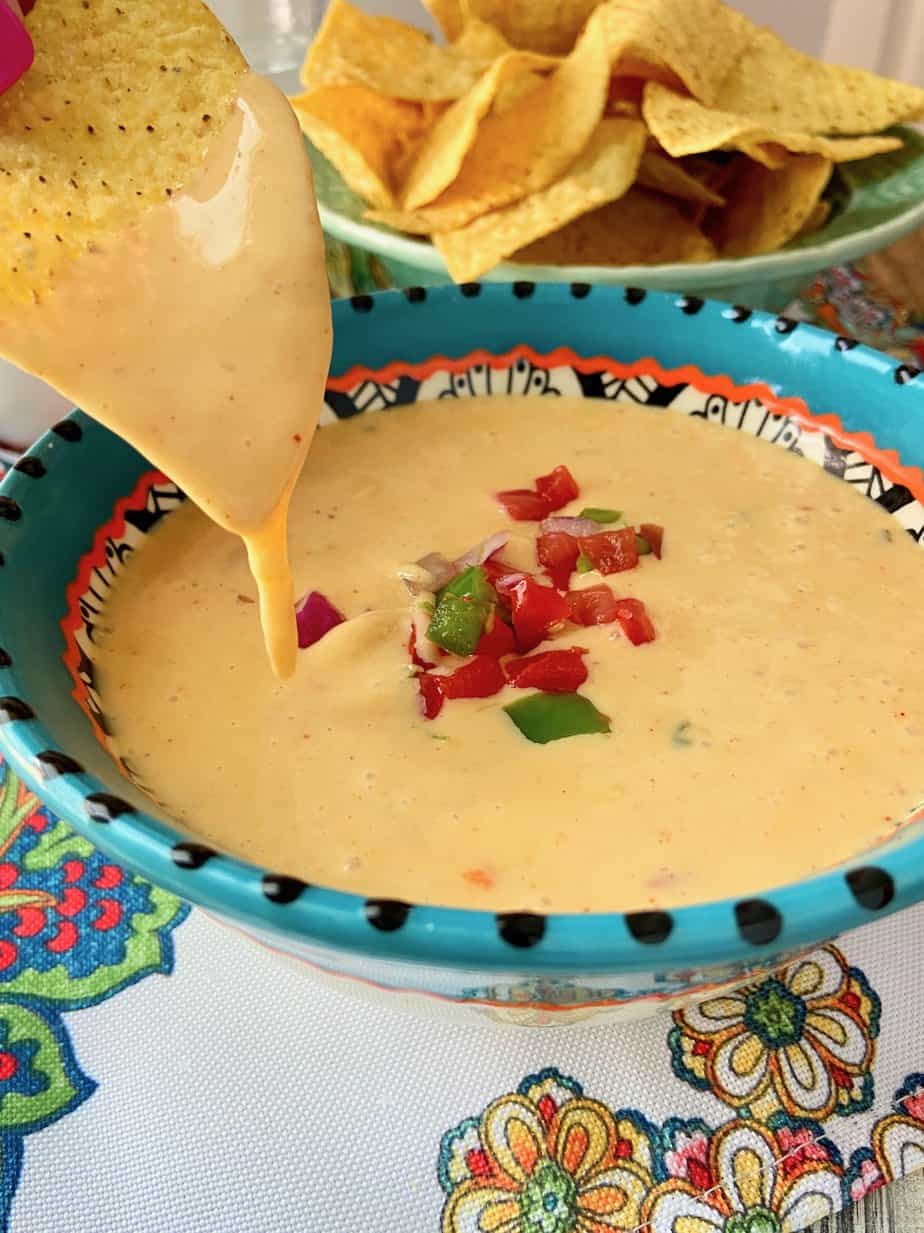 Silky smooth cheese sauce that's made with real cheese! A great idea to have on hand with your favorite tortilla chips! Ready in 15-minutes! Melt the American cheeses on the stovetop, add in a few ingredients and serve! One of the best sides for tamale, enchiladas, chile rellenos or as a dip!
23. Tex-Mex Sour Cream Sauce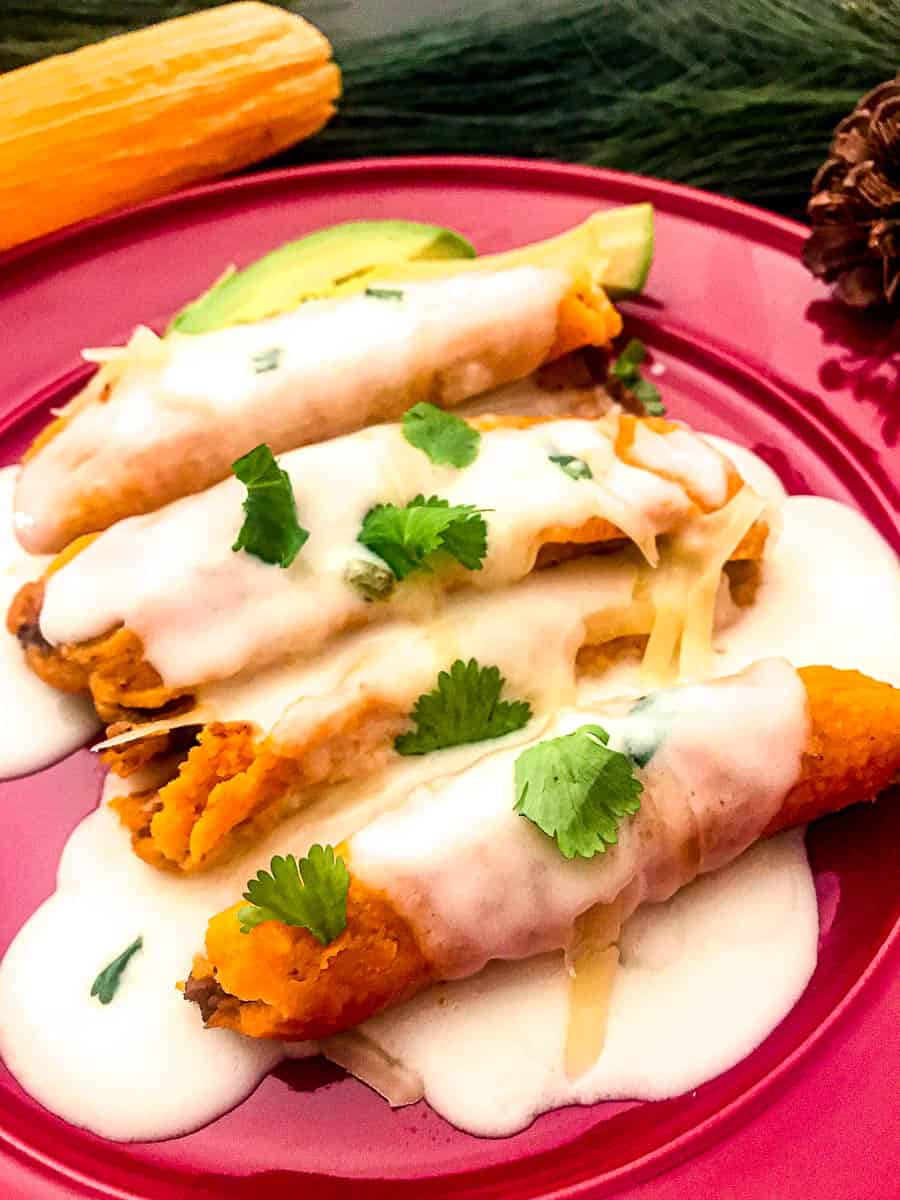 This quick and easy sauce is a Christmas tradition at our house, due to the restaurant-quality flavor and texture! Monterey Jack cheese, chicken broth, a little pickled jalapeno juice and a pinch of salt! This has the perfect consistency and is the perfect side dish to chicken or green chile tamales. This recipe is gluten-free and does not contain any cream cheese.
24. Ranchero Sauce
Ranchero sauce is a smoky-flavored tomato salsa and tastes great with Huevos Rancheros or with tamales! This sauce is ready in 15-minutes because it uses a combination of canned fire-roasted tomatoes, chipotle peppers and a host of fresh ingredients!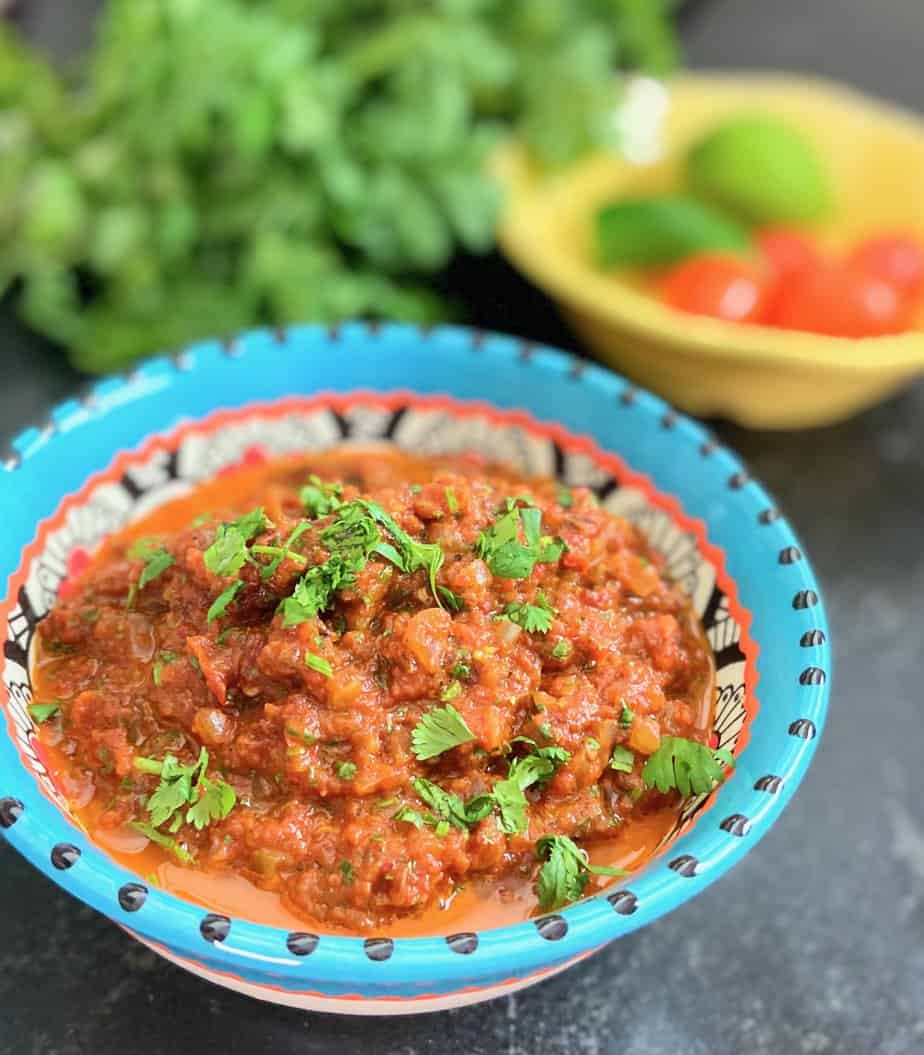 25. Chile con carne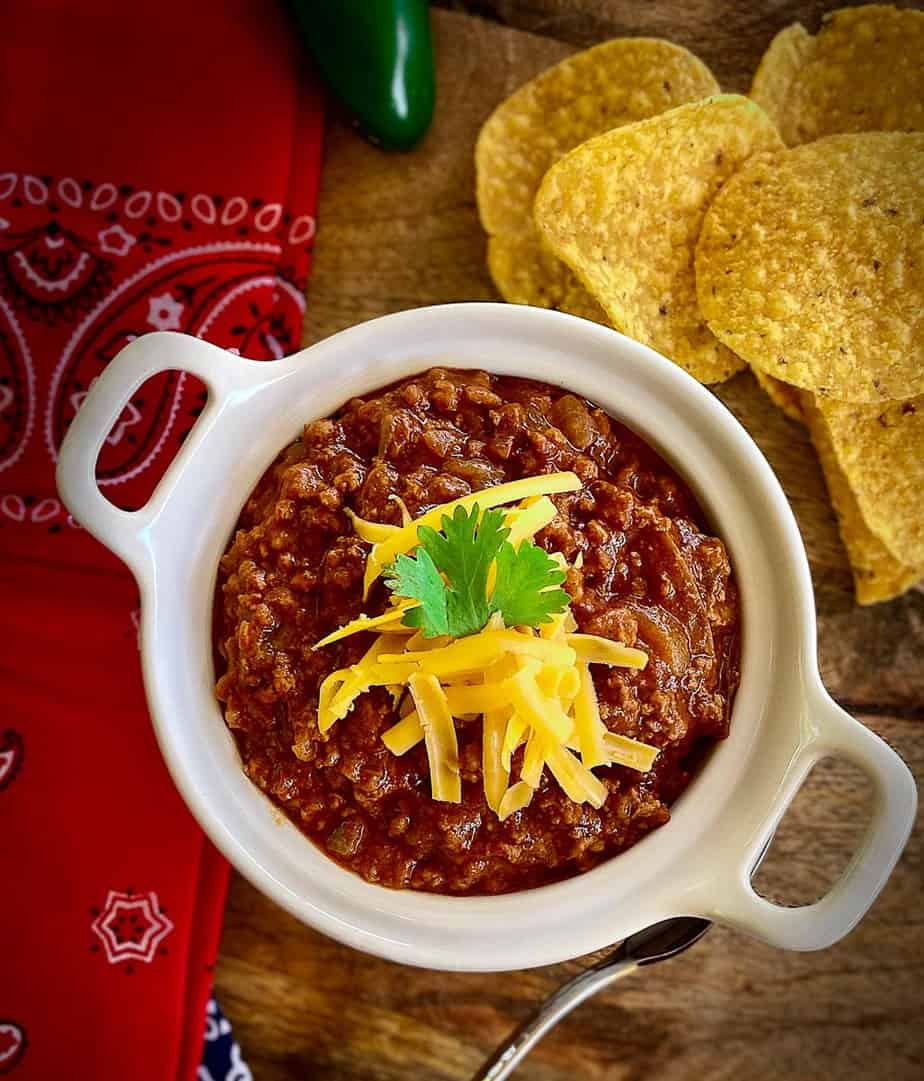 This meaty sauce is often referred to in Texas as "chili" - it provides the perfect amount of thickness to make a tamale a meal! Seasoned beef with ground cumin, onion and Sazon Goya Mexican seasoning!
Tip
If you're serving "hot tamales" meaning "spicy", serve a side of sour cream or Mexican creme...dairy products like these minimize the heat from spicy seasonings or chile peppers.
Vegetables
26. Roasted bell peppers and onions
Serve your tamales with a trilogy of smoked or roasted Mexican vegetables: red bell pepper, green bell pepper, orange bell pepper, all caramelized on the stove top with sweet onion and a hint of a smoky flavor!
27. Black Beans or Pinto Beans
Beans are high in fiber, low in cholesterol and a perfect match for your tamale dinner! Serve them individually in ramekins and garnish with a hint of chopped cilantro!
What to serve with cheese tamales
More often than not, folks who prefer cheese tamales are often vegetarian, which means they don't consume meat (beef, pork or chicken), but they do consume dairy. In this case, you'll want to keep your side dishes free of chicken-broth or any meat by-product.
28. Pico de gallo
Pico de gallo is a combination of fresh vegetables: jalapeno, onion, tomatoes, cilantro and lime juice. Top your favorite cheese tamale with a dollop of this!
29. Cilantro Cauliflower Lime Rice
This light and flavorful rice is easily made with fresh cilantro, fresh lime juice and water or vegetable broth. Chipotle's™ Cilantro Cauliflower Lime Rice is vegan and vegetarian, so if you want to save time, swing by and pick up a quart!
Sides for vegan tamales
If you're wondering what vegan sides go with tamales, look no further! Guacamole or pico de gallo is always a nice side for vegans!
30. Beans
Whether you prefer black beans or pinto beans with your Christmas Eve tamale dinner, make sure you cook them in water or vegetable broth to accommodate those vegans in your group!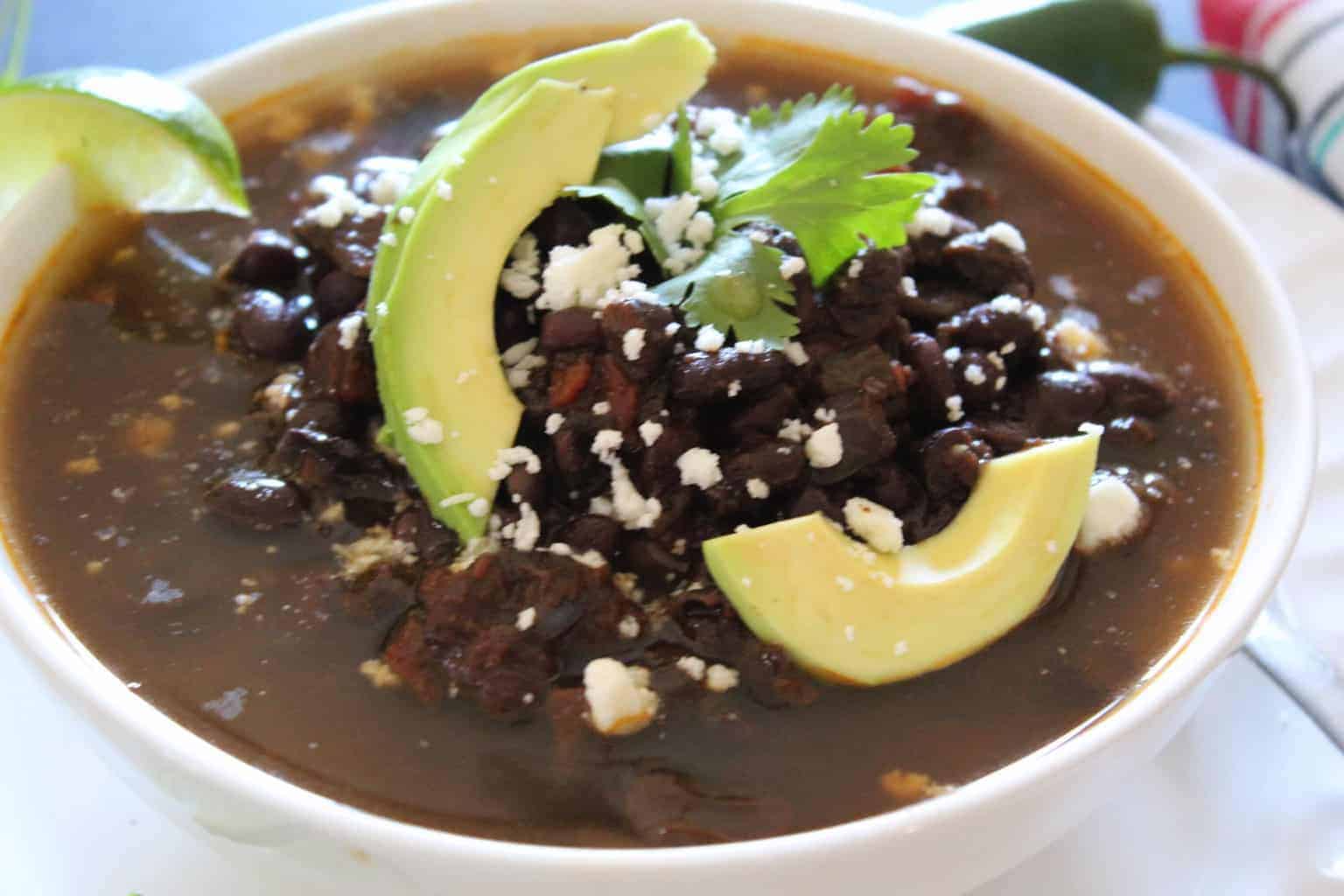 31. Rice
Cook the rice in water or vegetable broth, then add ground cumin and a hint of chili powder to satisfy your vegan friends.
Side dishes for beef, pork or chicken tamales
You can never go wrong with the traditional rice and beans, however, if you're looking for something a little more simple, you can always serve these tamales with a little shredded cheddar or pepper jack cheese, a side salad, a little simple Cholula sauce, and perhaps some pico de gallo.
Beverages
32. Michelada Mexican Beer Cocktail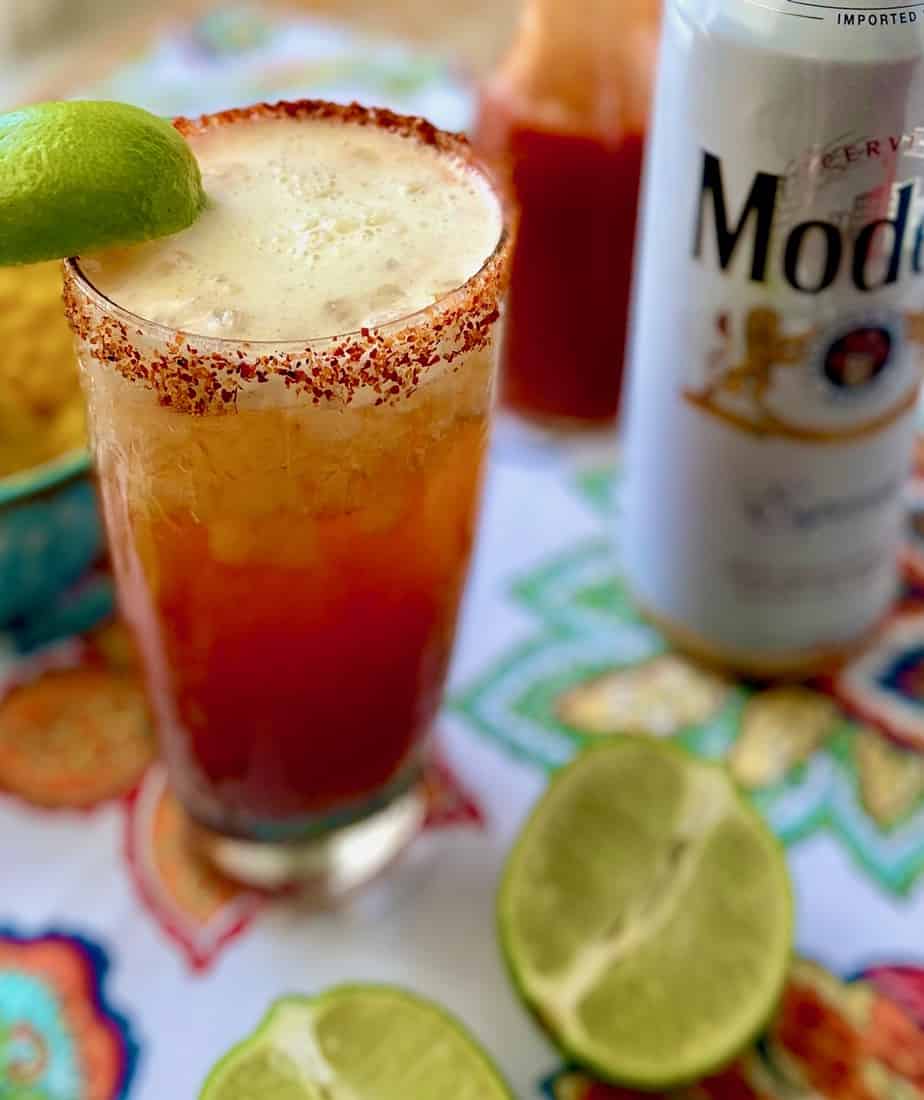 Rent a margarita machine or make your own! Another good Mexican beverage is the Michelada - a beer cocktail infused with tomato sauce, tomato juice and fresh lime juice!
Tamale companies that ship
If you're not into making homemade tamales at Christmas time, don't worry! Pick up a variety of different types of tamales from your favorite Mexican restaurant, or order them online!
Tips for serving tamales to large groups
If you're serving tamales for a group, these tips may come in handy for ensuring your Christmas Tamale dinner goes well!
Steam the tamales and leave them in their softened corn husk: place each type of tamale in a separate steamer basket and label it so your guests will know which kind of tamale they're getting.
Line up your mexican side dishes in order of temperature: set the cold or room temperature mexican sides out at the first of the line: green salad, guacamole, salsa, chips.
Then in the middle of your buffet table, have the warm items - rice, beans, tomalito casserole; finally, have your hot mexican dishes and sauces at the end of the line: tamales, queso, mole sauce, ranchero sauce, chile con carne.
This Mexican buffet presentation allows for your guest to be sure to get their "hot tamales" last on their plate so they won't get cold!
Have an empty bowl or basket on each table so folks can toss their tamale corn husks in it!
Seasonings and Spices
If you're so inclined, it's always nice to set out addition condiments for your guests to personalize their tamale dinner.
Set out hot sauces: Cholula Mexican chile sauce, chopped jalapeno peppers, chili powder, cayenne pepper, (be sure to label everything-especially the spices), diced tomatoes, chopped green onions, chopped onions (white, yellow or red onions), fresh sliced lemons, fresh limes, sour cream
Storage and reheating
If you're lucky enough to have any tamales leftover, you can easily store them in an airtight container in the refrigerator for up to 3 days. For best results, store and reheat them while their still in their husks.
The microwave is the best way to reheat tamales. Just place the husked tamales in a microwave-safe container and heat for a few minutes (make sure the center is warm), then enjoy!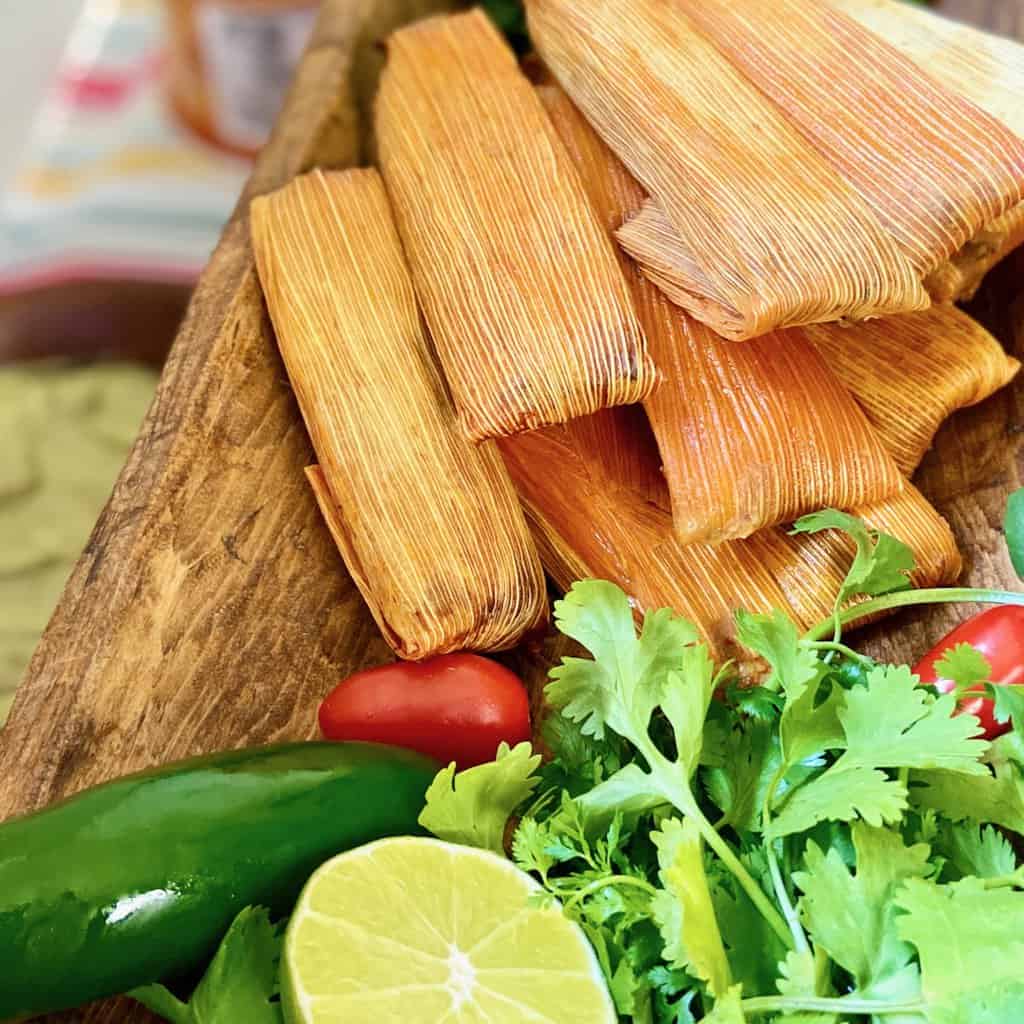 If you're wondering what to serve with tamales, you've now a full arsenal of menu suggestions so, get out your Fiestaware™ and enjoy!
More Mexican recipes