These easy Cinco de Mayo party recipes include the traditional Mexican foods and Tex-Mex recipes, like Mexican rice, refried beans and more! So grab a bag of tortilla chips and let's celebrate with a Mexican fiesta!
As a native Texan, the celebration of Cinco de Mayo is quite popular in the Lone Star State and, as you can imagine, every Mexican restaurant and taquiera is packed full of "fun-loving-Fiesta-makers"...often to the point where it's easier to stay home and make your own Cinco de Mayo menu. This is a collection of Mexican recipes perfect for celebrating May 5th!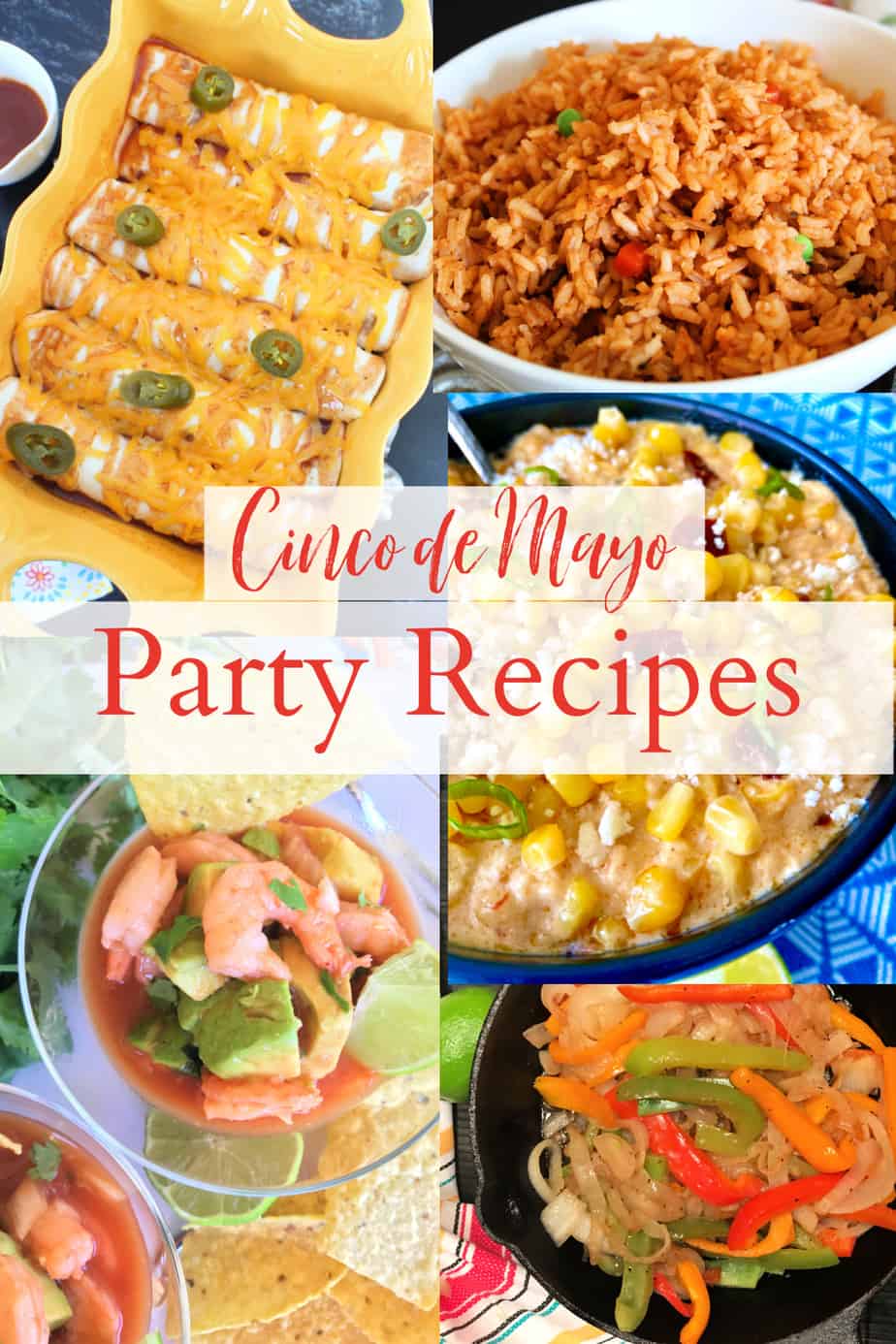 Cinco de Mayo is an annual celebration that occurs on the fifth of May.
Historically, it represents the Battle of Puebla and is Mexican Independence Day, but for most of us, it's a darn good reason to have delicious Mexican food and a homemade margarita or a Michelada with fresh lime juice!
Why you'll love these Cinco de Mayo recipes
Mexican restaurants are packed on Cinco de Mayo, so why not host your own celebration at your house? You can make many of these Mexican recipes in advance.
Easy recipes - step-by-step instructions with FAQ's and Expert tips
All-natural, simple ingredients-no MSG, preservatives, additives of funny stuff...just clean ingredients and better than Taco Bell
Economical - these recipes don't cost much to make and they go along way
Nothing fancy...simple and fresh ingredients you can find at just about any grocery store
Traditional Mexican cuisine doesn't consist of just tortillas and ground beef tacos! In fact, in Mexico City, you'll find more seafood dishes (fish tacos, shrimp tacos, Mexican street corn) and others made with fresh ingredients like pico de gallo and green enchilada sauce!
Appetizers and side dishes for Cinco de Mayo
There's not a better way to get your Mexican fiesta off to a good start with some fresh guacamole, homemade queso cheese dip, crispy corn tortillas and salsa, and perhaps a little bit of jalapeno and a margarita or two!
Queso Dip (cheese dip)
Homemade chili con queso (cheese dip) is made with all-natural ingredients - without Velveeta cheese- and is ready in minutes! This delicious cheese dip is known as Lone Star Gold and after you dip a crisp tortilla into it, you'll understand why.
Creamy Avocado Dip
This quick and easy avocado dip is an alternative to the traditional guacamole. Creamy, ripe avocados nestled in a combination of sour cream, buttermilk, garlic, cumin, fresh lime juice and fresh jalapeno! Perfect dip for celebrating!
Mexican Shrimp Cocktail
Not really a "cocktail," this refreshing and cool Mexican shrimp appetizer is a staple at just about every Cinco de Mayo event! Easy to make with simple ingredients and great for large groups!
Ranchero Sauce
No one is going to think twice about you serving a high quality jarred salsa at a Cinco de Mayo celebration, but when you add this smoky Ranchero sauce to your Mexican party menu, you've really made a statement! Based on a smoky tomato flavor with accents of chili powder and/or chile peppers, this ranchero sauce can be as mild or spicy as you like!
Authentic Mexican Rice
Authentic Mexican Rice is naturally gluten-free and deserves a shining spot on your party table! You use plain white rice, add a bit of tomato sauce, tomato paste (to get that red color), chicken broth, chile powder and a few other seasonings! Turn your plain white rice into Spanish rice in no time!
This flavorful concoction of tomato-seasoned rice and spices complements any Mexican dish!
Restaurant-Quality Refried Beans
Refried beans are a mainstay in Mexican cuising or Tex-Mex cuisine. This quick and easy recipe really dresses up canned refried beans to have the best flavor -just add a little chili powder and a few other seasonings and you'll have refried beans that taste better than those at your favorite Mexican restaurant! Feel free to sprinkle a little Cojita cheese on them!
Sweet Corn Tomalito (Tamale Casserole)
This sweet corn tamale casserole is similar to what you'd find at Chevy's restaurant, and The Blue Mesa Grill. It's a baked corn-based dish with the texture similar to a tamale. Perfect side dish for any Cinco de Mayo party!
Mexican Street Corn Casserole
Mexican fairs, fiestas and carnivals often feature "Mexican Street Corn" either on a corn cob, or in a cup. The mixture is fresh roasted corn, accented with hints of spices, lime juice and Cojita cheese. This Mexican corn casserole is a perfect side dish on a Cinco de Mayo menu because it's easy to make for a large group and easy to serve buffet-style!
Tex-Mex Sour Cream Sauce
Creamy sour cream sauce pairs beautifully with just about every kind of Mexican food! Serve this quick and easy to make Sour Cream Enchilada sauce over chicken enchiladas, carne asada, tamales, or use as a dip! Monterrey Jack cheese, sour cream and chicken broth. Restaurant-quality sour cream sauce in minutes!
Red Enchilada Sauce
Some folks like to offer a red enchilada sauce with crispy tortilla chips! This is a mild red sauce usually served over enchiladas or tamales! Serve homemade Red Enchilada Sauce over homemade or store-bought enchiladas or tamales! Quick, easy and no tomatoes!
Cinco de Mayo party recipes aren't complete without a Mexican inspired entree. Check out some of these:
Main dishes
After a few Michelada's, you're gonna need some Mexican food of substance..especially if you've been celebrating Cinco de Mayo all day!If you can't get to Oaxaca or Mexico City (both claim to be the culinary capital of Mexico) then try some of these delicious Mexican entree recipes! Here are even nore Cinco de Mayo party recipes!
Tex-Mex Migas (Mexican Breakfast)
This is an excellent dish and a great way to start off Cinco de Mayo with a hearty Mexican brunch dish: Migas, are a popular Tex-Mex brunch food that consists of scrambled eggs, onion, bell pepper, and tortilla chips. Top with fresh salsa, sour cream, avocado and a little jalapeño and you're good to go!
Slow Cooker Adobo Chicken
Tender shredded chicken breast, slow cooked in a zesty adobo sauce. No need to stand in the kitchen cooking all day!
Throw some chicken thighs or chicken breasts and seasonings into the slow cooker for a Cinco de Mayo fiesta! Seasoned with chipotle sauce and perfect in warm tortillas, corn tortillas (as a tostada) or rolled in flour tortillas for chicken enchiladas!
Texas Chili
In Texas, we celebrate Cinco de Mayo with both Mexican cuisines and Tex-Mex cuisines. This Texas Texas Chili recipe serves as an entree (topped with your favorite chili toppings: shredded cheddar cheese, chopped jalapenos, diced onions, sour cream, or sliced avocado) or top your favorite enchiladas or tamales with a big scoop of this chile con carne!
Soups
Tortilla Soup
Restaurant-quality Chicken Tortilla Soup is a must for any Cinco de Mayo celebration. Serve in a big bowl as an entree, or in small ramekins as an appetizer! It offers a nice, hearty dose of Mexican flavorings with tender bites of shredded chicken.
Green Chile Chicken Soup
Green chiles are a staple in Southwestern cuisine, so be sure to include a bowl of Green Chile Chicken Soup !
Black Bean Soup
There's nothing better than a bowl of black bean soup! Seasoned with Mexican seasonings; make this as mild or spicy as you like!
Drinks
Michelada
Cinco de mayo parties aren't really a party without a cold adult beverage. Outside the margarita, and tequila shots, there's the refreshing beer-based Michelada.
Mexican Michelada Cocktail is a beer and tomato based beverage that is accented fresh lime juice, spices and seasonings! Just a few simple ingredients, this "beer cocktail" is ready in minutes! Easy recipe for one serving or for a crowd!
Any of these Cinco de Mayo party recipes are sure to please and impress your guests! Enjoy the Fiesta!
♥ If you make any of these recipes, please leave a comment and rating below! Thank you!