Tex-Mex Migas is a popular South-of-the-border dish that consists of scrambled eggs, crumbled corn tortillas, onions, peppers and seasonings. You'll find this "huevos" dish on restaurant menus from South Texas to as far north as Dallas. This dish goes well with Santa Fe Tamale Pie!
As I write this post, I am texting with a friend who asked me, "what's a miga?" Good Lord. He's been in Texas for 30- some-odd-years-now and doesn't know what migas are? You see, you can't be in Texas too long before you discover some of the delicious Tex-Mex recipes we have!
What Are Tex-Mex Migas?
The basis of Migas is scrambled eggs, corn tortillas, peppers and onions.  The corn tortillas are cut (or shredded) and sauteed, then mixed in with onions, tomatoes, peppers and beaten eggs. The dish is cooked on the stove top and once the eggs are done, top the migas with a little cheese and chow down!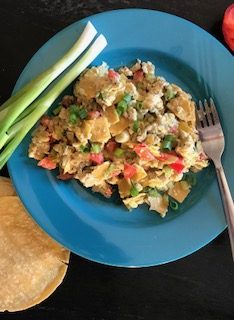 Some people add meat to their migas, typically chorizo, which is a spicy sausage, while others add some black beans--it's really your call, but the seasonings are always the same: cumin, chili powder, salt and pepper. You can add diced green chiles or jalapenos, too. Migas are often served with a side of black beans, sliced avocado and a Bloody Mary, because, well...Migas are a great hangover food!
What's the Difference Between Migas and Chilaquiles?
Some will argue that migas and chilaquiles are the same. According to Texas Monthly, while the two dishes are quite similar, they are not the same, but many restaurants use the terms interchangeably. In short, Migas is a dish that has eggs, onions, peppers and crushed corn tortillas where Chilaquiles are fried corn tortillas topped with cheese, eggs and/or peppers.
How Do I
Mak
e
Tex-Mex Migas?
To make Migas, first, cut the tortilla into bite sized pieces. Then slice onions, peppers and tomatoes. Melt butter in a skillet; add tortillas and cook for about 3 minutes; then add the vegetables, seasonings, and stir. Finally, add in beaten eggs and continue to stir until eggs are the desired consistency.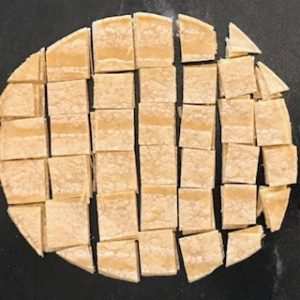 At this point, some people like to add cheese, or slice an avocado to go alongside. I prefer to eat the Migas as soon as possible because they are delicious when they're hot!
Are Migas
ar
e
Gluten-Free?
Corn tortillas are the only 'white' carbohydrate in this dish and are gluten-free.
What Type
o
f
Skillet Do I Cook Migas In?
It doesn't matter. Normally, I recommend using a non-stick skillet for Tex-Mex-Migas, but in this case, since you are already cooking the tortillas and vegetables in the same skillet, you could use cast-iron; there's probably enough oily residue from the vegetables to prevent the eggs from sticking.
Craving More? Try a quick Kale, Egg and Pepper Breakfast wrap!
Try out the recipe and let me know what you think!
Tex Mex Migas
South of the border scrambled eggs with corn tortillas, onions, peppers and seasonings!
Print
Pin
Rate
Ingredients
8

large

eggs

whole

6

corn tortillas

cut into pieces

2

tablespoons

butter

1

tablespoon

ground cumin

1

tablespoon

chili powder

salt and pepper to taste

1

4 oz. can

diced green chiles

1/2

tomato

diced and drained

1/4

cup

onion

chopped
Instructions
In a non-stick skillet, heat butter

Add cut tortillas to butter

Add onions, tomatoes, green chiles to pan; stir well

Add cumin, ground pepper to vegetables;

In a separate bowl, beat eggs

Pour eggs over vegetables and let sit for 30 seconds

Combine eggs and vegetables until eggs are cooked to desired consistency

Garnish with cheese (optional) and serve immediately
Nutrition
You might want to drizzle a little Tex-Mex Sour Cream sauce over your migas!
Share this recipe with friends!