Tex-Mex Migas is a 10-minute Mexican egg dish that is perfect for breakfast, lunch or brunch!
Warm scrambled eggs nestled in a savory combination of corn tortillas, green chiles, tomatoes and warm spices !
With a few ingredients you probably already have, you can have a fiesta-type meal in your own kitchen!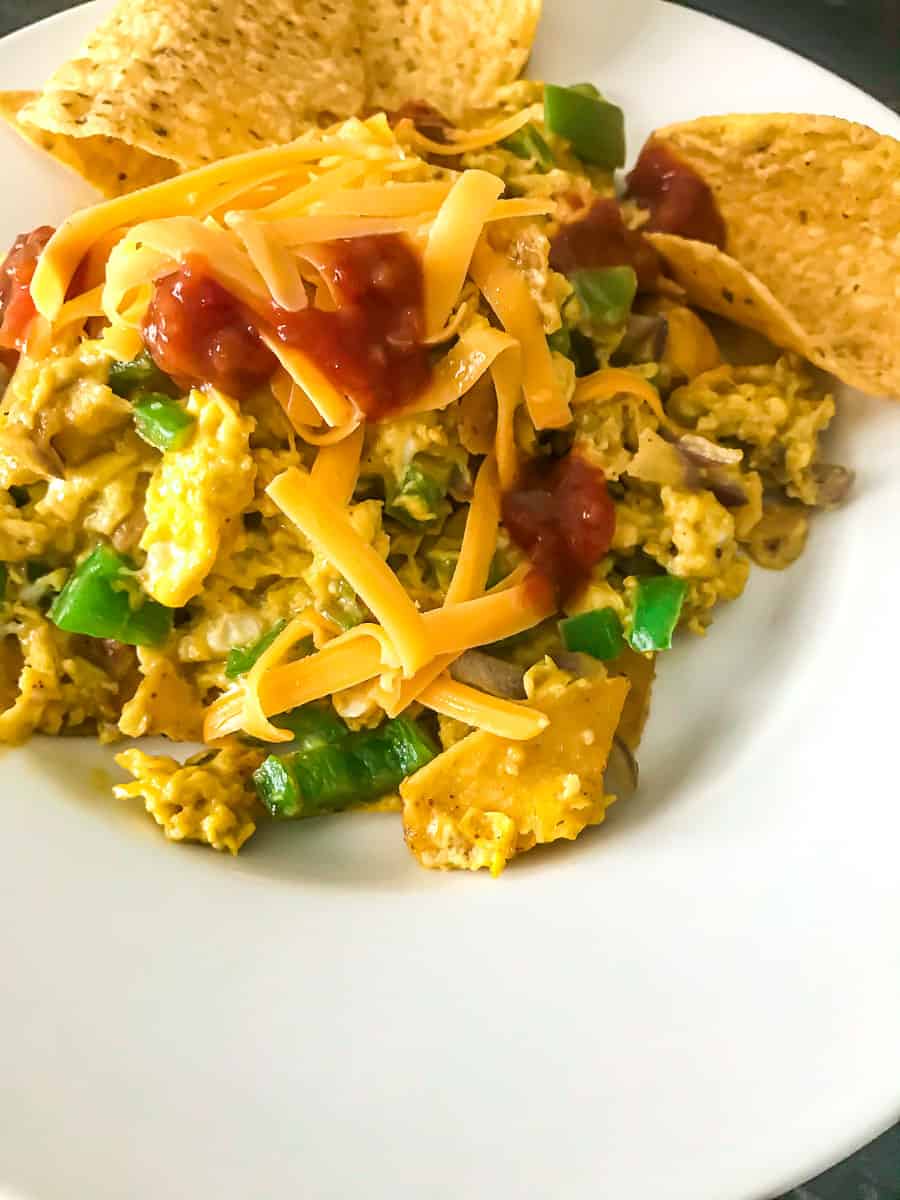 A popular gluten-free, "South-of-the-Border" dish that consists of scrambled eggs, crumbled corn tortillas, onions, peppers and seasonings, usually served with a side of chips and salsa.
You'll find this "huevos," or mexican-egg-dish on restaurant menus from South Texas to as far north as Dallas.
What are migas?
"Migas," in Spanish, means crumbs. This dish uses "crumbs" of corn tortillas mixed in with cooked eggs and vegetables, thus we have Migas.
What's the difference between migas and chilaquiles?
Some will argue that migas and chilaquiles are the same. According to Texas Monthly, while the two dishes are quite similar, they are not the same, but many restaurants use the terms interchangeably.
In short, Migas is a dish that has sauteed eggs, onions, peppers and crushed corn tortillas where Chilaquiles are fried corn tortillas topped with cheese, eggs and/or peppers.
Why you'll love this recipe!
Quick, easy, affordable- ready in 10-minutes!
Gluten-free, filling with a good dose of protein to keep you going all day
Healthy, flavorful and perfect for brunch!
Migas are a great brunch dish! I serve them topped with salsa, a slice of avocado and a side of homemade refried beans, along with some crispy corn tortilla chips!
Here's what you'll need
Migas require only one skillet and a few eggs, a little onion (red, yellow or white), a bell pepper (green or red), corn tortillas (or corn tortilla chips), ground cumin, chili powder, salt & pepper.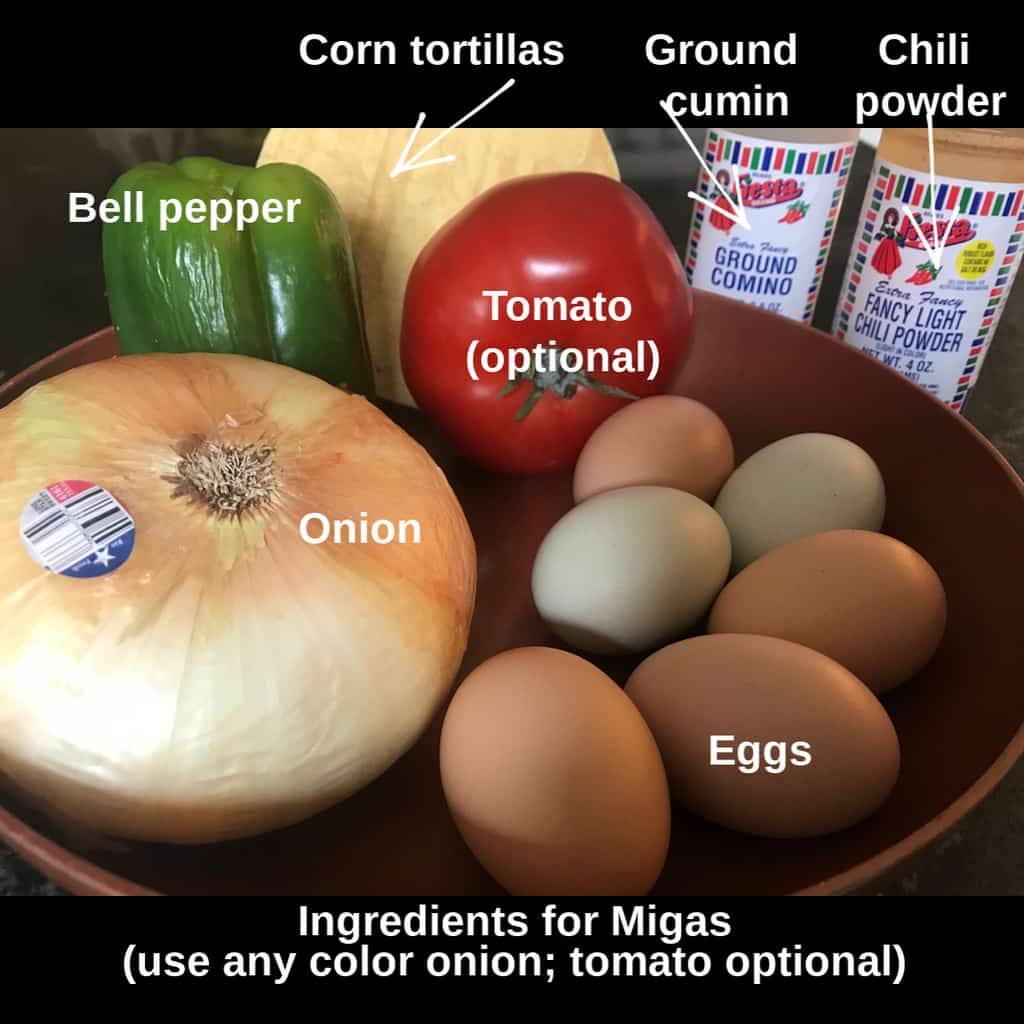 Here's how to make it
These easy Tex Mex Migas come together lickety-split fast!
First, chop onion, bell pepper and tortillas-tear or cut them, either way. Lightly beat eggs in a bowl and set aside.
Heat a tablespoon of oil and saute onion, bell pepper and corn tortilla strips with cumin and chile powder; cook vegetables and tortillas for 3-4 minutes, until semi-tender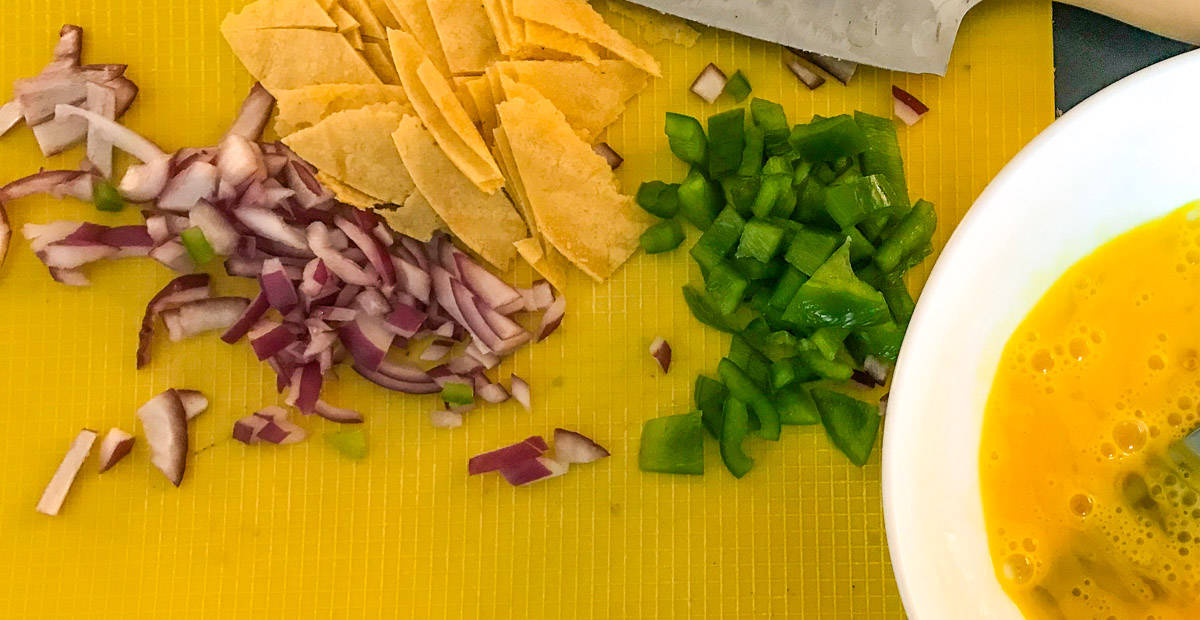 Add beaten eggs to the Mexican seasoned vegetables; cook to desired consistency; plate, garnish, devour!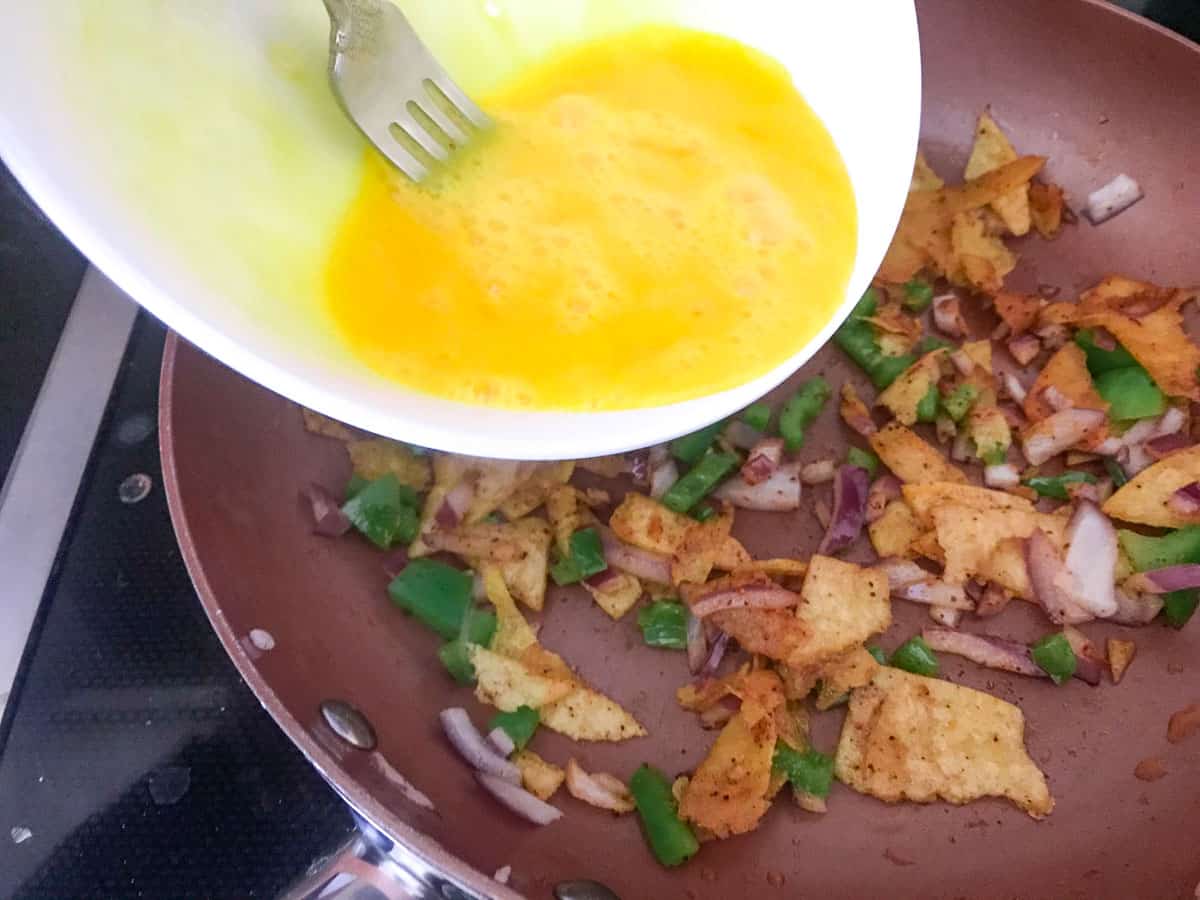 How long does it take to make
This easy Mexican egg recipe takes maybe 10-minutes to cook! Generally speaking, the onions and bell peppers take about 5-minutes.
You cook them just till they're semi-tender. The eggs take about another 3-4 minutes.
Type of skillet
It doesn't matter. Normally, I recommend using a non-stick skillet for Tex-Mex-Migas, but in this case, since you are already cooking the tortillas and vegetables in the same skillet, you could use cast-iron.
There's probably enough oily residue from the vegetables to prevent the eggs from sticking.
Yield
This Migas recipe uses 3 eggs and makes about 2 servings. I use 3 large eggs per serving, so if you're making breakfast for a group, use this as a guideline.
Variations
This recipe can be as simple or elaborate as you wish!
Add meat: Some people add meat to their migas, typically chorizo, which is a spicy sausage. It's really your call, but the seasonings are always the same: cumin, chili powder, salt and pepper. Saute meat first, then add it to the onion mixture.
Beans: drained black or pintos work great! Add them in when you saute the onions!
Peppers or chiles: Add drained diced green chiles or jalapenos, or chop of a fresh jalapeno!
Toppings: avocado, salsa, cheese, cilantro, diced tomatoes, queso or guacamole
Sides: Migas are often served with a side of black beans, refried beans, pico de gallo, sliced avocado and a Bloody Mary, because, well...Migas are a great hangover food!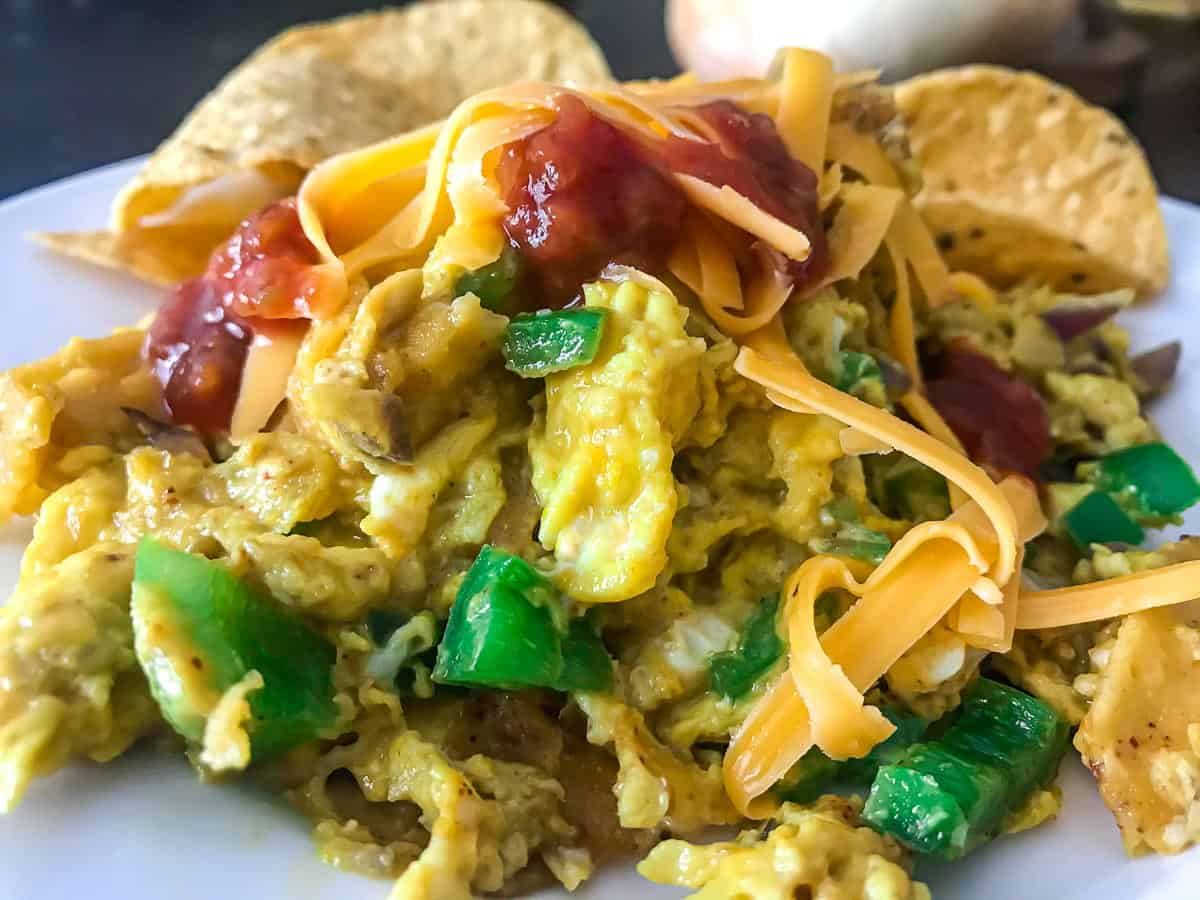 Make ahead and storage
If you want to make these easy Tex Mex Migas in advance, I recommend placing the cooked version in a baking dish, covered with foil and kept warm at 200ºF until ready to serve. Eggs can be stored in the refrigerator for up to 3 days.
Related recipes:
♥ If you make this recipe, please scroll down and leave a comment and rating below. Thank you!
📋 Recipe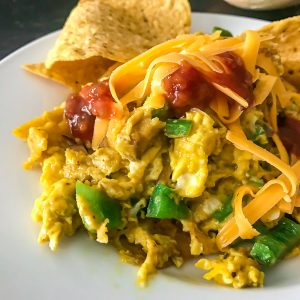 Tex Mex Migas
South of the border scrambled eggs with corn tortillas, onions, peppers and seasonings!
Print
Rate
Ingredients
3

large

eggs

whole

3

corn tortillas

cut into pieces

1

tablespoon

chopped green bell pepper

1

tablespoon

chopped onion

chopped

1

tablespoon

oil

½

teaspoon

ground cumin

½

teaspoon

chili powder

salt and pepper to taste
Instructions
Lightly beat eggs in a bowl; set aside

Tear or cut tortillas into small pieces; set aside

Heat oil in non-stick skillet

Add tortillas, onions and bell peppers to oil; stir and season with cumin and chile powder

3 corn tortillas,

1 tablespoon chopped green bell pepper,

1 tablespoon chopped onion,

½ teaspoon ground cumin,

½ teaspoon chili powder

Pour eggs over vegetables and let sit for 30 seconds

Stir continuously until eggs reach desired consistency; taste for salt

Plate, garnish with cheese and salsa; serve immediately
Notes
This recipe uses 3 large eggs and makes two servings.
If you want to adjust the servings, change the number of servings on the recipe card and the proportion of the other ingredients will adjust automatically!
Serving suggestion:
If you want a breakfast-type casserole, heat oven to 200 degrees F, pour cooked Migas into baking dish; top with shredded cheese and bake until cheese is melted.
Nutrition Estimate
Serving:
1
cup
Calories:
521
kcal
Carbohydrates:
38
g
Protein:
24
g
Fat:
31
g
Saturated Fat:
6
g
Polyunsaturated Fat:
8
g
Monounsaturated Fat:
15
g
Trans Fat:
1
g
Cholesterol:
558
mg
Sodium:
267
mg
Potassium:
420
mg
Fiber:
6
g
Sugar:
2
g
Vitamin A:
1155
IU
Vitamin C:
8
mg
Calcium:
163
mg
Iron:
4
mg