This refreshing and flavorful Watermelon Salad with Raspberry Balsamic Vinegar goes beyond the traditional "watermelon-feta" recipe. It offers a host of flavors and texture from the toasted pepitas and spicy arugula, but the real show-stopper is the white raspberry balsamic dressing. Serve with Pistachio Chicken Salad or Brie en Croute with Pear Compote!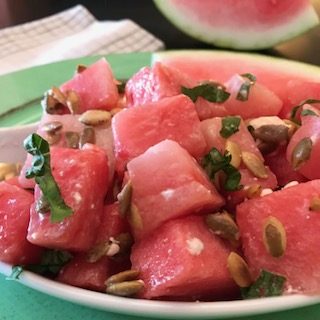 Watermelon salad is always a hit at summer gatherings, and this recipe really takes it to the next level! The flavor combination is really what differentiates this summer salad from others.  The recipe here is for about two cups of diced watermelon; for a whole watermelon, double the recipe.
Ingredients
You'll need a nice, sweet watermelon, sliced or cubed, raspberry balsamic vinegar, red wine vinegar, toasted pumpkin seeds (pepitas), arugula, goat cheese and a pinch of salt.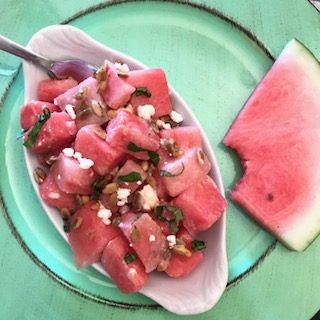 Can I Make
 in Advance?
This ideal summer recipe can absolutely be made in advance! Simply make the dressing and refrigerate. On the day of serving, cut the watermelon, pour the dressing over it, and let it chill in the fridge for about 15 minutes. Then, add the toasted pepitas, crumbled goat cheese and arugula and you're good to go!
What Can I Substitute for Goat Cheese?
Any mild cheese works great in this Watermelon Salad; you might try feta cheese or a tangy bleu cheese!
I'm Allergic to Nuts. Can I Eat Pepitas?
Pepitas, or pumpkin seeds, are generally safe for those with nut allergies, however, in some instances the pepitas may have been co-mingled with nuts. For the most part, pumpkin and sunflower seeds are safe to consume if there is an allergy to nuts.
Do I Need to Toast the Pepitas?
If you don't buy pre-toasted (or roasted) pepitas, you can toast them yourself! Simply heat a cast-iron skillet on medium-high heat. (Do NOT add any oil; the oil from the seeds releases when the seeds get hot enough.) Allow the seeds to lightly brown, tossing and stirring them occasionally. When you can smell them, they're done. Remove from heat immediately and lightly salt if desired. Allow to cool, then add to Watermelon Salad.
Looking for other Summertime Side Dishes? Try: Peach Cobbler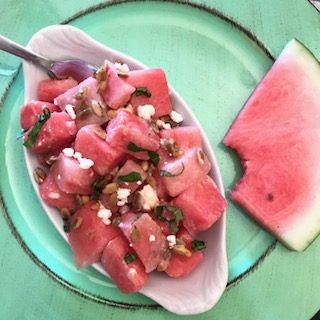 Watermelon Salad
Crisp, sweet watermelon combined with tangy goat cheese and toasted pumpkin seeds, infused with in white raspberry balsamic vinegar and garnished with spicy arugula.
Print
Pin
Ingredients
2

cups

watermelon

bite size pieces

1

tablespoon

white raspberry balsamic vinegar

1

teaspoon

red wine vinegar

1/4

cup

toasted pumpkin seeds

1/3

cup

goat cheese

1

teaspoon

salt

1/4

cup

arugula

, finely chopped
Instructions
Balsamic Dressing
Combine white raspberry balsamic vinegar and red wine vinegar
Salad Assembly
Cut watermelon into bite-size pieces

Pour balsamic dressing over watermelon; combine well

Lightly salt watermelon; add goat cheese crumbles and toasted pumpkin seeds

Cover with plastic wrap and refrigerate for 10-15 minutes

Garnish with fresh chopped arugula; serve immediately
Notes
Watermelon goes well with goat, feta or bleu cheese; since all three are soft cheeses, you might want to add the cheese right before you serve the dish, as they do soften quite a bit in the dressing