Wonder why restaurant and steakhouse baked potatoes taste so good? It's all in how they bake them! Here, you'll learn how to make a restaurant-quality baked potato in your own kitchen!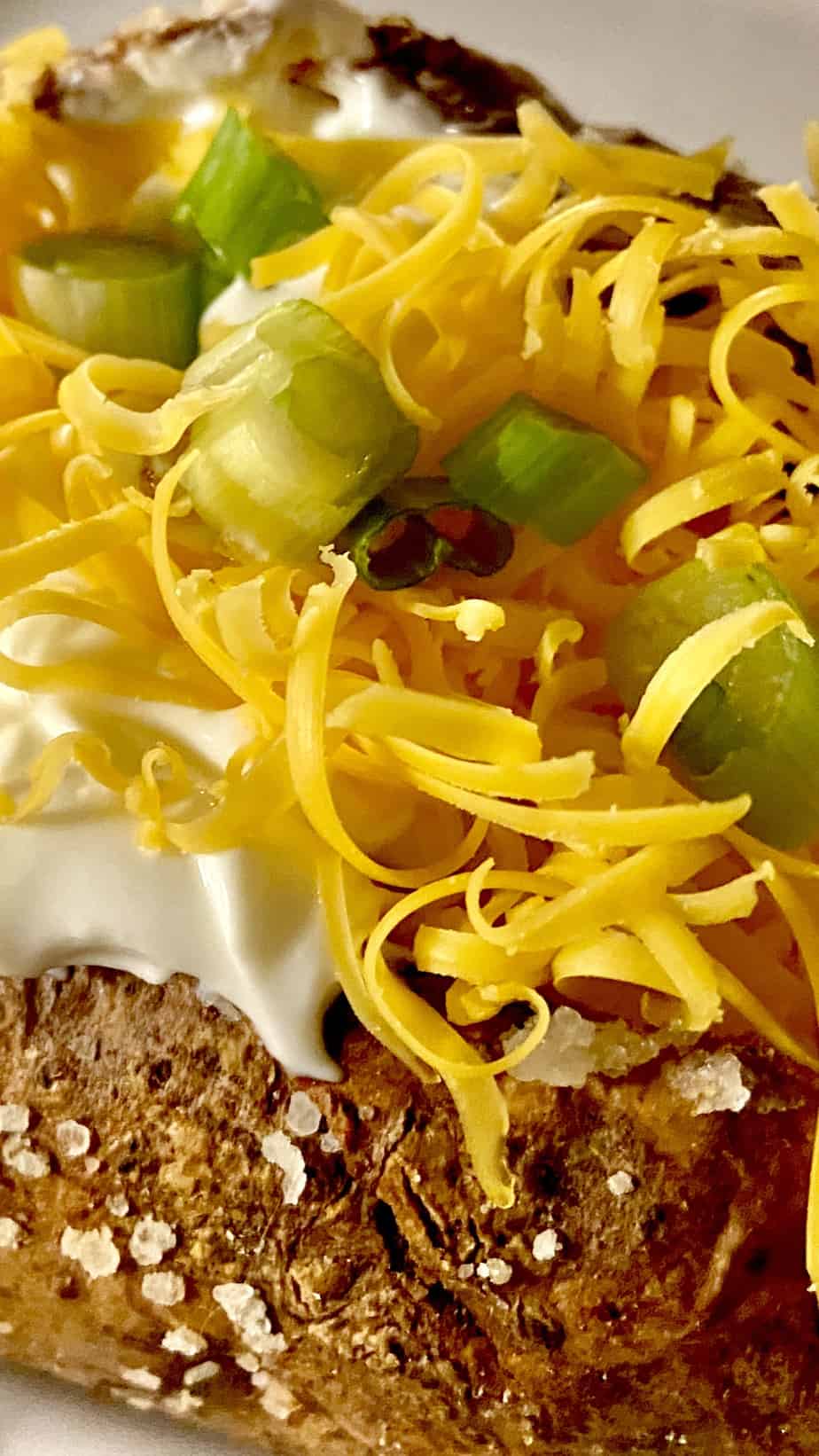 Steakhouse baked potatoes taste different ..they're fluffier on the inside, have more flavor and hold up better for all the fixin's..butter, sour cream, cheese and chives. There's no reason you can't get this same texture and flavor at home!
Years ago, there was a famous steakhouse in the small town of Ponder, Texas. There was a waiting line every Friday and Saturday night and, if you wanted a baked potato, you had to: 1) make reservations and 2) order at least two hours in advance. Yep.
Why? They baked their potatoes the old fashioned way. No microwaves back then.
How to make the best steakhouse baked potato
The secret is two-fold: you need to start with a really hot oven (around 400ºF at least) and you need a good russet potato.
Microwave oven baked potatoes turn out soggy on the inside with a "wilted" outer potato skin which isn't very appealing. These oven baked spuds come out crispy and flavorful on the outside and light and fluffy on the inside.
Rinse spuds and clean with a brush; use a paring knife and cut about 8 slits all around it. This prevents it from exploding in the oven.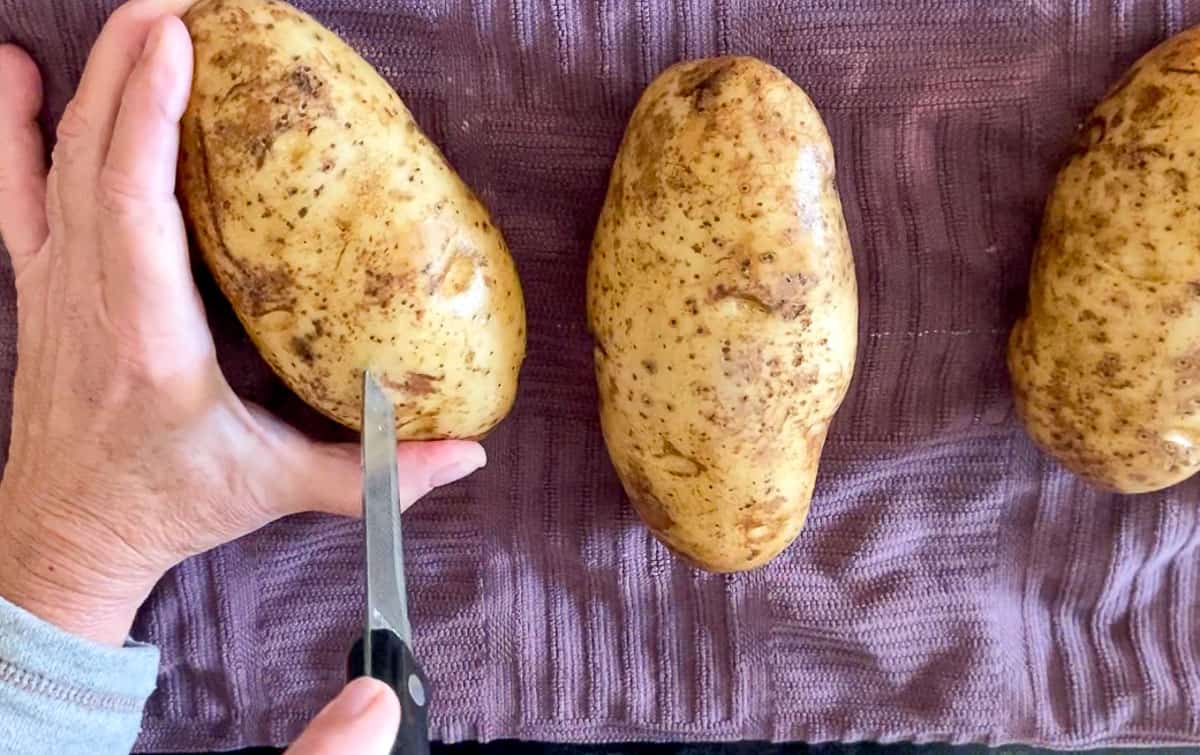 Lightly oil and sprinkle generously with kosher salt. (The best way to do this is to hold it over the kitchen sink:)
Yes, go ahead and salt those spuds! The crispy potato skin is one of the best parts of a steakhouse baked potato!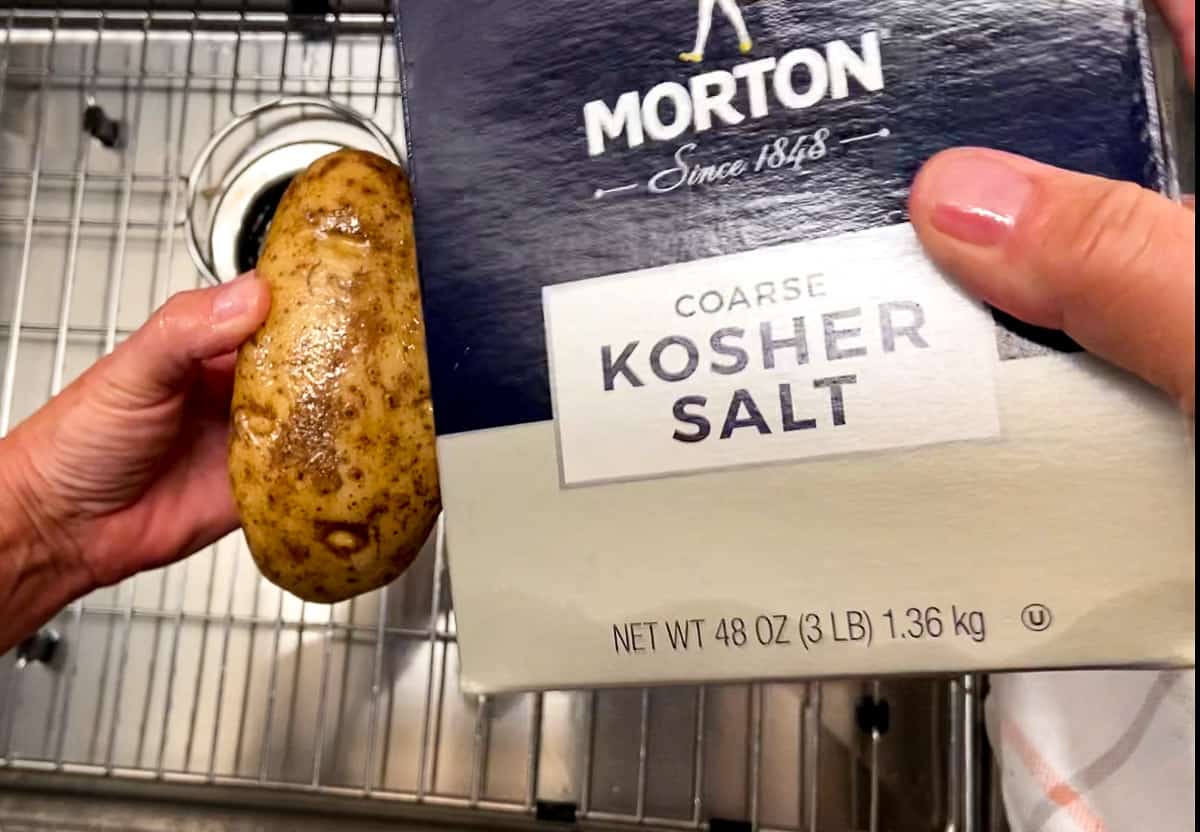 Place the salted spuds directly on the middle oven rack. Do not use foil.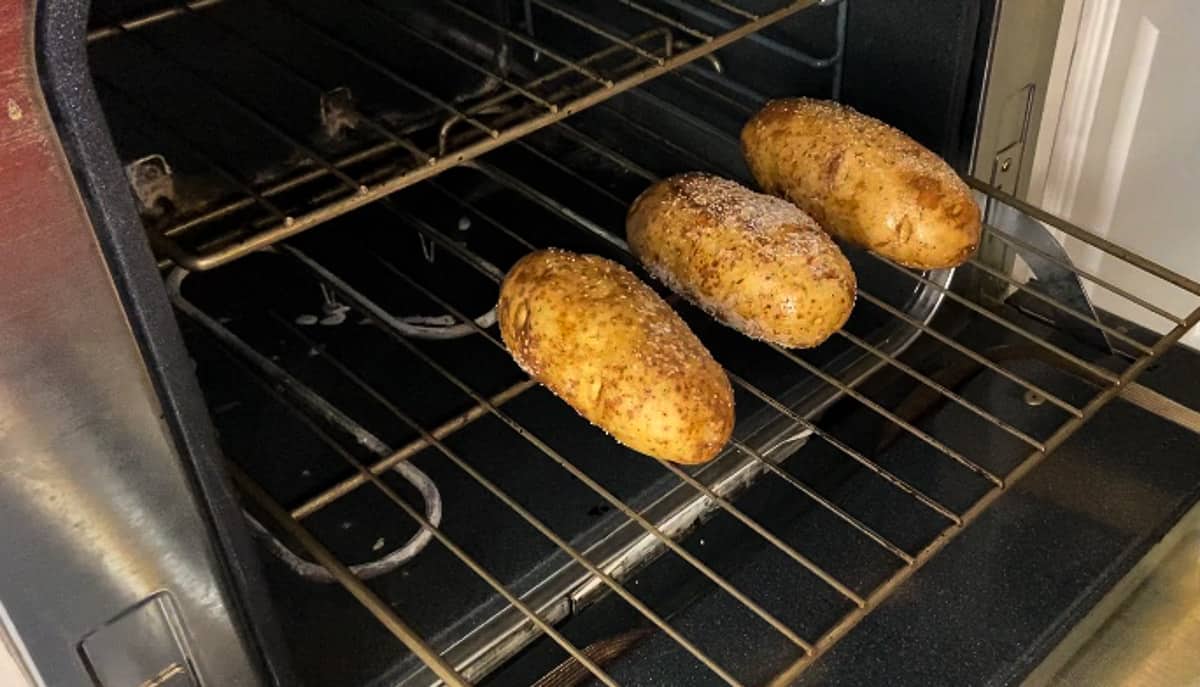 Bake for 1 hour
How to tell when your baked potato is done
Determine doneness by gently squeezing it using a dishtowel to protect your hands; if you can easily squeeze the spud, it's done.
As a general rule, (and this also depends upon your oven)--4 baked potatoes take about 1-hour at 400ºF; if you're cooking more, you may have to bake them a little longer.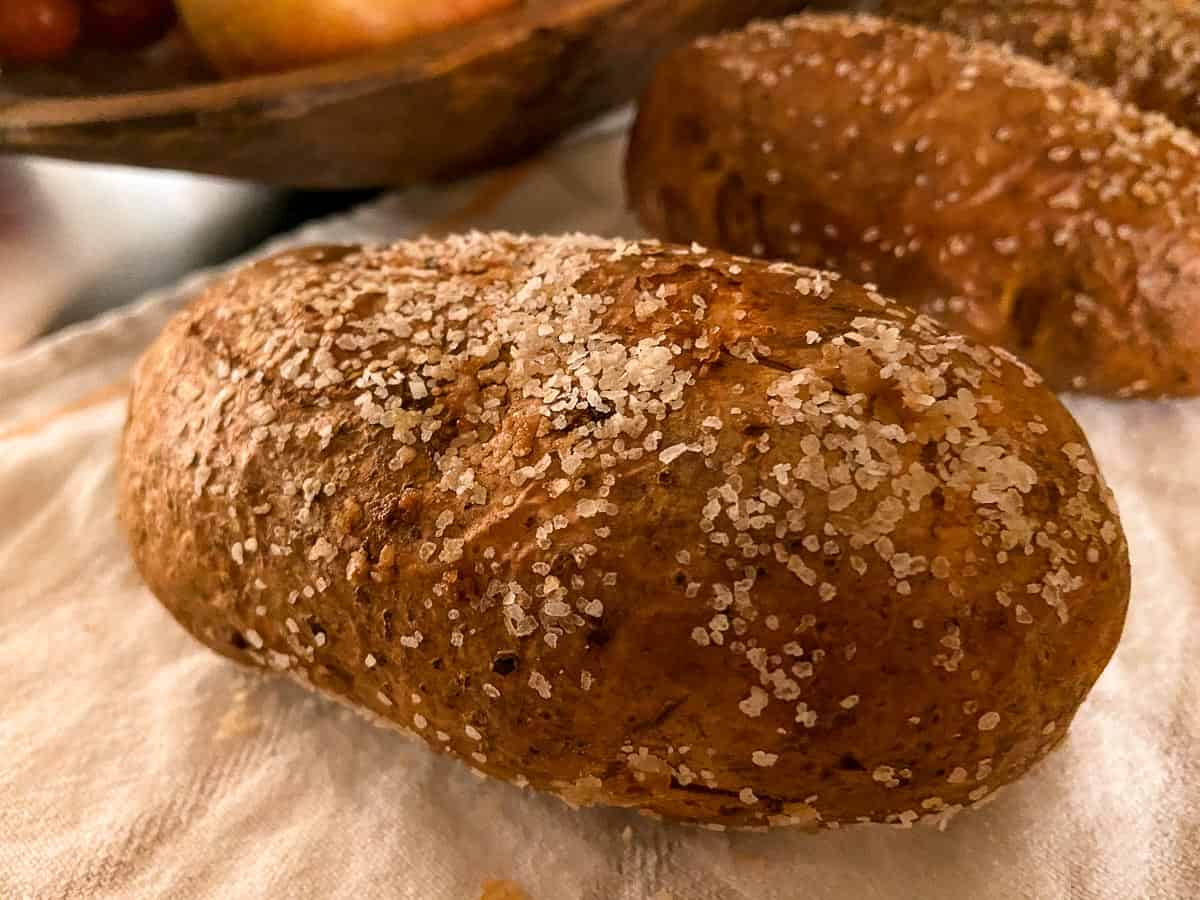 The Oven-Method
The oven method does two things: one, it creates a crispy potato skin which tastes great and allows you to "stuff your spud" with all sorts of stuff! Two, the oven produces dry-heat which makes the inside "fluff-up."
Microwaves produce heat through energy and heat from the exterior to the interior so, the skins never crisp and the inside is mushy.
The temperature of the oven should be between 400ºF and 450ºF. That's pretty hot, but high heat is key to making the best baked potato.
What kind of potato?
Russets, or Idaho potatoes make the best steakhouse baked potatoes. They are considered "mealy potatoes" versus their "waxy" cousins, the Yukon Golds and Red Creamers.
Mealy potatoes have a higher starch content than waxy which means they have less moisture and sugar. This chemical make-up results in a fluffy inside.
How to select the best ones
Choose a large one that has a nice brown color. You'll often see a hint of green...avoid any green on potatoes.
The green indicates that they may have been stored improperly with excessive exposure to light. When a potato sits in light for too long, it naturally produces chlorophyll (the green) and solanine which can be toxic.
You'll usually find the best bakers in the big bulk bins in the produce section. The bagged potatoes are often smaller and I've found many a green potato in a 5 or 10 lb. bag. It's best to pick them from the big bin.
Look for one that has a somewhat smooth exterior-they naturally have pits and dimples on them, but if you see one that has a root growing out of the "eye", do not buy it.
How to store potatoes at home
Store potatoes in a dark, dry area. Exposure to light will cause them to turn green and rot.
Tips
If you're baking several potatoes, try to get them all about the same size so they'll bake in about the same amount of time
Set out the butter and sour cream when you put them in the oven; this ensures the butter is warm and the sour cream isn't too cold. If the sour cream is refrigerator cold, it cools the baked potato too fast...yuck.
Spray and salt the spuds over the kitchen sink...less mess to clean up.
You can use butter on the outside, but I've found it absorbs too fast and they aren't as crispy as with oil.
Cut one long slice along the length of the top and gently squeeze the ends together. This will create a little "pocket" for you to put the butter, etc.
Eat the potato skinl! For heavens sake, you seasoned it...go ahead and eat it! It's salty and crispy and full of nutrients
If you want to make twice-baked potatoes, simply cut the bakers in half, scoop out the fluffy insides and place in a bowl; season with salt, pepper and add bacon bits, sour cream and butter. Then, scoop it back into skin, top with cheese and broil until cheese melts.
Variations
Top your steakhouse baked potato with the traditional condiments, or try topping it with homemade chili!
Craving Italian? Put a little warm marinara and some homemade meatballs on it!
Put a Texas spin on your best baked potato with shredded brisket, barbeque sauce and onions!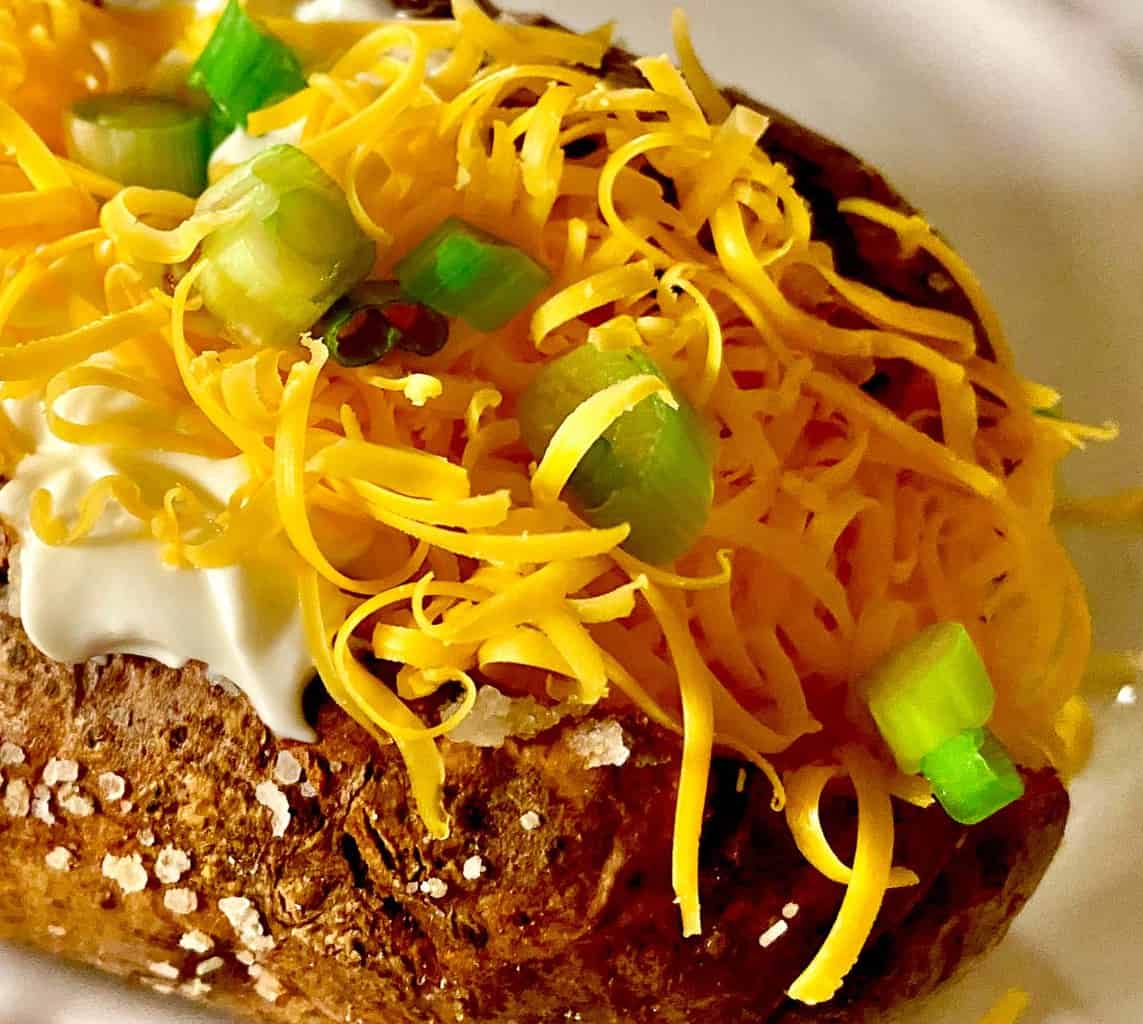 Steakhouse baked potatoes taste so much better than microwaved - try it and let me know what you think!
Related recipes
If you make this recipe, please scroll down and leave a comment and rating! I love to hear from you! Thank you!
📋 Recipe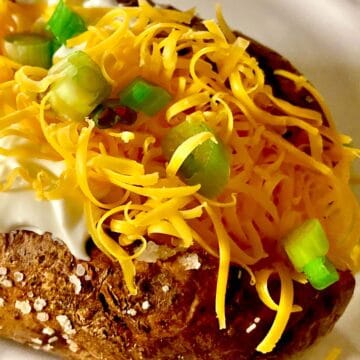 Steakhouse Baked Potatoes
Make restaurant-quality baked potatoes just like your favorite steakhouse!
Print
Rate
Ingredients
1

potato

large, Russet or Idaho

spray oil

kosher salt

condiments of choice

,butter, sour cream, cheese, etc.
Instructions
Preheat oven to 400ºF; place baking rack in middle

Rinse and scrub potatoes with a brush; pat dry

Use a sharp paring knife and cut about 8 slits into spud (about two slits for side); don't cut all the way through, just about an inch into the potato

Lightly spray oil over potato; season generously with kosher salt

Place (unwrapped) directly on middle rack of oven for at least 1-hour

Potato is done when you squeeze it and it "gives"

Wrap in foil until ready to add condiments
Notes
Cooking time:
In general, 4 large russets bake at 400ºF in about an hour. Ovens vary, so check them after they've been in for about 50 minutes.
Tips:
Set out butter and sour cream beforehand; this will ensure the butter melts and the sour cream won't make the potato cold
Nutrition Estimate
Serving:
1
cup
Calories:
164
kcal
Carbohydrates:
37
g
Protein:
4
g
Fat:
1
g
Saturated Fat:
1
g
Sodium:
13
mg
Potassium:
897
mg
Fiber:
5
g
Sugar:
2
g
Vitamin C:
42
mg
Calcium:
26
mg
Iron:
2
mg