If you like Rutabagas, or if you've never had one, you're must try this Easy Mashed Rutabaga recipe! It's quick, affordable, keto and carb friendly! The flavor of this root vegetable is amazing and the calorie and carb count are nice on the waistline and blood sugar! Try serving this side dish with roasted turkey or Oven Baked Chicken Thighs!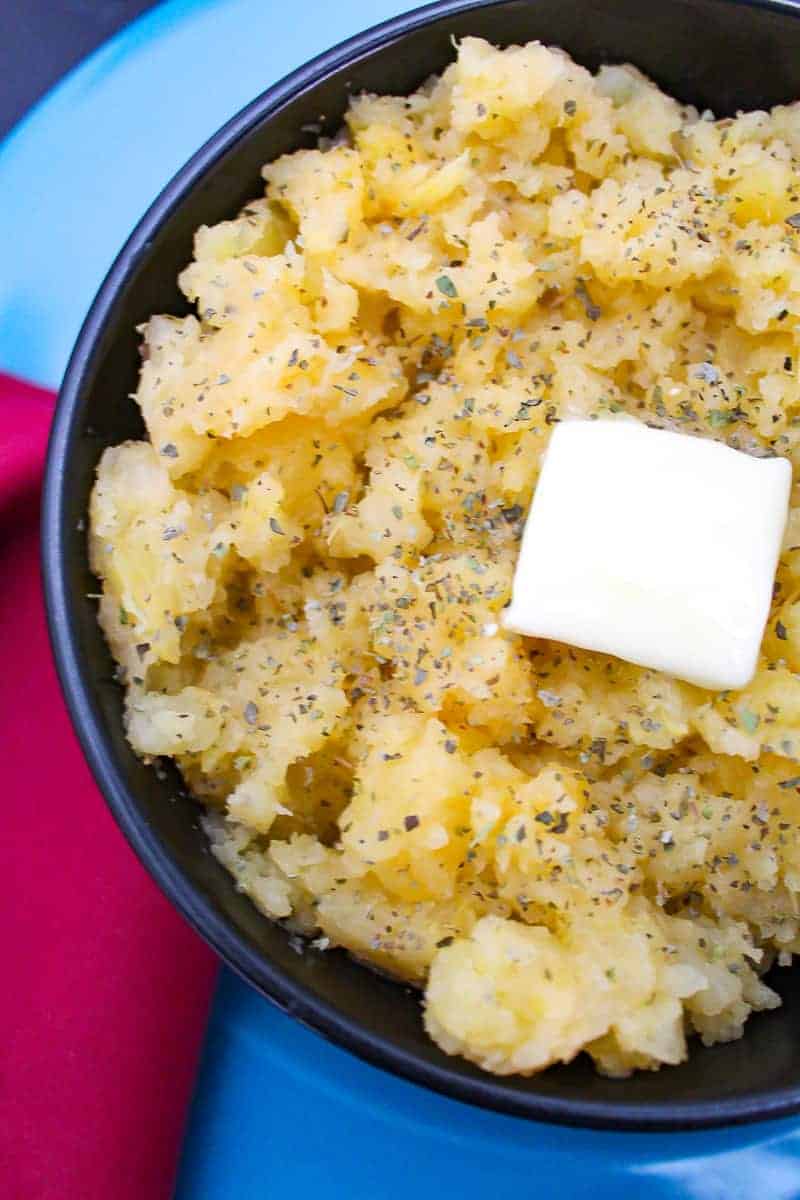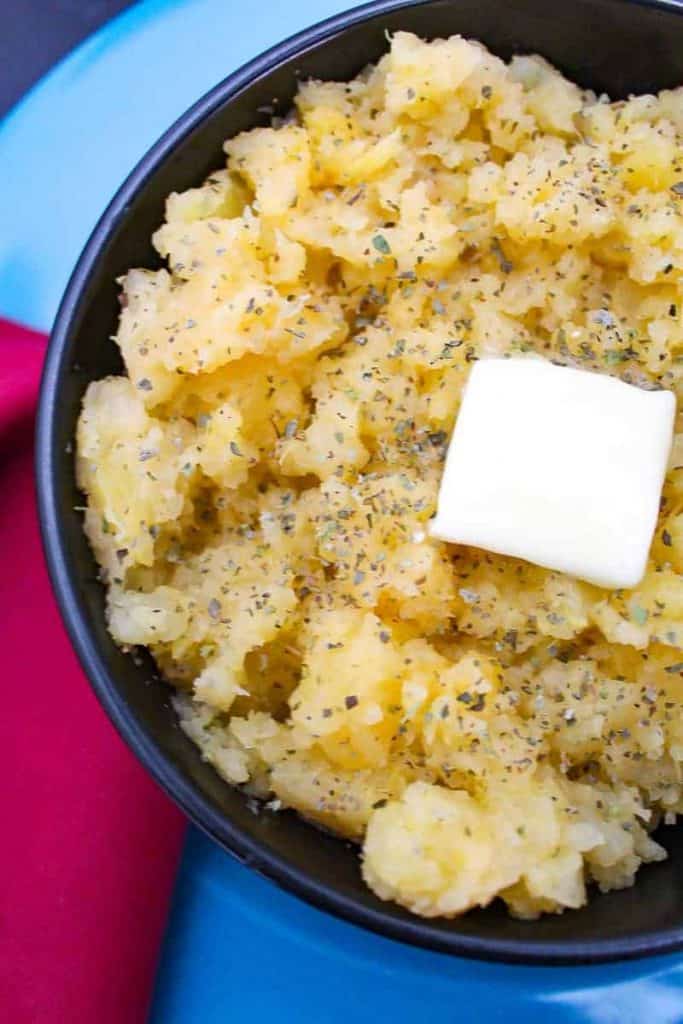 Rutabaga's aren't as popular as other root vegetables, and I'm not sure why. They are easy to make and have a mild flavor that pairs well with most chicken, pork and beef dishes. I suppose one could make the rutabaga "fancy" by adding herbs and seasonings, but I think you'll like this simple version.
What Is A Rutabaga?
The rutabaga is a cruciferous root vegetable and hybrid of the turnip and cabbage. What? The Cabbage? You'll understand later…keep reading! The rutabaga hails from 17th century Northern Europe and Scandinavia, and that's why it's also known a "swede" or "Swedish Turnip." It is believed to have been developed in 16th century by a Swedish botanist,  but many centuries ago, in Ireland, it served as the first Jack-O-Lantern, where it was hollowed and filled with glowing coals.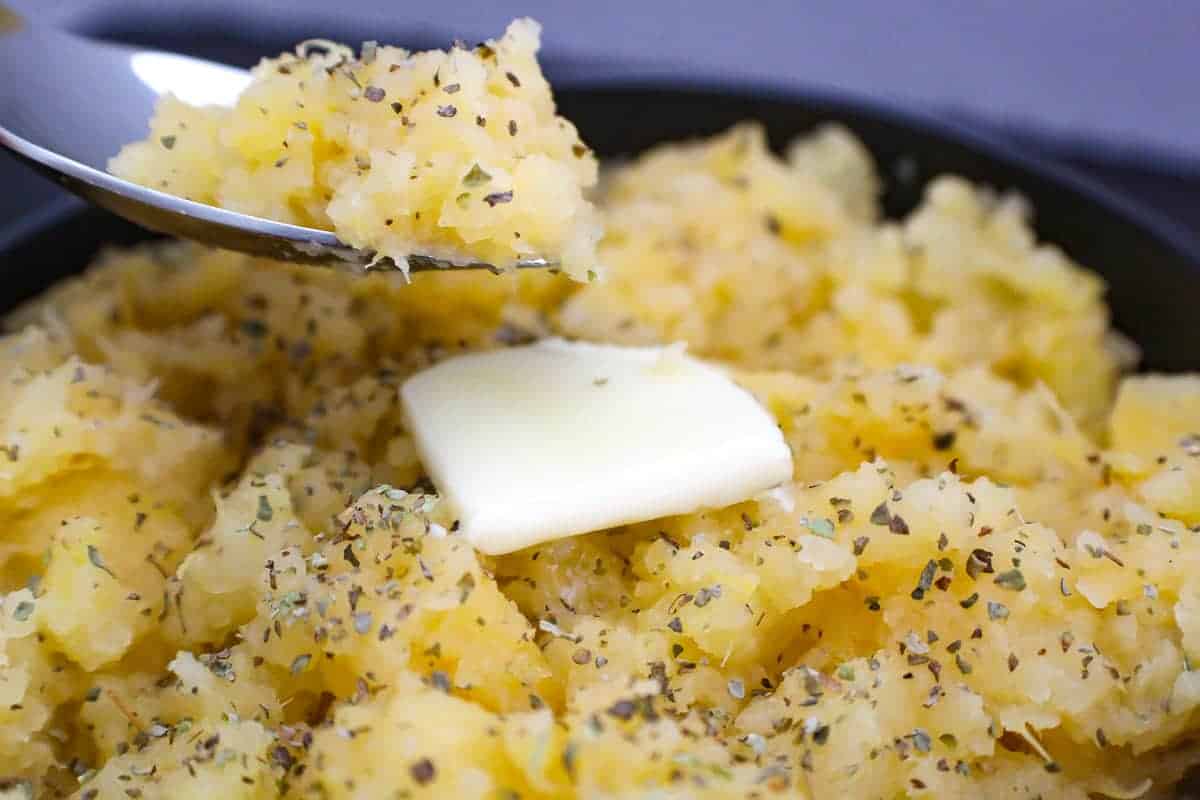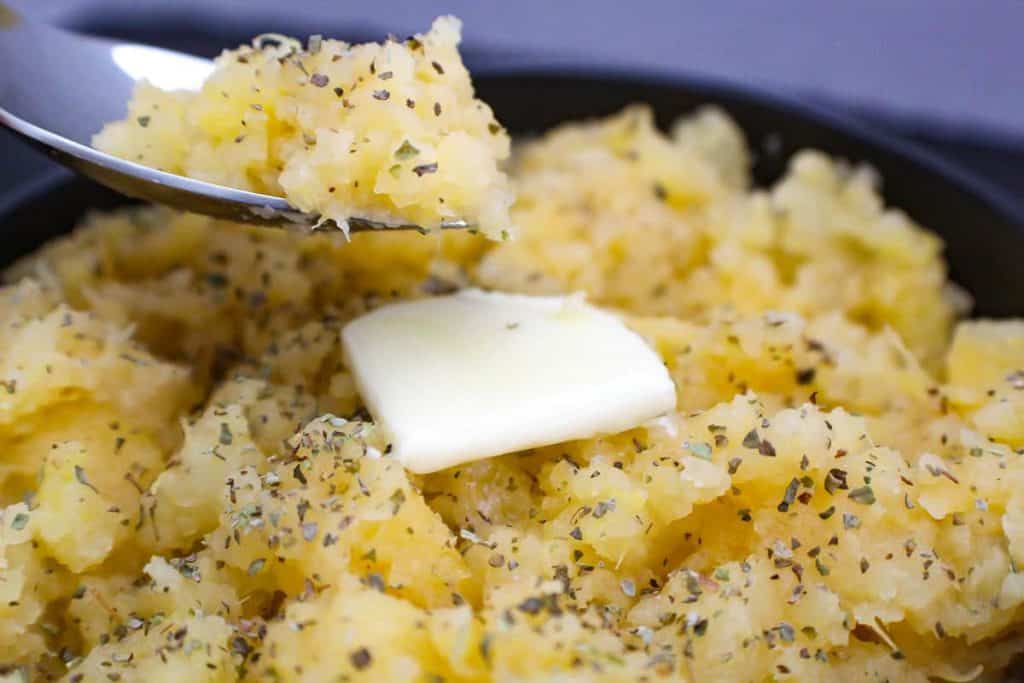 What's the Difference Between a Rutabaga and a Turnip?
While both of these root vegetables are in the same family, they are different from one another.
Size– the Rutabaga is generally larger than a turnip. In fact, you may see rutabagas that are double the size of turnips.
Color– turnips are more purple and white, whereas rutabagas are more purple and brown
Skin– rutabaga has thicker, waxier skin than that of a turnip
Flavor – turnips are peppery where rutabagas have a tendency to be a bit sweeter
How To Peel a Rutabaga
These root vegetables are tough! You'll need a very sharp knife to cut off each end and cut into cubes.  There are two ways to cut away the skin from this veggie-with a sharp knife or with a sharp potato peeler. I found the potato peeler easier and faster for mashed rutabagas.
Sharp Knife – If you use a sharp knife, place the rutabaga on end (one of the ends you cut off) to create a base. Start from the top and slide the knife at an angle all the way to the bottom of the bulb. Turn the bulb over and remove the remaining skin. If your knife isn't sharp enough, parboil the rutabaga for 5 minutes to soften the outer skin; then peel and dice.
Potato Peeler – Use a sharp potato peeler and work all the way around the root vegetable until all the skin is removed.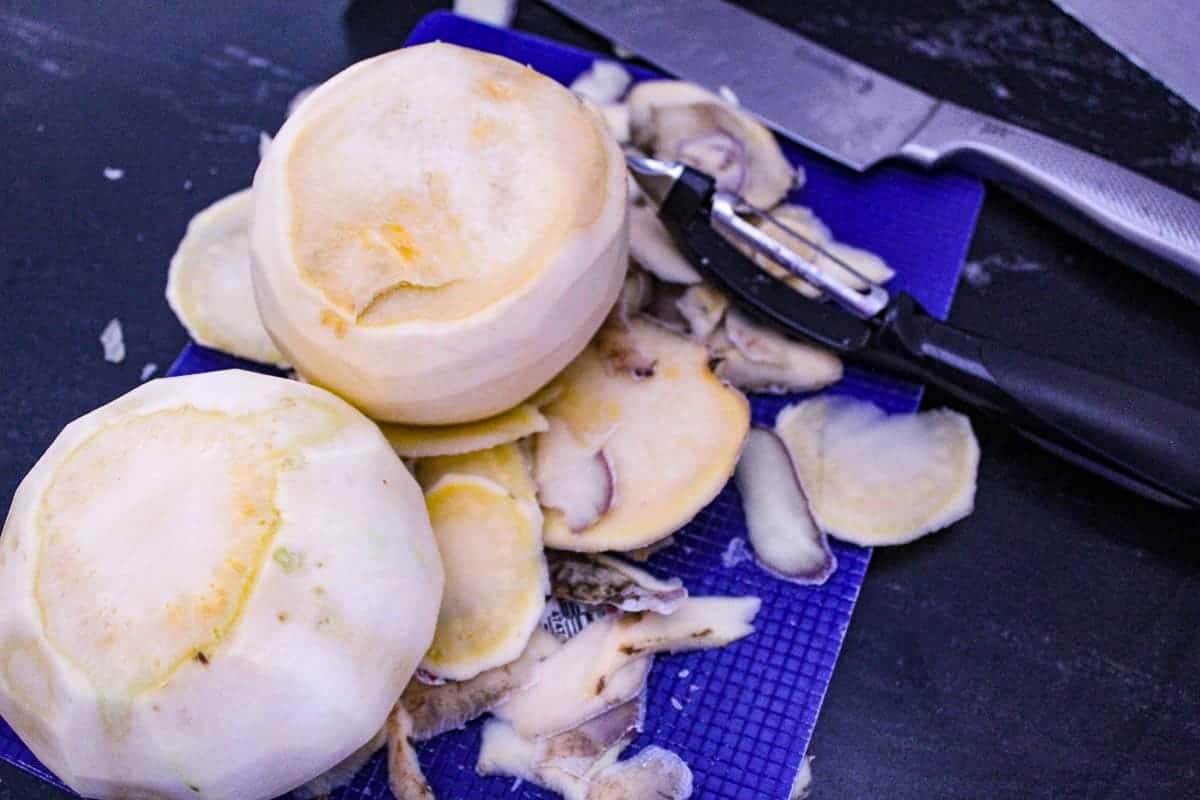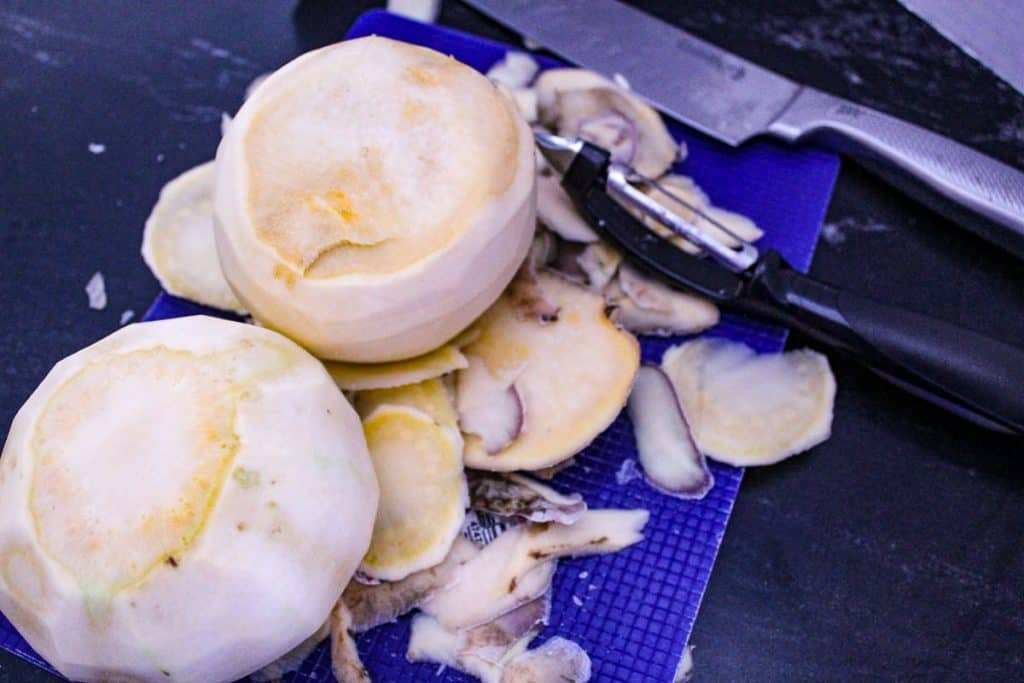 Are Rutabagas Healthy?
Rutabagas are really good for you! They're high in beta carotene, Vitamin C (35% RDA) and Vitamin A (30%RDA), as well as potassium and manganese, which are necessary for energy. Other nutritional benefits include a healthy dose of B6, thiamin, folic acid, and phosphorous, which helps metabolize proteins and sugars.
Mashed rutabagas are an excellent substitute for mashed potatoes, especially if you follow a keto or low carb diet!
How to Make Easy Mashed Rutabagas
First, peel the rutabaga with a vegetable peeler, then cut it into cubes. Next, light a scented candle somewhere near the kitchen…"why?" you ask… remember earlier when I mentioned they are part of the cabbage family? Well, if you've ever cooked cabbage you know what I mean. It does not smell heavenly. But once the rutabagas are tender, the smell goes away. Just letting you know in advance.
Put the cubed vegetables in a Dutch oven and cover with water or vegetable broth
Bring to a boil and cook about  15 minutes, until the rutabagas are fork-tender
Drain liquid and place vegetables back into Dutch oven
Add butter; mash with potato masher; add remaining seasonings; taste for salt; serve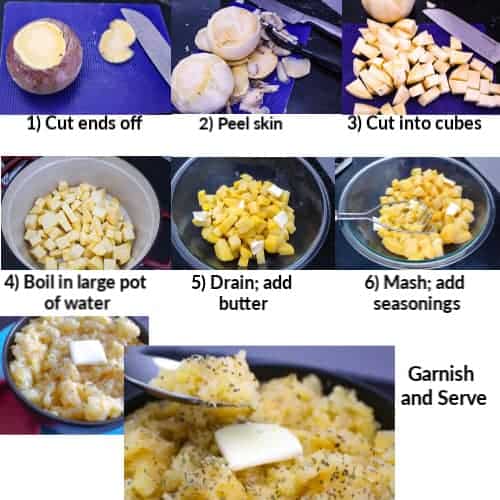 How to Select a Rutabaga at the Store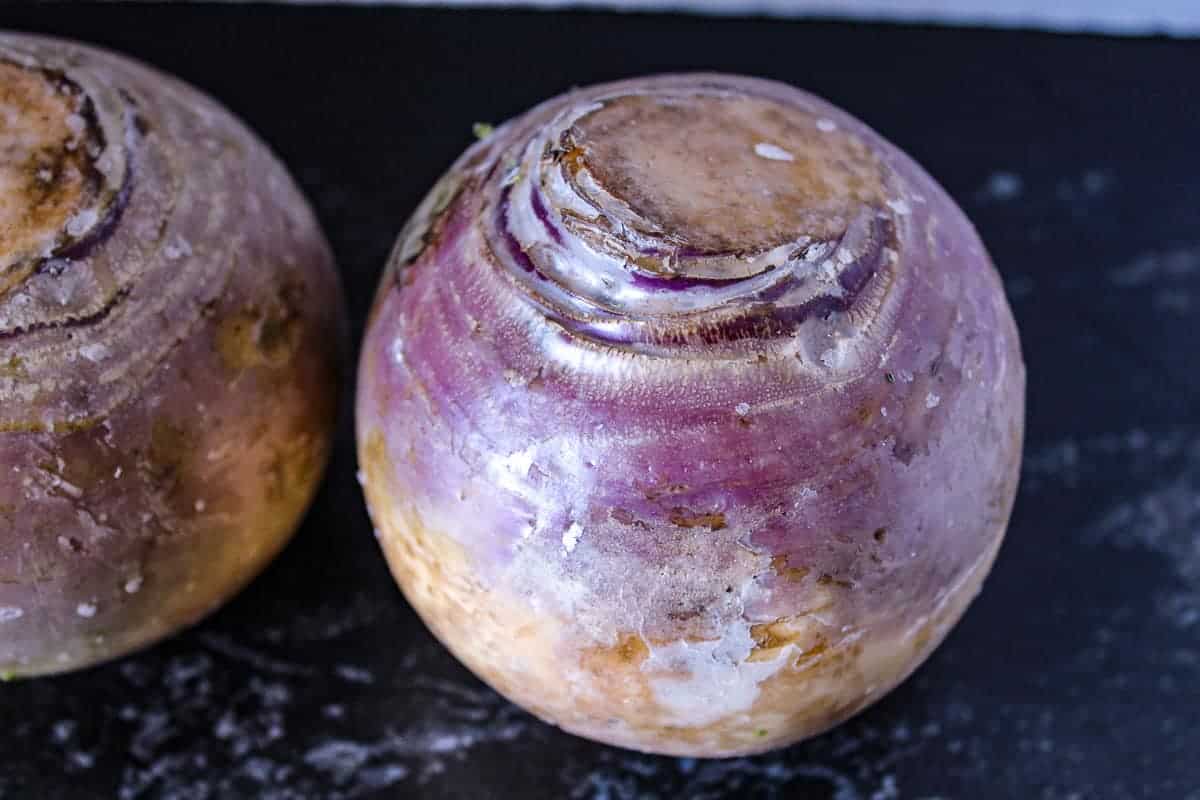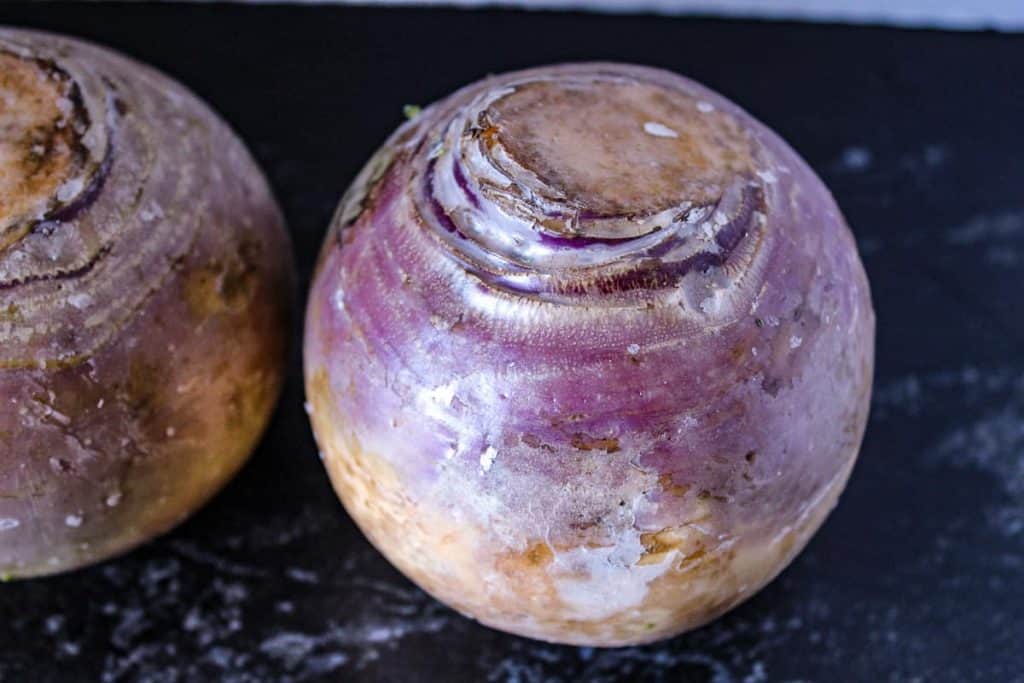 Look for a thick, dry skin with a large neck. In markets, they are usually next to the turnips, so remember to look for the brownish-purple skin. Don't rely on what the produce tags say-it is not uncommon to find these two labeled wrong at the grocery store because the produce stockers don't know the difference.
What Do Rutabagas Taste Like?
Rutabagas have a rich, savory, nutty, semi-sweet flavor. The unique flavor reminds me of a combination of parsnips and cabbage and they go well as a side dish for roasted chicken or pork loin.
This easy mashed rutabaga recipe calls for "mashed" not "pureed" rutabagas, however, if you like a smoother consistency, you can use a hand mixer, immersion blender or food processor to puree them into a finer texture.
You can make Easy Mashed Rutabagas in advance; just re-heat on the stove or in the microwave when you're ready to serve them!
Craving More? Try Homemade Baked Beans or Chicken Pot Pie Soup with Puff Pastry!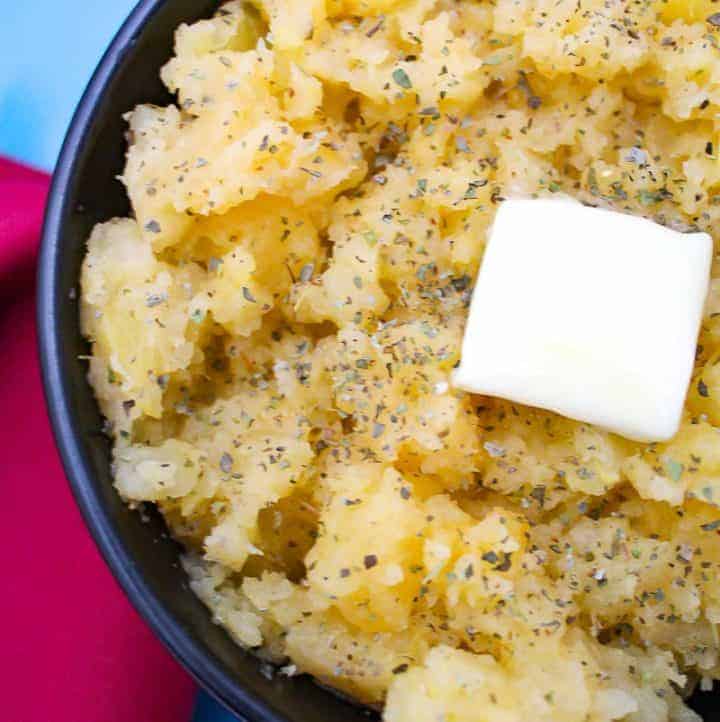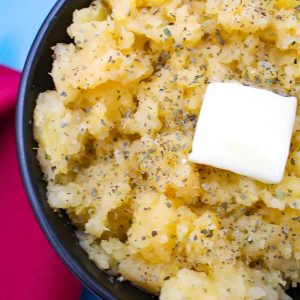 Easy Mashed Rutabagas
Tender fluffy mashed rutabagas seasoned with a hint of marjoram--the perfect side dish!
Print
Pin
Rate
Equipment
Very sharp knife

Sharp vegetable peeler
Ingredients
2

large

rutabagas

, peeled and diced

4-6

tablespoons

salted butter

(See Notes)

1

teaspoon

onion powder

1½

teaspoons

salt

See Notes

1

teaspoon

white pepper

(you can use black pepper instead of white)

1

teaspoon

marjoram

(See Notes)

4

quarts

water

, or vegetable broth
Instructions
Pour water (or broth) into large Dutch oven on medium high heat

Peel skin away from rutabagas

Place cubed rutabagas in water (or broth); bring to boil and cook for 15 minutes or until rutabagas are fork tender

Drain rutabagas in colander and return them to Dutch oven

Using a potato masher, mash rutabagas to desired consistency (See Notes)

Add pepper, onion powder, marjoram and 1 teaspoon of salt; taste for salt; add more if desired (See Notes)

Garnish with a sprinkle of marjoram and serve immediately
Notes
Consistency: if you want a smoother texture, put the cooked rutabagas in the food processor and puree them; then add seasonings
Salt: rutabagas are a lot like mashed potatoes-they need a lot of salt; this recipe uses 1 1/2 teaspoons-you might want to add more; add the salt in increments to avoid over-salting
Pepper: this recipe calls for white pepper which is stronger than black pepper; add a little then taste; add more if you prefer; you can use black pepper instead of white
Marjoram: if you don't have marjoram, substitute with dried oregano
Butter: since rutabagas require a lot of salt, I use salted butter; if you use unsalted butter, you may want to add more salt; as always, you can add more butter:)