Bite-sized Italian Margherita Nachos are quick, easy and the perfect accompaniment to dinner, brunch, lunch or as an appetizer!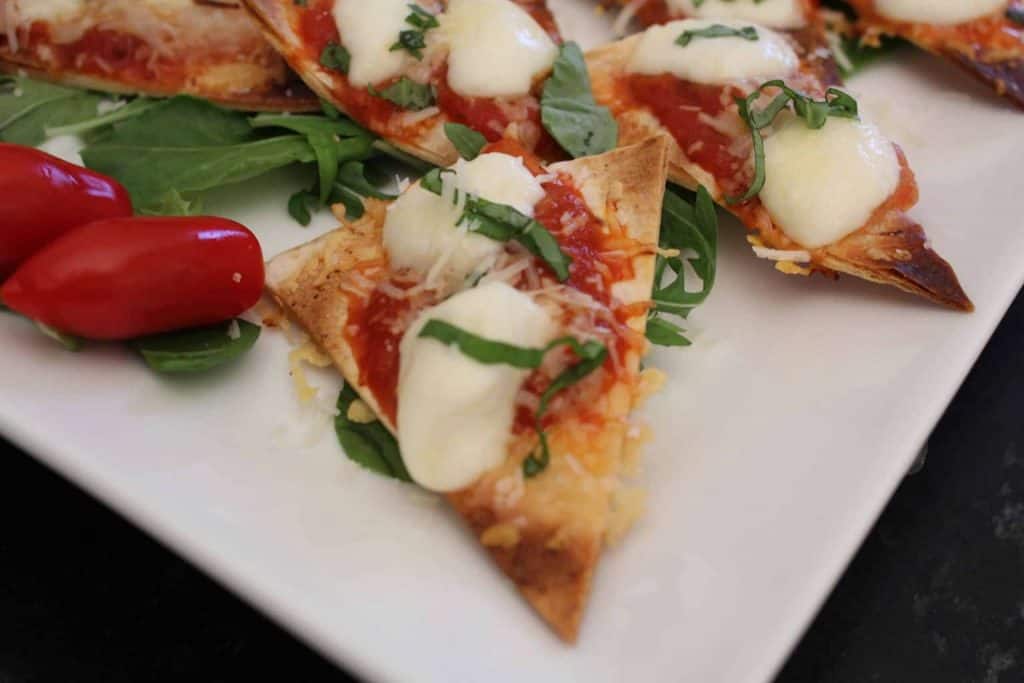 The Margherita pizza hails from Naples, Italy and was originally created for Queen Margherita of Savoy in the late 1800's. Interestingly, the iconic pizza was developed to replicate the colors of the Italian flag-red, white and green, with the signature ingredients including a crispy crust, fresh red tomatoes, fresh green basil and white mozzarella cheese on a crispy, baked flatbread.
Most likely, the fresh tomatoes were San Marzano, which continue to grow plentiful at the base of Mt. Vesuvius, which is about 5 miles from Naples.
This recipe for Margherita Nachos is a spin-off the famous Italchos™ that the famed Dallas restaurant Terilli's introduced back in the 70's.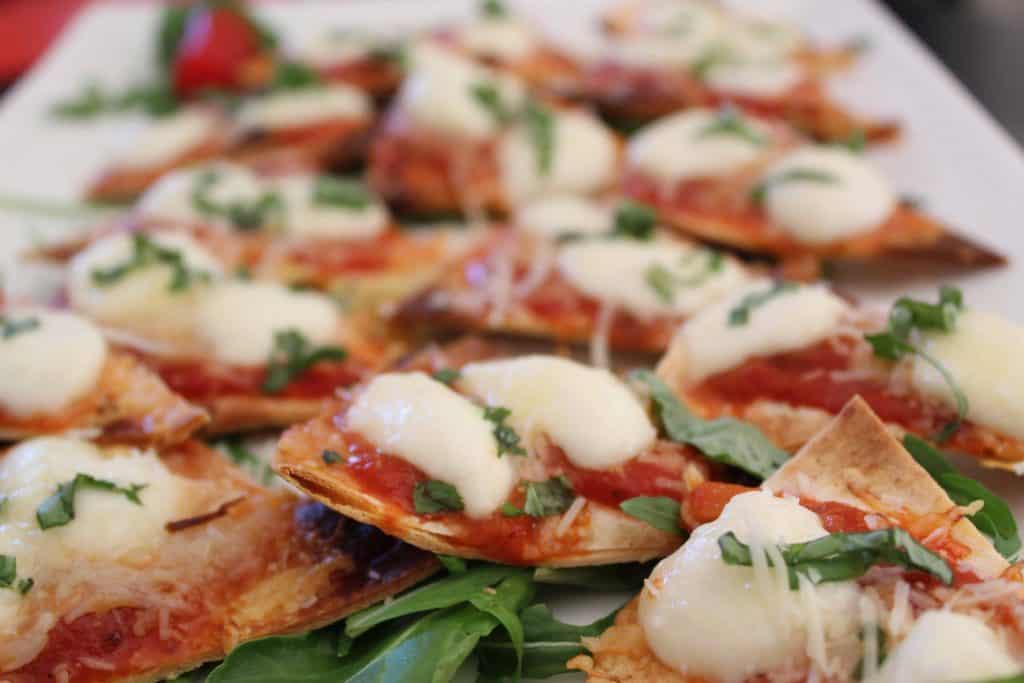 The beauty of these Margherita Nachos is that you don't have to bake bread! Simply cut a flour tortilla into quarters and bake…you've got the first step–a crispy base for the Italian nachos! Use a low-carb and/or whole grain tortilla to minimize the carbs.
How Do I Make the Base of the Margherita Nacho?
Cut a flour tortilla into quarters. Place tortilla triangles on a lightly oiled parchment-lined baking pan. Lightly spray olive oil over the top of the tortilla triangles; sprinkle a tiny bit of garlic powder on each tortilla and bake at 375ºF for 8-10 minutes.
What Kind of Tomatoes Do I Use?
Fresh San Marzano tomatoes are the most flavorful, but it's hard to find large San Marzano tomatoes, so I used small San Marzano's. Grape tomatoes work well, too.
What If I Don't Have Any Tomatoes?
Use a prepared, organic marinara sauce or make your own San Marzano marinara sauce.
What Type of Cheese Goes on Margherita Nachos?
Fresh mozzarella is the traditional cheese for Margherita pizzas; this recipe uses Ciliegine, which are small "Cherry Size" balls of mozzarella. However, if Ciliegine are not available, any fresh mozzarella will suffice–just cut it into small cubes so it will melt a bit under the broiler.
Once the crust of the Margherita Nachos has been baked, simply add fresh tomatoes (or marinara sauce) and a few small pieces of fresh mozzarella. Place under the broiler for 3-5 minutes, until the cheese has melted sufficiently; finally, remove from oven and garnish with fresh basil.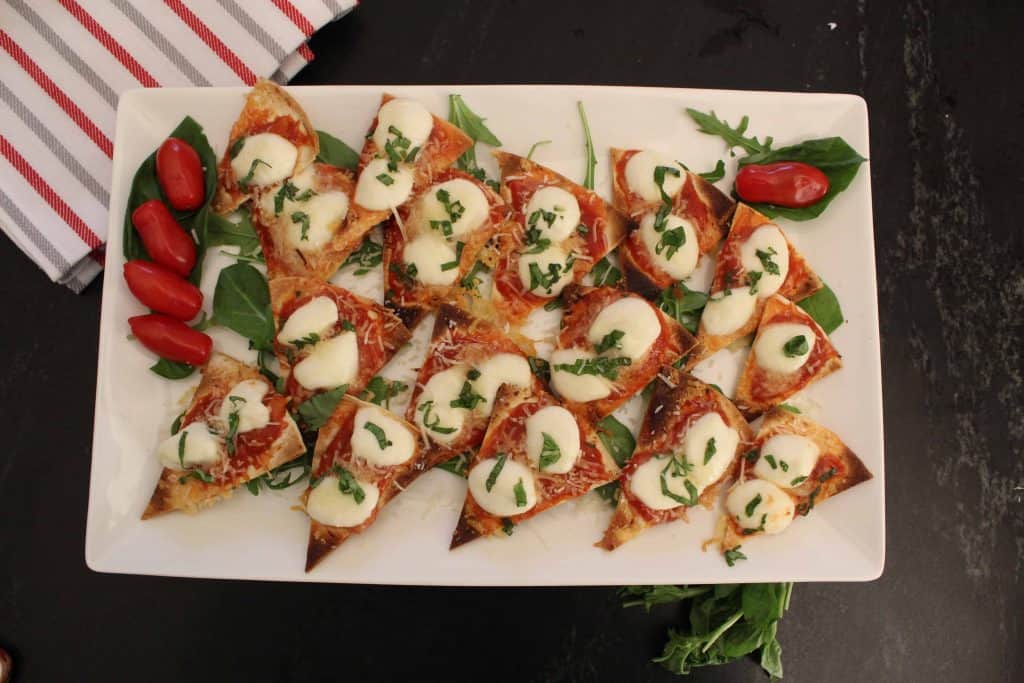 Looking for other great Italian dishes? Try quick and easy Italian Skillet Supper!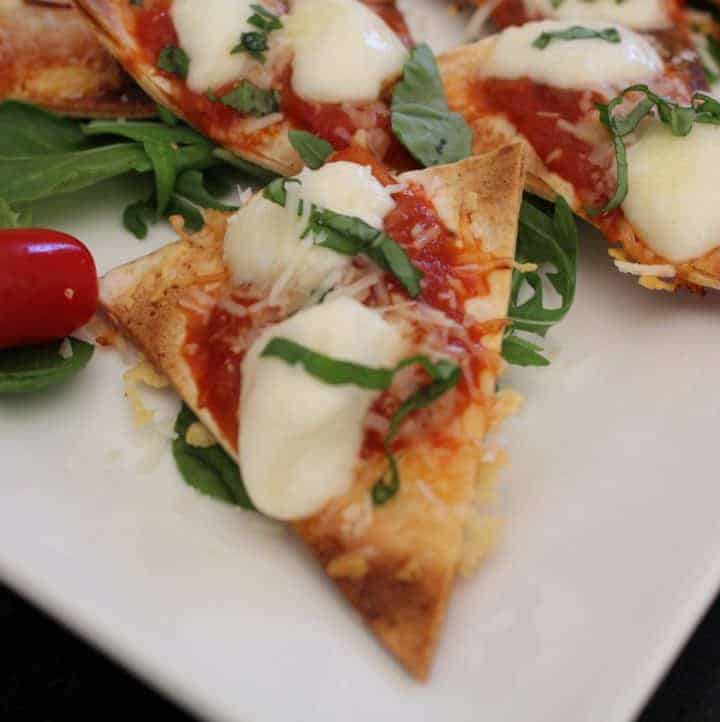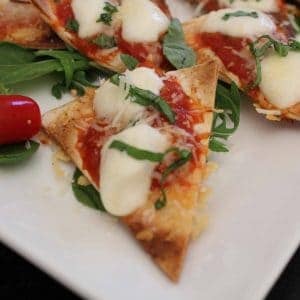 Margherita Nachos
Crispy and savory bite-sized Italian Margherita Nachos with fresh tomatoes, mozzarella and basil! Perfect for any gathering and easy to make!
Print
Pin
Ingredients
2

flour tortillas

2

sprays

olive oil

1/4

teaspoon

garlic powder

(optional)

4-8

oz.

fresh mozzarella

1

cup

fresh tomatoes

chopped - OR-

1/3

cup

marinara sauce

fresh basil

chopped
Instructions
Preheat oven to 375ºF; line baking pan with parchment; lightly oil parchment paper

Cut tortillas into quarters

Place tortilla quarters on parchment lined baking dish; lightly spray triangles with oil; sprinkle a small amount of garlic powder on each triangle (optional)

Bake tortilla triangles for 8-10 minutes; remove from oven; turn oven setting to Broil

Add tomato (or marinara) to triangles; top with fresh mozzarella

Place triangles under broiler for 3-5 minutes or until cheese begins to melt

Remove from oven and garnish with fresh basil
Notes
For the crispy base of the Margherita nachos, use a regular, or low-carb flour tortilla. 

Fresh mozzarella is a must for these delicious nachos. It doesn't take much, but shredded mozzarella seriously misses the mark.