These small-bite Hickory Almond Stuffed Dates are always a big hit! The flavor combination is unbelievable! Sweet dates with smokehouse almonds tucked inside, and then wrapped in hickory bacon with a drizzle of balsamic glaze.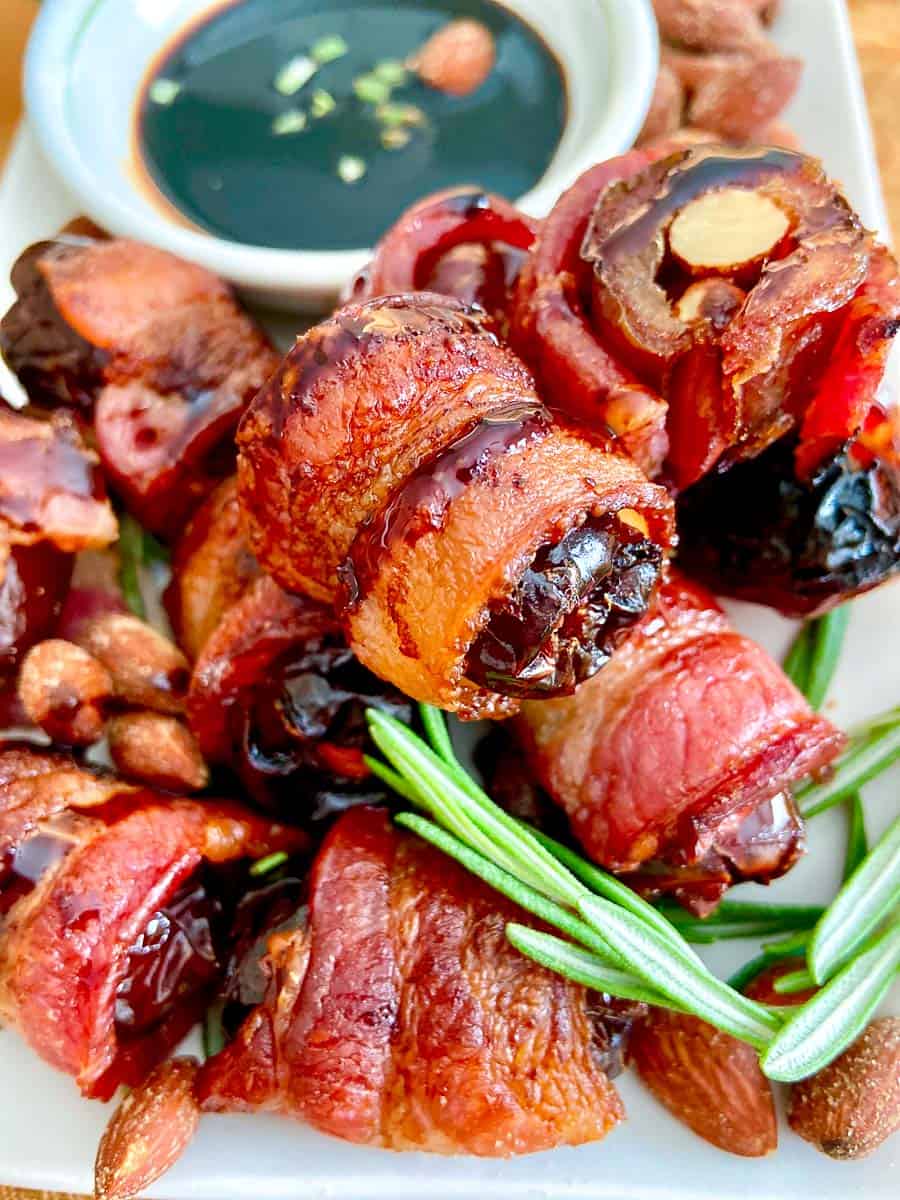 I've made this stuffed date recipe many times, with cashews, walnuts and now smokehouse almonds. This hickory almond stuffed date is my favorite version and I think you'll like it, too!
You've probably seen variations of stuffed dates elsewhere, but this flavor combination is different and divine!
This is a really nice appetizer, especially during the holidays when Medjool dates are in season. Medjool dates are a Middle Eastern fruit and they're also grown in southern California.
I often serve these with sausage balls, homemade cheese wafers and a nice cheese and charcuterie board.
You'll love this recipe!
These bacon wrapped appetizers are pretty easy to make; I use a pair of kitchen scissors to cut the strips of bacon into thirds. You cannot go wrong by serving these as a holiday appetizer...trust me.
Simple ingredients - nothing fancy or gourmet here, just some dates, nuts, bacon...that's it!
Easy - the hardest part is pitting the date! If you can find pitted dates, get those!
Delicious - the smoky flavor of the bacon and almonds pairs beautifully with the sweetness of the date...and the final touch-a drizzle of tangy balsamic glaze-really sets this recipe apart from others!
Here's what you'll need
Just a few simple ingredients for these bacon wrapped party poppers!
Dates - if you can find pitted dates, get those
Bacon -I use regular bacon - not thick sliced bacon; I find it's easier to wrap and cooks quicker
Smokehouse almonds - the smoke flavored almonds pair beautifully with the salty bacon and sweet balsamic dipping sauce
Balsamic glaze - this is usually on the oil and vinegar aisle in the grocery store; if it's not there, try the produce section of the grocery store

For the glaze, I use Tantillo™ brand "Sweet and Thick" Balsamic glaze. You'll find it near the oil and vinegars in your grocery store.
I use "normal" bacon, not the thick sliced, but I suppose you could use either. Just make sure you have some long handled tongs to flip the bacon in the oven.
If you're serving these to a large group, you might want to serve the balsamic glaze on the side with a spoon for drizzling over individual servings.
Here's how to make it
Use a sharp knife and slice the date (just cut a little slit in it) and remove the pit; nestle two (or three) smokehouse almonds in the date and pinch the date back together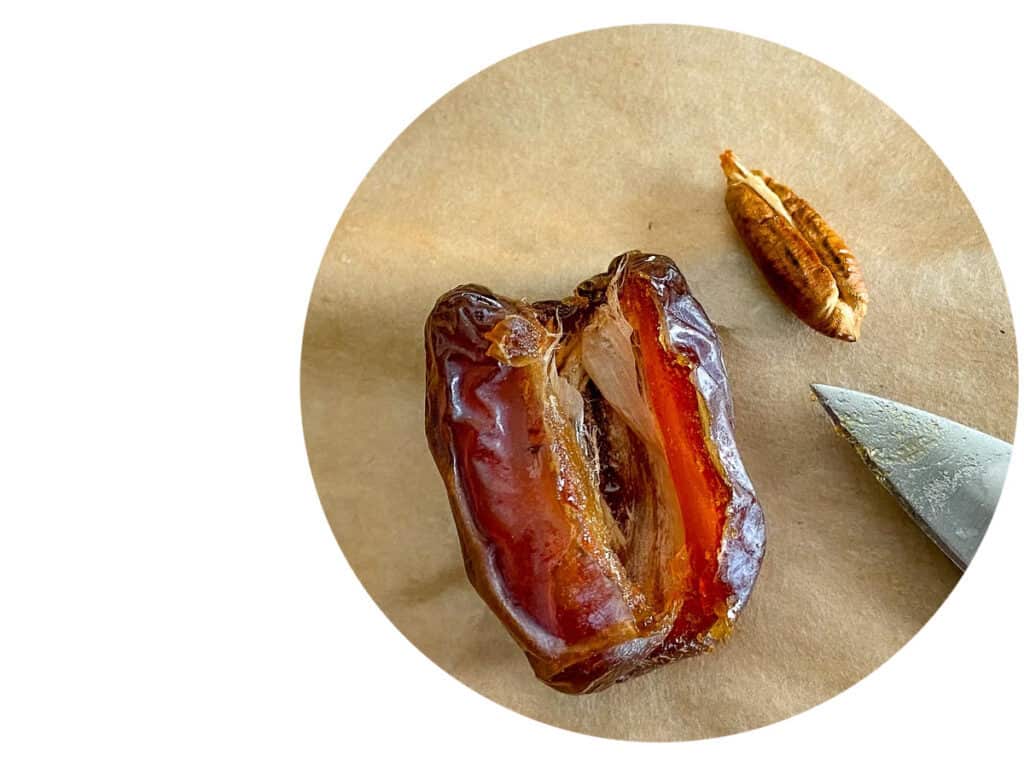 Use scissors and cut the bacon into thirds (scissors work better than a sharp knife, provided the scissors are sharp)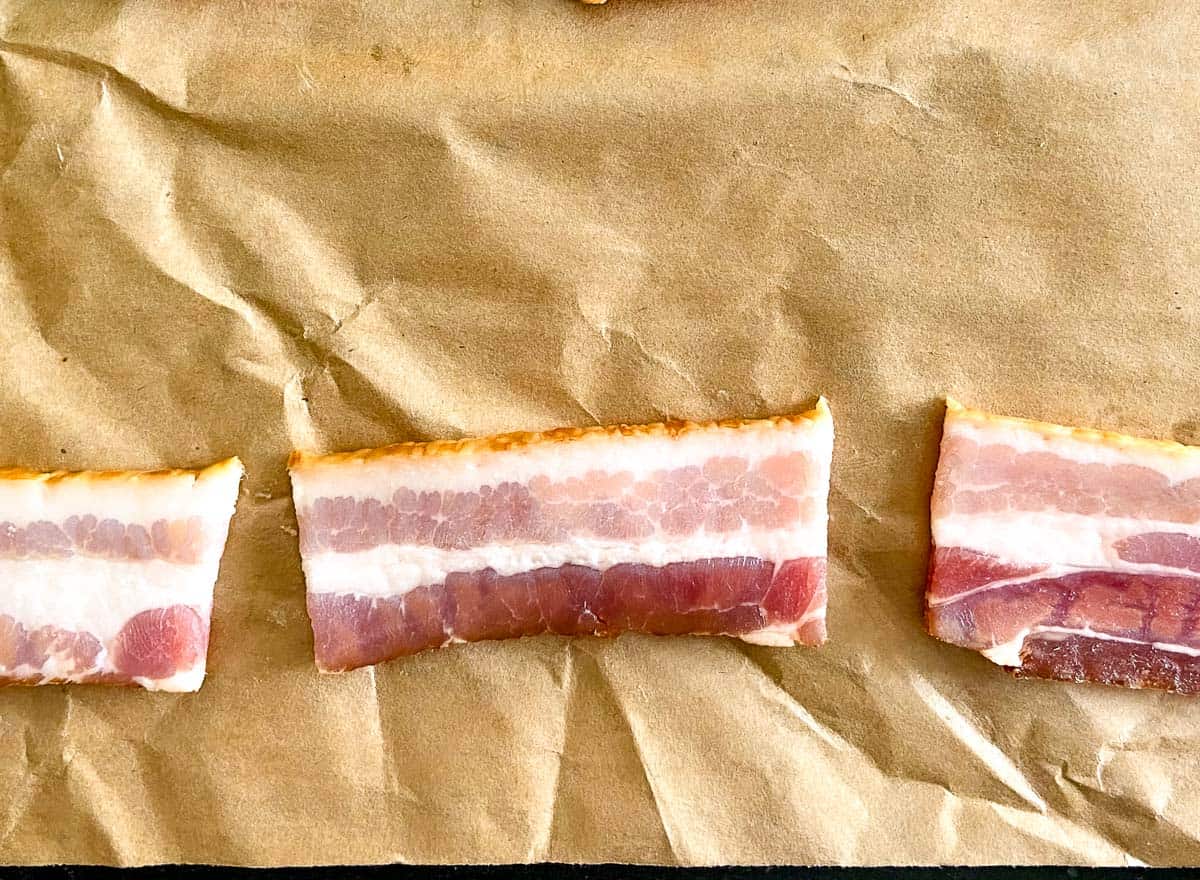 Wrap a small slice around the date and secure with a toothpick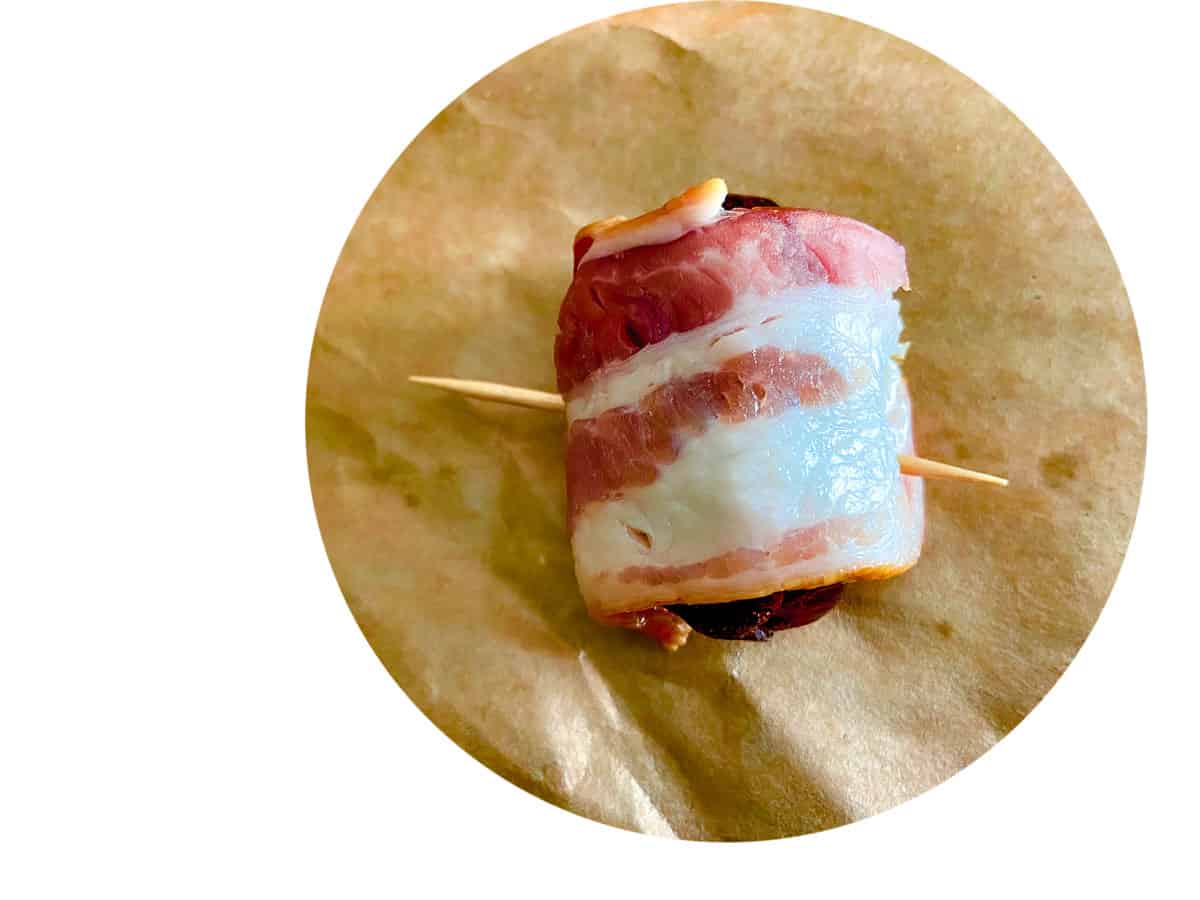 Place on broiling rack and broil in oven at 500ºF; use tongs to occasionally flip the stuffed dates. They take about 5-8 minutes on each side.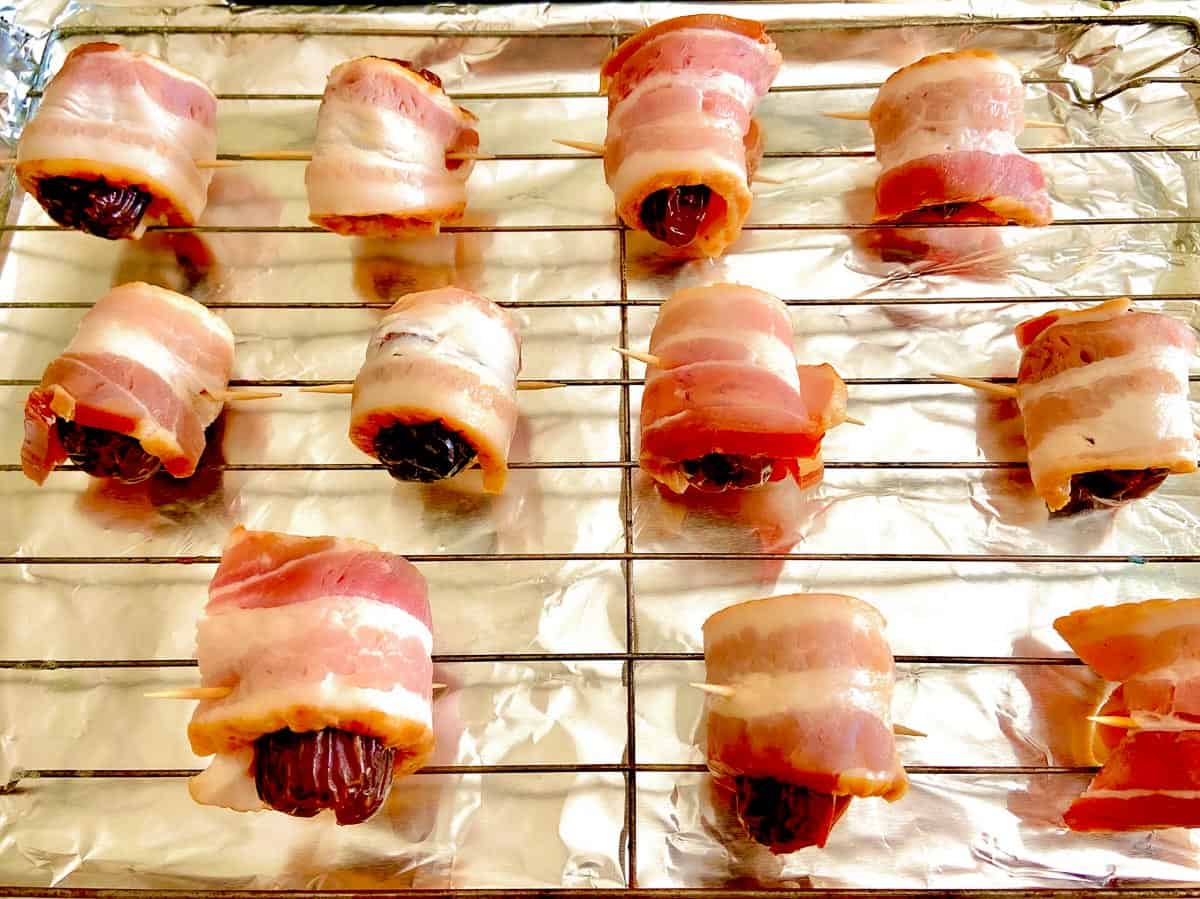 Recipe Tips
Soak the toothpicks in water first
Use scissors to cut the bacon into thirds; (it easier than using a knife)
Use long handled tongs to flip the bacon wrapped dates in the oven; (rarely do broilers cook evenly)
If some pieces of the bacon don't get quite done enough in the oven, place them in a dry skillet and finish cooking the bacon
Allow to cool before removing the toothpick and plating
Yield
Allow a minimum of 3 stuffed dates per person; so, 1 strip of bacon per person
A pound of bacon usually has between 12-14 strips so keep this in mind if you're serving these at a large party. I like to add these Hickory Smoked Almond dates to my cheeseboard, along with a nice assortment of cured meats, crackers and dried fruit!
If you can't find Balsamic glaze, don't worry! These taste delicious without it, too!
Storage and reheating
If you have any bacon wrapped stuffed dates leftover, store them in an airtight container in the refrigerator for up to 3 days. To reheat, either place on a foil covered baking sheet at 300°F or pop them in the microwave for a few seconds.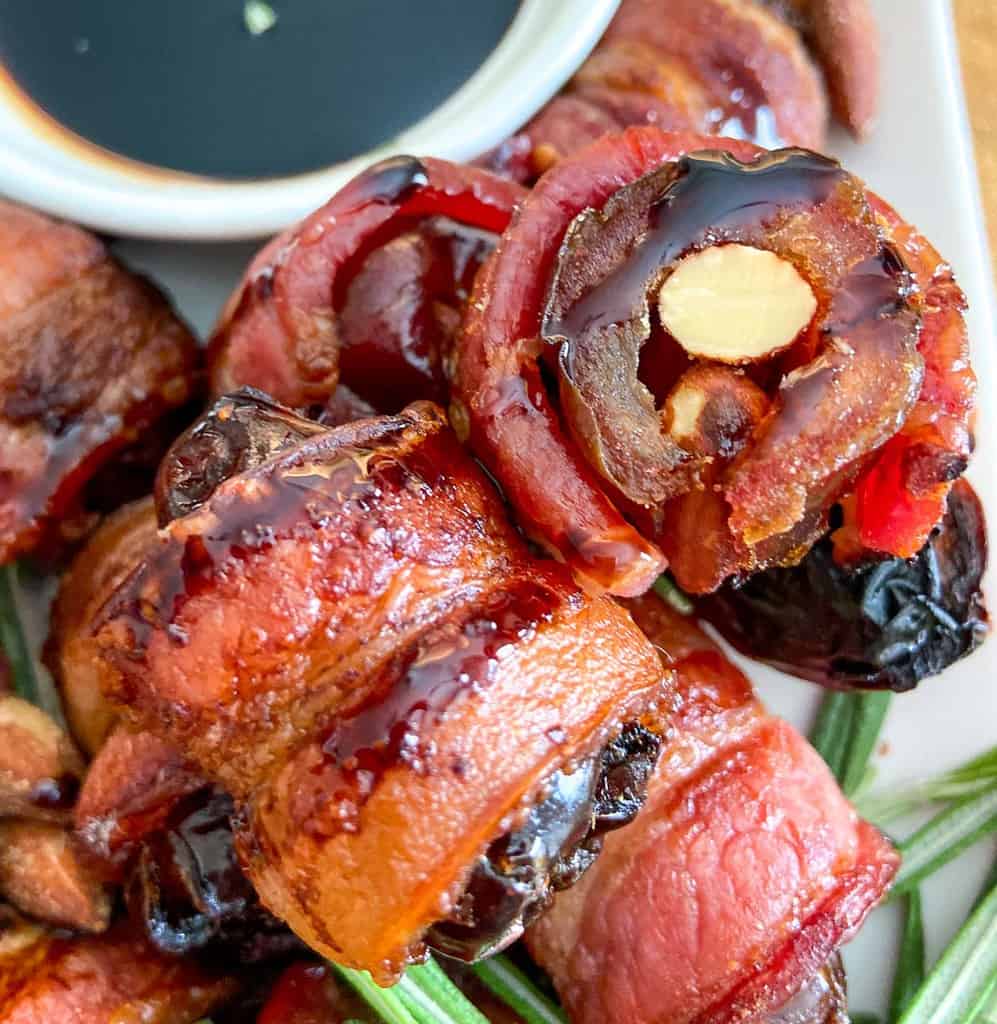 I've found even those people who say "I don't like dates" end up eating at least three of these...I suppose that's because bacon makes things taste better and who can resist a bacon wrapped appetizer?
Related recipes
If you make this recipe, please scroll down and leave a comment and rating! I love to hear from you! Thank you!
📋 Recipe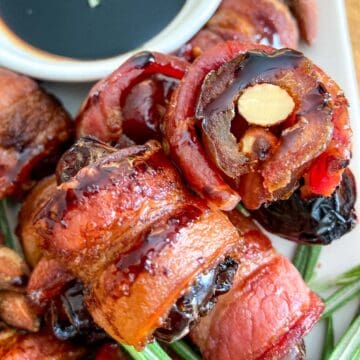 Hickory Almond Stuffed Dates with Balsamic Glaze
Sweet dates with smokehouse almonds tucked inside, and then wrapped in hickory bacon with a drizzle of balsamic glaze.
Print
Rate
Ingredients
1

pound

bacon

hickory smoked, thick or thin (allow 3 dates per strip of bacon); so you need at least 12 slices

1

can

almonds

smokehouse flavored

1

pound

dates

(get pitted if you can)

Balsamic glaze
Instructions
Cut bacon slices into thirds

Nestle 2-3 almonds in each date; pinch the date to close it

Wrap ⅓ slice of bacon around stuffed date and secure with toothpick

Place dates on broiler rack and broil on 500ºF until bacon is cooked -usually about 15-20 minutes, depending upon your oven (see recipe notes)

Allow to cool; remove toothpicks
Notes
Note:
One strip of bacon makes 3 stuffed dates
Use thick or thin bacon (thick will take longer to cook)
When calculating for a large group, allow 3 stuffed dates (or one slice of bacon) per person
Keep an eye on these when they're in the oven; you may have to rotate and/or flip them to get all the bacon cooked; use long handled tongs to do this
If some of the bacon doesn't get crisp in the broiler, put the bacon stuffed date in a dry skillet and sear the part that has the undercooked bacon
Drain on paper towel
Allow to cool before removing toothpick
Use the tongs to pull the toothpick out
Balsamic glaze: you can either drizzle it over the dates or put it in a small bowl for self-serve
Nutrition Estimate
Serving:
1
date
Calories:
149
kcal
Carbohydrates:
9
g
Protein:
1
g
Fat:
13
g
Saturated Fat:
5
g
Polyunsaturated Fat:
1
g
Monounsaturated Fat:
6
g
Cholesterol:
12
mg
Sodium:
19
mg
Potassium:
83
mg
Fiber:
1
g
Sugar:
8
g
Vitamin A:
1
IU
Vitamin C:
1
mg
Calcium:
5
mg
Iron:
1
mg