If you're looking for a light appetizer to serve at your next party, you'll love this cauliflower stuffed Brioche!
A whole head of seasoned baked cauliflower that is pureed into a rich and creamy Gruyere cheese mixture, and nestled into a loaf of warm Brioche or Challah bread. Makes an excellent pull-apart appetizer!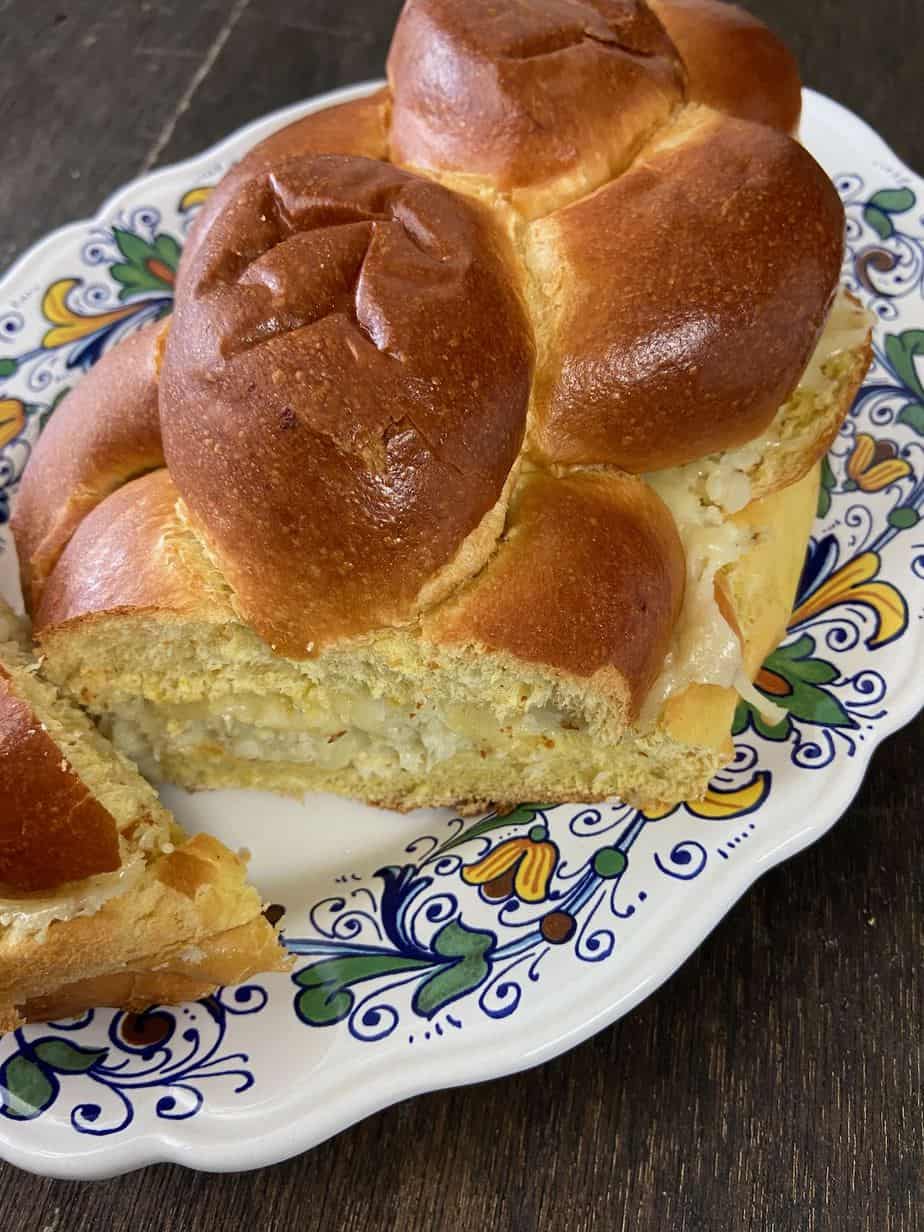 This recipe was inspired by the infamous "Cauliflower Brioche" created by French chef Alain Ducasse. "Chou-fleur en fine croute" is a whole head of cauliflower baked in sweet brioche dough.
The original French recipe calls for homemade brioche, but since I'm not a bread baker, I thought I'd figure out a way to make this roasted cauliflower recipe more user friendly for us "working folks, " so I came up with this version.
I used a loaf of Brioche Challah bread instead of baking my own bread; this makes the recipe go pretty quickly.
Jump to:
What is Challah bread?
Challah (pronounced "holla") bread is a braided bread of Jewish origin. It is typically served at Jewish ceremonies and holidays, such as Shabbat. Shabbat is celebrated each Friday, so if you're looking for a fresh loaf of Challah bread, go to your local baker on Friday morning.
Challah bread is similar to Brioche, but Brioche has a higher butter content than Challah. You can use either for this recipe.
Why you'll like this recipe
Versatile - use this roasted cauliflower and cheese recipe as a dip or spread
Simple ingredients- roasted vegetables inherently have a great flavor, so there's no need for a lot of fancy ingredients; just simple stuff
Easy - no baking bread! Just pop the cauliflower florets in the oven, then puree and dip or spread!
Great flavor combination- the seasoned cauliflower and nutty Gruyere cheese pair beautifully with the sweet brioche or Challa bread.
This easy roasted cauliflower recipe makes a great game day appetizer!
If you buy a head of cauliflower in advance, you can store it properly for up to a few days in the fridge.
What you'll need
Get a big head of cauliflower, a yellow onion, a block of Gruyere (or Comte) cheese - (you'll need about 5-7 ounces of cheese), a Challah loaf or a buttery brioche - (you can use any kind of loaf bread you like as well), sour cream, ground thyme, garlic powder, salt, ground black pepper and a high quality olive oil.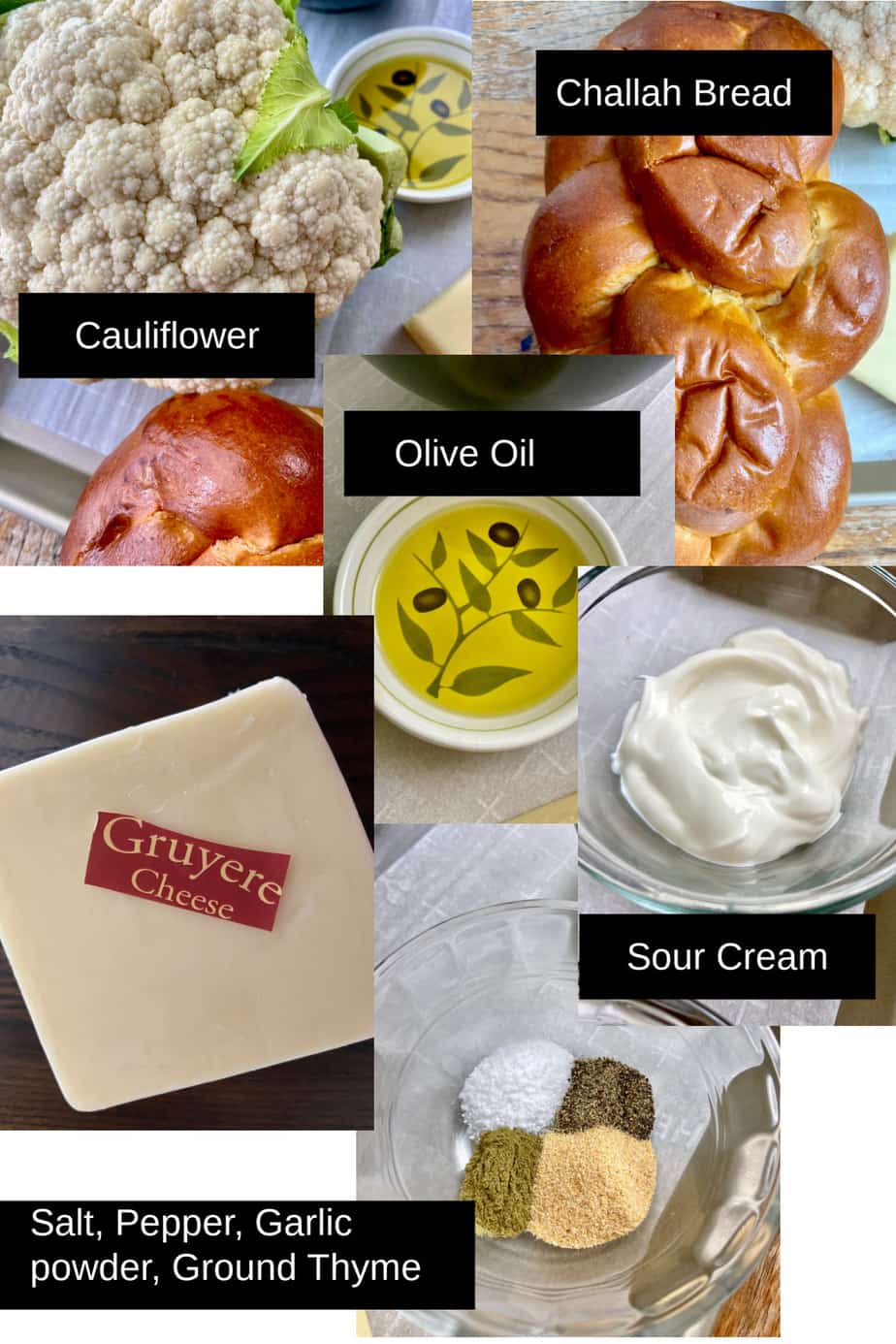 Some recipes, like Trader Joe's® Roasted Cauliflower and Onion spread contain preservatives and/or cream cheese. I tried to keep the recipe as true to the original and for that reason, there is no cream cheese in this version.
If, after pulsing the roasted cauliflower, you find you want it creamier, then by all means add some softened cream cheese to the cauliflower mixture.
How to make it
This delicious recipe starts with roasted and seasoned cauliflower.
Cut the cauliflower into quarters, then cut florets all about the same size. In a large mixing bowl, combine cauliflower, chopped onions, salt, pepper, thyme and garlic. Toss till well coated. Place on parchment-lined baking sheet and roast for 20 minutes @ 400°F.
Remove from oven and put ingredients into food processor; add sour cream and pulse till semi-smooth.
Cut Challah bread in half lengthwise, spread cauliflower mixture on bottom half; then add shredded Gruyere and place the top of the bread loaf on the shredded cheese. Wrap in foil and return to hot oven for about 10-minutes, or until the cheese melts.
Remove from oven, slice and serve!
Best way to cut a head of cauliflower
Cut it in half; then into quarters. Slide a sharp knife along core; remove core; cut or tear florets into smaller pieces.
Substitute for Gruyere cheese
If you can't find Gruyere, the next best thing is Comte cheese or Fontina. An aged cheese melts better; if you're really in a pinch, you can substitute with Swiss cheese, but I recommend Swiss as a last resort simply because it is not aged and much more oily.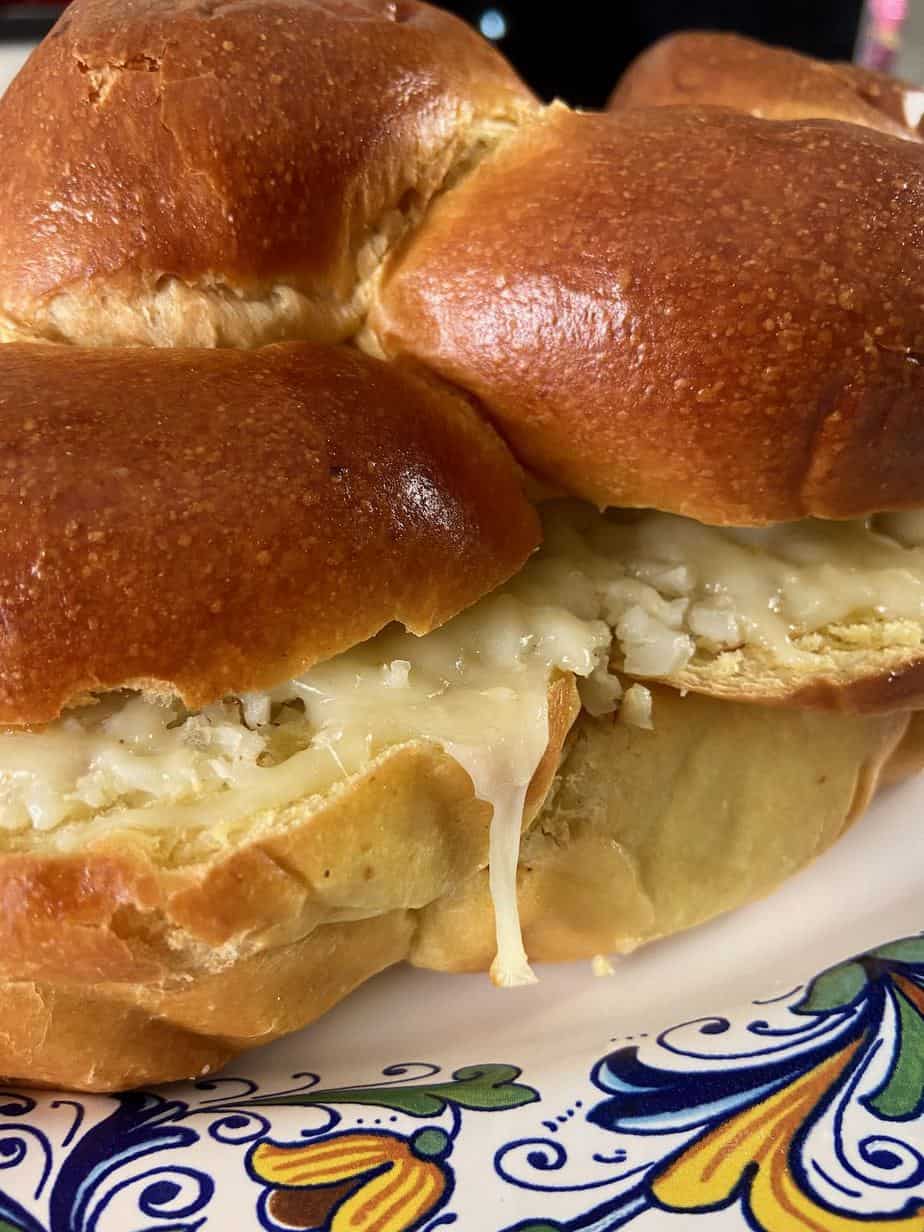 Recipe
Tips
Try to tear or chop the cauliflower florets about the same size so they'll cook evenly
Pulse the mixture to desired consistency (if you want it creamier, add more sour cream or about 4 ounces of cream cheese)
For best results, use an aged block cheese, preferably Gruyere or Comte; these melt best with less oil than cheeses that aren't aged
Use a serrated knife to slice or simply pull the cauliflower stuffed Brioche apart.
Make ahead and storage
You can make the roasted cauliflower spread 3 days in advance. To expedite the reheating process, warm the cauliflower mixture on the stovetop, then spread it on half of the Challah or Brioche bread; add the cheese, place the top layer of bread on the shredded Gruyere; wrap bread loaf in foil and warm in oven.
Cover the bread with foil and pop it into the oven for about 10 minutes (or until the cheese melts.)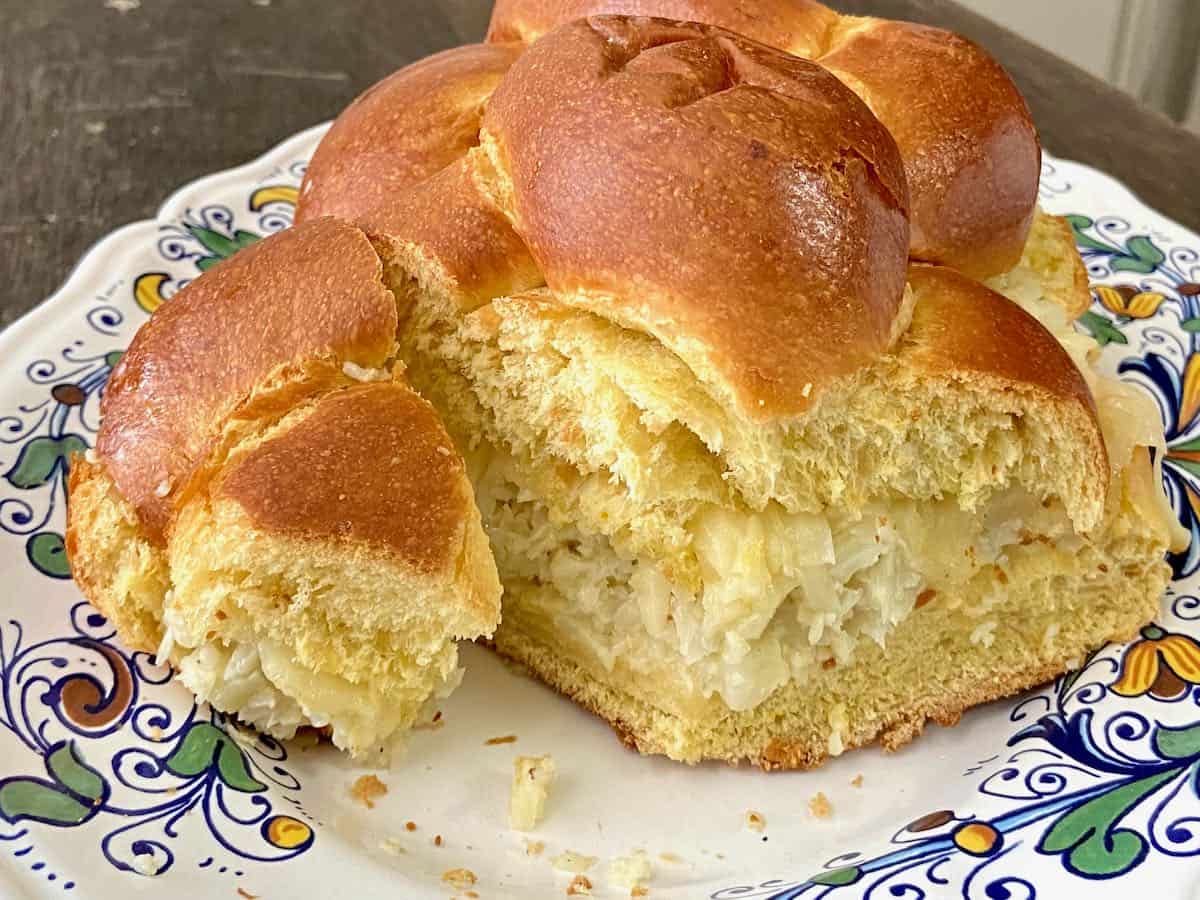 Serving suggestions
Serve this cauliflower stuffed Brioche bread as an appetizer or as a side dish with an entree. Cauliflower pairs well with beef tenderloin, steak and Brussels sprouts or even with a cup of Smoky Tomato Soup!
Related recipes
Looking for other easy dishes to serve? Try this
If you make this recipe please scroll down and leave a comment and a rating! I love to hear from you!
📋 Recipe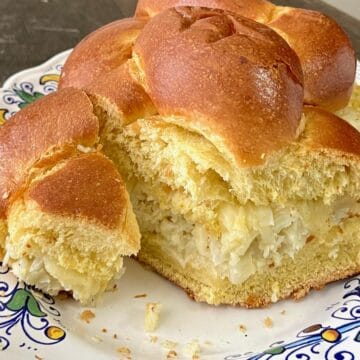 Cauliflower Stuffed Brioche
Roasted and seasoned cauliflower nestled in a loaf of warm cheese bread
Print
Rate
Equipment
Food Processor

Parchment paper
Ingredients
1

large

cauliflower

1

cup

chopped yellow onion

7

ounces

Comte or Gruyere cheese

⅓

cup

sour cream

2-3

tablespoons

olive oil

¼

teaspoon

thyme, ground

1

teaspoon

garlic powder

½

teaspoon

salt

½

teaspoon

black pepper

1

loaf

Challah bread

, or Brioche bread
Instructions
Preheat oven to 400°F; line baking sheet with parchment paper

7 ounces Comte or Gruyere cheese

In a small bowl, combine olive oil and dry seasonings; set aside

2-3 tablespoons olive oil,

¼ teaspoon thyme, ground,

1 teaspoon garlic powder,

½ teaspoon salt,

½ teaspoon black pepper

Cut cauliflower into quarters; then pull or cut florets and place in large mixing bowl

Add chopped onion and olive oil mixture to cauliflower; toss till well-coated; place on prepared baking sheet; bake @400°F for 20 minutes

1 cup chopped yellow onion

Place cooked cauliflower and onions in food processor; add sour cream; pulse till semi-smooth

Cut Challah or Brioche bread in half lengthwise; add cauliflower spread to bottom half of loaf

Top with shredded cheese; place top of Challah bread on cheese; wrap in foil and bake another 10-minutes or until cheese is fully melted

7 ounces Comte or Gruyere cheese

Remove from oven, slice and serve
Notes
For best results, make sure the cauliflower is in a single layer on the baking sheet
If the cauliflower head is really big, you may have to pusle the ingredients (in the food processor) in batches
If you want a creamier version, add 6-8 ounces of room temperature cream cheese to the food processor
Nutrition Estimate
Serving:
1
slice
Calories:
351
kcal
Carbohydrates:
35
g
Protein:
15
g
Fat:
17
g
Saturated Fat:
7
g
Polyunsaturated Fat:
2
g
Monounsaturated Fat:
7
g
Cholesterol:
62
mg
Sodium:
573
mg
Potassium:
447
mg
Fiber:
4
g
Sugar:
4
g
Vitamin A:
418
IU
Vitamin C:
52
mg
Calcium:
342
mg
Iron:
2
mg