Southerner's love their fried chicken and there's nothing better than a good ole' Southern Fried Chicken Sandwich! Tender chicken breasts, lightly coated in seasoned flour mixture and fried to crispy perfection then nestled in a toasted bun!
You'll find this lunchtime staple at just about every diner south of the Mason-Dixon line! There's no need to drive-thru Chick-fil-A™ or Popeye's™ to get a truly delicious chicken sandwich - this home version is quick, easy and delicious!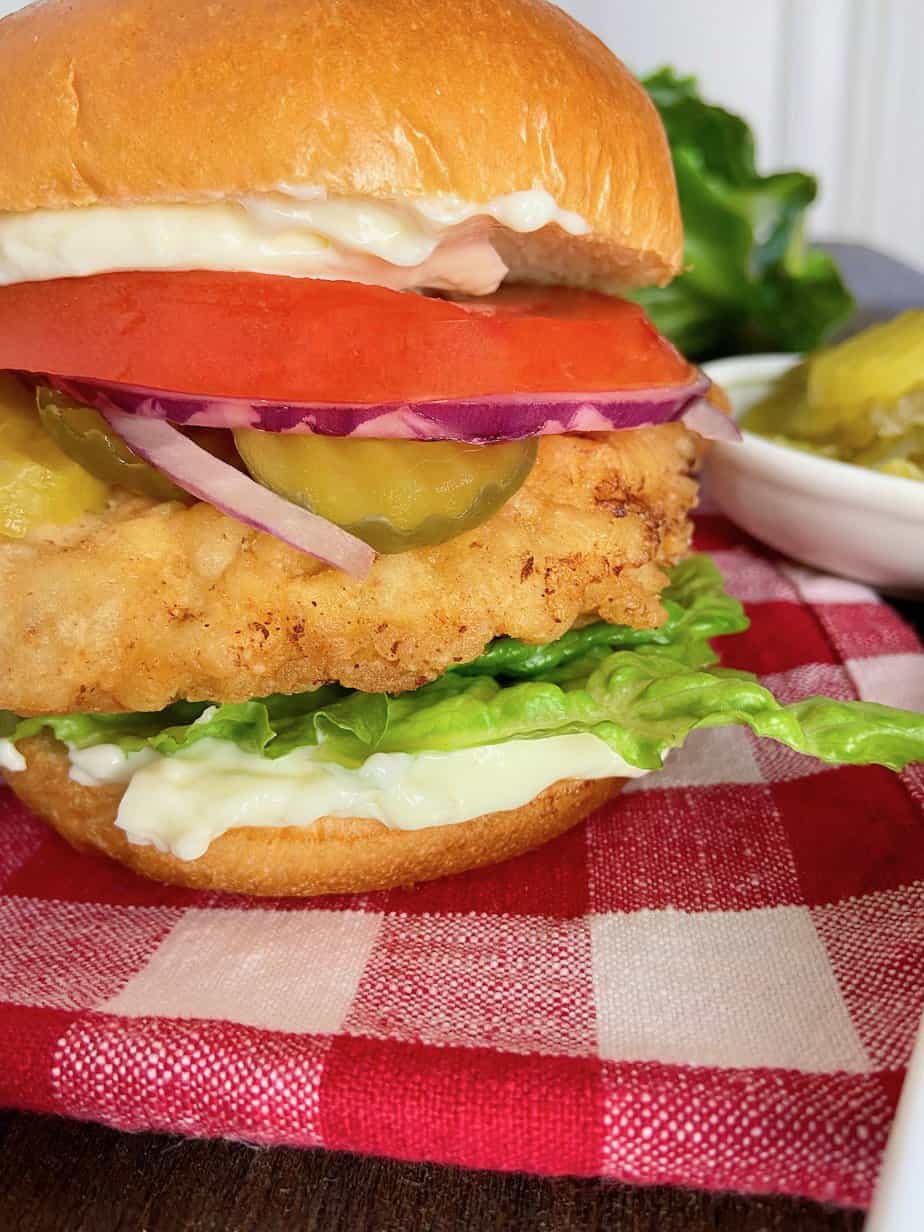 This traditional method is tried and true! There's no need for an air fryer, deep fryer or any fancy gadgets.
Why this recipe works
Simple ingredients - ready in minutes
Traditional frying method requires no fancy kitchen gadgets
Crispy on the outside, tender and juicy on the inside
Great for picnics ! These sandwiches are good hot or cold!
I like to serve this with a side of Southern potato salad but it also pairs well with a bowl of pinto beans and rice or homemade eggplant fries!
Here's what you'll need
Chicken pieces - you can use boneless, skinless chicken thighs or chicken breasts. I recommend boneless skinless breasts because they fry up nicely in the hot oil.
You'll need a buttermilk marinade - it's simply buttermilk and dill pickle juice for the buttermilk brine, or marinade. The buttermilk marinated chicken results in a tender juicy inside with the crispiest coating on the outside!
For the flour coating, you'll need flour (I use plain all purpose flour, but you can use self-rising flour as well), cayenne pepper, smoky paprika, chili powder (optional), onion powder, a pinch of garlic powder and a pinch of dry mustard powder. You'll also need a few large eggs lightly beaten.
The best oil for deep frying deep golden brown chicken is Crisco-hands down. Keep in mind the sandwich itself doesn't retain much oil, so it's okay to splurge on this one! You can also use vegetable oil or canola, but do not use olive oil.
The best pan for frying is a cast-iron skillet or a heavy bottomed dutch oven.
How to make a crispy chicken sandwich
This recipe doesn't take much time, but the total time depends upon how many sandwiches your making.
Remove any excess fat from the breast. If you want thinner pieces, slice it in half lengthwise, pound with a meat mallet, fold in half and pound again.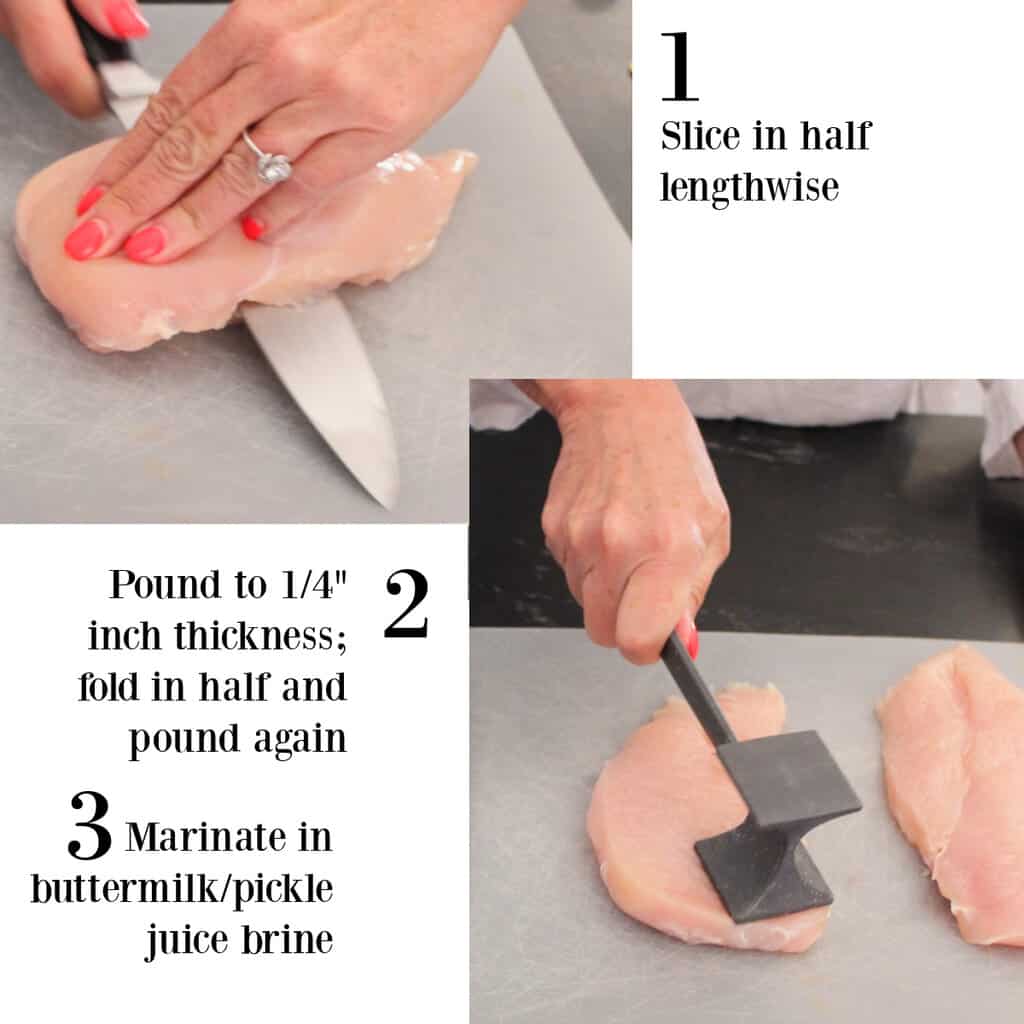 Place chicken in a flat rimmed baking tray; make the buttermilk brine by combining buttermilk and dill pickle juice then pour it over the chicken.
Soak the breasts in a buttermilk-pickle juice combination for 15-30 minutes.
Meanwhile, set up a dredging station. In a medium bowl (preferably a shallow dish, like a pie plate) add lightly beaten eggs. In a second shallow bowl, mix flour and dry seasonings. Use a heavy-duty skillet suitable for high heat or a large cast-iron skillet. Heat the oil to medium-high heat (for best results, get the oil temperature to about 315°F).
If you want extra crispy chicken (and who doesn't?) dredge the piece of chicken straight from the buttermilk brine to the flour; coat well with the flour mixture then place the breast in the eggs and coat well. Then put the it back into the flour mixture and place in the hot oil. Cook for 3 minutes each side or until the breaded coating turns to a nice golden brown and the internal temperature reaches 165° degrees F.
Continue this process with the remaining chicken. As each piece fries, place it on a cooling rack with a paper towel under the rack- but not on the rack. If you place the crunchy coating directly on the paper towel, it will get soggy.
If you're cooking Southern fried chicken sandwiches for a crowd, preheat the oven to about 170°D and place the finished fried pieces on a wire rack in the preheated oven. Do not place it directly on a baking sheet while it's in the oven or the bottom will get soggy.
Once all the pieces are fried, it's time to assemble this Southern chicken fried sandwich!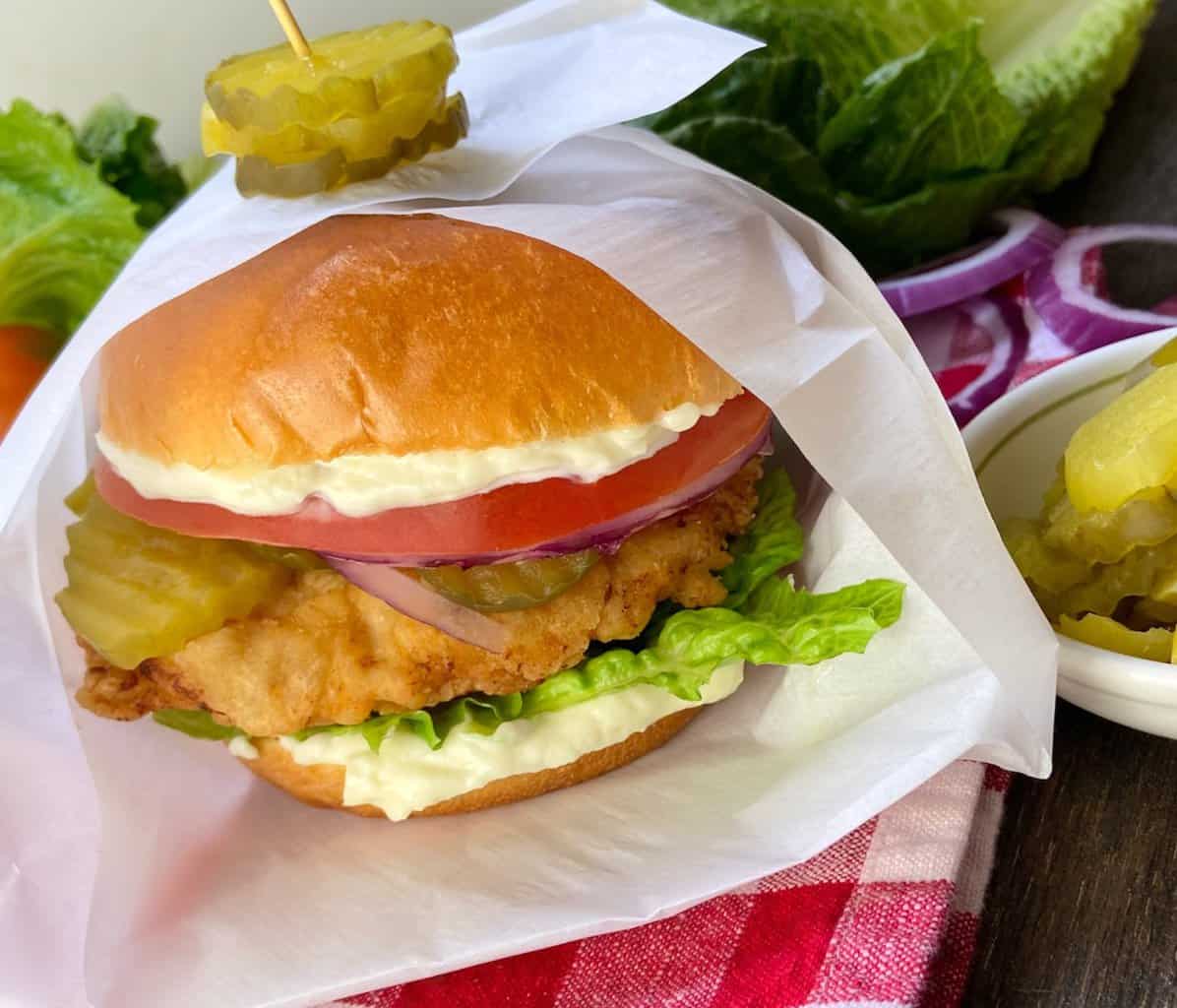 FAQ's
How do I keep the breading from falling off?
Make sure the chicken is not too cold when it goes into the hot oil. Make sure the oil is hot enough - it should be around 325°F-340°F,
What's the best way to make this in advance?
Fry the chicken pieces and allow them to cool. Then, wrap them individually in plastic wrap and refrigerate in a 40°F refrigerator.
How do I reheat the chicken?
For best results, reheat in the oven. Place the pieces on a wire rack on a baking sheet on the middle rack. Oven temperature at 350°F. Do not wra in foil. Bake 15-20 minutes.
Variations for Southern fried chicken sandwich
A simple version of the Southern fried chicken sandwich is white sandwich bread, fried chicken, mayonnaise and dill pickle slices. Don't like dill pickles? Leave them off!
Typically, some kind of round hamburger bun is the bread of choice, however, if you want an unforgettable sandwich, go for sweet Brioche buns! I like to lightly toast the bottom bun in the oven so they don't get soggy, but you can just assemble the sandwich without toasted buns.
Some folks like to make "hot chicken" with more than a few dashes of Louisiana hot sauce or spicy mayo on their sammy and some folks like theirs with traditional fixin's of lettuce, tomato and a slice of red onion! It's really up to you and your taste buds!
Want a hint of sweetness? Drizzle a little honey or sprinkle a little brown sugar on your bun!
Serving suggestions
If you're looking for something to go with your Southern fried chicken sandwich other than french fries, try Buffalo Tater Tots, Creole Creamy Coleslaw or Eggplant Fritters!
Wrap a few sandwiches in wax or parchment paper, fill a picnic basket with your favorite toppings and head to the park!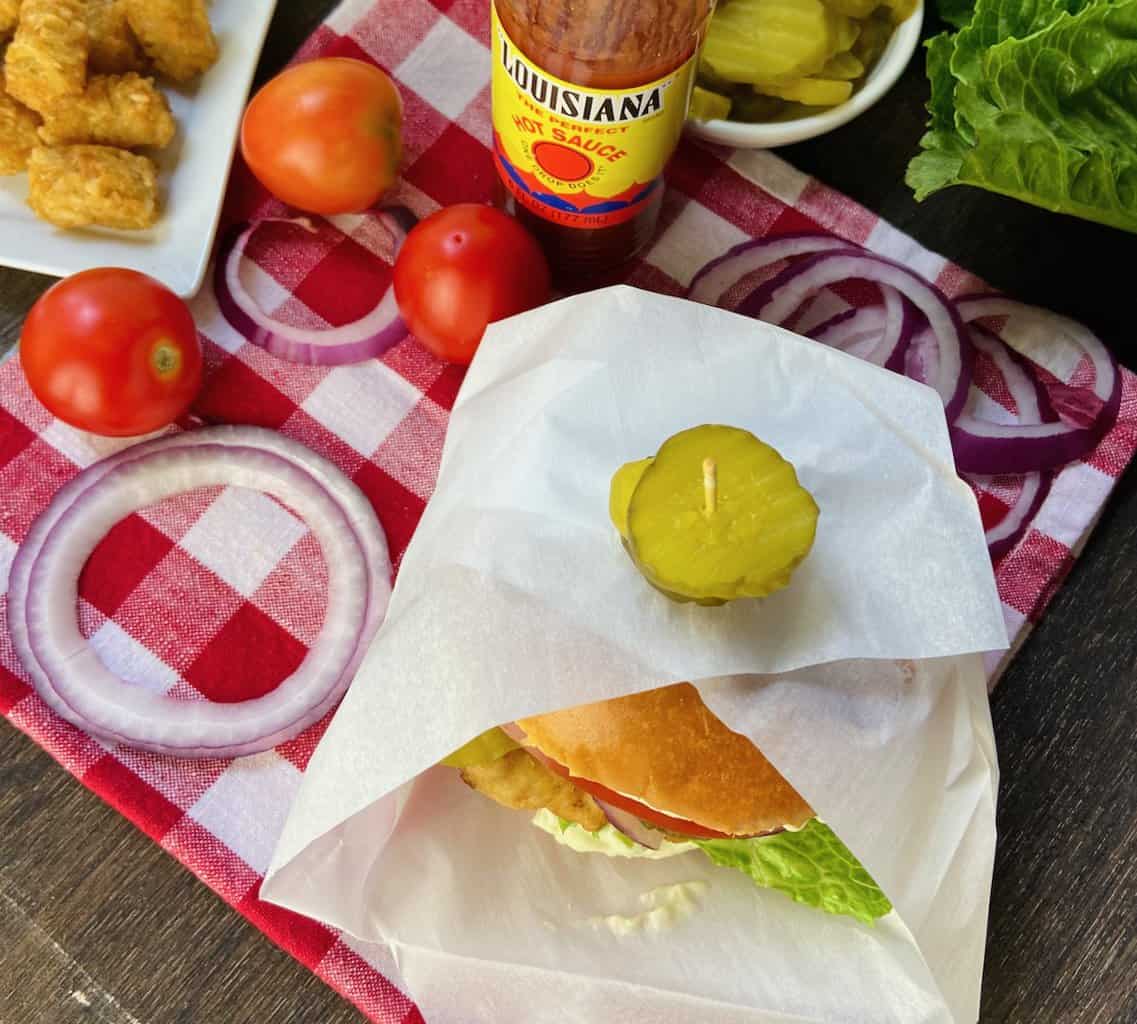 Don't have buttermilk? Make your own - pour a cup of milk into a measuring cup and add 1-2 tablespoons lemon juice; stir and let sit for 5-10 minutes.
You can apply this same technique to make fried chicken tenders from tenderloins.
Storage and reheating
If you've got any leftovers the next day, it's best to wrap them in plastic wrap and refrigerate. When ready to reheat, remove from plastic wrap and place directly on a wire rack in a 350°F oven for 15-minutes. Do not wrap leftovers in foil to reheat - the foil traps moisture and then the crunchy coating turns soggy.
If you make this recipe, please scroll down and leave a comment and rating! I love to hear from you! Thank you!
More sandwiches
📋 Recipe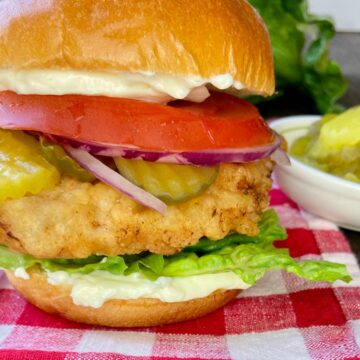 Southern Fried Chicken Sandwich
Seasoned crispy chicken breast nestled in a toasted Brioche bun
Print
Rate
Equipment
heavy duty bottom skillet

Cast iron or dutch oven
Ingredients
2

pounds

chicken breast (boneless, skinless)

1

cup

buttermilk

See Recipe Notes

⅓

cup

dill pickle juice

4

large

eggs, room temperature

2

cups

flour, all-purpose

½

teaspoon

cayenne pepper

½

teaspoon

paprika, smoky

1

teaspoon

onion powder

1

teaspoon

garlic powder

Lawry's seasoned salt (optional)

1

teaspoon

salt

3

cups

oil, vegetable or canola

, See Recipe Notes

buns

mayonnaise

dill pickle slices

lettuce, tomatoes, onion (optional)
Instructions
Pat chicken breasts dry with paper towel; cut in half lengthwise; pound breast to ¼" inch thick; fold chicken breast in half and pound again (See Recipe Notes)

Place (pounded) chicken breasts in a flat baking dish

2 pounds chicken breast (boneless, skinless)

In a small bowl, combine buttermilk and pickle juice; pour this over the chicken coating both sides; cover with plastic wrap and let sit 15-20 minutes on the counter (not in the fridge)

1 cup buttermilk,

⅓ cup dill pickle juice

Lightly beat eggs and pour into a flat dish

4 large eggs, room temperature

Combine flour, onion and garlic powder, cayenned, paprika, salt and pepper in a second flat bowl or pie plate

2 cups flour, all-purpose,

½ teaspoon cayenne pepper,

½ teaspoon paprika, smoky,

1 teaspoon onion powder,

1 teaspoon garlic powder,

1 teaspoon salt

Dredge chicken directly from buttermilk mixture to flour; coat well; then dredge that piece of chicken in the egg coating well; and again in the flour.

Preheat oven to 350°F if you want to toast the bottom buns

Heat oil in skillet to 325°F; place coated chicken in hot oil; do not move chicken for 3 minutes; gently flip and fry another 3-4 minutes; check for a golden brown coating and internal temperature of 165°F for doneness. Remove and place on wire rack. Lightly season with Lawry's Seasoned salt (optional). Repeat until all pieces are fried.

3 cups oil, vegetable or canola,

Lawry's seasoned salt (optional)

While the last piece is frying, place the bottom buns on a baking rack cut side down and bake for 3-5 minutes

Assemble sandwich with preferred toppings

mayonnaise,

dill pickle slices,

lettuce, tomatoes, onion (optional)
Notes
Chicken breasts
I pound mine so they'll be thinner. They cook quicker and aren't too thick to bite into. You can skip this step if you like.
Out of buttermilk? Make your own
Pour one cup of milk into a 2-cup measuring cup; add 1-2 tablespoons of fresh lemon juice; stir and let sit 5-10 minutes.
Want your chicken spicier?
Add a few tablespoons of Louisiana Hot Sauce to the buttermilk/pickle juice brine.
Frying oil
The exact amount of frying oil will depend upon the size of your skillet and the number of fried chicken breasts you are making. You want about 1"inch of oil in the pan.
Nutrition Estimate
Serving:
1
sandwich
Calories:
1819
kcal
Carbohydrates:
54
g
Protein:
15
g
Fat:
174
g
Saturated Fat:
14
g
Polyunsaturated Fat:
48
g
Monounsaturated Fat:
108
g
Trans Fat:
1
g
Cholesterol:
188
mg
Sodium:
1039
mg
Potassium:
251
mg
Fiber:
2
g
Sugar:
3
g
Vitamin A:
525
IU
Vitamin C:
1
mg
Calcium:
111
mg
Iron:
4
mg