This Roasted Broccoli recipe ensures nicely toasted broccoli every time!
Roasted broccoli can be tricky to make sometimes, especially if you're in a hurry or having company! I've finally learned the secret to perfectly roasted broccoli and I'm happy to share it with you!
---
Roasted vegetables are not only tasty, but really good for you, too! The dry heat method of roasting ensures the retention of vitamins, minerals and nutrients.
First, preheat the oven to 500ºF then lightly oil a sturdy baking pan. Once the oven has reached the desired temperature, place the baking pan in the oven for 10 minutes.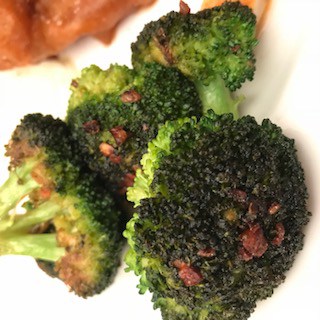 Meanwhile, trim broccoli stalks, and cut both stalks and crowns into small pieces. In a large mixing bowl, add oil, garlic (optional) and sugar. Mix well.
Toss broccoli in oil mixture. Remove hot baking pan from oven, spread broccoli evenly onto pan and cook for 10-12 minutes, turning broccoli halfway through the cooking time.
The result is nice, evenly toasted flavorful broccoli ready to serve!
 How Do I Select Broccoli?
When selecting broccoli crowns, or any other green vegetable, choose the darkest color. The darker the green indicates the broccoli is fresh and has optimum chlorophyll. Conversely, pale, or yellow-hued broccoli is probably not as fresh and offers less nutrients.
Why Do I Have to Pre-Heat the Pan?
Pre-heating the pan allows for the heat to better permeate the vegetable. Since broccoli is a bit tough (especially the stalks), this pre-heating step promotes evenly toasted broccoli crowns and stalks.
What Other Vegetables Can I Roast Using this Pre-Heated Pan Method?
Other vegetables that toast nicely using this method are broccolini and asparagus.
Why Do I Add Sugar To The Oil?
Sugar promotes browning. As the sugar begins to cook, it caramelizes and soaks into the broccoli. You can omit the sugar if you prefer, but the small amount of sugar in this recipe will not impact the flavor of the broccoli–it simply helps the broccoli brown more evenly.
Can I Make This Recipe with Frozen Broccoli?
Yes, simply rinse the broccoli, then pat dry with a paper towel.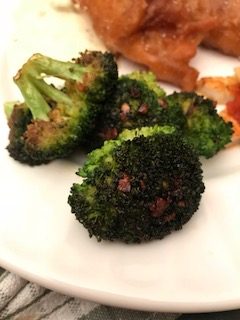 Garlic Roasted Broccoli
Toasted broccoli crowns with a hint of garlic make a perfect side dish!
Servings
:
4
1/4 cup servings
Ingredients
1 1/2

lbs.

broccoli

3

tablespoons

oil

1

tablespoon

garlic

minced

1/2

teaspoon

oil
Instructions
Pre-heat oven to 500ºF; once oven reaches temperature, place lightly oiled baking pan in oven

Allow baking pan to heat in oven for 10 minutes

Meanwhile, rinse broccoli

Trim stems and cut into bite size pieces

Cut broccoli crown into small pieces

In a large bowl, add oil, garlic and sugar

Toss broccoli crown and stalks in oil mixture

Remove hot pan from oven and spread broccoli onto pan in an even layer

Return pan to oven on the lowest rack; bake for 10 - 12 minutes, turning broccoli halfway during cooking time

Remove broccoli from oven and serve immediately
Recipe Notes
The small amount of sugar in this recipe encourages the broccoli to brown; it can be omitted.
Roasted broccoli also pairs well with Classic Meatloaf and Potato Dauphinoise!