You'll love this spin on the classic French creme brulee recipe! Lavender flavored creme brulee features the classic ingredients (heavy cream, sugar, eggs) and a light Lavender infused syrup - a simple syrup of sugar and whole lavender-to give just a hint of lavender flavor.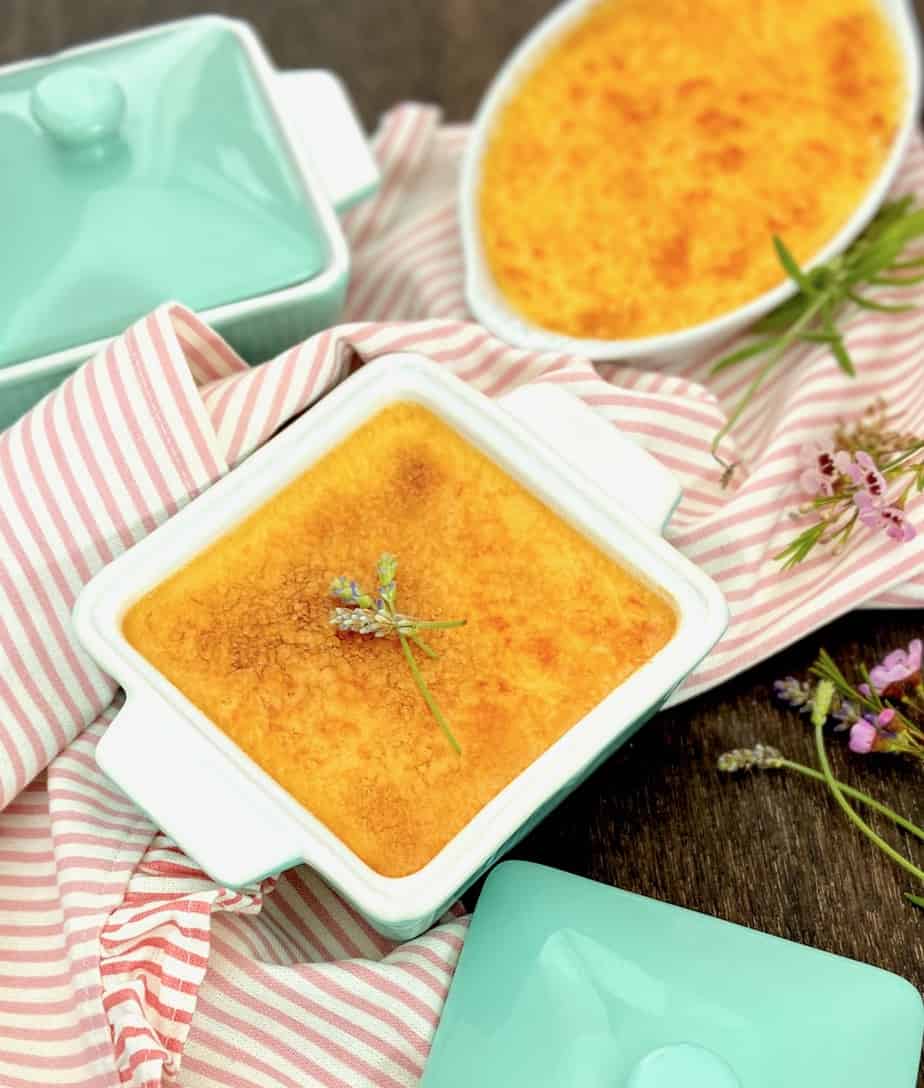 Most recpes call for culinary grade dried lavender (which is hard to find), but I found this delicious lavender syrup that not only sweetens the brulee, but gives a light hint of freshness from lavender flowers. Read on to find out more about this delicious syrup and where to buy it!
Why this recipe works
Ingredient ratio: this recipe has just the right amount of sugar, egg yolks and lavender - not too sweet or too strong of a lavender flavor!
Mild flavor: lavender can be overbearing at times, but this recipe uses just enough of the syrup to lightly infuse the creme brulee; if you want a stronger lavender flavor, add more of the syrup
Here's what you'll need
Heavy cream, granulated sugar, egg yolks, lavender syrup and a pinch of salt. Note that this recipe does not call for vanilla extract. I found it over-powered the lavender, so don't freak out when you see there's no vanilla!
You'll need shallow, oven safe ramekins and a little butane kitchen torch to caramelize that delicious sugar topping!
Where to buy Lavender syrup:
Order this (and other fine syrups) from Pink House Alchemy @pinkhousealchemy.com or give 'em a call to place your order 479-935-3313! (They offer free shipping for purchases over $50!)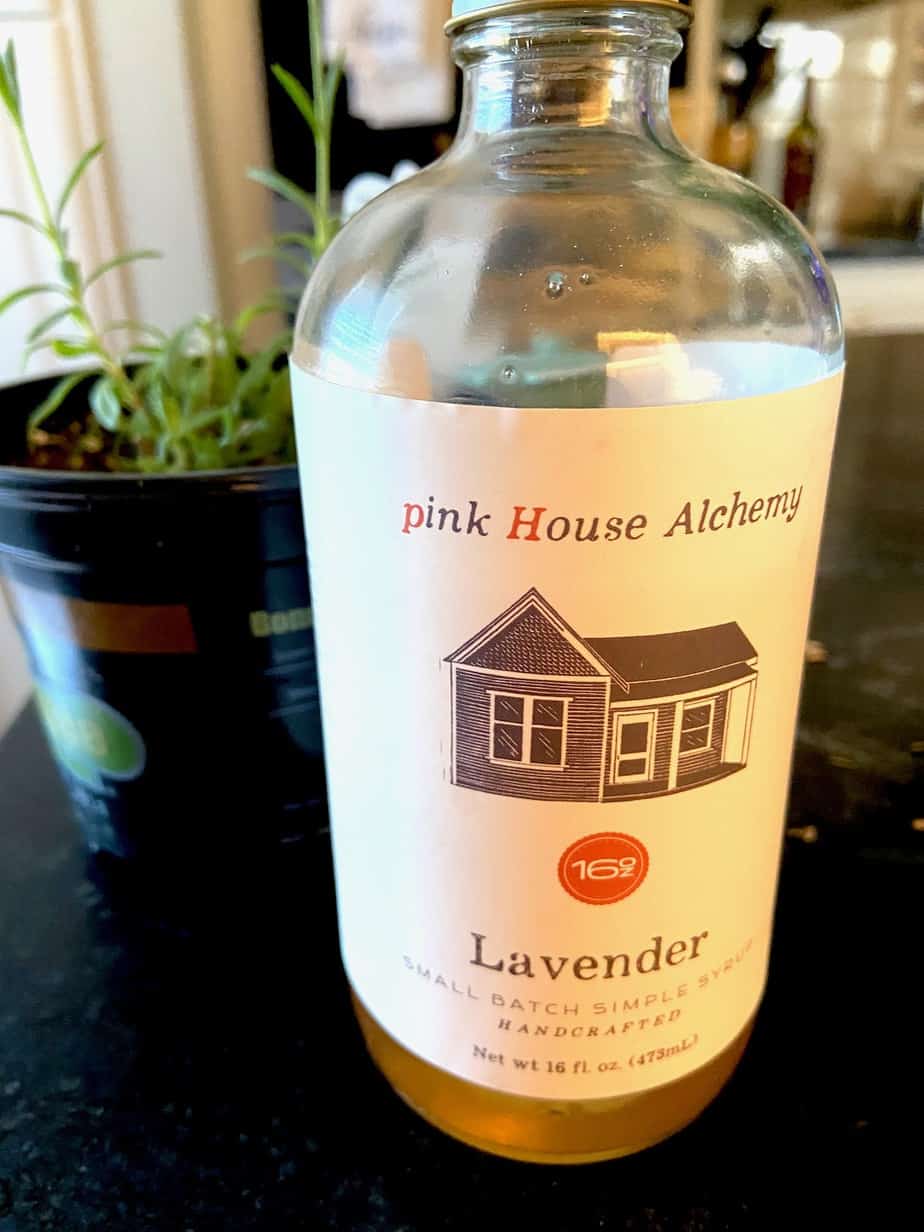 They're a small business based in Fayetteville, Arkansas, but don't let the small town notion fool you! They've got alchemists developing small batch syrups, bitters and shrubs - each with hands-on scientific precision and local ingredients. This is not a big corporate conglomerate, but a small niche business run by fantastic folks!
By the way, a "shrub" in the world of alchemy, is an acidic syrup, typically used in canning and preservation of various foods. I learn something new everyday:)
Their products are made with organic, local or responsibly-sourced ingredients so there's no preservatives, additives, fillers or colorants!
They have a plethora of drink recipes on their website featuring some of their most popular syrups: Lavender, Mexican Chile, Hibiscus Rose, Blackberry Sage and more!
Where to buy a kitchen butane torch
Believe it or not, I got mine at Lowe's! It's a small, hand-held torch perfect for caramelizing the sugar top of creme brulee! (Look on line or near the tool section of your local store!) Be sure to get an extra butane refill canister, just in case.
I've seen them on line at Walmart, Target and Academy as well. Google "kitchen torch," "butane torch," or "hand held torch"
Of course, you can always find kitchen gadgets at high-end retailers like Williams-Sonoma or Sur le Table, but try your local hardware store first and put a few bucks in your pocket!
An overview of how to make it
Be sure to read the recipe and recipe notes below for full details
There's hardly any prep time for this lavender flavored creme brulee recipe: separate the eggs and preheat oven to 325°F
After you combine the cream, sugar and lavender syrup over medium heat, you'll temper the egg yolks with small amounts of the hot custard.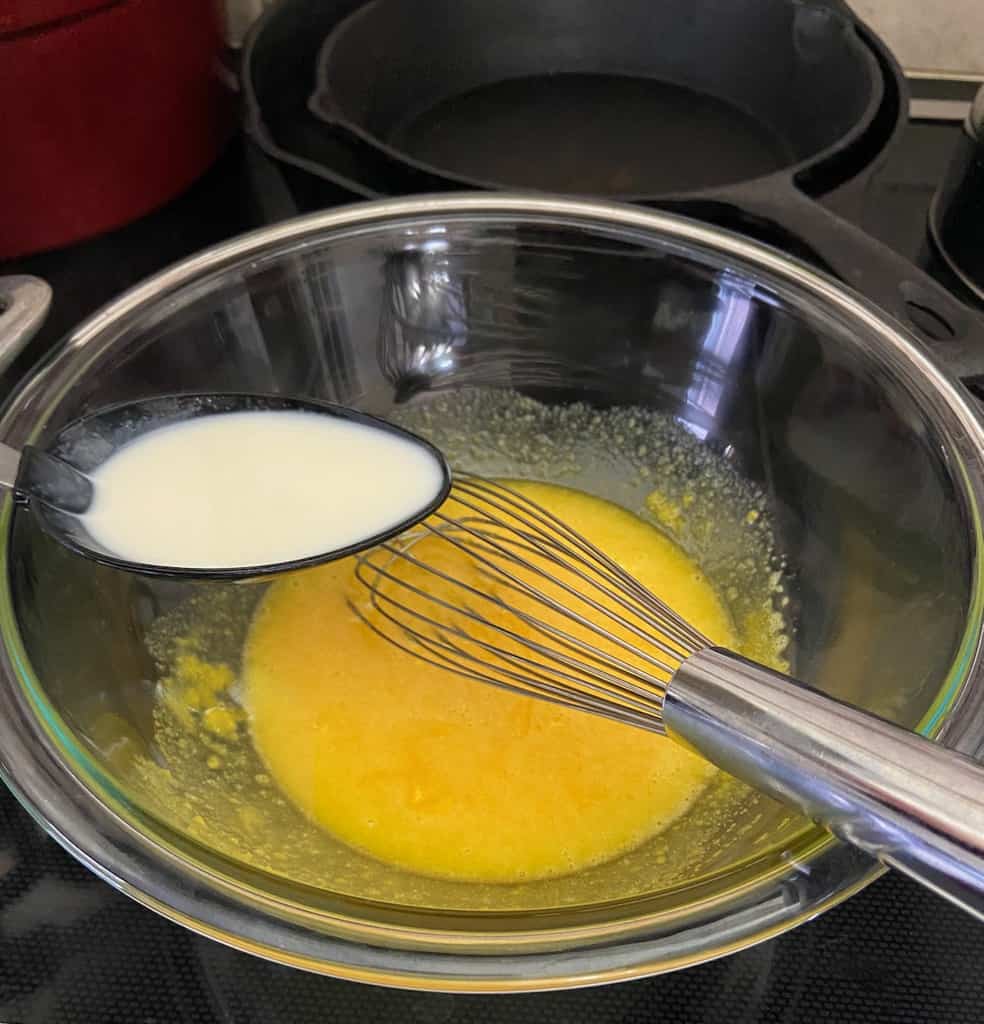 Once the eggs are tempered, them into the cream mixture and cook for about 2 minutes. Pour the mixture into ramekins and place in hot water bath and bake for about 40 minutes!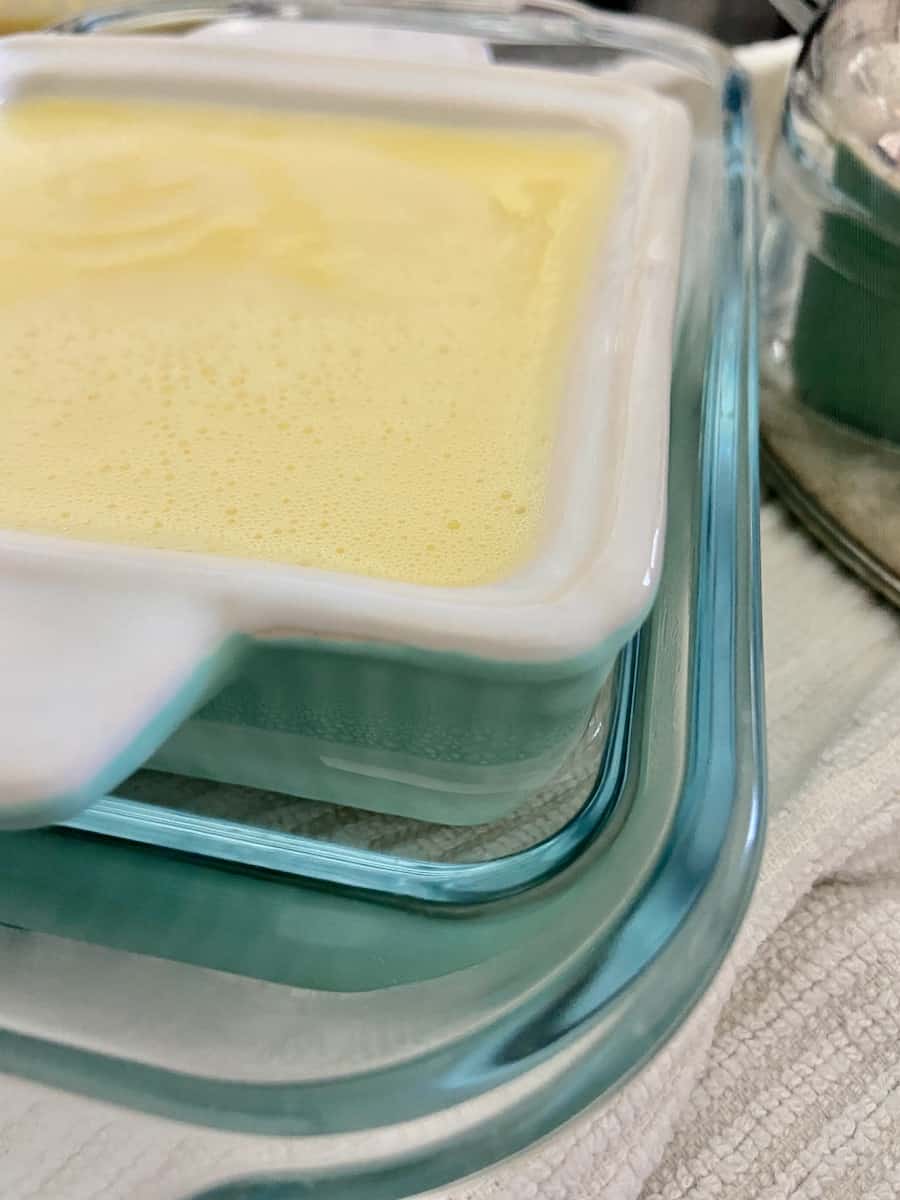 Once the ramekins have cooled place them in the refrigerator. When you're ready to serve, remove from fridge, lightly sprinkle sugar over the top of the custard, and brown with a small kitchen torch. This last step takes only a few minutes, but the key here is to serve the dessert while the custard is slightly cool and the sugar topping is warm.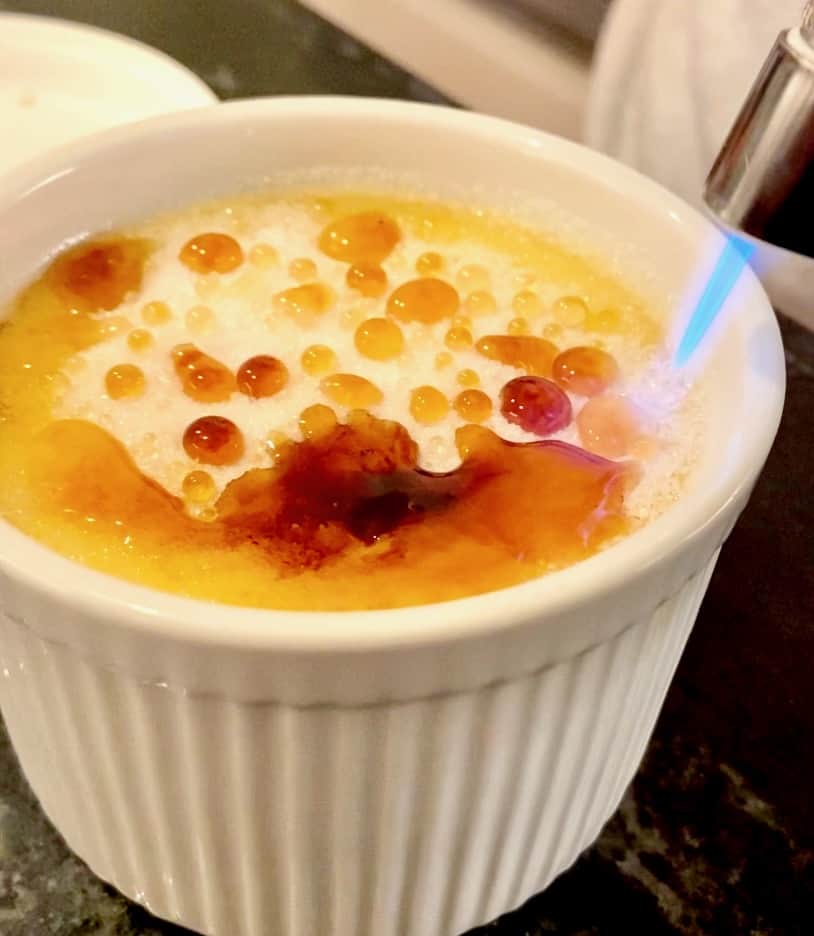 What's a hot water bath?
First of all, you may see recipes that call for "bain marie"-which is a medieval Latin term that means, literally, "Mary's Bath." So who cares, right? In cooking, a "bain marie" or hot water bath, is a method of cooking food in a container that is placed in hot water and is typically used for melting chocolates and cooking custards.
The hot water keeps the food from scorching or burning. A hot water bath is very similar to a double boiler.
In this recipe, fill the ramekins with creme brulee custard, place them in a large baking dish and pour in enough hot water into the baking dish until it reaches the middle of the ramekin.
Is creme brulee served warm or cold?
Classic Creme Brulee is typically served slightly chilled in a shallow dish, with a warm, crispy, caramelized sugar topping. You want a shallow bowl so every bite is accompanied with that crisppy sugar topping!
Tips for Cooking Creme Brûlée
Heat the cream in a saucepan over medium heat, but don't let it come to a boil
Temper the eggs with a little bit of the warm custard in small increments until you've added a cup of the custard to the egg yolks. If you don't temper the eggs, you'll have scrambled egg custard and you'll have to start over - even using a fine mesh strainer can't save creme brulee with scrambled eggs!)
The amount of sugar you'll need for the caramelized topping depends upon the size of the ramekin - I've found ½ - 1 tablespoon per ramekin is plenty
If you don't have a small kitchen torch, you can place the ramekins under the broiler for just a few seconds, but I don't recommend this method because the creme brulee custard gets too hot, the ramekin gets too hot and you run the risk of burning the sugar.
Yield
This recipe makes four 1-cup desserts so it's a perfect creme brulee recipe for 4; however, if your ramekin is smaller than an 8 ounce ramekin, you'll get more servings (and less calories per serving)
You can easily make this creme brulee for two by dividing the ingredients in half.
Make ahead and storage
Lavender flavored creme brulee can be made up to 3 days in advance; keep it refrigerated and covered with plastic (or place ramekins in a large airtight container.)
When ready to serve, sprinkle the top with sugar and caramelize with a kitchen or culinary butane torch; serve while the sugar coating is slightly warm and the custard is a little cooler than room temperature.
If you have any leftover, store in the fridge covered with plastic for up to a day or so...the sugar topping starts to break down when stored much longer.
Serving suggestions lavender flavored creme brulee
Some folks like to add a little whipped cream to their creme brulee, along with some fresh blueberries or strawberries! Others serve this classic dessert with a nice cup of coffee or a little snip of cognac!
This also is a great dessert for sharing or on special occasions like Mother's Day, Father's Day or those special birthdays!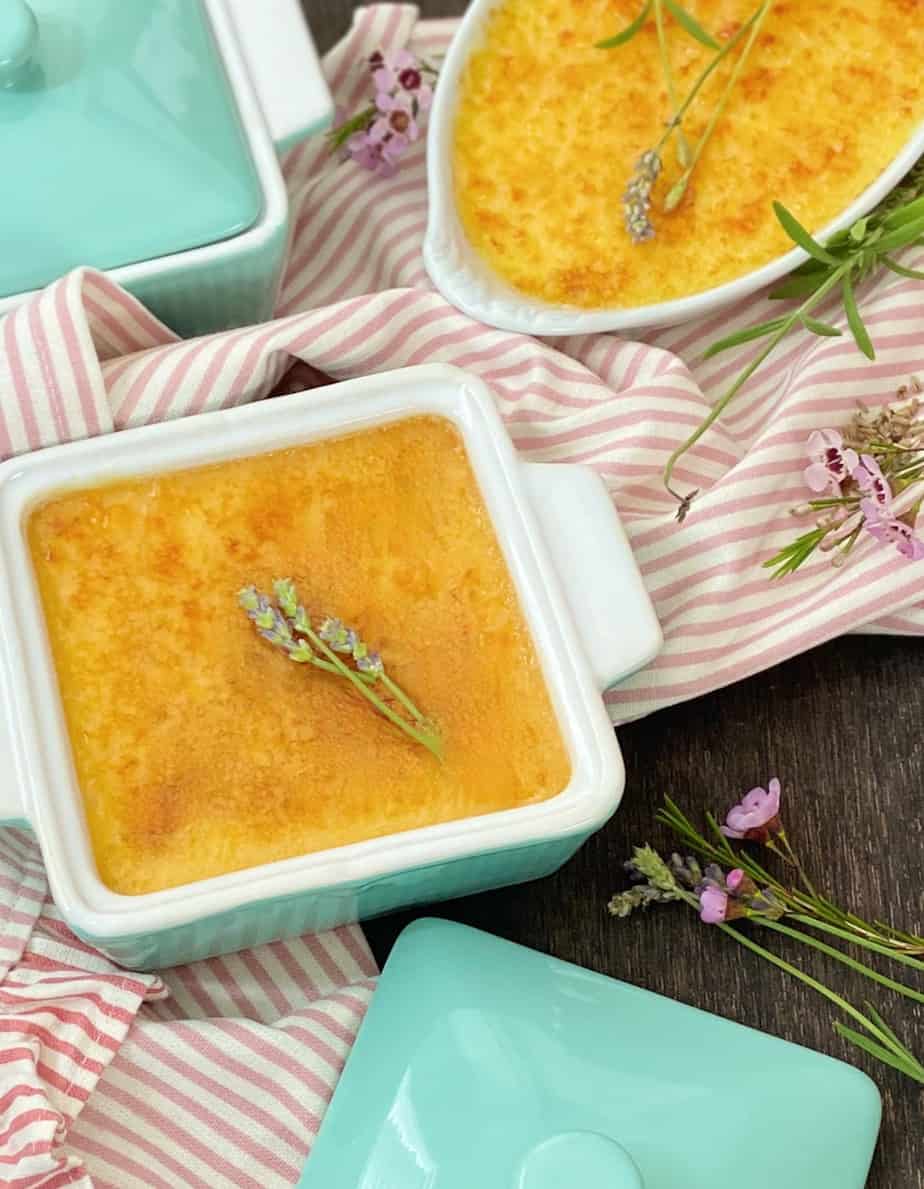 I hope you'll find this lightly infused Lavender flavored creme brulee easy to make and delicious!
More dessert recipes
📋 Recipe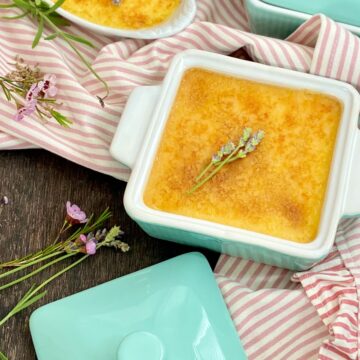 Lavender Flavored Creme Brulee
Classic creme brulee lightly infused with hints of lavender
Print
Rate
Equipment
mini butane torch for sugar topping

Oven-safe ramekins

Large pyrex baking dish

heavy duty oven mitts
Ingredients
4

cups

heavy cream

1

cup +

sugar, divided in half

(½ cup goes in cream; ½ cup goes into egg yolks); you'll need a little more sugar for the topping

8

large

egg yolks

¾

cup

Pink House Alchemy Lavender Syrup

pinch of salt
Instructions
Heat a tea kettle or fill a stockpot with water and bring to boil

Separate eggs and reserve yolks in a large mixing bowl

Add ½ cup of sugar to egg yolks and whisk gently; set aside

In a large stockpot or saucepan on medium heat; combine heavy cream, ½ cup sugar, lavender syrup and a pinch of salt; cook 6-7 minutes; do NOT bring to a hard boil

4 cups heavy cream,

1 cup + sugar, divided in half,

pinch of salt,

¾ cup Pink House Alchemy Lavender Syrup

While continuously whisking egg & sugar mixture, add the hot cream to the eggs in small increments (like ⅓ cup of hot mixture at a time). This tempers the eggs so you don't end up with scrambled eggs in your custard. Once the eggs are well-tempered, add all of them to the cream mixture and cook 1-2 minutes on medium heat; remove from heat and let sit 3 minutes

Pour mixture into oven-safe ramekins; place ramekins in a large baking pan and add hot boiling water to the baking pan until it reaches the middle of the ramekins (this is called a hot water bath)

Be Very Careful and place the baking dish and filled ramekins in the oven on the center rack; TRY NOT TO SLOSH THE WATER OR GET ANY WATER IN THE RAMEKINS!

Bake 40-45 minutes or until the center of the custard is slightly jiggly in the center

Remove hot ramekins from baking dish and let sit until they're cool enough to touch

Once cooled, sprinkle sugar over the top of each ramekin; use a culinary butane torch and lightly brown the sugar; garnish and serve - or -refrigerate until you're ready to serve them; then sprinkle and brown sugar and serve
Notes
Separate the eggs while they're cold
Do not bring the cream mixture to a hard boil
Temper the egg yolk/sugar mixture with small increments of the hot cream mixture, whisking constantly, then combine all the eggs and cream together in the saucepan and cook 2 minutes; remove from heat
Try not to slosh water into the custard! It will cook fine, but the top of the custard will be "mottled"-this won't matter after you put the caramelized sugar on top, but it's best not to get any of the water from the hot water bath in the custard
Yield:
This recipe makes four 1-cup volume ramekins. If you use a smaller ramekin, you'll get more servings.
Hot water bath:
The amount of hot water you'll need depends upon how big your baking dish is - you need enough water to cover the bottom half of the ramekins
Nutrition Estimate
Serving:
1
cup
Calories:
1149
kcal
Carbohydrates:
67
g
Protein:
12
g
Fat:
95
g
Saturated Fat:
58
g
Polyunsaturated Fat:
5
g
Monounsaturated Fat:
26
g
Cholesterol:
636
mg
Sodium:
81
mg
Potassium:
271
mg
Fiber:
1
g
Sugar:
66
g
Vitamin A:
3989
IU
Vitamin C:
4
mg
Calcium:
202
mg
Iron:
1
mg